Last Updated on January 30, 2023
Headlines, logos, t-shirt prints, and posters: what do they all have in common? They all need to make a great impact on audiences upon first glance. You want them to be noticed instantly, to make heads turn and draw in a crowd. To accomplish this, you need the right elements.
This is where typefaces come in. Bold, thick fonts convey power, strength, and most of all, impact. That, along with the correct use of color, size, as well as images, can engage people at first sight.
Find what you need to start creating bold, powerful headlines and posters in this collection of thick and heavy fonts.
Thick and Heavy Fonts
1. Nestor – Quirky Typeface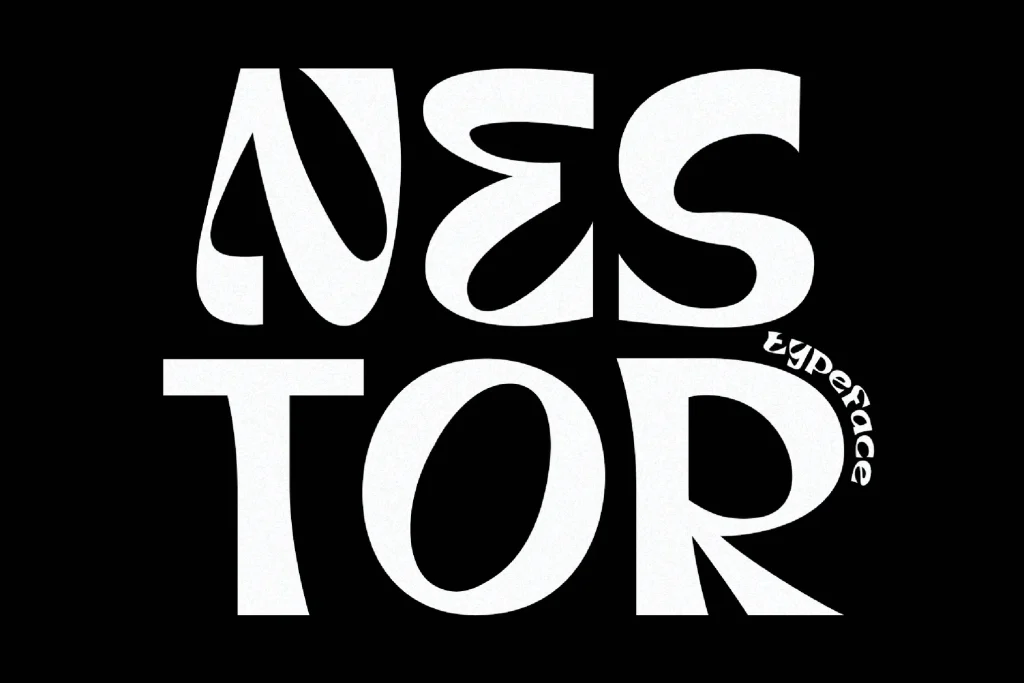 Nestor is a retro inspired display typeface that's unique, lovable, and quirky. It's perfect for headlines, advertising, posters, branding, social media, quotes, prints, and much more. If you're in need of a typeface that has groovy curves with a bold personality, then Nestor is for you.
2. Gore Typeface
Looking for something savage to make your designs edgy? Look no further than this strong display typeface from Tugcu Design Co.. With two versions – Rough and Regular – it will look great on sci-fi, horror, modern, and game-related themes.                
3. Bob Blocky Display Font
Not intended for the faint of heart, this blocky font from Great Scott requires its own space. Ideal for headlines, posters, and homepages, it's exactly what you need to grab attention.
Download Bob Blocky Display Font
4. Cred
8. Phyco
Phyco is a pretty heavy low-contrast heavy typeface that has just as much impact as the name sake carries a bit of a shock value. A bright and bold typeface worth paying attention to.
9. Hit and Run
CorgiAstronaut presents this playful typeface that will be a huge hit when used on posters, children's book covers, posters, invitations, and more! Pair with cute, kid-friendly illustrations, and you've got yourself something fun, ready to be shared to little ones.
10. Windsor
Windsor is a groovy typeface ideal for gig posters, magazines, bucket hats, enormous stickers, bachelor parties, postcards, taco joints, fishing charters, dive bars, shell shops, and business retreats. With Windsor you can effortlessly create eye catching designs.
11. Jassin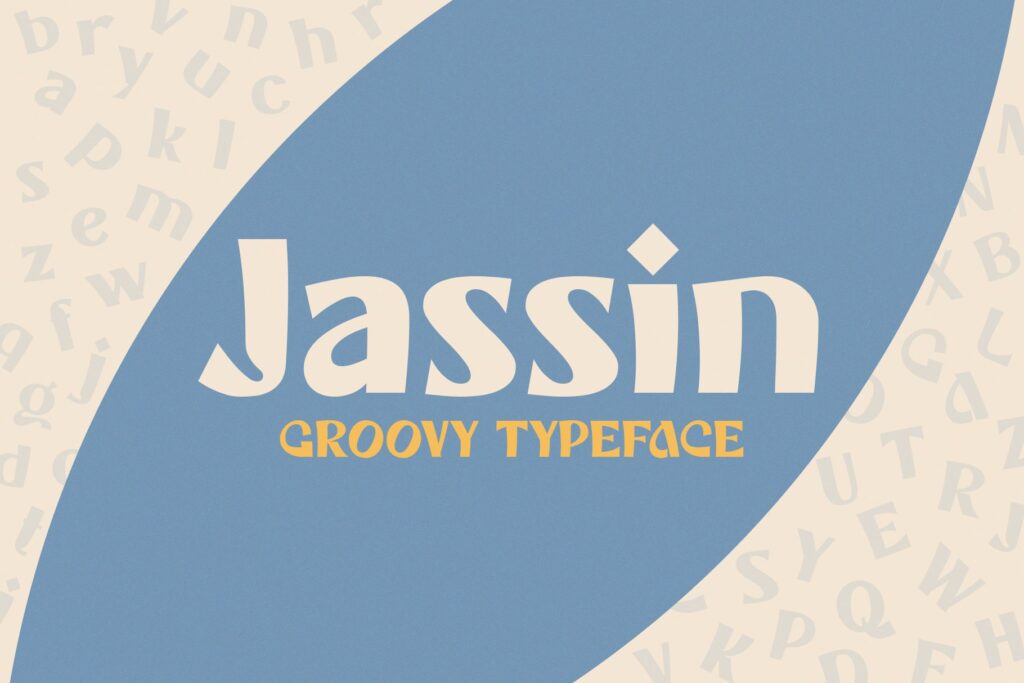 Jassin is a fun and groovy typeface with a bold personality. Perfect for branding, headlines, social media, advertising, packaging, posters, t-shirts, editorials and much more. Its vintage feel evokes the carefree and whimsical vibe of the psychedelic era, allowing you to craft impressive looking designs.
12. Remark – Roman Inspired Typeface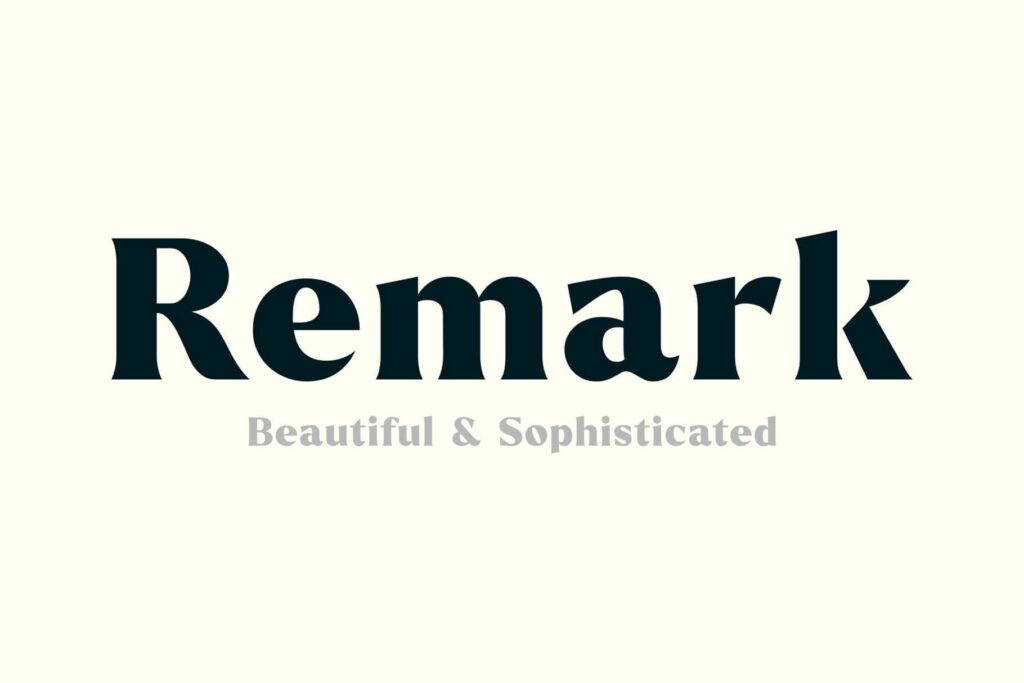 Remark is a beautiful and sophisticated serif typeface inspired by the Ancient Roman Empire. The font's bold and sharp edges demand the reader's attention, which makes it perfect for commanding designs. Remark is best suitable for headings, quotes, posters, tshirts, branding, websites, labels, invitations, packaging, stationery, novels, and much more. If communication is your goal, then this font is perfect for you.
13. Pulse – Bold Racing Typeface
Pulse is a racing font that displays boldness, showmanship, and speed. Pulse typeface is versatile and perfect for any design including logos, flyers, posters, headlines, sports, video editing and much more. Possibilities are endless.
14. Heisman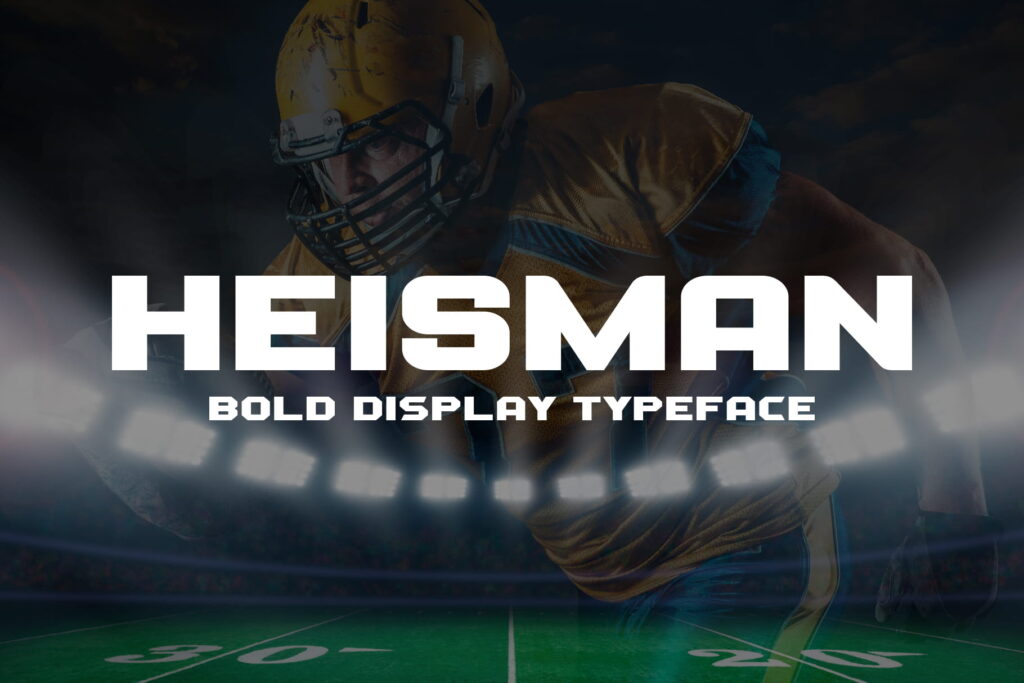 Heisman is an all caps font with unique small and large cap characters. The font is ready to be used for your sports related projects. Built to be perfect for headlines, jerseys, logos, branding, posters, packaging, advertising, and much more.
The font is geometrically perfect, which means it's aesthetically pleasing to the eye. Heisman is fully-kerned and is effortless to use. You can always play around with the spacing, however the typeface looks great when the letters are close to each other.
15. Nelson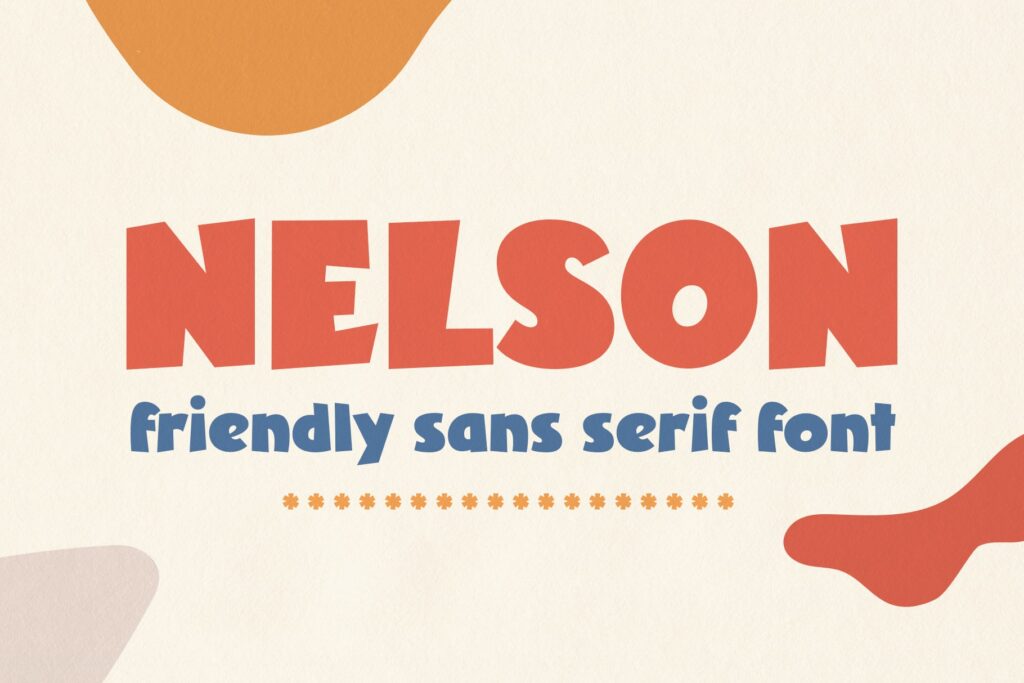 A bold typeface that is fun, playful, and laidback. Nelson will bring a smile to your face every time you use it. Nelson is perfect for children books, greeting cards, signage, user interfaces, package design, branding, and much more. Its chubby clean letters looks simple, modern, and expressive. A must have for your digital asset toolkit.
Mammoth is a wide sans serif typeface ready to push the boundaries in your designs. Thanks to its modern look you can use it for any project that requires a bold, clear statement.
You can use it for numerous projects like fashion, magazines, logo, branding, photography, invitations, wedding invitation, quotes, blog header, poster, advertisements, postcard, book, websites, etc. This download includes regular and outline versions as well as lowercase letters for each. You can mix and match the outline and regular version to come up with unique designs.
17. Scout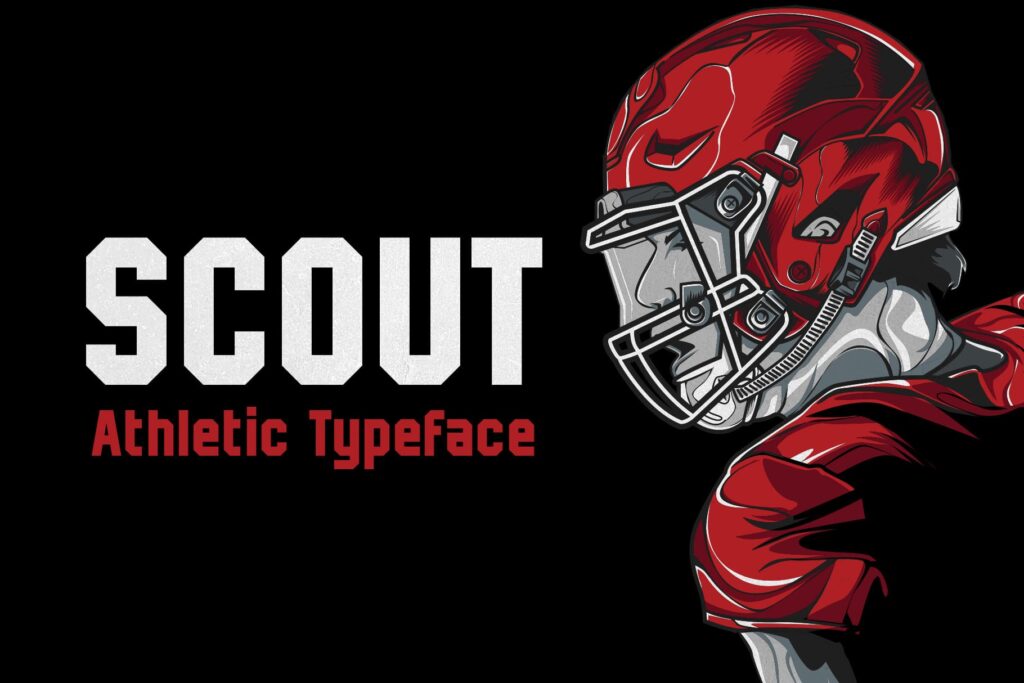 Scout is a sharp, clean, and bold athletic font. It is a very versatile display typeface perfect for sports branding, emblems, jerseys, posters, apparel design, magazine headlines, labels and so much more. Scout is fully-kerned and ready to be used right out the box.
18. Sunday
Sunday is warm and inviting typeface designed for impact. Whether you want to make a headline, logo, print, t-shirt, phone case, mug or simply a rad design, Sunday delivers. Thanks to its playful nature, this font can be used for modern and vintage designs. 
19. Azerty – Experimental Typeface
Azerty is an experimental typeface meant to brake all the rules. This font will encourage you to change your perspective and see reality in a new light. It will inspire you to create and push the boundaries of experimental and futuristic designs. Enjoy!
20. Guster Chunky Western Font
Add a funky Wild West vibe to your projects when you use this font from Type Du Nord. With thick, bold letters, it's bound to make your designs all fired-up!
Download Guster Chunky Western Font
21. Vanguard CF
Keep it classy in this display typeface by Connary Fagen. Featuring a total of 16 styles, that's different fonts ranging from elegant thin to a bold heavy. Use each on their own, or mix and match with one another for a truly captivating effect.
22. Kabrio
Designed by Cosimo Lorenzo Pancini and Andrea Tartarell, this sans serif includes 4 main styles, each with 7 weights with matching italics. That means a total of 56 fonts – all for your convenience.
23. NWB UltraViolent
Inspired by the poster type of the film, A Clockwork Orange, this offering from Nowheresburg is all about avant-garde looks but with a clean feel. It's perfect for posters, headlines, labels, packaging, business cards, and whatever project that needs a sophisticated energy.
24. Fuse
Smart and universal, this font from W Type Foundry comes with 18 styles, from ultra thin to italic bold, to give your designs the simplistic elegance it needs. It's ideal for all kinds of projects, such as branding and web design.
25. Mohr
You can be playful yet still be modern and professional. Thanks to Latinotype, you can achieve this look in this pack that includes upper and lowercase letters, terminal swashes, plus alt and italics for a totally unique design that's oozing with personality.
26. Squadron
Keep it simple yet stylish in this offering from Shape Mart. It comes with two styles – Regular and Bevel – to choose from. Go for a clean-cut look, or a cool, retro vibe anytime.
27. ZUFO Font Family
Unleash your creative side today! Purchase this font family by Andrei Robu Type and be amazed at all the wonderful projects you can make. With its light-hearted cut-out design and 4 weights, it's perfect for invitations, posters, labels, cards, book covers, and more!
28. ROCKET
Big, bold, and fierce, this typeface from William Suckling is everything you need to create no-frills designs in half the time.
29. Porker Font
Looking for the best typeface for your menus, diner, or F&B business? Then end your search with this gem by Jordan Wilson. Rounded, condensed, and with a bonus vector pack to boot, all it needs is your seal of approval.
30. Horizon
Thi1 wide sans serif by Type Task Force is all about subtle command and quiet beauty. Use on editorials, headlines, posters, t-shirt prints, or social media images to immediately hold people's attention. Available in two contemporary styles.
31. NF ULTRA
This all-caps geometric sans serif by Narrators Studio is ideal for modern, sci-fi, or any project that needs a bold flair. Also with additional characters, glyphs, and ligatures, it's a must-have in any designer's toolkit.
32. Solida Font Family
Designed by Pablo Balcells for Graviton Font Foundry, this display typeface features a geometric angular look that comes in 10 styles to instantly add variety to your headlines, posters, logos, business cards, and more.
33. KVC Brute
Looking to beef up your works? Then this heavy-duty block display font by Kyle Van Cleave is just what you want. With two styles – Regular and Speed – it's a no-frills approach to beefing up any design.
34. Grind Typeface
Tugcu Design Co. is proud to present this hardworking font. It comes in 4 styles – Simple, Demolished, Halftone, and Timber – each with its own unique texture that will surely leave a lasting impression.
Inspired by Bauhaus and 1930s typefaces, Pier Francesco Martini of MARTINI Type Designer has created the perfect complement to all your contemporary projects in this modern gem.
36. Tide Sans
This font family from Very Cool Studio includes everything you need to construct almost anything – from crisp professional designs, to more affable artworks. Just purchase once and get all the benefits of 18 fonts in one pack!
37. Integral CF
Make a statement in this offering from Connary Fagen that features 12 confident styles. This ultra bold titling font means business. As they say, 'go big, or go home'.
38. Urby Basic Black
Bring an active look to your projects using this sporty typeface from TypeMates. This bold font has extremely wide apertures on several characters, making it quite quirky without going overboard.
39. Stuffed Crust
Satisfy your appetite for retro fonts in this endearing gem by Drew Melton. Chubby and geometrical but with rounded edges to soften the overall look, it's a great addition to any designer's toolkit!
40. Bjola Sans Serif
Andrey Sharonov proudly presents this fun, playful sans serif that's all about friendly curves. Use it on children's book covers, funny greeting cards, amusing logos, or to create interesting posters, labels, and t-shirt prints.
41. Pink Handwritten Font
This all-caps handwritten font by KA Designs is all about showing your fun, quirky side. Pair this bold lettering with thin, elegant scripts and you've got yourself a cool vibe that will certainly turn heads.
Download Pink Handwritten Font
42. Rita
Designed by Daniel Hernández in collaboration with Rodrigo Fuenzalida, Latinotype presents this high-impact font family that comes in 10 beautifully practical styles – from ultra thin, to poster thick – to ensure you get things done.
43. TORCH
Be noticed at a glance in this independent sans serif family by Zone 6. With 6 clean but adaptable styles to choose from, you're guaranteed to be instantly recognizable with little effort.
44. Hugo Handlettered Family
Keep it friendly but functional in this handmade font family from Vitek Graphic. Featuring two weights – Outline and Filled – you can create warm and welcoming projects with a touch of a button.
Download Hugo Handlettered Family
45. Miasto Font
Inspired by signs and ads from the Polish People's Republic period in Poland, this typeface from Studio Ładne Halo will look amazing on headlines, posters, illustrations, book covers, logos, labels and branding projects.
46. Kontesa Display Typeface 
New, elegant and attractive, this font design is just what you need if you want to add something special to a brand design, a logo, a magazine cover, or a poster. It is made to look clean and minimal with a big and blocky touch of class. There are nine weights included in the package, and each one of them are unique and powerful! A great choice!
47. Thrope Font Family 
Introducing Thrope The Irregular Retro Display Font Family. Heavily influenced by Motter Ombra typeface, geometric basic shape, and 60s to 70s pop culture. This funky vintage font is super versatile and comes with 3 different don't types and 4 sweet ligatures. A great choice for any posters or branding. 
Download the Thrope Font Family right here
48. TT Arlen
This big, bold, and bright typeface offers a stunning visual presentation that we think is super versatile and attractive. TT Arlen is a catchy sans-serif suitable for branding and headings. Depending on the context of the project, the typeface can change its character from playful to aesthetically delicate. If you want t make a statement with your design, then this font type is for you. 
49. Thiket Typeface
Tugcu Design Co. proudly presents this font that's as fun and customizable as it is adaptable. Just make sure to use Illustrator to access all the glyphs and pretty custom letter pairs.
50. Migha (FREE)
Available in 6 weights and 4 widths, this versatile display typeface from Seniors Studio should be a regular in your designer's toolkit.
51. Heathfield Font (FREE)
Vintage, bold, and slightly traditional, this decorative serif from PutraCetol Studio includes swash, stylistic, and titling alternates, as well as standard and discretionary ligatures. Free for personal use ONLY.
52. Baigo Font (FREE)
Looking for a modern thick font? Then let this heavy free typeface from Vlad Cristea do most of the heavy lifting.
53. Airone Font (FREE)
Designed by Roberto Perrino and Francesco Terragin, this extra bold sans serif is ready to take on headlines, badges, posters, branding projects, and more. Free for personal use ONLY.
54. Onek Hokot (FREE)
Inspired by the 'bubble' graffiti style and modern Y2K aesthetics, Pixel Surplus and Onek Studio have combined talents to bring you this awesome fat font.
55. Armonioso Font (FREE)
Romantic but still following good conduct, Zetafonts has created a sweet and modern script that will look awesome vertically or horizontally.