Last Updated on September 18, 2023
7Some may remember the 1970s as the decade of hot, unforgettable summers. But for many, it was a tumultuous time, with rallies, protests, and fights for equal rights. It wasn't all bad though: people remember the 1970s for individuality, disco music, and the continuity of the Green Revolution.
The 70s were also a great time for design. Need inspiration from the decade of change? Start with these awesome 1970s fonts:
Gorgeous 1970s Fonts
1. CA Magic Hour
Remember the time when the Concorde was flying fast in the skies? When cocktails during daytime were not a sin? Return to happy times with this optimistic and straightforward font from Cape Arcona Type Foundry.
2. Addington CF Steadfast Serif
Need a reliable font that looks charming yet playful? Try this one from Connary Fagen Type Design. Amazing in small or large text sizes, it will be your new go-to serif.
10. Superfruit Font
This super tasty and cute font by NimaVisual is just the thing you need to sweeten up any artwork. The best part? The pack includes five backgrounds in high-resolution PNG or EPS formats.
11. Kara
Go crazy while you experiment with this versatile font from Mostardesign Type Foundry. It's the ideal font family for cartoons, decorations, branding ideas, signage, prints, and even web design.
12. Mega Fresh Font
BLKBK brings you beautiful letters and numbers for all your creative needs. Created with freshness in mind, this one is a must-have in your design toolkit.
13. Striped Vintage Label Typeface
One of the most iconic markers of the 70s was their signage designs. Vozzy captures this vintage look in this special font type perfect for big projects like logos or posters.
Download Striped Vintage Label
14. CA Viva Las Vegas
The 70's were huge for music icon, Elvis. This typography by Cape Arcona Type Foundry, re-lives those fun musical times with this lightbulb style with four weights to mix and match.
15. Manicuore
This hand-drawn typeface by PintassilgoPrints was inspired by Italian movie posters created by famous movie poster artist, Symeoni (a.k.a. Sandro Simeoni). Featuring more than 89 bonus graphic elements, it's a collection with endless possibilities with just one click.
16. Crocante
Make your works pop in this typography by PintassilgoPrints. This is an energetic and good-humored display font that will surely add spontaneity to any project!
17. Ziclets
Too cool for regular fonts? Try this psychedelic yummy collection from PintassilgoPrints for an interesting take on an old favorite.
18. Jassin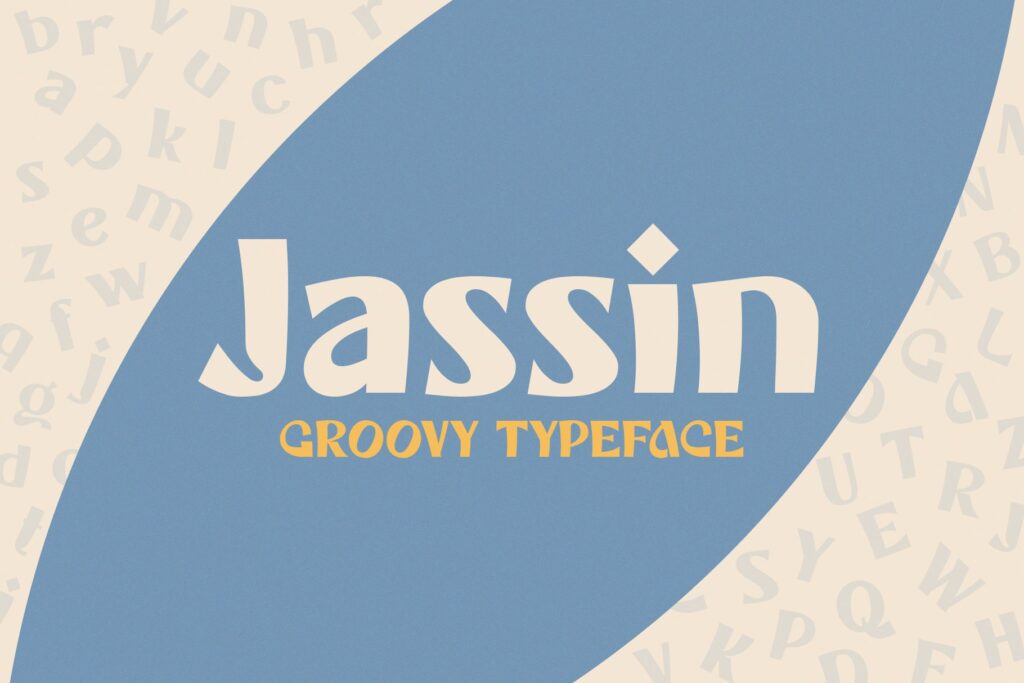 Jassin is a fun and groovy typeface with a bold personality. Perfect for branding, headlines, social media, advertising, packaging, posters, t-shirts, editorials and much more. Its vintage feel evokes the carefree and whimsical vibe of the psychedelic era, allowing you to craft impressive looking designs.
19. Wanderlust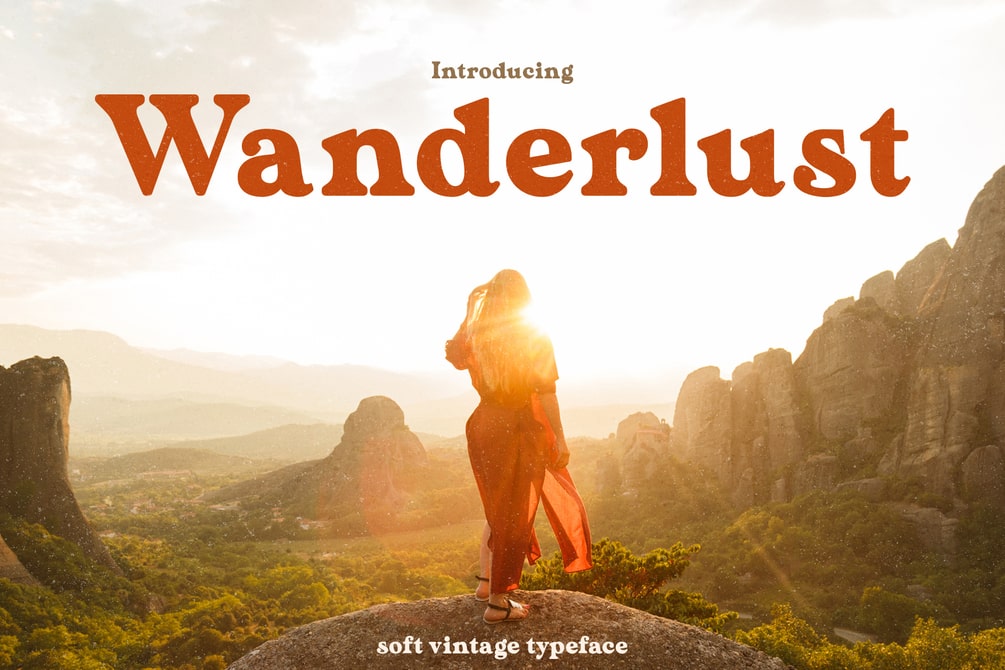 Wanderlust is a beautiful vintage soft vintage typeface. Wanderlust is a very versatile font, covering a wide range project types, from wedding invitations, to bold magazine imagery, to branding, poster design and so much more.
20. Lightmetro 
Light Metro is a captive font designed with strong outlines and fat strokes to bring your branding to life and add a touch of vintage, fun, but still stylish. There is a slick and sext 1960s and 1970s vibe to this font and template design that we think you just can't ignore, and with a range of ligatures and alternates available in the font package, we think it is a great deal. 
21. Kirimomi Swash
A display font by Wordshape that features both upright roman and italic variants, this was made with versatility in mind. Enjoy combining swashes with ornamental glyphs for a fun, yet stylish look.
22. Callista
Inspired by the works of Francois Boltana and Milka Peykova in the late 1970s, this plump, cursive typeface by Karandash will speak volumes about your projects. Perfect when working with headlines or logotypes.
23. SOLID70 Retro Geometric Font
No need to sweat over your designs when you can easily type a few characters, change colors, or switch between looks to get the exact outcome you want. RetroSupply Co. makes it effortless with this bold and proud font that looks awesome in any artwork.
24. Funkydori – Bold
Nothing says being back to the psychedelic 70s than a font paying homage to bellbottom jeans, unicorns, and rainbows. This collection by Laura Worthington offers not only beautifully-crafted bold font, it also includes generous swash capitals, alternates, endings, ornaments, and tile-able patterns.
25. Cooper Black Swash
In honor of Oz Cooper's work that helped to shape the American advertising landscape through a bold typography. This one, created by Wordshape, is hopefully something Mr. Cooper – and today's designers – would be rather pleased with.
26. Fragile
This sleek typeface by Josh O. is best used for projects that require a little elegance without looking too formal. It's ideal for logos, wedding invitations, editorials, headlines, and more.
Remember the Mystery machine? Re-live the days in this far-out funky font from Neapolitan Type. Get ready for danger at every curve!
28. Gaytan Serif
Gaytan (which is Bulgarian for "braid") is a fresh new take on archaic letterforms. Inspired by Old Church Slavonic Cyrillic, Bulgarian Ustav, and the Russian Vyaz stiles, this unique font by Karandash will surely make every project look and feel avant-garde.
29. Cornelius Screaming
Designed by Daniel Bak (Artcity), this wild, hand-drawn typography was inspired by the chief male ape character from the 1968 science fiction film "Planet of the Apes" (adapted from the novel of the same name, written by Pierre Boulle).
30. Pirata
Bold, beautiful, and simple – this is what comes to mind in this 70's revival font from W Type Foundry. As they say: go big, or go home.
31. Berkmire AOE
We turn to the past to inspire future creations. That's why vintage endures – like this bulky techno typeface by Astigmatic.
32. Lemonade Font
You don't need a lemonade stand to re-create the magic of hot summers and endless laughter. Simply evoke the same feeling in this nostalgic typography created by himok.
33. Authority 1970s Public Font
Inspired by New York public fonts in the 70s, this typeface from RetroSupply Co. is testimony to how letter styles quietly impact our lives.
34. Local Groceries Handwritten font 
This super-cool font is inspired by the hand-painted paper signs typically seen in grocery stores from the 1920s to 1970s. This font package combines regular and script fonts to provide a really attractive design. Perfect for any marketing, branding, or advertising project.
Download Local Groceries here!
35. Fanfare 
Fanfare is a font bursting with fun and laughter. A Latin-style serif font with a modulated baseline, the font gives you joyous vibes, and we think that any design looking to incorporate a little bit of happiness into their look should consider this funky, groovy, and cheerful font design package.