Last Updated on January 4, 2021
Outlines are a great way to give character to any design. That's because they can emphasize geometric shapes, as well as provide unique detail to things that are otherwise bland or plain. Adding shading or shadows can also give outlined works a 3D look. So if you're looking to make your lettering, signage, labels, or posters pop, you may want to consider drawing outlines.
This technique can be elegant, too. Depending on how or where you use it, outlines have a minimalist vibe that's perfect for luxury branding or print products. They can be customized to suit any theme as well. From sci-fi, nature, to athletic, corporate and art deco – outlines are perfect for any and all occasions.
Looking for outline fonts to add a unique touch to your future projects? Then you've come to the right place.
Outline Fonts
1. Playbook Type Family
This trio of playful typefaces from DesignSomething would look awesome on titles, headers, product labels, and more.
2. Darling Bloom Font
Salt & Pepper Designs proudly presents this hand-drawn gem that will be a welcome addition to stationeries, invitations, book covers, cards, and print projects.
3. Decurion Typeface
This slab display font by Tugcu Design Co. is a multipurpose wonder that can go from urban to athletic in a pinch.
4. Blitzen Display Font
A handy little helper, this scribbly uppercase display font from Creativeqube Design comes in two unique designs that create an interesting effect when used together.
5. FreeLine Font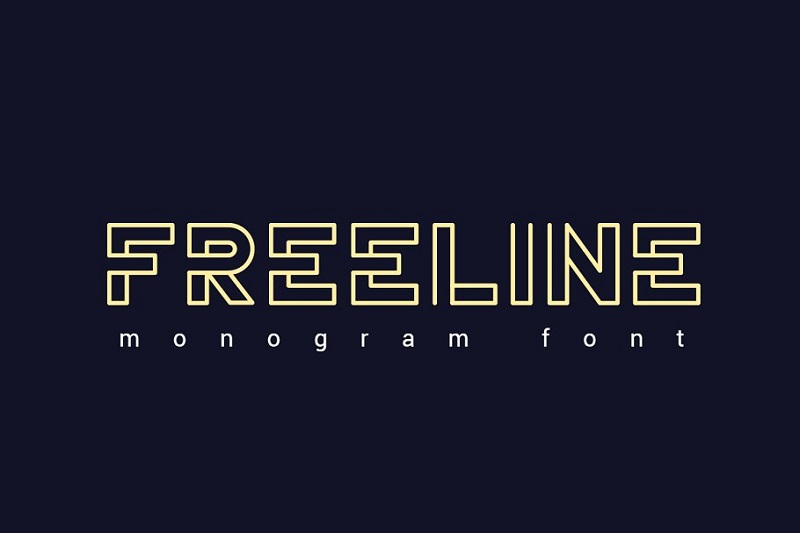 A fashion-forward font by Sentavio that easily transforms to suit high-tech or corporate themes, it's a must-have in any designer's toolkit.
6. Azidhor Typeface
Inspired by the modern age, Scredeck presents this all-caps typeface that's always ready to make a huge impact.
7. Coven Typeface
This bold and sharp display typeface comes in two versions: filled and outlined.
8. Chalk Board Font Tuck Shop
This highly-detailed chalk font by Itsmesimon was made using real chalk – so expect rough, untidy, but fun and child-like wonder each time you use it.
Download Chalk Board Font Tuck Shop
9. Vagabond Font Set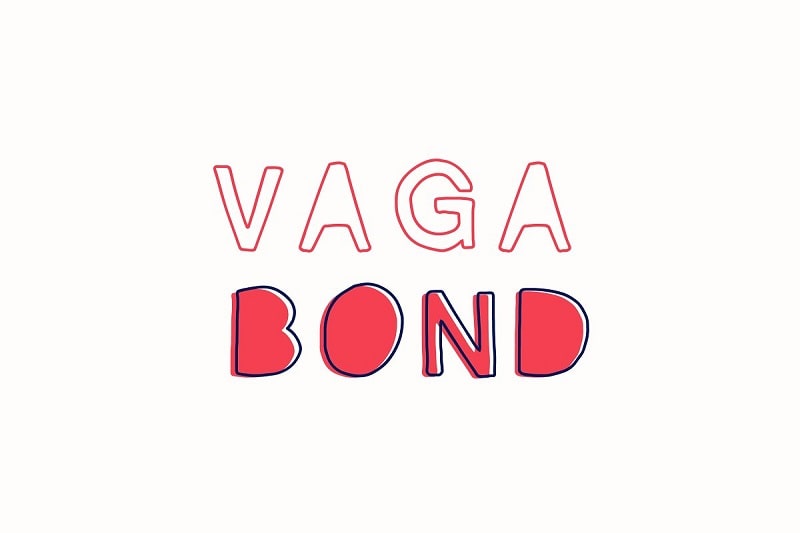 A handmade font family by NiceStuffSupply that includes three variations: regular, italic, and outlined.
10. Sketchy Story Font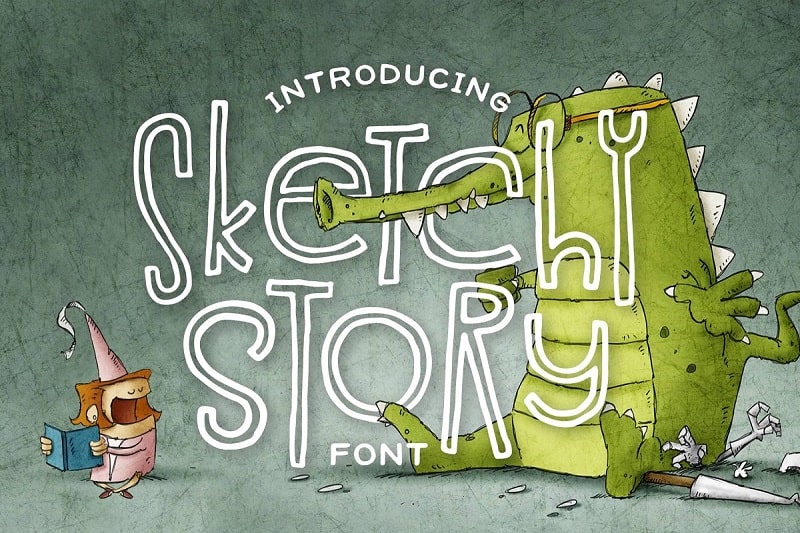 Rough edged, and skinny, Denise Chandler brings you this child-like typeface that's perfect for children's books, posters, and other projects.
11. Laurel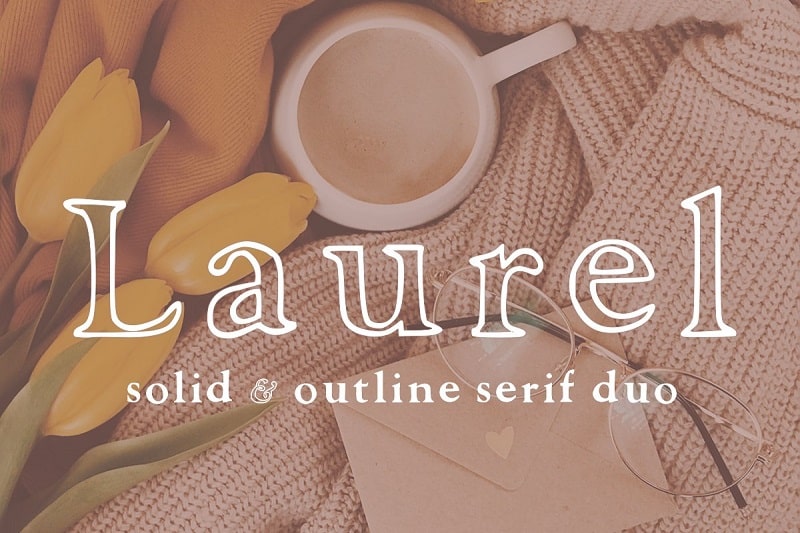 A handcrafted outline duo from Margot + Co, these serifs are clean, respectable, and laid back enough to be included in your spring or summer works.
12. RAILS
With 4 styles to choose from, Superfried Type Emporium gives you boundless options for creativity using this one display font.
13. HandDeco Outline
Inspired by geometric typefaces of the early 20th century Art Deco era, Gerren Lamson offers you a chance to relive that period in this classy family of four sans serifs.
14. Prova Outline
Prova means "test" in Italian and "proof" in Portuguese – so give this condensed hand-drawn typeface a try and see how it gives your designs the friendly, playful vibe it needs.
15. Braga Huis
Strong lines but with a curvy passion, this lovely creation from Juru Aksara is both modern yet vintage.
16. Bronx
An extension for the Manhattan font, Jen Wagner Co presents this beautiful outline lettering that truly embodies the metropolis.
17. Katrin Sketch
Anastasiia Macaluso brings to you this uppercase font with a detailed sketched look that would be great on titles or short phrases.
18. Cristal Font Family
A modern typeface with a bevel effect, Corradine Fonts outdoes itself with this elegant offering that comes in 15 fonts.
19. Birch Is Right Here
Woodsy and beautiful, create amazing nature-inspired projects using this cool all-caps outline font from BIRH_ Creative.
20. Exodar
This modern futuristic typeface by Rometheme Studio is ready to take you and your works to the next level.
21. Trindle Sans
Make headlines and sleek logos with a unique art deco flair thanks to this gem from Glyph44.
22. Klenik
This slab serif font from Grontype comes in Light and Outline versions to give your projects a fresh, modern feel.
23. GARDE Font
Create outstanding titles, monograms, and logos effortlessly using this stylish, luxury font.
24. Organa
This geometric font family from TypeFaith Fonts comes with 6 styles for you to mix and match, or use each on their own.
25. EQIVA Logo Font
Inspired by music, sci-fi, and modern design, Revnede brings to you a font you can use in either web or print works.
26. Epilepsja Outline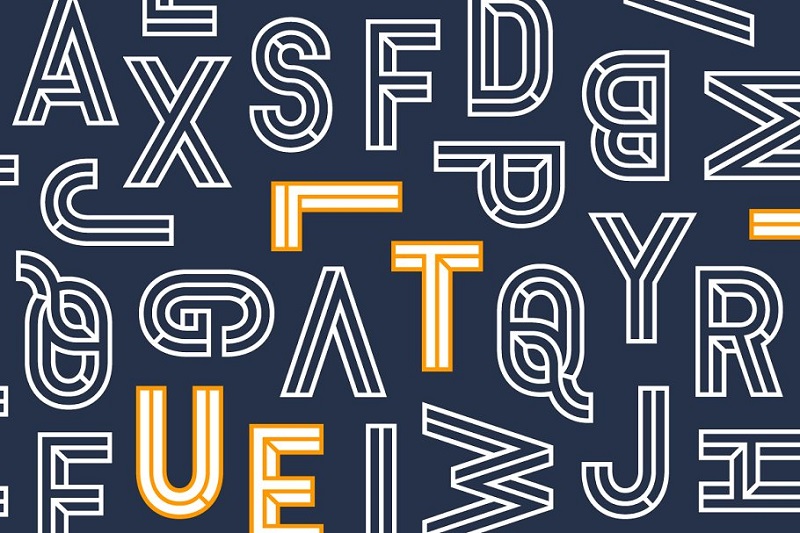 An all-caps type family by Mikołaj Grabowski perfect for display works, it offers a 3D illusions that's sure to make your designs stand out!
27. Festivo Letters
With a total of 19 fonts, this hand-drawn font family from ahmetaltuntype also includes a few ornaments for your convenience.
28. Wolvercote Outline
Influenced by type on 60s and 70s fantasy novels, this all-caps display font from Christian Laliberte will add a unique and classic touch to any design.
29. Sandman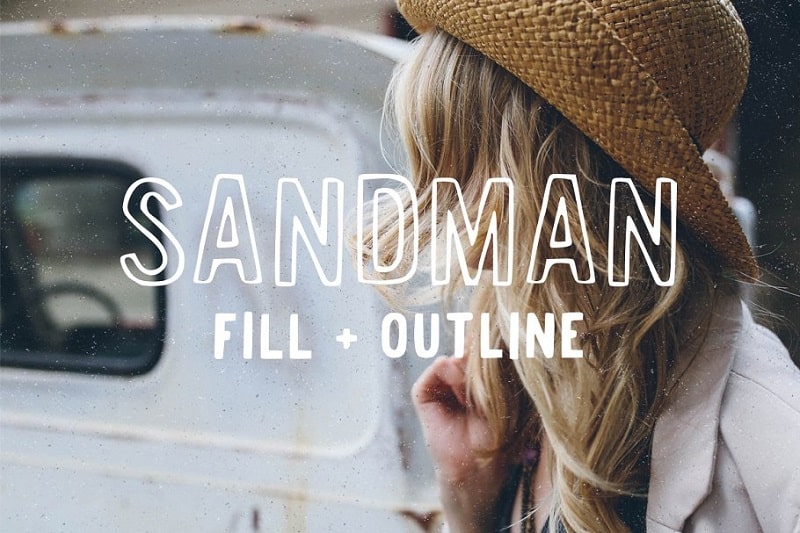 This handmade sans serif by Jackrabbit Creative includes two versions: Fill and Outline, that are perfect for overlaying on photos.
30. Neon
This all-caps, modern and edgy group of bold san serifs from Big Cat Creative is always ready to make a bold statement – so why not give it a try?