Last Updated on May 29, 2023
Design has the power to evoke all kinds of emotions on a subconscious level. That's why it's important to carefully think about the images, color, and font that you want for your project. Posters for instance, are meant to be displayed in public, whether it's in print or digital. Thus, you need something that's big, eye-catching, yet still maintains readability.
The choice of color and font can make or break your concept. If you're making a horror movie poster for example, something dark or edgy should evoke fear. On the other hand, a billboard ad for food needs something simple yet striking.
Looking for the right poster fonts? You've come to the right place.
High-Impact Poster Fonts
1. Zilla
Hey, check out Zilla – it's a cool and chunky font that's perfect for making your headlines, social media posts, and book covers stand out. It's got a fun and quirky vibe, and comes in two cool styles – Regular and Rounded – so you can choose what works best for your project. Whether you're going for a contemporary or retro look, Zilla's got you covered. Give it a try and see for yourself!
2. Mazion
Check out Mazion, this awesome experimental font that's all about being bold and heavy. It's got this really unique geometric shape that'll totally grab your attention, making it perfect for headlines, logos, ads, and more. With its thick and sturdy lines, Mazion has got this super confident vibe that just demands attention and leaves a lasting influence.
3. Avalar
Avalar is an attention-grabbing serif display typeface. Unlike other fonts that try to stay quiet, Avalar is extroverted, lively, and bold. Create beautiful wedding invitations, magazines, books, packaging designs, websites, mobile apps, and logos.
This refreshing typeface comes in Bold and Regular styles. Pair it with cursive or sans serifs for interesting results. Play with sizes. Avalar is timeless – you can trust that it will look just as splendid today as it will be tomorrow.
4. Firecracker
Firecracker is a total blast from the past, taking you back to the groovy and happening era of the 50s and 60s. Its totally boss letters evoke the energy and enthusiasm of that time. Perfect for all you cool cats out there looking to make a splash in magazines, newspapers, signage, branding, packaging, and more. Firecracker comes in two different styles, Regular and Oblique, so you can add a real retro vibe to any project.
Transport your audience back in time and create designs that are both far-out and timeless. Stop dreaming and take your work to the next level. Get your hands on Firecracker today!
5. Stardock
Stardock is a font that is perfect for futuristic, sci-fi, space, tech, and AI-related projects. With its sleek and clean design, it gives off a minimalist feel while remaining readable. The possibilities with Stardock are endless: use it to create designs that are out-of-this-world and that will surely captivate your audience.
It's an absolute must-have in your design toolkit! If you're looking to create designs that are lightyears ahead of the curve, then Stardock is the font for you. Try it on science fiction, space travel, technology, or AI projects. With its cutting-edge aesthetic, it's sure to impress even the most discerning of designers. So go ahead and explore new frontiers with Stardock!
6. Double Bubble 3D Typeface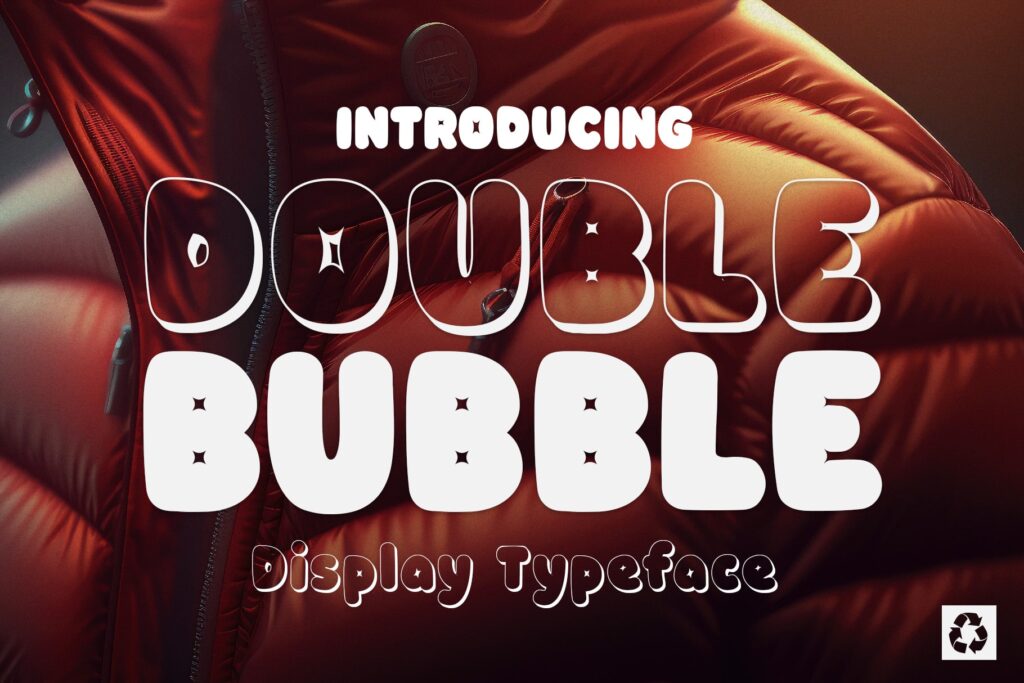 Double Bubble is a playful bubble display typeface that captures the imagination of childhood with images of bubble gum, bubble tea, and puffy jackets. Each letter floats on its own, ready to bounce off the page at any moment. And when you use Double Bubble to create text, it's downright mesmerizing!
The viewer will be filled with shimmering joy! One of the best things about Double Bubble is that it comes with Outline and Regular versions, which you can mix and match to create memorable designs. Whether you're making a poster, website, or social media post, Double Bubble is sure to catch the eye of anyone who sees it.
So go ahead, let your inner child run wild with this bubbly font! It's perfect for adding a touch of playfulness and whimsy to your designs. Get ready to make a statement that's as bold as it is cheerful!
Download Double Bubble 3D Typeface
7. Twinton
Twinton is a special font for modern designs. Its clean and minimal character is ideal for branding, headlines, fashion, thumbnails, social media, posters, covers, and pretty much anything you can think of. Twinton is designed for optimal legibility. Make a statement today with Twinton.
8. Kulfi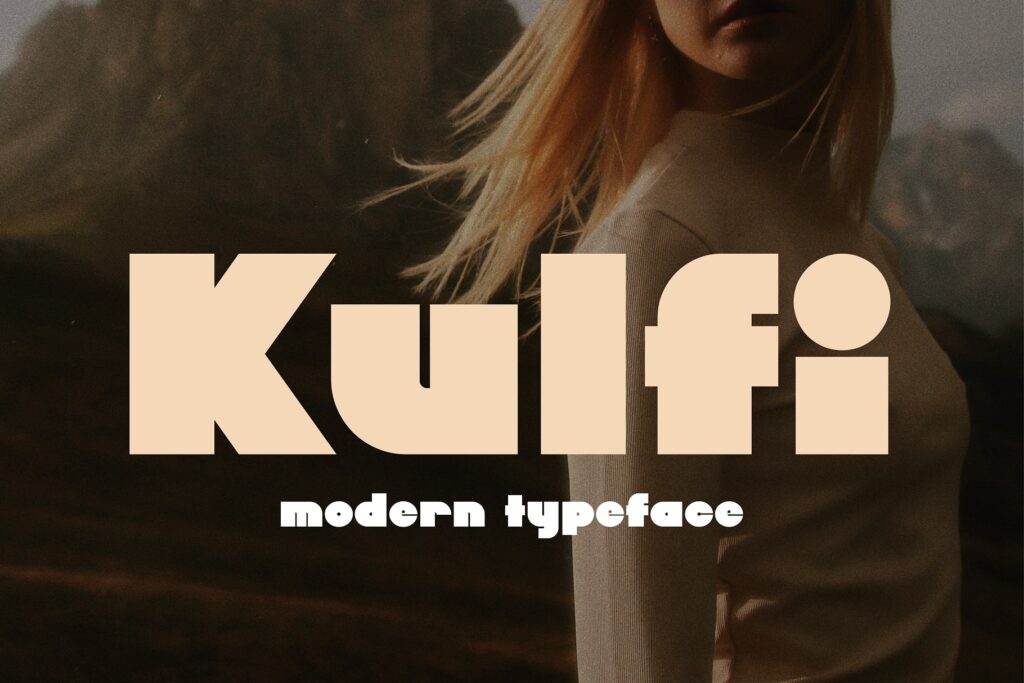 Looking for a juicy display font? There's no better option than Kulfi. This one-of-a-kind typeface features large, rounded geometric shapes and soft lines that are simply full of joy.
Kulfi is ideal for playful projects like storybooks, packaging, branding, kiddy products, headlines, social media posts, and websites. Modern, animated, and fun – it's a must-have for every designer's toolbox!
9. Upside Down

Check out Upside Down – a bold and dramatic typeface that will make heads turn and spark curiosity! With its sharp angles and curves, it's versatile enough to take your designs to a whole new world where anything is possible. It's perfect for flyers, posters, logos, social media graphics, and headlines.
This adventurous font comes in both regular and outline styles, so you can mix and match as you please. Combine them for a touch of mystery and excitement that'll leave your audience spellbound!
10. Point Blank

Have you heard of Point Blank? It's a rad retro font that will transport you back to the groovy and funky styles of the '60s and '70s. The big, bold, and chubby letterforms are perfect for making a statement in your designs. Whether it's for a poster, logo, or product label, Point Blank will add a touch of that cool retro vibe you've been looking for.
11. Nero
Nero is an ultra wide typeface that's sleek and modern. The font is fairly legible in all sizes, but works best when the letters are large. Nero is ideal for packaging, posters, sports, advertising, editorials, social media, Youtube thumbnails, and more. If you're looking for a stylish new font for your design toolbox, then Nero will make a perfect addition.
12. Fabian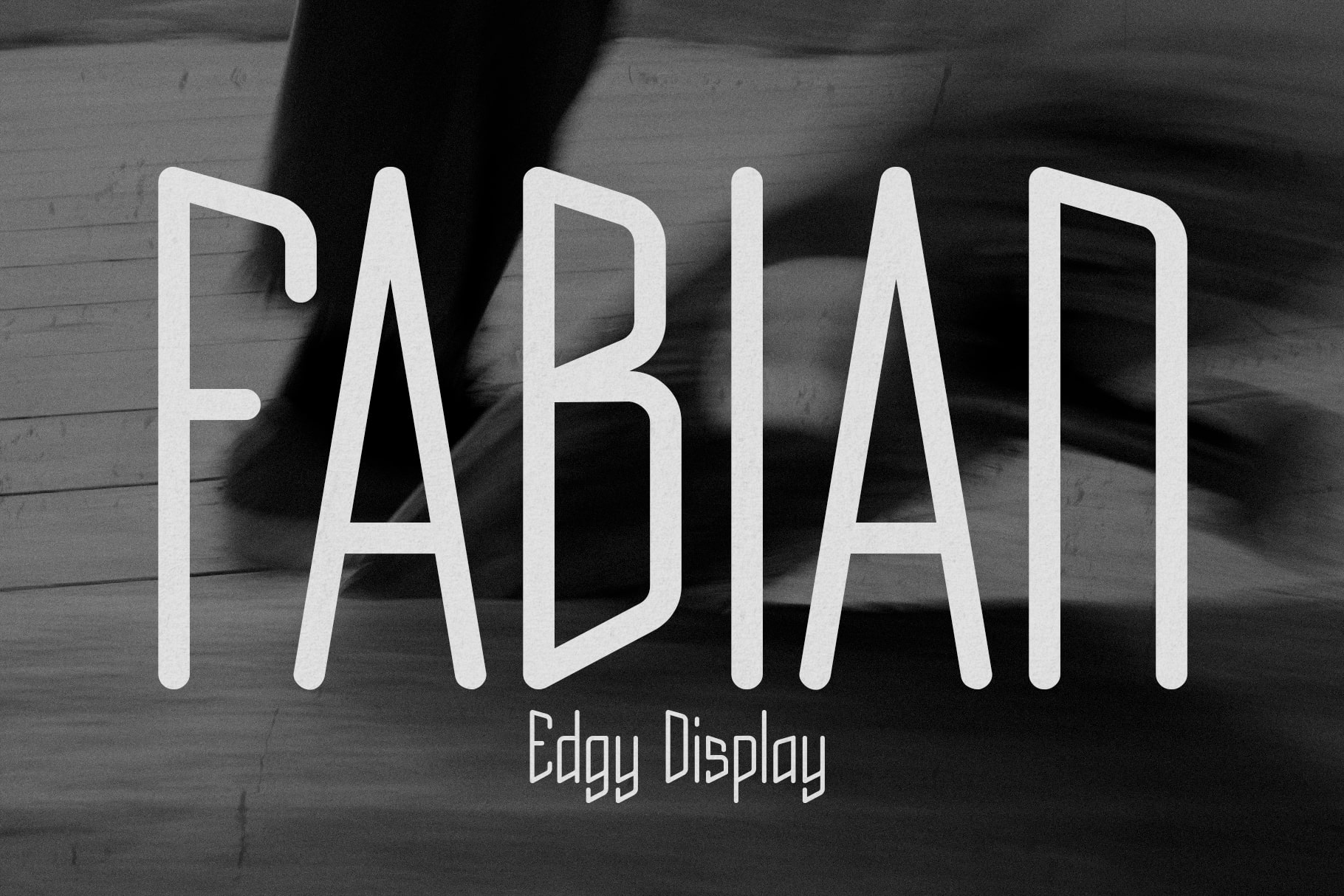 Fabian is an edgy punk display typeface. It's distinctive look is perfect for posters, album covers, apparel, logos, headlines, and more. It was inspired by the 1990s punk rock movement. This modern font includes upper & lowercase letters as well as punctuations and numerals. To get a feel for it, test it our below.
13. Trenton
Trenton is a stencil serif typeface. This display font is beautiful and legible in small or large sizes. You can use it for logos, editorials, fashion, sports, blogs, advertising, invitations, posters, quotes, book covers, stationery, and more. If your goal is to create a unique and versatile stencil based design, then Trenton is for you.
14. Marthy
Marthy was inspired by Art Nouveau and 1970's psychedelic posters. This expressive typeface is designed to be used for branding, music posters, album graphics, book titles, etc. Evoke that nostalgic 60s/70s look today with Marthy!
15. Zuccini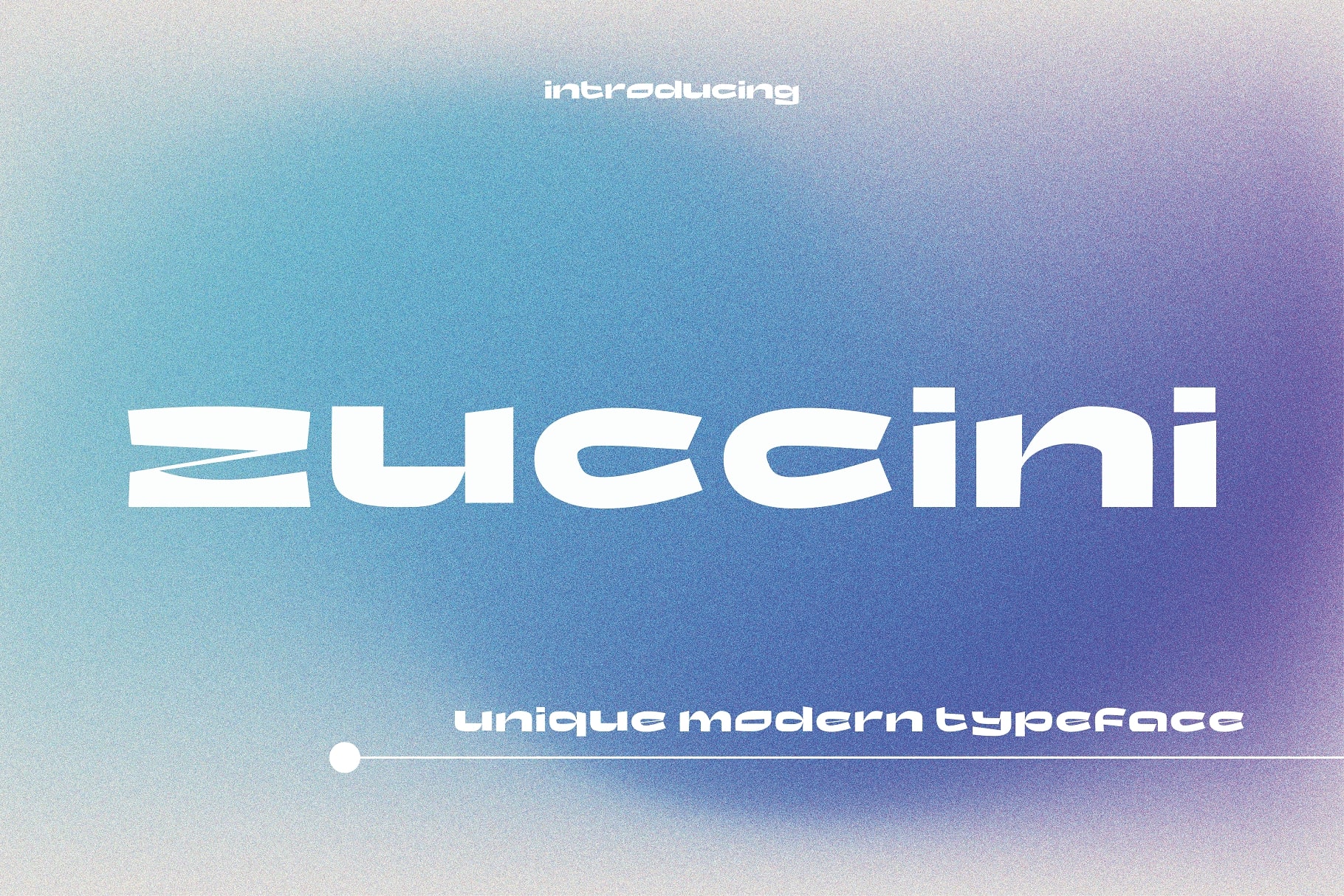 Zuccini is a unique modern typeface created especially for sleek/minimal design projects. This gorgeous font is perfect for magazines, branding, social media, youtube, packaging, fashion, posters, headlines, and much more. With stylish looks, Zuccini will make your designs stand out and get noticed.
16. Nightwish
Nightwish is a sharp script typeface. The font is a bit slanted as if it's handwritten. Its gothic/Old English aesthetic is ideal for apparel, greeting cards, product packaging, book covers, album covers, logos, social media, posters, and more. If your design requires an aggressive vibe, then Nightwish should definitely be on your radar.
17. Fokus
Fokus was inspired by mid-century print design. The height of this condensed typeface automatically draws attention and can be utilized to create beautiful headlines, logos, quotes, posters, social media, headlines, magazine titles, clothing, large print formats, and more.
You can easily pair it with scripts and bold sans serif fonts. Fokus comes in two versions, regular and thin, which makes it super versatile and fun to experiment with.
18. Windsor
Windsor is a groovy typeface ideal for gig posters, magazines, bucket hats, enormous stickers, bachelor parties, postcards, taco joints, fishing charters, dive bars, shell shops, and business retreats. With Windsor you can effortlessly create eye catching designs. Enjoy!
[fontsampler id=67]
19. Mammoth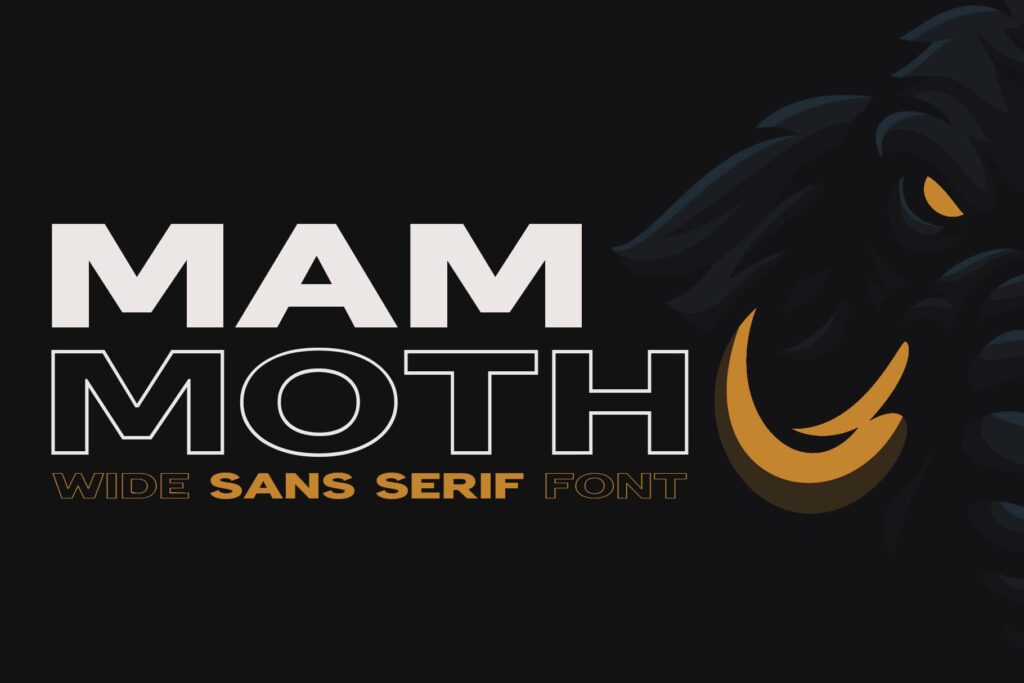 Mammoth is a wide sans serif typeface ready to push the boundaries in your designs. Thanks to its modern look you can use it for any project that requires a bold, clear statement.
You can use it for numerous projects like fashion, magazines, logo, branding, photography, invitations, wedding invitation, quotes, blog header, poster, advertisements, postcard, book, websites, etc. This download includes regular and outline versions as well as lowercase letters for each. You can mix and match the outline and regular version to come up with unique designs.
[fontsampler id=65]
20. Azerty
Azerty is an experimental typeface meant to brake all the rules. This font will encourage you to change your perspective and see reality in a new light. It will inspire you to create and push the boundaries of experimental and futuristic designs. Enjoy!
21. Castleton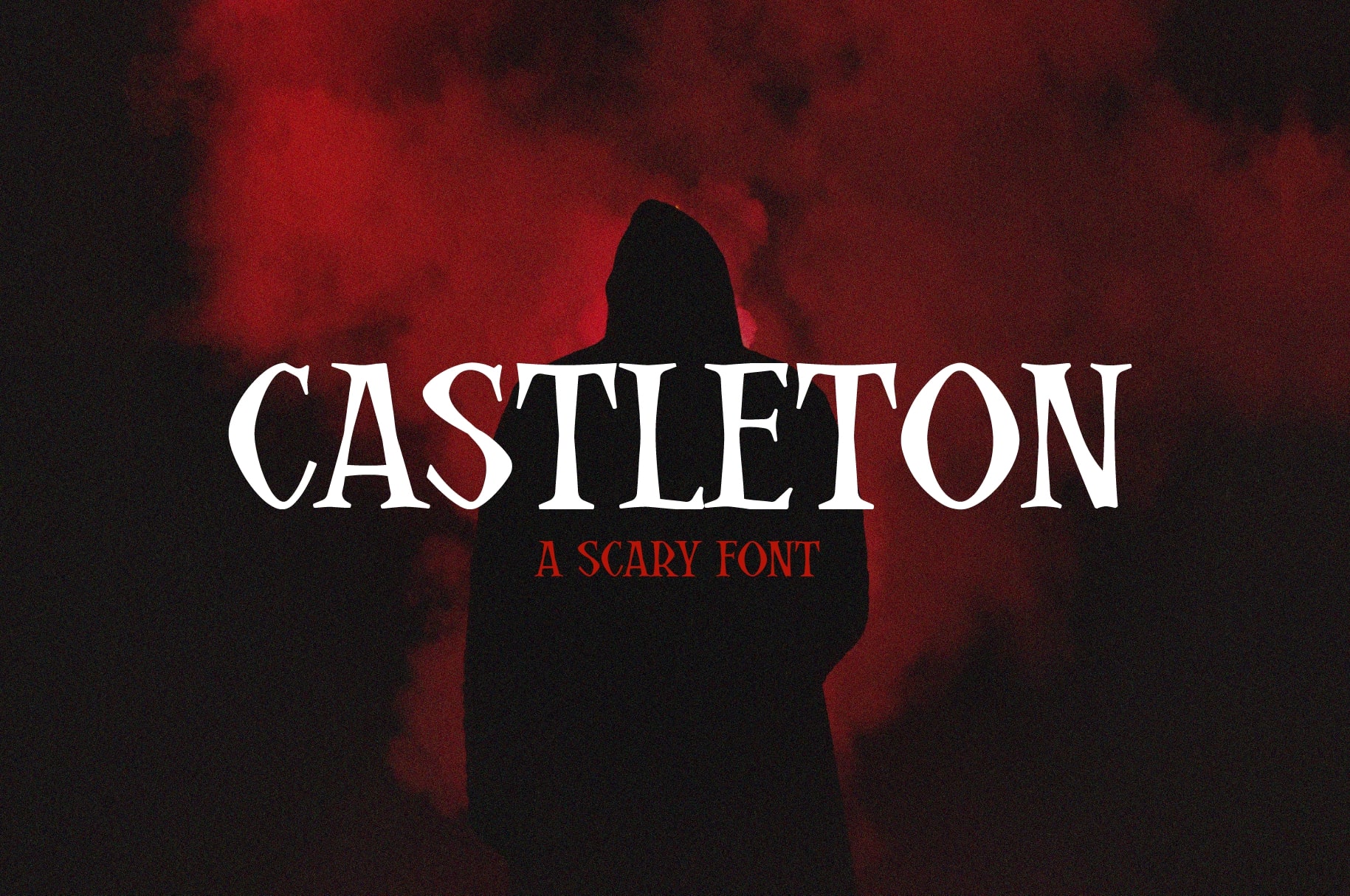 Castleton is a Halloween inspired typeface. This unique font is perfect for horror designs as well as fantasy based projects. You can use it for just about anything like posters, branding, apparel, stationary, stickers, packaging, movies, album covers, and more. Create eye-catching designs today with Castleton!
22. Klutch
Klutch is a beautiful racing themed typeface. It's ideal for sports headlines, editorials, racing posters, esports, branding, website design, advertising and much more. If you're looking for a beautiful typeface that creates the effect of power and speed, then Klutch is for you.
23. Niran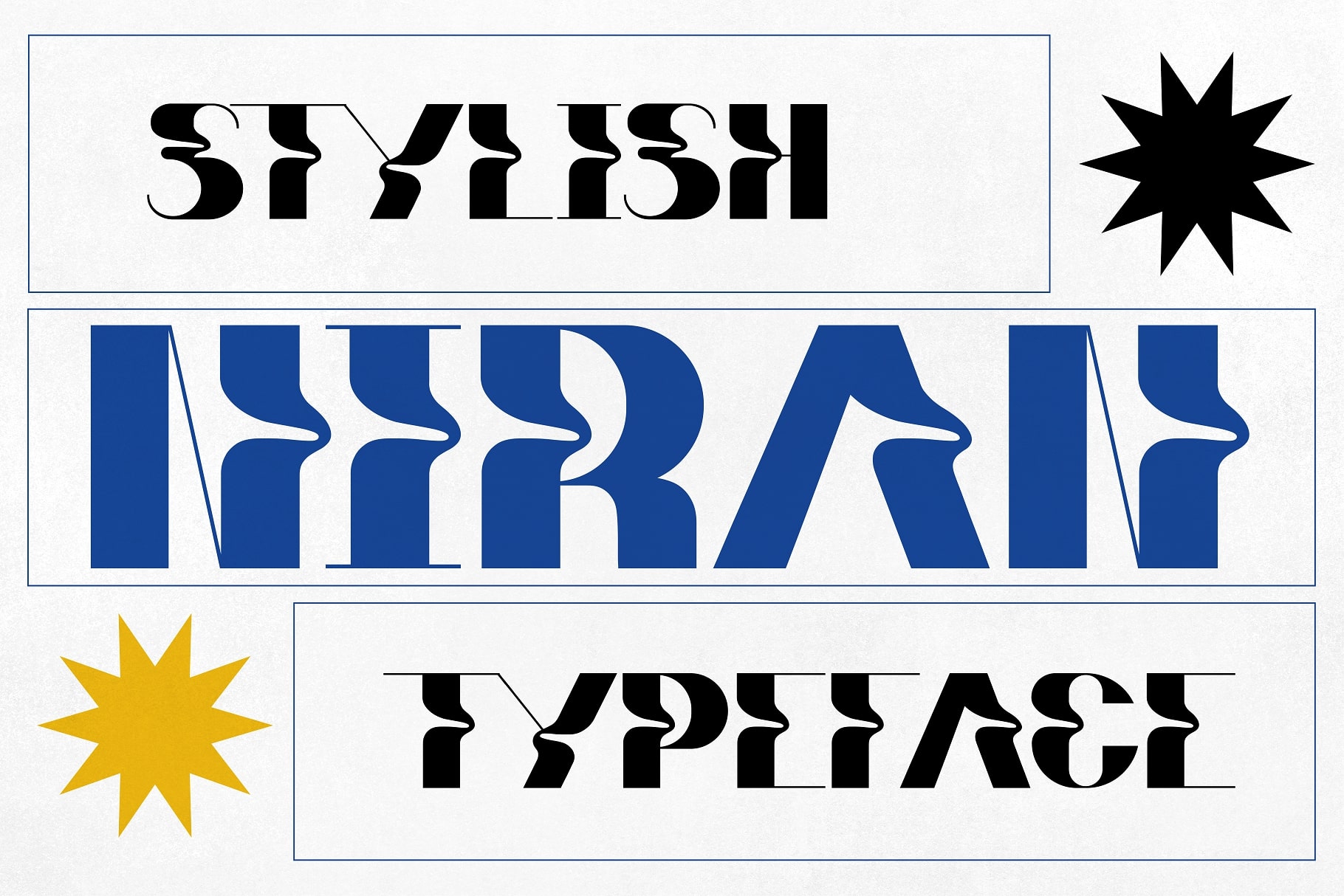 Niran is an experimental typeface with radical curves. Unique rippled lettering makes this font perfect for groovy posters, abstract logos, creative quotes, rad packaging, attention grabbing headlines, and much more. Niran mixes futurist letters with nostalgic curves, thus creating typography which stands out from the norm. If you're searching for an experimental font that breaks the rules, then look no further than Niran.
24. Oyster
Oyster is a sexy and elegant sans serif typeface. This font will grab attention and make your works stand out. Its use is ideal for fashion projects, packaging, branding, magazines, headlines, social media, invitations, and much more. Oyster also includes beautiful ligatures, which will add an extra spark to your design.
[fontsampler id=66]
25. Bison
Much like the well-known beast, Ellen Luff attempts to capture the bison's sturdy and uncompromising appeal using controlled letterforms and modern touches.
26. Fab Display
If you're looking for a font that takes the appeal of old labels with an added feminist touch, this product from Biro AMDS is what your presentation needs.
27. Zachar
This Roman typeface from Rosario Nocera gives your presentation the thrill of lettering found in the horror and thriller genres.
28. Vampliers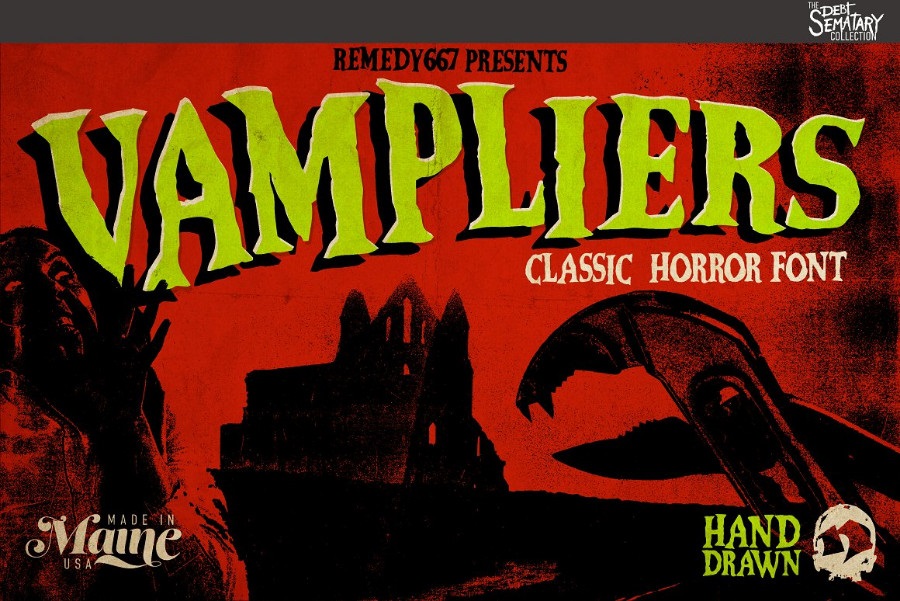 Remedy667 presents a handmade typeface that takes inspiration from lettering used in classic sci-fi and horror films to project a vintage, spooky feel.
29. Manicuore
PintassilgoPrints made this hand-drawn, all-caps font based on Italian movie posters from the known movie poster artist Symeoni.
30. Due Credit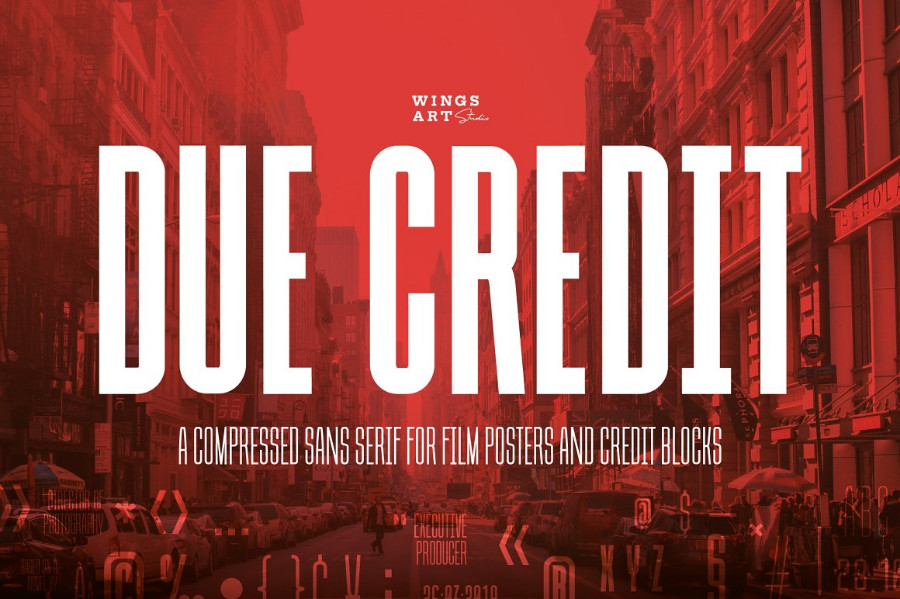 Wing's Art Studio specifically designed for the film and television industry that is great for bold headline titles and small credit blocks – with a few horror-inspired style elements.
31. Film Poster Typeface
Fontsphere gets us an ultra-condensed sans serif display typeface with geometric forms usable in creative graphics, posters, and advertising.
32. Sebastian
Sebastian is a playful cutout font created for quotes, greeting cards, social media posts, branding, headers, posters, merchandise, and much more. If your project or design requires a light-hearted cutout typeface, then Sebastian is for you!
[fontsampler id=61]
33. Wavelength Typeface
Wavelength was inspired by the "Rick and Morty" logo. This abstract display typeface grabs the reader's attention and keeps them there. It has an upper, lowercase display, numeral, and special characters. It is most suited as a decorative display font for editorials, album covers, posters, logos, web or packaging design. If you're looking for a typeface that's weird, trippy, and unique then Wavelength is for you!
[fontsampler id=60]
34. Overdrive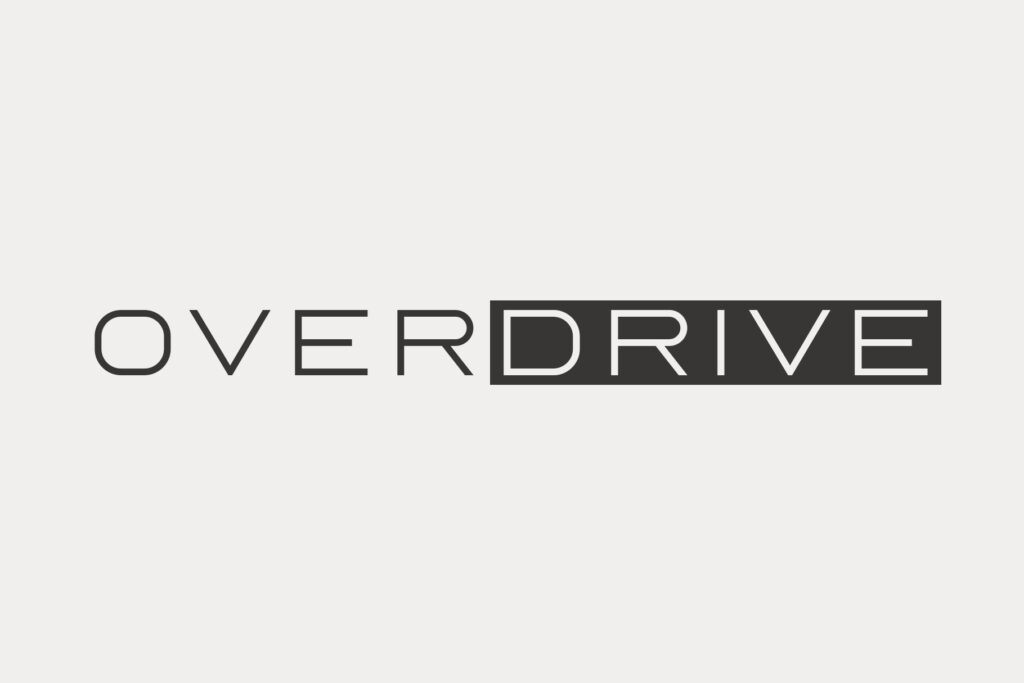 Overdrive is an elegant typeface inspired by Italian racing and automobile industry. This wide typeface is designed for sheer elegance and stylish experience. Overdrive is perfect for creating stunning logotypes, gripping headlines, memorable presentations, and edgy adverts.
[fontsampler id=28]
35. Pulse
Pulse is a racing font that displays boldness, showmanship, and speed. Pulse typeface is versatile and perfect for any design including logos, flyers, posters, headlines, sports, video editing and much more. Possibilities are endless.
[fontsampler id=2]
36. Wanderlust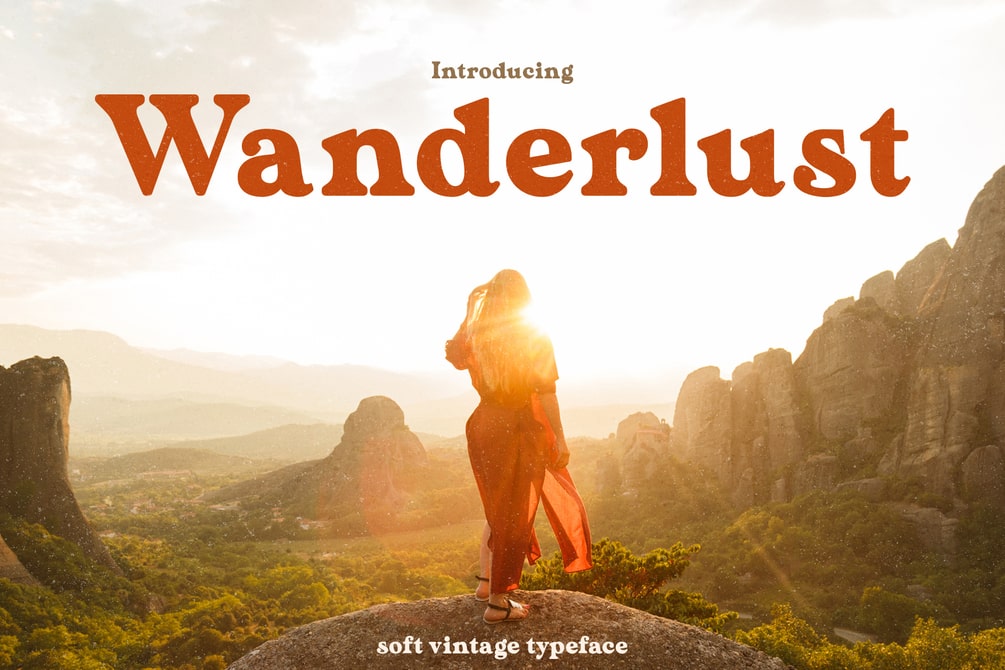 Wanderlust is a beautiful vintage soft vintage typeface. Wanderlust is a very versatile font, covering a wide range project types, from wedding invitations, to bold magazine imagery, to branding, poster design and so much more.
[fontsampler id=1]
37. Heisman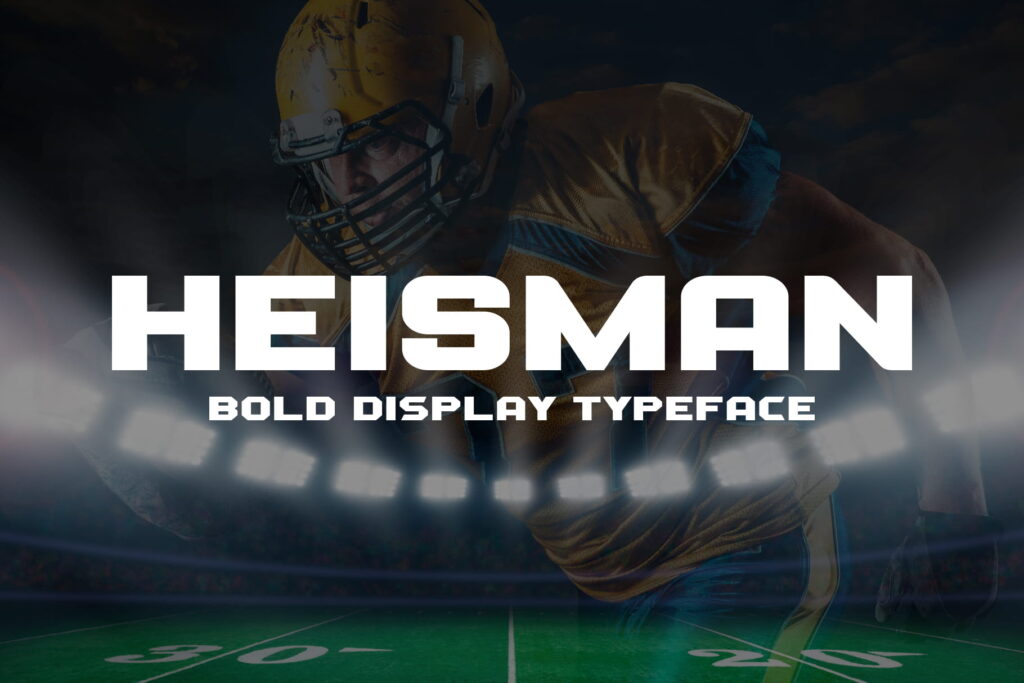 Heisman is an all caps font with unique small and large cap characters. The font is ready to be used for your sports related projects. Built to be perfect for headlines, jerseys, logos, branding, posters, packaging, advertising, and much more.
The font is geometrically perfect, which means it's aesthetically pleasing to the eye. Heisman is fully-kerned and is effortless to use. You can always play around with the spacing, however the typeface looks great when the letters are close to each other.
[fontsampler id=25]
38. Hitchcut Display Font
If a bold, gritty and unique font is what your project requires, try this product from Itsmesimon that will make your presentation standout using large lettering.
Download Hitchcut Display Font
39. Sahar Heavy
If you are looking for a charming san serif font that also achieves a hot, loud and heavy tone, you can count on this Lella7 product to get that effect.
40. August Typeface
From Ellen Luff, this san serif display typeface projects a powerful effect without sacrificing style or legibility.
41. Vanguard CF
Connary Fagen's display typeface is made to maximize horizontal space with weights that span from an elegant thin to an arresting heavy.
42. Bernoru Sans Font Family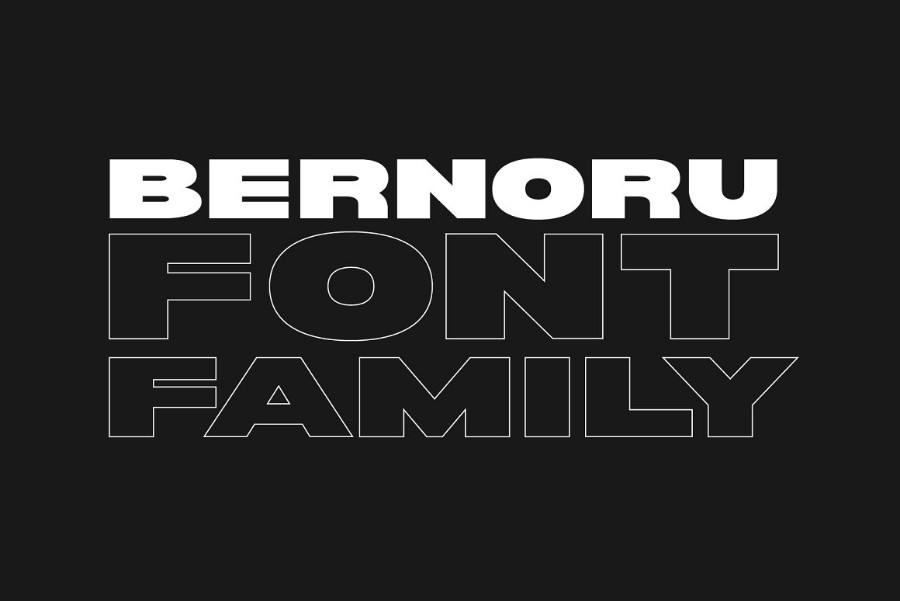 From grahampeterson, this eye-catching font works great for posters, headlines, and branding with six current widths and more to come.
Download Bernoru Sans Font Family
43. Futura
This URW product makes use of a geometric or constructed sans serif design influenced by the German Bauhaus movement of the 1920s.
44. Genome
This Howcolour font focuses on linear, geometric dimensions largely based on mimicking architectural design.
45. Loki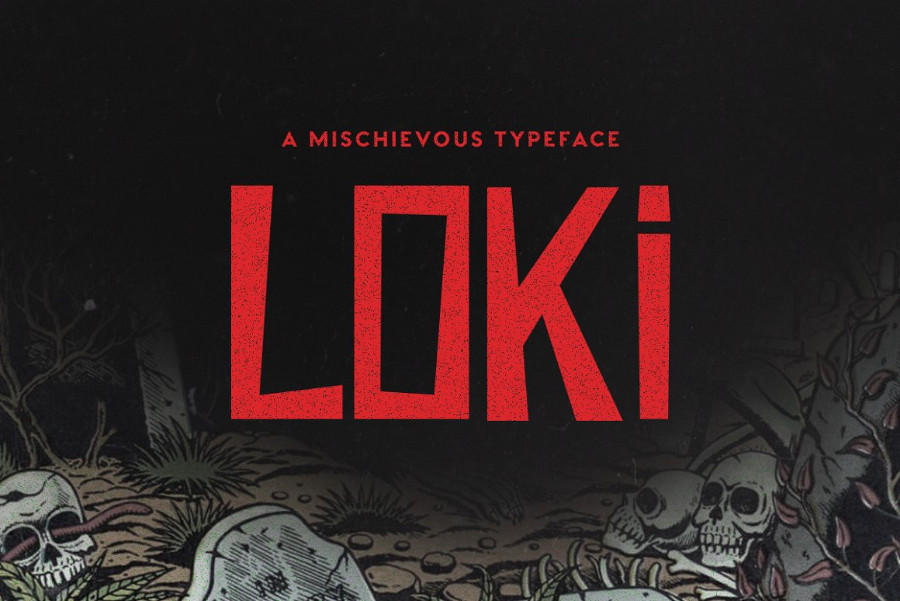 What's great about this Tugcu Design Co. product is that the font's lack of curves can give you either a dark, grim aesthetic but can also be used for more lighthearted themes.
46. CS Sandreas Font Family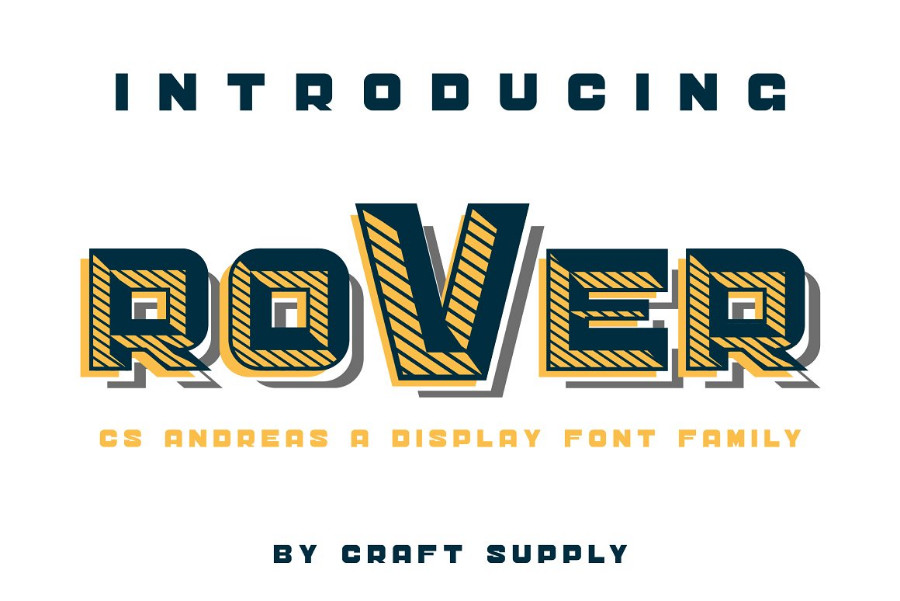 If you're after a universal font package that suits any kind of project that needs vintage or retro feels, this Craft Supply Co. typeface has a myriad of effects for you to mix and match.
Download CS Sandreas Font Family
47. Branche Display Font
TypoBureau Studio presents a sans serif font inspired by classic cigarette typography design from the Sixties, but with a modern, sporty touch.
48. Myona Serif and Elfani Script
Get a luxurious, modern design look that you can mix and match using Unfutur Labs' font duo.
Download Myona Serif and Elfani Script
49. Charoe
Tobias Saul's font features a modern look using straight shapes that will remind you of an early 20th Century aesthetic.
50. Marons Font
Alit Design presents an elegant font created using many properties of scripts and serif fonts which bring a unique and bold impression.
51. Clarkson Script
Brand new stylish, versatile poster font Clarkson Script includes more than 550 characters, alternates, and ligatures.
52. Gore Typeface
This curve-less display font works great with titles and blends nicely with other sans serif and script fonts.
53. Nordams
Maulana Creative's bold sans serif typeface with a strong focus on italics works well with branding, logos, magazines, and many more.
54. Devant Pro
Devant pro is a modern Sans Serif poster font very much suitable for web and print, such as movie film posters or large typography pieces.
55. Chelsea Olivia Font Duo
Garisman Std. gets you a display font and a script font that comes with not only ligatures, but also premade logos for you to whip up faster, more personalized presentations.
Download Chelsea Olivia Font Duo
56. Haste – 3 Handmade Font
Haste is a lovely, hand-lettered, vintage poster font designed to make getting that perfect hand-lettering look super easy!
Download Haste – 3 Handmade Fonts
57. Megante
From Sensatype comes a stylish, modern calligraphy font with a casual, chic flair that works stunningly with wedding invites, cards and projects that need elegant touches.
58. Bondie Extrude Font Family
This sans serif font from Craft Supply Co. is a result of exploring Retro American and European bold sans serif lettering for advertising, perfect for layered, vigorous detailing.
Download Bondie Extrude Font Family
59. Coven
This sharp and bold display typeface comes in both filled and outline styles that works not only with titles, but also with subtexts.
60. Kreativ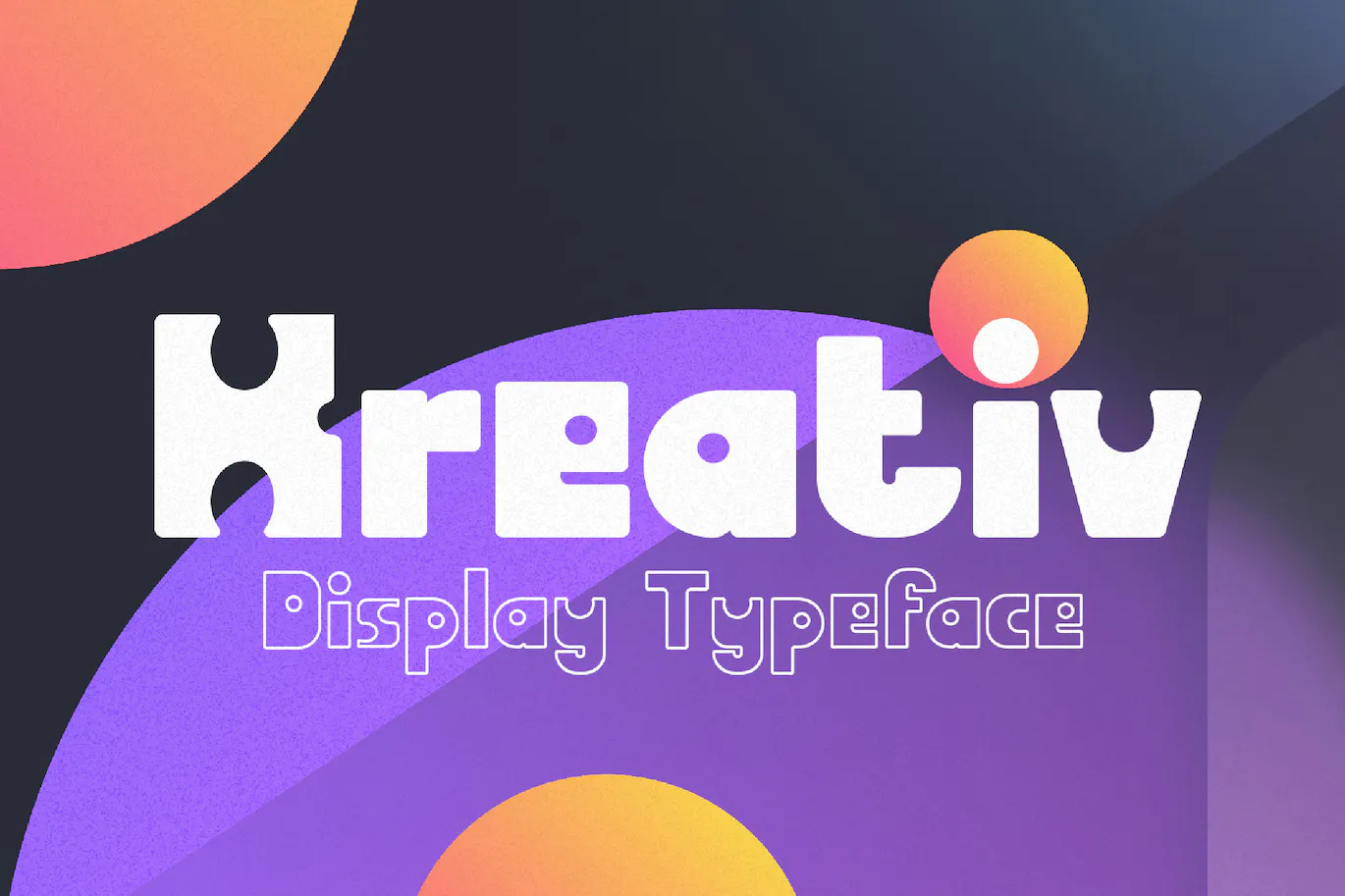 Kreativ is fun and quirky typeface that's perfect for posters, events, headlines, illustrations, printables, t-shirts, you name it. It's very versatile and fun to use thanks to its beautiful ligatures. Elevate your designs today with Kreativ!
61. Zuume Font Family
Adam Ladd's all-caps font present a high-impact, condensed look available in multiple weights and italics.
62. Golte Sans Font
With an eccentric and variable design, this display font works best when used at large sizes for headings.
63. Another Danger
Pick this hardcore font from The Branded Quotes that is made with unruly inks to achieve an enigmatic, splattered appeal.
64. Frank
Frank is a poster font inspired by the classics DIN, Eurostile, and a dash of Futura. Perfect for prints, t-shirts, posters, and such.
65. The Historia
The Historia is a vintage and natural handpainted poster font. Suitable for any design needs, it comes with upper and lowercase Standard Characters, punctuation, numerals, and special glyphs with multilingual support.