Last Updated on April 26, 2023
You might be wondering what exactly a 'love font' is. Well, simply put, it is an elegant and stylish font that is typically handwritten in design. This is because handwritten fonts add a personal touch like something has been written by hand just for that person. 
Whether you are writing a letter for a close friend or partner, creating a wedding invitation, or designing a poster or a flyer for your companies romantic date night event, then the 21 fonts listed below will offer you the best head-start possible! 
Peace Love Font Duo
There is a funky 1970s vibe to this font design, but it is all about peace and love at the same time. This groovy font package is built with OpenType features and includes beginning and ending swashes, alternate swash characters for most lowercase letters, numbers, punctuation, alternates, ligatures and it also supports other languages. 
Download the Peace and Love Package here!
Love Hewits Type Fonts
Give your designs an authentic handcrafted feel. "Love Hewits" is perfectly suited to signature, stationery, logo, typography quotes, magazine or book cover, website header, clothing, branding, packaging design and more. The font is available in OTF and TTF formats. 
Groovy Love Font
Elegant and playful, this fun-loving font is ideal for love letters, posters, or flyers that are promoting a romantic night or event. Perhaps you are a restaurant that is looking to find an elegant font to use for a date night poster, well this is the answer to your prayers then because the font that is included is versatile and unique in its own right! 
Download the Groove Love Font here!
Arion Signature
With this stunning and personal cursive design,  you have the advantage of making a beautiful logo, beautifying a t-shirt design, and you can make it easier to work on creating packaging designs, and more. Your opportunities are endless!
Download the Arion Signature font here!
Love Potion Font
Introducing the 'Love Potion' font, a fabulous new offering that works well for all areas of design! Looking for a font to pair with a stunning script? Or want to label something clearly but don't want to use a boring font? Then this beauty is for you!
Use all caps for a tall version and lowercase for a small caps version.
Sumantry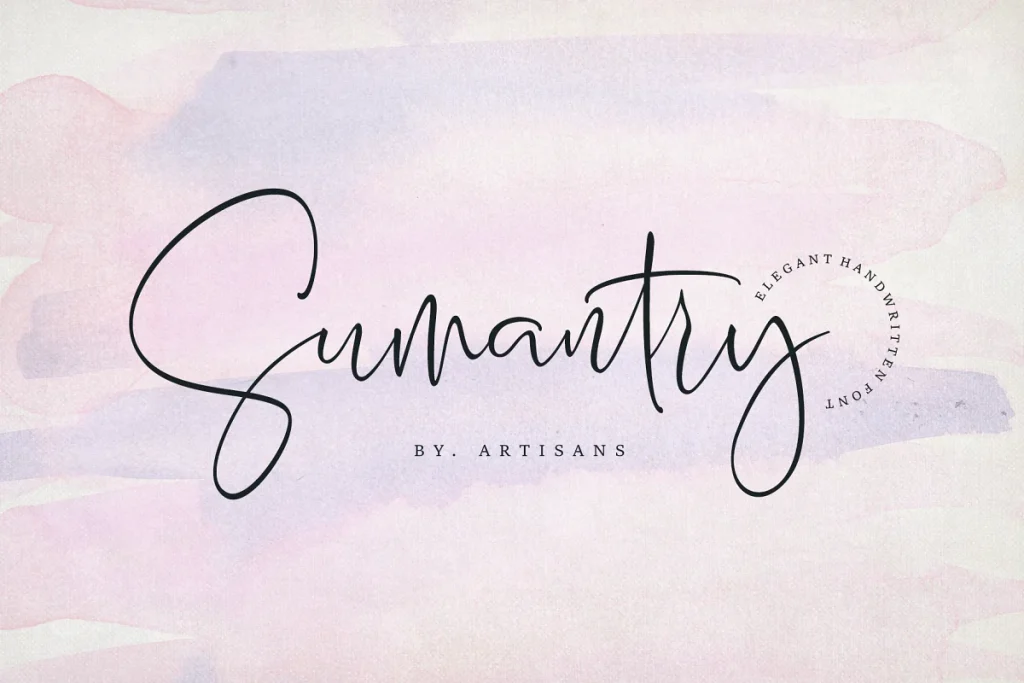 Sumantry is the only feminine font script, with a pure handwriting style, very perfect for invitations, signatures, logo designs, brands, and resources from this font can also be in the title of books and magazines.
Sumantry has Stylistic standard, Stylistic Alternates and ligatures. and includes uppercase and lowercase letters, numbers and punctuation marks.
Bless Your Heart Font Trio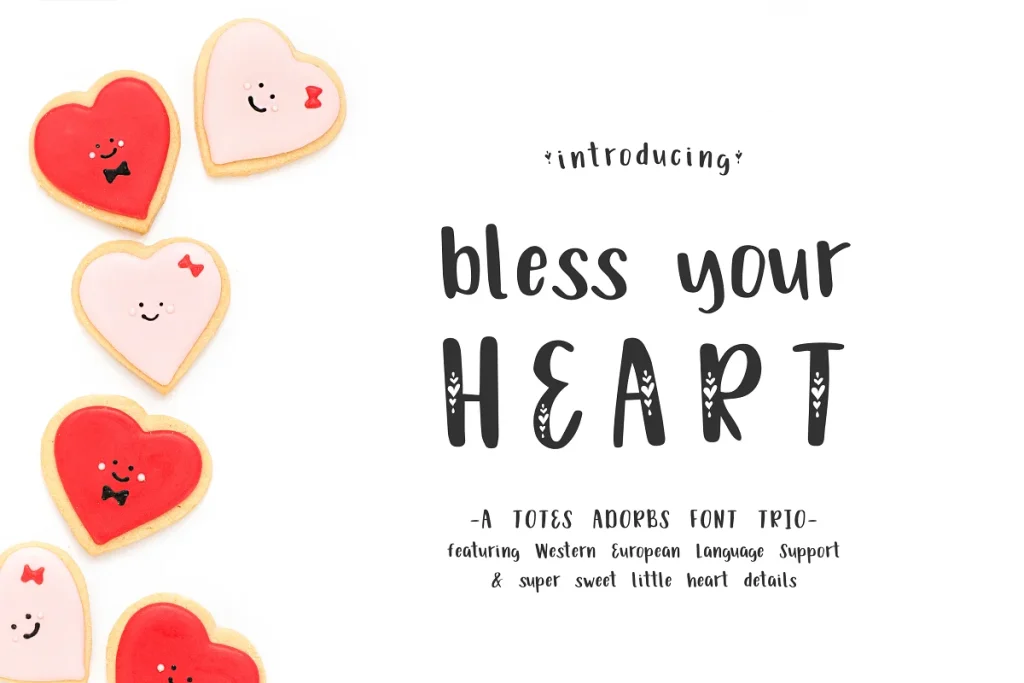 If you've ever lived in the South, you've probably heard someone say, "Bless your heart!" It's a true, sugary sweet Southernism, and the nicest insult you'll ever hear. That same sugary sweetness is reflected in these six stunning fonts.
The font package is perfect for books, greeting cards, logos, posters or anything that requires a fun and happy look!
Lonely Hearts Layered Font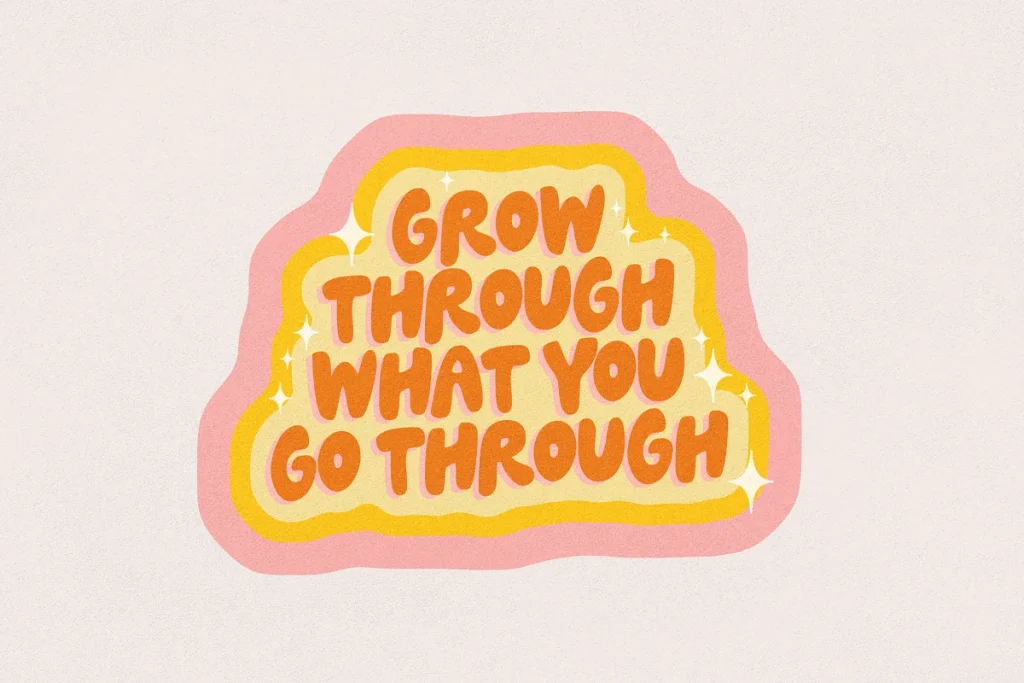 Say Hello to Lonely Hearts! A fun bubble style font with 2 bonus layered fonts you can add on top for some shine! A thicker shine and a thinner shine are available – take your pick 🙂
Perfect for playful quotes, packaging, branding, invitations, greeting cards and so much more.
Super easy to use – with a couple of extra bonus catchwords (Namely , The, But, From & With) in the Opentype features Ligatures section 🙂 You can access these via using OpenType capable software ( like Photoshop, Illustrator, Indesign). 
Exhale Calligraphy Script Font
Inspired by the very breath of life, the awe of the One who first breathed into all Creation, and the grace by which we take our each and every breath, exhale. is a timeless, signature-style, hand-written script font.
Intentionally crafted for creators, exhale. offers an elegant typographic solution for creative projects.
I'm In Love Valentines Font
I Am In Love Font is stylish display font about love inspired by Scandinavian vibes and a holiday feel. This font is perfect for decorating the holiday, for children's products, wedding invitations, posters, greeting cards and much more!
Download this comprehensive and versatile package here!
Better Be Lovely Font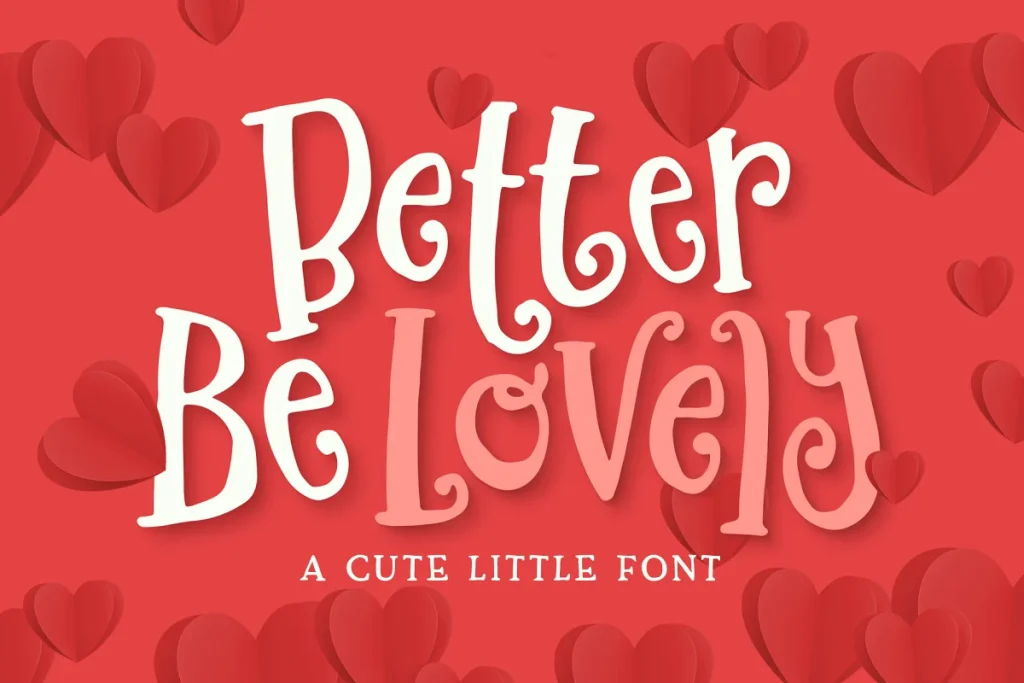 Better Be Lovely is a cute little font that comes with an alternate version to mix and match letters. It has a sweet and romantic feel that is perfect for birth announcements, valentine's cards, wedding invites, and so much more!
Download the Better be Lonely Font here!
Picasso in Paradise Font
Say hello to 'Picasso in Paradise' – a fresh and avant-garde script with a carefree attitude and a playful edge.
Perfect for adding a quirky but casual feel, Picasso in Paradise comes with a large selection of natural-looking ligatures, that form automatically as you type when you have your OpenType features active.
Oh and last but not least! – As a handy bonus – the illustrations used in the main preview are included for you as individual PNG images.
Download the Picasso in Paradise Font bundle here!
Marvellous Font Duo
MARVELOUS is a beautiful monoline and sans serif font, perfect for logo design, branding, clothing design, signage, posters, wedding invitations and so much more!
Download the Marvellous Font Duo here!
Little Love
Introducing modern calligraphy font with lots of hearts inside: Little Love. This lovely script is dedicated to Valentine's Day and all lovers.
With this fantastic font, we get: 
2 fonts (bold & regular)
help file (with tutorials)
repertoire file
OTF/TTF/WOFF
Templett/Corjl license (yes, you may create your designs with Little Love font)
862 glyphs that are PUA encoded
tones of hearts, swashes and alternates
Flirty Valentines Day Font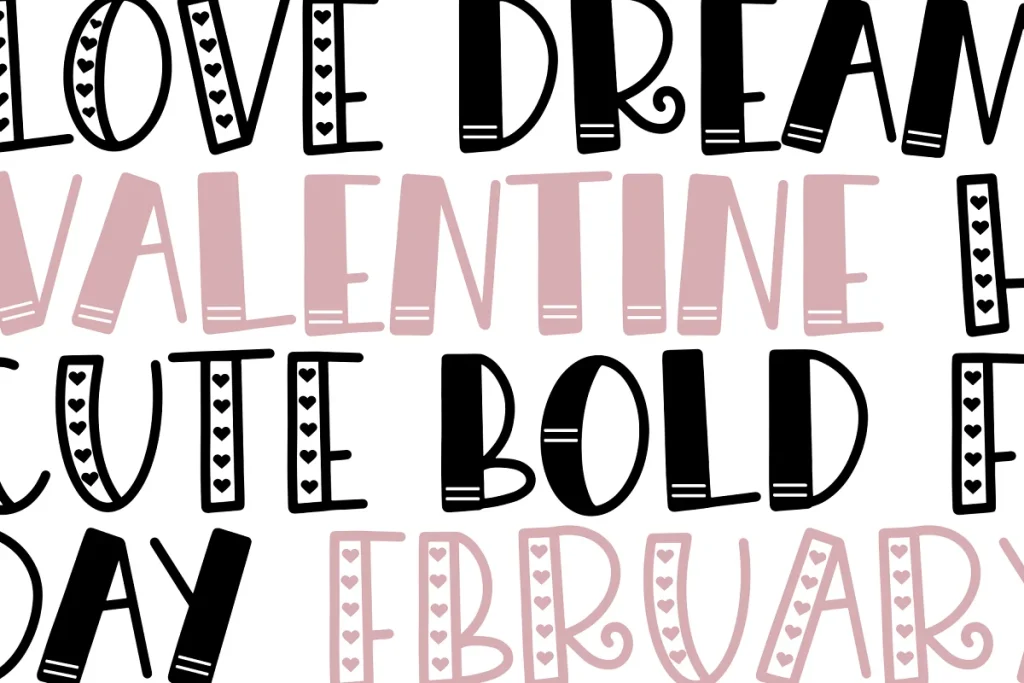 Flirty is a cute and quirky handwritten font.
This font is perfect for Valentine's Day designs! It is also great for quotes, headings, t-shirts, logos, SVG designs, mugs, invitations and more!
This purchase includes an OTF & TTF font file. You will be able to use this font in ANY program!
Download the Flirty Valentines Font here!
Hallelujah Serif Handwritten Font
Inspired by the worshipping of One who is greater than us, by the awe of who He is and the wonder of the life He gives, Hallelujah Serif is an elegant handwritten serif font, with a clean, romantic feel.
Perfect for quotes, albums, logos, invitations, websites, branding and more!
Download this holy and romantic combination font here!
Lemonade Love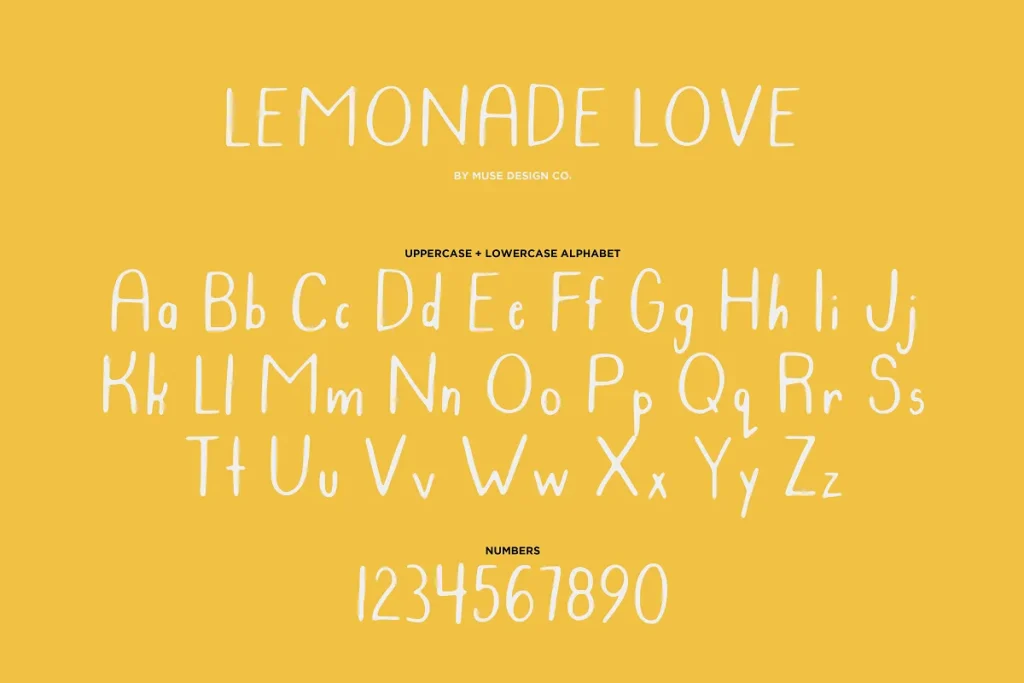 Introducing Lemonade Love — an organic, hand-drawn sans serif font inspired by life, love, lemons, and love for lemonade. Included are alphanumeric characters, numbers, punctuation, and symbols, multilingual support, and a range of different type formats (OTF, TTF, and Web Format). 
Download the Lemonade Love Font type here!
Just Cosmic Font Logos
Just Comic is a magical modern vintage font will stylistic alternates and beautiful cutout ligatures. This font pack also contains 25 Premade Logos. All Logos are fully editable with Adobe Photoshop or Illustrator. Just Cosmic is magical in every way. With beautiful stylistic alternates and ligatures, the font will be your best choice for both Text type and Display Type. Just cosmic is designed to fill the text gaps between serif text lines.
Love Struck Valentines Font
This beautiful Valentine's day font is perfect for any Valentine's themed event or Valentine's card. It is super unique and will make any design stand out! 
It comes with upper and lowercase lettering, numbers and symbols, and even offers multilingual support. 
Download the Love Struck Font Package here!
Oranges Lemons Font Duo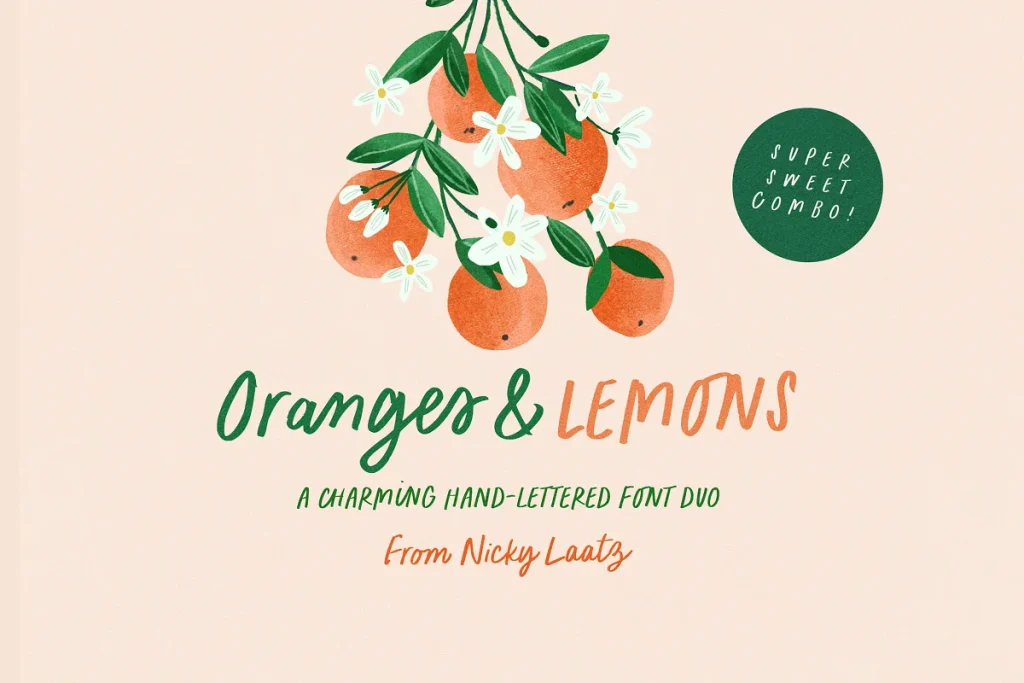 Say hello to "Oranges and Lemons" 🙂 A charming and sweet new hand-lettered font duo – perfect for casual type in greeting cards, illustrations, quotes, quaint branding, book covers, children's books, packaging and so much more 🙂
The duo consists of a casual handwriting marker style all-caps font, and a matching Script.
Both have some pretty ligatures built into their OpenType features – make sure you have your ligatures turned on to get their benefit. 
Download the Oranges and Lemons Font here!
Summer Loving Font Collection
Style and Grace personified – say hello to Summer Loving. This typeface has two main regular styles that are designed to work elegantly in unison and apart.
Super versatile, the font duo lends itself to many different styles of projects. Perfect for branding, logo, web and editorial design, to name just a few – it has many different faces, from soft and feminine to loud and proud.
Download the Summer Loving Font duo here!