Last Updated on November 6, 2021
Until it opened up to the West in 1853, Japan was a mysterious land veiled by stories of honorable warriors, powerful mountains, and stunning walking artisans.
Today, the country is still as fascinating as when it first welcomed visitors to its shore. From its food, people, music, to its unique culture, it has captured hearts everywhere.
That's why adding a bit of Asian touch to any design is a sure win. Whether you're aiming for something minimalist or you want to go all out, these Japanese fonts won't disappoint.
Japanese Fonts
1. Hakuno
Alexacrib brings to you this chic and casual font that's reminiscent of Japanese calligraphy. Pair it with a sleek sans serif and steal the show in your branding and editorial projects.
2. Little Samurai
No need to fly off to Japan to get a taste of their fun, quirky, and unique culture. With this fresh and bold display font by khurasan, you can add a tiny part of the Land of the Rising Sun in every work you do. Typeface comes with cute Little Samurai vector in AI and EPS formats.
3. Hiroshima Gyoshi
Inspired by ancient Japanese calligraphy, this handwritten font by 38-lineart has irregular, bold strokes that lend a random, fluid feel to its letters. This makes it perfect for logos, headlines, movie posters, and apparel.
4. Moshi Moshi
Created by UnioCS, this all-caps block typeface has influences from Japanese street posters. Rough, modern, yet surprisingly minimalist, it's definitely going to grab attention anywhere you use them!
5. Kayooh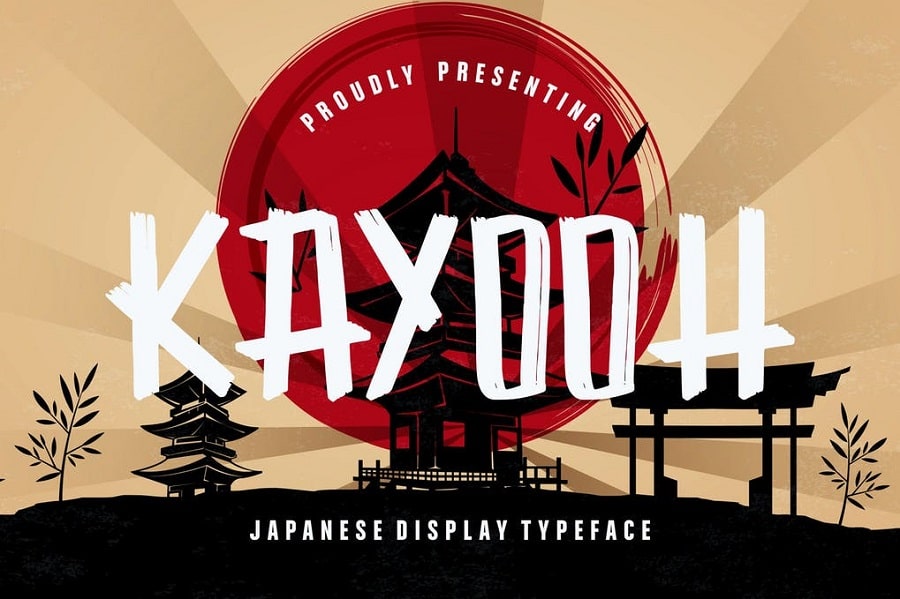 Making Japanese-inspired artwork? Complement it with this solid sans from RahardiCreative. Spirited with just the right hint of traditional vibes, it will look amazing on menus, posters, ads, and product labels.
6. Osake
Capture the strong essence of Japanese brush strokes in this brilliant offering from StringLabs. Employ it for personal or commercial purposes and let the letters speak for themselves.
7. Kyoto
Greet your audiences from the Land of the Rising Sun in this unique sans serif from Naulicrea. These Kyoto-inspired letters are available in Regular and Outline styles.
8. Hirokawa
Say 'konnichiwa' to this handcrafted, elegant font designed by Krafted. Featuring fun strokes, it's a wonderful typeface for movie posters, menus, t-shirts, social media promotions, and more!
9. UNGAI
Tokokoo proudly presents this faux Japanese font that comes in katakana shapes. Modernized to accommodate the fast-changing times, you'll be glad to add it on game apps, movie titles, blog posts, magazine covers, YouTube thumbnails, and more.
10. Kaiju II Font
Anthony James proudly presents this display font that has great distribution of weight in every letter. This all-caps typeface is guaranteed to remain bold and beautiful – no matter where or how it's applied.
11. Wasabi Asian Style Font
Be straightforward in this simple yet impactful font by YandiDesigns. Hand-lettered to perfection, its crisp, quick lines are both elegant and professional.
Download Wasabi Asian Style Font
12. Manurewah
Clean, sleek, yet uniquely beautiful, this sans serif from jadugarDS contains over 380 glyphs and includes 5 weights. Because of its distinct design, it can remain readable regardless of size. Use it for display purposes such as titles and headlines, or as body copy.
13. Mayashi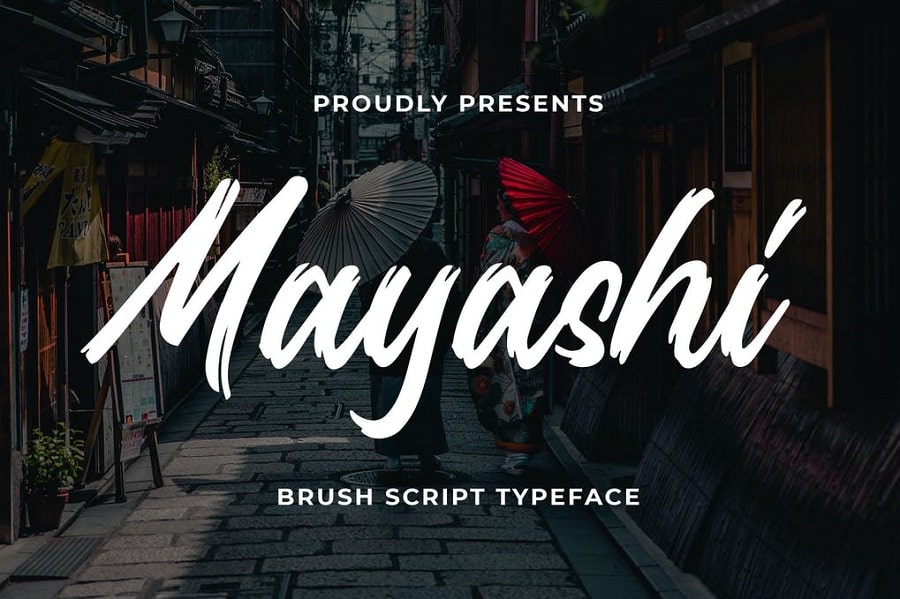 This bold script typeface by Blankids looks and feels handmade. It's perfect for modern applications such as posters, product packaging labels, business cards, social media posts, apparel, and more.
14. Kenjo II
Kenjo II typeface, with Japanese font influence, is a versatile stylized and well-balanced serif with elegant fashion-conscious characteristics.
15. Mojita
Mojita is a geometric, Japanese font with a beautifully balanced intricacy not seen elsewhere. All-caps, with over 300 glyphs, and multiple language support.
16. Tokyo Typeface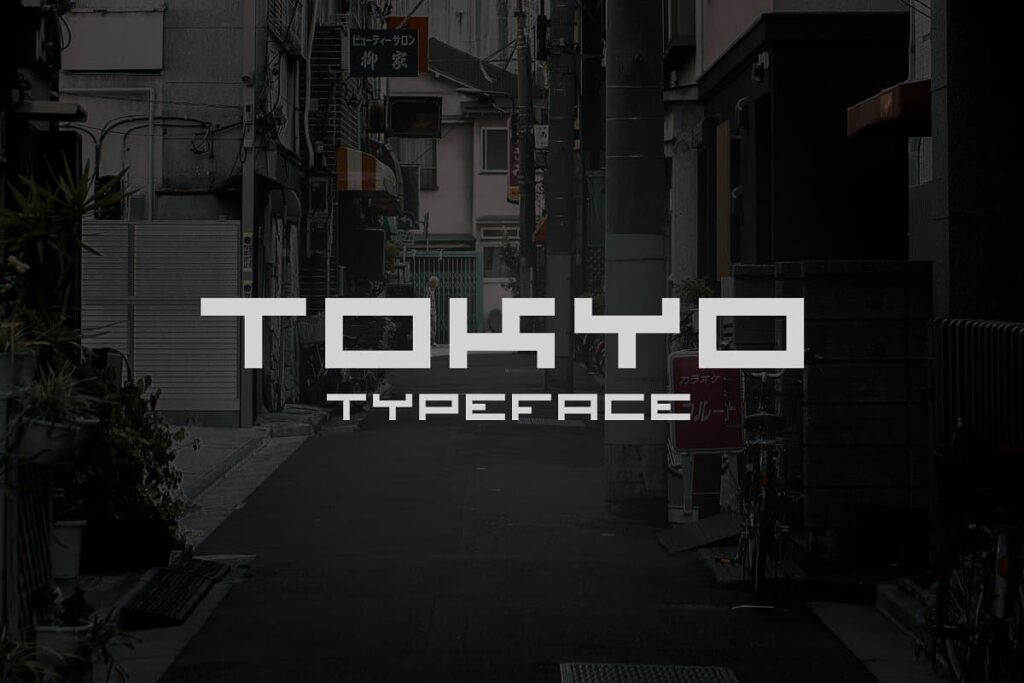 Inspired by traditional Japanese Inkan-Seals, Hipfonts brings to you this extra-wide typeface with lots of character. Ideal for use in menus, signage, labels, posters, cards, logos, and headlines, you can also add brushstroke texture to give it a more authentic feel.
Test this font by typing here
17. Fujimaru Brush Font
Brisk and bold, this handcrafted typeface from Nurrehmet Studio works effortlessly with any theme. Apply it on Oriental posters, horror movie titles, cartoons or comics, as well as action concepts.
18. OKAMI Display Font
Inspired by contemporary Japanese design, this modern uppercase font by Glyph44 comes in two sleek styles (Regular and Outline). The pack also includes stylistic alternates, as well as more than 100 characters and glyphs to help bring your ideas to life.
19. Kollar Sans
Looking for something with a minimalist character? Then opt for this monoline, rounded typeface by seven/eight. Featuring 4 weights with a strong geometric feel, it's great on personal and commercial projects.
20. Kawaii RT
Rodrigo Typo presents this homage to Japan's 'kawaii' culture in this font family that consists of cute dingbats, extra words, and delightful styles!  It's ideal for making adorable posters, greeting cards, logos, and more!
21. Yasashii
Influenced by Japanese designs for cosmetic packaging and posters from the end of the 19th century to the early 20th century, this art deco font from Dharma Type is sleek, simple, and versatile.
22. Hashi
Inspired – and named after – chopsticks, this offering from Dismantle Destroy features 4 styles, and also comes with 327 glyphs, 35 automatic ligatures, and 46 alternate characters that make it a great addition to any designer's toolkit.
23. Wabi Sabi Handmade Font
Created with a Japanese brush pen, this hand-drawn font by Sheree Louise Designs was influenced by the concept of Wabi Sabi. Rough and earthy, it's the best choice if you wish to add a unique Eastern flair to your projects.