Last Updated on October 9, 2023
Are you looking for a sign?
They are all around us: from vehicle graphics, to directional signage, and roll-up banners – signs are a part of our everyday lives, whether we live in the city or the countryside. Signages serve all kinds of purposes. They can announce events or shows, promote a new business, and help people find their way around.
Signage can include images, words, numbers, or all three. The best ones are optimized for readability and visibility. You should have no problem seeing them from afar, and their message should be clear.
Just because something is big doesn't mean it's a good sign. There should be appropriate spacing to ensure characters do not merge and text remains unhindered. Meanwhile, proper contrast adds visual appeal and at the same time, contributes to readability.
There's a good reason why traditional fonts such as Helvetica, Futura, and Gill Sans are preferred in signage: they're adaptable, legible, and can be visually striking with the right design elements.
When selecting signage fonts, consider how it will perform in conveying the message and capturing attention. Lastly, make sure the outcome aligns with the branding and intended audiences.
Attention-Grabbing Signage Fonts
1. Citro
This lively, retro-inspired typeface from epdesigns is reminiscent of hand-painted grocery store signs from the 1920s to the 1970s. Its playful irregularities in baselines and cap heights give your text an energetic, dancing quality.
It strikes the perfect balance between fun and professionalism, making it an excellent choice for both vintage and modern branding, marketing, and packaging.
2. Clover Grotesk
Bold, modern, and highly versatile, this typeface family by Webhance consists of 9 weights (Thin, ExtraLight, Light, Regular, Medium, SemiBold, Bold, ExtraBold, and Black), with extended glyphs for each weight. You will also get web fonts along with free updates.
3. Bouchers Type Collection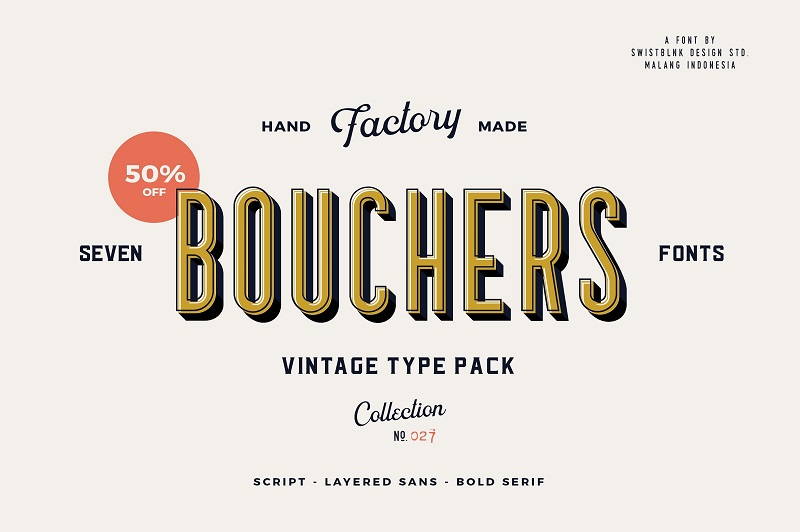 Swistblnk Design brings you this amazing type collection that will give you a myriad of possibilities, especially for vintage design in signs, posters, logos, t-shirts, and headlines.
Featuring a handmade script, layered sans, and a condensed serif, you will in fact, get a total of 7 fonts that you can mix and match. Use one, or combine two or three to achieve your desired results.
Download Bouchers Type Collection
4. Toska
If you're wondering what typeface to use for adventure, sci-fi, outdoors, or sports themes, then you can't go wrong with this geometric sans serif from Locomotype. As an all-caps font, it suits headlines and titles the most. It comes in 3 weights (Light, Regular and Bold) with an italic version for each, making it a total of 6 fonts.
5. Overdrive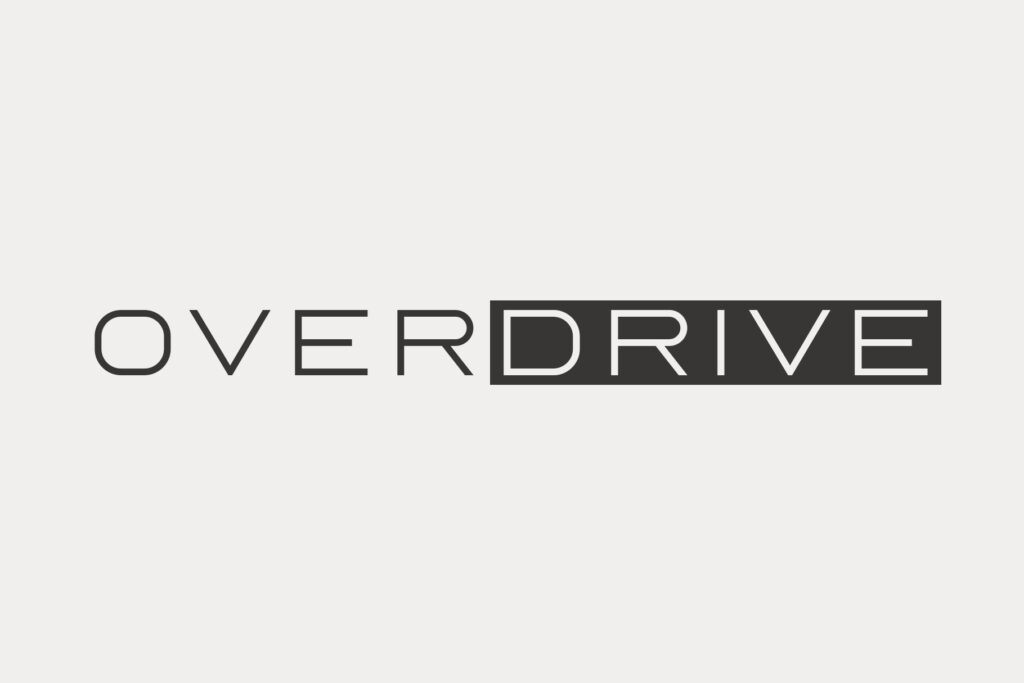 Inspired by the Italian racing and automobile industry, this elite typeface exudes sheer elegance and offers lots of spacing. Consider it your best choice for crafting striking logotypes, captivating headlines, unforgettable presentations, and cutting-edge promotions.
6. Pulse
Bold, dynamic, and flexible, this racing font that embodies confidence, showmanship, and speed. The creative possibilities are limitless: from logos and flyers to posters, headlines, sports-related materials, and even video content.
7. Hacker
Evoke the nostalgia of the 1980s using this rounded display font. Go back to a time when the computer revolution was opening new frontiers. It looks remarkably good on both small or larger sizes. Apply it on projects related to tech, cyber, security, internet, coding, data, electronics, mathematics, networking, commerce, communication, and more.
8. Scout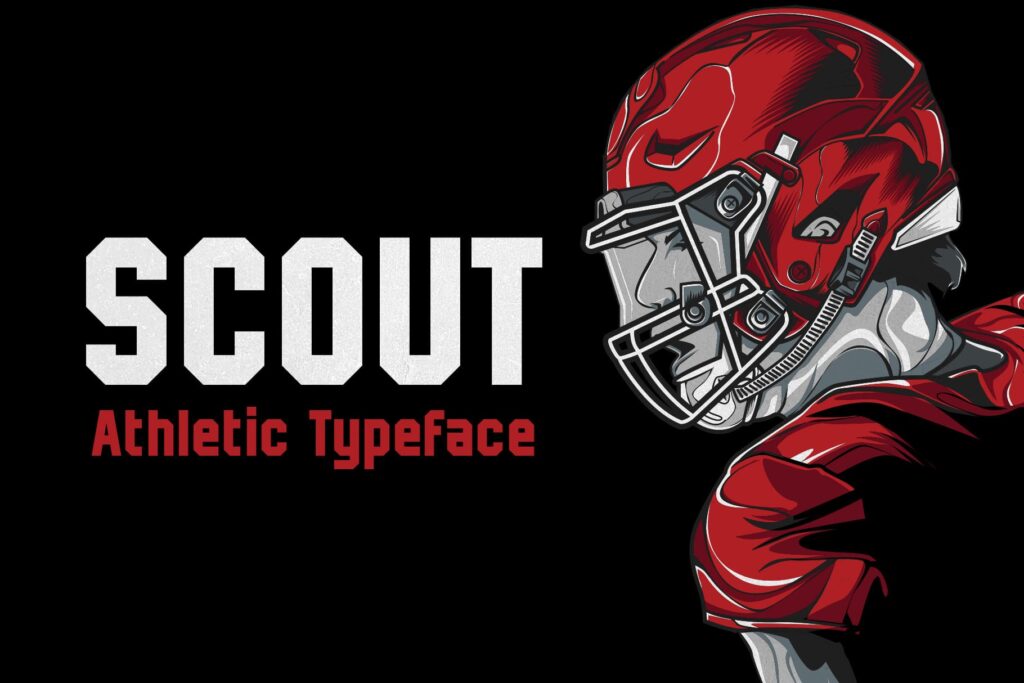 Need something hard-hitting for your sports branding, emblems, jerseys, posters, apparel, and magazine headlines? Then take this crisp, athletic font out for a spin! With remarkable versatility and meticulously adjusted kerning, it's ready to elevate your designs straight out of the box.
9. Thunder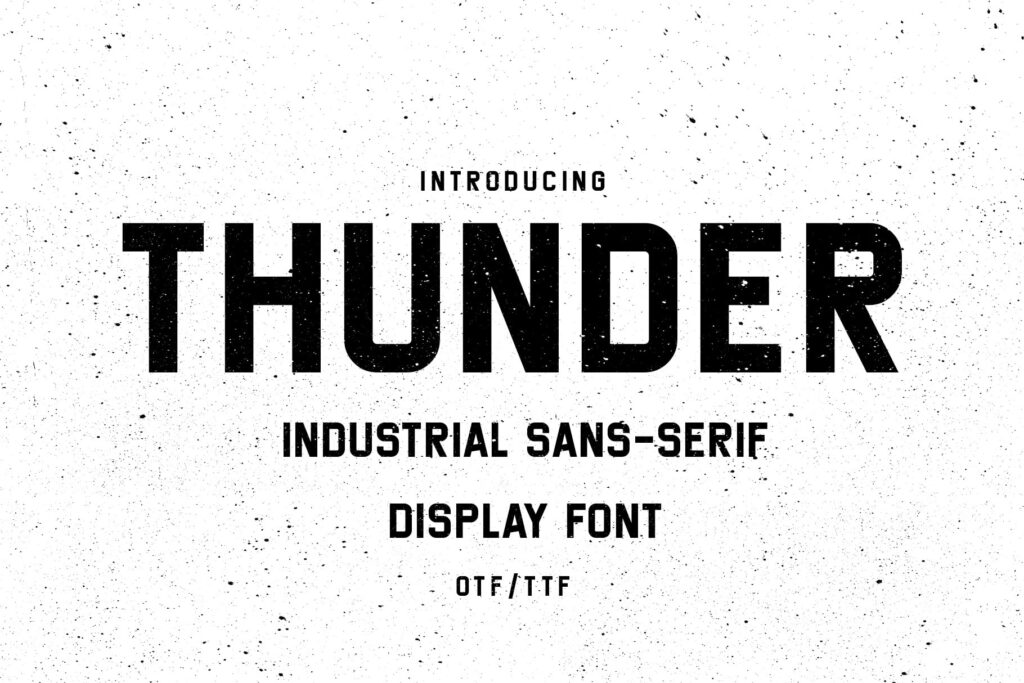 This compact display typeface will prove invaluable in your toolkit. Its robust, refined, and self-assured design exudes a nostalgic industrial charm while retaining adaptability. Aside from signage, it's the ideal choice for crafting striking posters, packaging, branding, magazine layouts, cinematic titles, memorable logos, and more.
10. Mammoth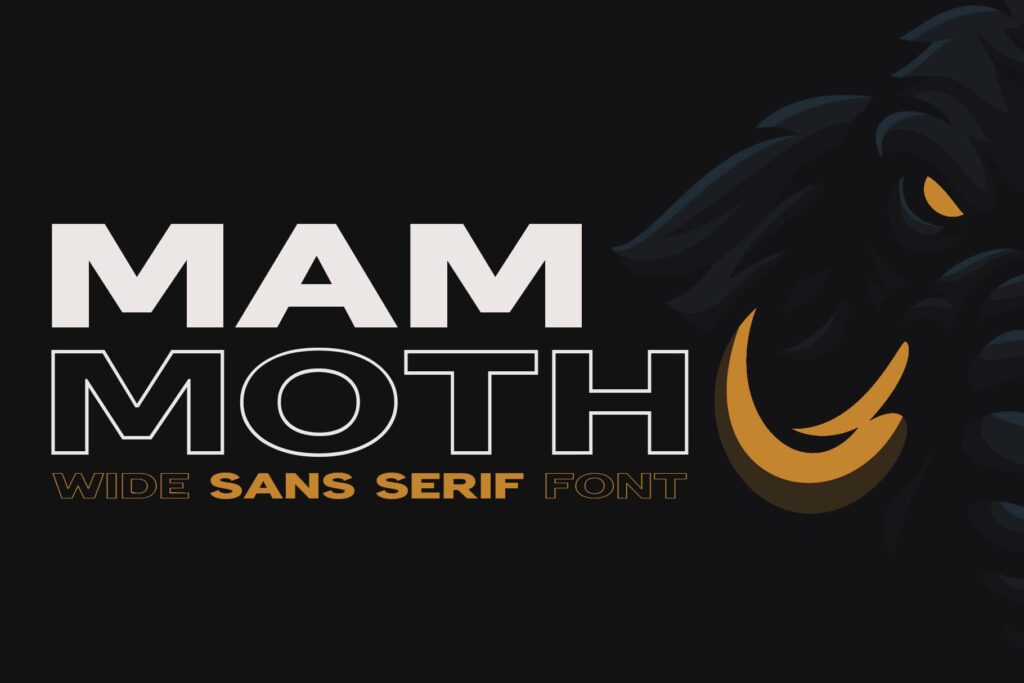 If you've got mammoth design endeavors, then this generously proportioned sans-serif is for you. It comes in Regular and Outlined versions, complete with lowercase letter options for each. Combine both to create unforgettable original works.
With applications in fashion, editorial design, logos, branding, photography, invitations, weddings, inspirational quotes, blog headers, posters, advertisements, postcards, books, and websites, this typeface is the ideal choice for almost anything you can think of.
11. Monocle
Drawing its inspiration from the aesthetics of the mid-20th century print era, this condensed sans can help you craft exciting, minimalist, and even cutting-edge concepts. You'll get 2 variants: Regular and Thin. It pairs well with scripts and bold sans serifs for plenty of creative flexibility.
12. Fokus
Drawing its inspiration from the aesthetics of the mid-20th century print era, this condensed sans can help you craft exciting, minimalist, and even cutting-edge concepts. You'll get 2 variants: Regular and Thin. It pairs well with scripts and bold sans serifs for plenty of creative flexibility.
13. Spring Melody
With graceful curves, meticulous kerning, and crisp edges, this humanist typeface is recommended for making sophisticated, pristine, and retro-inspired designs, including but not limited to branding, packaging, social media content, wedding invitations, advertising materials, and editorial layouts. It will surely infuse your works with just the right touch of luxury!
14. Rolla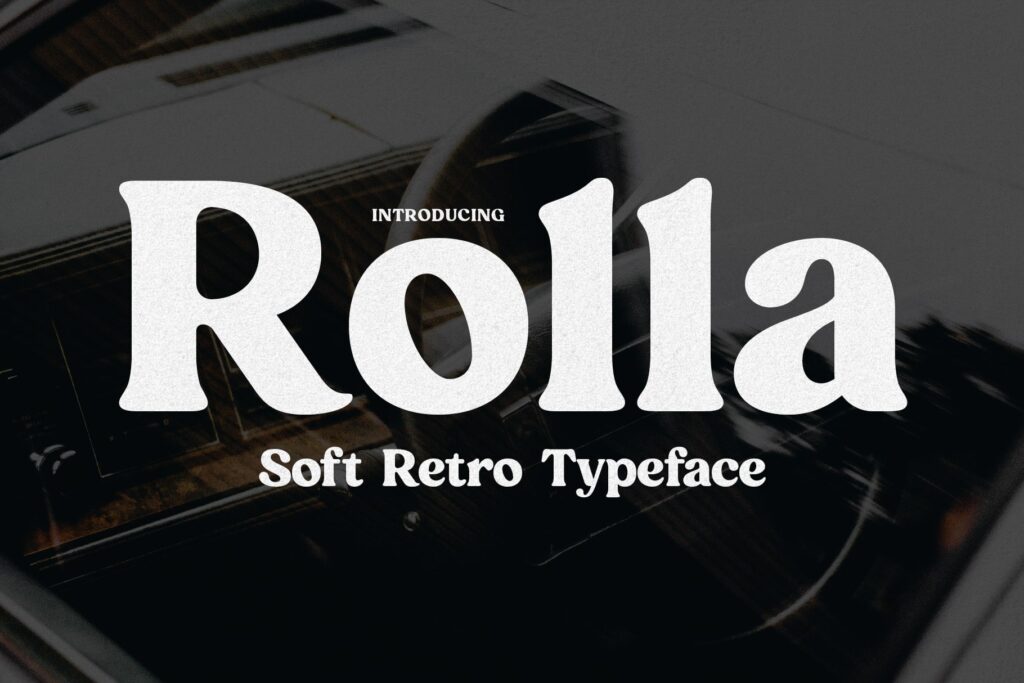 Transport yourself – and your audiences – to the spirit of the 1960s and 1970s using this chunky retro serif. What sets it apart are its soft, rounded edges and charming, flowing curves. It's the perfect font for contemporary creatives who can't get enough of vintage elements!
15. Bernard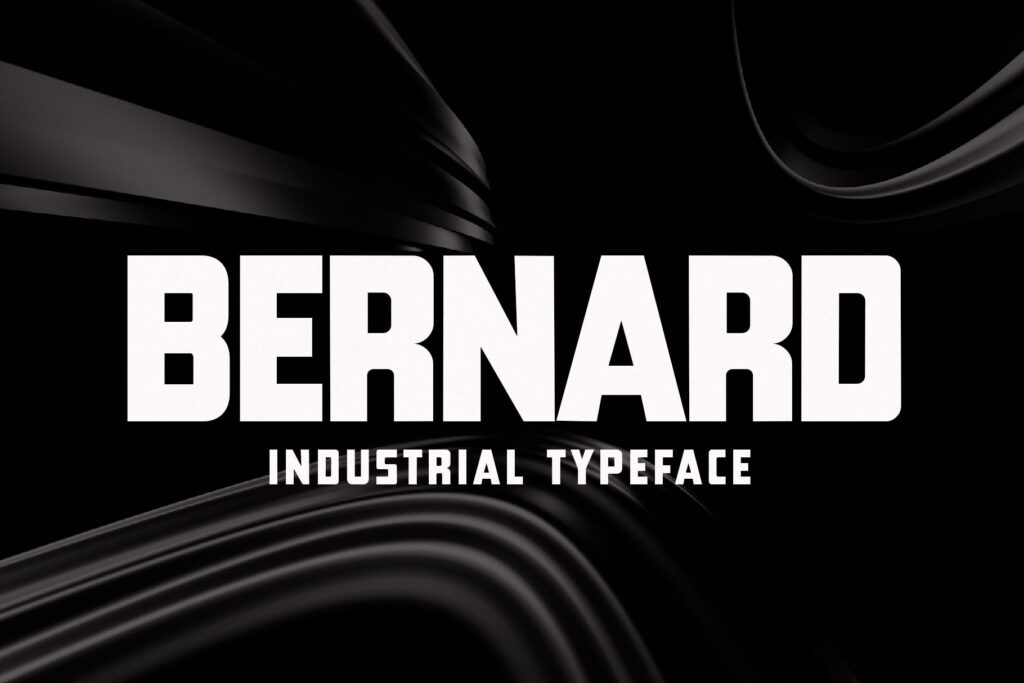 A striking, robust, and distinctly masculine typeface, this font features a subtle yet impactful geometric design. It offers a complete set of uppercase and lowercase letters along with essential special characters.
Try it on sci-fi and industrial themes, as well as on video games, mathematical contexts, scientific presentations, web 3.0 interfaces, and UI/UX applications.
16. Stardock
Enter a new world using this sleek, futuristic typeface that opens up a realm of ingenious possibilities. Its versatility knows no bounds, allowing you to craft works that transcend the ordinary. Ideal for futurism, science fiction, space exploration, tech, and AI themes. There's no doubt that it's going to be an indispensable addition to your design arsenal.
17. Boomerang
Inspired by the Hawaiian spirit, this all-caps typeface is perfect for mid-century aesthetics, as it encapsulates a flawless blend of style and nostalgia. Evoke that vibrant, coastal vibe and the sunny tropics with this wide sans serif.
18. Avalar
A captivating serif display that refuses to fade into the background. In contrast to fonts that aim for subtlety, Avalar is bold, vibrant, and exudes extroverted energy. Recommended for wedding invitations, magazines, book covers, packaging, websites, user-friendly mobile apps, logos, etc..
Boasting a timeless quality, you will receive Bold and Regular variations to suit your needs.
19. Firecracker
Take a nostalgic journey to the exhilarating 1950s and 1960s with this dynamic typeface that encapsulates the vibrant spirit within its beautifully crafted letters. With 2 styles – Regular and Oblique – you can transport your audience back in time, crafting designs that are simultaneously nostalgic and enduring, bridging the past and the present.
20. Amenti
Introducing a modern and sophisticated font with clean lines and graceful curves. Available in 6 weights, it brings timeless beauty and elegance to any project, whether it's branding, web design, or print. Its legibility makes it suitable for both display and body text, enabling clear and impactful communication.
21. Sadora
Clean lines, geometric forms, and sleek simplicity – this is what you're getting from this modern sans-serif. Meanwhile, its subtle pinched curves and characteristic vertical terminals infuse it with a unique touch.
This versatile typeface seamlessly transitions between digital and print mediums, maintaining its contemporary appeal over time. Whether you're creating a website, a logo, or an entire marketing campaign, it's the ideal choice for leaving a lasting impression.
22. Wanafi
With its modern, beautiful, and clean appearance, this modern sans is guaranteed to inject a touch of playfulness and finesse into any project. Its clean, straightforward lines lend an enduring quality while the graceful curves offer a unique visual appeal.
23. Benito
If you need something that exudes both elegance and sophistication, then you can't go wrong with Benito. Its polished, professional aesthetic will look awesome on top-tier brands and upscale creations. Plus, its multilingual support ensures versatility and accessibility to a global audience.
24. Pioneer Boulevard
Wondering how you could level up your vintage design? Look no further than this timeless typeface. With its impressive range of 9 distinct weights, it offers boundless adaptability, whether you're fashioning a logo, curating a print ad, or building a website. The pack also contains ligatures and multilingual support to help bring your vision to reality.
25. Northura
Redefine what you think of traditional typography using this modern sans typeface. Featuring a total of 30 weights, it blends minimalism, beauty, and legibility in seamless harmony. This allows you to precisely tailor your work. Although it's best used for minimalist and futuristic themes, it's a nice choice for contemporary, travel, business, and sports-related designs.
26. Chopader
Come meet this nostalgic sans-serif font duo filled with old-fashioned charm. Drawing inspiration from the signages of the 1950s and 1960s, Letterhend Studio designed it to suggest a sense of the good old days.
See it in action on headlines, labels, logos, invitations, magazine and book covers, postcards, packaging, fashion, cosmetics, stationery, novels, and all forms of advertising.
27. ELMODER
Often, all you need is something simple that will stand out. For that purpose, don't hesitate to use this all-caps font from Adil Budianto. Pack includes OTF and TTF files for your convenience.
28. Carters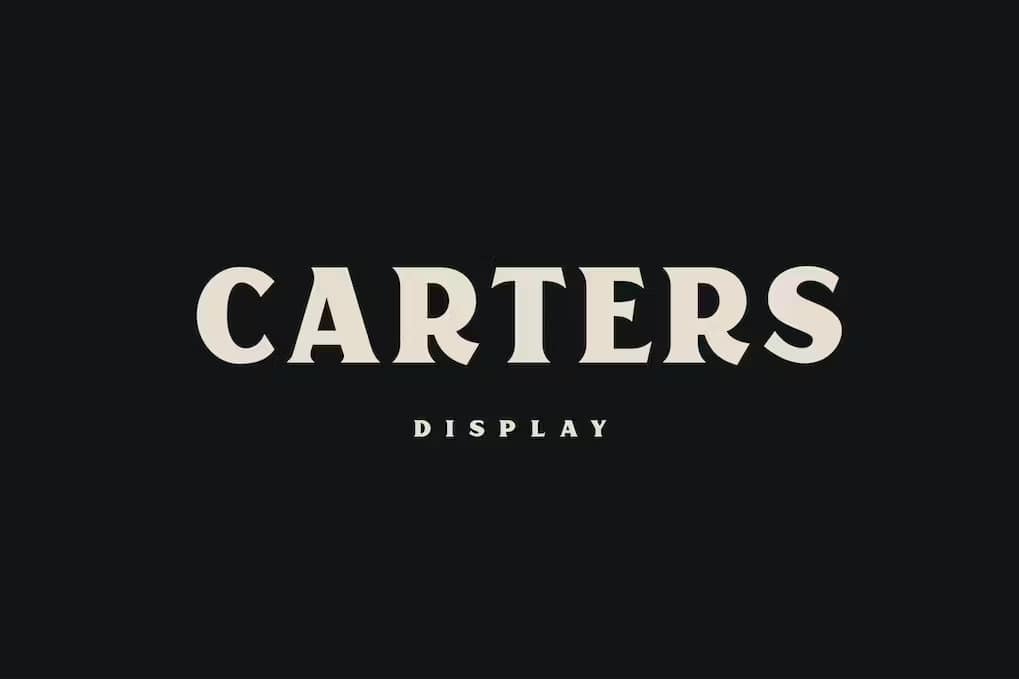 When making your best vintage works, keep it easy and fun using this display type from swistblnk. Inspired by old retro signage, this pack consists of upper and lowercase letters, as well as numerals and punctuation.
29. Brusch Casual
Keep things cool and playful with this all-caps typeface with the charm of old paper signage! It offers 2 styles (Oblique and Medium Oblique) and 2 weight (Regular and Medium) variations for flexibility. Recommended for crafting sentimental or old-fashioned aesthetics.
30. Carter Layered
Leave a legacy when you use this layered font. Layer all 4 styles (Regular, Shadow, Black Shadow, and Drop) to create a retro 3D effect; or simply go with Regular for a flat or minimalist design. Ideal for logos, banners, titles, badges, and typography posters. No multi-language (but open to requests).