Last Updated on October 9, 2023
Sometimes when you are promoting something or creating an advertisement, you need to make it stand out that little bit more. One of the best ways to do that is through the use of a chunky, fun and (dare we say it) fat font! 
Each of the fonts that you se below are not only super stylish, but are also highly versatile, easy to edit, and so much fun. Many of them are inexpensive, uniaue, and will offer a touch of boldness and brashness to your designs.
So give each font a browse, and thank us once you have found the right style for you! 
Larger Than Life Fat Fonts
1. Double Bubble 3D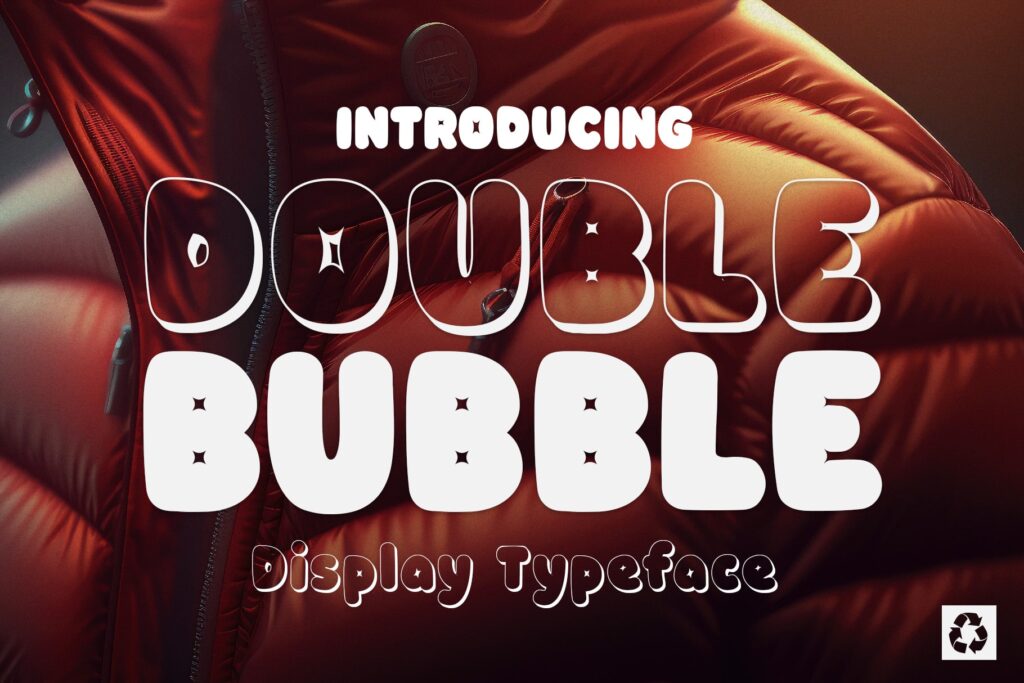 Double Bubble is a playful bubble display typeface that captures the imagination of childhood with images of bubble gum, bubble tea, and puffy jackets. Each letter floats on its own, ready to bounce off the page at any moment. And when you use Double Bubble to create text, it's downright mesmerizing!
The viewer will be filled with shimmering joy! One of the best things about Double Bubble is that it comes with Outline and Regular versions, which you can mix and match to create memorable designs. Whether you're making a poster, website, or social media post, Double Bubble is sure to catch the eye of anyone who sees it.
So go ahead, let your inner child run wild with this bubbly font! It's perfect for adding a touch of playfulness and whimsy to your designs. Get ready to make a statement that's as bold as it is cheerful!
Download Double Bubble 3D Typeface
2. Zilla
Zilla is a chunky display typeface that conveniently comes in two styles – Regular and Rounded. It comes highly recommended for creating expressive, lovely, and playful designs. This makes it perfect for headlines, covers, social media, thumbnails, book covers, stationeries, packaging, branding, and more.
Beautiful, quirky, and bold, this font has a fun and unique vibe that work well on both modern and retro projects. So if you want your designs to stand out, give Zilla a try!
3. Mazement
This bold and blocky typeface is ideal for anyone who wants their design to stand out. There are more than 300 glyphs included in the package, and it is perfect if you are looking for a unique typeface to use in your headline. 
4. Gunterz 
This modern all-caps sans serif font is available with four weights and matching italics. Gunterz is designed to meet font needs in a variety of different situations.
To make it more attractive, Gunterz also provides OpenType features such as stylistic alternates and a stylistic set. You also get multilingual support with the package. Perfect for posters, logos, and with graphics, this font won't let you down.
5. Moai Variable 
A neo-brutalist variable typeface conceived with flexible proportions and a singular heavy weight, including the oblique. Useful for any quirky display uses. We love how simple this Maoi font is, with its contrasting shapes and stylistic approach. Ideal for logos, posters, projects, books, and headlines, Maoi is legible and attractive in its approach.
6. Kulfi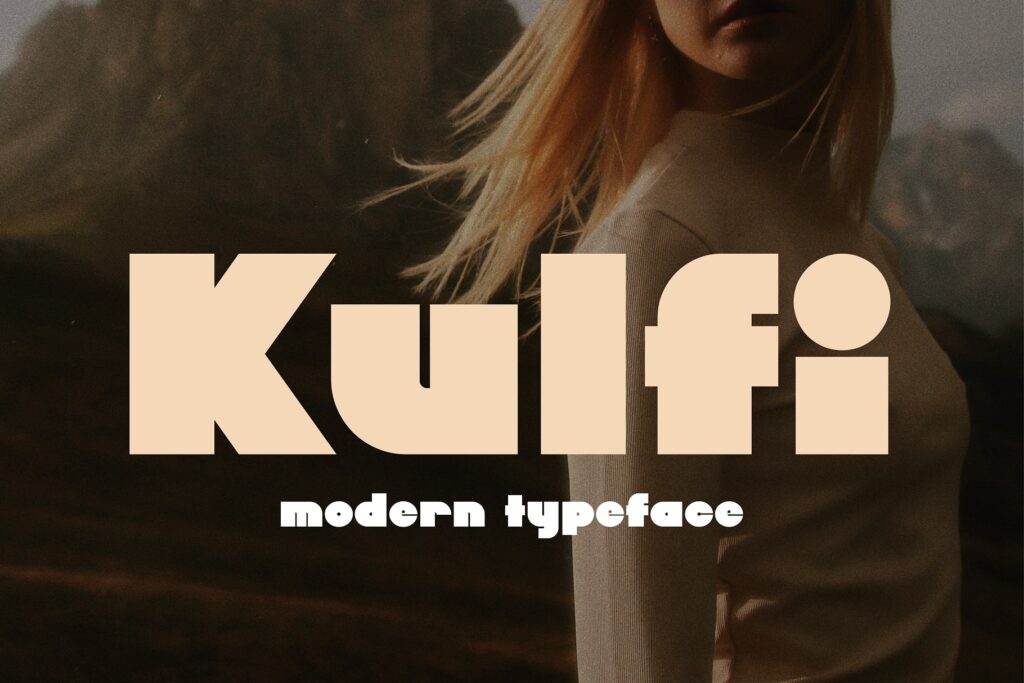 Have you checked out Kulfi yet? It's a juicy display font that's just bursting with joy! This cool typeface is all about those large, rounded geometric shapes and soft lines, making it perfect for playful projects like storybooks, packaging, branding, kid products, social media, and anything else you can think of.
With its modern, expressive, and fun vibe, Kulfi is definitely a must-have for your design collection. So, what are you waiting for? Go ahead and give it a try today!
7. Azerty
Made to stand out and push the boundaries of what can be used in a design, this giant bold sans-serif typeface is perfect for a whole host of design concepts. Experimental in its design, Azerty is versatile and will make any design of yours stand out. 
8. Monocle Typeface

Unique and quite vintage in its approach, Monocle is a thick typeface that is designed to make a statement!  Monocle consists of two versions, outline and regular. Both fonts contain upper and lowercase characters. You can use this font for headlines, logos, posters, book covers, and general display use as well as short strings of text.
9. Sunday
A warm and fun typeface design, Sunday is made to be versatile and designed to be used for a variety of project types. Great on a poster, a mug, a t-shirt, social media posts, and with graphics, this playful piece of text will be sure to turn heads. 
10. Broaders Expanded Font 
The clue is in the name, designed to be broad and expansive in its approach, this font is very slick and is ideal for use in a range of different projects or promotional designs. Easy to edit using OpenType features, and with multilingual support attached, the font is just the ticket if you want a unique font in your latest design. 
Download Broaders Expanded Font
11. HUGE PROMO 
This stunning bold sans serif font design is amazing if you are looking for a font to use on any design or promotional material. Included in the set are upper and lowercase letters, numerals, punctuation, and three separate styles too. A comprehensive, fun, and chunky design that you will be sure to love!
12. Rono 
With two slick weights attached, Rono is thick, versatile, and fun for use in a host of design and promotional concepts. It's great in use for many things like package design, poster design, logotypes/visual identities or simple graphic design cases. 
13. Nelson
Not only is this font big, bold, and blocky, but there is an innocent childlike quality to its design. Nelson is perfect for children's books, greeting cards, signage, user interfaces, package design, branding, and much more. It is a perfect font for any modern digital design. 
14. Brumers Font 
Brumers is a stunning font design that comes with a package of different font types in its arsenal. There are 6 separate weights included in the pack, and each of them has the signature rounded edges that this font is known for. Sleek, modern and chunky in its design, you won't go wrong with Brumers. 
15. Badger 
If you are looking for a thick, bold, and heavy font, then Badger is the perfect font type for you. Great for headlines, subheadings, posters, and websites, the typeface is available in two weights, regular, and italic. 
16. Glubby 
To call this all-caps font 'fun' is an understatement. Just look at the template design. The font has character, color, and clarity, which we think are essential. With its fat bold look, you can use the typeface in big titles, posters, lettering, headlines and book covers to create a very cute look that kids will love. 
17. Phyco 
This creative sans serif display font shows strength and power. The font is available in upper and lowercase and has number and punctuation support alongside it as well. Many languages are supported, and the versatile nature of the typeface makes it perfect for any design or promotion you are looking to create.
18. The Lied Font 
The 90s vibes are real with this one. The Lied is a gorgeous blocky font that you can use in posters or promotional designs that are looking to show off a vintage and timeless design.
There are a massive number f glyphs included in the package and the extra glyphs that combine the smaller and larger letters add a unique touch to this font and can be useful in mixing up the look of similar words.
19. Blogh 
The name may not sound too appealing, but the fun and quirky design associated with Blogh will be sure to win you over in no time! What we love about this design is that it is simple, easy to read, and modern. Try it out today and see for yourself!
20. Hoagie Brush Font 
One of the few brush fonts on the list, Hoagie is a super-fun and casual sans serif font that will make any design look incredible. Ideal for both all-caps, and small lettering design, Hoagie is versatile, fun, and will make your posters, media posts, merchandise, or headlines look great!
21. RNS Obesa Fat 
Simple, big, and blocky, RNS is a really modern design with its expressive sharp vertices. There is a nice balance of rounded edges too, and this gives the font a unique appearance. Perfect for a range of designs.