Last Updated on August 7, 2023
Did you know that typography can evoke humor? That's right – funny fonts (also known as novelty or decorative fonts) are typography styles designed to kindle playfulness or comicality. They deviate from traditional typefaces and often feature exaggerated or eccentric designs. Aside from A to Z characters, you will also see elements like doodles, cartoons, or cute objects.
Artists and designers normally use these for creative projects, informal occasions, and light-hearted content. You usually wouldn't choose them for professional or formal projects. Their distinct designs might sacrifice readability as well. To strike a balance between creativity and legibility, funny fonts can be paired with more conventional typefaces such as Helvetica, Open Sans, and Times New Roman.
Want to start using these amusing typefaces? First, consider your context and target audience. Second, customize them for readability and visual interest. Lastly, make sure that everything is engaging, fun, and functional. That's it! Now enjoy our selection of amazing funny fonts to add to your toolkit.
Cool Funny Fonts
1. Brumers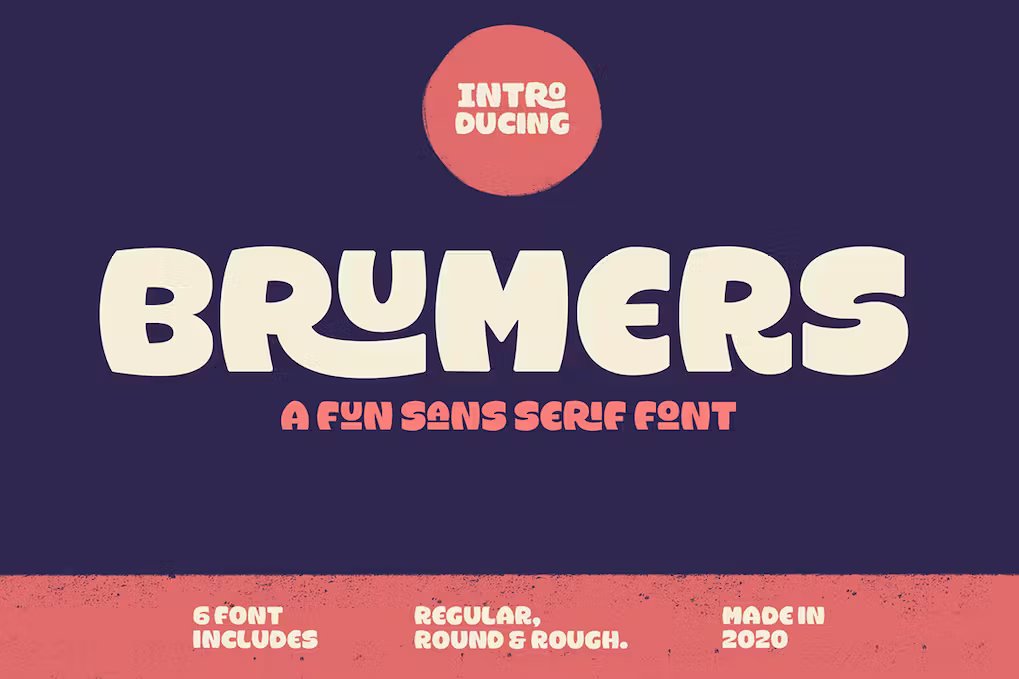 Inspired by the curves of a bear, the basic concept of this font was hand-drawn to give it a natural fun feel. You will get six (6) styles: Regular, Round, and Rough – each with an Oblique version – plus ligatures and alternates. Brought to you by Trustha.
2. EMINOR
Adilbudianto brings you this display type family with lots of character and uses. Featuring nine (9) different weights and two (2) styles (Upright and Italic), that's a total of 18 fonts you can mix and match to complement any theme or project. Try it on business cards, company logos, restaurant menus, book covers, magazine headlines, web design, and more!
3. Helsky
This bold and lively font from Blankids is perfect for kids and other cheerful content. The pack contains upper and lowercase letters, numbers, and punctuations. It's also PUA Encoded and multilingual for your convenience.
4. Sallomae
Unleash the explorer in you with this animated display font from Ramzehhh. Inspired by jungle cartoons and children's books, the joyful monoline concept adjusts well to retain legibility.
Combine the regular letters with stylistic alternates and ligatures to produce amazing outcomes. It will look splendid on apparel, posters, social media quotes, packaging, storybooks, kids' merch, comics, etc..
5. Amoeba Square
You know what will complement your adorable cartoon graphics and doodles? This dynamic display typeface by Graphicxell. Multilingual and oh so adorable, it's ideal for branding, crafts, and even educational content. It includes OTF, TTF, and WOF files. It works with any software that supports Opentype.
6. Memphis
Eccentric, quirky, and exciting, this charming font by epdesigns has influences from the Memphis design movement of the 1980s. The decorative outline style is perfect for photo overlays, Instagram Stories, social media banners, product promotions, and more.
7. Twinton
Who says minimalist must be bland? This modern sans serif begs to differ with its bold yet clean presence. Aside from branding, business logos, posters, headlines, brochures, and flyers, it also lends itself well to fun projects – the limit is only your imagination!
8. Nestor
Wacky or funky, you decide! While this bold and curvy font may look like it belongs to the 60s or 70s, it's surprisingly versatile for both personal and commercial works. The pack includes upper and lowercase characters, numerals, and punctuations.
9. Carrot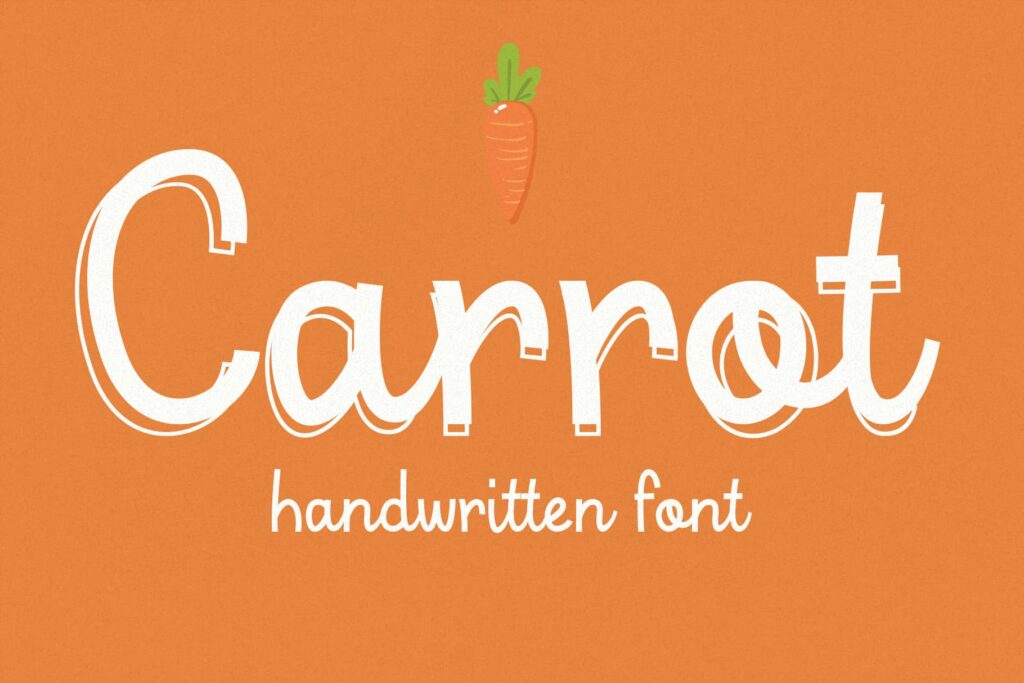 Spread some good vibes using this organic handwritten font. Available in two flavors – Outline and Regular – you can combine both or just use one style to suit any theme. The uppercase letters also have a unique design from the lowercase to help you create book covers, posters, quotes, cards, and logos that are fun, friendly, and unconventional.
10. Golden Dragon
This hand-drawn serif boasts of an Asian twist to add a distinct flair to your projects. Pair with textures for a gorgeous result that looks stunning on YouTube thumbnails, headlines, social media banners, menus, blog titles, product promotions, and more. Apply it on nautical, pirate, or travel themes, too – don't limit your creativity!
11. Funky
Tall, light, and slim, this adorable typeface appears legible no matter the size. So go ahead and try it on headlines or even body text. It's ideal for food blogs, café menus, online recipes, and teen web design. But hey, whip it out if you need something that will add freshness to your works.
12. Huckleberry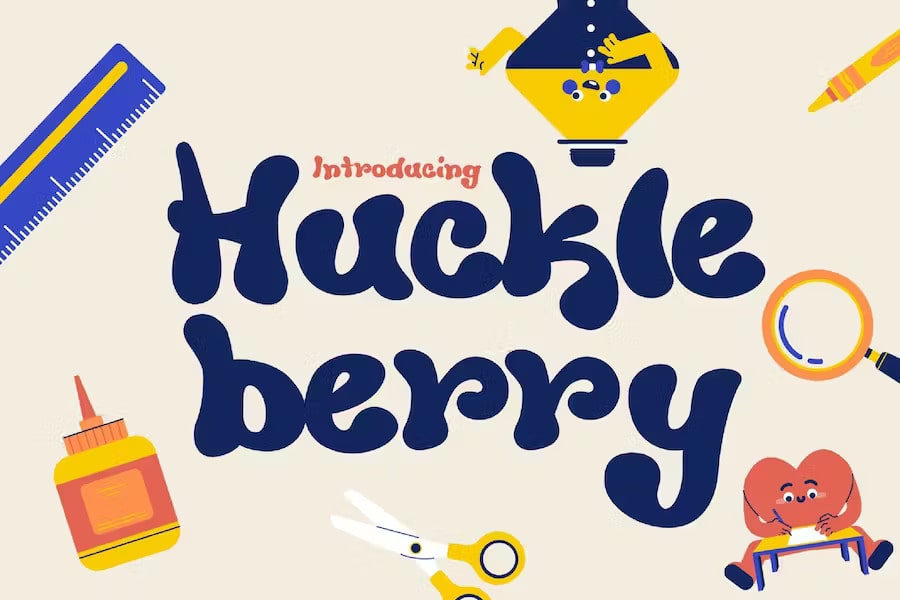 Why be serious when you can have fun? This light-hearted typeface will surely remind you how to play! Curvy, quirky, and spirited, it manages to remain calm, peaceful, and inviting thanks to its beautifully uneven letterforms. Access all the ligatures through OpenType capable software (e.g., Photoshop, Illustrator, Indesign).
13. Childo
Whether it's for a comic or a summer poster, you're sure to bring joy using this cheery display font from Garisman. The look was inspired by bold, strong marker strokes. It comes in three (3) styles: Regular, Rounded, and Inline and works for both Windows and Mac. Easy to install, PUA Encoded, and supports 23 languages, what else are you waiting for!
14. Lucky Cats
Creavora presents this delightful script that's as lucky as it is versatile. Use it on kiddie concepts, but don't be shy to apply it on modern projects as well, such as business logos, blog headlines, product labels and packaging, etc.. Contains OTF and TTF formats.
15. Funny Kids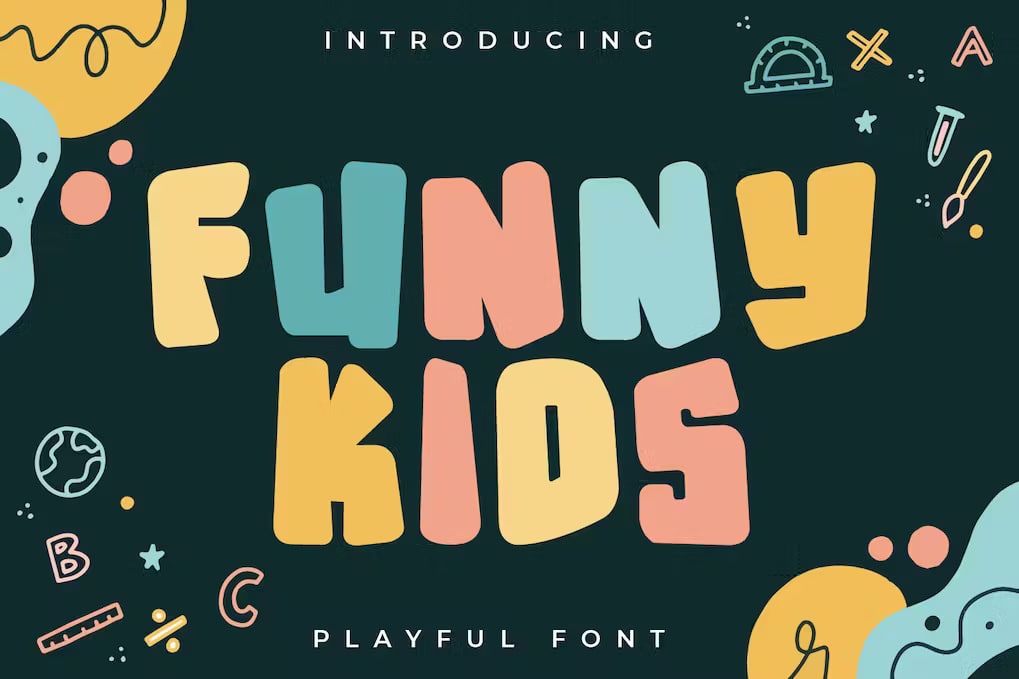 Blocky but funky, this charming display typeface is great for welcoming kids to a new schoolyear. It's a cool choice for parents and educators to bring a bit of fun to classrooms, bedrooms, study areas, libraries, and school projects. The pack includes OTF, TTF, WOFF and WOFF2 files.
16. Funny Frank
Andrew Timothy brings you this lovable and energetic font that could be anything you want it to be. It's dynamic enough to be put on a statement shirt or on a restaurant menu. Complement it with other typefaces; it doesn't mind being next to a sexy sans or a bold serif.
17. Harvestone
Transport your audiences to new lands of wonder and excitement using this cute sans font by Typia Nesia Std. It's ideal for game design and cute comics, but who says it can't look amazing on movie posters, book covers, or branding? Let your mind wander and see where this typeface takes you!
18. Raykins
Inspired by modern calligraphy, this handwritten script is sweet, whimsical, and functional. It suits both funny, lighthearted content and romantic themes. The pack contains upper and lowercase letterforms, numbers, punctuations, and a few ligatures to make your works stand out.
19. Monkey Sausage!
Bold and eye-catching, there's probably nothing that this hand-drawn slab from FadeLine_Std can't handle. As a hardworking brush font, it's ideal for digital branding and physical merch like mugs, shirts, and book covers. You will get the complete set of lower and uppercase letters, punctuation, numbers, web fonts, and several ligatures, plus an alternative stylistic set.
20. Wagoon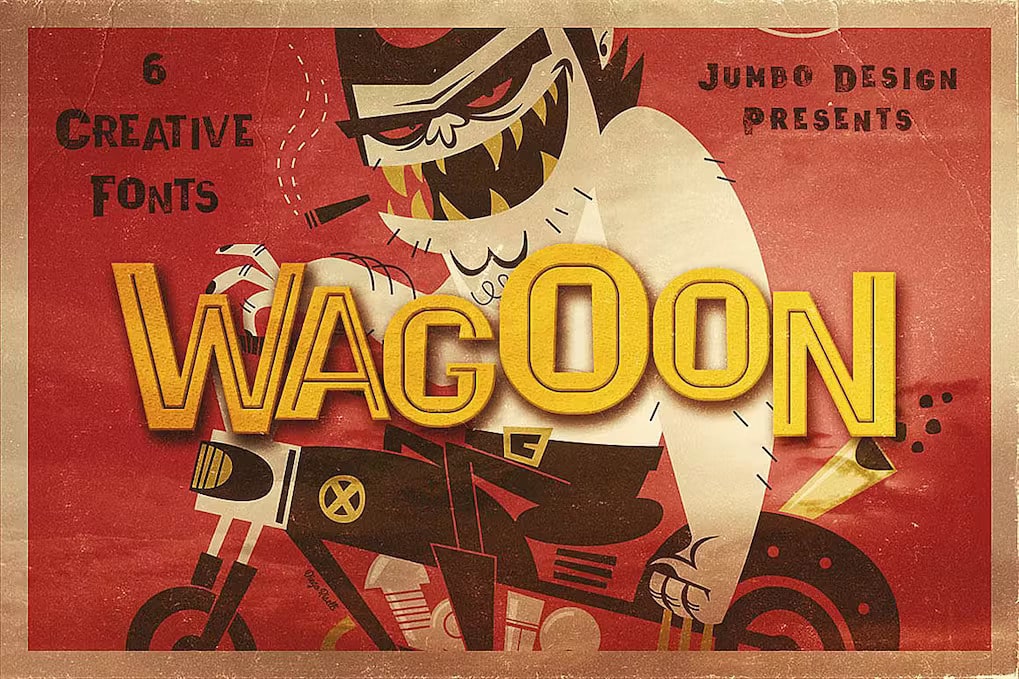 Are you working with zany cartoons and you're searching for the perfect font to go with them? Look no further than this off-the-wall sans serif from Cruzine. With six (6) creative styles (Regular, Grunge, Inline, Inline Grunge, Bold, and Bold Grunge) to choose from, you're not going to run out of extraordinary curious creations!