Since the dawn of civilization, people have always shared news and stories with one another. At first, these were passed through word of mouth. Then, we learned to transcribe these thoughts to more permanent means, such as through paper, stone, and metal.
One of the precursors of newspapers was the Chinese imperial 'bulletins'. Later on, the Romans began publishing a sort of gazette, containing political news, trials, and military campaigns. But the actual newspaper that we know of today didn't kick off until the invention of the printing press by Johannes Gutenberg.
Whether you're into the traditional paper form or you prefer digital media, you can't go wrong with these newspaper fonts. Start telling your stories using one – or more – of these cool typography sets.
Newspaper Fonts
1. Firecracker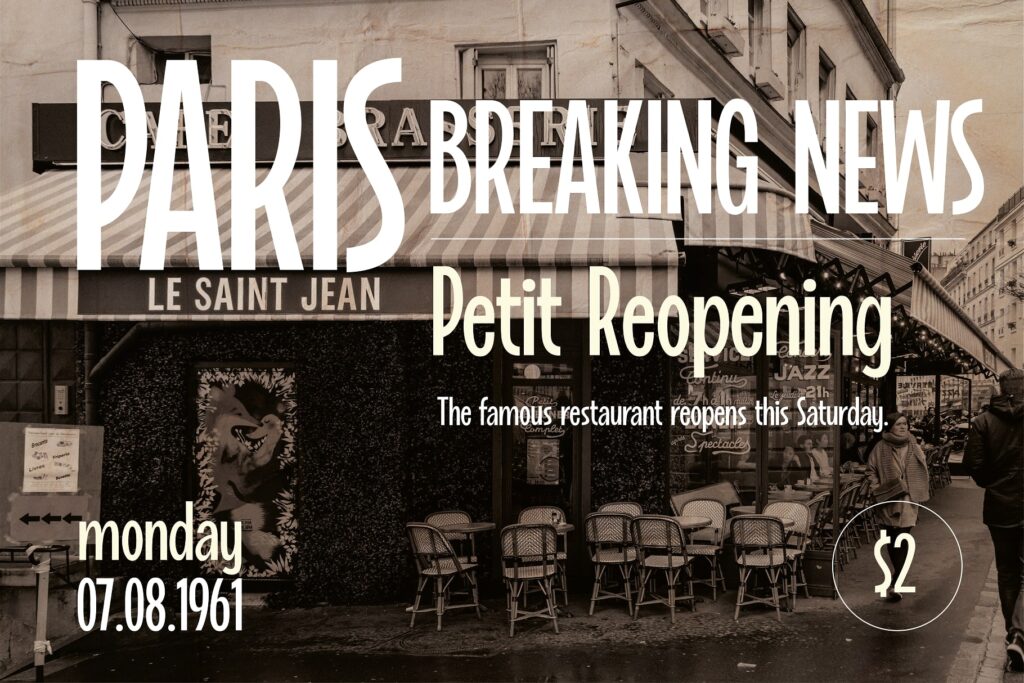 Hey there daddy-o! Firecracker is the bee's knees, taking you back to the groovy and happening era of the 50s and 60s. Perfect for all you cool cats out there looking to make a splash in magazines, newspapers, signage, branding, packaging, and more.
With two styles to choose from – Regular and Oblique – you can evoke the energy and enthusiasm of a bygone era. It's the real deal to quickly add a real retro vibe to any project.
So don't be a wet blanket! Firecracker is the cat's meow, and it's sure to be a hit with anyone who's looking to add some old-fashioned flair to their designs.
2. Amoretta
Amoretta is a stunning typeface that exudes elegance and sophistication. With its graceful curves and delicate serifs, it evokes a sense of timeless beauty and refinement. Whether used for branding, invitations, or editorial design, Amoretta adds a touch of luxury to any project.
Its versatility makes it suitable for both headings and body text, and its legibility ensures clear communication. Amoretta is the perfect choice for those seeking a typeface that endures despite the trends.
3. Sojourn
Layered, type-driven design inspired by 1980s advertising is on the rise. Sojourn will help your creative projects come alive and create eye-catching designs. Just like the famous 1980s advertisements by Apple, which pioneered the look with its launch campaign for the 1984 Macintosh.
4. Addington CF
Whatever you're working on, you'll want a good and beautiful typeface you can depend on. Here's where this serif by Connary Fagen comes in. Ever reliable, it comes in 7 weights with matching italics, for a total of 14 practical typefaces.
5. Quixote
Quixote is a classic serif newspaper font with a remarkably unique typography style.
6. Robinson Press
Robinson Press is a newspaper font inspired by vintage letterpress titles. It's great for a bold and attractive title followed by smaller text, and was made specifically with magazines and posters in mind.
7. Samford
Samford is an elegant newspaper font available in both a solid and outline style.
8. The Bjorke
The Bjorke is a handmade newspaper font, suitable for logos, headers, titles, and typography art. Features 2 styles and 3 formats with lovely ligatures and swashes.
9. Manier
Inspired by transitional and modern fonts, this wedge-serif font family in 6 weights by Piotr Łapa has sharp strokes that would go great with headlines, posters, book covers, or homepage design.
10. Marques
Designed by Craft Supply Co., this classy serif font family is bold enough to grab attention, yet chic enough to be used in branding, business, or fashion themes. It's ideal on logos, posters, headlines, packaging, cards, invitations, as well as blog headers, and social media quotes.
11. Gaze Pro
Looking for the right typeface that will impress? Then welcome this multilingual font from Anthony James. With Stencil and Web Font versions, as well as 4 choices of ampersand, there are almost limitless combinations of swashes to instantly add flair to your invitations, labels, headlines, and more.
12. Fokus
Fokus was inspired by mid-century print design. The height of this condensed typeface automatically draws attention and can be utilized to create beautiful headlines, logos, quotes, posters, social media, headlines, magazine titles, clothing, large print formats, and more.
You can easily pair it with scripts and bold sans serif fonts. Fokus comes in two versions, regular and thin, which makes it super versatile and fun to experiment with.
13. Blacker
Evoke a little bit of that 70s charm in this wedge serif type family by Cosimo Lorenzo Pancini and Andrea Tartarelli. Featuring two sub-families: display and text variants, the set includes 24 fonts to use on your website, posters, book covers, as well as advertising projects.
14. HK Gothic
Inspired by early American gothic typefaces, this gem from Hanken Design Co. is all about readability and simplicity. With 12 styles to choose from, you can feel confident using it on headlines or body copy.
15. Alfabetica
If you're looking for something simple yet versatile, then this humanist sans serif from Eurotypo should be perfect for you. Featuring 16 fonts with italics, its soft strokes and slightly condensed style will add quiet elegance to any works.
16. Singel
Understated but always in demand, this charming neoclassical serif from Fontfabric will make a great addition to every designer's toolkit. With a total of 10 styles plus support for over 130 languages, it's both functional and beautiful.
17. Sergio PW
Need something bold and unique? Then grab this black serif from Publiworks. Use it on headlines, banners, or even short body copy.
18. TT Bells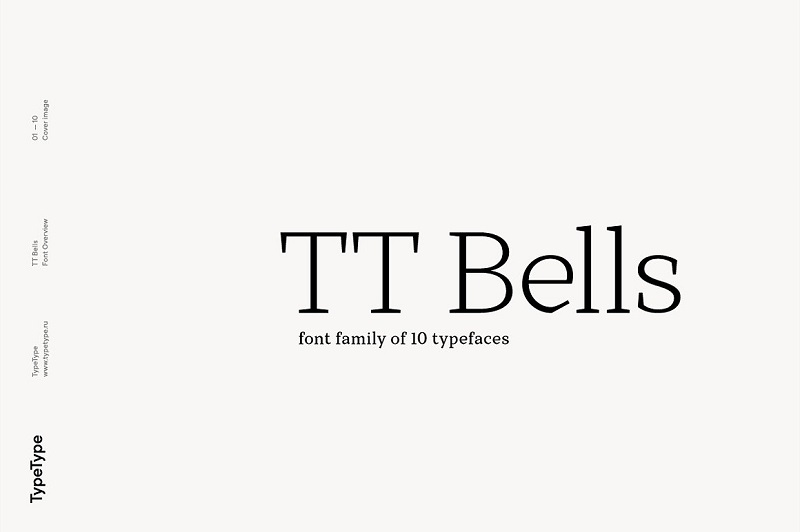 An old-style font created for the digital age, this modern antiqua includes 5 weights and 5 true italics for a total of 10 typefaces that you're sure to get plenty of use for.
19. Marianina Cn FY Bold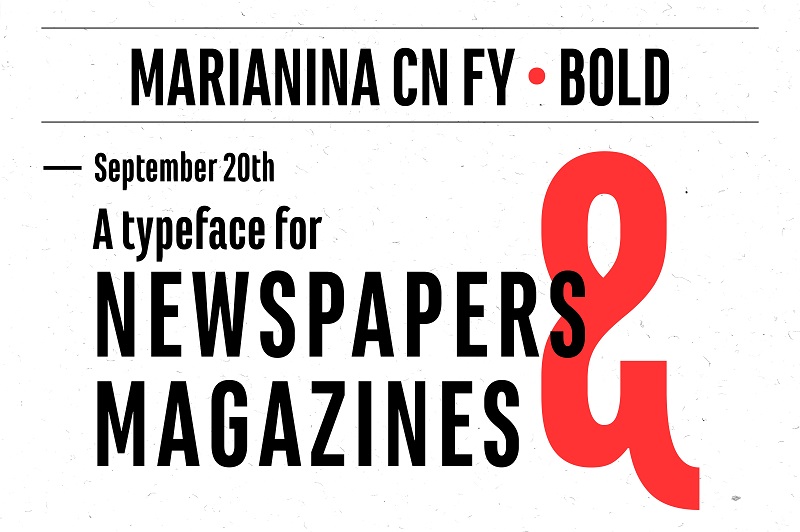 Co-created by Alisa Nowak and Jérémie Hornus, this typeface by BlackFoundry was inspired by 20th century fonts and is ideal for use in print media.
20. Good News Sans
Whether you're working on a vintage poster or you're about to self-publish your first magazine, this font family from Very Cool Studio will support your every endeavor. With 18 fonts ranging from sans light to semibold, you'll be glad to have this in your arsenal.
21. The Telegraph
Inspired by the classic headers of British newspapers, Vintage Voyage D.S. brings to you this versatile font family that's available in 3 weights. Along with standard and discretionary ligatures, this typeface is here to help you go big.
22. Isidora Sans
Clean and highly versatile, this contemporary typeface from Latinotype has 28 fonts total: that's two sub-families in 7 weights with italics. Use it on anything – from headlines, book covers, to social media branding, as well as website or app design.
23. Schuss News Pro No.22
Legible no matter where you put it, this font from Jochen Schuss is ideal for real printing, hence its name. So don't be afraid to use it on magazines, newspapers, headlines, banners, and posters.
Download Schuss News Pro No.22
24. TT Jenevers
This contemporary serif by TypeType is all that you need to mix up your works without deviating from the usual. With a bit of Dutch influence thanks to asymmetrical shapes and irregular slants, you're getting 12 fonts and more than 740 characters to truly make something wonderful.
25. TT Wellingtons
A combination of early 20th century sans and the styles of modern geometric grotesques, this gem consists of 18 fonts, as well as useful ligatures, stylistic alternates, and options for digits to help you craft the best outcome for any and all projects.
26. Solitas Serif
Jeremy Dooley proudly presents this soft serif that's guaranteed to look amazing in both print and digital works. With a total of 42 fonts from thin to bold, you can effortlessly charm your audiences thanks to its legible style and graceful, rounded corners.
27. Sondra Serif
This font family from Creativetacos comes with 6 styles that include Light, Outline, and Extra Bold, to help you create a classy impression. Use in all caps for a strong impact, or alternate upper and lowercase letters for gorgeous logos, titles, posters, invitations, and more.
28. Catalogue
Josh O. presents this gorgeous display typeface that's both minimalist and vintage. Trust it to look stunning whether on magazine covers, posters, or even as body copy.
29. Artifex cf Smooth Warm Text Serif
Artifex CF is a text-friendly serif, designed to be easy on the eyes and melt into the page or screen. Artifex's smooth serifs and elegant italics let text flow effortlessly. Extensive Latin, Cyrillic, and Greek support lends wide language coverage. Artifex also doubles as a handsome display typeface, with details that scale gracefully at any size.
Included in this awesome font package is:
Eight weights and true italics
Latin, Cyrillic, and Greek scripts
Wide language support, including Russian, Greek, Vietnamese and many more
International Phonetic Alphabet glyphs included
Latin-script transliteration for Sanskrit, Arabic ALA-LC/DMG/ISO 233, and Pinyin
OpenType features (fractions, alternates, ligatures)
Long term support, free features, and bug fixes
30. Camera Obscura Classy Type
Camera Obscura was inspired by typography from a vintage New York City newspaper. In particular, this typeface is designed to give a formal yet old style look Camera Obscura has a serif typeface with bold to light contrast. A style commonly used in magazines and mass media in his era. This typeface is perfect for a formal layout, newspaper, or magazine cover, and also good for vintage products, food & beverages, quotes, or simply as a stylish text overlay to any background image.
Included is multilingual support, a range of alternates, upper and lowercase letters, along with numbers and punctuation.
31. Newspaper Cutboy Font
Newspaper cutboy is a color sans serif font designed in the style of newspaper cut letters. The font has four different alternates for each letter. The font works great to make short titles, and it looks good on both dark and light backgrounds.
Included in the font package are glyphs for all 26 letters, 4 104 alternates, exclamation and quotation marks, and OTF formatting!
Download the Newspaper Cutboy font here!
32. Washington Display Serif Font
Washington is a Serif Font that is suitable both for a pleasant experience in reading texts as well as for striking headlines and for subtext applications with the heavier weights. Very suitable to use logos, posters, covers, main packaging, t-shirts, business cards, wedding cards, and more, so what are you waiting for?
Download Washington Serif right here!
33. Repus Font (FREE)
This experimental display duo from Hawa Odling features carefully crafted letters, each boasting a random font style. It's available for both Mac and Windows.
34. Swiss Grit (FREE)
Created by Rafael Nascimento, this font was inspired by a passion for Letraset typographic dry transfers. The result is a gritty, unique, and humanistic typeface that reflects The Good Decade.
35. Carosello (FREE)
Want to make a friendly first impression for your project? Then you can't go wrong with this genuine hand-written vintage font from Unio Creative Solutions.
36. Mersad (FREE)
A contemporary sans serif that looks great even in small sizes. Brought to you by Nika Khipashvili, this set includes 9 styles plus a variable font.
37. Robinson Regular
Robinson Press is a newspaper font inspired by vintage news media titles. It's great for a bold and attractive title followed by smaller text, and was made specifically with magazines and posters in mind.