Last Updated on April 13, 2023
As a business owner, you will want to give yourself the best tools possible to promote your content. That's why you need to have access to some of the best business-friendly fonts on the market.
This article looks to give you that access, with a comprehensive list of business-appropriate fonts that will be sure to make your company stand out, whether it is for a business card, promotional poster, letter, or flyer, these fonts ensure that you will lead with your best foot forward!
Elegant Business Fonts
1. Amoretta
Amoretta is a stunning typeface that exudes elegance and sophistication. With its graceful curves and delicate serifs, it evokes a sense of timeless beauty and refinement. Whether used for branding, invitations, or editorial design, Amoretta adds a touch of luxury to any project. Its versatility makes it suitable for both headings and body text, and its legibility ensures clear communication.
Amoretta is the perfect choice for those seeking a typeface that endures despite the trends.
2. EB Corp
A simple font with minimal stroke contrast and moderate spacing, the EB corp font is a great choice for any company looking to provide a more polished and professional look to their product. It is designed to fit into corporate nuances and contains nearly 500 glyphs. It is an elegant and professional option for any business.
3. Sanz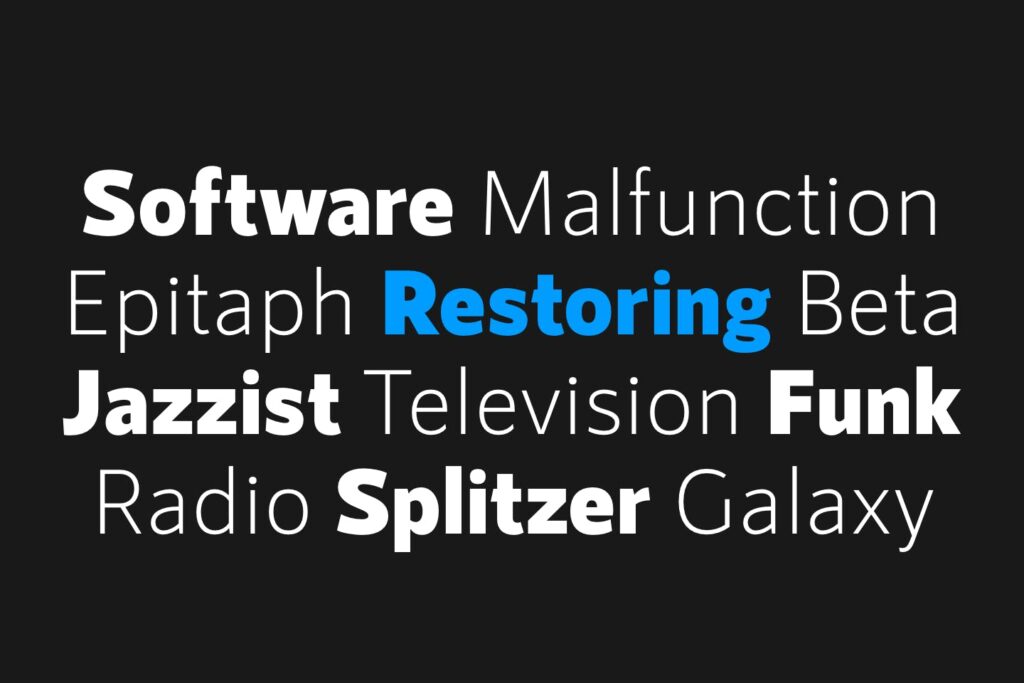 Clean and perfectly balanced, the Sans font has seven separate weights including;
1. Light + Small caps Light
2. Normal + Small caps Normal
3. Medium + Small caps Medium
4. SemiBold + Small caps SemiBold
5. Bold + Small caps Bold
6. ExtraBold + Small caps ExtraBold
7. Black + Small caps Black
Each of these make things easy for companies to pick an ideal format for signage systems. A tidy and professional option.
4. Techead
Part of the sans serif family, Techead is a font designed specifically for business and technology start-ups. Techead has a neat, clean appearance with simple, smooth curves and a modern look. Despite its simplistic features Techead still has a strong personality and distinctive characteristics.
It has a clear contrast between vertical and horizontal lines, five separate weights, and nearly 400 glyphs per font, it is a versatile and clean option for any tech business looking to advertise itself.
5. Altone
Altone was created in a pursue of regularity and conventional geometric sans serif typeface which tends to be easy to receive by its reader, broad usage possibility, shown a simple, a bold and strong personality.
The font contains nine weights, ranging from thin to heavy, and its versatility and functionality make it ideal for business cards, or promotions where you may want to use more than one font style.
6. Broche
Suitable for posters, t-shirt, packaging, branding, logotype and more, Broche is a font with some of the most versatile nuances of any font on the market. Perfect for anything from typography to clothes to magazines, Broche will make your companies design look polished and professional.
7. Croco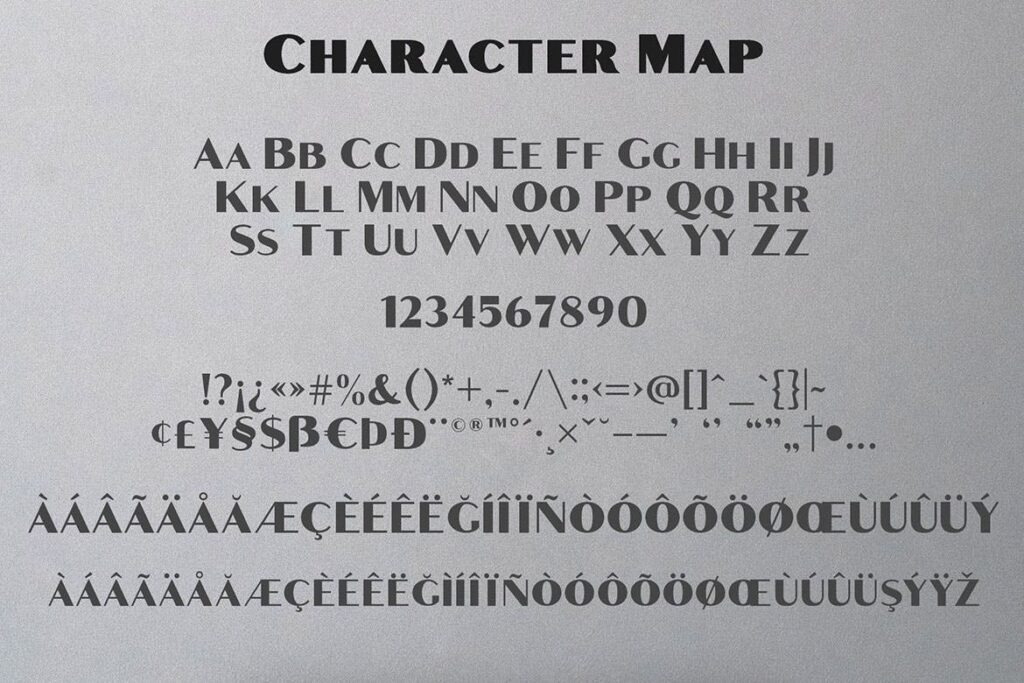 The aim of Croco, this luxury sans serif font, is to create an optimum balance of geometry and balance. It is designed with business in mind and is perfect for posters, flyers, stationery, art, or typography. This multi-purpose font is used primarily by companies that want to add a modern, yet elegant edge to their product, so why not give it a try and see for yourself?
8. Asterone
Clean, modern, and sleek, this sans serif typeface is great for businesses looking to create apparel, invitations, posters, flyers, or packaging. It comes in a variety of forms too, from uppercase to lowercase, with varying symbols and numerals attached too for ease of use.
9. Gilsock
If you like timeless and classic fonts, then look no further than Gilsock. It is perfect for all of your upcoming projects, such as logo branding, editorial design, stationery design, sport design, start-up industry, music poster, blog design, website, apps design, UI UX, modern advertising design, editorial, magazine, book/cover titles and special events. It is sophisticated, easy to read, and reliable. A classic choice.
10. Aceh
Consisting of 9 separate weights, Aceh is a classic member of the sans serif family that should be a definite contender for any serious business. It is dynamic enough to be used in a number of branding scenarios, and with over 36 separate fonts under the Aceh umbrella, it will be easy for your flyer, poster, merchandise, or business card to stand out.
11. Physis
One of the few neo-grotesk fonts on the list, Physis is a clean and organized font that was inspired by Swiss graphic design. It's a cleaner and more elegant reinterpretation of the grotesque faces with a more generous spacing that turns it into a workhorse font for screen or editorial projects
12. Articulat
A unique take on modern Swiss typeface, Articulat is a strong and sophisticated font. With a range of OpenType features, OTF file format, free updates, and ten separate weights, it is a versatile and simple font to use for business.
13. Causten
Causten is a geometric sans serif font family with maintains rationality in designing each form. With use the sharpness of the eyes, and remain logical, so that balance is maintained in each form. So, it will get a clean, neat, and perfect shape.
Causten comes with 9 weights and a matching oblique, making it 18 styles. It makes it perfect for all creative projects. Also, some alternative glyphs will be an attractive choice.
14. Business Signature
Classy, elegant, and contemporary, Business Signature is a stunning script font that should be reserved for classier businesses. It contains upper and lower case, as well as ligatures and multilingual support, and it is ideal for any promotional posters, flyers, or social media posts because it will certainly catch people's attention.
Download Business Signature Here
15. Nordhead
Nordhead brands itself as being a 'corporate font' and is a sleek sans serif set. The font has upper and lowercase characters with bold, modern looks and gentle curves, allowing you to create minimal and straightforward designs.
This font is clean, simple, and versatile, perfect for business and corporate branding and a great choice for titles and posters. Nordhead can also be used for small articles and occasional texts.
16. Bloomsburg
Bloomsburg is a sharp, modern, everyday font with a multitude of uses. This family is characterized by its high legibility, delicate curves, and vertical cuts to most lowercase terminals. It is ideal for businesses looking to create eye-catching headlines or sub-headlines and looks great beside a company logo too!
17. Saint Capital
Playfully modern, yet subtly elegant, the curves and minimalist nature of the font is ideal for texts, headers, magazines, business cards, or posters.
18. Halimun
A stylish and modern handwritten font, Halimun is a brilliant font to use in order to add a more personal touch to your work. It is perfect for photography, watermark, social media posts, advertisements, logos & branding, invitation, product designs, label, stationery, wedding designs, product packaging, special events or anything that needs a slightly unique or personal touch.
19. Lexia
Lexia is a minimal and neat sans serif font. It can easily be matched to an incredibly large set of projects, so add it to your creative ideas and notice how it makes them stand out! If you are part of a business looking for a font to use for promotion, you will struggle to find a font that is neater than this one.
20. Chase
Chase is a modern sans serif font with 4 different weights. Every single letter has been carefully crafted to make your text look superb! The font is perfect for many different projects like websites, blogs, quotes, blog headers, titles, posters, weddings, branding, logos, fashion, apparel, letters, invitation, or stationery. It is one of the most versatile on the list with its clean layout.
21. Walton
WALTON is an elegant modern sans serif font. It can easily be matched to a large set of projects for your company, so add it to your creative ideas and notice how it makes them stand out!
22. Kinetic
Kinetic is a type system that embraces the minimalist look associated with neo-grotesques, blending bold lines with high refined curves and iconic geometric shifts. The "Kinetic" family includes two weights (Light and Bold) with their matching obliques and covers several languages based on the Latin alphabet. Kinetic is Ideal for headlines, large-format prints, brand identities, social media, advertising, editorial design, posters.
23. Modern Deluxe
Stunning, modern, and elegant, Modern Deluxe is a part of the sans serif font family. It is versatile and can be applied to a range of different projects that will make your work stand out.
24. Element
Ideal for magazines, posters, or advertisements, Element is a great font that would look great for any business project.
25. Lione
LIONE is elegant and modern sans serif font. It can easily be matched to an incredibly large set of projects. It is versatile enough to go with a range of business promotions and products, and it has multilingual options available too!
26. Dalton
Dalton is a professional Business font. It is perfect for business purposes like business card design, magazines, advertisements, fashion, web, book covers or posters.
FAQs
What is the proper font size for a business letter?
When it comes to the font of a business letter, your goal is to strike a balance between subtlety and visibility. Look to keep the font between 10-12 in size. The main tip, however, is to stick with the same font and size the whole way down so that you maintain a professional look.
What size font for business cards?
The standard font size for a business card tends to fall between 8-10. As a general rule, you should aim to keep your main text at a 10-font and scale down to an 8-font for any contact information.
How to change your font in Skype for business?
Simply go to the Skype for Business main window and click the small arrow that is next to options. From there, click on 'change font', and you will have the option to change your font size, color, and style on Skype. Your messages will look super-stylish!
What is the best font to use for business letters?
It really depends on what style of business you are a part of. However, as a general rule, Garamond is the benchmark font that is used by most businesses in their letters. So if you are completely unsure, then start with Garamond.
How many fonts on a business card?
It is ideal to use either 2 or 3 fonts. If you use one font, it can look a little flat and monotonous, whereas if you use more than one, it can vary the card up a little and layer it. This will make it more appealing to those viewing it.
One thing that you should know, however, is that whatever fonts you happen to choose, make sure that they complement each other. There is nothing worse than seeing a business card with two competing fonts on it that do not go together in harmony.