For centuries, sports have brought people together. Be it the Little League or the Olympics, sports foster teamwork, hard work, and persistence – values that are understood the world over. In terms of design, athletic themes can be described as understated but impactful.
Just think back to your college sweatshirts or your team jerseys. They may look simple or unassuming, but it certainly sticks to your mind and are easily recognizable. They convey movement, dynamism, and pride. It's no wonder that even modern websites, magazines, or retail shops also use sporty themes to stand out.
Looking for strategic way to win in design? Check out these cool sports fonts that are sure to be a huge hit!
Sports Fonts
1. Scout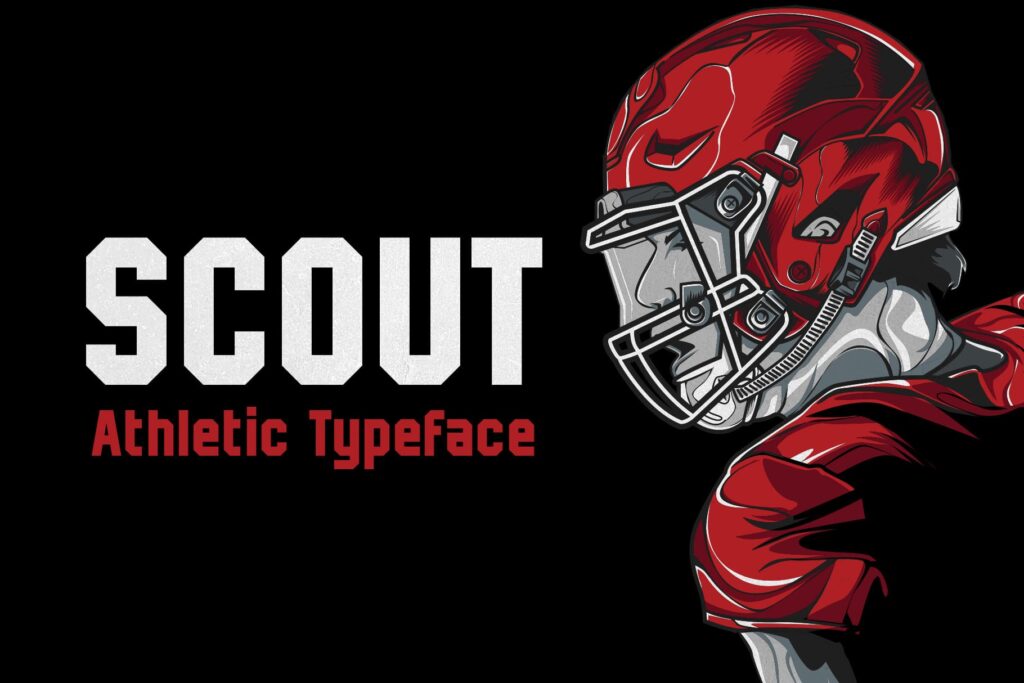 Scout is a sharp, clean, and bold athletic font. It is a very versatile display typeface perfect for sports branding, emblems, jerseys, posters, apparel design, magazine headlines, labels and so much more. Scout is fully-kerned and ready to be used right out the box.
2. Heisman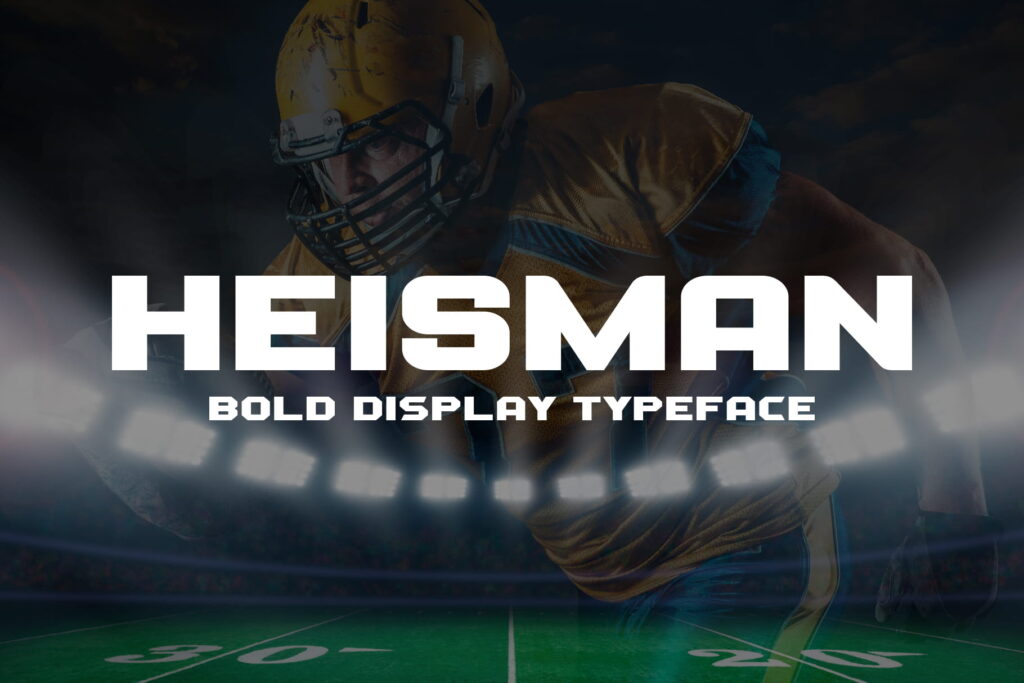 Heisman is an all caps font with unique small and large cap characters. The font is ready to be used for your sports related projects. Built to be perfect for headlines, jerseys, logos, branding, posters, packaging, advertising, and much more.
The font is geometrically perfect, which means it's aesthetically pleasing to the eye. Heisman is fully-kerned and is effortless to use. You can always play around with the spacing, however the typeface looks great when the letters are close to each other.
3. Strikeout – Bold Script Typeface
Strikeout is a beautiful script typeface inspired by 1940s and 1950s baseball era. Strikeout allows you to create hand lettering in an instant. This super handy typeface is ideal for logos, product packaging, headers, posters, merchandise, handwritten quotes, social media, greeting cards, and much more. If you love baseball and retro typography, then this font is for you!
4. Mammoth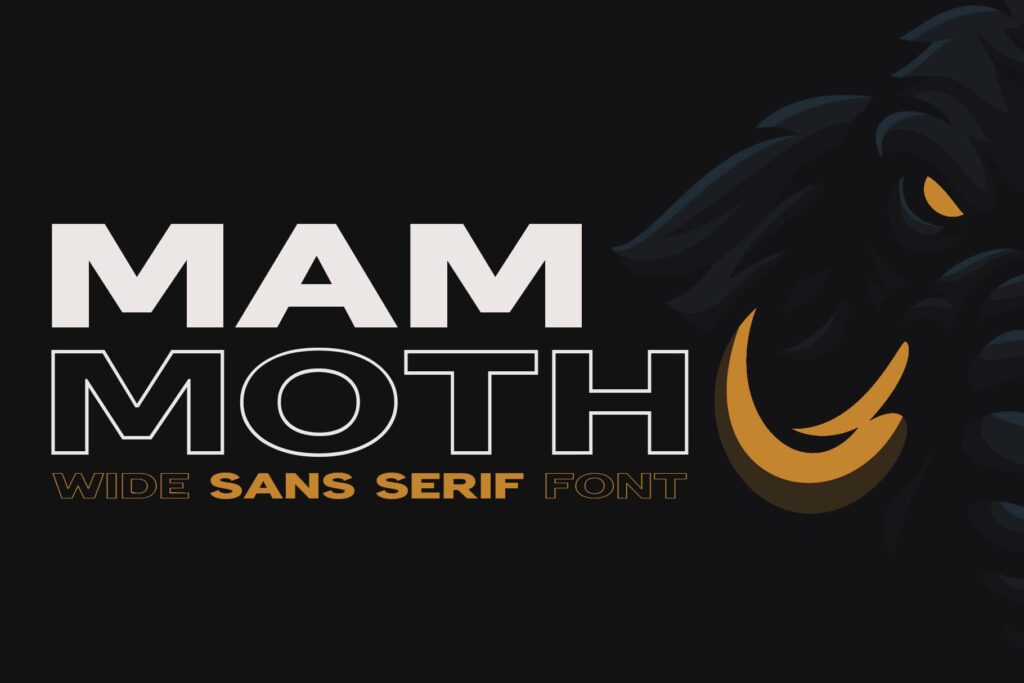 Mammoth is a wide sans serif typeface ready to push the boundaries in your designs. Thanks to its modern look you can use it for any project that requires a bold, clear statement.
You can use it for numerous projects like fashion, magazines, logo, branding, photography, invitations, wedding invitation, quotes, blog header, poster, advertisements, postcard, book, websites, etc. This download includes regular and outline versions as well as lowercase letters for each. You can mix and match the outline and regular version to come up with unique designs.
5. Klutch
Klutch is a beautiful racing themed typeface. It's ideal for sports headlines, editorials, racing posters, esports, branding, website design, advertising and much more. If you're looking for a beautiful typeface that creates the effect of power and speed, then Klutch is for you.
6. Wildcat
Wildcat is an athletic typeface perfect for basketball, football, softball, baseball, soccer, and hockey related projects. You can use it to create powerful logotypes, posters, apparel, magazines, stationary, headlines, labels, badges, and much more. Give your designs a bold look today with Wildcat!
7. Nero
Nero is an ultra wide typeface that's sleek and modern. The font is fairly legible in all sizes, but works best when the letters are large. Nero is ideal for packaging, posters, sports, advertising, editorials, social media, Youtube thumbnails, and more. If you're looking for a stylish new font for your design toolbox, then Nero will make a perfect addition.
8. Houston Italic Font Family
Find all that you need in this modular font family by Craft Supply Co.. With 4 styles to choose from – Regular, Double, Outline, and Shadow – feel free to mix and match to get your desired effect.
Download Houston Italic Font Family
9. Flanders Script
Letterhend invites you to start creating beautiful vintage designs using this bold script. It comes with an accompanying Shadow font to fully complement the Regular typeface in a snap.
10. Sport
Sport as its namesake would indicate is a powerful and gritty typeface with an edge to it. Starting a fitness center? This is the font for you!
11. Battleground
Battle is a gorgeous and personal sports font that looks awesome in on just about any football/esports/basketball jersey. Make sure to add some sweet shadow to the type.
12. Norwill
Norwill is a classic baseball font that has a neat vintage vibe to its character. Worth picking up if you want something a bit old school and are looking for an all caps solution.
13. Insurgent
Insurgent is a bit of an alien-looking sports font that looks almost custom built for a killer sports logo. If you add a cool mascot to the mix, Insurgent is a solid choice for your sports team.
14. Regan Slab
This all-caps slab serif by TGIF.STD is everything you need to start making your dream sports jerseys, posters, and logos. Strong, solid, and thick, you'll turn heads immediately.
15. KVC Bucktooth
Inspired by the 1967 Oregon State football team, 'Giant Killers', this blocky typeface by Kyle Van Cleave is the best typeface when you want to bring back those nostalgic college vibes.
16. Porterhaus Typeface Family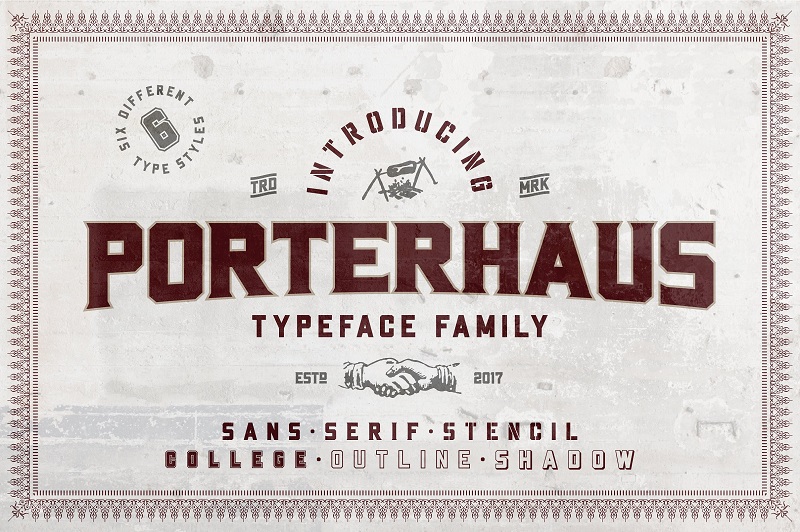 Von Type Co wants to help you re-create authentic vintage labels, logos, posters, and more using this display font family. It features 6 styles (Sans, Serif, Stencil, College, Outline, and Shadow) plus more than 20 pre-made catchwords to make your job easier.
Download Porterhaus Typeface Family
17. Sea Dog Regular
Influenced by stencil lettering around shipyards, Doug Houvener presents this hardworking font that comes with 8 variants. Use them for all kinds of projects, from navy-inspired works to modern branding.
18. Tribe
This all-caps display font by Studio One Four is all about versatility. Use two of the 6 styles together, or pair one of its slab serifs with a thin script for a truly interesting effect!
19. Flyer
Fly high in this unique wide-set font designed by Studio One Four. With beautiful winged serifs in all 5 styles, this typeface signifies movement and a winning attitude.
20. Dagger
Named after the sports term that means 'a shot made in a pivotal part of the game', Studio One Four proudly presents this all-caps display font that's as aggressive as it looks.
21. Acherus Grotesque
Get it all in this rounded sans serif type family from Horizon Type. Featuring 16 styles that come in uprights and matching italics, there's no better addition to your toolkit.
22. Run! Font
Looking for an in-your-face typeface that screams action and energy? Get that and more when you download this gem brought to you by The Branded Quotes.
23. Grind Typeface
Show off how hardworking you really in this big and bold typeface designed by Tugcu Design Co.. With 4 strong styles (Simple, Timber, Halftone, and Demolished), you won't find a tougher typeface that's up for the job.
24. Intensa Font Family
Inspired by the revolution of auto racing in the early 60s, Studio Sun brings to you this font bundle that comes in a total of 15 unique looks.
25. Jawbreak
Need a clean and classic sporty typeface? Look no further than this modern sports font from BoxTube Labs. The package includes 6 styles as well as editable logo templates to kickstart any design project.
26. League
Sturdy, industrialized, yet purposeful, CJ Zilligen Design Studio proudly brings to you this modified block typeface that works perfectly with all kinds of themes – from athletic concepts to modern branding.
27. Sport Font
This all-uppercase font from artyway can help bring your sporty or promotional artworks to life. Pair it up with bold, solid colors or metallic gradients and see your ideas take on a stylish, dynamic form.
28. Triton Sports Font Family
If you're constantly working with athletic or sports-inspired designs, then you'll be glad to add this font bundle from Andres L. into your toolkit. It features 4 geometric styles as well as alternate glyphs, basic diacritics, and handy expanded font formats.
Download Triton Sports Font Family
29. Bison
This font family by Ellen Luff is all about powerful sans serifs that can stand well on their own. The pack includes a total of 12 modern styles – from elegant thin Lights, to commanding Bold.
30. Redzone
Show off your competitive side with a little help from this carefully crafted gem by CJ Zilligen Design Studio. Inspired by the designs and nature of sports, this display typeface is cut-throat yet clean.
31. TT Lakes Neue
This massive font family by TypeType boasts of 91 functional sans serifs inspired by Finnish signs. With all the things you can do with it, it's a definite must-have in any designer's toolkit.
32. TT Supermolot Neue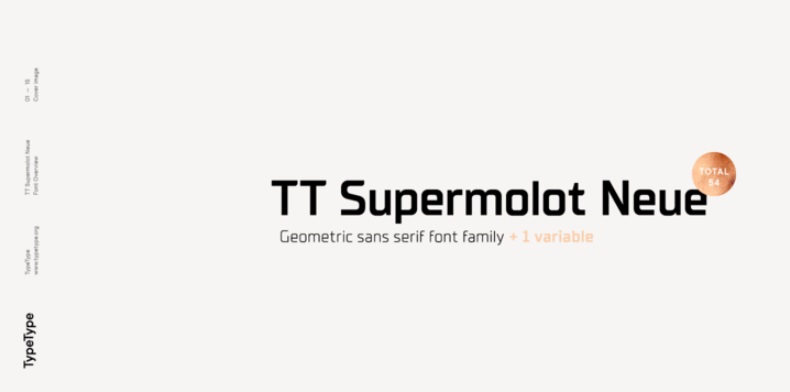 The term 'molot' is Russian for hammers. With that said, you can bet that these hammers will pound away at your works, making them practical yet beautiful in their own simple, clean way.
33. Neo Sans
With rounded, square, sans letterforms, this font family from Monotype is all about being modern without looking fussy, allowing you to express what you want with little to no distractions.
34. Eurostile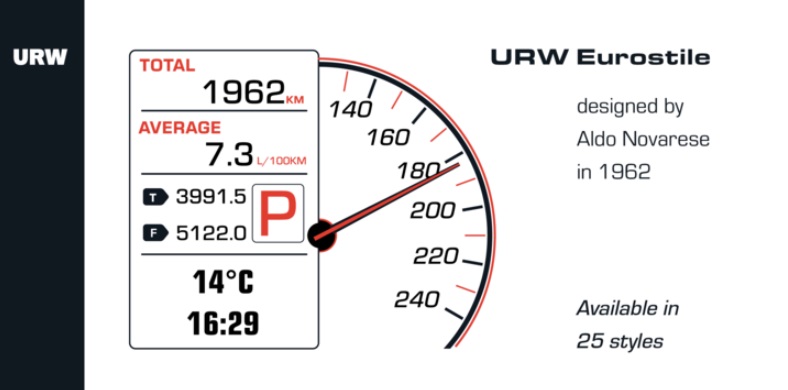 Featuring 25 sensible styles, URW Type Foundry brings to you this font family that you can also purchase individually, depending on your needs.
35. URW Dock
Inspired by the 60s square sans typefaces, this geometric type family is contemporary enough to meet today's requirements, but also beautifully versatile to still be used for retro works.
36. League Sport Typeface
Created by thedesignshark, this font includes 4 styles (Regular, Italic, Stencil, and Stencil Italic) that convey showmanship, sleekness, and technique. While it's recommended in sports themes, it's versatile enough for logos, websites, flyers, posters, headlines, or product labels.
37. Denzel Font
This modern, geometric typeface by Oleg Urazovsky will look amazing on logos and titles. Use with solid colors, or play around with fun or customized overlays.
38. KVC Brute
This display font by Kyle Van Cleave includes two styles: Regular, a no-frills heavy-duty block typeface; and Speed, a more eccentric version with sharp serifs.
39. Mudhead Serif
Inspired by sports branding, this multilingual condensed font by Headfonts comes in 3 elegant styles – Regular (FREE), Semibild, and Bold. Use for headlines to create an impact, or for body copy that remains legible no matter what size.
40. Matter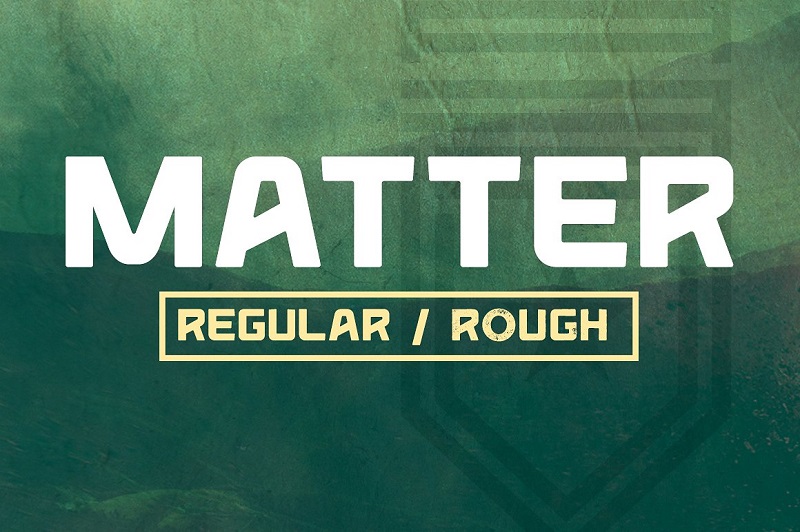 Created by Andres L. as a highly adaptable typeface, this solid font is bold enough to be used on headlines, product labels, or magazines, but contain enough character thanks to its soft, rounded corners.
41. Redzone 2.0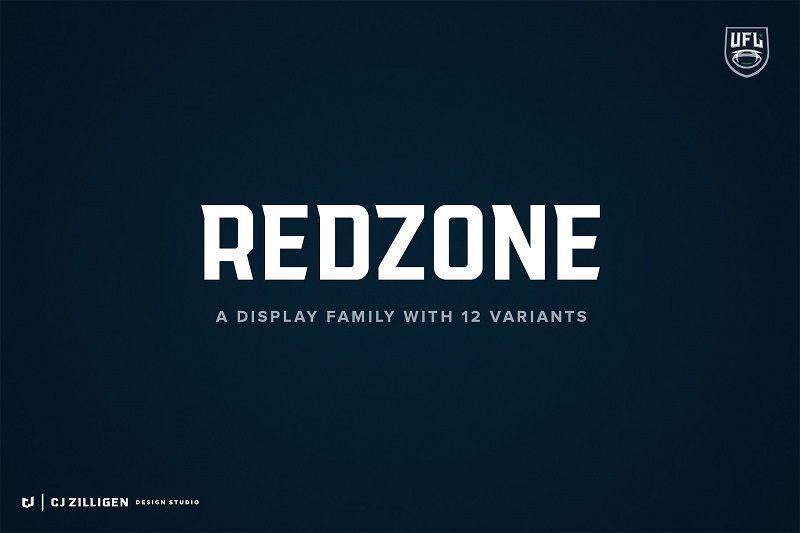 42. Baron
Effortlessly evoke an athletic feel to your works with a little help from this gem created by CJ Zilligen Design Studio. Featuring soft corners with spurred edges, it's the perfect mix of elegance and movement.
43. National Champion
Be confident when you use this geometric slab by Very Cool Studio that comes in four weights (Light, Regular, Medium, and Bold). Well-balanced with lots of language support, it's also ready for the web.
44. Houston Sports Font Family
Craft Supply Co. presents to you this modern font family inspired by American sports graphics. Use for your vintage sports designs, or to adorn contemporary merchandise, posters, business cards, apparel, and more.
Download Houston Sports Font Family
45. Ricsucer 
Ricsucer sports font with high italic font, modern look, and dynamic slant. Ideal for fast car racing sports titles, logos, running matches, cycling, automotive game logos and other modern dynamic monograms or texts. Ricsucer brings the feel of ink splattering at an angle, creating an effect of power and speed. Designed as a fast and dynamic font, but with a slightly different font design, the added rough fill makes it a bit dirty but more masculine.
46. Cropro 
Cropro is a simple and modern display font, with a sports theme. This font has a firm shape, looks very sporty but still professional. Cropro has a charm of its own that easily mixes a formal look with a more playful look. Use this font for your designs and explore its endless possibilities.
47. Ronix Font
RONIX font creates a modern and futuristic hi-tech atmosphere and style. The font looks great as a header and as regular text and can be applied to a series of different designs. 
48. Gunterz  
If you like a bold and powerful all-caps sans-serif font to make your message stand out, Gunterz can be the choice to maximize your goals.
Available in four weights and its matching italics, Gunterz is designed to meet font needs in a variety of different situations. To make it more attractive, Gunterz also provides OpenType features such as stylistic alternates and a stylistic set. Others, this font also supports Cyrillic language.
Gunterz is suitable for poster titles, packaging design, headlines, logotypes, motion graphics, movie titles, sports promotion and future technology.
49. Republica Minor 2.0 Font (FREE)
Make your ads, posters, product labels, apparel, and logos look strong and powerful with this upgraded font from Dennis Ludlow.
Download Republica Minor 2.0 Font
50. LT Energy Font (FREE)
Improved from the early Lucozade font, LyonsType brings you 2 styles (Regular and Italic) of this typeface to help energize your projects.
51. AIRNT (FREE)
Featuring 4 cool styles to choose from, this urban font by Gregory Ortiz can be applied to almost any design concept – from futuristic, fashion, to editorial, and sports.
52. Soul Maze (FREE)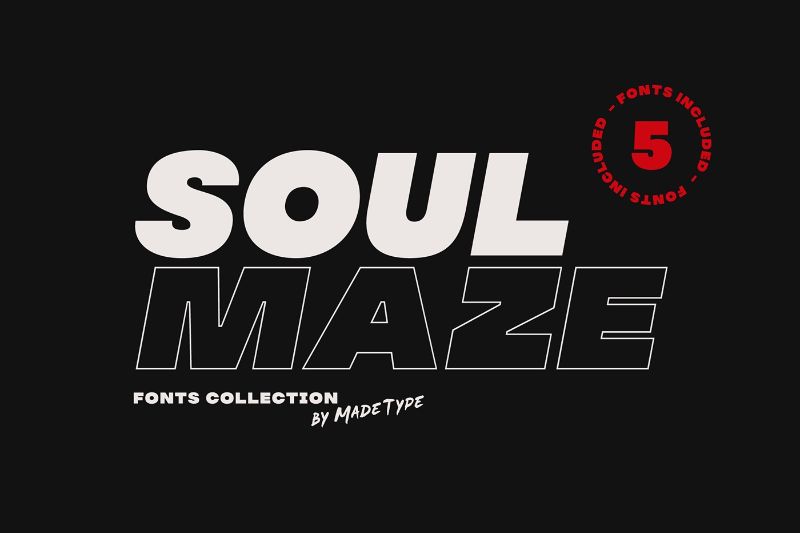 This font collection is all about convenience. The set includes Regular and Outline styles that you can mix and match, depending on your theme.
53. Nitrogine (FREE)
Bold, sporty, and futuristic, Pixel Surplus and Tiffany Ham give you this Fast & Furious inspired font that will look amazing on posters, banners, headlines, logos, social media posts, and more!
54. Atalanta Typeface (FREE)
Never underestimate the impact of simplicity – especially when in the hands of a great designer (that's you!). Brought to you by Jose Manuel Vega.
55. Atiba Font (FREE)
Ozan Karakoc proudly presents this geometric font that's as strong as it is reliable. Put it on posters, logos, apparel, branding, product packaging, book covers, and social media ads.
56. Empirez
Empirez is a thick sans-serif sports font with bold plated serifs that carries so much attitude that of course, it's a sports font. Make sure to kern well.
57. Rockrace Font Family
Arterfak Project proudly presents this font family that includes 9 beautiful styles you can mix and match. They're ideal for projects with a sports, auto, minimalism, or tech theme.
58. Overhead Typeface
Looking for the perfect typeface for your sports shirts or edgy projects? Try this gem from Headfonts. This geometric font comes in Regular (FREE), Bold, and Black to instantly give your works that industrial feel.