Last Updated on October 9, 2023
Sometimes, you just need something simple – but not boring! If you're on the hunt for fonts with a simplicity that radiates professionalism, a quick-read capacity and a flowing style, then look no further than this top collection of scripts.
Simple Fonts for Any Occasion
1. Amenti
The clean lines and simple beauty of the Amenti font radiates modern and classy vibes. It's a no-brainer option for any design project.
Plus, with six different weights to choose from, it's super versatile and can make any composition look top-notch. Amenti's sans serif style is both charming and minimalist, so it's perfect for catching the eye without being too flashy.
And if you need to get your message across loud and clear, the font's high legibility is ideal for branding projects, printed works, or website design. Trust us, Amenti opens up a whole new world of possibilities!
2. Caliburn
Caliburn echoes back to vintage prints, bringing you a clean and bold script. Add this clear font to business cards, posters, headings, and more.
3. Dusty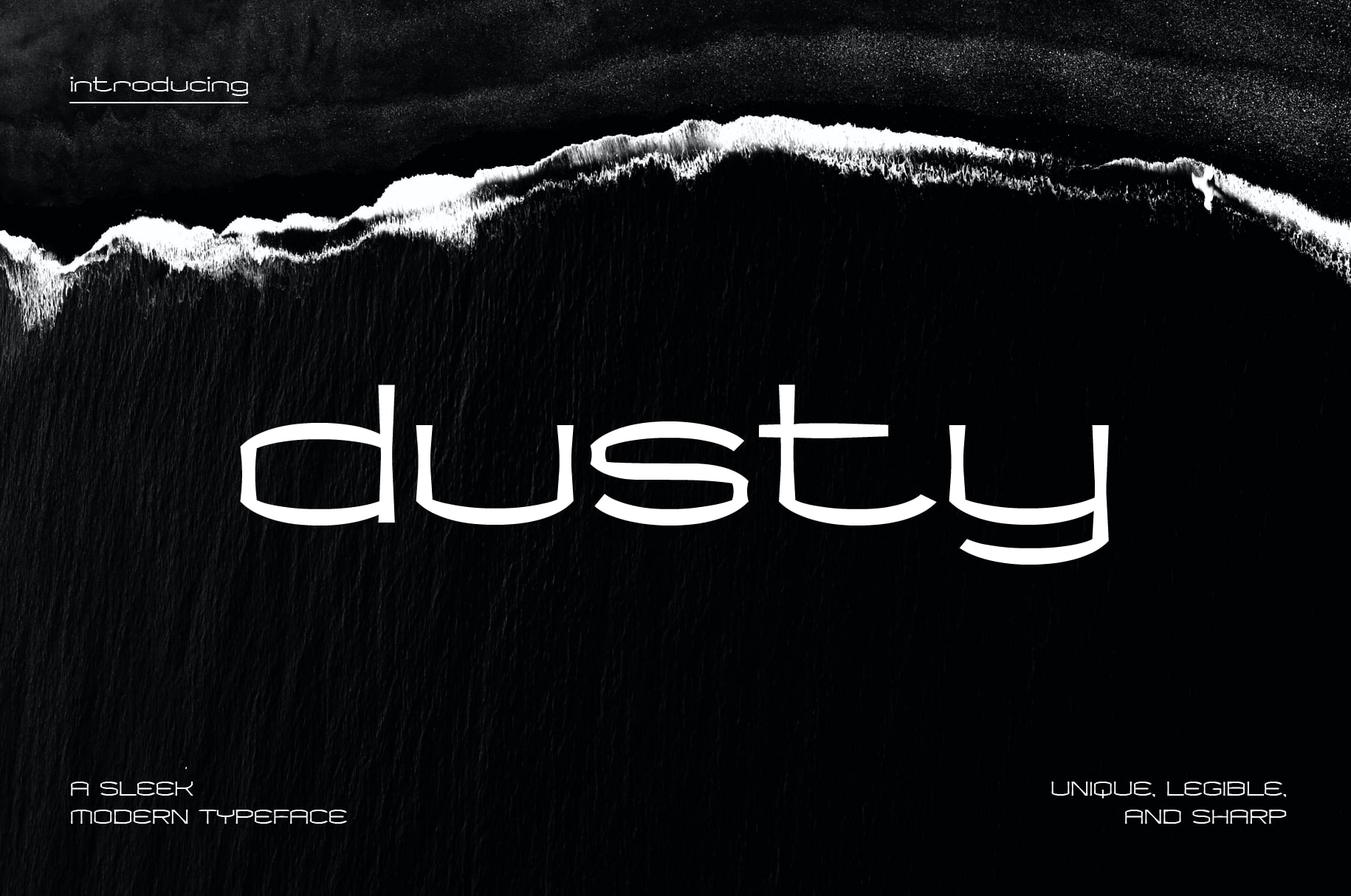 Dusty is a sleek modern display typeface perfect for high exposure without that unnecessary distraction. Its clean futuristic look is perfect for sci-fi, video games, sports, and technology themed projects. Dusty is intended to be used for headings,, branding, logos, wordmarks and other application rather than typing a body of text. If you need a head turning geometric display, then Dusty is for you.
4. Twinton
Twinton is a special font for modern designs. Its clean and minimal character is ideal for branding, headlines, fashion, thumbnails, social media, posters, covers, and pretty much anything you can think of. Twinton is designed for optimal legibility. Make a statement today with Twinton.
5. Celesta
Celesta is a typeface that is suitable for both small and large lettering. It's graceful and simplistic, adding charm to invitations, menus, quotes and clothing logos.
6. Sanz
Sanz is a reliable font to fall back on when you need an all-purpose wonder that is clean, fetching and versatile. With 7 weights, ranging from light to black, it's ideal for neutral business purposes and websites.
7. Clarity Nuvo
Clarity Nuvo was designed for the modern project, offering smooth and pleasing lines that are not distracting. The powerful OpenType features makes this font superbly versatile. Add it to logos, posters, signage, letterheads, invitations, branding and graphics.
8. Melissa
Elegant and feminine, the Melissa typeface exudes modern sophistication and refined style. Its graceful curves and clean lines are perfect for creating designs that are both luxurious and inviting. Try it on beauty, cosmetics, fashion, web design, and more. Each letter is a stand-out, adding a touch of handcrafted artistry to your projects.
Thin and minimalist, this font paints a picture of effortless beauty and timeless grace. It's also versatile enough to be used for modern or vintage concepts. With Melissa, you can create designs that are unforgettable, vibrant, and enchanting.
9. Univa Nova
Univa Nova is a beautiful font for labels. But the modern and clear style is truly universal for all projects that need a special display magic. Inspired by Swiss branding, it's great for logos on business cards, website and products.
10. Crops
Crops is among the top fonts to grab for that next big art project, poster or magazine headline. With large, clean lines, it has agency and style without looking overbearing.
11. Dalton
Bold, minimalist and demanding, Dalton is a fetching business font. It can be used for business cards, headings, websites, notices and advertisements.
12. Oliviar Regular
Inspired by geometrical and grotesque fonts, Oliviar Regular is another trusty workhorse. The bold and decorative style is suitable for magazine layouts, advertising, logos and other creative projects.
13. Gojali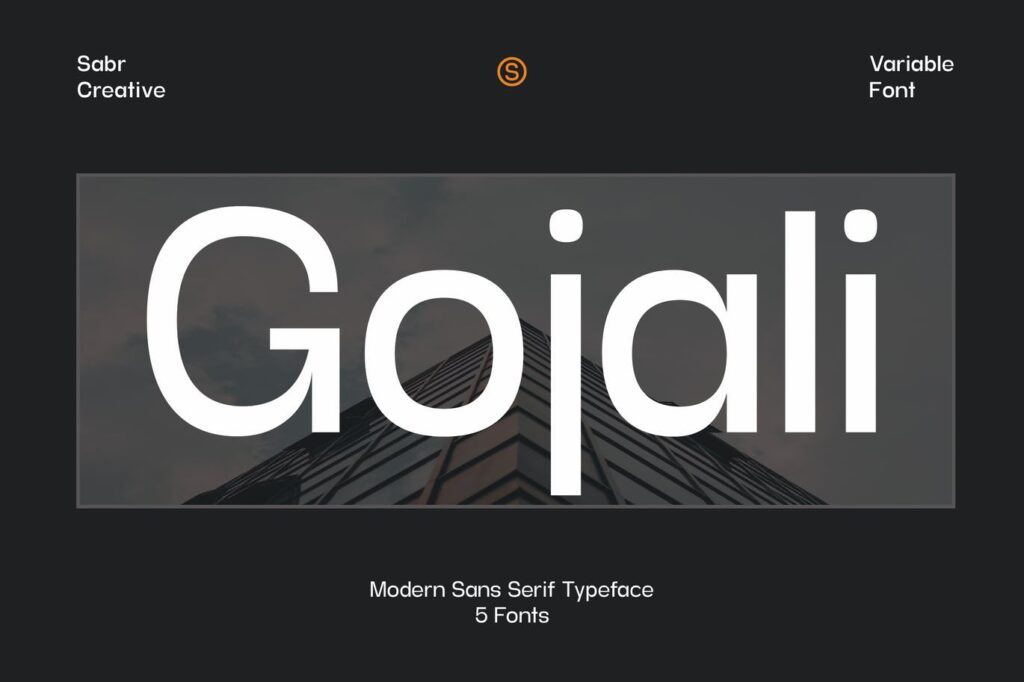 Gojali is a pleasing option for projects that need a geometric, modern and versatile font. It's graceful and fun for branding, website headings, posters and articles.
14. Visia Pro
Visia Pro is a premium geometric typeface, combining minimalist flair with modern elegance and aesthetics. Upgrade your branding, graphics, prints and logs to the next level with this multipurpose font.
15. Exensa Grotesk
Exensa Grotesk is a blend of Swiss influence and other top, global typefaces known for their elegance. Perfectly suited for printing projects, Exensa adds a premium touch to page content, headlines and posters.
16. Ripple
Ripple is a branding superstar. Any logo or headline will look great with this font's relaxed and neat appearance. Its modern minimalism is also a good choice for corporate branding, web graphics, marketing and printing designs.
17. Alma Sans
This friendly-looking font is more muted and casual. Based on simple geometrical shapes with lots of curves and spurs, it offers clean and attractive wording.
18. Grafic
Old school simplicity and dependability earmark Grafic as a font. This clean typeface is perfect for business cards, menu headings, name signs and article headings.
19. Nanomaton
Although Nanomaton is simple, it displays a stunning futuristic flair. This versatile font focuses on clarity and beauty, making the typeface a popular choice for websites, cards, invitations, and art projects.
20. Avoda
Avoda is a feminine font full of grace and allure. Perfect for product labels, this typeface is also simple and beautiful enough to add a professional touch to invitations, websites, logos and artwork.
21. Lexia
Lexia is a business font that is neat, clean and attractive. The straight lines are long, giving the typeface an elegance that looks superb on office walls, stationary, product labels and websites.
22. Bermont
Bermont is a bold, all-caps font. The typeface gives the impression of weight, agency and confidence. With a touch of old-school influence, this font looks great when used in creative work, logo design, titles and printing projects.
23. The Christmas Fonts
The Christmas Fonts include a collection of typefaces that are respectively decorative and simplistically elegant. This collection is enough to create all your entire Christmas designs; from traditional cards to invitations, the fonts are sure to spread some merry holiday cheer!
24. Camaufalge
Camouflage is an ultra-modern font with rounded lines. The smooth design is easy to read and adds style to almost any project, whether it is personal or business-related.
25. Kross Neue Grotesk
With a focus on bare simplicity, Kross Neue Grotesk is a basic font but capable of adding great visual appeal to art, products, posters and professional notices.
26. The Regimen
The Regimen font is a business typeface that is a solid choice for projects that must have that elite, professional touch. This font is also beautiful for larger projects like banners, posters and name signs.
27. Mograph
Mograph is a font with endless possibility. The simple style is modern, clear and balanced. These traits make the typeface a good choice for brochures, books, titles, posters and large banners.
28. Groningen
Inspired by German basic fonts, Groningen is designed to keep things elegant and simple. This font is best for titles and headings of any size.
29. Halton
Halton is a font that is suitable for both headers and body text. In both cases, the slightly compressed font creates a neat, well-rounded and modern look and a stylish appearance.
30. Tessan
Tessan is bold, regular and easy on the eyes. The classic font is simplicity at its best and can be used in the design of minimalist projects, websites and headlines.
31. Hacim
Hacim is another reliable font for simple designs across the board. This versatile typeface is perfect for almost anything. Cards, websites, menus, posters, graphic design, and more.
32. Cremona Bold
Cremona offers you that feel-good factor if you're looking for a font that is simplistic and nostalgic. Cremona is designed to have a romantic, homegrown flair and is perfect for wedding invitations, menus and labels for food and care products.
33. Metrisch
With its smooth and refined appearance, Metrisch is a trusted all-rounder. The neat script looks professional on business stationary and it also remains an attractive font for websites, magazines and logos.
34. Berlin
Berlin is the perfect pick for T-shirt prints. The bold, classic letters are easy to read and yet, they make a statement! Also great for banners, headers and name cards.