Last Updated on July 20, 2023
Perhaps one of the most popular symbols in the world, hearts can be found in almost everything – from jewelry, clothes, and packaging, to food, accessories, and company logos.
The web is filled with hearts. Just look at your favorite blog or website and you're likely to find this design somewhere. Check out pictures and selfies posted online: friends and strangers are making heart signs using their hands or fingers (i.e., the famous Korean finger heart).
The universal appeal and emotional connection of this symbol is undeniable. For most, it represents deep, emotional bonds and feelings of love. In design, its visual simplicity makes it instantly recognizable for anyone to draw and replicate.
Hearts are inclusive: whether you're in Tokyo or São Paulo, this powerful emblem can speak volumes and is easily understood. It's associated with positive emotions like warmth, compassion, and friendliness.
With the rise of social media and digital communication, heart symbols have become even more prevalent. They are widely used in emojis, reaction buttons, and badges.
You can also spot hearts in ads and branding concepts to create a sense of connection, provide empathy, and engage audiences. It can be an effective way to evoke positive associations with a product or service.
Wondering how you can apply this motif into type? We've got you covered with these beautiful heart fonts.
Adorable Heart Fonts
1. Angelist
Playful, elegant, and versatile, this script font from Puricreative includes tons of alternates to help you explore your own style. The pack includes OTF, TTF, and WOFF files for your convenience. From business logos, travel brochures, wedding invitations, and vintage posters, you can count on this romantic type to get the job done!
2. Bumble Hearts
If you love calligraphy fonts, then you can't miss this one from ergibistudio. While it's pretty on its own, it pairs well with all kinds of graphics and art to suit any occasion.
It's PUA encoded for effortless access to a myriad of adorable glyphs and swashes. There are also special features such as alternate glyphs and ligatures to make your work easier.
3. Careen Heart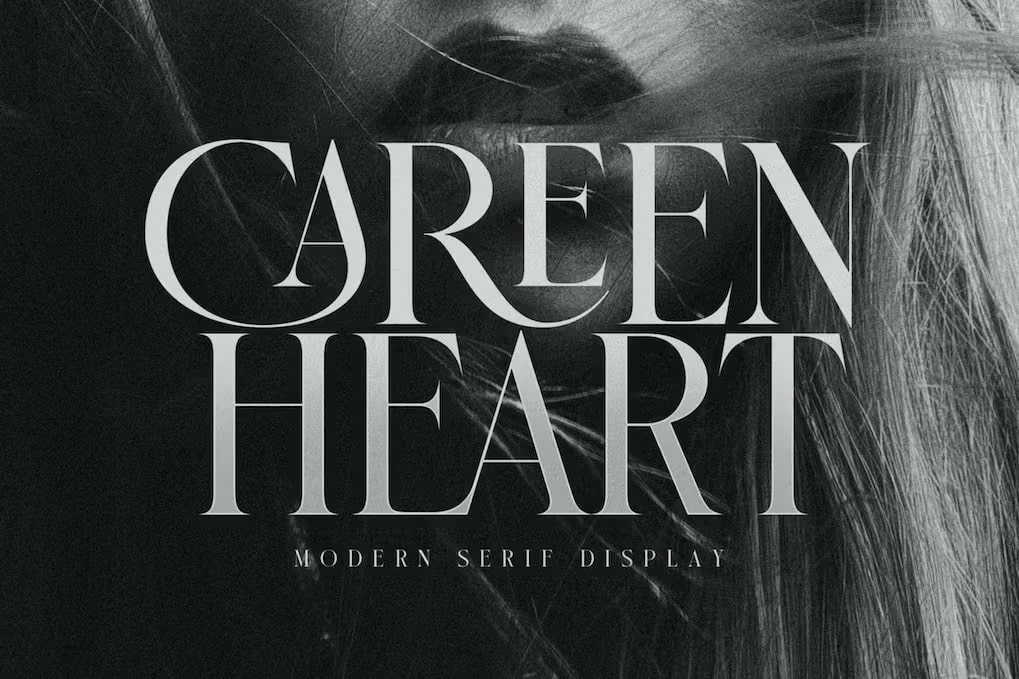 Handpikproject proudly brings you this modern romantic serif with a classic, feminine touch. Featuring upper and lowercase letters, numerals, and ligatures, you'll be finding excuses to use them in every project you could get your hands on!
4. With Hearty
If you can't get enough of hearts, you'll be happy to know that Typebae has the perfect font for you. Introducing this delicate handwritten script that's captivating from beginning to end.
The pack includes four (4) styles so you won't have problems adding the cute heart symbol you see on the sample. The files included are: Regular, Alt, Tail, and Heart. PUA encoded and with multilingual support, it's hard not to fall in love.
5. Shiny Hearts
This handmade calligraphy style typeface from Colllabstudio boasts of an irregular baseline and trendy form that's sure to make a huge impact on your works. Try it on logos, websites, headers, image quotes, fashion blogs, travel flyers, social media banners, and even print materials.
6. Wild Heart
MakeMediaCo presents this hand-drawn and vectorized font that's loaded with character. You will get six (6) decorative versions, dingbats and catchwords, plus a handy texture file to grunge up your type in Photoshop. Go plain and simple, or wild and ornamental. This display family allows for numerous options.
A glyphs panel is required to access the alternates – so make sure you're using updated versions of Adobe Illustrator, Inkscape or Photoshop CC. Have fun trying them with your Cricut or Silhouette machine, too!
7. Hearts Silhouette
Love is in the air with this themed sans serif from Salt and Pepper Designs. With a cute, cut-out look, each letter has a unique design that would be suitable for Valentine's Day, weddings, anniversaries, dates, prom, or any dreamy event. Pack includes OTF and TTF formats, instant download, and free updates. Commercial Licensing is also available.
8. First Date
Express your playful side with a little help from this handmade lettering from Celcius Designs. With ligatures and alternates, you're just a few steps away from crafting delightful cards, invitations, banners, logos, packaging, and more.
9. Love Hearts Font Duo
Hand-drawn and made with love, this font duo is anything but ordinary. Expect two (2) styles: regular and swirly. For interesting results, randomly combine regular and swirly characters then add cute icons and graphics. Compatible with various programs including Photoshop, InDesign, Illustrator, and even Microsoft Word.
10. Simply Lovely
Bring your designs to life using this bouncy and beautiful type! The 'I' character features a tiny heart to make your slogans, image quotes, and invitations a lot sweeter. Slim, springy, and lively, it's perfect for showing a fun, feminine side while remaining minimalist.
11. Sweet Grace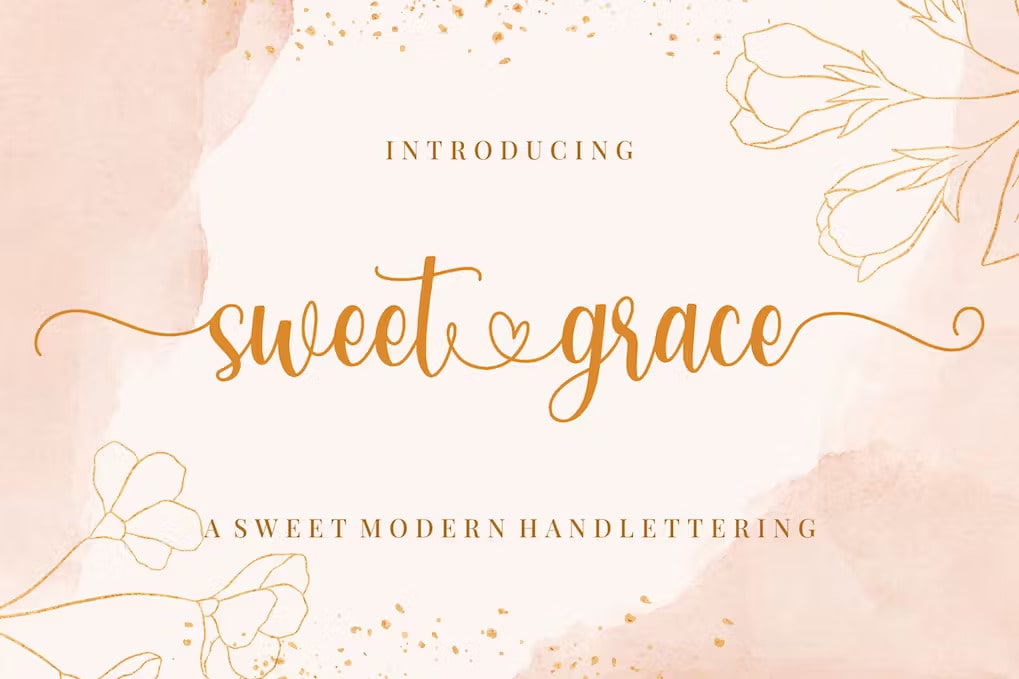 Whether you decide to use the heart motif or not, this contemporary lettering by Garisman was made to impress. With Opentype features and multilingual support, it's going to be a wonderful addition in your toolkit.
Complement its graceful curves with sleek sans serifs for that chic, swanky vibe on business cards, wedding invites, and social media ads.
12. Mistery Heart
Who says hearts are reserved only for lovers? This amazing typeface from Sronstudio12 would beg to differ. With clean lines and functional swashes, you can use it in more than just wedding invitations and anniversary banners. Try it on product packaging, corporate logos, Thanksgiving and Easter cards, as well as retro overlays.
13. Merciful Heart
Created specially with crafters in mind, this calligraphy font contains bonus heart doodles (in eps, dxf, SVG formats) to instantly add flair to your designs. The best part? The letters have a certain thickness to them that makes them ideal for Cricut or Silhouette. What are you waiting for? Download it now and get crafting!
14. Sweet Heart Font
Give out good vibes using this playful typeface from Drstock_crative. Featuring upper and lowercase letters, punctuations, and numerals, it's quick and easy to install. The pack contains OTF and TTF files for your convenience.
15. Bogatess
Enchanting, handcrafted, and versatile, this modern script by Flawless and co. has everything you need to make captivating headers and gorgeous texts for any occasion.
Aside from upper and lowercase alphabets, alternate characters, numerals, and multilingual support, you will also get heart, swashes, and diamond styles to breathe life into your projects.
16. Valentine Heart
Make unforgettable designs that will wow a crowd using this decorative font from zmapist. Original, playful, and creative, the unique design of each character will surely make any work stand out. Put it on apparel, book titles, posters, quotes, invitations, as well as branding and see the difference.
17. Hey Elsie
This sweet font from Orenari wants to give you options on days when you want to be playful, but not adorable. Featuring two (2) versions – Regular and Cute – you can even combine both to produce stunning designs that kids and adults will love.
18. Lovely Couple
Aptly named, the characters of this romantic script by Ahnaf-Studio pairs well with its alternates to produce amazing results. Whether you're making posters, invites, business cards, book covers, headers, or social media promotions, you can count on this font to evoke sentimental or tender feelings.
19. Fernando Willow
Creativequbedesign proudly presents this elegant script type with a handwritten look. It includes regular and heart swashes to give your projects the right vibe. Thin, clean, and uncompromising, it's a beautiful font to add to any collection.
20. Love Heart
Reminiscent of fonts from the 60s and 70s, this retro style lettering from Barcelona Design Shop will have anyone feeling nostalgic for good times. The chubby characters are fun yet graceful – ideal for creating a subdued but still functional vibe.
Use it on posters, book covers, blog headers, party invitations, company logos, stickers, and more. Compatible with Adobe Illustrator, Photoshop, Procreate, Canva Pro, and Cricut Design Space.