Everyone has a favorite t-shirt. Whether it's your college tee or that semi-tattered crop top you're now using as a nightshirt, the love for the t-shirt is universal. And why wouldn't it be? T-shirts are versatile, comfy, and highly customizable.
But have you ever wondered how it became the world's preferred piece of clothing?
History of the Humble Shirt
The 't-shirt' that we know of today has a long history. But even during its origins in the Middle Ages, it began as an undergarment. Made from linen, cotton, or wool, these T-shaped garments served as a barrier between the skin and 'proper' clothes such as vests or tunics.
As years passed, working men wore them underneath working attire, like jumpsuits or uniforms. In the late 19th century for instance, British sailors would wear white flannel shirts under their woollen uniforms, unless they were working on deck (because it was quite hot).
As manufacturing boomed, linen and wool were replaced by cotton as it was lighter and can be worn for sports or lounging around on the weekends. But t-shirts were still worn as an undergarment. It would take Hollywood's biggest stars – Montgomery Clift, James Dean, and Marlon Brando – to shift the gears and turn t-shirts into an everyday staple.
T-Shirt Styles to Own
The humble shirt has evolved to include dozens of styles that suit men and women. From printed designs to boatnecks, there's plenty to go around in every size, shape, and color. But even if you're not a fan, you should consider owning one or two styles that go well with almost anything in your closet.
No one should be without the no. 1 staple: the plain t-shirt. Think of it as a blank canvas from where you can coordinate the rest of your outfit.
Suitable for both men and women, you can wear it all-year round. Use it on its own during summer, and layer it with your favorite sweaters come spring or autumn. Wear as an undergarment during winter.
Another article you wouldn't regret buying more of is the long-sleeved shirt. Great on its own or worn along with other pieces (e.g. vests, sweaters, corsets, jumpers, etc.), it can go from party trendy to office ready in no time. There are different styles for women, too, such as the scoop neck and turtleneck.
Last but not least, don't forget to grab a printed t-shirt for yourself. Perhaps the most effortless way to make a statement, it's also the easiest form of self-expression. Not to mention, a great conversation-starter. After all, you can quickly move past small talk if another person was wearing a Pearl Jam band shirt.
Best T-Shirt Fonts
Shirts are comfortable, cool, and an all-around garment you can wear no matter what your age. So whether you're designing your own custom shirt or you want to launch a fashion brand, these t-shirt fonts are not only tasteful, but come highly recommended.
1. Blendstripe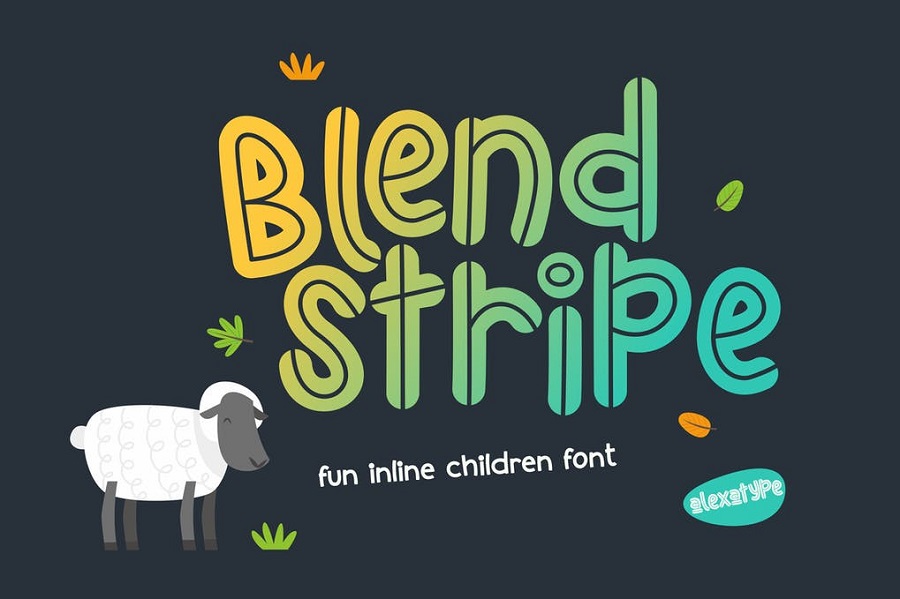 This cute, hand-drawn inline font by Alexa Crib has warm, rounded corners that will go perfectly with any and all kiddie designs such as shirts, book covers, posters, cards, and website headers.
2. Arsilon
A hand-lettered brush script that looks as exquisite as it is versatile. Created by Dhan Studio, it includes alternatives and ligatures to give your works more texture and depth.
3. Northead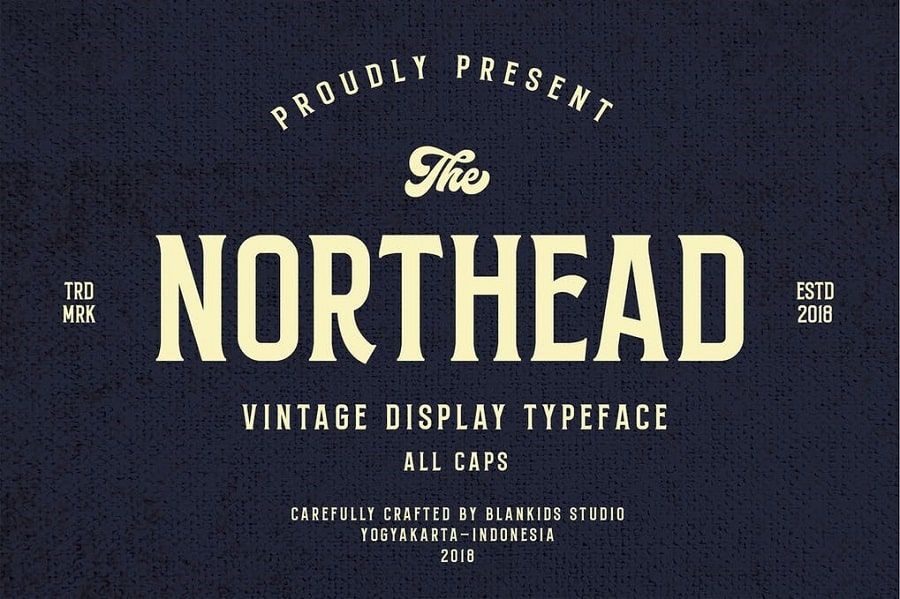 Inspired by beer labels and vintage signage, this all-caps typeface from Blankids will suit branding, editorial, and apparel projects that require retro vibes.
4. Barthon Typeface Combo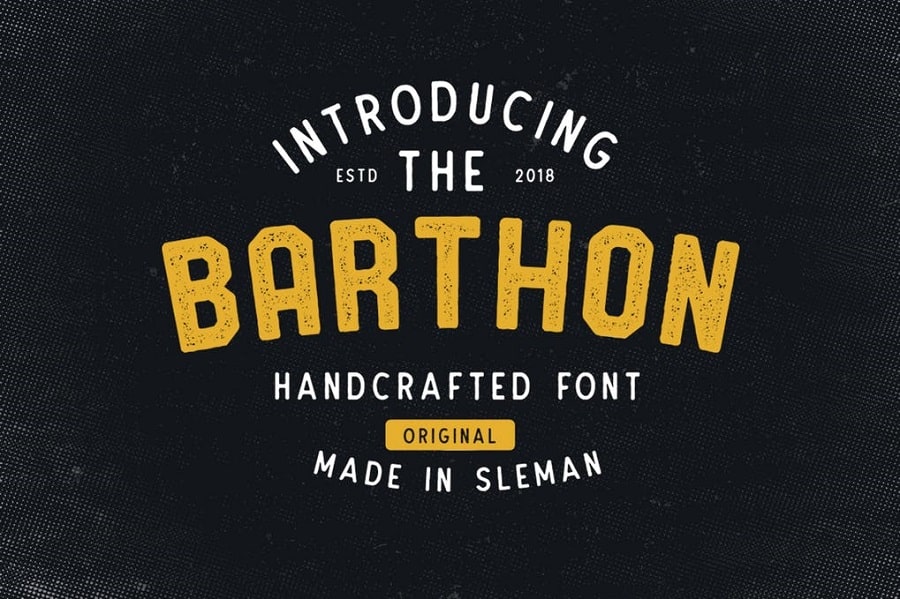 Looking for something tried-and-tested? Look no further than this old-school offering from Martype Co. With 3 styles (Regular, Edge, Stamp) to choose from, you'll have fun playing and experimenting all day!
Download Barthon Typeface Combo
5. The Dodger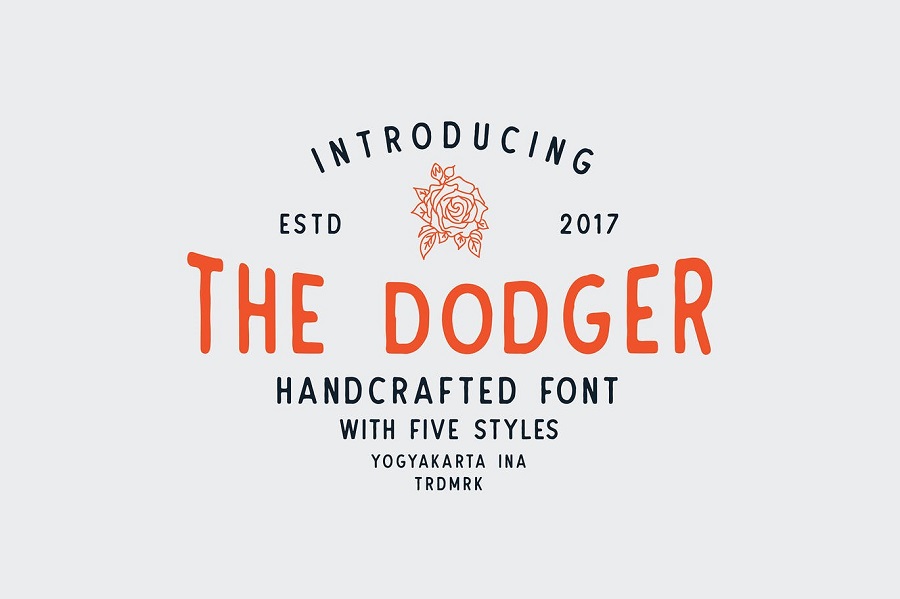 Featuring 5 carefully handcrafted sans serifs to make your work easier, this product also contains extras you'll be happy to own.
6. Bonerica Typeface
Made by hand, this decorative serif by Jiw Studio is recommended for logos, posters, tattoo and t-shirt designs, and everything in between.
7. Progreso Typeface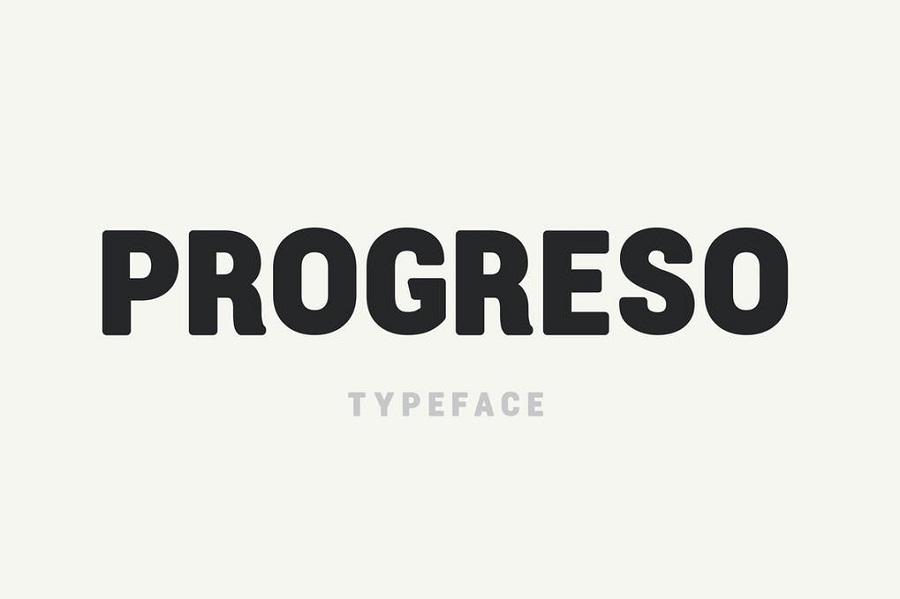 Minimal, urban, yet eye-catching, this sans serif by Design District MX comes in 2 formats (OTF and TTF files) that will fit almost any theme – from food, sports, fashion, to adventure, commerce, and travel.
8. Mutiara Vintage
Lostvoltype proudly presents this vintage font that looks awesome backwards or forwards. And with 4 fonts, 54 alternate characters, plus multilingual support, it would make an amazing addition to any toolkit.
9. Watch
With influences from markers and graffiti styles, this font by Aarley Kaiven is suitable for modern, street, punk, fashion, or sports themes.
10. Blockers
This 5-font family has a unique texture that will look great on logos, posters, album covers, brochures, cards, and labels. Try pairing with scripts for an interesting effect!
11. Salaka
Sweet, bubbly, and has plenty of personality, this handwritten brush font by Ukraine Studio will give your projects the energy they've been missing.
12. Onthel
Inspired by Onthel Bicycles (Dutch design bicycle), this bold-script from 38-lineart contains swashes, ligatures, and alternates to give your works more character and charm. There are also 6 editable logo templates just for you.
13. Nabila
Playful, modern, and multi-purpose, this brush lettering includes 350 glyphs and 155 alternative characters so you can have fun mixing and matching. Crafted by Artimasa Studio.
14. The Brown
Clean and somewhat reminiscent of your old college, this retro display typeface by Adil Budianto has stylistic sets and ligatures for a modern, approachable feel.
15. RailBrush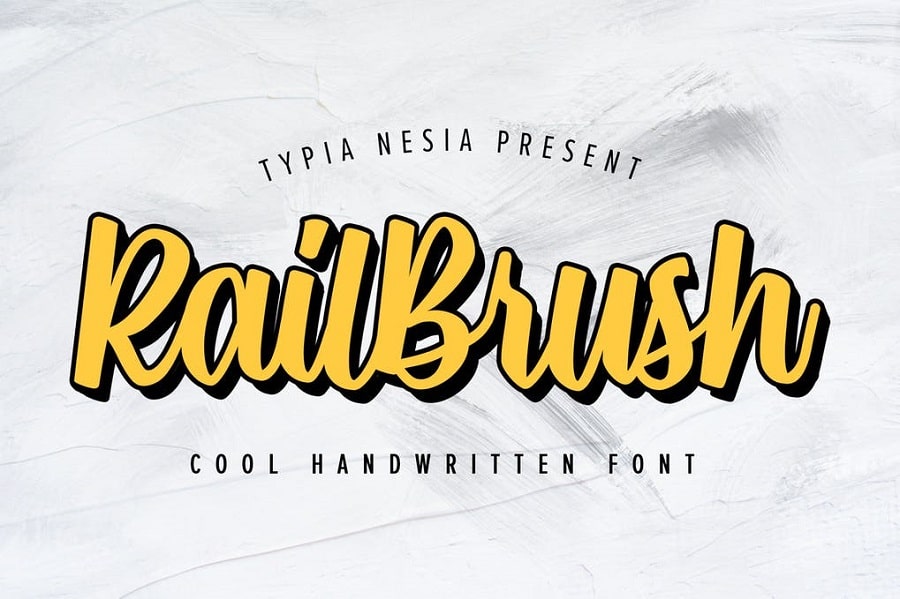 Need a quick font form logos, posters, or headlines? Then this handwritten script from Typia Nesia Std comes at the best possible time.
16. Stanley Font Duo
Featuring a script and a sans, you will love this font on anything – from beer bottle labels, travel postcards, web pages, to fashion headers.
17. Pine Forest
If you love the outdoors, then you will love this nature-inspired sans serif by Dikas Studio. With 2 styles (Rough and Press) to pick from, all you need is a clear, night sky.
18. Chillvornia Condensed Font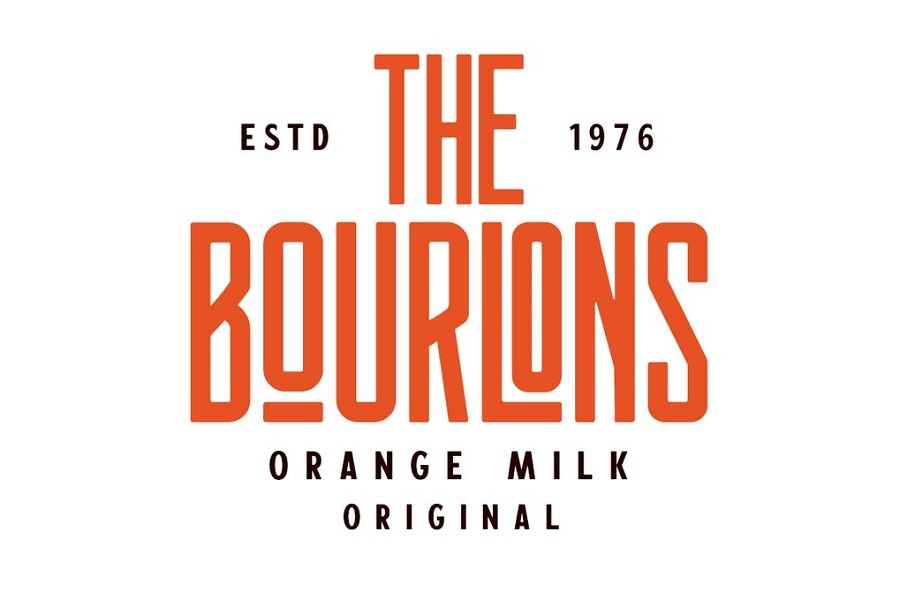 Laidback with a retro vibe, you can't go wrong with this old-school original that will help you make waves outside your four walls.
Download Chillvornia Condensed Font
19. Author Type
Want to make stunning hand-lettering but got no time to spare? Then opt for this cool hand-painted typeface by Maghrib.
20. Stay High Logotype
A combination of street art and wild, hand-painting, this display font from Dirty Line Studio has a natural, flowy design that will look flawless on t-shirts, logos, posters, brochures, newsletters, and badges.