Last Updated on September 22, 2023
The right typography for the job can do wonders for your design. Believe it or not, you can even evoke all kinds of emotions and visuals by using letters alone. It all depends on what font you pick.
For instance, bold bubbly fonts are often associated with fun, innocence, and creativity. So this makes them the ideal typeface to use in kid crafts, children's stories, or for special events. Subtle variations can make even the most decorative font fit well with branding or advertising projects.
Depending on what you intend to call to mind, the correct typeface will certainly deliver. Just check out this collection of adorable bubble fonts and see what makes them so versatile.
Best Bubble Fonts
1. Twice Bubble
Twice Bubble is a cute and bubbly font that has an almost dynamic feel to its swirly composition. It's a heck of a typeface to do for kid's books and anything even slightly childish.
2. JellyBelly
Jellybelly is yet another bubbly font that has so much bounce to it that it seems to be just built for childish setups like a Happy Meal or a children's book or animated TV show.
3. Double Bubble 3D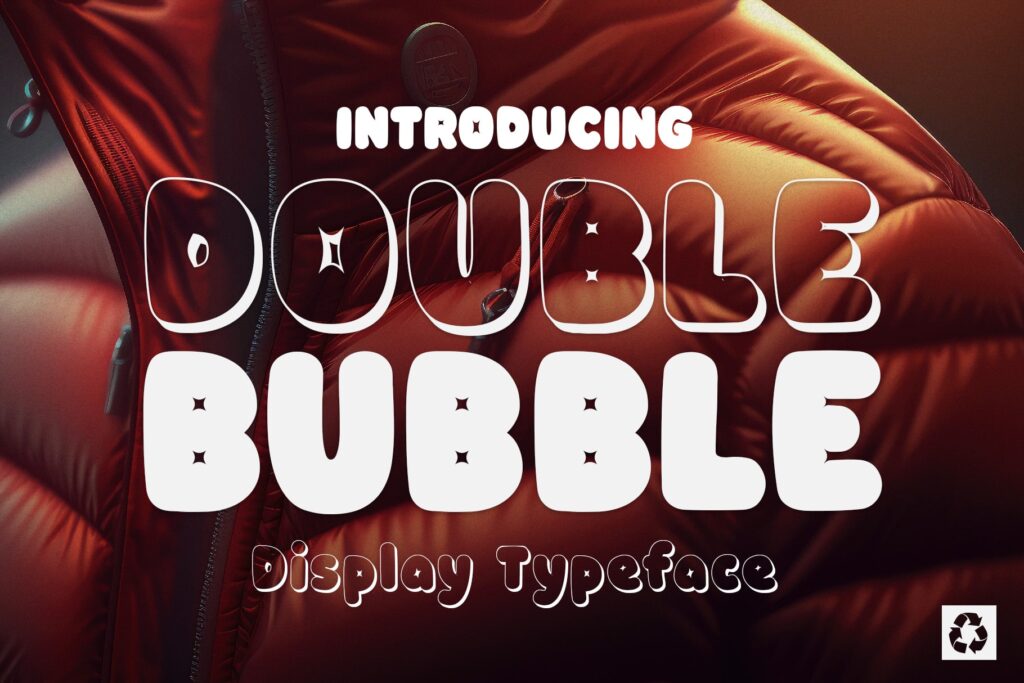 Double Bubble is the bubbliest, fluffiest font out there! Each letter is like a little ball of energy, ready to bounce and play at a moment's notice. And let me tell you, the text you can create with Double Bubble is simply mesmerizing. It will bring a sparkle to the eye of anyone who sees it! The best part? You get two versions of this font – Outline and Regular – so you can mix and match to your heart's content and create designs that'll knock your socks off.
And speaking of designs, Double Bubble is perfect for tapping into your playful side and conjuring up images of bubble gum, bubble tea, and cozy, puffy jackets that make you feel like a kid again. So, whether you're making a poster, designing a website, or whipping up a social media post, Double Bubble is the font for you. It's sure to grab everyone's attention and put a big, bubbly smile on their face!
Download Double Bubble 3D Typeface
4. COCOLA
Cocola is yet another childish bubble font with plenty of character for your creative projects. This one has a kind of vintage feel to it too, as if it comes out of a 1950's toybox.
5. Bubble Rainbow
Bubble Rainbow is an incredible typeface that seems to be built for the nametag for a pet unicorn. If you design toys and want to do some cool typography for a children's room, Bubble Rainbow is a truly natural choice.
6. Bubble Boom
Bubble Boom is an urban-styled typeface that was built with graffiti in mind and is truthfully one of the most detailed and catchy typefaces in that particular niche.
7. Funzi
Funzi is a handwritten bold typeface. This playful font was inspired by the idea of spilled ink that spreads and fills the shape of letters. Its smooth rounded corners are comforting to the eye and give a welcoming feeling to the viewer. Funzi is perfect for greeting cards, children books, quotes, posters, invitations, business cards, presentations and more.
8. Kool Beans 
Kool Beans is a 1960-70s inspired type that embraces the groovy psychedelia era. This font is perfect for any project that requires an authentic retro feel. It can be used for magazine covers, social media posts, quote posters, book covers, merchandise, websites, advertising, branding, and more. Kool Beans comes in 2 unique styles, solid and outline. You can use both of the fonts to make your designs come to life by giving them a 3d feeling.
9. Waliroo Font
Get ready to stretch, tilt, flip, scale, or switch it up in this cute little gem by Denise Chandler. This typeface (in regular, small caps, and alternate characters) is just waiting to be played with to produce amazing results for the young – and young at heart.
10. Sweet & Silly Font
Put a smile on someone's face today by using this adorable typeface on your personal or commercial projects. The pack comes with a bonus exclusive alphabet set to complement the existing font.
11. Ziclets
Keep things fresh every time you use this juicy typeface from PintassilgoPrints. This unique font includes psychedelic swashes to make those retro designs truly pop!
12. Bubble Vintage Label Typeface
Vozzy delivers this delicious font that consists of 6 distinct styles you can mix and match or use on their own. Pair two fonts together and change text colors to get charming effects that are cute, comical, and beyond compare.
Download Bubble Vintage Label Typeface
13. Candyhouse Font
Spice up your usual designs with this bold, loopy typeface by Sam Parrett. The hand-drawn font set includes the original script, alternate lowercase characters, an additional all-caps font, plus all kinds of doodles, swashes, and arrows you can have fun experimenting with!
14. Balloon Typeface
Ever wanted to feel like a designer inside a typeface candy land? With this two-layered font, now you can. Crafted by Andrey Sharonov, now you can breathe new life into those kiddie projects.
15. French Fries
Make the best menus, food labels, and signage with a bit of help from this all-caps bold typeface by Izzy Clarke. Also available as a web font with bonus vector fast food doodles, it's the perfect pair to everything delicious.
16. Jackerton Font
Inspired by the designer's father's doodles, Joshua Durham presents this playful, child-like typeface that's full of surprises! It's recommended for Adobe Creative Suite users or those with similar software.
17. Bublont Typeface
Make your works more colorful in this cute offering from Kaustubh Adhav. Featuring 4 styles – Filled, Outline, Shadow, and Color – you get a variety of uses that will look amazing in print or social media.
18. Bubble Double Duo
There's nothing like a cartoonish font to bring childish delights to life. Zoya Mille is proud to present this pack that not only includes 2 handcrafted font styles, but also lots of vector elements to perfectly complement this comic alphabet.
19. GLOB Family
Express your lighter, fun side in this puffy font pack that consists of 6 styles, with Rough, Outline, and Italic versions. Made by Rsz Type Foundry, it even has multi-language support.
20. CA Wolkenfluff Family
Inspired by the pixelated in-game title font of the 1991 Amiga computer game 'James Pond II, Codename Robocod', by Cape Arcona Type Foundry outdoes themselves in this chubby typeface that comes in 4 yummy styles.
Download CA Wolkenfluff Family
21. Comspot
If you like typewriter-like alphabets but need fun, adaptable versions, then this font pack by TypeMates is for you. Featuring 8 styles as well as a DIY icons pack, now you can just grab and go whenever the need calls for it.
22. Chewy Pro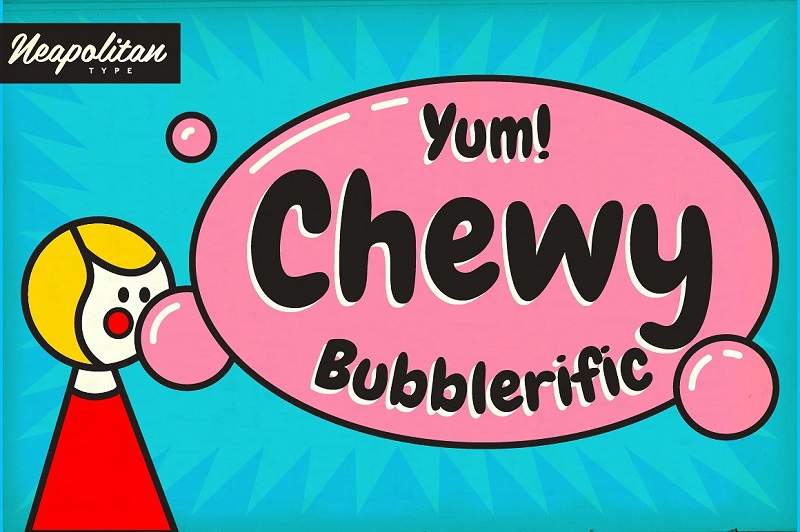 Sink your teeth into this luscious sans serif by Neapolitan Type. With lots of alternate contextual characters as well as built-in ligatures, you'll love it in print or digital designs.
23. Rodger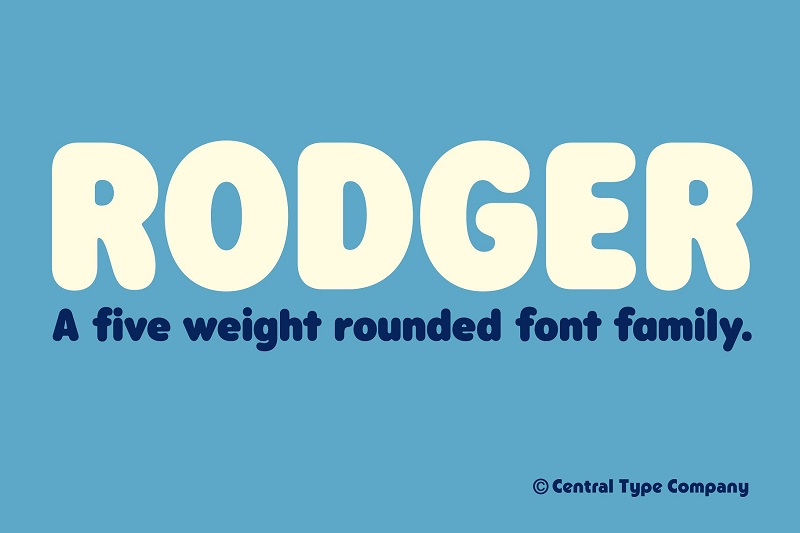 With influences from rounded display fonts of the 1960s and 70s, Central Type Company created this font family of 5 weights for those who need typefaces for every occasion. Are the letters casual or formal? You decide.
24. Alloy Ink (FREE)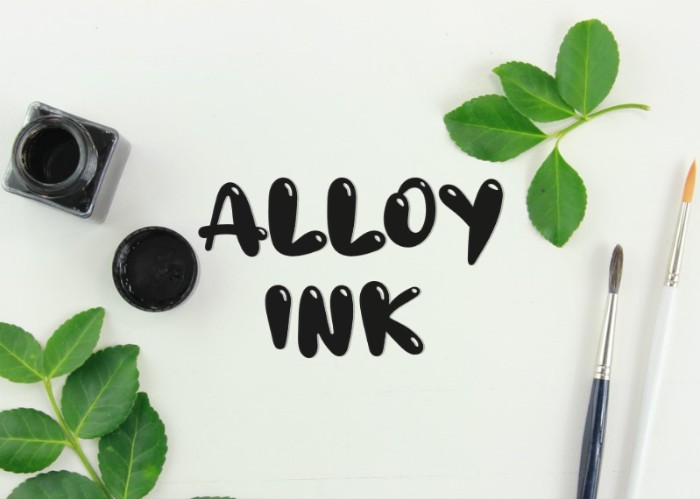 This adorable typeface from Wepfont is chubby, shiny, and bubbly. Although not the same consistency as liquid ink, but we sure can't complain!
25. Jazzball (FREE)
Bold, fun, but also functional, this sweet-looking font from Cyril Mikhailov is ideal for headers, banners, logos, posters, game titles, and cards. It's free for personal and commercial use.
26. Hubble Bubble (FREE)
You'll never be bored with this delightful lettering by Kayce Bogard. Use it on children's books and posters, sleepover invitations, kiddie giveaways, and more. Includes standard characters and numerals.
27. Pomidor (FREE)
What can you do with this big, fat font by Ilya Zakharov? Lots of things – from logos, posters, and packaging, to ads, banners, book covers, and print projects.
28. Kelsi (FREE)
Misha Vlasov gives you this adorable free font that contains both filled and outlined versions. Use one style or combine both to produce cute, urban designs!