Last Updated on November 1, 2023
Nature has always been a great source of inspiration for many creatives. Motifs such as greenery, flowers, landscapes, and weather can be easily incorporated into various artistic elements such as graphics, sounds, templates, and fonts.
Typefaces with nature aesthetics typically feature organic and flowing shapes, often mimicking aspects found in the environment, like trees, leaves, water, or even animal tracks. These details can instill a sense of connection to the outdoors.
Working with nature fonts can be a fun albeit challenging prospect. Try your hand at integrating them in eco-friendly projects in wellness, adventure, travel, food, and wedding industries. But don't shy away from experimenting on other themes. They can look just as good on comics, fantasy, and cartoon designs.
Essential Nature Fonts
1. Roaring Jungle
Introducing a captivating retro typeface from ergibistudio. This font effortlessly blends the elegance of curved lettering with the rugged charm of stone-carved edges. With two versatile variations – the sleek 'Regular' and the textured 'Rough' – it offers you creative freedom to express your unique style.
Plus, its extensive multilanguage support ensures that your message can reach a global audience.
2. Jungle Land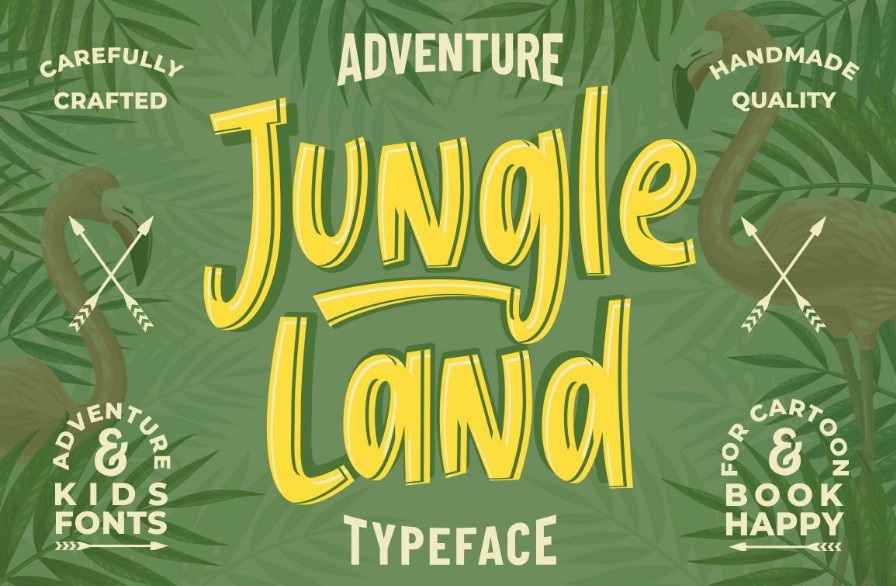 Garisman brings you this lovable sans serif that seamlessly merges retro feels with playful curves. It's ideal for kiddie projects and outdoor designs. Try it on logos, brand visuals, quotes, product packaging, social media posts, and all kinds of merch. The pack includes upper and lowercase letters, numbers, punctuation, ligatures, and supports 17 languages.
3. Pine Forest
This unique display sans serif by Dikas Studio draws inspiration from the great outdoors. With 2 distinct styles: the rustic 'Rough' and the expressive 'Press,' it exudes a spirited, hand-drawn character.
This versatile font is perfect for crafting captivating typography designs, branding, logos, product packaging, invitations, quotes, t-shirts, labels, badges, posters, and more.
4. Estera
Meet this contemporary calligraphy font boasting a sleek monoline style that's bound to capture your heart. It's a great choice for a wide range of creative endeavors: from branding projects and logos to wedding designs, social media posts, ads, product packaging, labels, photography enhancements, watermarks, invitations, and stationeries. Brought to you by Formatika.
5. Bamboo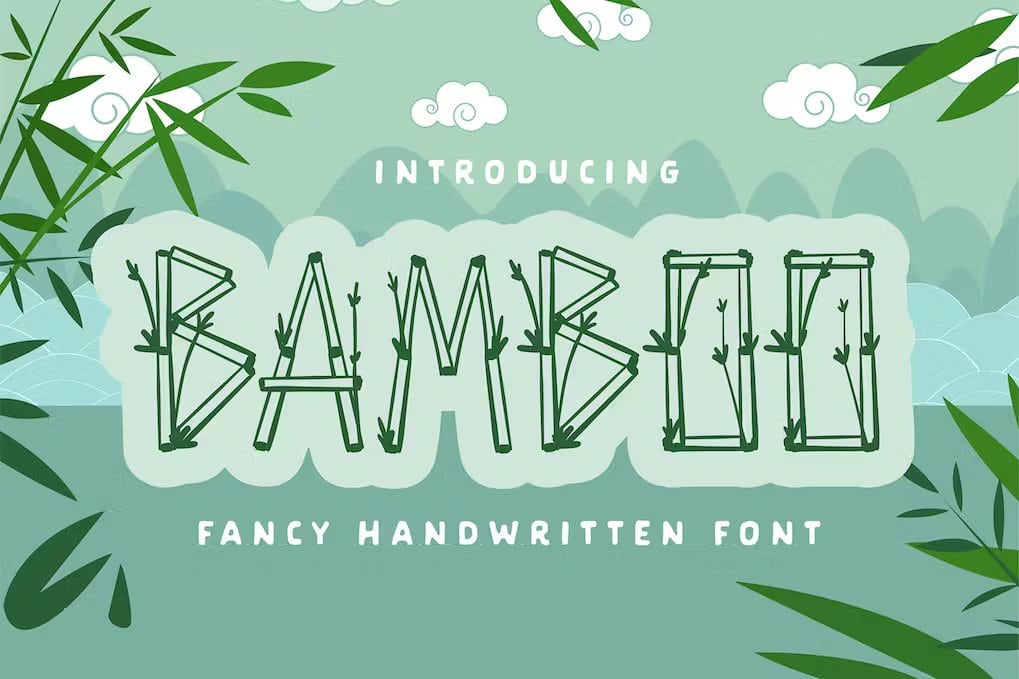 This fancy handwritten bamboo-style typeface from Vunira is truly one-of-a-kind. To ensure you have everything you need for making unique signs, labels, logos, and cards, it contains tons of glyphs, alternates, and ligatures. The fonts come in OTF and TTF files with multilingual support. Enjoy!
6. Meshitara
Inspired by love poems and the beauty of nature, Typia nesia gives you this modern cursive font that feels romantic and natural. Elegant, dreamy, but practical, it looks amazing on wedding invites, business cards, restaurant menus, online promotions, business branding, etc..
7. Memorable
What makes this handwritten typeface from Cotbada-studio unforgettable is its uneven lines. It surprisingly remains readable even in smaller sizes, making it a good option for body text or short captions. Aside from adventure, outdoors, and travel themes, you could also try it on kids' projects as well as on food and beverage designs.
8. Espresso
Fun, light, and full of expression, this handmade font from Timonko is dedicated to travelers and adventurers who simply want to enjoy the world.
You will get Regular and Bold versions in TTF and OTF file formats, plus vector AI, EPS, SVG and raster PNG files to add romance to your creations. It's recommended for holiday greeting cards, gift shop tags, online shop headers, and more.
9. Gardener
Type Factory Co proudly brings you this decorative display font that's perfect for botanical or organic themed works. The uppercase characters contain dainty leaf motifs, while the lowercase characters are plain. This allows you to mix and match, depending on your desired outcome. Files included are OTF, TTF, WOFF, and WOFF2.
10. ARKA
Introducing: a remarkable typeface from ikiikowrk. Exuding heritage vibes infused with masterful craftsmanship, this decorative serif was meticulously handcrafted to embody traditional elegance, complete with exquisite ligatures. Elevate your logos, labels, package designs, and patterns with its traditional charm and craftsmanship.
11. Rosie Sans
Go from vintage to modern in a snap using this gorgeous typeface from NEWFLIX. Featuring 3 weights (Light, Bold, and Regular) plus stylistic alternates and ligatures, you'll have fun designing all kinds of headlines, posters, logos, websites, and labels. Your limit is your imagination!
12. Forests Layered Font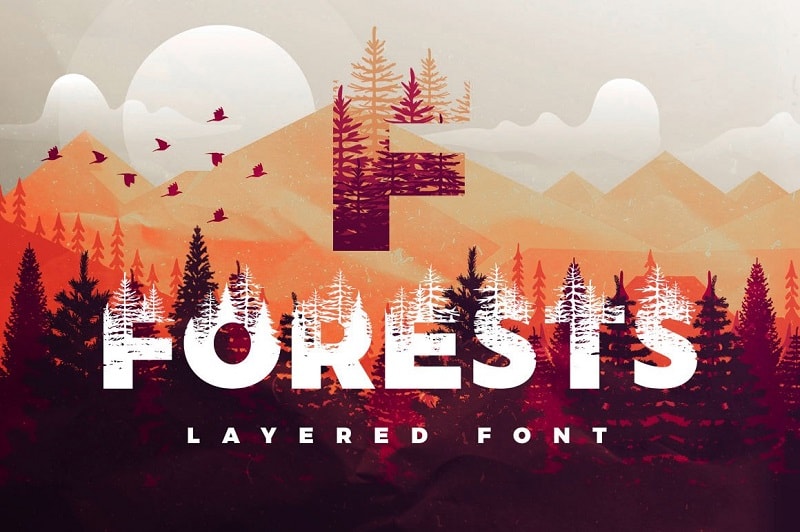 This 3-layered decorative font from Zeppelin_Graphics is all about the outdoors. Feel free to use only one layer, or change colors per layer for mesmerizing results. Note: It doesn't include punctuation or multilingual support. Ensure you're always typing with CAPS on.
13. Rasbern
A huge file containing a total of 18 styles in 9 weights with matching italics, this display serif typeface by Nasir Udin is refreshing and highly versatile. With 504 glyphs, support for over 200 languages, and OTF (desktop) & WOFF (webfonts) formats, it's probably one of the most practical fonts you will ever have in your toolkit.
14. Valegan
Whether you're working on a modern street style or a vintage project, you can't go wrong with this cool display font from Letterhend Studio. Featuring Regular and Stamp variations, you will also get alternates, swashes, and ligatures to help you complete your desired look.
15. Dont Worry Hand Drawn Font
Elegant, ethnic, and highly unique, you will hardly find anything like this ornamental font. The Regular version comes with lovely flower motifs, whereas the Bold version comes without.
Mix them up for interesting outcomes that will look incredible on wedding invitations, restaurant menus, greeting cards, typography posters, stationeries, mugs, business cards, and apparel. Works well for Nordic themes, too.
Download Dont Worry Hand Drawn Font
16. Flóra
Ever wanted to create delicate, feminine logos, headlines, and texts? Now it's made easy with this floral display font by Andrew Timothy. The pack includes OTF, TTF, and WOFF files for your convenience. Expect two styles: one with leaf and flower motifs, and one without.
17. Gedak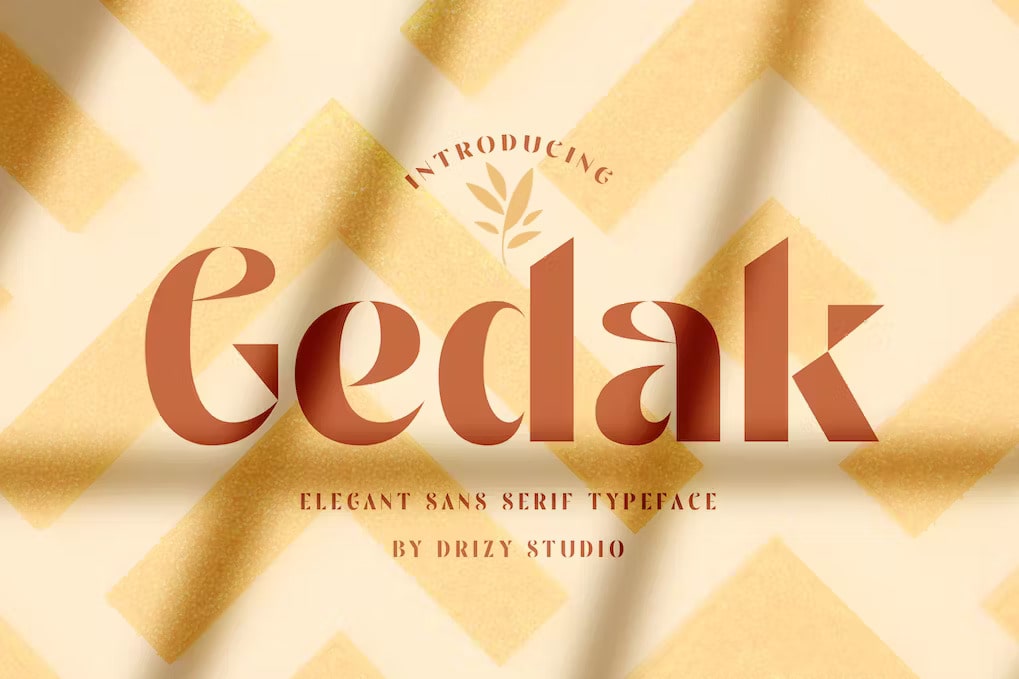 Looking for a typeface that speaks for itself? Look no further than this elegant sans serif from Drizy Studio. It's recommended for beauty, nature, and retro themes. You will receive upper and lowercase letters, numerals, punctuation, ligatures, as well as multilingual support.
18. The Forest Font
Animal silhouettes dominate this big and bold sans serif from Salt and Pepper Designs. This makes it ideal for kid themes, nature concepts, and anything related to wildlife. The pack contains OTF and TTF formats, web fonts (EOT, SVG, WOFF, and WOFF2), and Extended Licensing.
19. Leafy Logo Font
Created for eco-friendly themes, Tanah Air Studio presents this unique logo font with a friendly yet elegant vibe. You'll be glad to know that both the upper and lowercase letters feature the pretty leaf motifs. Try it on business logos, product packaging, website pages, and headlines.
20. Verdant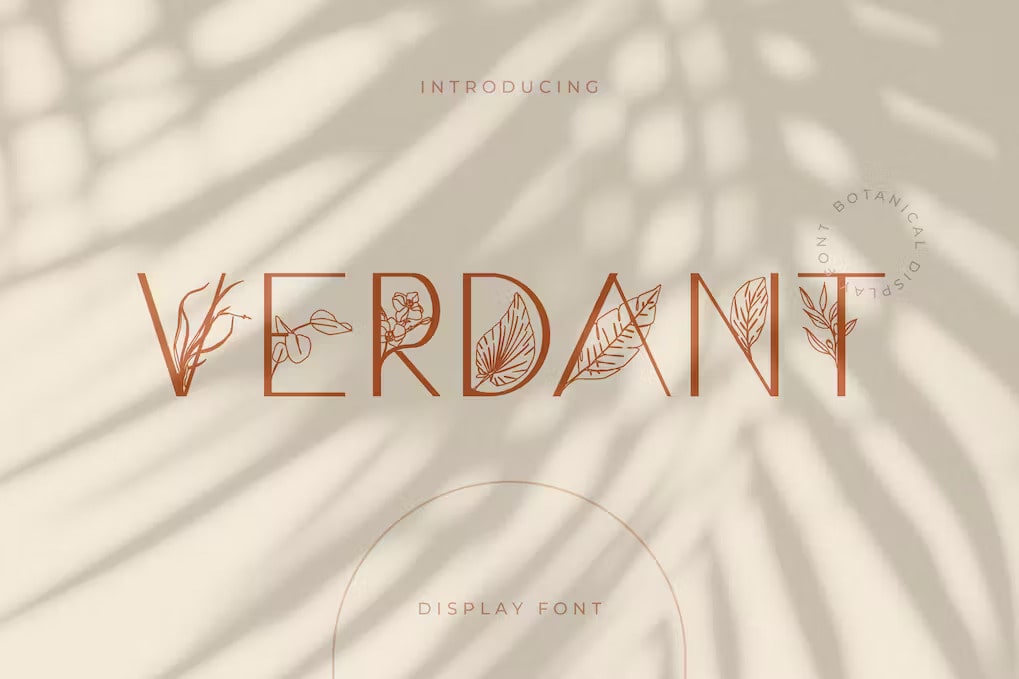 Clean, thin, and extremely versatile, this botanical display font boasts of lovely flower and leaf patterns that will add a refreshing look to your designs. Complement it with any sans or serif font for an organic appeal. It works best for minimalist concepts.
21. Pretty Garden
Based on authentic handwriting with natural signature style, the pack includes 3 fonts (Script, Sans, and Serif) plus doodle dingbats. It's one of the best fonts to use when creating your own hand-drawn logos. Use one font, or combine two for organic effects that look and feel as natural as a wild garden!
22. Zoonaji
This all-caps sans display font has big, blocky letters that will look great on cartoon, adventure, or wildlife-related concepts. Feel free to use it on game titles, zoo posters, birthday invites, product packaging, and website pages, too.
23. Branch Font
OWPictures presents this decorative typeface with two-prong edges, reminiscent of thin tree branches. Experiment with weights and colors! You'll find that it's versatile enough to be used not only on nature and handmade themes, but also for Halloween, Nordic, and occult designs.
24. Beauty Nature
This lovely script seems to made from long leaves with its soft, flowy quality. It works best on larger sizes such as on headlines, titles, and banners to maintain readability. Aside from nature and outdoors, don't be afraid to try it on fashion, wedding, vintage, and travel concepts as well.
25. The Moot Jungle
Alit_Design was inspired by the beauty of nature when this delicate serif was made. Ligatures and alternates feature gorgeous leaf motifs; whereas the basic letter set has delightful swirls for both upper and lowercase characters.
Combine these to create lovely postcards, social media Stories, headlines, company logos, business cards, party invitations, posters, and more. With a total of 700 glyphs including symbols, you will have plenty of creative freedom.