Whether we like it or not, retro and funky designs are well and truly back in fashion. That means that if you are the owner of a business, or are looking to promote an event or a product, having some kind of retro-like design may not be a bad idea. 
Each of the fonts that you see below are groovy, sleek and super-cool, and will be sure to help you gain interest amongst your followers, so whether you are planning a funky 70's themed party, or just want to add something different to a logo, a design, a poster, or a flyer, well these typefaces are just what you need! 
Super Funky Fonts
1. Moonlight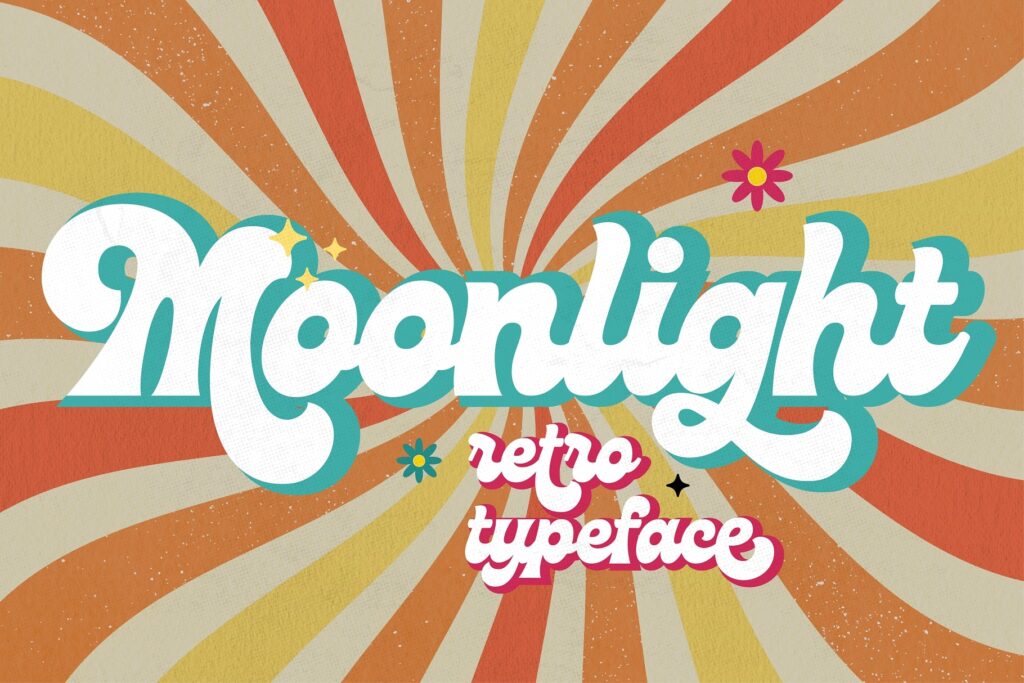 Inspired by the groovy disco era of the 1970's, Moonlight's script lettering keeps the connections between letters smooth and flowing. This font is multilingual and has tons of gorgeous ligatures ready to spice up your designs.
Moonlight is suitable for branding, stickers, packaging, Cricut project, headlines, apparel, posters, magazines, books, YouTube, Instagram, web design, and much more
2. Firecracker
Fire up the jukebox, cats and dolls! Firecracker is a blast from the past, taking you on a groovy ride back to the rockin' and rollin' 50s and 60s. Its beautiful letters evoke the energy and enthusiasm of the vintage period.
With two different styles, Regular and Oblique, you can add a real touch of retro flair to any project. It's the cat's pajamas and it'll have your audience flipping their wigs with excitement! Whether you're publishing in magazines, newspapers, signage, branding, packaging, or anything in between, Firecracker is the real deal.
Allow yourself and your audiences to be transported to a nostalgic time of soda fountains, jukeboxes, and poodle skirts. So let's get hip and start creating designs that are outta sight! Don't be a square – get your hands on Firecracker today!
3. Nestor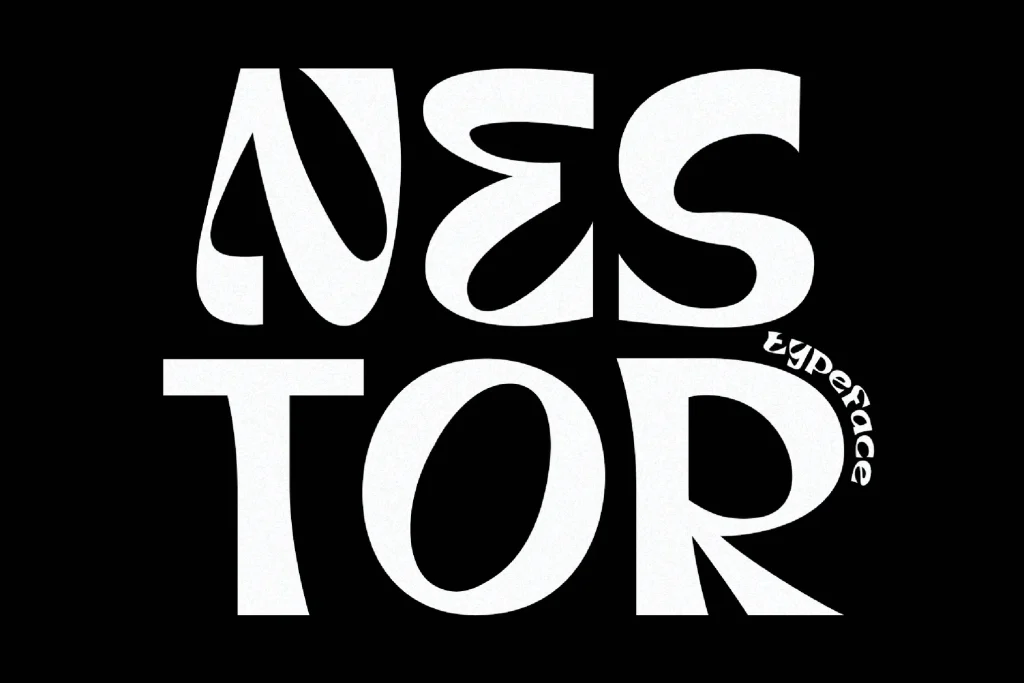 Nestor is a retro inspired display typeface that's unique, lovable, and quirky. It's perfect for headlines, advertising, posters, branding, social media, quotes, prints, and much more. If you're in need of a typeface that has groovy curves with a bold personality, then Nestor is for you.
4. Nick Nock Blob Display Font
This fun, quirky, and funky font comes in two styles featuring thin and thick typefaces. It is truly one of a kind thanks to its unique characters. Nick Nock is suitable for creative and entertaining design themes to instantly grab the audience's attention.
Nick nock features a bold design with chunky characters that's simply ideal for children's creations such as posters, T-shirts, branding, logo and greeting cards. So try it today and explore its versatility
5. Marthy
Marthy was inspired by Art Nouveau and 1970's psychedelic posters. This expressive typeface is designed to be used for branding, music posters, album graphics, book titles, etc. Evoke that nostalgic 60s/70s look today with Marthy!
6. Machinkly Display Font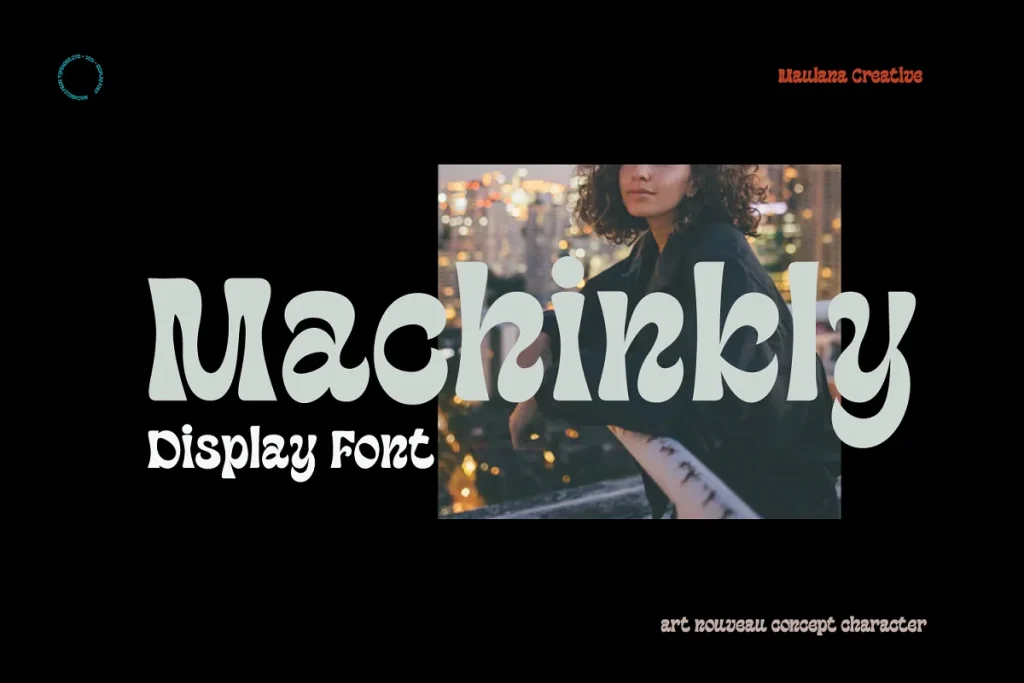 Give your designs an authentic handcrafted feel. "Machinkly Display Font" is perfectly suited to poster, stationery, logo, typography quotes, magazine or book cover, website header, clothing, branding, packaging design and more.
7. The Sitcom
Inspired by 70-80's TV show logos along with the good vibrations of POP The Sitcom font is perfect if you are looking to create a groovy 60s or 70s themed movie or TV show night
This font is very easy to use with hundreds of stylistic alternate (ss01-ss10) & powered with the OpenType feature.
Download The Sitcom right here!
8. Grandelo
Powered with opentype features, alternate characters & ligatures, Grandelo is PUA encoded, and best of all, it is so beautiful. The font is so easy to understand and can be used for any project.  Perfectly suitable for logo, branding, sticker, t-shirt, headlines and packaging, download the font type today and enjoy the versatility it offers. 
9. Antigua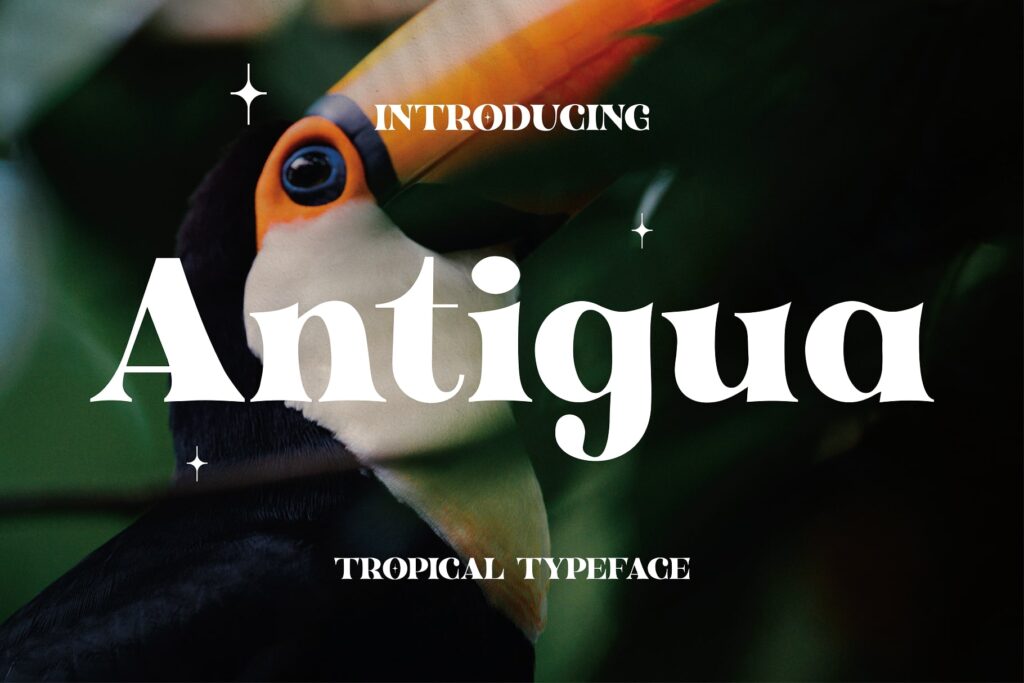 Antigua is a versatile serif font family that offers two stunning styles: Regular and Outline. With bonus ligatures to add flair to your designs, it's both simple and elegant, making it a memorable addition to any project.
You can use Antigua for a variety of applications, including branding, packaging, posters, social media, and magazines. Trust us when we say that this font is a joy to read and use – in fact, you may find yourself using it more often than you'd expect!
10. Flatface Heft
Flatface Heft is a display font that is inspired by the Bell Bottom font and 60's hippie art styles or psychedelia art. It also takes inspiration from regular posters, as well as merch & gig posters. Suitable for any creative project, the font will make each project look more unique and more playful.
11. Wildkind Boho Serif Font
This font has a modern boho + retro vibe! Wildkind is a great choice for branding, logos, stickers, SVG designs, shirts, social media, advertisements, product packaging and more!
Wildkind is fully compatible with Adobe Illustrator and Photoshop, this package includes the (totally awesome font) along with Upper and lowercase lettering, numbers, punctuation, and multilingual support. It is a super choice!
Download the Wildkind font right here!
12. Bright Modern Retro Typeface
Bright is a stylish font that has both a modern and retro look – the design is clean, modern and fun and helps to create layout design inspired by the 60s or 70s. 
This font has more than 50 unique alternates and ligatures that give your logos, business cards and other projects a unique vintage look. It has an Italic version too so is a perfect vintage font!
13. Stay Trendy Boho Groovy Font
This font is perfect for all of your craft projects, stickers, shirts, posters, quotes and more! Nothing says funky like a big, bold and chunky font, and this stay trendy font is a chunky bold typeface perfect for any fun quirky design work!
Download the Boho Groovy here!
14. Alkaria Vintage Retro Decorative
A super-fun and casual vintage retro decorative font. Alkaria is the definition of real versatility and flexibility. You can rock retro and modern vibes by using a single font which is just awesome!  
There are a wide variety of stylistic alternates and ligatures in every single letter to elevate your design game to the next level. And it comes in 3D Shadow version too. What more could you want? Modern, futuristic, and classy!
15. Stachy Serif Display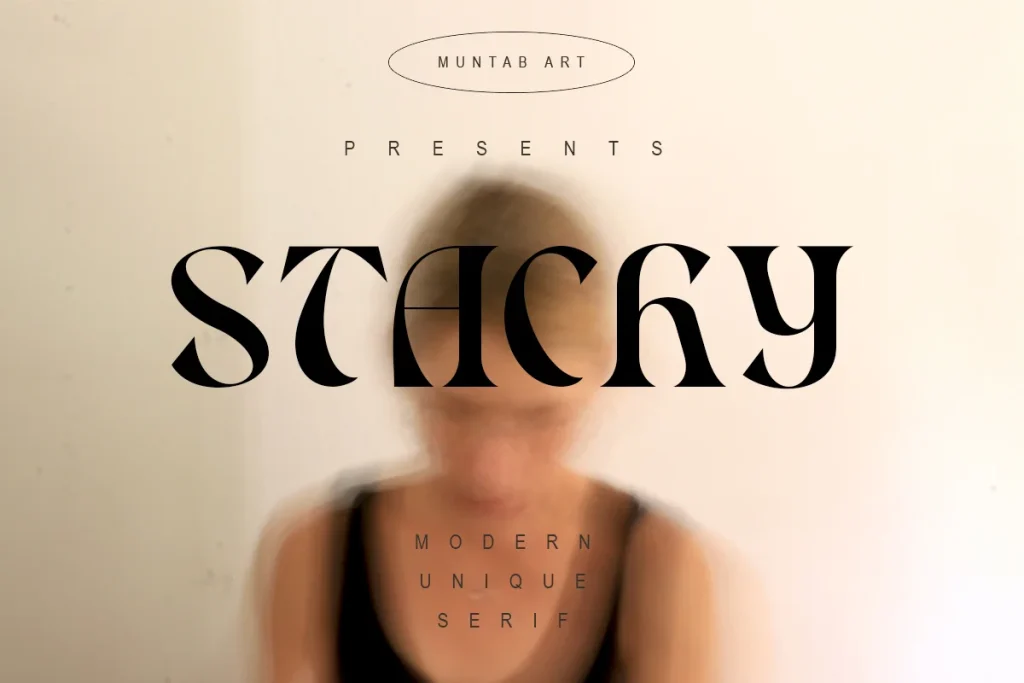 This stylish Stachy font includes uppercase letters, numerals, and a large range of punctuation. A serif font with a modern display style, the design was created for posters, web design, branding, illustrations, badges and some other works and looks funky, fresh and modern in all cases. 
Download the Stachy Serif Display here!
16. Mollie Rocky
Mollie Rocky is a modern groovy family font that is retro typography designs and stylish. The thick and thin stems of each letter combine to make a unique retro font. With this font package, you get access to nine separate weights, upper and lower case lettering, as well as numbers, symbols, and international glyphs. 
17. Tonelust
This Tonelust font comes with a retro, modern and vintage touch. Inspired by dynamic culture, sign and badge designs. This font is great for your creative projects such as logos, posters, invitation cards, stickers, logotypes, clothing designs, labels and more.
Tonelust multilingual support, making it easy for you to write to various countries. This font is perfect for beautifying the appearance of your designs later.
18. Scarlex
Scarlex is a unique display typeface that looks retro, modern, and futuristic all at the same time. It was inspired by science fiction movies and books from the 1960s.
The font is perfect for science research posters, movies, posters, branding labels, automotive type design, t-shirts, branding, book covers, and more. If you're looking to infuse your design project with some personality, then Scarlex should definitely be on your radar.
19. Sanur Font Duo
Sanur Typeface is very cool, it has two types of fonts, namely regular font and italic style. You will get this font with the OTF format only, the font also has language support if you need to write in a different language. Any type of design you want will be funky and perfect if you use Sanur.
The typeface is very suitable if you use it for logo design, badges, web layouts, headers, packaging and many others.
20. Kindred Youth
The Kindred Youth font is inspired by the vintage style and the current modern font style. The font is perfect for beautifying your logo fonts, lettering, tickets, Instagram stories, labels, and book titles just to name a few things. 
You will be impressed with this new font style, this font also has multilingual support, making it easier for you to design flyers, leaflets, posters, or social media posts in different countries. 
21. Balter Serif Font Family
Balter Serif is a hand-drawn layered typeface family inspired by sign painting, 1960's movie posters and jazz album lettering. It can look fresh and modern or exquisitely vintage.
Combine upper, lowercase and alternates to create a handmade custom lettered look, then layer the styles using colours to add value and depth to your designs! 
Balter Serif works perfectly in short headlines. It is suitable to create a wide range of projects from posters to branding, logos, packaging, magazines and more.
22. Fairy Spirit
Fairy Spirit is a stylish display typeface inspired by the letters from the beginning of the 20th-century with a touch of modernity. It looks amazing at display sizes and is easily readable in text size. Fairy Spirit comes with reverse contrast and access to your OpenType features, selection of alternate glyphs and ligatures.
Fairy Spirit is mainly made for headlines, titles, and other short texts and is well-suited for advertising, vintage mood board, branding, logotypes, packaging, titles, editorial design and modern and vintage design.
23. STOUT Wide Vintage Modern Typeface
Stout is a wide type family. Every letter has been refined to give you the finest bold and wide font on the market. STOUT works well for modern logotypes, while STOUT Rough has a more vintage vibe. STOUT Rough has an organic feel that helps bring a handcrafted element to your work.
24. Eiutneck Script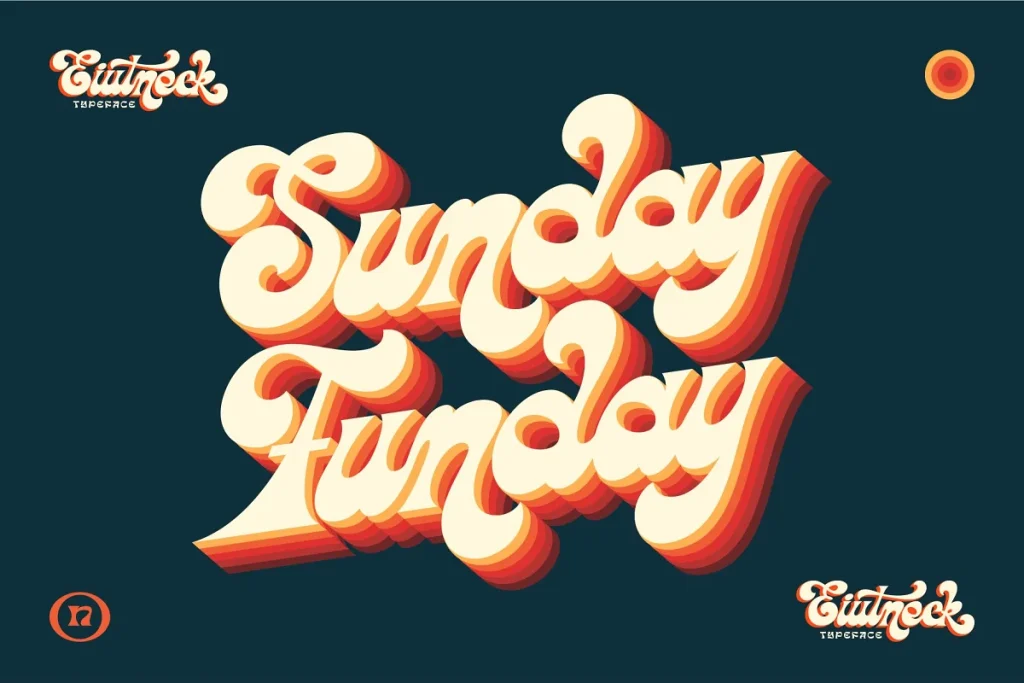 This script font comes with a retro, modern and vintage touch to it. Inspired by dynamic culture, sign and badge designs. This font is great for your creative projects such as logos, posters. invitation cards, packaging, badges, types of logos, clothing designs, labels, and others.
Eiutneck Script comes with uppercase, lowercase, numbers, punctuation, multilingual support and lots of variations on each character including OpenType alternatives, as well as additional swashes to let you customize your design.
25. Magic Funk Retro Serif Typeface
Magic Funk is a unique display serif typeface with many ligatures and alternates that you can combine to get an Amazing & Beautiful project. Very suitable for use with retro, old and vintage themed projects. 
The font package comes with full uppercase, lowercase, numbers and punctuation + standard multilingual support. This font is perfect for fashion related branding or editorial design and displays both masculine and feminine qualities. It is recommended to use Adobe Illustrator or Photoshop with the font!
26. Gunydrops Groovy Retro Extras
This Gunydrops retro design is retro, bold, and playful. Perfect for making any project like letters, posters, flyers, or social media posts look like they belong in the retro 60s and 70s age! 
Embracing the psychedelic era and combining it with groovy style, it comes with vector extras and open type features such as stylistic alternates. 
27. Nighty Vintage Serif Typeface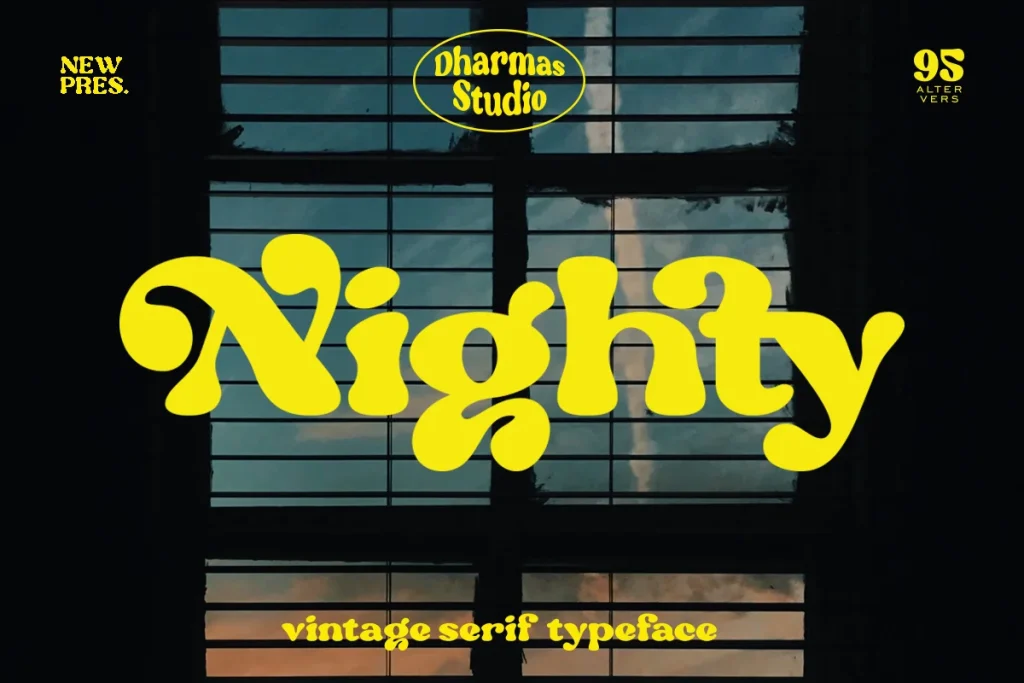 Nighty is a display typeface that says we're here to nostalgia! It brings back the 70s vibes with its groovy, retro and unique typeface. 
This font fits perfectly into those nostalgic mood boards and vintage logos. It comes with 95 unique alternate and ligatures that will give your project a unique vintage look. 
28. Tan Daisy
If you are looking for chic and sleek font, then Tan-Daisy is a display typeface full of retro power. It's quirky, groovy, and funky— definitely charming. Bold and thick, it is a super-fun typeface to play with! It will give you 60's/70's vibes every time!
29. Funkies 2 Fonts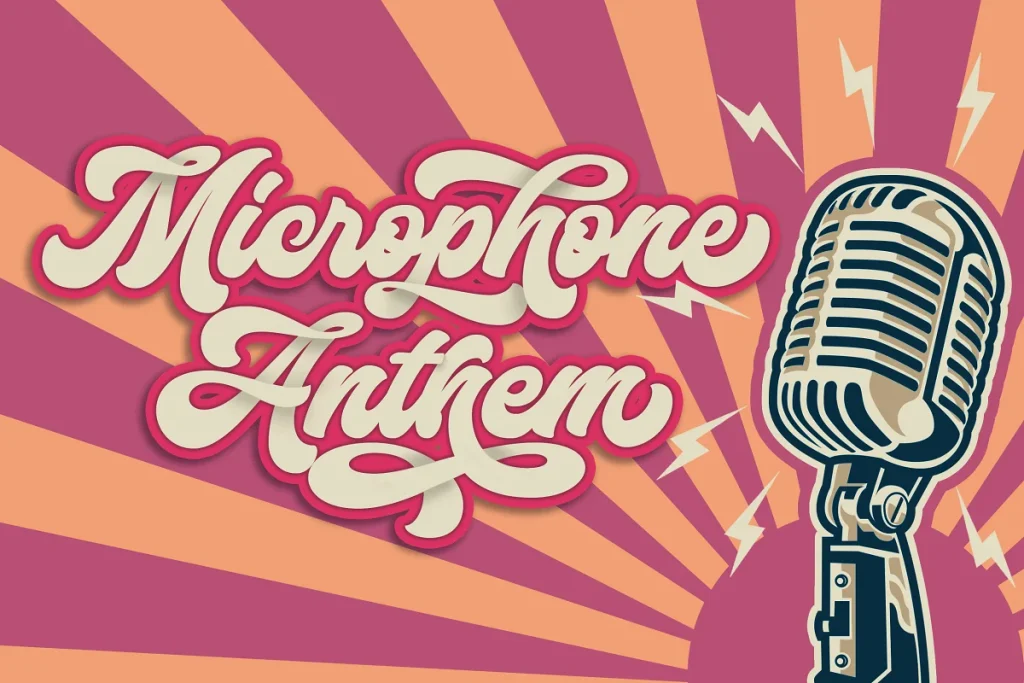 Introducing a new funky font set, Funkies has two awesome 70's inspired fonts that would just look amazing on any album cover, poster, or disco design. With it, you get access to stylistic alternates, stylistic sets, swash & ligatures, and it is super-versatile for its price. A must have! 
30. The Bayland Retro Font
This font is perfectly made to be applied especially in logos, and the other various formal forms such as invitations, labels, logos, magazines, books, greeting/wedding cards, packaging, fashion, makeup, stationery, novels, labels or any type of advertising purpose.
Download the Bayland Retro font here!
31. Bigstars Either Font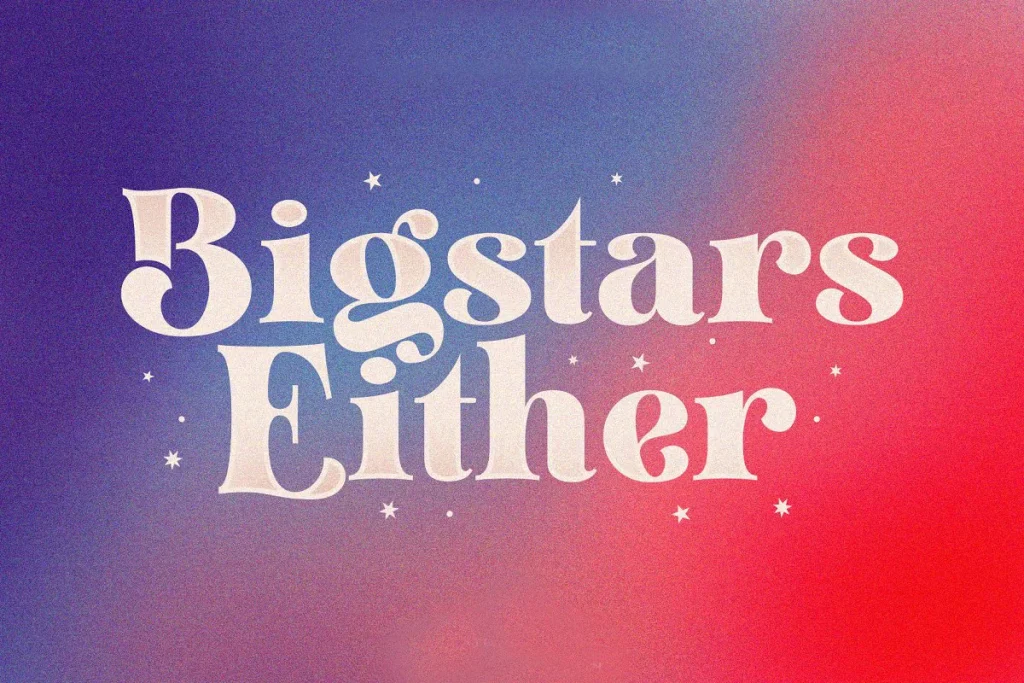 A retro bold script that will bring you back to the 60s., this typeface has everything you need if you are looking to add a little funk to any design. Bold and thick, it is a super-fun typeface to play with! It will give you 60's/70's vibes every time!