When we say 'aggressive' we don't mean that these fonts are going to jump out of the screen and beat the hell out of you, what we do mean is that there is a rough, sharp, rugged, and unpredictable edge to these font designs that we feel can't be beaten.
Each of these 30 designs are perfect for use in advertisements, posters, logos, and on social media, so be sure to choose wisely, because each design on the list below has its own quirks that we are sure you will love. 
Aschor 
A dark and mysterious font, Aschor is a mystery display typeface that provides all of the basic styles that you could possibly want in a font. There are upper and alowercase styles included, and you will also gain access to multilingual ligatures. Perfect for any event design or poster that you wish to add a little mystery too. 
Trotont Gothic 
Inspired by the gothic scene, Trotont is a beautiful style of font that would ideally accompany clothing lines, posters, and advertising designs. there are 4 different files included in the package and each of them offer something new. 
Fright Night 
You may have seen fonts similar to this on the cover of horror movies or adverts, and there is a good reason for that, because it is scary. aggressive, and has a dangerous edge to it. Fright Night is an emotional serif typeface with horror vibes. The font is clean, sharp, and unique. Fright Night is suitable for posters, movie titles, billboards, branding, business card, and much more.
Nightwish
Nightwish is a sharp script typeface. The font is a bit slanted as if it's handwritten. Its gothic/Old English aesthetic is ideal for apparel, greeting cards, product packaging, book covers, album covers, logos, social media, posters, and more. If your design requires an aggressive vibe, then Nightwish should definitely be on your radar.
Wavelength 
Don't be fooled by the fonts trippy appearance, Wavelength can be a terrifying style of font if used in the right way and in the right context. It is most suited as a decorative display font for editorials, album covers, posters, logos, web or packaging design, but will work with any style.
Fokus 
The above design is just a small example of how using Fokus can disorientate and confuse the reader or viewer. Fokus was inspired by mid-century print design. The height of this condensed typeface automatically draws attention and can be utilized to create beautiful headlines, logos, quotes, posters, social media, headlines, magazine titles, clothing, large print formats, and more. With two versions available, you can play with different designs easily. 
Heaven Spot
Heaven Spot is a modern graffiti typeface inspired by street art and underground hip hop music. This marker like font is beautiful and legible. You can create incredible wall art, headlines, album covers, social media posts, logos, poster, packaging, and pretty much anything you can think of. Get creative today with Heaven Spot!
Windsor – Asia Inspired Typeface 
Simple, effective, and even a little retro in its appearance, Windsor is a super-attractive typeface design that would work well with any style of advertising or promotion. Use it for gig posters, event flyers, postcards, or invitations. One of the least aggressive in the list, the font still packs a punch and will be sure to send a message!
Gnarly Typeface 
Inspired by magazine adverts from the 70'sand 80's, Gnarly is ideal for marketing, advertising, editorials, branding, and more. What we love about this font is its slimline design, its ability to look slick in large and small advertisements, and its versatility, the font can be used for any project design. 
Cornera Modern Font 
As the name might allude to, Cornera is all about sharp corners and that is what makes it such an aggressive font to use. Great for any logo or poster design, we feel that this is another of the most versatile fonts on the entire list. 
Fabian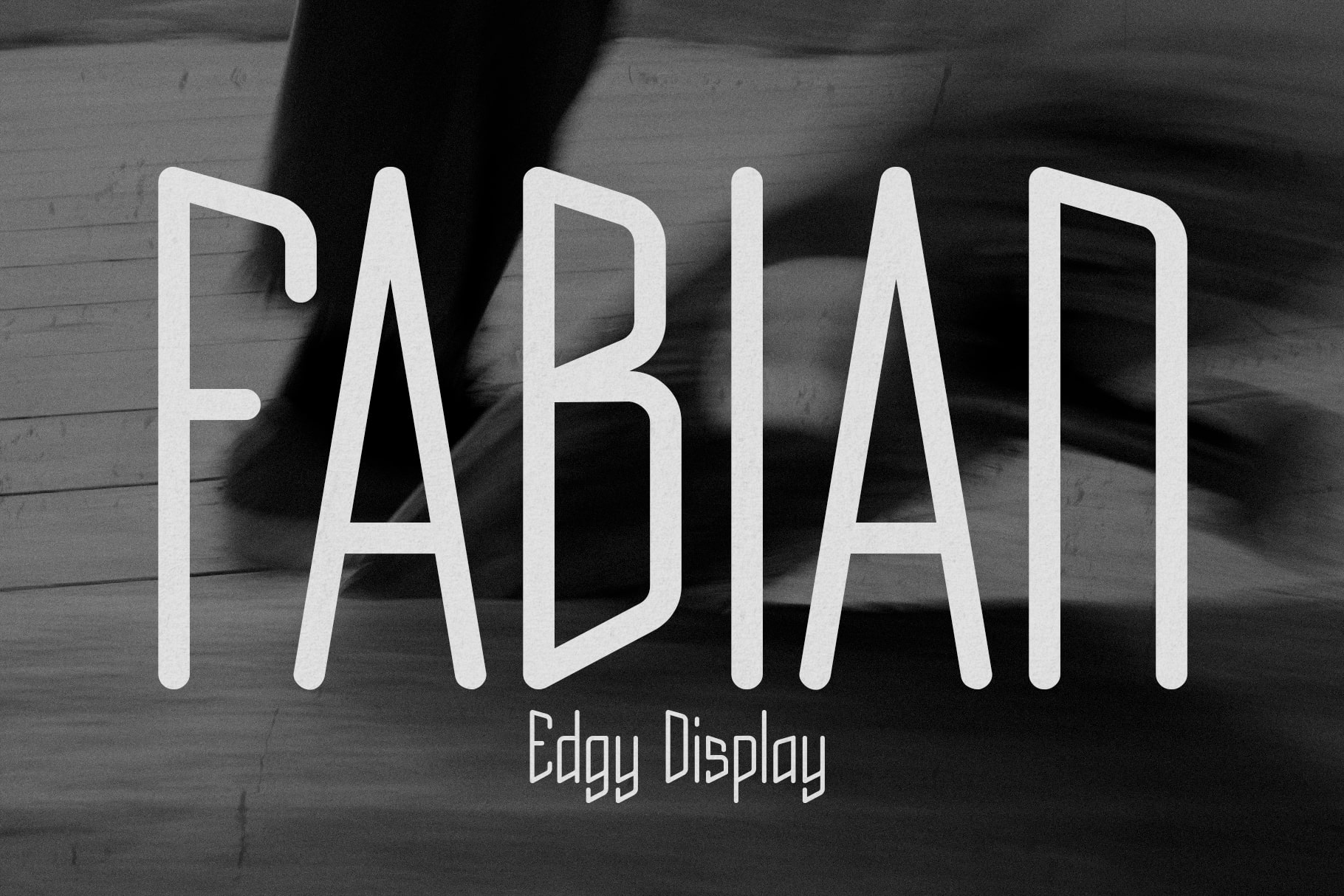 Fabian is an edgy punk display typeface. It's distinctive look is perfect for posters, album covers, apparel, logos, headlines, and more. It was inspired by the 1990s punk rock movement. This modern font includes upper & lowercase letters as well as punctuations and numerals. To get a feel for it, test it our below.
Bjorn Typeface 
Big, bold, and in-your-face, this font design is one of the most bold and eye-catching on the entire list. It's a very versatile typeface that works great in large and small sizes, tight and wide spacing. Bjorn features uppercase multilingual letters, numbers and punctuation. It comes in regular, light and halftone styles.
Bronzier – Font Family 
Bronzier is a strong serif font with 8 different styles. Bronzier designed with a strong and sharp serif that gives more manly looks. Sporty, vintage and modern taste at the same time that's mean you can use this font family for many design styles. Inspired by old-school typography, and modern style.
As mentioned, what we love about this font type is that you get access to 8 different unique styles, so you can decorate images, designs, and posters in whatever way you wish. 
Pokra
Pokra is a whimsical Halloween font perfect for creating fun and catchy designs. Use it for flyers, book covers, headlines, posters, stationary, web design, t-shirt designs, stickers, packaging branding, and much more. Take your creative ideas further with Pokra!
Black Mustang 
Condensed, brash, and in-your-face, Black Mustang is one of the best designs on the list because it offers a condensed and attractive style that we don't think you will find anywhere else. Use the font as it is, or go for the alternates titling or manually choose from the Glyph Palette from more alternative characters to give it a borderless design. With stylistic alternates, upper and lower case punctuation, and multilingual support, you can't go wrong. 
Shibe

This Shibe font has a bold, sharp and strong character that we think is aggressive in all of the right ways. Great for combining with other styles, the font has a range of different glyphs and character types in its arsenal making it highly versatile. 
North Mountain Display Typeface 
Sharp and stylish, this display font comes in regular, edge, and stamp, and can be used on a host of different designs to give them an edgy and retro look as you can see above. Best wen used with a product that supports OpenType features, we feel that North Mountain is a versatile and attractive font. 
Voltec – Futuristic Typeface

Voltec is a sharp, angular, futuristic font in a modern style. Perfect for sci-fi themes and space adventures! Included in this font package are upper and lower case letters, ligatures, multilingual support, and numerals as well for good measure. A comprehensive package that is stylish and attractive in its appearance, you won't go wrong with Voltec. 
NOMAD – Historical Vintage Typeface 
This vintage historical font has a stunning slimline style that we love. With 2 different weights available, the vintage vibes that you will get from this font style are incredible and with upper and lowercase letters, as well as numbers and punctuations included in the package too, you are fully covered with Nomad. Perfect for any design concept or idea. 
Sirkle – Semi Serif Display 
Sirkle is a semi-serif typeface for display, constructed with sharp and curvy characters. Letters are all handcrafted and made to fit other letters perfectly without exception, with a modern and edgy style that gives them a unique look. Sirkle comes with ligatures and alternates and supports 60+ Latin-based languages. 
Killuminati – Gothic Type 
Killuminati is a simple English old type font with a modern blackletter style. This typeface is inspired by gothic & classic rock band logos. Killuminati has a combination of sharp and curved corners, and is perfect for an poster event, stencils, logotypes, magazine layout, fashion designs, quotes, and so much more.
Cagley 
Cagley is a Modern Sharp Display Font from Drizy studio. Offering all the basic styles you will need for a successful project. The font has a retro style to it, and in all honesty we feel like it would be perfect for just about any design concept imaginable. 
Revon 
Bold, and in-your face, we think that Revon's sharp and sophisticated design is a must-have when it comes to looking for a font to use in your next project or design concept. With upper and lowercase lettering and punctuation available, as well as ligatures and added glyphs, there are a suite of possibilities available. 
Scout – Athletic Typeface 
Scout is a sharp, clean, and bold athletic font. It is a very versatile display typeface perfect for sports branding, emblems, jerseys, posters, apparel design, magazine headlines, labels and so much more. Scout is fully-kerned and ready to be used right out the box. 
uFgiat75 Serif 
The name is certainly a little unusual, but the font style and design is classy and timeless. The main feature of the typeface are high sharp contrast of the lines, the slightly pointed taper of strong characters. It is suitable for any project purpose like digital or print materials. Included are upper and lowercase letters, regular and italic designs, multilingual support, alternates and ligatures, and each style is PUA encoded. 
Boardslide – Energetic Typeface 
Boardslide is a rad all caps typeface inspired punk and skateboarding culture. This sharp and energetic typeface is perfect for creating logos, headlines, social media posts, t-shirts, Youtube graphics, event posters, and much more. If you're looking to create a wild design, then Boardslide is perfect for you.
Spacethink Typeface 
With 5 awesome sharp and straight-edge designs ready to use, we feel hat Spacethink might be the font for you. The font comes in regular, alt, italic, italic alt, and rough. Use it for posters, flyer designs, album designs, invitations, or apparel design. 
Angry Monkey 
This vintage layered font is one of the most unique designs on the entire list.  It contains 5 typography styles, uppercase and lowercase letters, and basic punctuation for each style. Well suited for headings, corporate identity, as well as the creation of various printed and digital products. The font is designed in the playful style of an angry monkey, and has a rugged, angry, jungle-style in its appearance. 
Violence 
Violence Typeface was inspired from chaotic, riot, protest, and amok nuance. Combine with angry hand drawn brush, make the typeface looks very instant and messy.  It is hand-painted, which adds to its authentic appearance, and can be used in a range of different designs and promotional concepts. 
RIVERBANK – Aggressive Graffiti Font 
Edgy, fun, and attractive in its design, Riverbank is a stunning design that we feel can be used in a range of different concepts. Great for everything from invitations, to protests, to posters advertising special events, this font type can do it all. 
Nightcore Emo Horror Font 
A font that is inspired by horror movies from the 2000's, the rugged brush strokes give the font an unpredictable appearance that we think works well to give it an aggressive tone overall. 
Overhead Typeface 
OVERHEAD is a geometric, vivid and strong typeface created for the sports brand industry. Overhead has a dynamic, athletic clear-cut appearance with a sharp slab serif in the upper part of the letterform, that empowers your design.
This typeface has three weights, 256 glyphs each, uppercase and lower uppercase letterforms and extensive Latin script support. Overhead is a strong, bold somehow aggressive looking font therefore excellent to use for headers, logos, captions and posters, especially for the sports branding industry. 
Barracuda – Aggressive Font 
This aggressive serif has a classy and bold design that we think would look great with any promotion or advertisement. Easy to edit using OpenType features, and perfect for inclusion in magazines, brochures, and posters, download the design today! 
Wolves vs Monster – Retro Horror Font 
Inspired by the thriller and horror movies of the 80's. This font will add an element of surprise to your logo, gaming channel, video game apps, band album covers, shirt designs, offroad stickers; you name it. A retrowave horror font for all seasons!
Gas'Rock! Font 
Retro, cool, and fun, this design is perfect for any project and can be used in a variety of ways. The rough and rugged lines give the font an informal appearance, and we think that this rough and ready look can be aggressive if used correctly.