The 60s and 70s were memorable decades in their own rights.
Also known as the radical 60s or the swinging 60s, this period was a combination of highs and lows: from the I Love Lucy franchise to various civil rights movements, Bob Dylan music to the assassination of JFK.
The 70s on the other hand, felt like a continuation of the past era – albeit more exciting and perhaps, even turbulent. There's the introduction of the first space shuttle, the birth of Apple, Michael Jackson, and disco fever.
But however you remember these wonderful times, you can always relive these vintage vibes in your own designs. In this light, here are some groovy psychedelic fonts that are sure to trigger some happy memories.
Trippy Psychedelic Fonts
1. Wavelength Typeface
Wavelength was inspired by the "Rick and Morty" logo. This abstract display typeface grabs the reader's attention and keeps them there. It has an upper, lowercase display, numeral, and special characters. It is most suited as a decorative display font for editorials, album covers, posters, logos, web or packaging design. If you're looking for a typeface that's weird, trippy, and unique then Wavelength is for you!
2. Dazed – Dizzy Typeface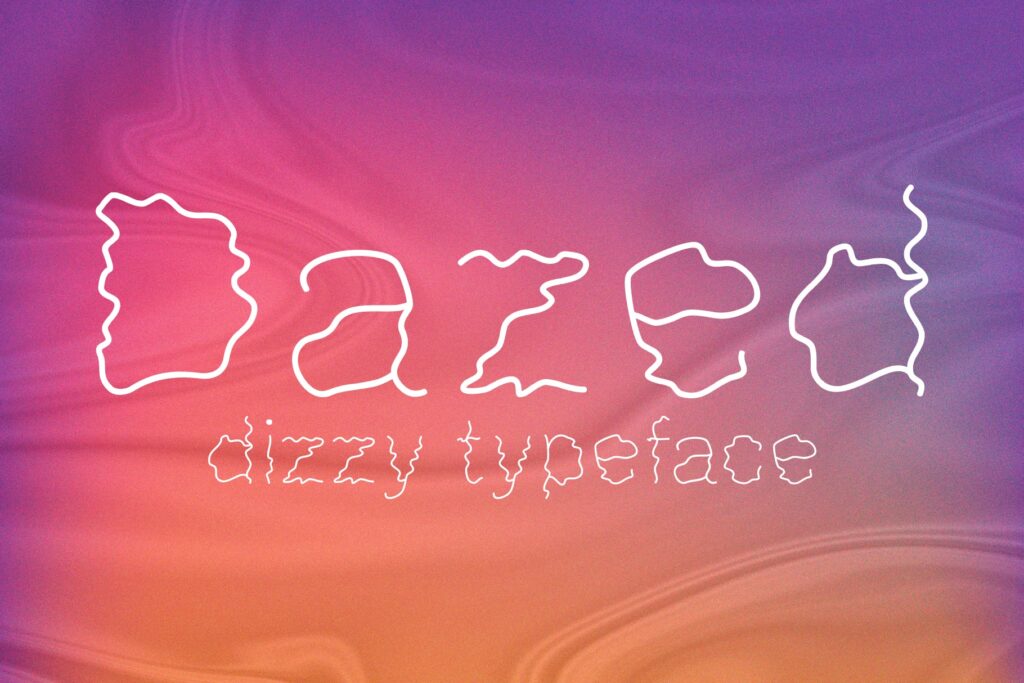 Dazed is a handmade typeface which was created during an overnight train ride. The wavy swooshes and curves are the end result of the train shaking/moving. What started out as a fun experiment , turned into a unique typeface.
The organic feel of Dazed evokes a psychedelic vibe which you can use to take your designs to a new level. The font is great for posters, flyers, apparel, quotes, greeting cards, product packaging, album covers, movies, and more.
3. Surreal – Psychedelic Typeface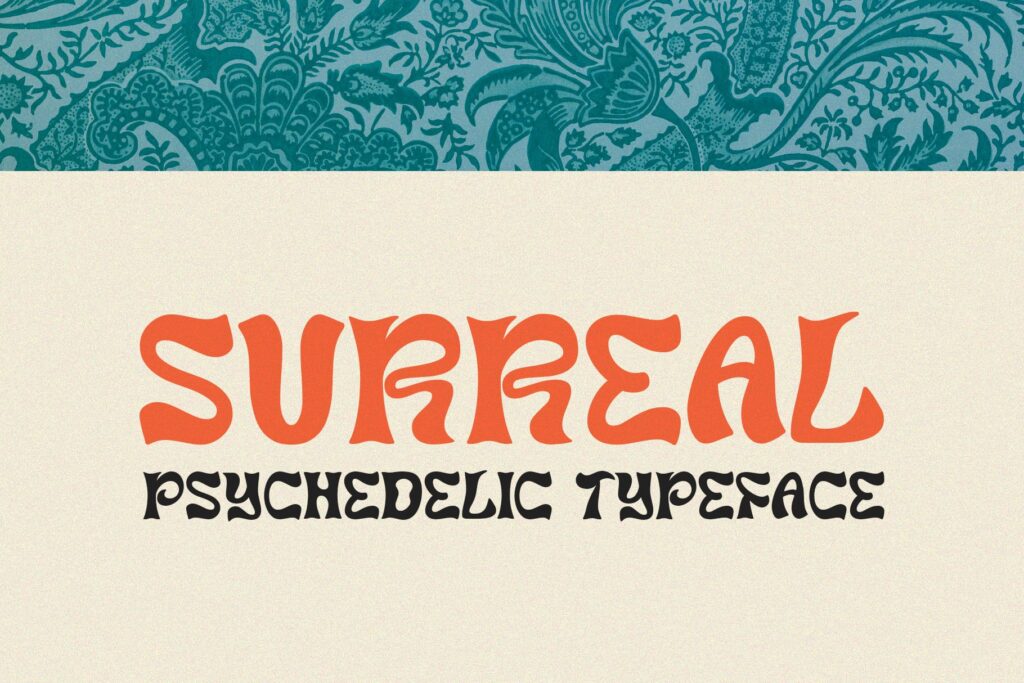 Surreal is a hand drawn psychedelic font perfect for groovy posters, experimental artwork, and rad design projects. It was inspired by the psychedelic movement of the mid 60's. Since this one of-a-kind typeface is not seen everyday, your design projects are bound to grab the reader's attention.
4. Marthy
Marthy was inspired by Art Nouveau and 1970's psychedelic posters. This expressive typeface is designed to be used for branding, music posters, album graphics, book titles, etc. Evoke that nostalgic 60s/70s look today with Marthy!
5. Moonlight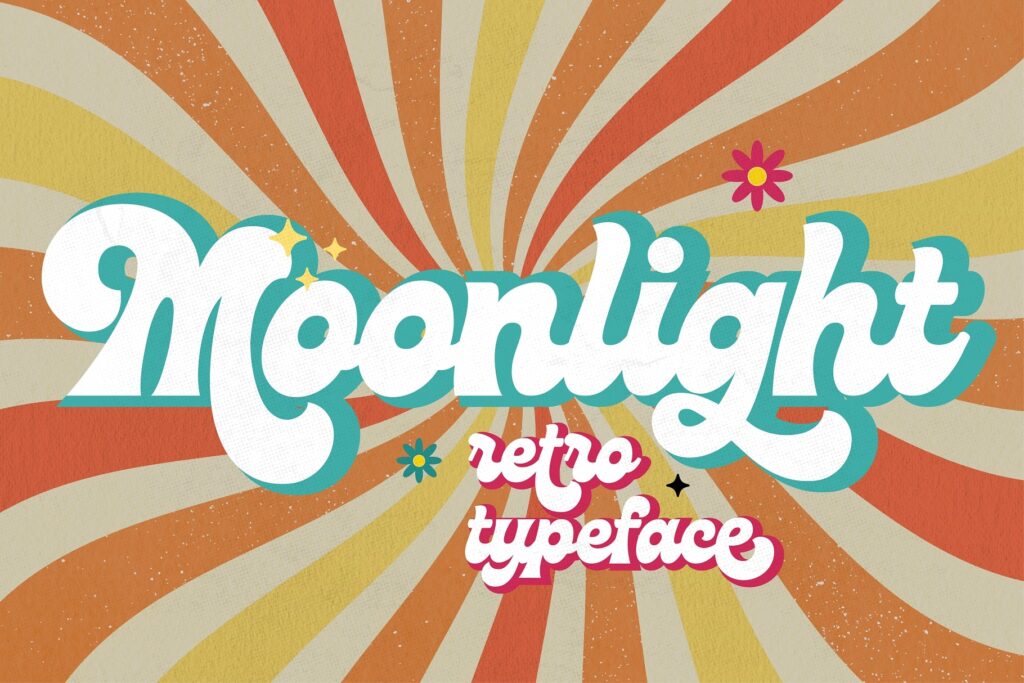 Inspired by the groovy disco era of the 1970's, Moonlight's script lettering keeps the connections between letters smooth and flowing. This font is multilingual and has tons of gorgeous ligatures ready to spice up your designs.
Moonlight is suitable for branding, stickers, packaging, Cricut project, headlines, apparel, posters, magazines, books, YouTube, Instagram, web design, and much more
6. Saturday Night Font Family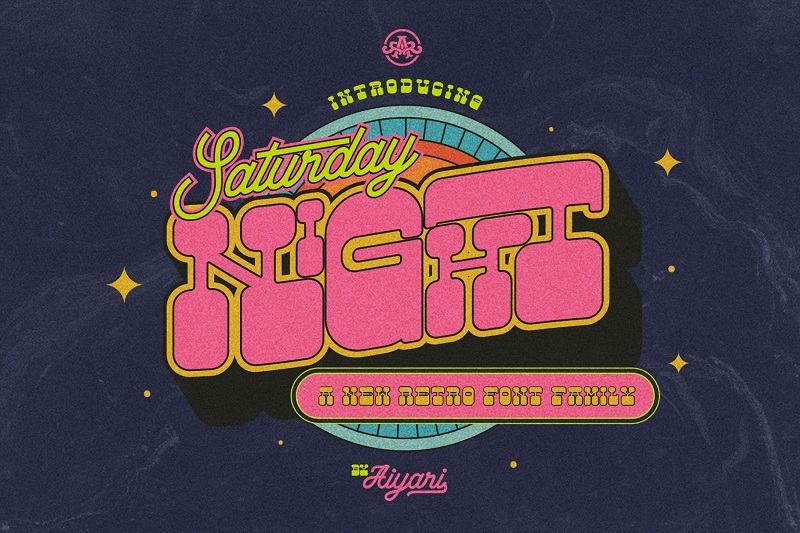 This font family of seven comes with everything you need for a Saturday of groovy design shenanigans and tons of inspiration.
Download Saturday Night Font Family
7. Niran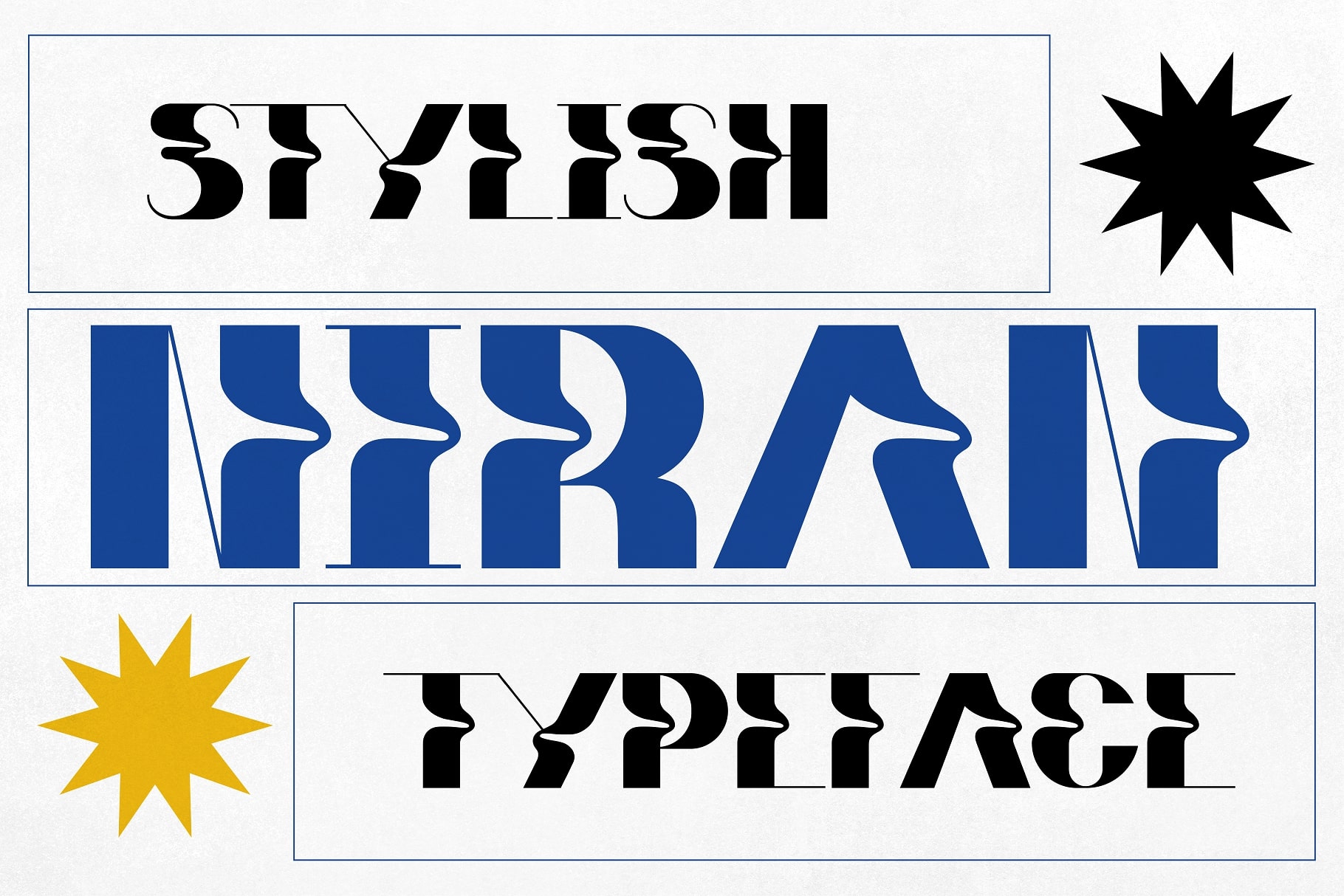 Niran is an experimental typeface with radical curves. Unique rippled lettering makes this font perfect for groovy posters, abstract logos, creative quotes, rad packaging, attention grabbing headlines, and much more. Niran mixes futurist letters with nostalgic curves, thus creating typography which stands out from the norm. If you're searching for an experimental font that breaks the rules, then look no further than Niran.
8. Groovy Retro Font
Save time and money whenever you're making vintage projects thanks to Hendra Pratama and this retro typeface that's packed with stylistic alternates, swashes, ligatures and an Extruded font version.
9. Mafieso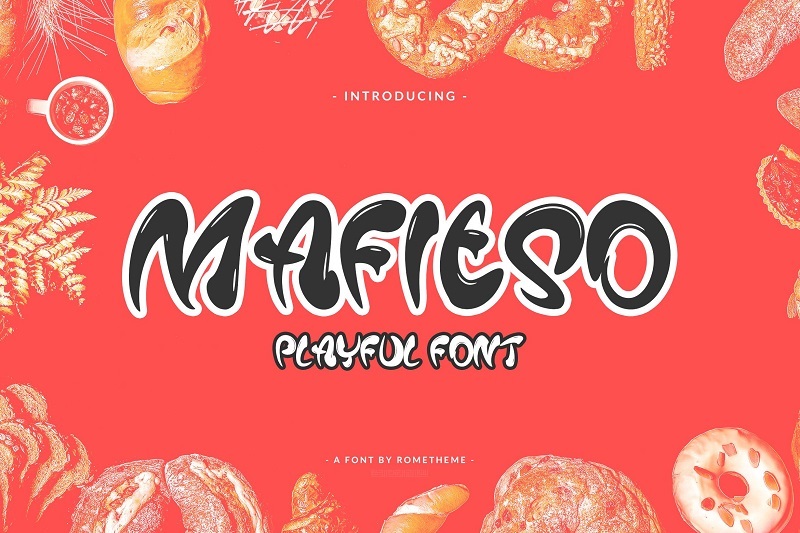 Sweet and playful, this offering from Rometheme Studio looks like a combination of Asian brush strokes with a bubbly feel. Definitely something unique to add to your collection!
10. California Sunshine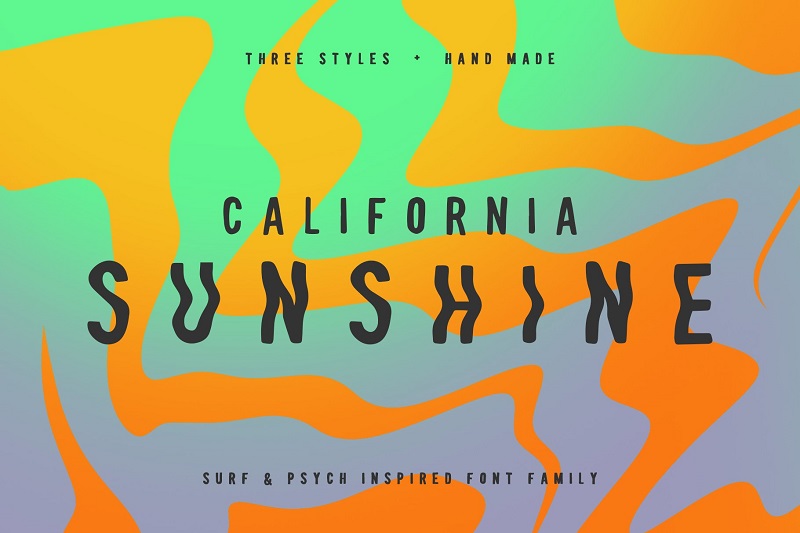 You know how water distorts images reflected on it? That's the image that this typeface from Think Make Design evokes: trippy, fresh, and totally creative.
11. Hendrix Groove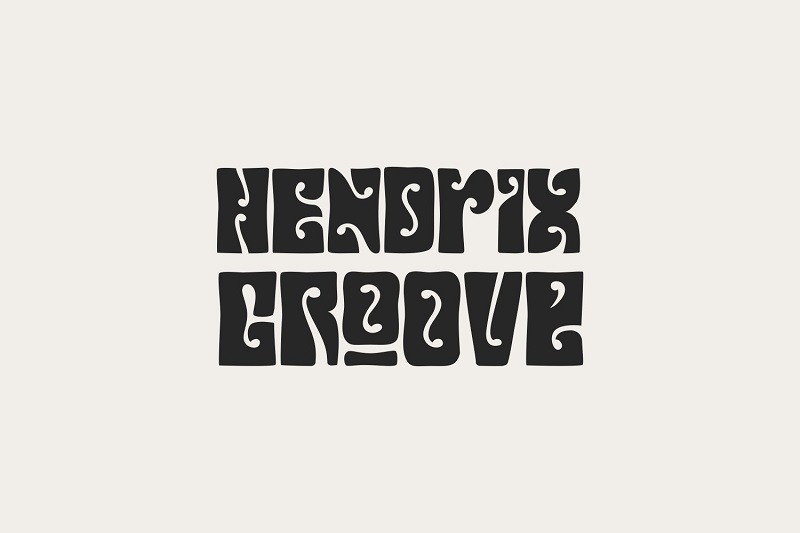 Welcome the grooviest font of them all! This unique type is all about funk, disco, surfing, and soul. Plus, it's lovingly created by namistudio.
12. Lovebus Font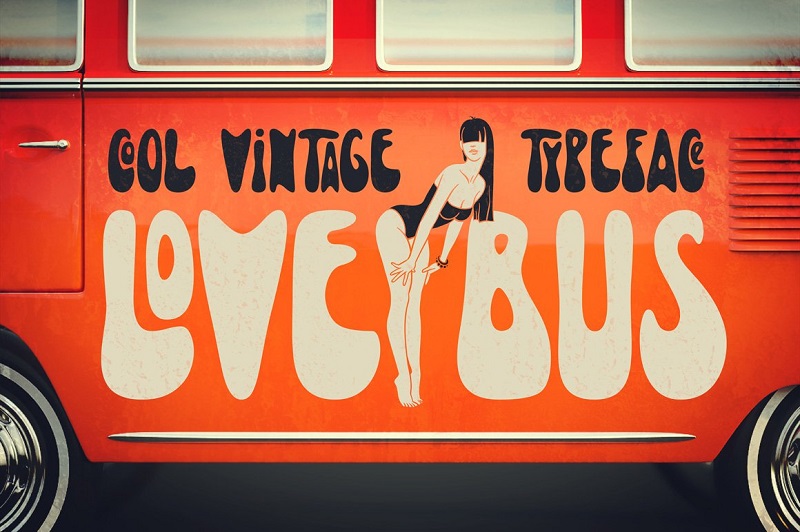 Get ready to hop onto the wheels of wacky design when you get your hands on this sweet offering from Gleb Guralnyk. Featuring 26 automatically replaceable ligatures as well as bonus graphics, this is one pack you won't want to miss!
13. Lucidity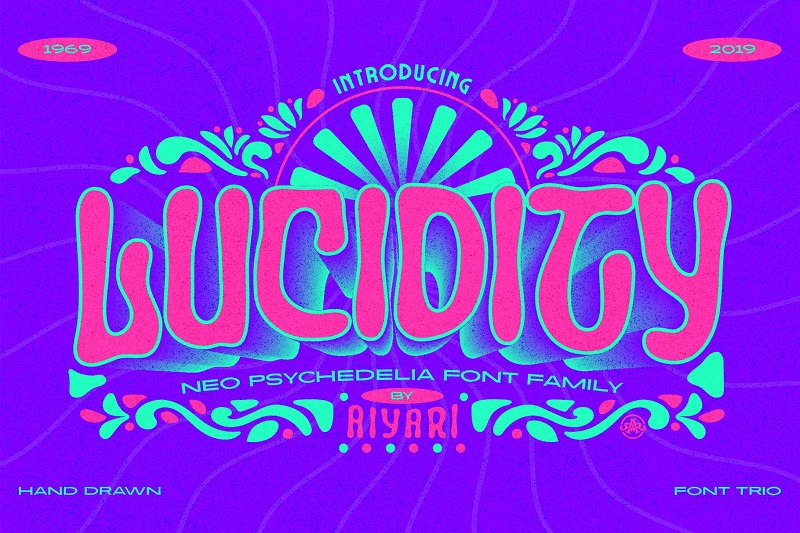 Aiyari proudly presents this retro font with a modern touch. With four awesome font styles plus practical extras, you can go from cool to contemporary in minutes.
14. Lovadelic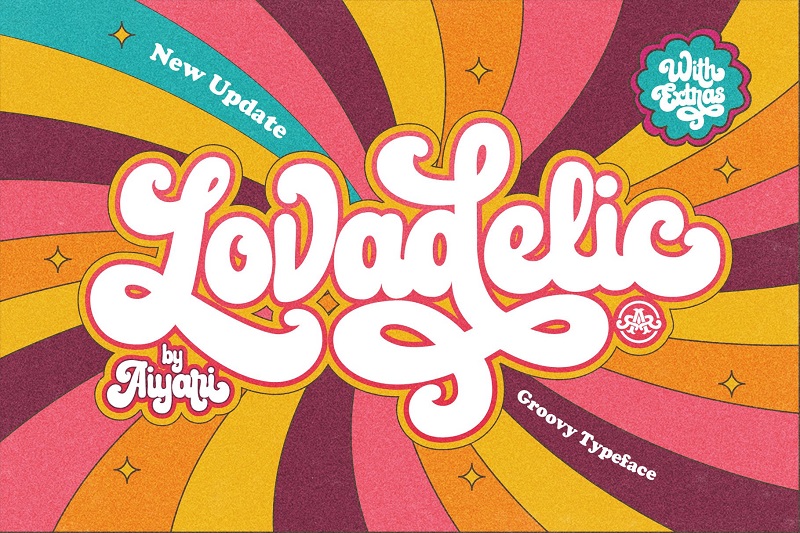 Give your designs that much needed TLC with this retro typeface inspired by 70s script lettering. Featuring cute graphics as well as alternates and ligatures, you'll be falling in love with how fly everything looks!
15. Glaw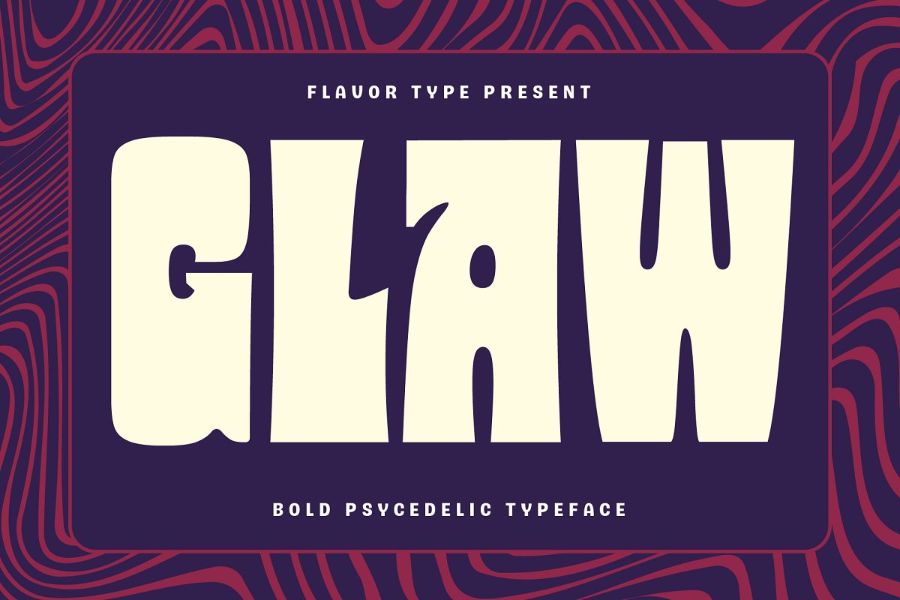 Make your designs pop in an instant with this carefully crafted font from Flavortype. If you're using a software like Adobe Illustrator or Photoshop that supports variables fonts, then you can get up to 100 weight!
16. Aprila Font Family
Inspired by the 1960s Hippies Movement, Studio Sun brings to you this colorful, bright, and complex typeface that comes in 7 styles and a lot of attitude.
17. Off Gliker
With 7 widths and 4 weights, for a total of 28 awesome styles, this font family boasts of rounded corners for a fun, playful look on posters, cards, logos, and more.
18. Frito Vandito
This psychedelic throwback to 1970s van culture is simply saturated with nostalgia and handmade funk. Brought to you by Doug Penick.
19. Psych
Achieve that 'far out' look without compromising on legibility when you get your hands on this sweet lettering from Mysterylab Designs.
20. Chronic Sans
Stay hip with this cool offering by Brethrendesignco. This display font is everything you need to create amazing logos, banners, stickers, cards, and posters with just the right amount of funk.
21. Glassure Typeface Version 1.0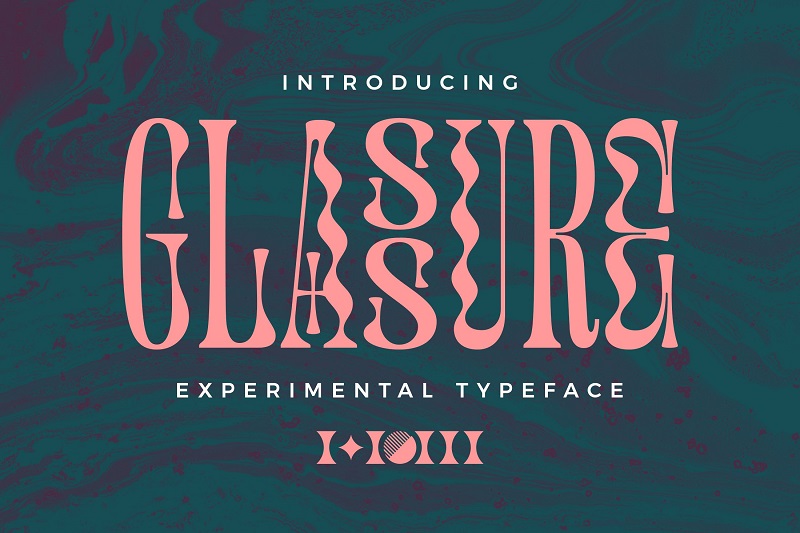 Inspired by the process of glass-making, this out-of-this-world typeface from Halfmoon Type is just the gem you need to create outstanding projects!
Download Glassure Typeface Version 1.0
22. Bouchers X 1
Unique brands need unique scripts, and Bouchers X.1 might just be your cup of tea! This trippy sans typeface offers a variety of stylistic sets, so you can truly make it your own. Making the most of elegance and modern tendencies, Bouchers X.1 is a perfect fit for bold brands.
23. Hippie Mojo Font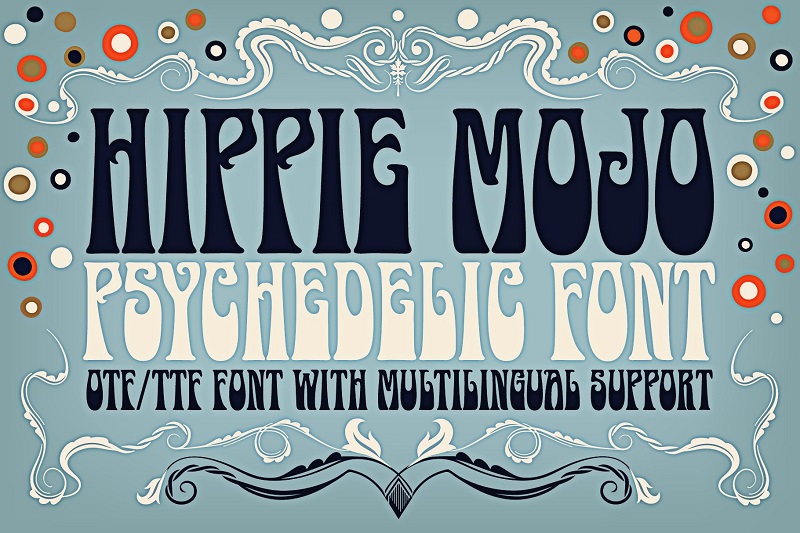 This predominantly uni-case font by Mysterylab Designs is like going back to the sweet 60s. So get ready to evoke that care-free vibe once again when you download it today.
24. Wintermint PB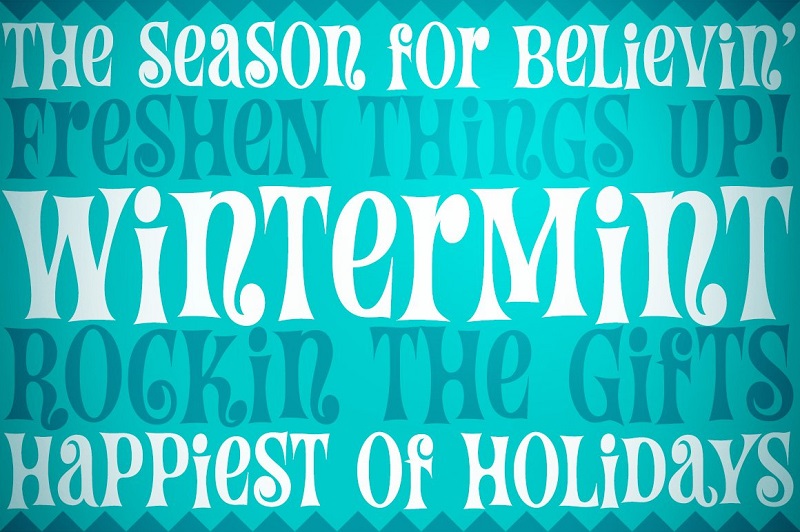 Stir up some serious vintage vibes whenever you use this lively gem from Pink Broccoli. Don't worry, it's as functional as it is gorgeous.
25. Summer of Love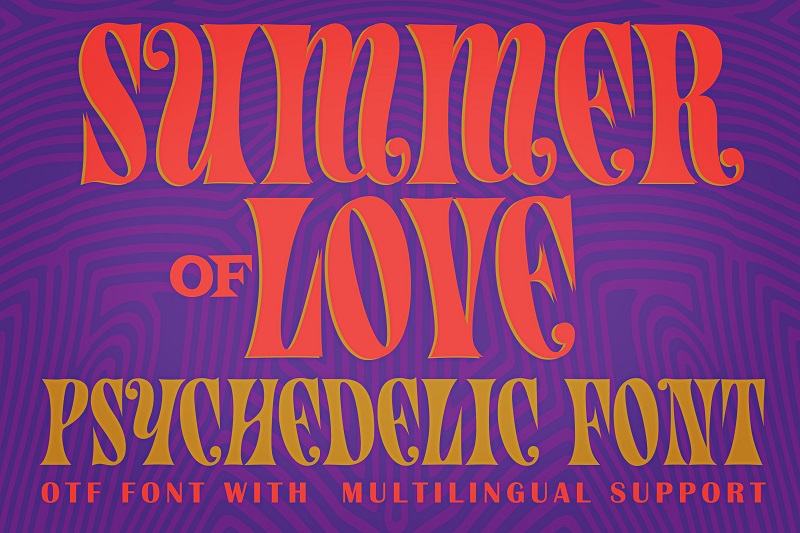 Express your love for all things funky in this psychedelic typeface that comes with extensive multilingual support so you can say groovy in different languages.
26. Moche (FREE)
Go crazy with this reversed contrast sans-serif from Vivien Gorse. Fun, exotic, yet modern, it's suitable for both headlines and body text.
27. Narse Font (FREE)
Inspired by70's Jazz cover-art and contemporary lettering, Indieground Team gives you this square typeface that's as hip as it is bold.
28. GoodHood (FREE)
Who knew graffiti art could be this good? Bring back chill vibes and classic times with this retro script by Eduard's Pocket.
29. DT Random Display (FREE)
The randomness of this playful, funky font from Duong Tran will look stunning on your posters, invites, apparel, headlines, and more. Come try it today!
30. Far Out! (FREE)
Loosely based off of type from the 1960's, this bold serif by Gaby Bacani will have you making groovy signs and projects from sun up until sun down…
31. Retro Boldy (FREE)
Bring the 90s back to your designs! Brought to you by Nirmana Visual, this bold and contemporary script font is perfect for logos, ads, social media posts, and product packaging.
32. Giuthen (FREE)
Expressive, brutalist, yet modern, this psychedelic sans serif from Typia Nesia Std will have all eyes on your fashion editorials, startup ads, blogs, music posters, and game app designs.
33. Roller Girl (FREE)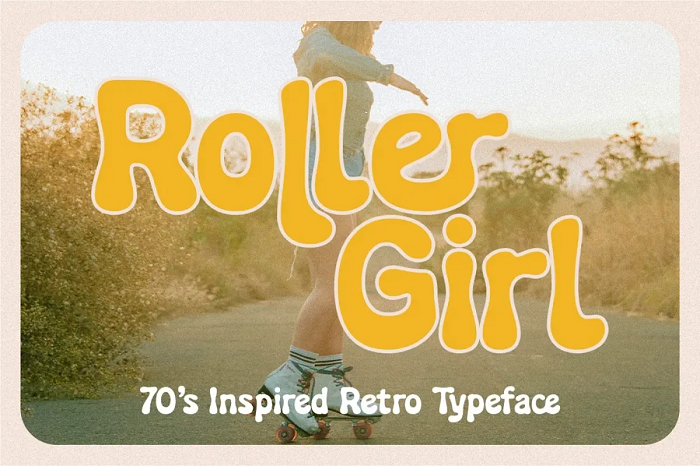 This 70s-inspired typeface from Surplus Type Co is reminiscent of mazy weekend afternoons, rollerblading days, and bowling nights. Come and be mesmerized by its laid back aesthetic and fun vibes​​​​​​​​​​​​. Free for personal use.
34. Beckan (FREE)
A little bit Art Nouveau and part retro, this display font by Valentino Vergan comes in 2 styles (Regular and Oblique) you can mix and match to give your works a unique edge. Free for personal use.
35. Longline Font (FREE)
Letterhend Studio presents this beautiful, nostalgic font to bring the magic of past decades to your projects. Use it with illustrations and graphics, or put it on posters, game app designs, and websites to brighten an otherwise bland look. Free for personal use only.
36. Far Out!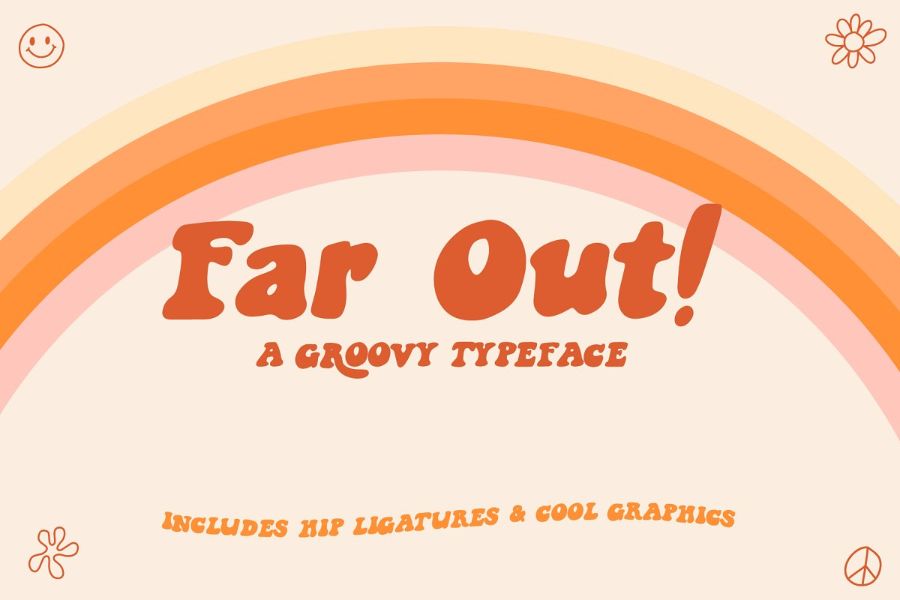 If you've been a Flower Child in the 60s or 70s, then you will love this little ditty by Think Make Design. Download today and get 40+ hand-drawn graphics for truly far out designs!
37. Kool Beans 
Kool Beans is a 1960-70s inspired type that embraces the groovy psychedelia era. This font is perfect for any project that requires an authentic retro feel. Kool Beans can be used for magazine covers, social media posts, quote posters, book covers, merchandise, websites, advertising, branding, and more. Kool Beans comes in 2 unique styles, solid and outline. You can use both of the fonts to make your designs come to life by giving them a 3d feeling.
38. Ramdone
Get that effortless 60s feel with a little help from this retro bold script by Letterhend Studio. It also features alternates and 7 different swashes for that natural swish.
39. Wonderland
Wonderland is a groovy psychedelic display font suitable for artwork, posters, merch, branding, and more. This display typeface will help you inject the right dose of funky and carefree vibes into your design projects. Have fun!