Last Updated on May 16, 2022
In the digital age, anything handwritten or handcrafted has a certain kind of charm. Whether it's a vintage shop sign or a note written in cursive, they can elicit warm feelings of nostalgia. Not to mention that they look beautiful at all angles.
The days of fountain pens may be gone, but that doesn't mean you can't enjoy lovely handwritten letters anymore. Thanks to modern artists and calligraphers, people can still have access to carefully handcrafted characters that are unique, as they are chic.
If you're on the hunt for captivating signature fonts, then you've come to the right place. Here are several ones that you can add to your designer's toolkit.
1. Templar – Signature Script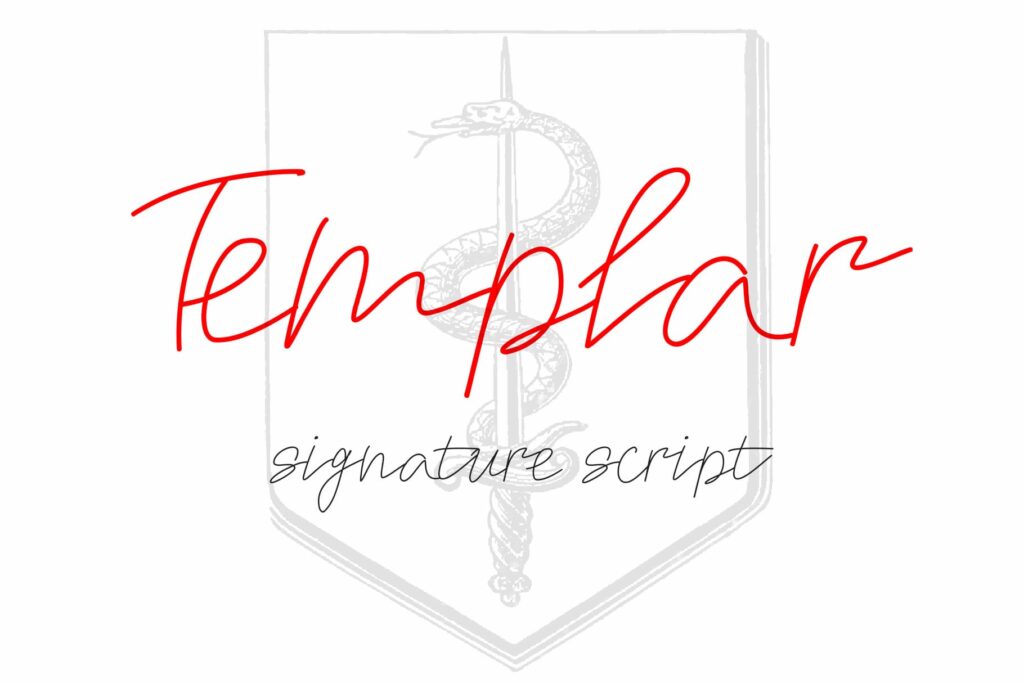 Templar is a stunning handmade signature script typeface ready to be used for your creative endeavors. This font was made entirely by hand, ensuring a unique and natural feeling. The typeface is very versatile which means you can use it for numerous projects like branding design, blog headers, signatures, quotes, social media posts, advertisements, product packaging, fashion apparel, business card, labels, stationery and more… 
Test this font by typing here
2. The Jacklyn
The Jacklyn is a signature font that has, unlike many of its kind, almost zero contrast on the stroke of it. This, mixed with the clear size differentials in upper and lowercase letters, makes it a killer masculine signature font.
3. Birmingham
Birmingham is an evenly spaced script font whose stylistic swirls at the beginning and end, makes it a gorgeous option with plenty of character.
4. Asturria
Asturria is a playfully sized typeface full of character and the transition from letter to letter is impactful and creatively done.
5. Hegomoni
Hegomoni is a classic signature complete with oversized endings and complex letters to really sell the concept of a hand-written signature being a unique concept.
6. Rinstonia
Rinstonia is a no-nonsense script typeface. Unlike many of its cousins, its swirls are short and to the point, while the strokes of the typeface retains almost one singular swipe of a pen.
7. Ollister Signature Font
Modern, elegant, but bold – this is what first comes to mind when you come across this beauty designed by Maulana Creative. No need to question; this one's definitely a keeper.
Download Ollister Signature Font
8. Zattoya Signature
Maulana Creative offers this charming typeface with a modern calligraphy feel to it. It's ideal for elegant themes on projects like book covers, magazines, website headers, packaging designs, and more.
9. Samantha Signature
Using scripts are a good way to make your work instantly classy and timeless. Just take this example from Old_Studio. This modern font has a freestyle look and includes more than a 100 ligatures as well as 52 textured swashes for your convenience.
10. Proudly Signature Script
Looking for a great font that works well for signatures? Look no further than this modern script from TSV Creative.  With discretionary ligatures and graceful alternates, it will look beautiful no matter where you use it on.
Download Proudly Signature Script
11. Creative Signature Font
There's no better way to imitate real handwriting than to essentially transform purely handwritten characters into digital typography. And that's exactly what Simon Adam at Jorsecreative did. Now you can be confident that your works will truly exude authenticity – because it was basically handcrafted from the beginning.
Download Creative Signature Font
12. Herawati Signature Font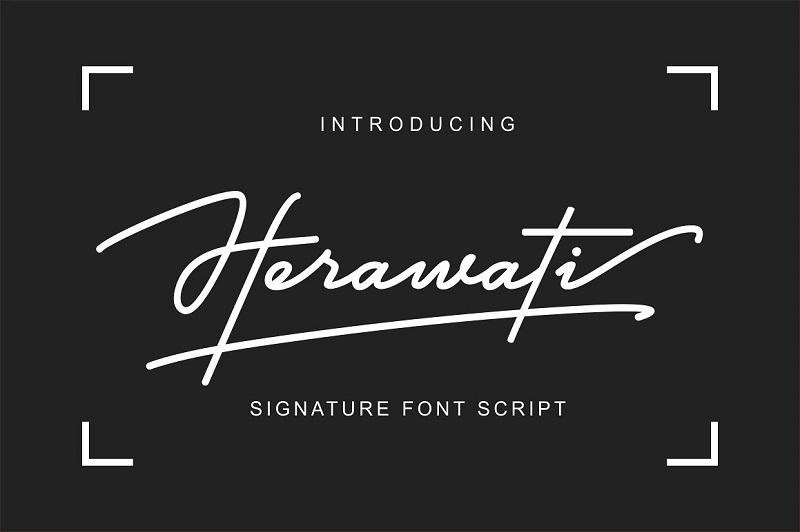 Who says scripts can't be modern or edgy? Jorsecreative proves otherwise in this trendy typeface that includes swash alternates and standard ligatures to help you go from 'sweet' to 'casual' in seconds.
Download Herawati Signature Font
13. Ariel Signature Font
Stylish fonts don't need to be boring or uptight! Let khurasan show you how it's done in this fresh, handmade font that comes in three versatile styles – Regular, Wide, and Bold. Use one, or be extra creative and combine two for something totally unique!
14. Excellent Signature Font
As the name suggests, this offering from Hendra Pratama will look excellent no matter where you use it on. The beautiful monoline, handwritten font is all about luxury and readability. So you can bet that it remains legible whether on your business card – or on your shop sign!
Download Excellent Signature Font
15. Otentic Signature
Maulana Creative introduces this signature duo font that's about minimal splendor. The clean lines and timeless curves are ideal for stationeries, custom logos, clothing designs, and branding projects.
16. Bianca
This modern feminine font by vuuuds has been carefully crafted to ensure nothing but elegance on first sight. The pack includes as alternate glyph to give you more design options upon your purchase.
17. Welliams
Give your seal of approval to this gem by GRAPHICPRESS. With super thin lines and large uppercase letters, it naturally imitates the fluidity of a fountain pen. It's perfect for works requiring minimal touches of sophistication.
18. Murtics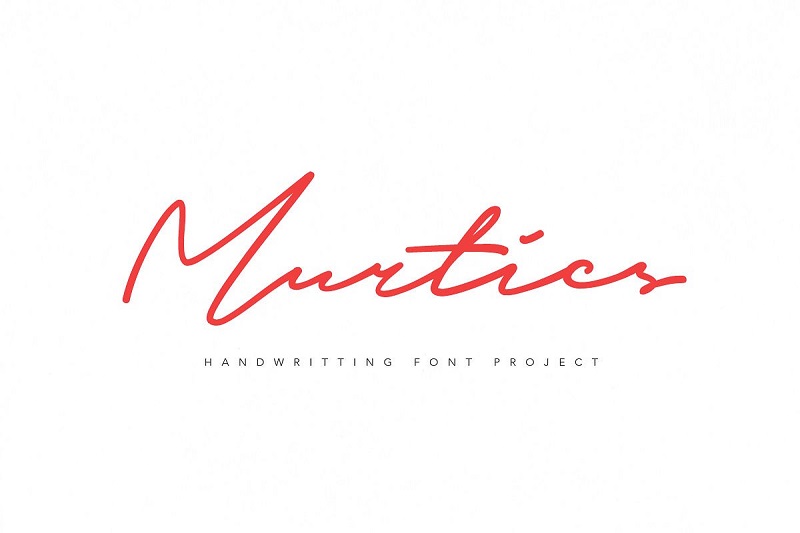 If you're looking for a signature font that not only looks flawless, but also nails every detail, then this is the one for you. Created by vuuuds, this is a typeface you'll be glad to always have inside your toolkit.
19. Arion Signature
Make something awesome today when you use this hand-drawn font by Maulana Creative. With alternates to help bring variety to your work, this is a font duo not to be missed.
20. Signeton Font Script Signature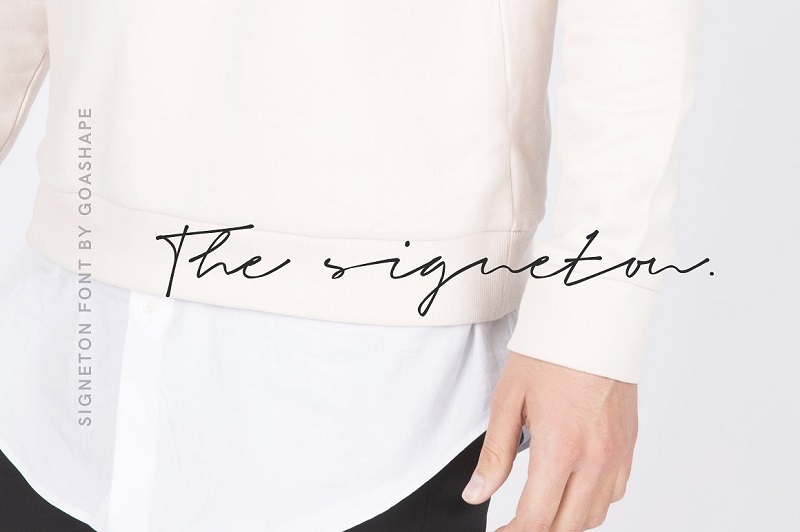 GoaShape introduces this handwritten script font that definitely demands attention. The pack includes upper and lowercase characters, numerals, plus all kinds of punctuations to help you customize your concept.
Download Signeton Font Script Signature
21. Halimun Script Style
Need something fun and playful for your brand or personal project? Then grab this fresh and modern script by Creatype Studio. It's suited to just about anything that needs a cool handwritten vibe.
22. Hermes
Let the typography you use speak for itself. Like this little beauty from jorse. This monoline font may look simplistic, but paired with its swashes, and it suddenly changes into something romantic.
23. Handwritting
This soft and sweet typeface by artisans has the perfectly smooth, thin lines that can pass off for authentic handwriting. Ideal as signatures, or in invitations, logos, social media posts, business cards, and also product labels.
24. Astronout Signature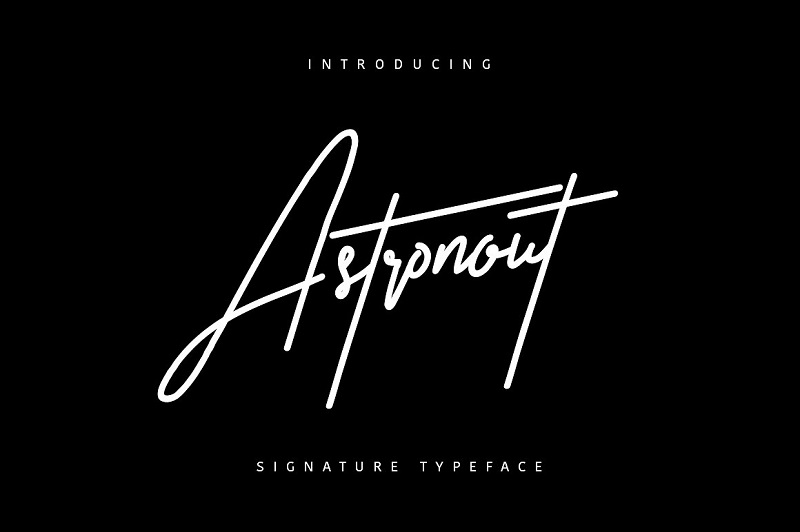 This modern script from Maulana Creative is all about the basics – while still maintaining its hand-drawn appeal. Simple, yet effective.
25. Dhanikans Signature
Make cursive your new go-to font to instantly make any projects awesome. As a start, make sure you have this exquisite font duo from Cotbada_studio. This contemporary typeface remains legible enough to be used as body text, making it invaluable to have in your toolkit.
26. Belle Hamilton Script & Serif
Runsell Studio presents this striking signature font with its trademark natural swashes. Best used on wedding invitations, headers, professional letterheads, labels, logos, and product packaging, this pack includes stylistic alternates and a ligature to make your design feel truly effortless.
Download Belle Hamilton Script & Serif
27. Berrta Signature Font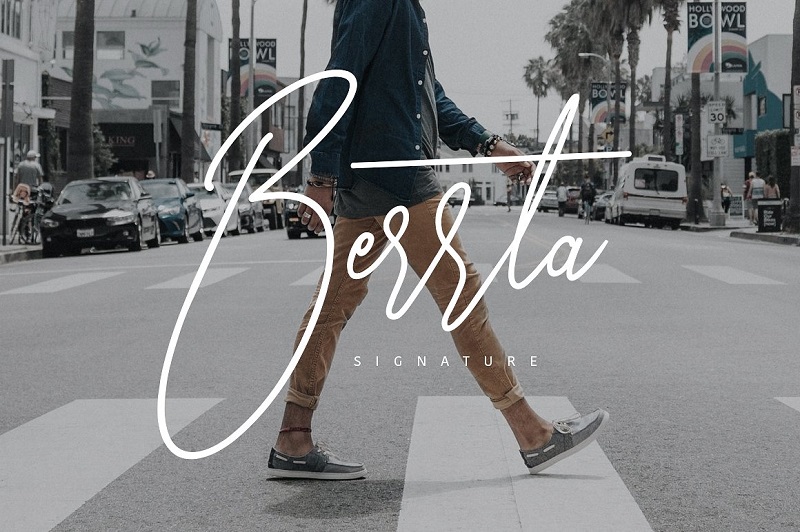 Want to give your works that 'authentic' handmade feel? Then grab this typeface by Maulana Creative! Download once and enjoy it in unlimited projects for personal or commercial purposes.
Download Berrta Signature Font
28. Wanderwall
Make editorial or professional pieces come to life with this modern monoline signature font by Chocotype. It comes in regular and bold styles that require no special software at all. Use brazenly on business cards, homepages, portfolios, invitations, and branding endeavors.
29. Marison Type Collection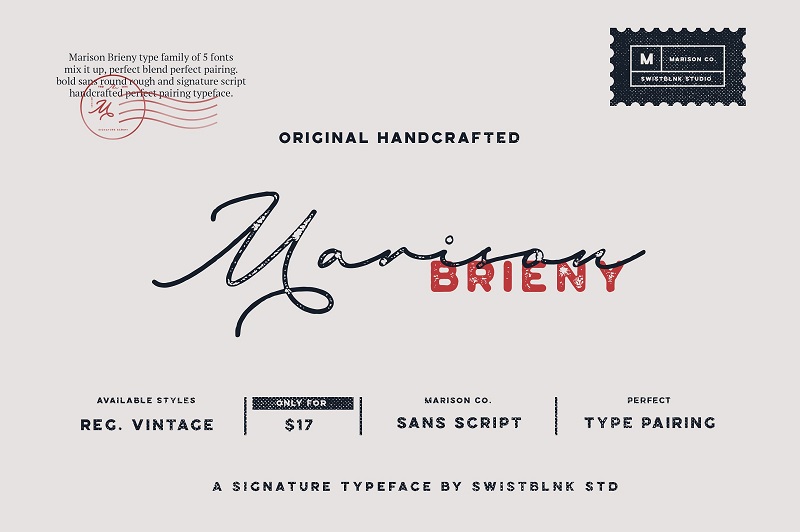 No matter what you're working on, it's nice to know you've got everything you need from start to finish. That's where this collection by Swistblnk Design Std. comes in. With 5 amazing styles to choose from – Script Regular, Script Vintage, Sans Regular, Sans Round, Sans Vintage – you can create modern vintage looks in minutes.
Download Marison Type Collection
30. Rottles Signature Font
Pairing cursive fonts with regular ones instantly create an interesting effect. Thanks to Maulana Creative, now you can do it in no time at all with this typeface that comes in two styles: Serif and Script. Use them separately, or combine them for a real treat to the eyes.
Download Rottles Signature Font
31. Taken by Vultures
The Branded Quotes is proud to present this gem that can immediately be put to work as your new signature text! Featuring quick, straight lines, it comes with a ligature and alternates to produce distinct looks that's sure to make your content stand out. Mix upper and lowercase characters for a fascinating effect, too!
By now, you've probably fallen in love with one – or more – of these fantastic signature fonts. Download them today and see what works of art you can create!