Last Updated on October 9, 2023
Having a slick and professional display is always key when it comes to promoting your project or design. That is why each  of these display fonts are such an attractive choice, because they give you the opportunity to showcase your unique identity to the world. 
Show off your contemporary branding and display with any of these professional and affordable typefaces. 
Best Display Fonts
1. Royal Crest
The Royal Crest typeface is a stunning example of modern elegance, with ornate and decorative characters that are truly exquisite. This font is the perfect choice for high-end design projects that require a luxurious touch. Designers will appreciate its extensive set of alternative characters, which provide ample flexibility and creative possibilities to produce unique designs.
Whether utilized for a logo, wedding invitation, website, or print ad, Royal Crest is guaranteed to make a statement and leave a lasting impression on viewers. Its versatility and beauty make it an essential addition to any designer's toolkit.
2. Amoretta
Are you in pursuit of a truly stunning typeface? Look no further than Amoretta, the embodiment of elegance and sophistication. Its adaptability is unmatched, making it an ideal choice for both headings and body text, while its legibility ensures clear communication.
Featuring delicate serifs and graceful curves, this font exudes a timeless charm and style. Whether utilized for branding, editorial design, or invitations, Amoretta adds subtle luxury to any project. Try it today and see for yourself!
3. Antigua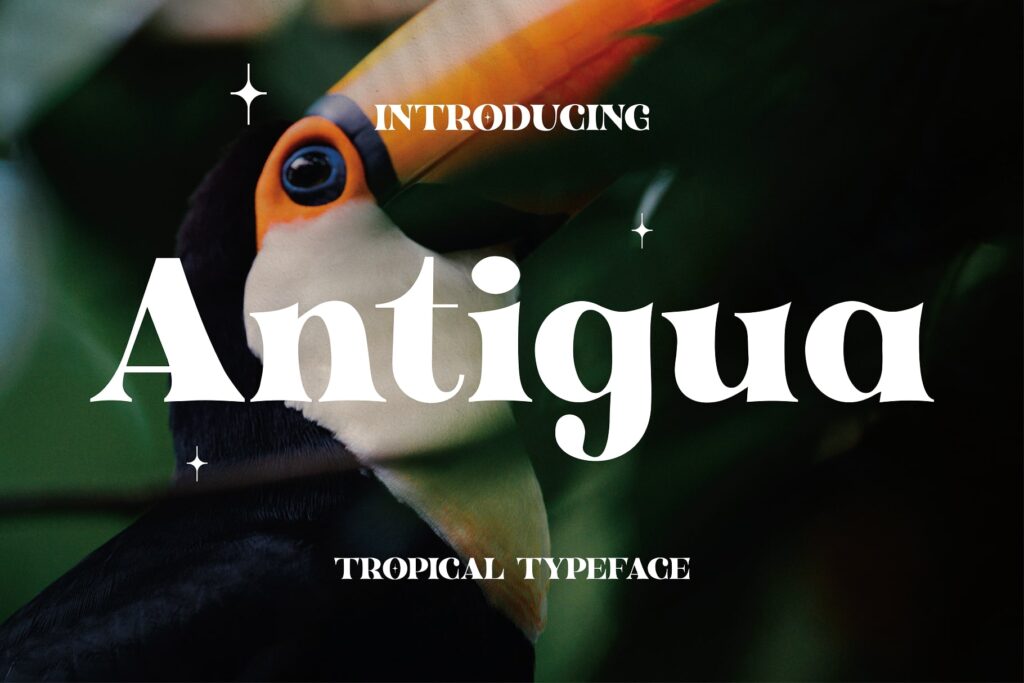 Antigua is a bold serif font family that comes in two gorgeous styles: Regular and Outline. Simple, elegant, yet memorable, it also comes with bonus ligatures to add flair to your designs. You can apply Antigua for branding, packaging, posters, social media, and magazines. This font is a joy to use and read – you might end up using it more than usual!
4. Firecracker
Firecracker is a total blast from the past, taking you back to the groovy and happening era of the 50s and 60s. Its totally boss letters evoke the energy and enthusiasm of that time. Perfect for all you cool cats out there looking to make a splash in magazines, newspapers, signage, branding, packaging, and more.
It comes in two different styles, Regular and Oblique, so you can add a real retro vibe to any project. Transport your audience back in time and create designs that are both far-out and timeless. Stop dreaming and take your work to the next level. Get your hands on Firecracker today!
5. Double Bubble 3D Typeface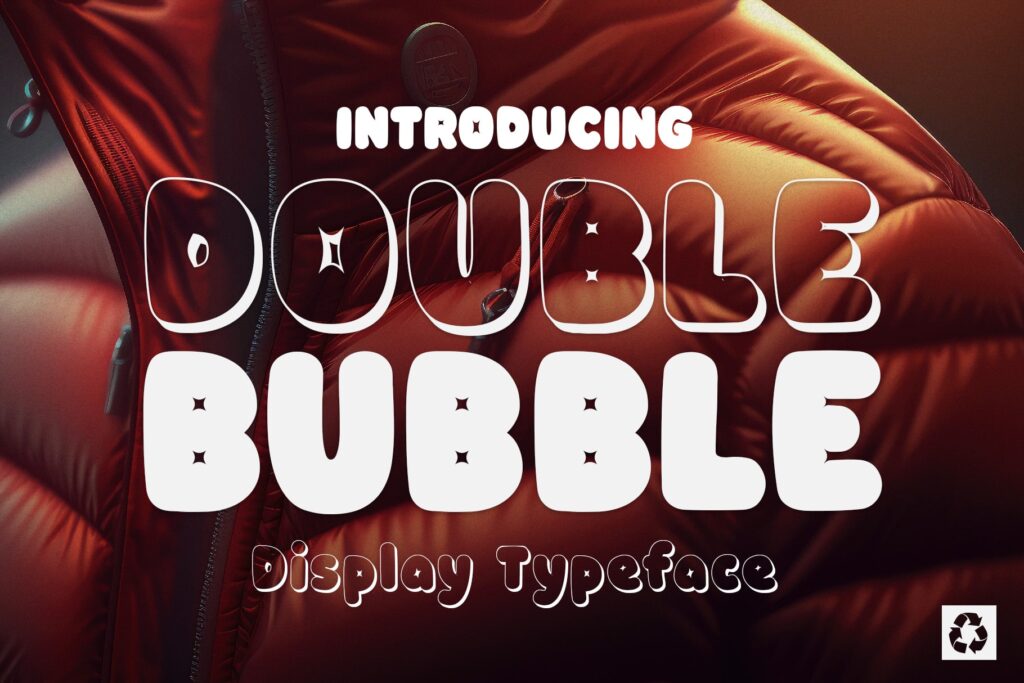 Double Bubble is a playful bubble display typeface that captures the imagination of childhood with images of bubble gum, bubble tea, and puffy jackets. Each letter floats on its own, ready to bounce off the page at any moment. And when you use Double Bubble to create text, it's downright mesmerizing!
The viewer will be filled with shimmering joy! One of the best things about Double Bubble is that it comes with Outline and Regular versions, which you can mix and match to create memorable designs. Whether you're making a poster, website, or social media post, Double Bubble is sure to catch the eye of anyone who sees it. So go ahead, let your inner child run wild with this bubbly font!
It's perfect for adding a touch of playfulness and whimsy to your designs. Get ready to make a statement that's as bold as it is cheerful!
Download Double Bubble 3D Typeface
6. Upside Down

Check out Upside Down – a bold and dramatic typeface that will make heads turn and spark curiosity! With its sharp angles and curves, it's versatile enough to take your designs to a whole new world where anything is possible.
It's perfect for flyers, posters, logos, social media graphics, and headlines. This adventurous font comes in both regular and outline styles, so you can mix and match as you please. Combine them for a touch of mystery and excitement that'll leave your audience spellbound!
7. Point Blank

Have you heard of Point Blank? It's a rad retro font that will transport you back to the groovy and funky styles of the '60s and '70s. The big, bold, and chubby letterforms are perfect for making a statement in your designs. Whether it's for a poster, logo, or product label, Point Blank will add a touch of that cool retro vibe you've been looking for.
8. Avalar
Avalar is an attention-grabbing serif display typeface. Unlike other fonts that try to stay quiet, Avalar is extroverted, lively, and bold. Create beautiful wedding invitations, magazines, books, packaging designs, websites, mobile apps, and logos.
This refreshing typeface comes in Bold and Regular styles. Pair it with cursive or sans serifs for interesting results. Play with sizes. Avalar is timeless – you can trust that it will look just as splendid today as it will be tomorrow.
9. Kulfi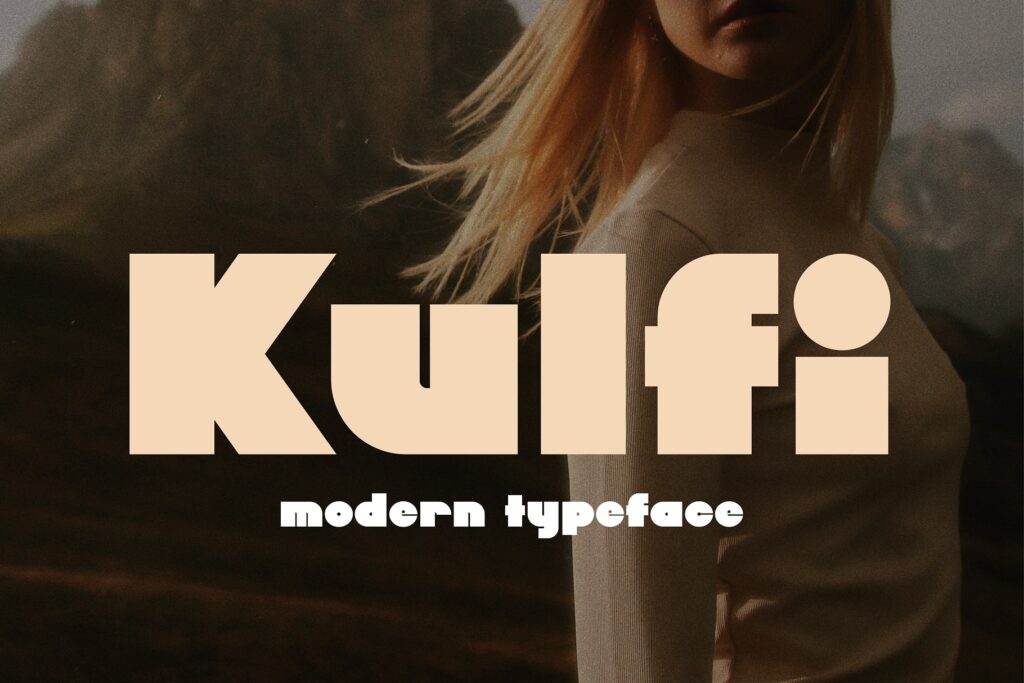 Looking for a juicy display font? There's no better option than Kulfi. This one-of-a-kind typeface features large, rounded geometric shapes and soft lines that are simply full of joy. Kulfi is ideal for playful projects like storybooks, packaging, branding, kiddy products, headlines, social media posts, and websites. Modern, animated, and fun – it's a must-have for every designer's toolbox!
10. Zilla 
Hey, check out Zilla – it's a cool and chunky font that's perfect for making your headlines, social media posts, and book covers stand out. It's got a fun and quirky vibe, and comes in two cool styles – Regular and Rounded – so you can choose what works best for your project. Whether you're going for a contemporary or retro look, Zilla's got you covered. Give it a try and see for yourself!
11. Helix
Helix is a single line display typeface. Its eye catching design is bound to grab attention and turn heads. You can use Helix for editorials, posters, headlines, social media, packaging, and more. The font is fully kerned and is ready to be used out the box. If you're looking for an uncommon geometric typeface then Helix is for you!
12. Spring Melody
Spring Melody is an elegant humanist typeface. Spring Melody has elegant curves, beautiful kerning, and sharp edges. The font is perfectly suitable for creating elegant, clean, retro design such as branding, packaging, social media, wedding invitation, advertising, editorials, and much more. If you're looking to create a sense of luxury in your designs, then Spring Melody is exactly what you've been looking for.
13. Dusty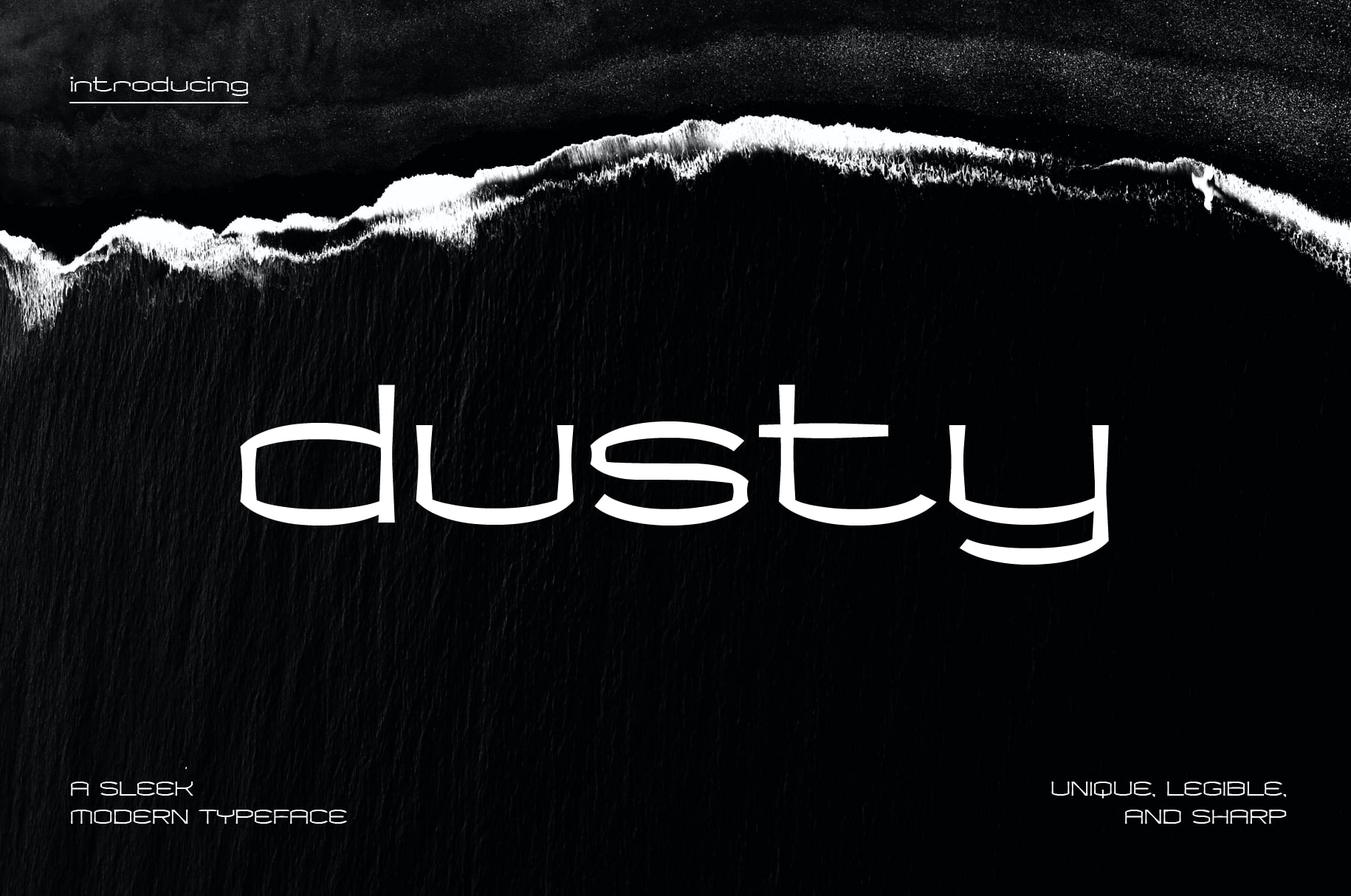 Dusty is a sleek modern display typeface perfect for high exposure without that unnecessary distraction. Its clean futuristic look is perfect for sci-fi, video games, sports, and technology themed projects. Dusty is intended to be used for headings,, branding, logos, wordmarks and other application rather than typing a body of text. If you need a head turning geometric display, then Dusty is for you.
14. Zuccini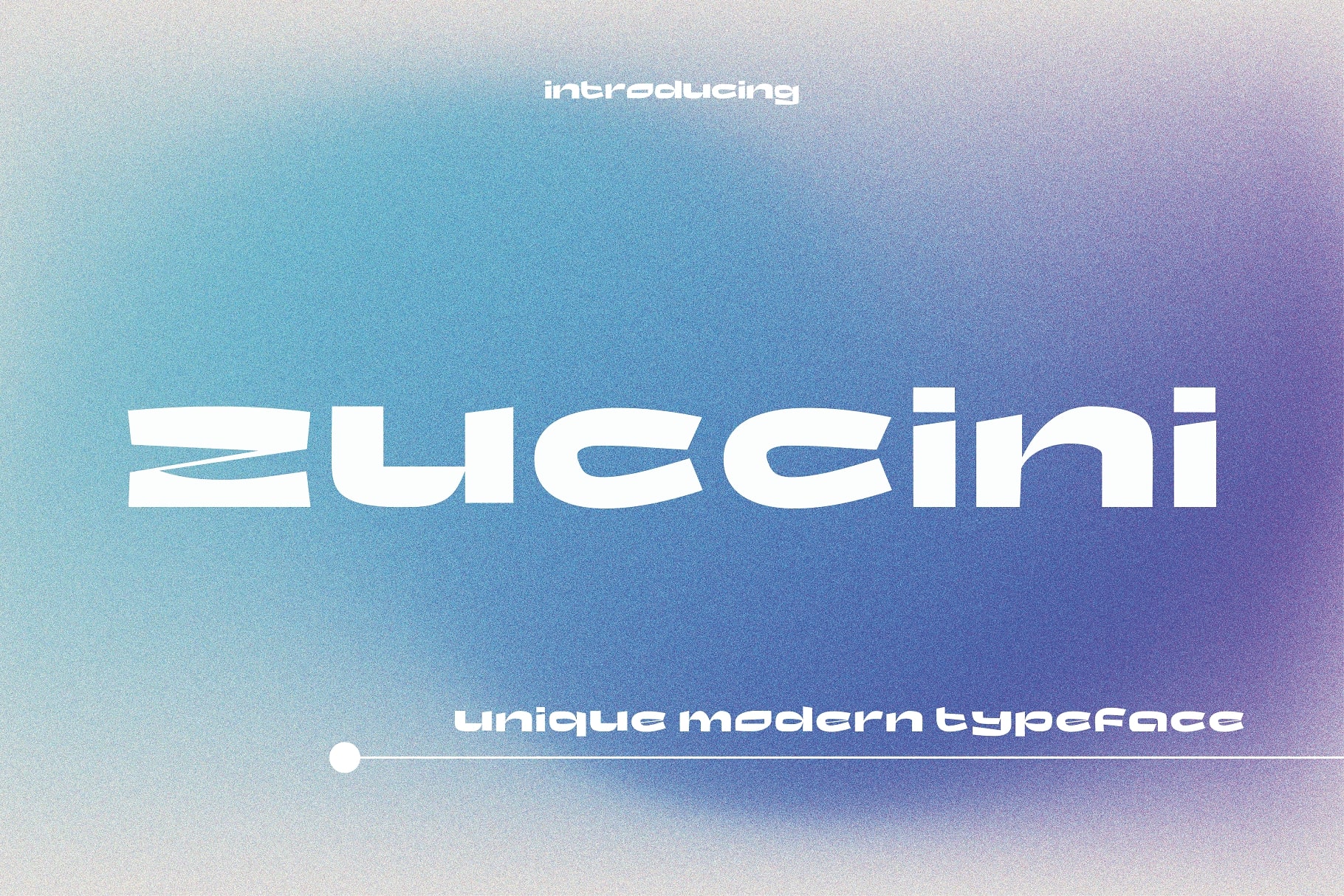 Zuccini is a unique modern typeface created especially for sleek/minimal design projects. This gorgeous font is perfect for magazines, branding, social media, youtube, packaging, fashion, posters, headlines, and much more. With stylish looks, Zuccini will make your designs stand out and get noticed.
15. Twinton
Twinton is a special font for modern designs. Its clean and minimal character is ideal for branding, headlines, fashion, thumbnails, social media, posters, covers, and pretty much anything you can think of. Twinton is designed for optimal legibility. Make a statement today with Twinton.
16. Munale Loird 
This display typeface is a little more subtle that the others on the list, but it works just as well to catch peoples attention. Ideal for logos, signage, and posters, you have a perfectly versatile typeface with Munale Loird. 
17. Aurora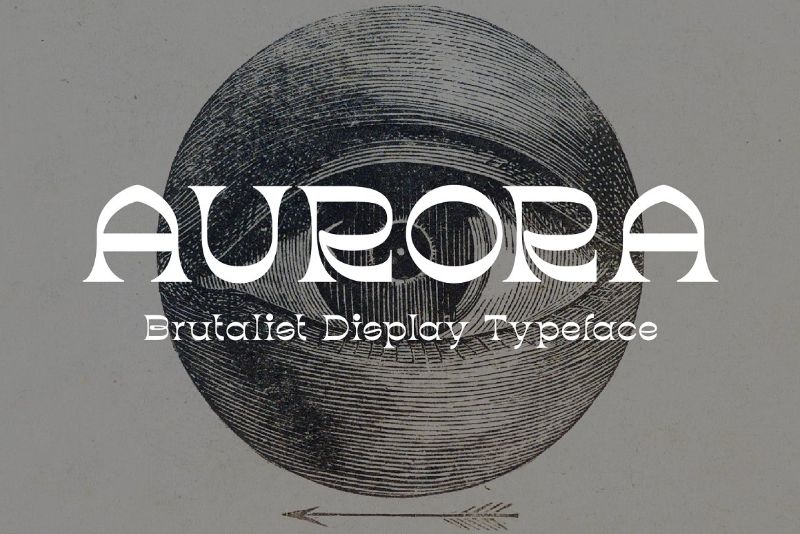 Versatile, abstract, and contemporary, this stunning display typeface comes  in upper and lowercase, both of which look great and are perfect for any design or any project. 
18. Peachy Fantasy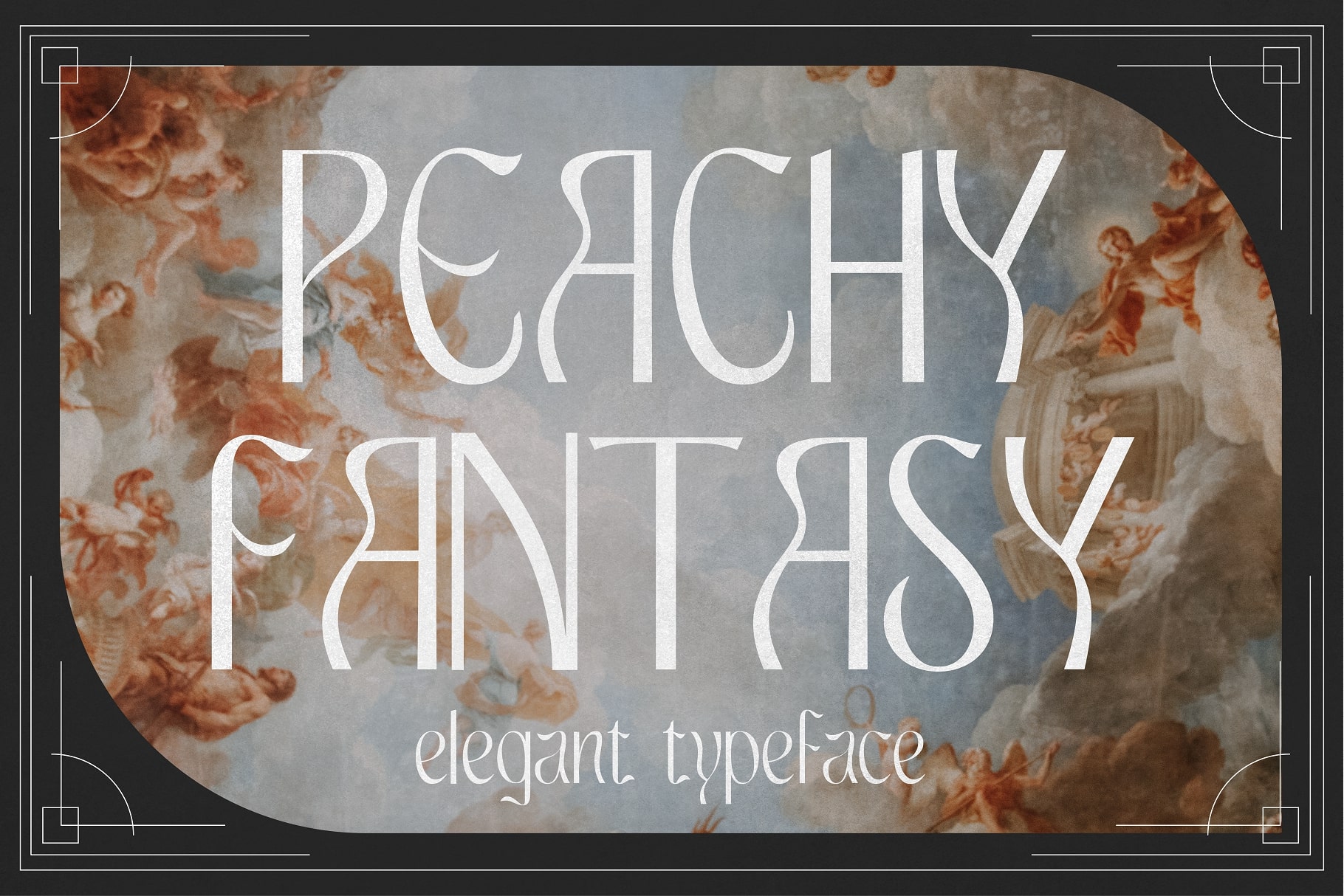 Peachy Fantasy is an Art Nouveau inspired typeface that evokes nostalgia. This typeface is ideal for a wide range of projects such as magazines, posters, branding, apparel, editorials, social media, packaging, advertisements, and much more. Each letter stands out on its own, giving your designs a touch of elegance and originality. If you're in the market for a modern typeface with vintage influences, then Peachy Fantasy is for you.
19. Calliga 
Calliga is a modern and elegant serif font. The font is modern and luxurious, and works great for logos, magazines, or social media designs. It has a classy and chic design that we feel is ideal for any type of display. 
20. Niran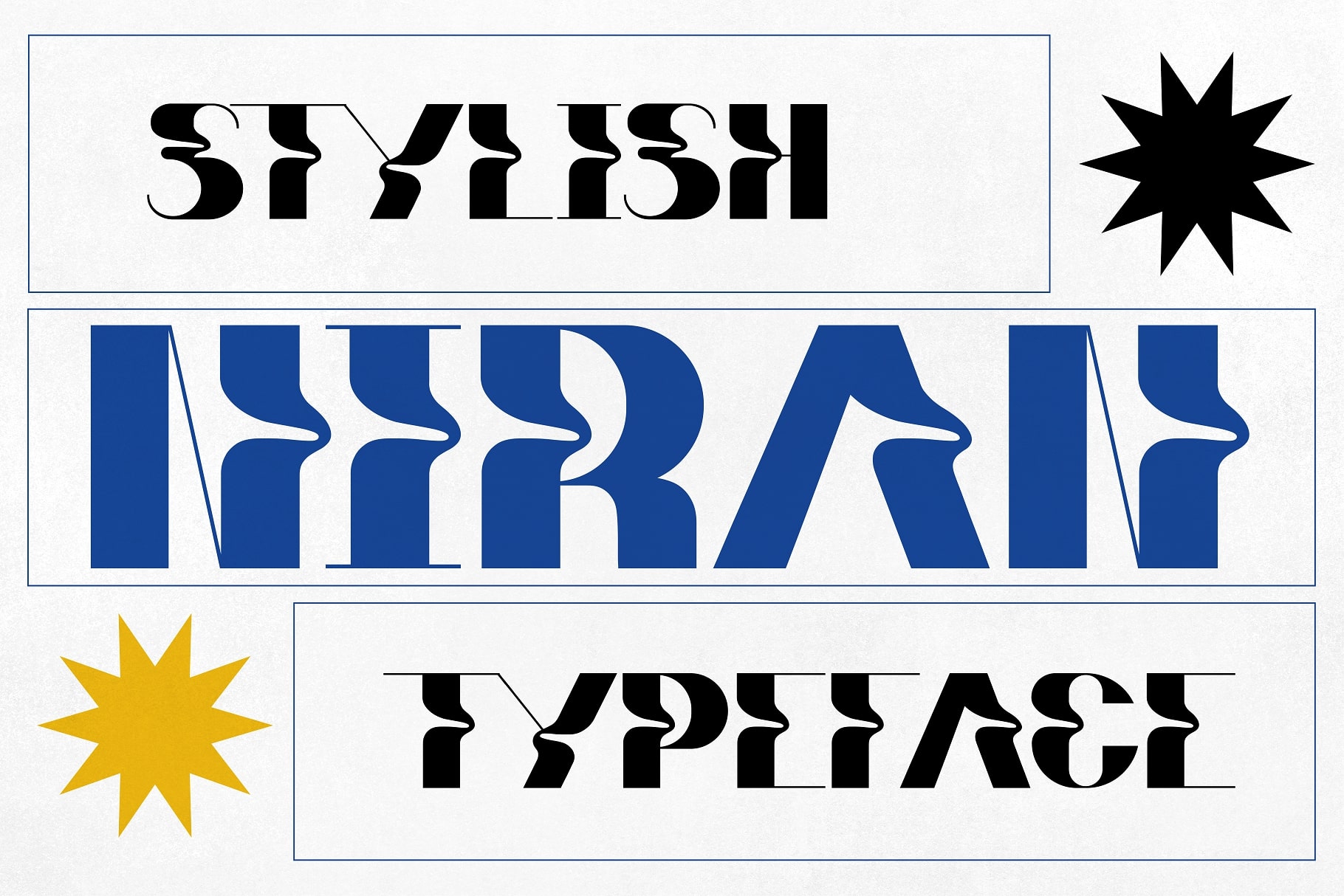 Niran is an experimental typeface with radical curves. Unique rippled lettering makes this font perfect for groovy posters, abstract logos, creative quotes, rad packaging, attention grabbing headlines, and much more. Niran mixes futurist letters with nostalgic curves, thus creating typography which stands out from the norm. If you're searching for an experimental font that breaks the rules, then look no further than Niran.
21. VARIEN 
Bold, brash, and easily legible, this stunning display font comes with 4 different weights and font styles so that you can use it for a variety of projects. 
Download Varien
22. Nectarine 
Bubbly, fun, and brimming with retro character, Nectarine is a perfect font if you are looking to add a little sass or fun to a display design. 
23. APPEARS
This font has neat and sleek letterform, make it looks great to be used for modern and minimalistic design theme. We love the versatility that the ligatures and alternates provide, and with the font being perfect for book covers, magazines, greetings cards, and logos, we are sure that you will find plenty of use for APPEARS. 
24. Kontesa 
Bold and versatile, KONTESA is not here to mess around! Available in a range of different styles and with a host of weights attached too, you can use KONTESA for any display that you wish. 
25. Goversy 
This decorative display font is ideal for any sciency related projects as evidenced by the template image, but feel free to spice up any display design with this awesome and modern font. 
26. Exciting Display Font 
The name is a little ironic, because as far as the font goes, there is nothing too exciting about it. However, what we love about the design is its class and its simplicity. 
27. Verona 
This, light, and classy in its design, Verona is perfect for a more subtle display look. 
28. The Junos Display Font 
This Junos font is just pure fun. It is quirky and a little unpredictable in its design, and that is what we love. A great choice for any project or display. 
29. Megar 
Funky, fresh, and versatile, this font comes in two different styles and is perfect for your display, regardless of the theme or occasion. 
30. CURTAIN 
Perfect for a range of design concepts and ideas, CURTAIN comes with OTF and TTF files for editing, and it contains standard characters, Lowercase, Uppercase, numbers, punctuation, ligatures and international glyphs. 
31. Carters 
Simple and effective. Sometimes you don't need fancy brush strokes, swashes, or ligatures to create a memorable display, and this Carters font is proof of that. 
32. Zighead
Quirky and fun, this retro display typeface is ideal for informal display designs and will be sure to attract attention to your project or promotion. 
33. Glofters
This blackletter rock-style display typeface is unique in that it adds a little bit of an edge to any design that it is a pert of. The font package comes with OTF and TTF files, and you can make use of the various ligatures and alternates available too. 
34. Croster 
Simple, elegant, and modern, this typeface comes with upper and lowercase characters, numersla, punctuation, and multilingual support. A versatile, legible, and easy to use typeface. 
35. Sommar Display Font 
A super long and strong compressed font, Sommar is supported by a range of languages and is perfect for logos, posters, merchandise, or headings and titles. 
36. MOUNTIES 
The sleek and neat formation of the lettering with Mounties add a layer of sophistication and style to its design. 
37. Nicholas Display

Beautifully balanced, this Nicholas font is versatile, easy on the eyes, and super modern. 
38. Central Display
The name says it all. This font is all about giving you the most effective display possible, and with the package coming with OTF, TTF, and WEBFONT files that are easy to edit and apply to your project, using it is a no brainer. 
39. Pairich Display
There are real 90s vibes to this typeface that we think make it so much fun! Ideal for a 90s themed display, or a promotion that is all about having fun or partying, you will certainly see benefits to using this awesome design. 
40. Decohead Display
There is a definite 1920s Great Gatsby vibe to this font that we love. Elegant, classy, and effective, it is an ideal display font for an upper class event. 
41. Stigsa Display
Thin and stylish in its design, this font type is ideal for posters and magazines. 
42. Kinsale Display 
There are a range of modern and classic elements that combine in this typeface to create a quirky and bold fusion that is perfect for a range of design ideas and concepts. 
43. Turesco Display 
Turesco Display is a display typeface with unique letterform. What we like about this design is that you can use it for vintage designs, or more modern projects. 
44. Arkibal Display
With 12 different weights attached, this display font is truly multipurpose. The package also includes multilingual alternatives, ligatures, and alternatives. 
45. SA Woodland Hills
Introducing SA Woodland Hills – a clean, elegant, modern typeface that you can use in packaging or branding, creating beautiful logos, headlines, quotes and any other printed matter.
46. Blandit
Minimal, bold, and effective, this design is great not only for displays, but for titles, headlines, posters, banners, and wordmarks. 
47. Derphace
This retro and vintage display font is perfect for posters, logos, and labels or badges. Download it and utilize the typeface for any design of your choice. 
48. Colores Font Duo 
It doesn't get any more unique than this right here. With Colores, you can combine the filled and the hollow variations to create something unique ad exciting. A fun and whimsical display font, you wont be disappointed. 
49. Sirkle

Sirkle is a semi-serif typeface for display, constructed with sharp and curvy characters. The font has a bit of bite to it which we think makes it stand out from man of the others on the list. Unique, modern, and attractive, we love this font design. 
50. Geakosa 
This condensed sans serif font is made to stand out and that is exactly what it does. Perfect for headings, posters, or flyers, you can proudly display any project with this modern font. 
51. Malidore
Malidore is a soft round sans serif display font. With regular round edges, fun character, and a whole lot of versatility. 
52. Florenia Beautiful Display Serif 
There is a stunning elegance to this design that makes it perfect for a range of different displays. 
53. Sernes 
With a host of different weights, ligatures, and alternates included in this versatile and comprehensive font package, we have no doubt that you will be more than happy with this Sernes sans serif font and its ease of use.