Last Updated on June 10, 2022
Whether it's in design or real life, people would always want to test their limits. Breaking through glass ceilings, crossing fine lines, pushing past obstacles – it's a deep yearning to know what's out there, what could be, and if you could make something out of nothing.
The allure of futuristic concepts then, goes well beyond shiny gizmos. When people mean 'the future', they usually mean the question 'what is tomorrow going to be like'? Hence, themes like science fiction were born.
Want to imbue your works with the mystery of the unknown? No need to explore space for that. Instead, delve deep into this wonderful collection of futuristic fonts you can quickly add to any of your projects.
Cutting-Edge Futuristic Fonts
1. Breymont
Minimalist, elegant, and exquisite Breymont is an all-caps, futuristic font that feels modern, minimalist, and quite unorthodox.
2. Dreamscape
Dreamscape is a futuristic font inspired by sci-fi and future style. Suitable for a headline, poster, t-shirt, album, or movie cover.
3. Lunar Eclipse
Lunar Eclipse is a bold and stunning futuristic font duo that is both clean and edgy! The characters naturally lend themselves to drawing the reader in while giving it an eye-popping aesthetic.
4. Primal
Primal is a futuristic font inspired by old sci-fi horror movies. Looks especially fantastic with wide spacing in titles. Includes multilingual support, alternates, and extras.
5. RAXTOR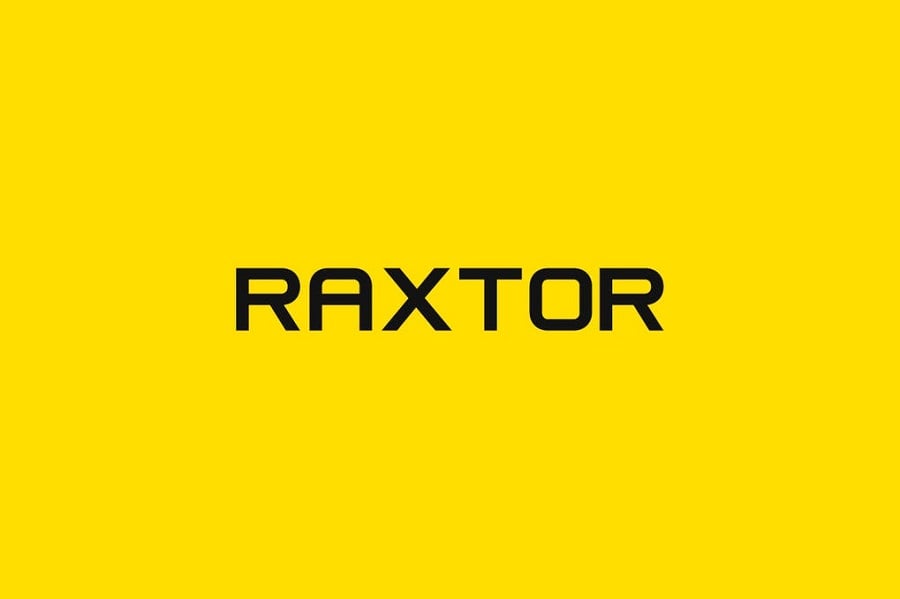 Give your logos, headlines, and promotional materials a fresh take using this display typeface by Designova.
6. Garde
Whether for fashion or for corporate purposes, this stylish futuristic font from Sentavio will surely deliver on aesthetics and function.
7. United Kingdom
The unexpected corners and consistent line weight of this all-caps display font by Sharkshock will surprise and delight you. Not recommended for body text – but looks amazing on titles and headlines.
8. Zonex
Believe it or not, this avant-garde sans serif by Linecreative works well for almost any theme – be it set in space or on land, for music, travel, sports, for use in architecture, or even abstract art.
9. Marcoley
Who knew that a curved line could inspire such a bold, brave, and cheeky font? This clean and dynamic typeface by Aarley Kaiven will definitely bring your projects on a whole different level.
10. Modeka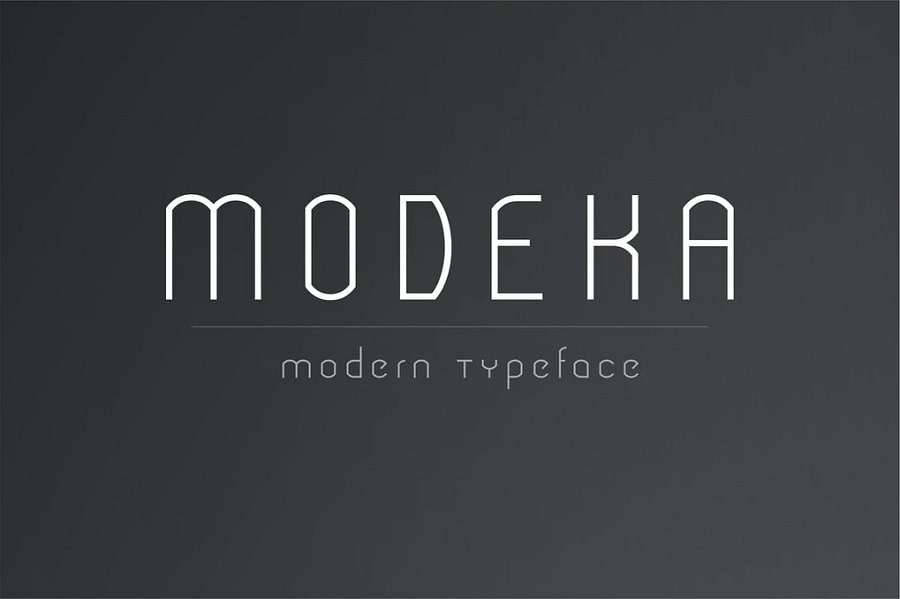 They say there's beauty in simplicity. If that were true, then this elegant sans serif by Wild Ones is the epitome of magnificence.
11. KIONA
Corslu gives you this minimal, geometric, and fresh all-caps serif with crisp edges and modern touches. It comes in 4 weights: Bold, Light, Regular, and Semibold.
12. Ichiji
When you have a versatile font duo like this set from Factory738, you know you're prepared for any mission – be it for editorials, logos, branding, apparel, or DIY.
13. Astro
Looking for the perfect font for your sci-fi novel, science convention banner, or indie film? Then look no further than this layered typeface from Drizy Studio. With robotic, geometric, and 3D effects, plus 4 smart layers, it's a sure win!
14. Herlik
This elegant serif by Muntab Art can quickly shift from sci-fi to fashion, sporty to gastronomy themes in minutes.
15. Fauna
Inspired by hi-fi elements, this stylish font by Taras Pasternak gives you square forms and straight lines, with solid, austere shapes in a clear, recognizable design.
16. Evalter
Enter a modern world of your own devise with this modern sans that suits all kinds of projects: from posters, web design, branding, to movie titles, badges, and even logotypes.
17. Scarlex
Scarlex is a unique display typeface that looks retro, modern, and futuristic all at the same time. It was inspired by science fiction movies and books from the 1960s. The font is perfect for science research posters, movies, posters, branding labels, automotive type design, t-shirts, branding, book covers, and more. If you're looking to infuse your design project with some personality, then Scarlex should definitely be on your radar.
18. Azerty – Experimental Typeface
Azerty is an experimental typeface meant to brake all the rules. This font will encourage you to change your perspective and see reality in a new light. It will inspire you to create and push the boundaries of experimental and futuristic designs. Enjoy!
19. Akido Logotype
Crafted by Alexandru Molnar, this edgy typeface can fit any project – from architecture to science fiction. Plus, you get a lovely vintage badge for personal or commercial uses.
20. Arlon Family
Make it worth your while with just a single download with this offer from Marc Lohner. Not only will you get a cool font with 9 weights, you will also receive stylistic alternates, ligatures, arbitrary fractions, automatic arrows, lots of numerical variations, and more.
21. Orion Display Font
Inspired by Gotham, this minimalist geometric typeface by Glyph44 comes in Regular and Bold to help you make stunning monograms, posters, logos, headlines, and invitations.
22. Denzel Font
Created by Oleg Urazovsky, this heavy typeface will look great on titles and logos. Simply change the text colors, or experiment with gradient or texture overlays for unique effects.
23. Halcyon Typeface
Make your futuristic ideas come to life with this tall, rounded font from Tugcu Design Co.. Available in Regular and Bold, it's the small step you want to take for that big impact.
24. ELEVEN
This sans serif by The Routine Creative is sleek and bold in any size. This makes it perfect for contemporary, sci-fi, or even fashion themes.
25. BOYA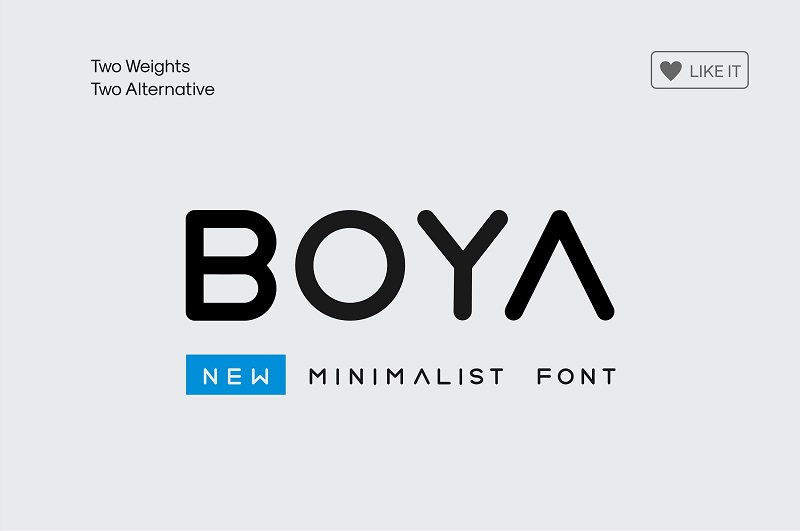 This rounded font by Aan Kurniawan is a fun minimalist typography with an ultramodern twist. With 4 styles to choose from, it stays legible – even in small sizes as body copy for websites or editorials.
26. Helios Typeface
Give your audiences a glimpse of the future with this futuristic font that looks amazing on headlines, posters, book covers, or magazines. Simply toggle the Caps Lock to see additional alternate versions.
27. Hermes Font
Make your projects powerful and exciting with this striking typeface by AL. Combine the upper and lowercase characters to create a customized effect that's sharp and strong.
28. Gore Typeface
You know what they say – go big, or go home. And this font says all that and more with its Regular and Rough versions, each just as powerful with no curves for a truly bold look.
29. Robodron Font
Sentavio proudly presents the future in this beautifully sleek typeface in 3 styles: Regular, Bold, and Rounded. It's ideal for both print and digital projects.
30. Hyperion Typeface
This futuristic font in 3 weights comes with custom ligatures, as well as alternate characters you can access by toggling the Caps Lock.
31. LineTech
Explore possibilities when you use this unique linear font from Sentavio. Available in 3 weights, it's recommended for making contemporary monograms, sci-fi posters, and tech-related projects.
32. Ykar
Inspired by geometric shapes, Emmeran Richard proudly presents to you this all-caps sans serif that's as unique as your imagination. Discover what you can create using the sharp characters of this typeface.
33. Equinox Typeface
Give your ideas shape using this versatile font family in Regular and Bold. Ideal for sci-fi and space designs, you can also apply this on adventure, branding, or music themes.
34. Orborn
This retro typeface by LogoBuy keeps to the proportions of a circle to give it that unique rounded shape. Surprisingly, it remains readable even in small sizes, making it one of the most practical fonts in your toolkit.
35. Solaris
If space could be represented in beautiful typography, this would be it. Highly modern and maybe a bit alien in concept, it's a joy to use and to behold.
36. Centauri
Don't be afraid to go deep into the unknown when you have a trusty typography partner in the form of this revolutionary font with minimalist, wide letters. Designed by Tugcu Design Co..
37. ATELA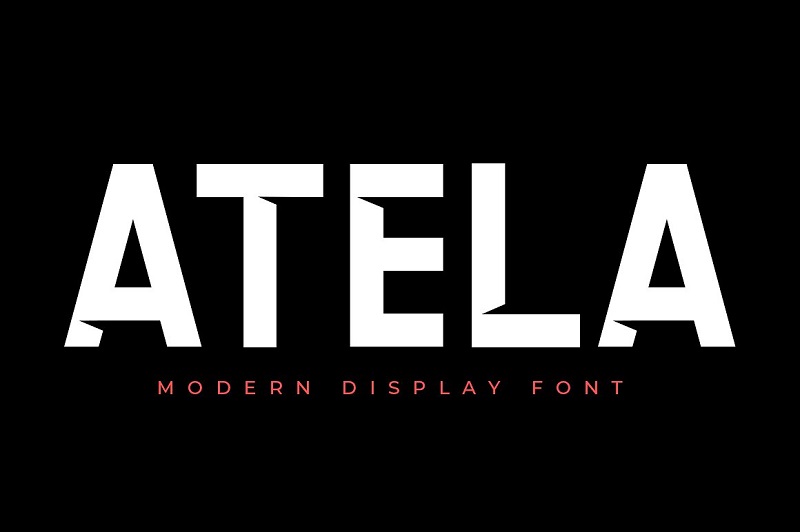 Add a subtle edge to your designs with this gem from Eldertype Studio. This bold sans serif can be used for any concept – from sci-fi, music, adventure, to branding, print, or website.
38. Croogla 4F Regular
Sergiy Tkachenko proudly presents this display typeface with techno touches. With Cyrillic characters, as well as stylistic sets and alternates, this is one font that's both fun yet highly functional.
39. Exodar
Available in Regular and Outline, this modern typeface is everything you'll want for all your sci-fi needs. Created by Rometheme, it will look amazing on posters, flyers, CD covers, headlines, magazines, ads, and more.
40. Krypto
Keep your audiences guessing in this ultra modern sans serif by Studio One Four. Featuring two versions, one with rounded geometric shapes, it's ideal for movie posters with futuristic or suspense concepts.
41. Produk
Simple but full of character, Spence Type brings to you this techno display font with linear lettering that can be used in both print or web design.
42. Mensura Font Family
This pack by Graviton Font Foundry comes in 8 styles and 4 weights (with italics) for making anything from headlines to short body copy. The slight rounded angles provide a soft touch, while the thin lines suggest a more contemporary feel.
43. Aguda Font Family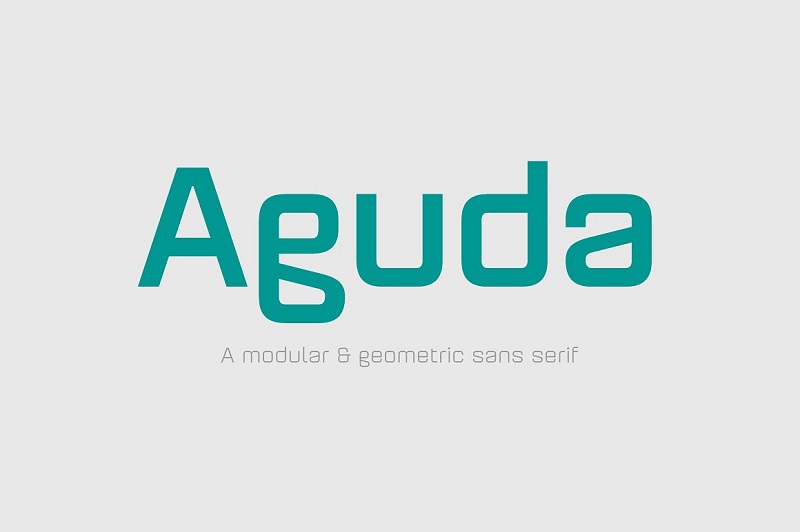 Often, the most unassuming things are the most practical. Like this modular font family for instance, that can go from thin to bold in seconds, thanks to its 8 styles that are designer-friendly.
44. Mbf Acorne 
Acorne is a super-cool geometric sans serif font that combines both rounded and sharp edges to provide a perfect futuristic combination font. Perfect for a range of designs, this font is smooth, classy, and clean, and will add a pop of style to your project instantly. 
45. Mbf Mechania 
A stunning geometric sans serif font package, this awesome design is suited perfectly for a range of fun, modern, and exciting projects that are just waiting to be promoted. Prove that your company or brand is the future with this awesome font.