Whether it's the wind in your hair or simply a change in scenery, people have been on the move since forever. From race tracks to plane flights, there's this feeling of wanting to break limits.
Humans are particularly creative. If you can't get to where you want to be, one can always imagine. Posters, magazine cut-outs, or even inspirational messages serve as motivation until you can spread your wings.
You'll be surprised how simple images and text can evoke feelings of freedom, movement, or even adrenaline rush. Need proof? Here are some racing fonts to get your creativity from point A to B.
Cool Racing Fonts
1. Synthetika
If you're on the hunt for an ultramodern font that can help you achieve a seamless futuristic look, then look no further than Synthetika. With its wide spacing and blocky shape, it's a great choice for a range of creative projects, from game covers and dystopian-themed films to fitness posters and more.
The geometric shapes of Synthetika create a bold and commanding presence that exudes confidence and strength. Its clean and slightly blocky style is perfect for cutting-edge and forward-looking designs. Whether you're developing a modern website for a client or you need a fresh font for an indie game, Synthetika is an ideal choice that won't disappoint.
2. Overdrive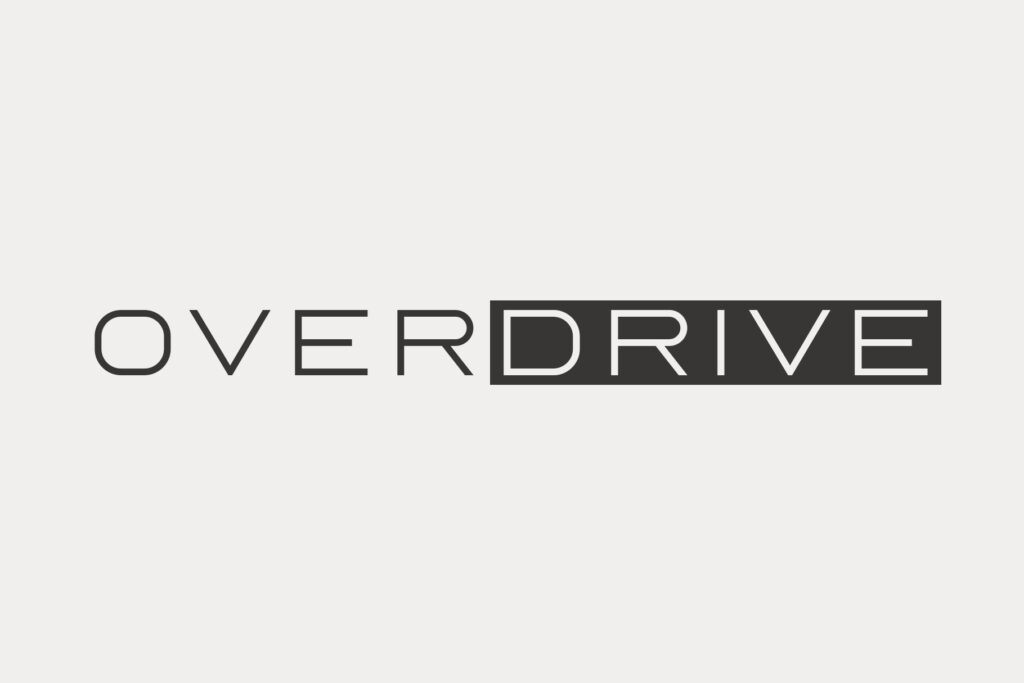 Overdrive is an elegant typeface inspired by Italian racing and automobile industry. This wide typeface is designed for sheer elegance and stylish experience. Overdrive is perfect for creating stunning logotypes, gripping headlines, memorable presentations, and edgy adverts.
3. Pulse
Pulse is a racing font that displays boldness, showmanship, and speed. Pulse typeface is versatile and perfect for any design including logos, flyers, posters, headlines, sports, video editing and much more. Possibilities are endless.
4. Dozer
How does Dozer compare to other bold fonts? With its thick, blocky letters and strong masculine lines, this typeface is designed to exude power and spirit. It's perfect for projects that require a bit of tenacity and lots of creativity, like posters, logos, and branding materials. Dozer is a robust and powerful font that commands attention and makes a strong statement.
5. Mammoth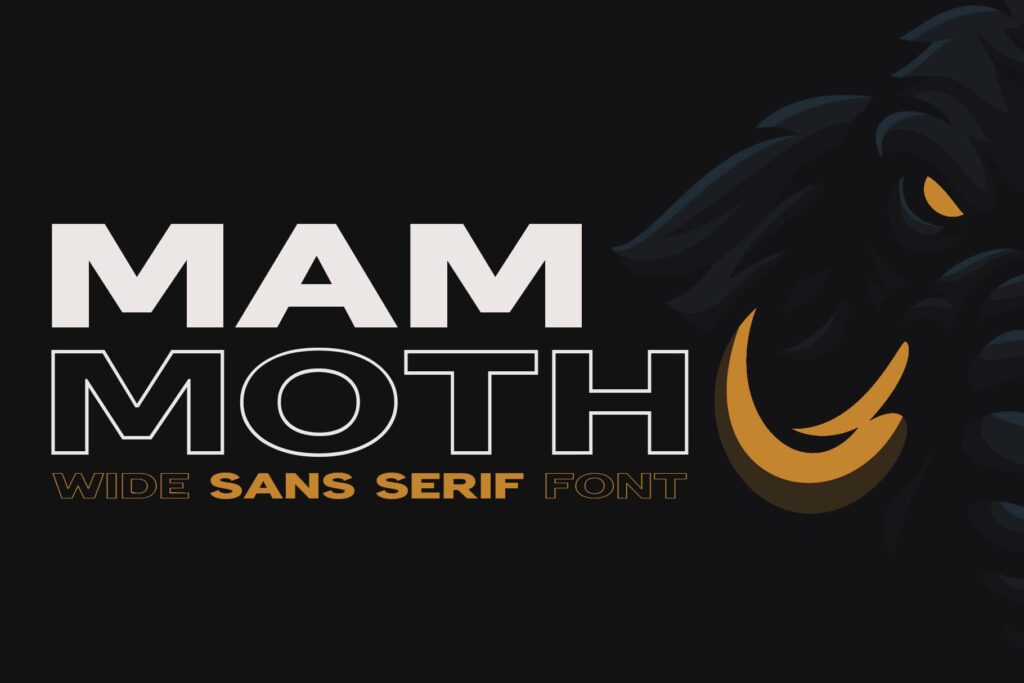 Mammoth is a wide sans serif typeface ready to push the boundaries in your designs. Thanks to its modern look you can use it for any project that requires a bold, clear statement.
You can use it for numerous projects like fashion, magazines, logo, branding, photography, invitations, wedding invitation, quotes, blog header, poster, advertisements, postcard, book, websites, etc. This download includes regular and outline versions as well as lowercase letters for each. You can mix and match the outline and regular version to come up with unique designs.
6. Klutch
Klutch is a beautiful racing themed typeface. It's ideal for sports headlines, editorials, racing posters, esports, branding, website design, advertising and much more. If you're looking for a beautiful typeface that creates the effect of power and speed, then Klutch is for you.
7. Nero
Nero is an ultra wide typeface that's sleek and modern. The font is fairly legible in all sizes, but works best when the letters are large. Nero is ideal for packaging, posters, sports, advertising, editorials, social media, Youtube thumbnails, and more. If you're looking for a stylish new font for your design toolbox, then Nero will make a perfect addition.
8. Rockrace Font Family
This font family from Arterfak Project contains 9 different styles – from Normal, Outlined, to Techno – to ensure you will have endless uses for it time and again. The set includes upper and lowercase characters, punctuations, symbols, as well as basic international language.
9. DRIVER
Make comics come to life in this hand-drawn typographic pack from Vintage Voyage D.S.. With 5 unique fonts, you'll be elevating those postcards, posters, comic books, and shirt designs to new heights!
10. Terrabyte Font
Terrabyte is a stylish and futuristic all caps display racing font best for sports, automotive, racing, or future technology concept design.
11. Fast Track
Don't let this amazing typeface pass you by! Designed by Build Interactive, it has 'speed' motifs to help you create the perfect travel, adventure, and racing artworks in just several clicks.
12. Turismo CF
Clean, sleek, and ultra modern, this gem from Connary Fagen comes in 7 practical weights that you can use for both vintage and contemporary works. Latin and Cyrillic alphabets included.
13. Bhejeuct Gash Typeface
This is the kind of urban font that's born to stand out – even among the toughest audiences. Designed by Inu Mocca, use it on rally art, city themes, or modern projects.
Download Bhejeuct Gash Typeface
14. Scripter
This geometric typeface by Sanborne that somewhat resembles a script is best used for logos, posters, and signage with motor or automotive themes.
15. Lustra Family
Influenced by HYUNDAI letter styling, this font bundle by GRYPE has 8 weights to provide a wide range of solutions for your branding issues. So if you're in the automotive, industrial, or racing field, this pack is a true must-have.
16. Octuple Max
Fernando Haro proudly presents this geometric typeface with proportions and measures that are multiples of the number eight. Totally unique and beautiful, it comes in 2 variants – Solid and Shadow – that are compatible with Photoshop, Illustrator, QuarkXpress, as well as Indesign.
17. Flighter Font
Feel like a high-class traveler of the 50s in this exciting font created by Måns Grebäck. Simple yet fascinating, it looks great on posters, cards, invitations, ads, labels, shirt designs, brochures, and more.
18. Weekend Warrior
Designed for the weekend warrior, this sans serif from Themesmile is all about sharpness and strength. It comes in two styles – Regular and Italic – that look best in adventure, sci-fi, sports, and automotive themes.
19. Krunch Font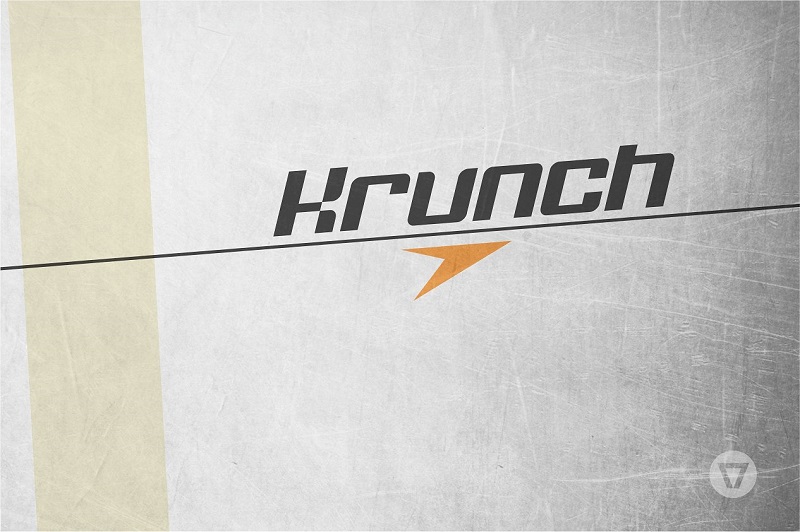 Whether you're working on tech or modern projects, this typeface featuring 187 glyphs and 2 styles is just what you need to add the ideal urban feel to posters, book covers, branding, and apparel designs.
20. Hermes Font
Instantly add power and movement to your ideas in this 80s-inspired typeface by AL. Pro tip – combine upper and lowercase characters to create interesting results! Use in gaming, racing, tech, automotive, futuristic, or retro themes.
21. KVC Brute
Get this highly versatile typeface from Kyle Van Cleave that comes in 2 lovely styles – Brute and Speed. One is for heavy-duty labor, while the other is for aggressive, in-your-face presentations.
22. Drift Typeface
Derick Smith proudly presents this bold font inspired by drift racing in Japan. Beautiful, sleek, and angled to perfection, feel free to use it on futuristic or gaming designs.
23. Headline Design Font
Imagine geometric angles smoothened out to reveal soft curves on a slightly tilted lettering. That's the stability and power offered to you by Yehor Lisnyi in this modern typeface that commands attention in headlines, titles, posters, logos, and monograms.
24. Sport Font
With sharp, angled serifs and an intentional tilt, this gem will look even more stunning when paired with metallic gradient colors that highlight its masculinity.
25. LE MANS
Inspired by vintage motorsport racing posters from the 70s, the clean, classic lines of this typeface is quickly reminiscent of the oldest active sports car race – the 24 Hours of Le Mans. Get a similar effect when you use this font.
26. Reckless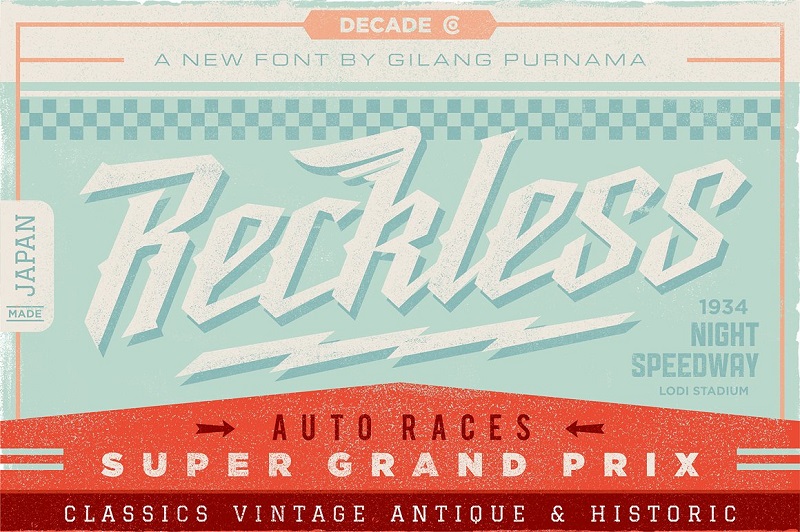 A combination of geometric shapes and a blackletter feel, this gem from Spencer & Sons Co. calls to mind the booming car industry in Detroit. Relive the nostalgia whenever you use this on posters, labels, cards, logos, and more!
27. TT Supermolot
Looking for the most versatile typeface for your toolkit? Then grab this font family by TypeType. With 5 weights and 5 italics, as well as more than 415 glyphs and support for 70+ languages, this is one pack that can go from sci-fi to vintage in minutes!
28. Coltrane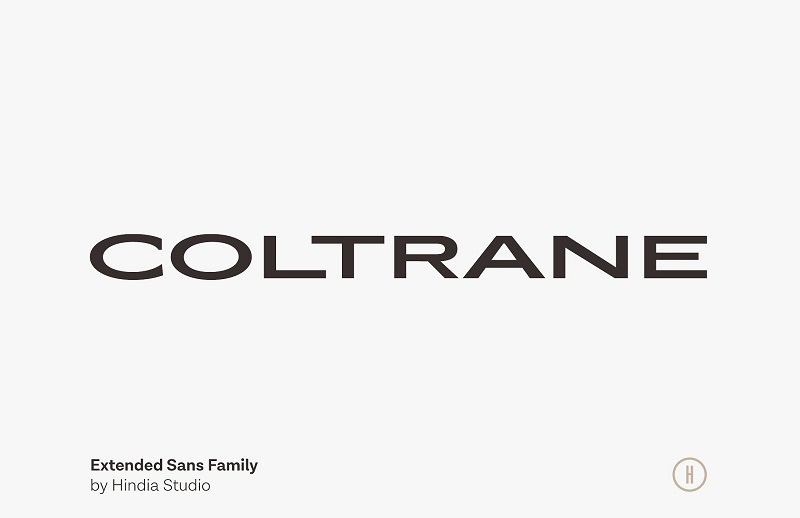 Inspired by sports car ads in the 70s, this sans family from Hindia Studio includes 6 weights (with Italics) as well as multilingual characters, and web font formats.
29. Moge Logo Font
Use this custom font by Banyumili Studio for all your vintage projects and logo needs. The pack also comes with a special Barbershop typeface to help you create rustic looks in minutes.
30. Monako
KAZER STUDIO proudly presents this font reminiscent of 70s motorsport posters. With 3 weights (Regular, Semibold, and Bold) to choose from, it's a great mainstay in any designer's toolkit.
31. Widebody Sans
Create a huge impact immediately with the right choice of font – such as this one by Corey Moen. This extra wide sans is not only impactful, it's also ready to go from digital to print whenever you need it.
32. CA Spy Royal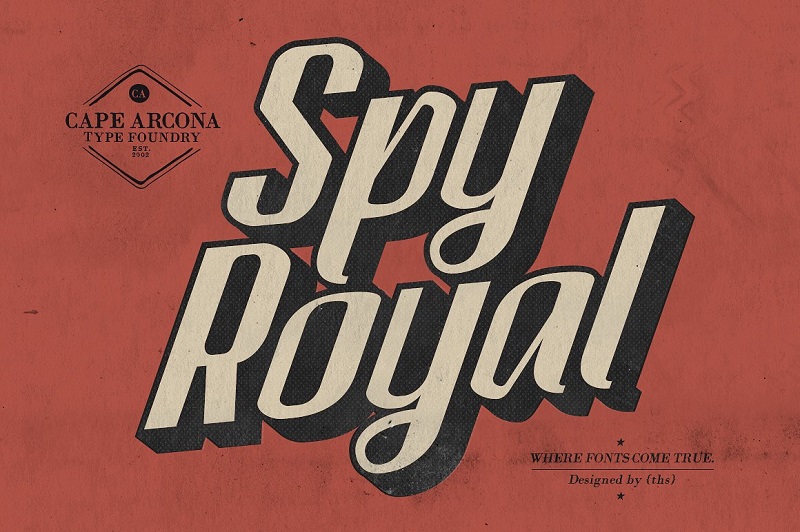 Looking to improve your travel, motorsports, retro, or racing projects? Then this gem from Cape Arcona Type Foundry is perfect for you. Featuring 6 styles (including Shadow, Shadow Line, and Shadow Fill) you can layer onto one another, it's a charming addition into any work in progress.
33. CA Magic Hour
Inspired by the fastest passenger plane of the 70s, let this italic sans bring back a time when you can fly from Paris to New York in less than four hours! Speedy, heavy, and linear, it's the perfect travel typeface for retro lovers.