Last Updated on January 21, 2022
Depending on where you are, graffiti can either be legal or illegal. But one thing's for sure: they are as varied as they are captivating. Some are mostly just words, scribbled using thick, bold fonts that artists usually just make up on the spot. While others are more complex: with symbols and illustrations designed to convey a message to the public.
For years, graffiti has been its own art form. It could mean many things; from freedom, non-conformity, rebellion, to independence. But at the same time, they could also mean absolutely nothing and just be a by-product of the artist's audacity.
Thanks to their unique and edgy looks however, graffiti is sure to stay (even if some folks would disagree). Capture the essence of this street art when you use any of these bold graffiti fonts:
Bold Graffiti Fonts
1. Stencil Autobahn
Autobahn is a bold display stencil graffiti font that has a monumental amount of spray paint detail that blows the traditional vector fonts out of the water.
2. Mind The Gap
Mind The Gap is a graffiti font that was created by hand cutting letter stencils and spraying them with black paint. Includes stylistic alternatives, glyphs, and multilingual support.
3. Late Night Textured Brush Font
Make the night come alive in your artworks when you use this hand-painted brush font by Think Make Design. This set also comes with extra glyphs so you can create new looks in no time at all. It's ideal for posters, custom logos, and social media promotions.
Download Late Night Textured Brush Font
4. Cakra Script
Edgy can also be fun. Just let this bold script typeface from khurasan prove it. With beautiful stylistic alternates and a bonus Mak Dah Script (that looks more handwritten and comes in thinner strokes), this is a deal you can't miss.
5. Messy Script
Create something more personal when you add this hand-drawn typeface to your toolkit. Presenting a modern font by maghrib, it has lots of character to give whatever it is you're working on a beautifully messy, retro vibe.
6. Pantel Rough
This little gem designed by maghrib is meant to give your projects that custom hand-lettering look. With stylistic alternates for key lowercase letters, it's great for digital branding, logos, posters, or even print materials like apparel.
7. Billy Ohio Typeface
Hand-drawn typefaces are perfect if you want to convey action or movement. So be sure you download this font with a fast dry brush style by alit design. It will look stunning not only on graffiti projects, but also for artwork that needs a sporty, yet classy vibe.
8. Fresh Script
Personalize anything and everything with this stylish font featuring sharp, flowing lines. Created by Sam Parrett, these characters were designed to lend a custom hand-lettering appeal to your projects.
9. Thang
When it comes to choosing fonts, it's best to be streetwise. So when confronted by an awesome script family that includes three weights, plus lots of extras (glyphs, ligatures, swashes, stylistic and titling alternates, etc.), don't let it go. Download this one by Fenotype.
10. Light Butterfly
This modern typeface by Arman Chairanza, or individuel, gives off that distinctive hand-lettering feel without the hassle. It's definitely a great addition to any toolkit, especially when making logos, posters, invitations, quotes, website headlines, and more.
11. Pincel
Inspired by calligraphy, Danilo Bretas – also known as angrydubs – takes paintbrushes and transforms their result into this unique typeface with narrow characters and lots of possibilities. Use it for all kinds of artworks, like street art, edgy, grunge, or spooky themes.
12. Grafter
Create something beautiful using this clean, but fun typeface by freelance designer, Agung Syaifudin (vuuuds). Featuring thick letters, this modern script display font will be amazing in both digital or print projects.
13. FAT BOY
Want to challenge yourself to do something different today? This decorative font from alekseiderin should motivate you to get started. With a cut-out feel to it, the set includes colored fonts in three styles, as well as punctuations, symbols, and numbers!
14. Network Fonts and Extras
Stand out from everyone else when you use this fluid yet stable font by Yasir Ekinci. Made to be built the way you like it, this set has plenty of alternates, swashes, and extras to add movement and bring individuality to your design.
15. Harley Style
Elegant, yet vintage at the same time, this offering from Hotlinesupply.co lets you be playful while still being on point. Turn any project into a work of art by simply mixing the lower and uppercase letters of this beautiful brush font.
16. Street Tag Vol1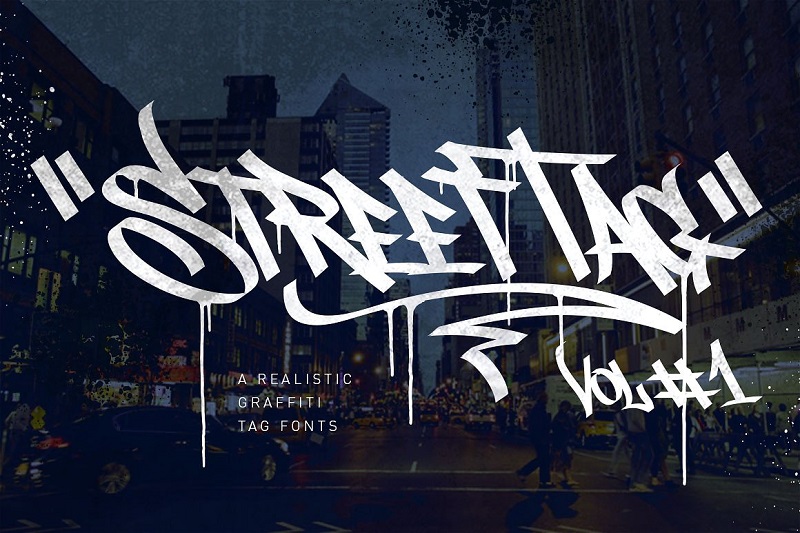 Take inspiration from the streets, just like tomatstudio, when he designed this amazing font. This set was inspired by urban street art from Jakarta. Create realistic graffiti effects by combining the upper and lowercase letters, along with vector drips and lines.
What do you think? Are YOU ready to give your projects that edgy, gritty look? Then take these amazing graffiti fonts out for a spin!