Last Updated on October 18, 2020
When you want to immortalize something, a tattoo is usually one of the best things to help you achieve that. Thanks to newer technology, you can have all kinds of designs now, too. You can pick from large, colorful masterpieces, to smaller, minimal numbers. The only dilemma is choosing the best artwork to forever ink on your skin.
Need some quick inspiration? Look no further than this collection of the coolest tattoo fonts.
25 Tattoo Fonts
1. Reditum
This gem from Mans Greback keeps it simple yet stylish. With multilingual support and a large number of special characters, it's definitely a keeper.
2. Foxtrot Typeface
Only high-class quality deserves to be on the top shelf. Kind of like this wonder from BlackBird Foundry – with 3 modes to suit any occasion, it's a typeface for every discerning taste.
3. Phoenix Gothic Font
Blackletter never looked as good as this font from NREY. Use it for branding, social media, personal, or commercial projects.
4. Sunset Road Typeface
This modern blackletter lowercase typeface combines the best of old-world style with readability that looks great on any and all projects.
5. Collonar Typeface
Nothing beats a classic because they never go out of style. Hence, grab yourself this vintage typeface from typeline studio and you'll always be in trend no matter what year it is.
6. Motorcycle Gang Label Font
Strong and dynamic, with 5 styles you can layer, this offering from Vozzy would make killer labels and product packages with its unique set of characters.
Download Motorcycle Gang Label Font
7. Cal Fraktur
This modern calligraphic font by Posterizer KG is the ideal font for those who are ready to ink in their designs forever.
8. Cadaver
A handcrafted typeface by Hydro74, make it a base for your future designs, especially in goth, music, and mystery themes.
9. El Tigres Typeface
Create the coolest vintage labels, logos, posters, and more with the help of this custom font with 5 styles you can easily layer and color. Presented by uncurve.
10. Gothic Alphabet
A set of beautifully done letters each in vector format and reminiscent of Medieval period, this gem from GeekClick will fit any personal or commercial project.
11. Gothic Brush
Noah Kinard brings to you this bold Cyrillic blackletter that can give an old English look and feel to your works, making them both modern and classic at the same time.
12. Harbour
Vintage Voyage D.S. proudly presents this blackletter font family inspired by 19th Century hand-lettering. It comes in 4 styles (Regular, Decorated, Roughen and Lined) to make every design simply irresistible.
13. Mistlock Typeface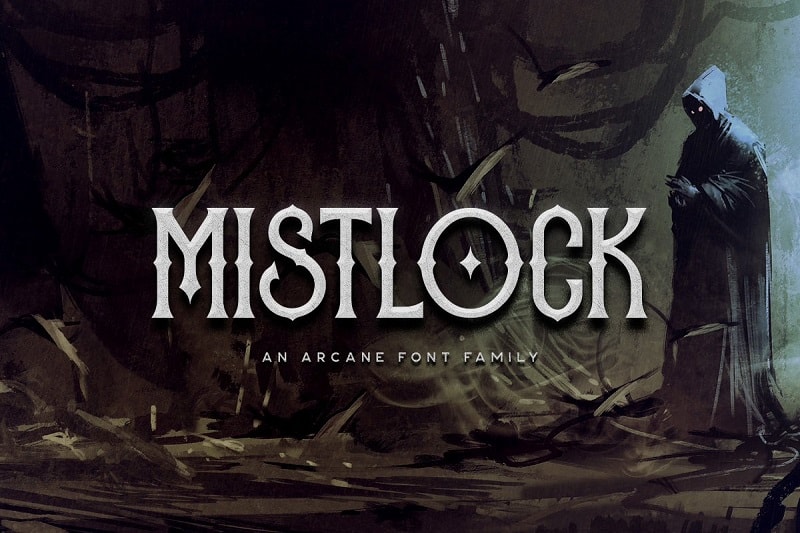 This arcane typeface from Tugcu Design Co. comes in Rough and Regular to help you turn those fantasy themes into reality.
14. Phoenix Typeface
Gleb Guralnyk presents this enduring typeface with four variations for each character. Cap off your work using the included hand-drawn phoenix illustration in vector file.
15. ABATIDO
Inspired by vintage signs and street art, Jake Jarkor gives you the perfect tattoo typeface fit for large displays, such as headlines and prints.
16. CRÁNEO
Make a statement using this font with Chicano-inspired lettering. Sharp and jagged, it's perfect for street or tattoo-themed projects.
17. Black Fox
A beautiful modern gothic font by Mister Chek that will suit every gothic concept you can think of.
18. Karson Blackletter
This typeface from Karat Design is the blackletter that remains readable – no matter how you use them. Featuring 4 styles (Clean, Lines, Textured, Line Textured) to pick from, it's a nice addition to any arsenal.
19. BONY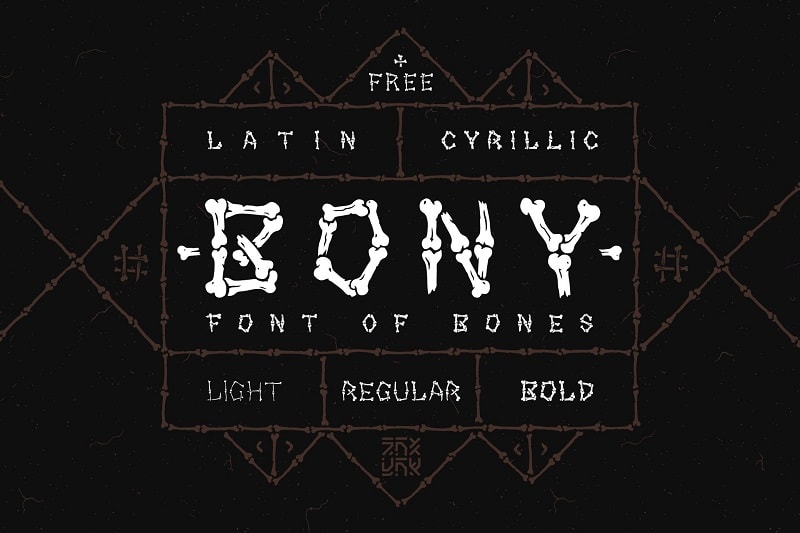 This illustrative handmade font made of bones by JUNNXY comes in Light, Bold, and Regular to keep you creating up until midnight.
20. Califas
A tattoo typeface influenced by the urban culture of Cholos, Richie Mx brings to you this totally unique set of characters that are sure to make a mark all on their own.
21. Hooligans Typeface
Powerful, straightforward, but informative, this typeface by Sanggravis Co. is available in regular and rough to make it go from street to art effortlessly.
22. Raven Script
Inspired from The Raven Wings, this font by Mikrojihad Typography will definitely help your works soar to new, and more beautiful, heights!
23. American Traditional
Yes, there are traditional tattoos in America – and this particular typeface by Think Make Design was inspired by them. And with 30 FREE hand-drawn illustrations, this timeless set should have a home in your toolkit.
24. Lordish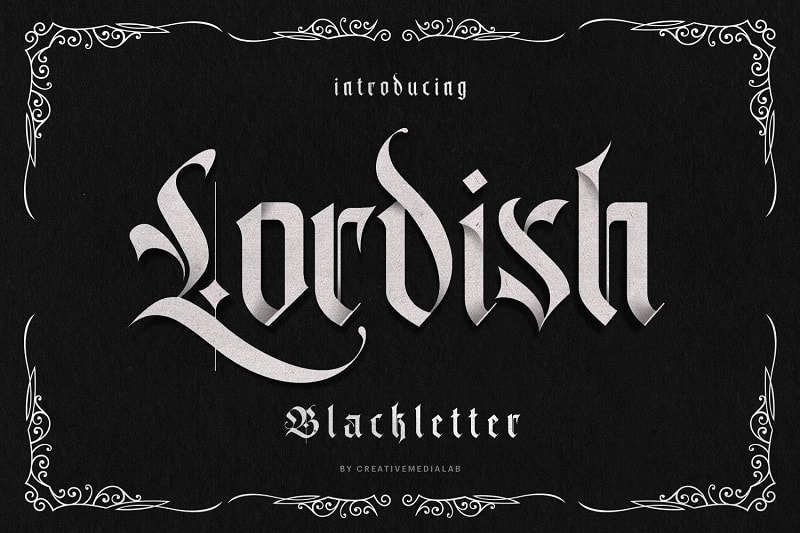 Whether you're working on prints, editorials, or street art, you'll be glad you have this blackletter by creativemedialab with you – along with its gorgeous bonus ornaments.
25. Chicano Font
You'll be begging to be inked for life when you see these amazing upper and lowercase letters made by Muntab_Art.