Last Updated on August 7, 2023
You've probably noticed certain big businesses re-branding to a more minimalist look in recent years. Examples include Tupperware, Dunkin Donuts, Apple, Slack, Facebook, even Google. More than just their logos, color schemes, and overall look and feel, the font they've used has also gone a makeover to appear cleaner, sleeker, and geometric.
What is geometric design?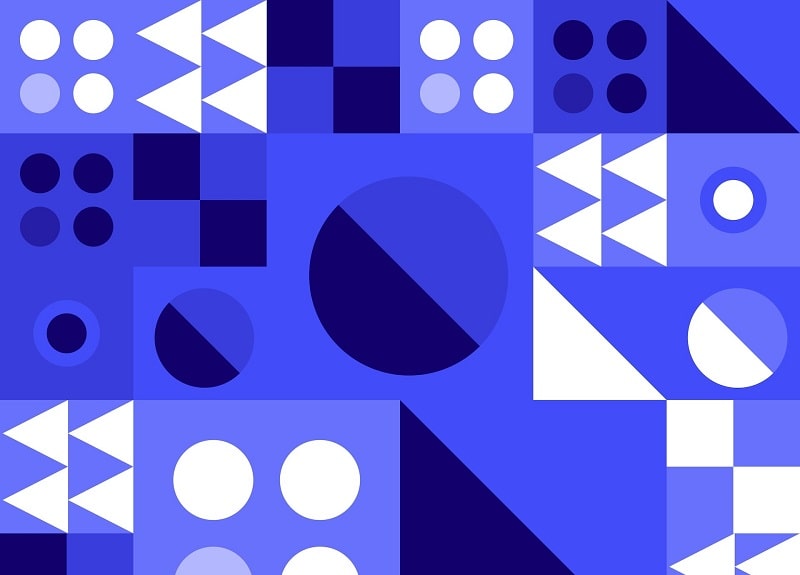 Geometric design focuses on basic shapes and is rooted in mathematical principles of precision. It's become popular nowadays because it's simple, fits most modern concepts, and has an overall clean, minimalist appeal. You can apply this design to almost any industry: from creative fields like art, music, and beauty, to less casual niches such as finance, construction, and engineering.
Geometry doesn't have to be limited to architecture. In fact, you can observe it in various symbols in different cultures and history around the world. The mandala for instance, an important symbol in Hindu and Buddhist beliefs, is a wonderful example of geometric configuration. Its repetitive patterns represent the cosmos, or being one with the universe.
How to use geometric fonts
Geometric fonts are normally sans serifs; but it's not uncommon for them to have serif variants, too. You can look up Google fonts to see some good samples. One of the most well-known geometric fonts is Futura. There are a good number of brands that use it (or a variation of it) for their logos including Supreme, Best Buy, Houzz, Domino's Pizza, USA Today, and FedEx.
If you're working with projects that require a flat design or something neutral, sometimes, sans is better for legibility and appropriateness. Sans serifs are also easy to 'dress up' or 'dress down'. You'll have no problem pairing them with other fonts as well. Experiment with all kinds of serifs, signature fonts, or even decorative ones.
As always, do consult with your client before getting too excited.
Structured Geometric Fonts
Geometric fonts are a must-have in any designer's toolkit. They're versatile, clean, and suit modern applications such as apps, websites, logotypes, and branding kits. They're especially helpful if you're not sure what to use for the moment. So grab any of these cool geometric fonts today!
1. Synthetika
If you're looking for a font that can give your creative projects a revolutionary and seamless image, then Synthetika is the perfect choice for you! This font is truly ahead of its time with its wide spacing and blocky shapes, making it ideal for a range of inventive pursuits such as sci-fi movies, gaming titles, fitness posters, and more.
The bold and striking geometric shapes of Synthetika exude a sense of power and confidence, making it the perfect font for pushing boundaries in your professional and creative projects. With its clean, boxy style, it's guaranteed to capture attention and leave a lasting impression.
Whether you're working on website design or a marketing campaign, you can count on Synthetika to deliver the impact you need.
2. Spring Melody
Spring Melody is an elegant humanist typeface. Spring Melody has elegant curves, beautiful kerning, and sharp edges. The font is perfectly suitable for creating elegant, clean, retro design such as branding, packaging, social media, wedding invitation, advertising, editorials, and much more. If you're looking to create a sense of luxury in your designs, then Spring Melody is exactly what you've been looking for.
3. Techno Cowboy
Introducing Techno Cowboy, a modern techno display font with multilingual support. Techno Cowboy is great for creating eye-catching logos, headlines, ads, posters, web design, print, motion graphics, apparel and much more. If you're looking for a futuristic font that packs a punch, then Techno Cowboy is for you.
4. Mortend
With geometric shapes, bold, strong curves, and modern vibes, Ramzehhh presents this brutalism meets minimalism typeface that comes in 5 variants that will look great on headlines as well as body text.
5. Amenti
Searching for a modern yet classy font? Amenti is your best bet. Its clean lines, graceful curves, and simple beauty make it a standout choice for any design project. With six different weights to choose from, Amenti is a versatile font that can elevate any composition. As a sans serif, it is both charming and minimalist, leaving a lasting impression on viewers.
Its high legibility makes it ideal for display and body text in branding projects, printed works, or website design. If you need a font that can clearly communicate your message, Amenti opens plenty of doors.
6. Helix
Helix is a single line display typeface. Its eye catching design is bound to grab attention and turn heads. You can use Helix for editorials, posters, headlines, social media, packaging, and more. The font is fully kerned and is ready to be used out the box. If you're looking for an uncommon geometric typeface then Helix is for you!
7. Nero
Nero is an ultra wide typeface that's sleek and modern. The font is fairly legible in all sizes, but works best when the letters are large. Nero is ideal for packaging, posters, sports, advertising, editorials, social media, Youtube thumbnails, and more. If you're looking for a stylish new font for your design toolbox, then Nero will make a perfect addition.
8. Bjorn Typeface
Created with sharp edges and awesome kerning, this sans serif features 3 versions – Halftone, Regular, Light – that won't shy away from tight spaces.
9. Mazion
Check out Mazion, this awesome experimental font that's all about being bold and heavy. It's got this really unique geometric shape that'll totally grab your attention, making it perfect for headlines, logos, ads, and more. With its thick and sturdy lines, Mazion has got this super confident vibe that just demands attention and leaves a lasting influence.
10. Stardock
Stardock is a font that is perfect for futuristic, sci-fi, space, tech, and AI-related projects. With its sleek and clean design, it gives off a minimalist feel while remaining readable. The possibilities with Stardock are endless: use it to create designs that are out-of-this-world and that will surely captivate your audience. It's an absolute must-have in your design toolkit!
If you're looking to create designs that are lightyears ahead of the curve, then Stardock is the font for you. Try it on science fiction, space travel, technology, or AI projects. With its cutting-edge aesthetic, it's sure to impress even the most discerning of designers. So go ahead and explore new frontiers with Stardock!
11. Liber V2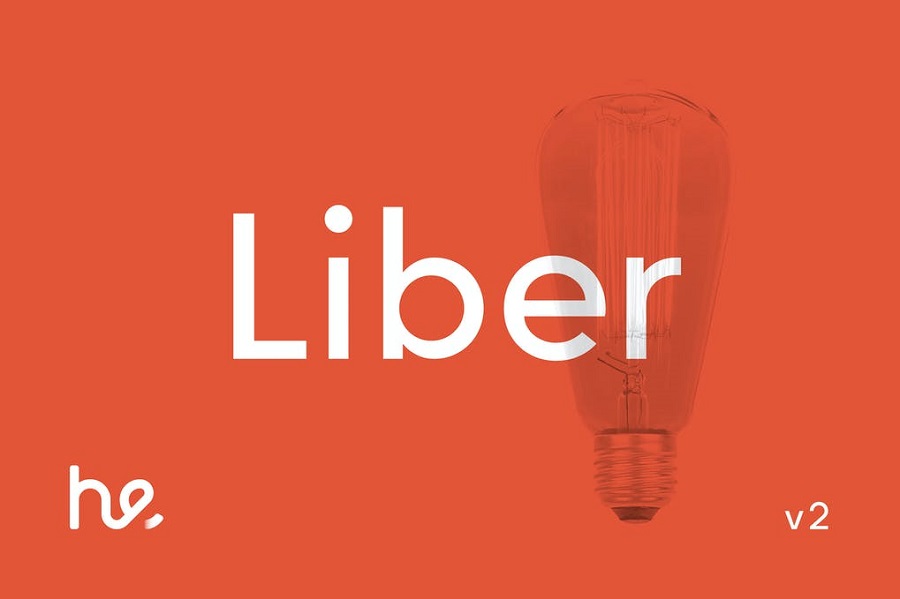 This linear sans by Hederae Design takes its roots from traditional text fonts, but with modern experience and usability in mind. Unadorned or complemented by other typefaces, it's ready take on any 21st century obstacle.
12. Argon
Believe it or not, each letter in this unique typeface by Corslu is a solved three-line puzzle that took many months to put together. What you get is an adventurous font that looks extraordinary, sporty, and adventurous.
13. Fokus
Fokus was inspired by mid-century print design. The height of this condensed typeface automatically draws attention and can be utilized to create beautiful headlines, logos, quotes, posters, social media, headlines, magazine titles, clothing, large print formats, and more.
You can easily pair it with scripts and bold sans serif fonts. Fokus comes in two versions, regular and thin, which makes it super versatile and fun to experiment with.
14. Monro
Introducing Monro, a disruptive typeface with shapes inspired by the aesthetics of the 80s and 90s. Monro is an ideal typeface for large size display texts and wordmarks, its eye-catching quirky letters grab the readers attention and makes them notice the message being sent across. If you're searching for a geometric typeface that offers versatility as well as a clean/sleek build, then Monro is for you!
15. Mammoth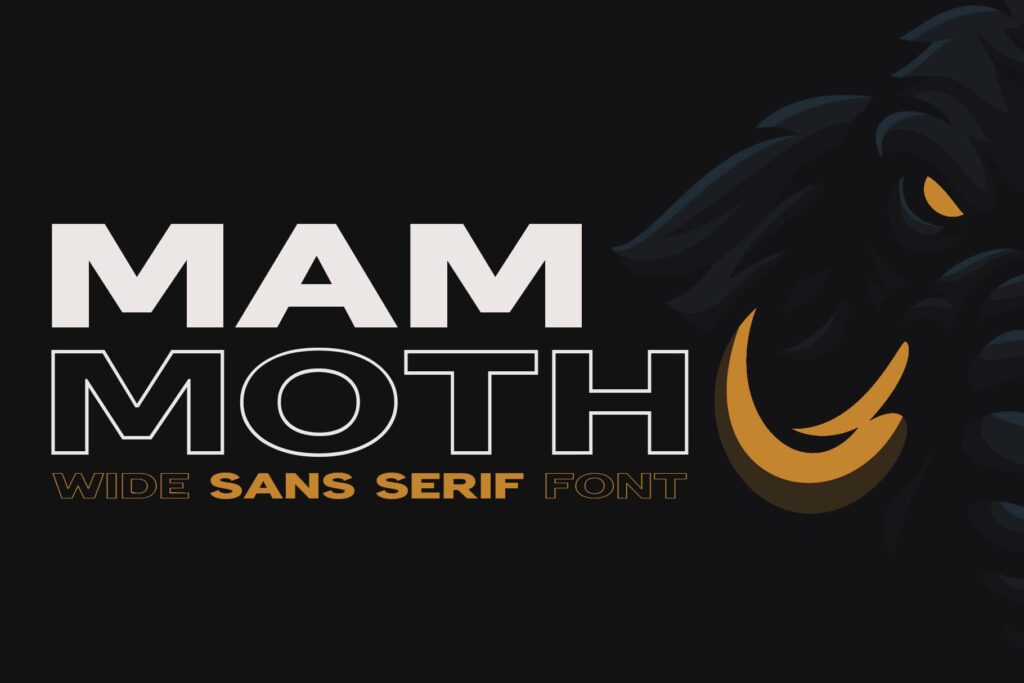 Mammoth is a wide sans serif typeface ready to push the boundaries in your designs. Thanks to its modern look you can use it for any project that requires a bold, clear statement.
You can use it for numerous projects like fashion, magazines, logo, branding, photography, invitations, wedding invitation, quotes, blog header, poster, advertisements, postcard, book, websites, etc. This download includes regular and outline versions as well as lowercase letters for each. You can mix and match the outline and regular version to come up with unique designs.
16. Okana
With a whopping 16 total fonts to pick from, this is one geometric type family you would want to have in your toolkit. Created by Corgi Astronaut.
17. Aceh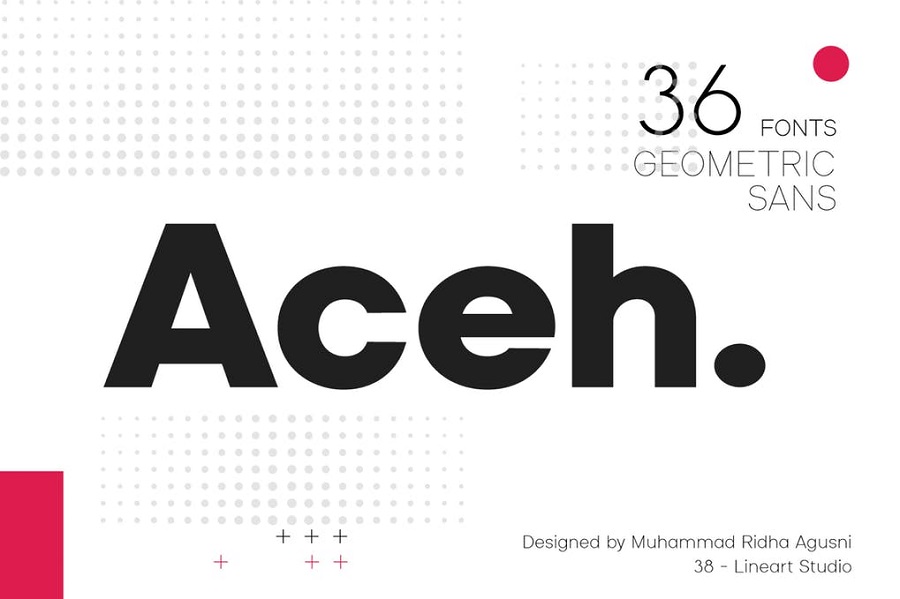 Strong and powerful, sharp yet soft, this sans serif by 38-lineart comes in 9 weights with matching obliques for dynamic vibes that look amazing on posters, editorials, branding, and apparel.
18. GROCHES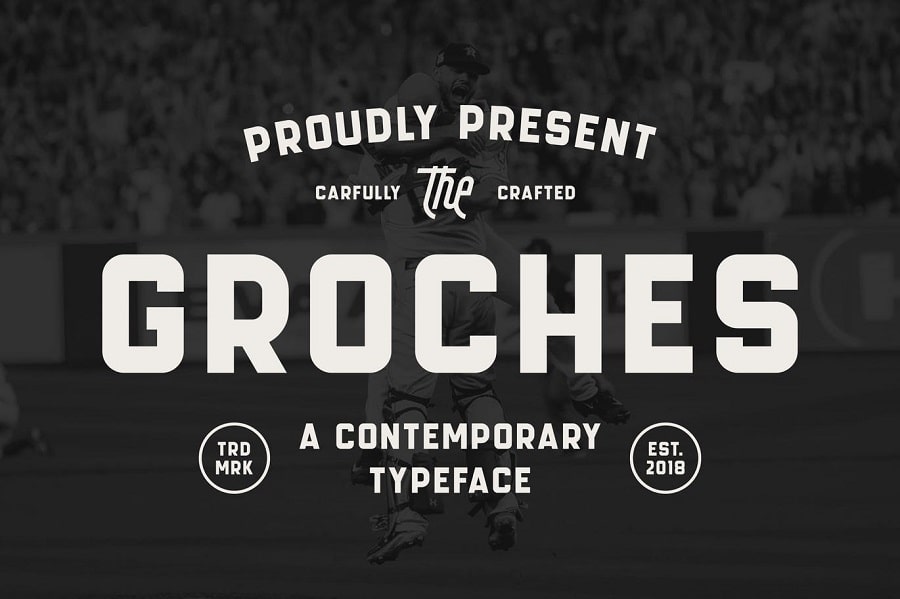 Featuring wide characters, and a strong, bold look, this contemporary typeface by Adil Budianto has a refined vintage vibe that makes it perfect for sports, adventure, and traditional themed projects.
19. Kinetic Typeface
Clean but dynamic, this high-impact font by UnioCS embraces minimalism while retaining its versatility.
20. Toska
If you want to make a good, strong impression right off the bat, then you can't go wrong with this geometric sans serif by Locomotype. It comes in 3 weights with an italic version for each.
21. Gojali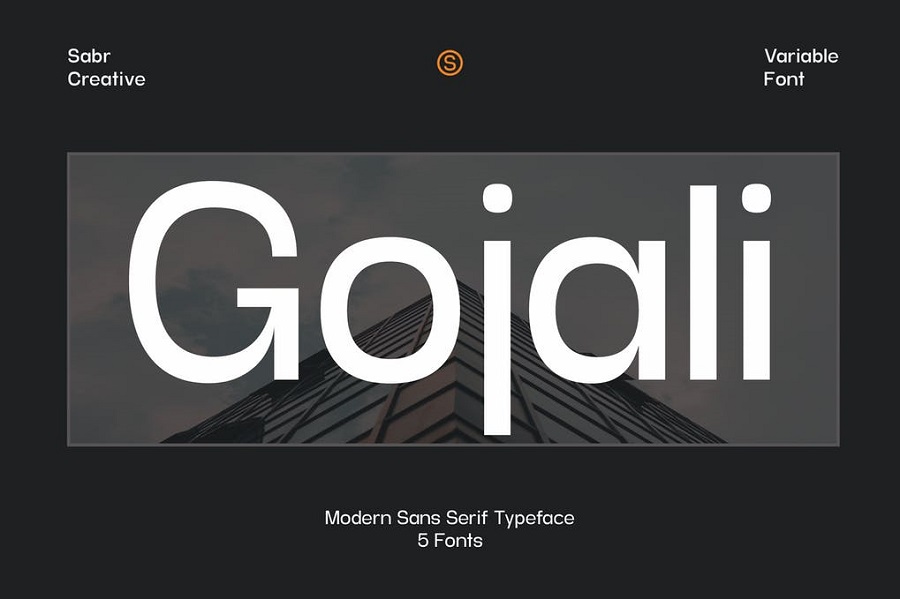 Give your ebooks, magazines, blogs, or corporate websites a fresh, new look using this sans serif font family by SabrCreative.
22. High Mount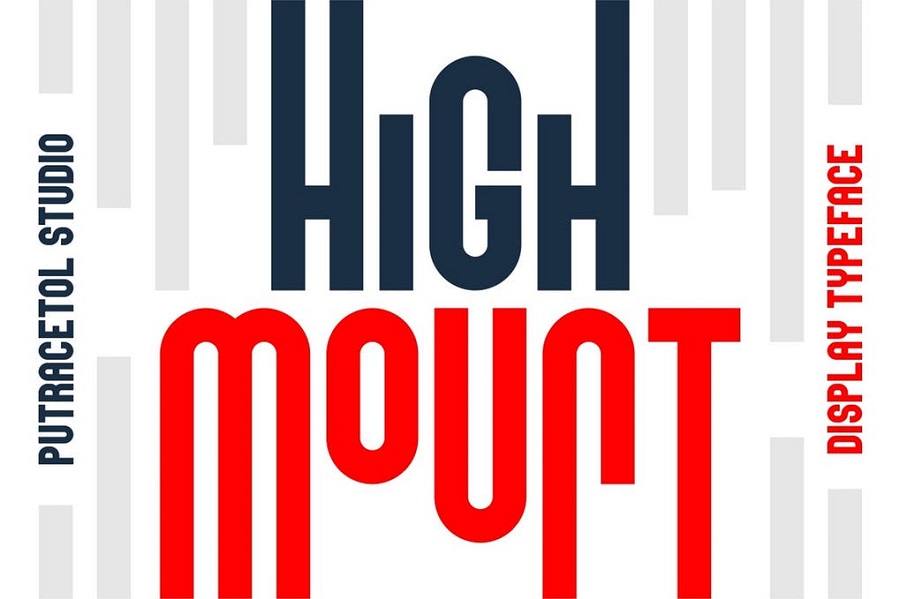 Stand tall and proud using this 'high' font by Ahnaf-Studio. As a display font, it's amazing when applied on posters, product packaging, apparel design, logos, headers, labels, and greeting cards.
23. Archer Font
Snk Art brings you this elegant geometric font that will look great as a header, signage, logo, title, or on anything that needs attention.
24. Proda Sans Family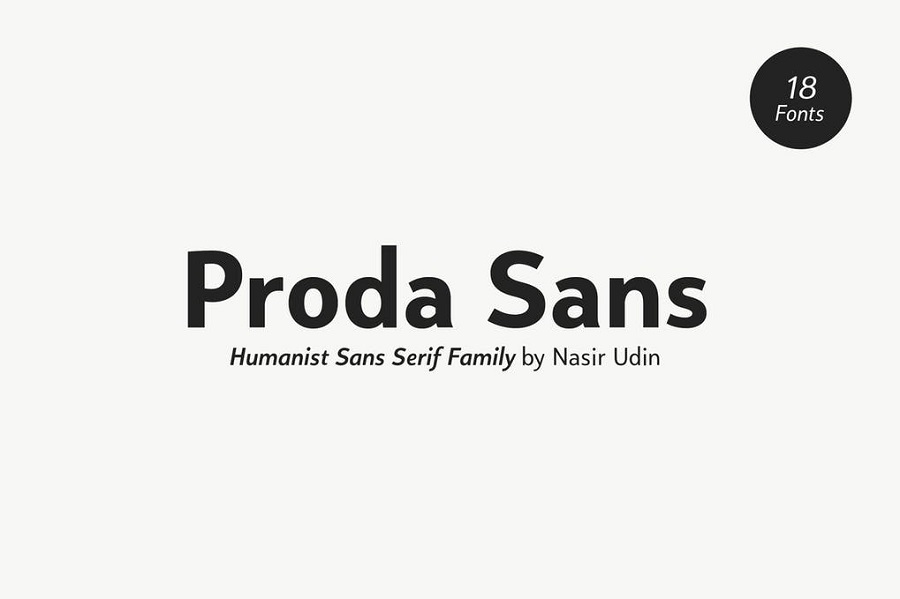 Whether on headlines or body text, this humanist typeface by Nasir Udin will gladly deliver on details without compromising on beauty and legibility.
25. Quint Uppercase Font
Who says precision isn't playful? With this elegant uppercase font from Wild Ones, you'll be able to experiment in more ways than you can count.
26. Polly Rounded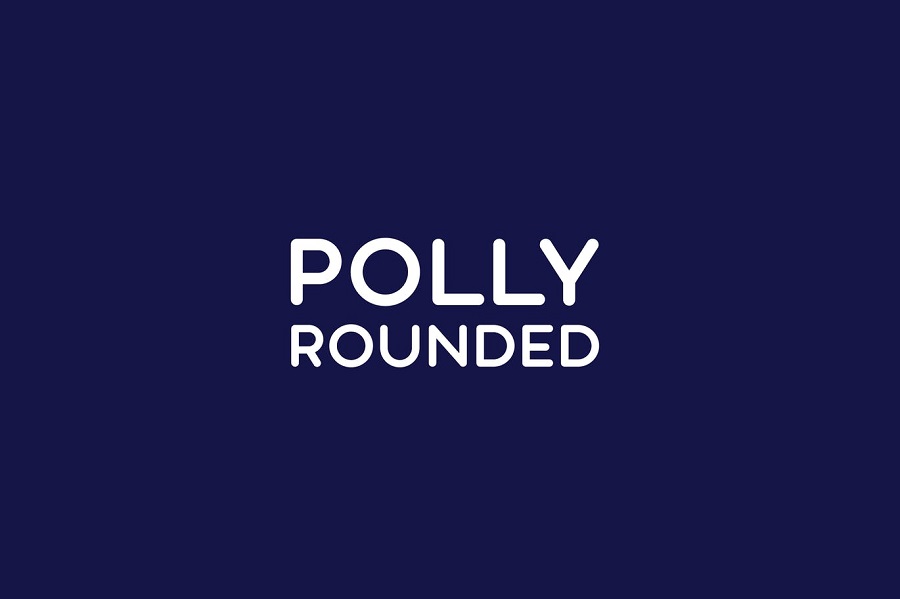 Reghardt presents this cool, rounded sans constructed with geometric forms to give your works a warmer, friendlier feel.
27. Moby
Condensed for your benefit, try this long, geometric font by Andreas Leonidou on posters, t-shirts, cards, product labels, signage, or even logotypes.
28. Technica
Make your album covers, sci-fi books, or event posters stand out by using this modern display font by Naulicrea.
29. Simbox
Bring color to your t-shirt designs, greeting cards, brochures, and magazine covers using this unusual, wide, color font by Wowomnom. With alternates for more variations, this will give your works a distinct, fresh appeal.
30. Avalon
Sharp images require a sharp typeface – just like this geometric font.
31. Visby CF
Friendly, charismatic, and sophisticated, this authoritative typeface from Connary has hard lines but smooth, rounded letterforms to give it a warm, humanist touch.
32. RNS Miles
Especially designed for titles, headlines, and subtitles, this font family by Yorlmar is a combination of geometric shapes, open forms, and grotesk mood to give you 7 weights, stylistic alternates, Oldstyle figures, and more.
33. Fractul Font Family
This geometric sans by Adam Ladd includes an alternate type family you can switch to so you find what works best for your projects. With over 600 glyphs and extensive Latin language support, you also get 36 OpenType (.otf) fonts in your download.
34. Fonseca
Inspired by art deco, this all-caps family can still rock modern works thanks to its modernized retro-look and clean letterforms.
35. Konnect Font Family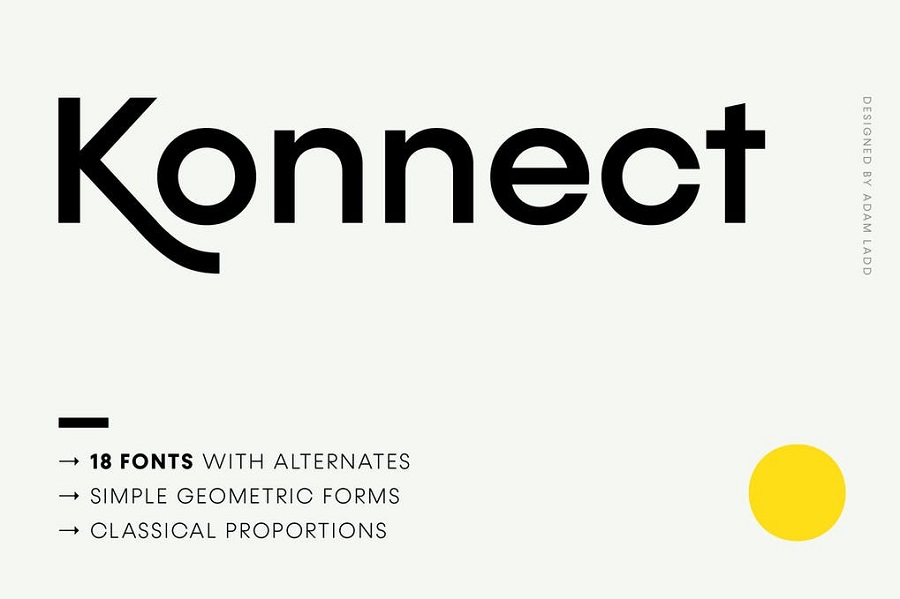 Want to create simple, minimalist designs but you're afraid it will look too bland? This geometric type family contains: 18 OpenType fonts, more than 600 glyphs, multiple swashes, stylistic alternates, and arrow icons to effortlessly improve your visuals instantly.
36. George Sans Geometric Typeface
NEWFLIX brings you this harmonious family of 8 fonts that will give your works that elegant, clean feel.
Download George Sans Geometric Typeface
37. Ageo
The subtle soft edges and quirky terminals of this sans serif will provide warmth and versatility to any of your creative projects.
38. Abro Sans
Stylish and easily recognizable, this modern Latin pro font family by Afahmy features a unique roundness to each letter, making them instantly recognizable and easily readable. It's perfect for branding and editorials.
39. Lufga Font Family
Quite the workhorse typeface, this geometric sans includes 18 fonts you can use as body text or headlines, especially for works that need a retro or quirky touch.
40. Rockyeah Sans
Say more with less using this geometric sans serif by Dexsar Harry. Clean, bold, and contemporary, it's best used on headlines, branding, apparel, social media posts, and editorials.
41. Nordin Rounded
Inspired by the European type specimen books, especially Finland Rounded type standard, this condensed sans by Craft Supply Co is solid enough for professional or casual use.
42. Hando
Making an ebook, brochure, or product label? Look no further than this Neo Grotesk font family by Ekobimantara that includes over 440 glyphs and 10 syles that are legible, beautiful, and multi-purpose.
43. Vesper
This all-caps geometric sans in 2 weights (each in 3 styles) and matching obliques can be combined with each other for unforgettable, unique effects.
44. KIONA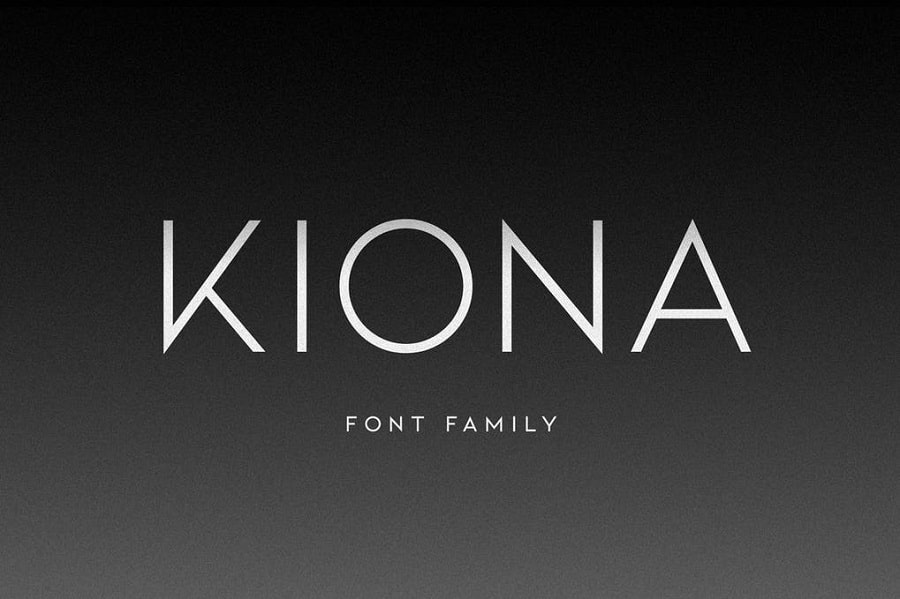 This all caps sans serif knows exactly how to make a statement without making a scene. Highly legible, modern, and sophisticated, this product contains 4 styles to mix and match.
45. Knockout
Inspired by popular sans serifs, this extended font family by HamzStudio brings you 4 styles (Light, Regular, Bold, Outline) to choose from. Use this all-caps for branding, editorials, ads, posters, and more.
46. Portico Outline
This bold font by MehmetRehaTugcu has 2 styles (Regular and Outline) you can combine to produce classic looks, or out-of-this-world designs. Try it on various themes, such as sci-fi, punk, or futuristic projects.