Last Updated on October 9, 2023
Lots of things can take us down the sweet path to memory lane. It could be a scent, like brewed coffee in the morning or the cold, salty sea breeze. Maybe it's a place – your old college campus where you had your first love; or the riverbank where you and your friends used to swim together.
In this case, it could be a font.
Nostalgic fonts are a captivating choice for creatives who often delve into the realms of web design and aesthetics. These fonts evoke a sense of longing by harkening back to styles from previous eras, creating a connection between past and present.
When incorporating these typefaces into your work, consider the emotions and associations they evoke. For instance: a retro 1950s font can transport readers to the bygone days of poodle skirts, rock n' roll, and diners.
Moreover, these fonts can instill a sense of familiarity. These make them powerful tools for conveying authenticity or a sense of heritage in writing and design projects.
Retro Nostalgic Fonts
1. Mindstay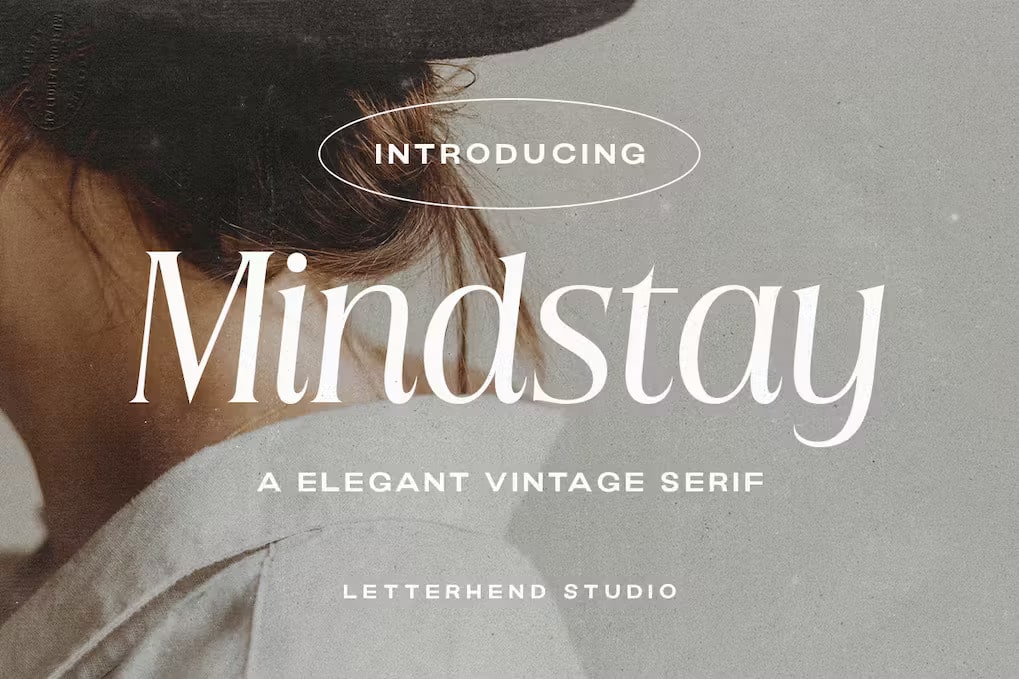 Letterhend Studio presents this exquisite vintage serif that radiates enduring charm and sophistication. With its tidy lines and meticulous craftsmanship, this typeface encapsulates the very essence of timeless typography.
Whether you're crafting a logo, poster, or branding initiative, let its serifs and distinctive letterforms effortlessly transport your designs to a bygone era. Includes multilingual support and alternates (use a program that supports OpenType features to access all Glyph variations).
2. That That New Roman Font Duo
Introducing a contemporary take on a 90's-inspired font from ThatThatCreative. It offers both roman and italic styles and boasts a condensed, refined look suitable for both body copy and headlines.
It effortlessly captures the nostalgic vibes of the 90s while maintaining a modern appeal. The condensed nature allows you to convey a lot within a limited space.
Download That That New Roman Font Duo
3. Rolla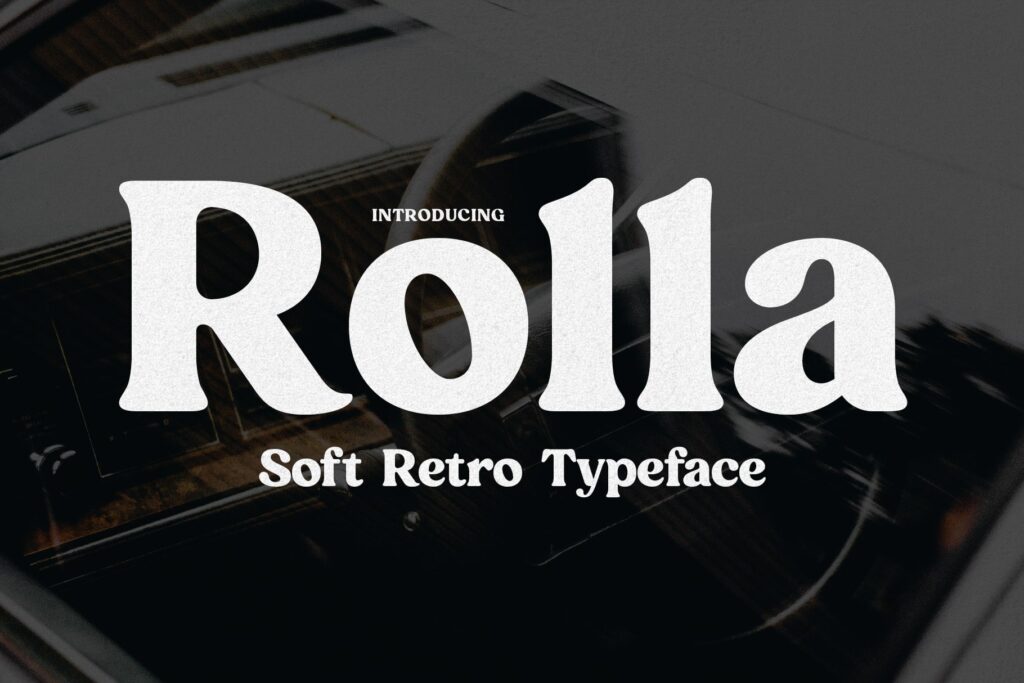 Bold, vintage, and playful – that's the distinctive appeal of this 1960s-1970s vintage serif. With its delightful curvature and chunky appearance, it's versatile enough to be applied onto various design projects such as posters, business cards, wedding invitations, social media posts, quote graphics, branding materials, editorials, and beyond.
4. Surreal
A captivating hand-drawn psychedelic font tailor-made for groovy posters, avant-garde artwork, and utterly cool concepts. Drawing inspiration from the vibrant psychedelic era of the mid-60s, this one-of-a-kind typeface promises to infuse a dose of authentic retro mojo into your designs.
Pack includes upper and lowercase letters, numbers, and punctuation marks, as well as OTF and TTF files.
5. A Day That Feels Better
This nostalgic serif from CraftedGoodsCo has a calligraphic italic style, boasting a contemporary appeal all its own. It's the ideal choice for creating luxury logos, eye-catching book or movie titles, fashion branding, magazine layouts, apparel design, stylish lettering, evocative quotes, etc..
What you'll get: Regular and Italic versions, OTF, TTF, and WOFF files, 101 alternates and ligatures, easy installation, and multilingual support.
Download A Day That Feels Better
6. Newstalgic
Typia Nesia Std brings you this elegant condensed serif that's luxurious and cheerful at the same time. Best used on social media promotions, Instagram Stories, YouTube thumbnails, marketing materials, headlines, posters, and website headers.
7. Wimp Stars
Featuring sharp edges and slender letterforms, this charming display serif will be a wonderful addition to every designer's toolkit. Ideal for old-fashioned works such as menus, café signs, mugs, card invitations, advertising, and more. Multilingual, PUA encoded, with alternates and ligatures.
8. Wisteria
Presenting a sophisticated serif typeface from ToniStudio. It seamlessly blends contemporary flair with a hint of wistfulness. Incorporating OpenType features, you'll receive ligatures, alternates, numbers, punctuation, and multilingual support to cater to your diverse design needs.
9. Felgine
RantauStd brings you this magical font that feels classy and feminine. Aside from standard letters, the download consists of numeric and functional characters, plus beautiful alternates.
Discover lovely ligatures that would add drama to your invitations, business cards, logos, badges, headlines, and print materials. Expect OTF, TTF, and WOFF file formats, each with Regular and Italic versions.
10. Bittyfish
Wondering what to pair with your old-fashioned photos and graphics? Take your audiences down memory lane using this retro vibes bold serif. The pack contains upper and lowercase letters, numerals, punctuations, and practical alternates.
11. Watterlen
This all-caps ligature serif from BrandSemut is as classy as they come. It's recommended for minimalist, vintage, and contemporary projects in fashion, photography, and nature. Give it a go on blogs, event posters, promotional materials, magazine covers, and flyers to see its chic, nostalgic effect in action!
12. Summer 0f 76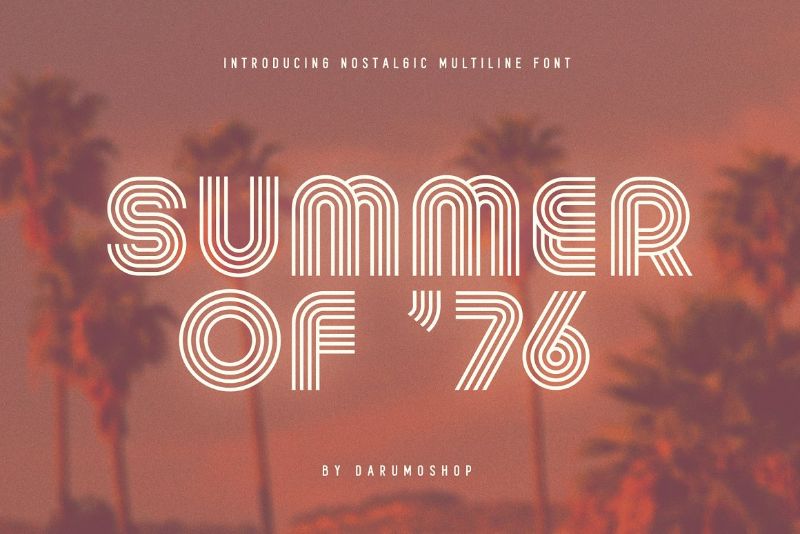 A polished, multi-line font from Darumo_Shop, inspired by the enchanting 70s era. Ideal for prominent headers, it's equally well-suited for medium and small text blocks. It offers two distinct styles: multi-line and solid, plus numbers and glyphs to make your art standout.
13. Kangmas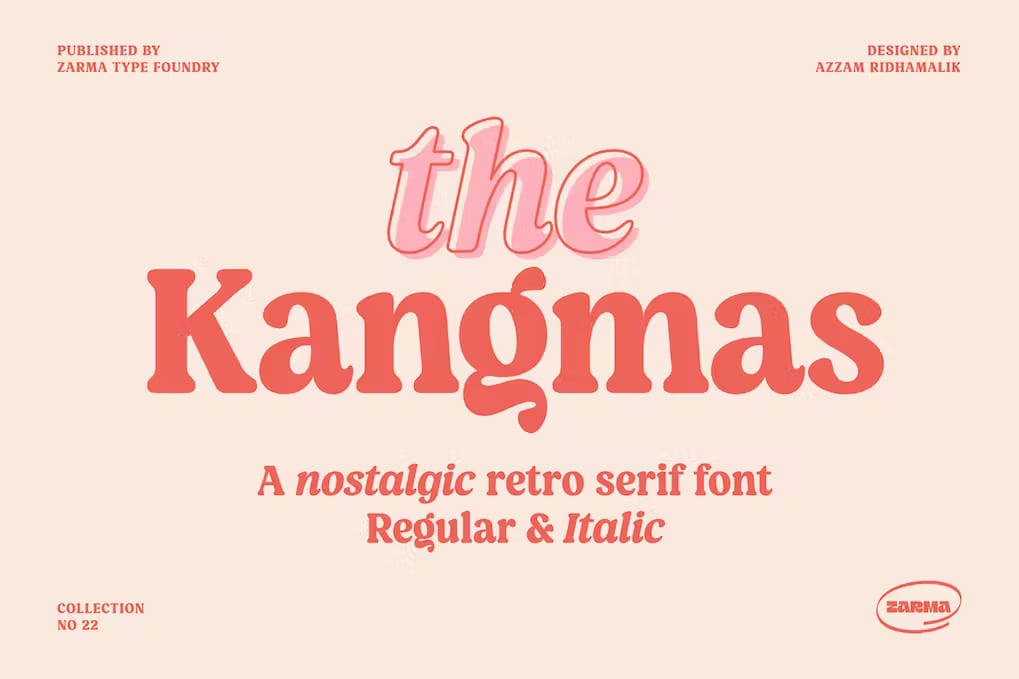 Featuring rounded serifs and modern letter shapes, this charming retro serif by Zarma Type Foundry has both regular and true italic styles. Make sure you have a program that supports OpenType features (e.g., Adobe or Corel Draw) so you can access all Glyph variations. Enjoy!
14. Sojourn
Meet this serif typeface inspired by the vibrant 1980s period. A nod to the type-driven designs that were prevalent in 1980s advertising, Sojourn will breathe new life to your projects. It is available in two versions: Regular and Italic.
Design Tip: consider adjusting the tracking to a negative value in software like Adobe Photoshop or Illustrator, depending on the vibe you want to convey. This tighter letter spacing captures the essence of the era but always ensure that your text remains legible.
15. Firecracker
Journey back in time with a font that captures the vibrant, exhilarating spirit of the 50s and 60s. It offers 2 styles, Regular and Oblique, to help you infuse any project with old-fashioned charm. Experience graceful letters that radiate energy in magazine covers, newspaper headlines, signage, branding, and packaging.
16. Gnarly
Taking cues from magazine ads of the 70s and 80s, this will be your new go-to font for marketing, advertising, editorials, and branding. Create eye-catching headlines that demand precise tracking. The download includes uppercase and lowercase letters that shine in both expansive and compact layouts.
17. Nice Memory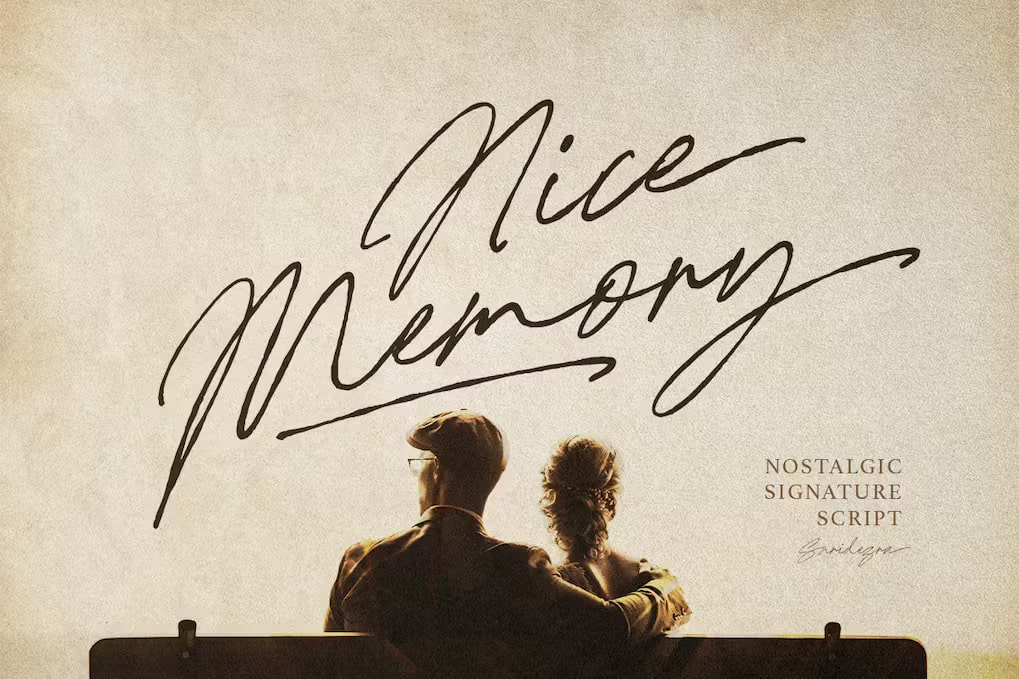 Rustic, organic, and timeless, this handwritten signature script from saridezra serves a multitude of purposes, including wedding invitations, custom letters, branding materials, and inspirational quotes. With its ligatures and underline options, it lifts your projects to a whole new level of elegance and charm. There is also multilingual support to ensure adaptability.
18. Adorable Memories
Create unforgettable concepts with this simple yet lovely typeface from CraftedGoodsCo. It works well for both display and body text purposes. The pack includes Regular and Italic styles, OTF, TTF, and web fonts. No special software is required – you can even use these in Canva!
19. Mofista
This contemporary font by ToniStudio pays homage to the expressive charm of vintage serif typography. With its selection of alternative characters, it ensures that your presentations and logos truly stand out.
While it nods to classics like Cooper, this reinterpretation introduces some unconventional letterforms, infusing a dynamic and romantic italicized flair. Its adaptability makes it suitable for a wide range of projects such as invitations, postcards, posters, books, advertisements, websites, blog headers, logos, branding, magazines, fashion, photography, and more.
20. Nostalgic Memories
Eric_Burntilldead gives you this sentimental typeface that draws inspiration from the iconic serif fonts of the 80s. The download offers both Regular and Italic versions, with the italic style incorporating script elements for a more natural vibe.
It boasts of 55 ligatures that automatically transform character combinations into new, visually captivating forms—like magic! Additionally, it provides alternate characters to enhance the appeal of your logos, branding, invitations, and editorials.