Last Updated on August 29, 2023
While water and tea remains unchallenged as two of the world's most consumed beverage, coffee comes in a close third. No surprise there, especially with the growing number of cafes popping up everyday. Coffee remains a strong contender because of its rich flavor and flexibility. You can enjoy it hot or cold, as well as with sugary additions.
So how do people around the world enjoy their coffee?
Kinds of coffee to try
There's more to coffee than your usual frappe. Why not surprise yourself with a different one each day? Here are a couple of suggestions:
Black coffee – often referred to as the 'purest form' because it contains no other ingredients.
Cold brew – coffee is brewed with cold water instead of hot.
Espresso – highly concentrated, brewed under pressure.
Caffee Americano – is basically espresso with water.
Coffee with Milk/Cream – a combination of black coffee with milk or cream.
Latte – made with espresso and steamed milk.
Caffe Breve – is an espresso mixed with half-and-half steamed milk and cream, instead of just milk.
Cafe Bombon – said to have originated in Spain, this is coffee with condensed milk on a 1:1 ratio.
Cafe au lait – is how you would order coffee with milk in French.
Egg coffee – popular in Vietnam, this concoction is made with egg yolks, sugar, condensed milk, and Robusta coffee.
Eiskaffee – this German coffee drink is created with chilled coffee, vanilla ice cream, and (sometimes) sugar and whipped cream.
Chai Latte – a flavorful invention of espresso, spiced tea, and steamed milk.
Mocha – is basically chocolate-flavored cafe latte made by combining espresso, hot milk, sweetener (typically sugar), and chocolate flavoring/syrup.
Tired of your regular order? One of the best ways to spice up your relationship with the bean is to brew a cup at home.
How to brew coffee at home
If you're a coffee nut, you'll have to try making your own brew at home – even just once! It's fun, more economical (in the long run), and you'll get to control every aspect of the coffee journey, from bean to mug.
Brewing at home may feel overwhelming at first (and the dozens of blogs out there rarely help). But once you're familiar with the basics, you should be able to get your first pot going. There are three key things to remember: type of coffee, roast and grind preferences, and your choice of brewing method.
First things first: how do you like your coffee? Fruity with floral hints? Or maybe deep, dark, and earthy? Most coffee beans come in two variants: Arabica and Robusta. Arabica is typically sweet, with a fruity aftertaste. Arabica on the other hand, has a stronger, bolder flavor with a nutty aftertaste. Most supermarket brands and instant coffee are made from Robusta beans.
Even if you're a beginner, it's recommended that you begin with whole beans. Worried about picking the right ones? Go to your local shop and ask the barista about the whole beans they use for your coffee.
Next, pick a grinder. The market offers two: burr or blade grinders. Burr grinders are considered better because they can produce consistent, uniformly sized grounds that will keep the freshness and flavor of the beans. However, blade grinders are more convenient, inexpensive, and accessible. Burr grinders can be more costly, based on whether you prefer a manual or an electric one.
Lastly, choose HOW you want to brew coffee. There are four main methods:
Pour Over/Drip – uses gravity, and a Chemex or a coffee cone.
Plunger/Press – pick between a French Press and an AeroPress.
Percolate – uses steam pressure from boiled water, e.g. Moka pot.
Vacuum – really fancy brewing technique involving a siphon.
Many beginners choose the pour over method because it's the simplest and easiest. Two things to remember though: use a narrow-spouted kettle for more control, and pour water from the inside out.
Feel free to try other processes once you're more confident. Don't forget to properly clean your equipment before and after use. Also, don't grind more than you can brew! Be patient with yourself and don't expect your first cup to be perfect. With practice, you'll be producing better brews each time.
Before you know it, you'll be able to impress friends and family with your coffee-making skills!
Strong coffee fonts
Whether you like it at home or you prefer picking a cup from your local corner store, the love of coffee is universal. Why not extend that love to these amazing coffee fonts?
1. Spring Melody
Spring Melody is an elegant humanist typeface. Spring Melody has elegant curves, beautiful kerning, and sharp edges. The font is perfectly suitable for creating elegant, clean, retro design such as branding, packaging, social media, wedding invitation, advertising, editorials, and much more. If you're looking to create a sense of luxury in your designs, then Spring Melody is exactly what you've been looking for.
2. Collathives Signature Brush Font
Maulana Creative brings to you this handcrafted brush font oozing with personality. Give your logos, headers, packaging, branding, and business cards an authentic feel with this unique signature style.
Download Collathives Signature Brush Font
3. Duncaster
Give your logos an organic, casual look using this laidback set from Letterhend. The pack features 2 fonts in sans and serif, with 2 styles (Rough and Stamp) to choose from.
4. Nomads
This all-caps type family by NEWFLIX offers 3 versions (Regular, Rounded, and Vintage) of its ultra condensed lettering. Use the stylistic alternates to give your works a strong and mature design that's unlike anything on regular shop windows.
5. Haredang
Inspired by classic typography, this bold script boasts a handwritten feel to suit your discerning tastes. Includes ligatures and alternates to help you make exceptional designs.
6. The Farmer
Looking for the best typeface to match your rural projects? Get back to the beautiful basics in this rugged all-caps that features 3 styles with a textured version for that organic farm vibe.
7. Carose Sans
This luxurious sans is perfect even when used as body copy (for short texts) thanks to its clean, minimalist lines. With 6 weights and tons of ligatures as well as alternates, it's easy to spice things up when you need to.
8. Scarllet Serif
Make your titles, logos, headlines, and cards classier in this bold offering from Swistblnk. Pair with thin, signature fonts for use in wedding invitations, letterheads, website menus, and editorials.
9. Quiska
Blankids presents this decorative serif that includes gorgeous swashes, more than 300 glyphs, stylistic alternates, and ligatures. Ideal for use in logos, apparel, cards, invitations, book covers, as well as body copy for branding, flyers, and posters.
10. Suico Bams
Refresh your brand using this bold all-caps sans from Sagesmask. Powerful, casual, and modern, it's a great addition to any designer's collection.
11. The Brewski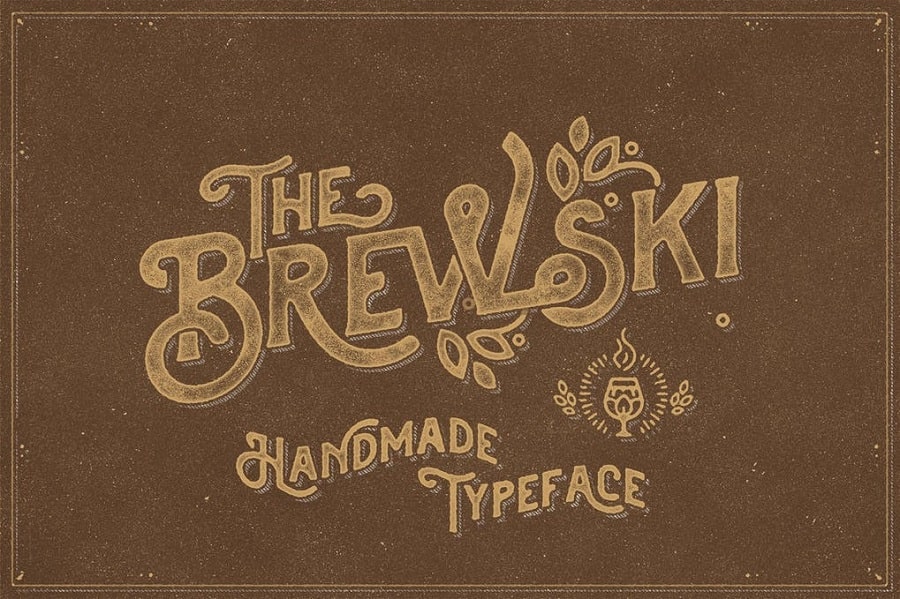 Inspired by 20th century brewery packaging and beer advertising, this textured typeface includes stylistic and contextual alternates so you can mix and match the letters to produce one-of-a-kind designs for headlines, logos, posters, flyers, business cards, packaging, and more.
12. Ovsyanka Typeface
A lovely typeface with rounded corners and 2 styles (Regular and Press), the name literally translates to 'oatmeal' (informal). Recommended for use in food labels and product packaging, this font looks delicious with or without toppings. Includes Cyrillic characters.
13. Cordoba
Starting your own small business? Grab the perfect font set to help you get started on your logo, labels, and website. This organic font duo gives you everything you need: from beautiful lettering, 24 premade logotypes, to handmade illustrations.
14. Caferus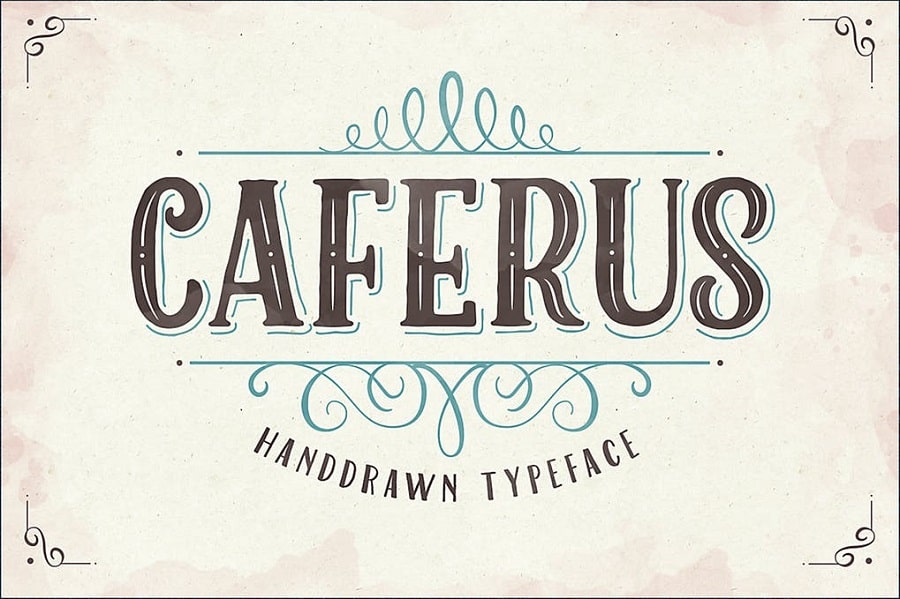 Inspired by lettering seen on most cafes, this layered font family by Flavortype contains 3 styles (Inline, Shadow, Basic) for a striking effect that will give your logos, headlines, labels, apparel, and posters, a fun, vintage vibe.
15. Toast Bread Coffee Typeface
Giemons gives you this complete font package to make your design life easier. Featuring 3 different styles (Sans, Serif, and Script), you'll be making all sorts of labels, logos, posters, movie titles, album covers, and more!
Download Toast Bread Coffee Typeface
16. The Anthelope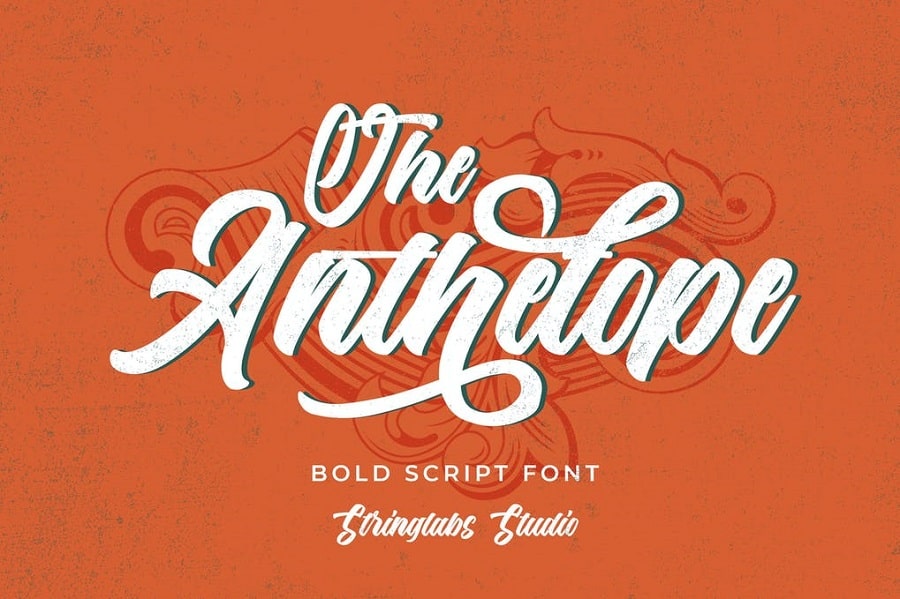 This retro bold script by StringLabs is more than just another 80s font. Trendy, sporty, and with just the right hint of groovy vibes, it's ideal for use as labels or signage for all kinds of businesses – from coffee shops, motor repair, to shoes, vape stores, and barbershops.
17. Carneval & Extra
Inspired by the atmosphere of carnivals, these cheerful fonts (4 styles) from Flavortype will bring out your inner kid. With a handmade feel plus a vector set with carnival themes, you'll be all set to make someone smile today.
18. Quesha
The contrasting elements in this modern gem from NimaType will remind you of geometric construction and organic vibes. Friendly, readable, and elegant, it will be a friendly addition to any designer's toolkit.
19. Kaldi Font Family
Inspired by the legend of Kaldi – a young goat herder who supposedly discovered the potential of coffee beans when his goats pranced after eating the plant's berries – this tall, condensed typeface by HemphillType.Co can be used from commercial to personal projects. Pack includes EPS illustration extras as well as editable badge designs.
20. Brooklyn Coffee Custom Font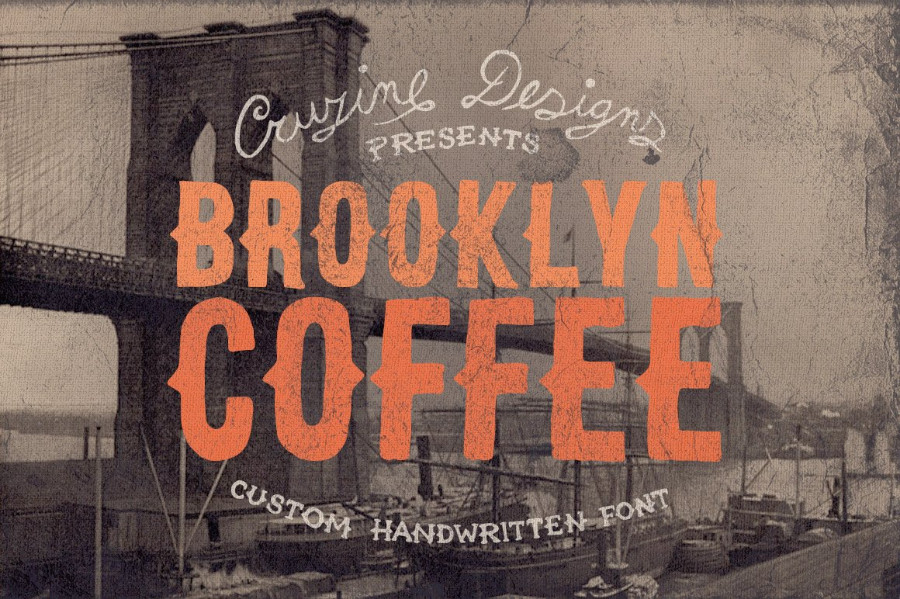 Bring the vintage vibes of Brooklyn from your desk to the streets in this custom font designed by Cruzine. Big, bold, and obviously meaning business, it comes in Regular and Outline styles for the busy creative.
Download Brooklyn Coffee Custom Font
21. Caniste Font Family
Do you have a passion for all things vintage? Then you will adore this all-caps serif from Ilham Herry. Featuring 6 weights with handy extras (frames, ribbons, panels, etc.), it looks as if it came straight out of an antique era.
22. Fine Art Font Duo
Be the darling of branding in this elegant collection by Elvina Gafarova. It contains 2 versions (bitmap in OTF only and the other in both OTF and TTF formats) of a sans font and a sweet script. With 22 line vector illustrations (AI, EPS, PNG) to boot, you'll have everything you need for business cards, logos, invitations, letterheads, and more.
23. Vintage SVG Bundle
Hustle Supply Co. proudly presents this hand-painted font collection that has a total of 8 fonts plus 6 editable logo/label templates. With authentic handmade aesthetics, it will help you achieve that DIY look in minutes.
24. Joules et Jacques Font Duo
No need to rack your brain matching typefaces. This product from Nicky Laatz will make your work easier thanks to this naturally handwritten script and elegant serif that complement each other beautifully.
Download Joules et Jacques Font Duo
25. Muara Rough
Also called MUARA No.23, this font by A.Budianto is available in OTF and TTF formats to help you craft the best logos, headers, titles, and labels.
26. Rosie Sans
This gorgeous all-caps sans by NEWFLIX.Bro has lots of stylistic alternates to make your work stand out. With a total of 6 styles to choose from, the only limit is your imagination.
27. Alkaria
This fun and casual retro font from Konstantine Studio is super flexible, it can go from your diner signage to an 80s album cover in no time at all. It comes in Regular and Shadow you can layer together for genuine old-school vibes.
28. HUSCON
Evoke vintage feels in this classic spur serif typeface family that includes 5 font files, plus 6 logo templates. It's versatile enough to be used not only for vintage branding, but also on sports, business, game, and food-related themes.
29. Charoe Typeface
Characterized by a modern look achieved with straight shapes, this gem from Tobias Saul has a total of 6 fonts, as well as special ligatures and stylistic alternates. There are also 15 high-res paper tears in PNG for making backgrounds, letterheads, and more.