Last Updated on October 9, 2023
Fonts in PowerPoint are a crucial design element for creating effective presentations. Choosing the right style, size, and color is essential for readability and visual appeal. It's important to maintain consistency throughout your slides so everything looks professional and on point.
Once you've chosen a typeface, ensure readability through appropriate contrast between text and background. Consider size and proper alignment, as well as formatting options like bold or italics to emphasize key points. Don't forget accessibility and font variety so everyone can enjoy your hard work with little to no problems!
Selecting and using fonts wisely in PowerPoint is essential to enhance the overall quality of your presentation. Prioritize readability and uniformity while aligning font choices with your content and audience. This creates an impactful, visually pleasing slide deck.
Best PowerPoint Fonts for Your Next Presentation
1. Gullia
This sophisticated modern typeface from Yukita Creative is an excellent choice for fashion-oriented projects. Its graceful, slender letterforms lend themselves beautifully to branding and logo design.
With its low legibility height, it's equally suitable for web design, advertising, and various communication materials. Supports 37 languages and includes OTF, TTF, and WOFF files.
2. Oliviar Sans Italic Family
Inspired by geometrical fonts and humanist sans serifs, this font family by Adam Fathony consists of 7 styles (Thin, Ultralight, Light, Regular, Semibold, Bold, Black) and different weights (from Thin [100] to Bold [900]). Ideal for minimalist and brutalist themes.
Download Oliviar Sans Italic Family
3. GROTESKA
With influences from popular Swiss designs, this minimal sans-serif from Designova is clear and spartan by nature. You will get a total of 14 fonts spreading between 7 weights, featuring 7 uprights and matching italics for each weight. There's also extended language support for your convenience. Contains OTF, TTF, and web fonts (all EOT, SVG, WOFF included).
4. Ethos Nova
Introducing this sleek, neo-geometric sans-serif typeface family comprised of12 meticulously crafted fonts. Designed with precision and equipped with robust OpenType features, each weight offers extensive language support, encompassing Western European and Central European character sets, totaling 312 glyphs.
Whether you're working on graphics, text presentations, websites, print materials, or corporate identities, this versatile typeface will deliver clean, minimalist results that wow!
Note: try increasing letter-spacing for uppercase characters when designing logos, labels, and headlines.
5. Argon
This functional modern-grotesk font from UnioCS was inspired by the aesthetics of 1950's Swiss rationalism. Featuring a monolinear solid design and a fusion of sharp and rounded curves, it presents a fresh take on the classic grotesque style while maintaining exceptional legibility – even when used in small sizes.
Rooted in rationalist principles, its style highlights its balanced variations. Ideal for anything requiring a professional flair, such as book covers, business cards, PowerPoint presentations, and logos.
6. Sherika Font Family
Simple, legible, and warm, this sans serif font family from Seniors_Studio consists of 7 weights plus matching italics. The download file contains 14 styles (7 uprights and matching italics), 232 glyphs, and OpenType features, together with ligatures.
7. Helixa
A neo-grotesque typeface exuding a clean, enduring aesthetic. Ideal for crafting logotypes, branding elements, headlines, corporate identities, and marketing materials across web, digital, and print platforms.
By adjusting letter spacing, it can transform into the ideal choice for creating minimalistic headlines and logotypes. Pack contains 300 glyphs, handcrafted OpenType features, and extended language support.
8. Univa Nova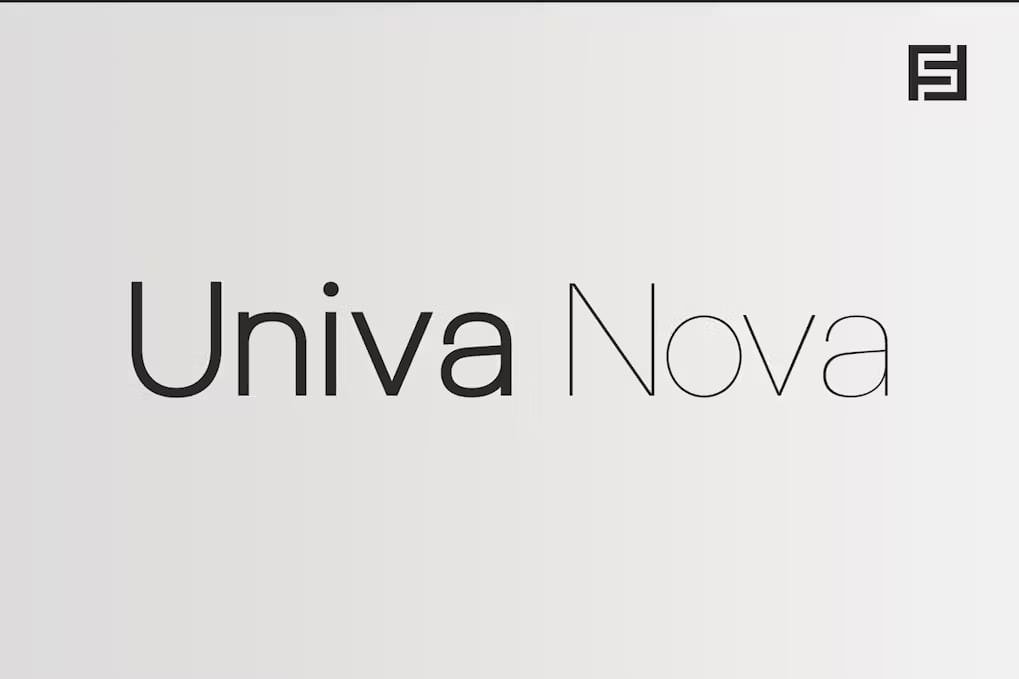 Drawing inspiration from the Swiss design heritage, this font pays homage to the original branding projects that defined an era. It works great for an array of creative applications, including graphic design, text presentation, web development, print materials, and display purposes.
You will receive a total of 16 fonts having 8 weights (Hairline, Thin, Light, Regular, Medium, SemiBold, Bold, Heavy) as well as Italic versions of each weight.
9. JUST Sans
Warm, open, and expressive, this geometric typeface features open characters, a generous width, and an elegant contemporary feel with sharp, angled terminals.
Don't underestimate its minimal aesthetic: it's a workhorse with 7 weights, complete Latin extended language support, accurate hand-adjusted kerning, and a variable version for maximum adaptability.
Aside from legibility on displayed on screens, feel free to apply this endearing font on logos, headlines, paragraph text, user interfaces (UI), signage, packaging, posters, new media, architecture, and fashion.
10. Architect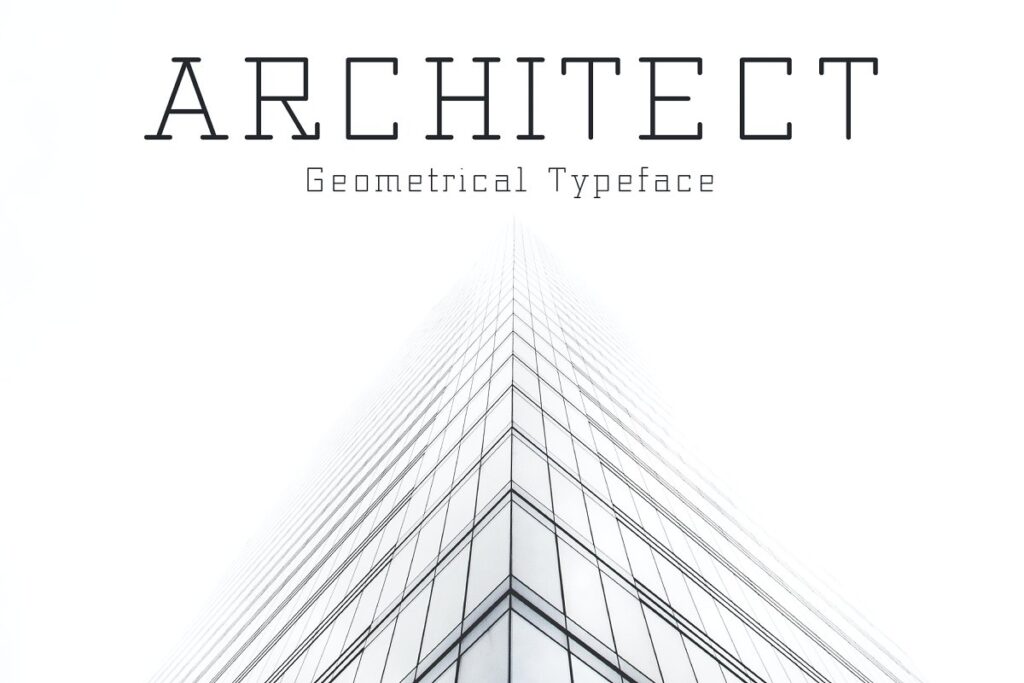 Meet this engaging digital typeface from epdesigns. Inspired by the nostalgic charm of early personal computers. This font is tailor-made for creating impactful headlines, logos, layouts, and content, adding a touch of retro appeal to your designs.
Architect effortlessly complements a variety of fonts, making it a versatile choice that seamlessly integrates with any project you're working on.
11. Pulse
Embodying confidence, showmanship, and speed, this bold racing font is all about limitless creative potential. From crafting logos and flyers to designing posters, headlines, sports-related materials, and even dynamic video content – let it fuel your concepts with energy and flair.
12. Mammoth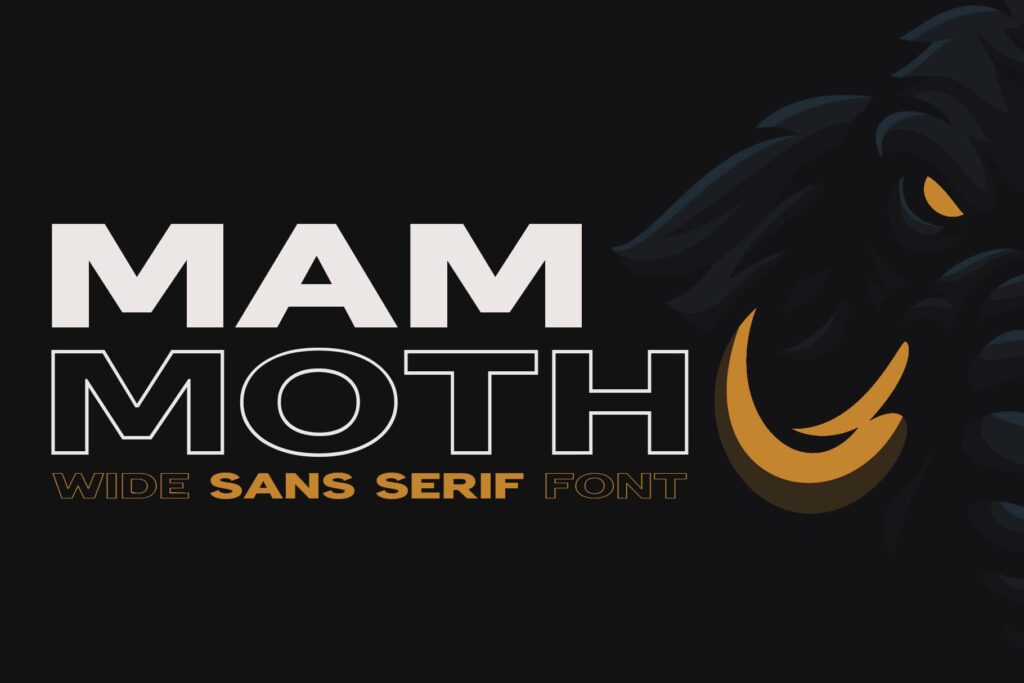 If you're tackling mammoth projects, look no further than this generously proportioned sans-serif. It offers both Regular and Outlined versions, along with lowercase letter options for each, allowing you to create original, attention-grabbing works.
From branding, photography, event invitations, to inspirational quotes, blog headers, posters, ads, and web design, this versatile typeface will be your go-to choice moving forward.
13. Oyster
Looking for an elegant sans serif with incredible versatility? This typeface will not only capture attention but also elevate your works to new heights. Its applicability extends to fashion, packaging, branding, magazine layouts, headlines, social media posts, invitations, etc..
Plus, it boasts a collection of exquisite ligatures that will infuse charm into your designs!
14. Gnarly
Inspired by the iconic magazine ads of the 70s and 80s, this font is set to become your ultimate choice for marketing, advertising, editorials, and branding. Craft attention-grabbing headlines that call for meticulous tracking. Download contains upper and lowercase letters, ensuring brilliant performance in both spacious and compact layouts.
15. Spring Melody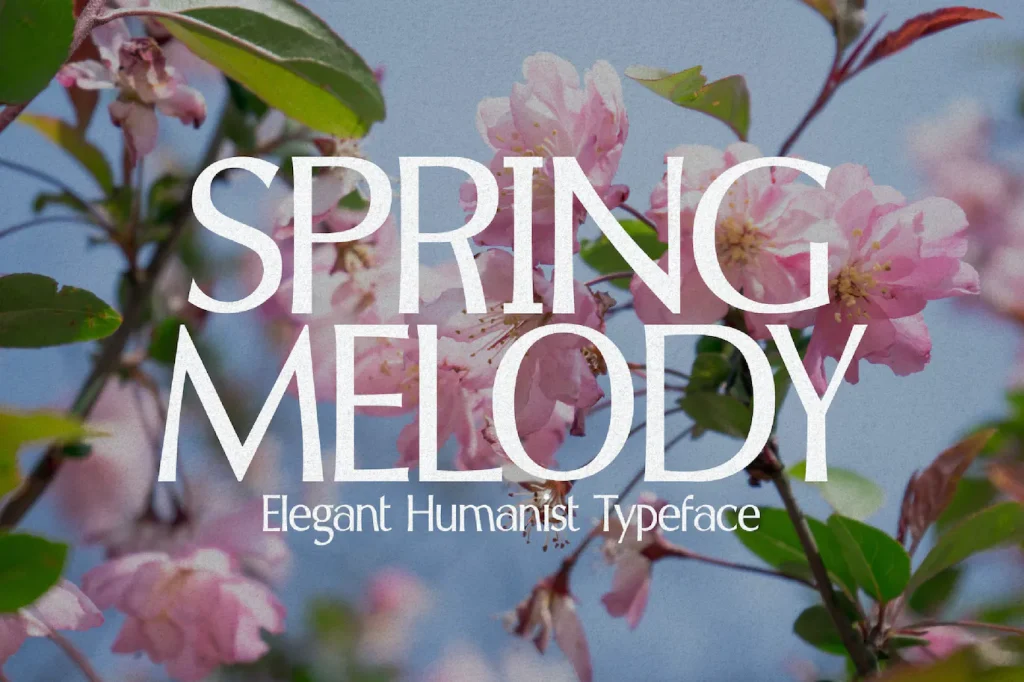 Featuring elegant curves, precise kerning, and sharp edges, this humanist typeface comes highly recommended for crafting vintage-inspired concepts.
Try it on branding, packaging, social media visuals, wedding invitations, ad materials, and editorial layouts. With its unmistakable charm, this typeface is sure to imbue your creations with a touch of extravagance!
16. Rolla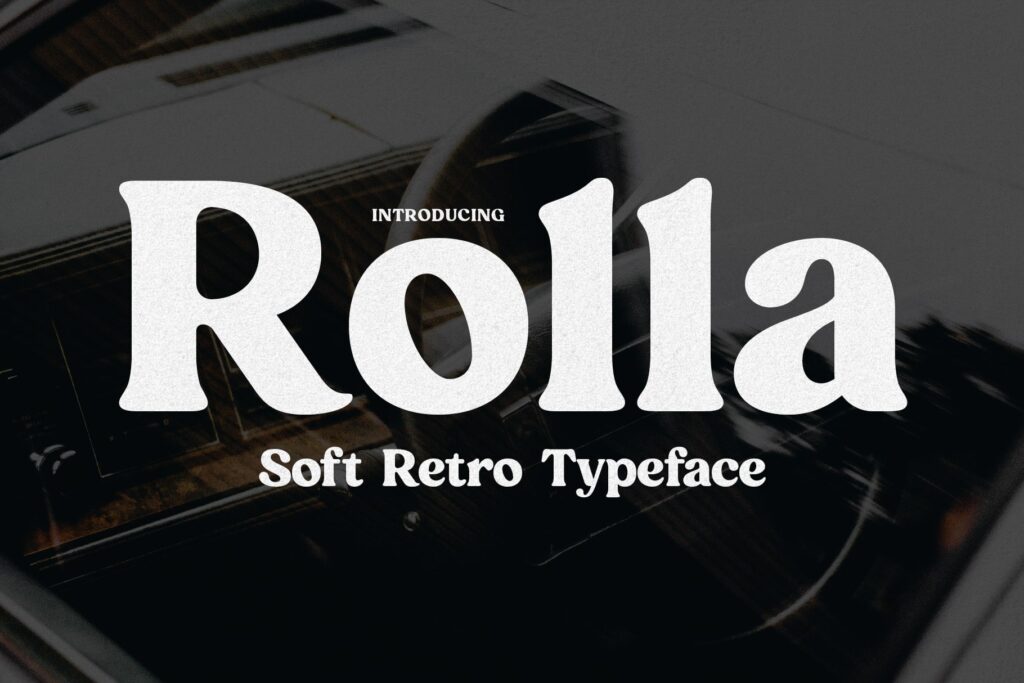 Take a captivating journey – not just for yourself but also for your audiences – back to the vibrant spirit of the 60s and 70s with this bold retro serif.
What distinguishes it are its gentle, rounded corners and delightful, flowing curves. Tailor-made for modern-day designers, you will find that you can't get enough of all things vintage after using it!
17. Grayson
This art deco typeface was influenced by the stylish store signs that adorned the streets of London, New York, and other bustling metropolises during the 1940s.
With its clean lines, effortless readability, and unforgettable letterforms, it's an ideal choice for branding. The font pack includes both OTF and TTF versions, ensuring flexibility and ease of use.
18. Isabella
Minimalist, elegant, and pristine – this modern sans radiates sophistication. Allow it to grace your logos, titles, and invitations, among others. It also complements script typefaces seamlessly, allowing for flexible design combinations.
The pack contains an extensive set of features, encompassing uppercase and lowercase characters, ligatures, alternates, numerals, as well as a rich assortment of punctuation and symbols.
19. Redhawk
Let the details speak for itself in this cutting-edge futuristic font tailored for sci-fi and tech-themed projects. The possibilities are as limitless as the future it represents. With its minimalist aesthetic and unique letterforms, it's fitting for a wide range of applications, such as labels, posters, branding, cinematic works, magazines, packaging, books, and video games.
20. Golden Hooge
This typeface from Aqeel-Art draws inspiration from the renowned minimalist logo design. With it, you can effortlessly craft beautiful templates, brochures, videos, advertisements, branding materials, logos, invitations, and more. PUA Encoded and includes multilingual support. Compatible with Adobe Illustrator, Adobe Photoshop, and Corel Draw.
21. Basted Club
With influences from the typography style of old nightclubs, this vintage font family exudes a classic appeal with its robust, steadfast letterforms. Comprising of Regular, Medium, Semi Bold, Bold, and Black variations, this font is a versatile choice for tackling anything that needs a clean but bold visual impact. You will get OTF and TTF formats.
22. Next Sphere
Andikafezco gives you this super extended, futuristic display font family in 9 styles (Thin, Extra Light, Light, Regular, Medium, Semi Bold, Bold, Extra Bold, and Black). Combine 2 or 3 looks to see impressive results. It's best used on themes that focus on sci-fi, high-fashion, architecture, brutalist, tech, and spartan vibes.
23. Twinton
Crisp and minimalist, this unique font is handmade for contemporary designs. Crafted for maximum legibility, it allows your content to make a bold statement with ease. You'll be confident showing it off on headlines, business cards, thumbnails, social media graphics, posters, and cover designs. Use it to elevate your design game today.
24. Avalar
A captivating serif display font that absolutely refuses to blend into the background. Unlike fonts that opt for subtlety, this bold, dynamic font radiates extroverted energy.
You'll have access to both Bold and Regular variations for convenience. It's an excellent choice for wedding invitations, magazine layouts, book covers, packaging designs, websites, user-friendly mobile apps, logos, and more.
25. Amenti
Presenting a contemporary yet refined font characterized by its sleek lines and graceful curves. With 6 different weights, it introduces timeless beauty and sophistication – be it branding, web design, or print. Its exceptional legibility renders it appropriate for both display and body text, so you achieve clear and poignant communication.
26. Estrella
With its graceful curves and precise lines, this contemporary sans serif will inject a touch of sophistication into any project. You can't go wrong with its professional and polished aesthetic that comes in 6 weights (Thin, Light, Regular, Medium, Bold, and Black).
And because it remains legible whether used on headlines or body text, you can rest easy knowing your logos, websites, business cards, posters, and editorials are in good hands. Sleek, stylish, and highly elegant, it will surely set your work apart from the competition.
27. Wanafi
Boasting a contemporary, exquisite, and uncluttered look, this modern typeface will definitely add a sense of whimsy into every project. Its fresh, straightforward lines imbue a timeless quality, while its graceful curves deliver a distinctive visual allure.
It's ideal for branding, product packaging, websites, and logos. However, feel free to experiment and see just where this typeface will take you!
28. Endzone Express
Don't settle for the ordinary when you can have this sporty serif. amp up your game and get ready to express your active, bold side with its geometric lines and thick, robust presence.
See it perform its best on team jerseys, motivational posters, and sports-themed branding materials. Unleash your creativity with this exceptional font that perfectly embodies the essence of triumph!
29. Northura
Challenge your perception of conventional typography with this ultramodern sans-serif. With a staggering variety of 30 weights, it seamlessly blends minimalism, aesthetics, and readability, providing you with precise control over your design.
While it excels in minimalist and futuristic contexts, it's also an excellent option for contemporary, travel, business, and sports-related projects.
30. Overdrive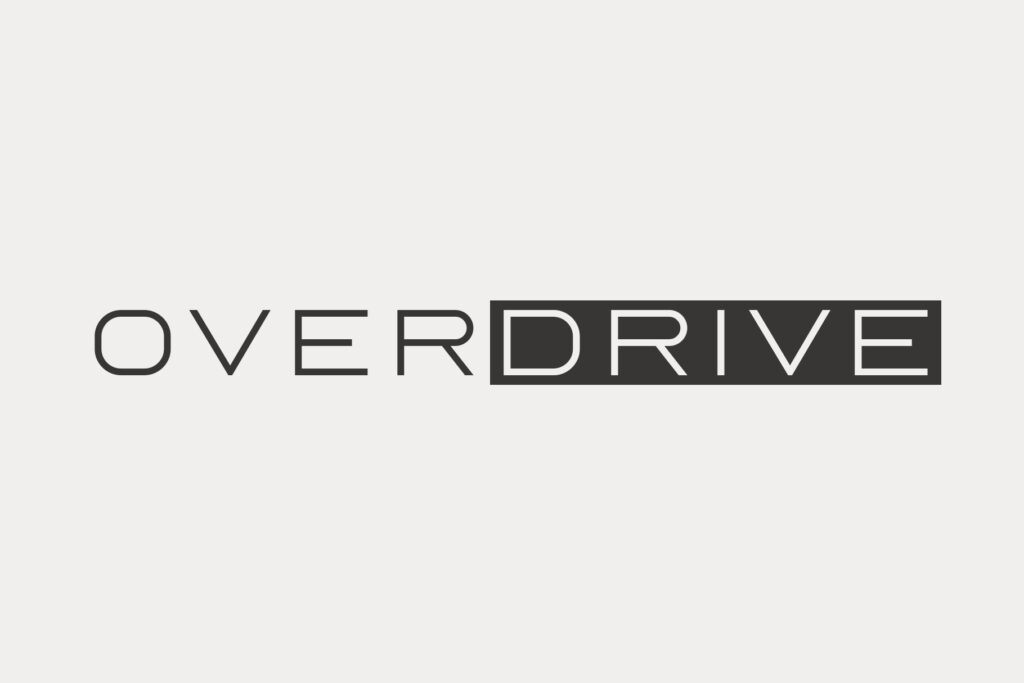 Give your works the feel of Italian racing using this automobile-inspired font. Radiating sheer elegance, it provides generous spacing for use on logotypes, headlines, presentations, and promotional materials. It will also look gorgeous on minimalist and science-fiction themes. Get it today and rev up your imagination!