Last Updated on May 29, 2023
The decade of the 'Generation X', the 90s were all about MTV music, iconic sitcoms, and the beginnings of a digital era. Everything seemed fun, fresh, and fast. Still, summers were all about cycling down suburban roads and watching cartoons on weekends. It was a fast-paced mix of what's new and what was.
Was it the best decade? Perhaps. But everyone can agree that today, the 90s vibe is sought-after for its nostalgia and fun characteristics. Bring back the good decade in your projects with these cool 1990s fonts.
Best 1990s Fonts
1. Cyber Soulja
Yo, check it out! Cyber Soulja is a dope pixelated sans-serif font that brings back all the sick vibes from the 80s and 90s. Every letter is crafted with mad precision and attention to detail, capturing that retro aesthetic from the classic arcade games we all grew up on. Its bold, blocky letters are straight-up sci-fi futuristic, making it the perfect choice for logos, titles, game design, packaging, and posters.
It's like each letter is a pixelated warrior, tearing it up through a digital landscape full of endless adventure and epic excitement! Tap into the nostalgia with Cyber Soulja and level up your designs.
2. Boardslide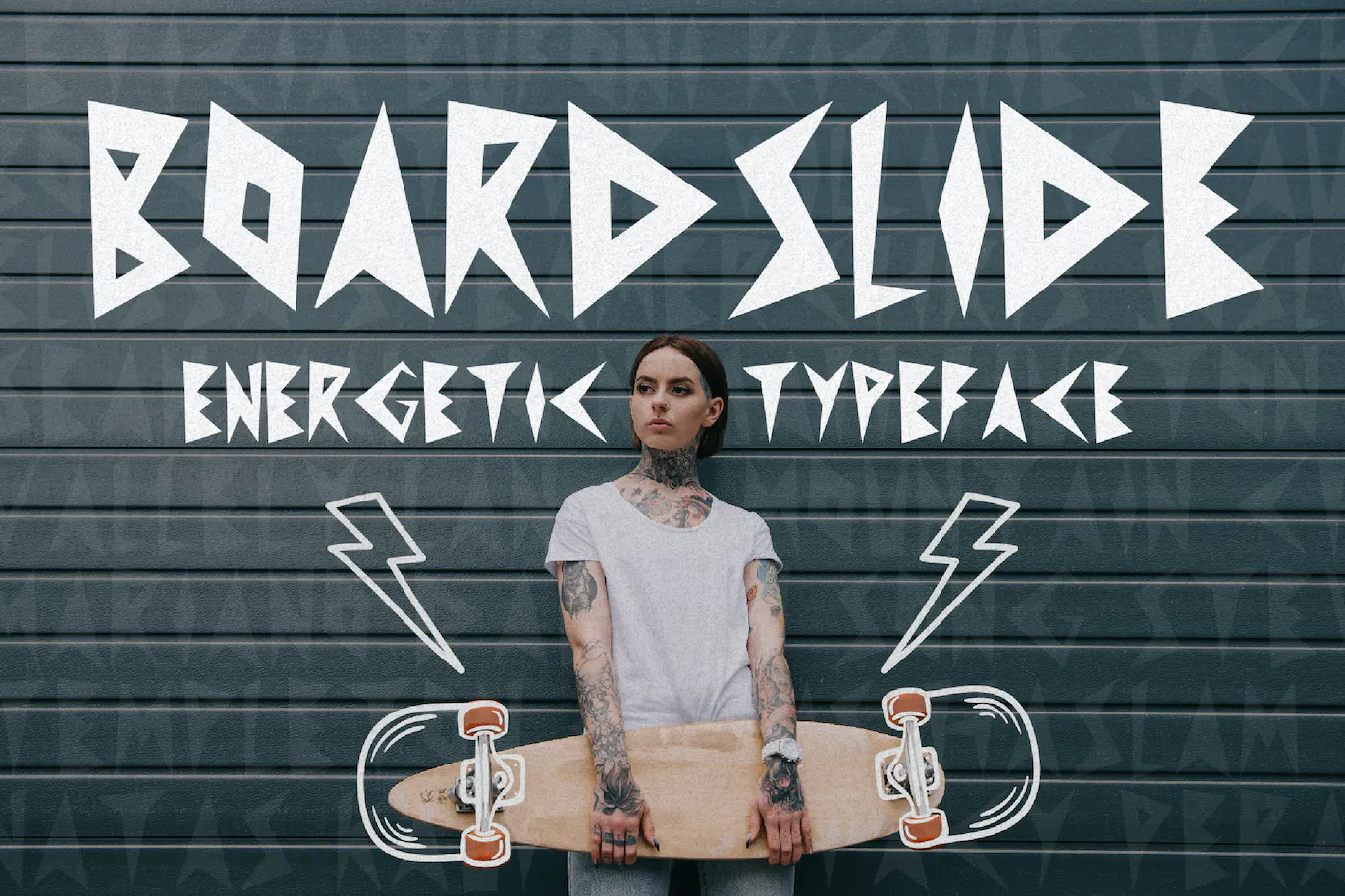 Boardslide is a rad all caps typeface inspired punk and skateboarding culture. This sharp and energetic typeface is perfect for creating logos, headlines, social media posts, t-shirts, Youtube graphics, event posters, and much more. If you're looking to create a wild design, then Boardslide is perfect for you!
3. Heaven Spot
Heaven Spot is a modern graffiti typeface inspired by street art and underground hip hop music. This marker like font is beautiful and legible. You can create incredible wall art, headlines, album covers, social media posts, logos, poster, packaging, and pretty much anything you can think of. Get creative today with Heaven Spot!
4. Zilla
Hey dude, have you peeped Zilla? It's a totally chunky and bodacious display typeface that comes in two gnarly flavors – Regular and Rounded. It's the bomb for creating totally rad designs that are all that and a bag of chips, whether it's headlines, covers, social media, thumbnails, book covers, stationeries, packaging, branding, or whatever.
Zilla's got a killer look that's all beautiful, quirky, and bold. It can totally work on both modern and retro projects. Give Zilla a whirl and see how it can crank up your designs to the max!
5. Vogue
VOGUE is a modern all-caps 1990s font with a character of its own. This typeface is perfect for headlines, big text, branding, logotypes & display usage.
6. Fabian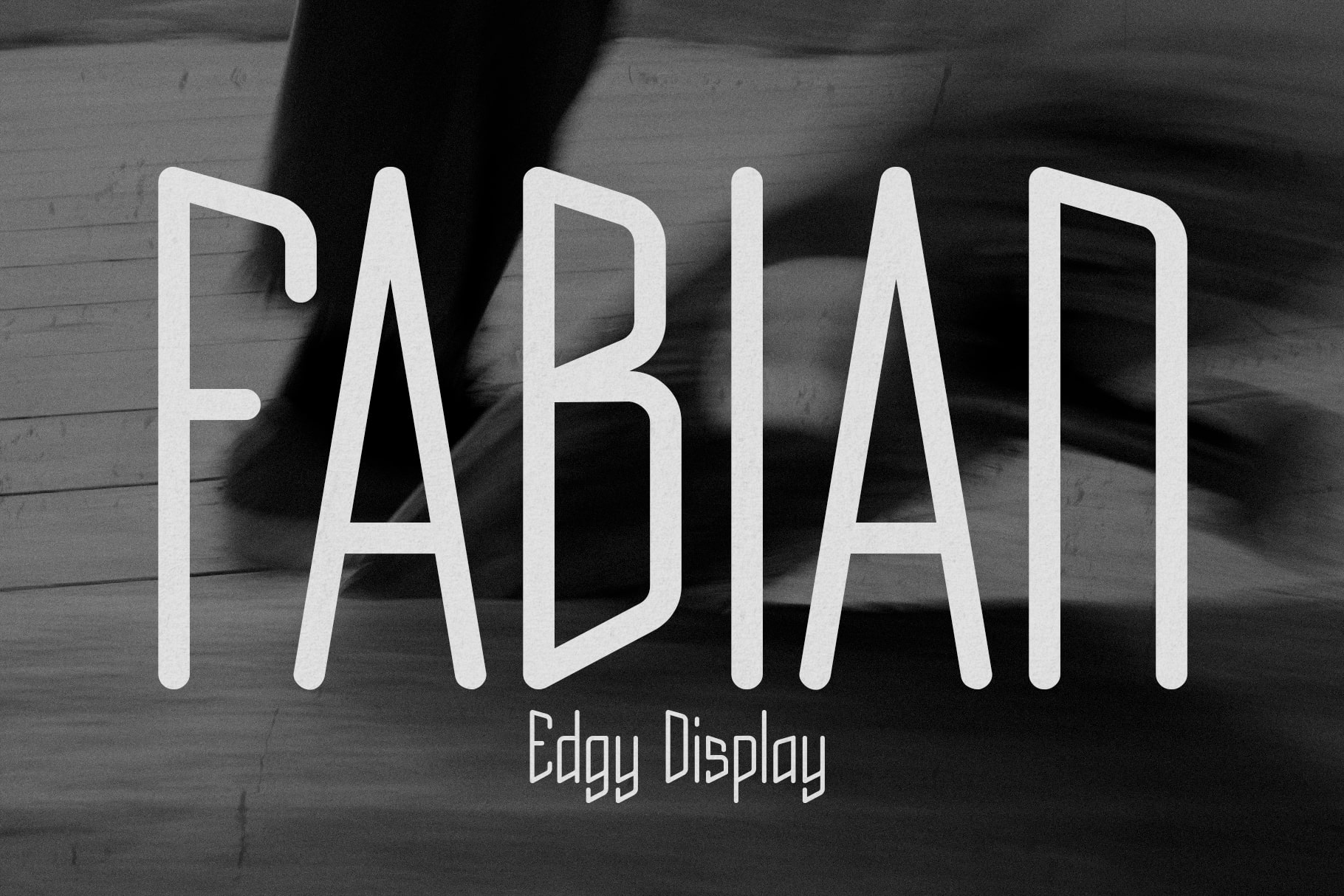 Fabian is an edgy punk display typeface. It's distinctive look is perfect for posters, album covers, apparel, logos, headlines, and more. It was inspired by the 1990s punk rock movement. This modern font includes upper & lowercase letters as well as punctuations and numerals. To get a feel for it, test it our below.
7. Dope
Dope is a unique typeface perfect for headlines, big text, branding, logotypes & display usage. This 1990s font can be an excellent choice for creating logos, promotional, and marketing graphics that can bring uniqueness and freshness.
8. Nebula
Explore possibilities in this high impact display font from The Artifex Forge. Created with stylized, round-ended lines that appear to be in motion, this font is ready to take on the stars!
9. Samson Typeface
If you're on the lookout for something fun yet simple, look no further than this cute sans by MikeHill. Available in 4 styles (Regular, Italic, Alt, Outline), it's a nice addition to anyone's toolkit.
10. Sebastian
Sebastian is a playful cutout font created for quotes, greeting cards, social media posts, branding, headers, posters, merchandise, and much more. If your project or design requires a light-hearted cutout typeface, then Sebastian is for you!
[fontsampler id=61]
11. Spot
SPOT is a unique and modern all-caps, 1990s font for headlines, big text, branding, logotypes & display usage. This font is also perfect for creating outstanding logos, promotional content, and marketing graphics.
12. Monro
Introducing Monro, a disruptive typeface with shapes inspired by the aesthetics of the 80s and 90s. Monro is an ideal typeface for large size display texts and wordmarks, its eye-catching quirky letters grab the readers attention and makes them notice the message being sent across.
If you're searching for a geometric typeface that offers versatility as well as a clean/sleek build, then Monro is for you!
[fontsampler id=55]
13. Game Over
Inspired by the low-res bitmap lettering from early computer devices, this 8-bit font by Inspirationfeed is as every bit fitting in logos, headlines, prints, posters, icons, and more.
14. Misfit
Misfit is a decorative display typeface heavily influenced by the 1990s punk scene. The font is perfect for posters, headlines, album covers, apparel, logos, and much more. This all caps font includes punctuation and numerals. You can mix up small and low caps to get unique combinations. Enjoy!
15. HENAVE
A serif with attitude and comes in 3 styles, this new wave typeface features strong lines that will good whether it's used on futuristic or retro concepts.
16. Kingfisher Layered Font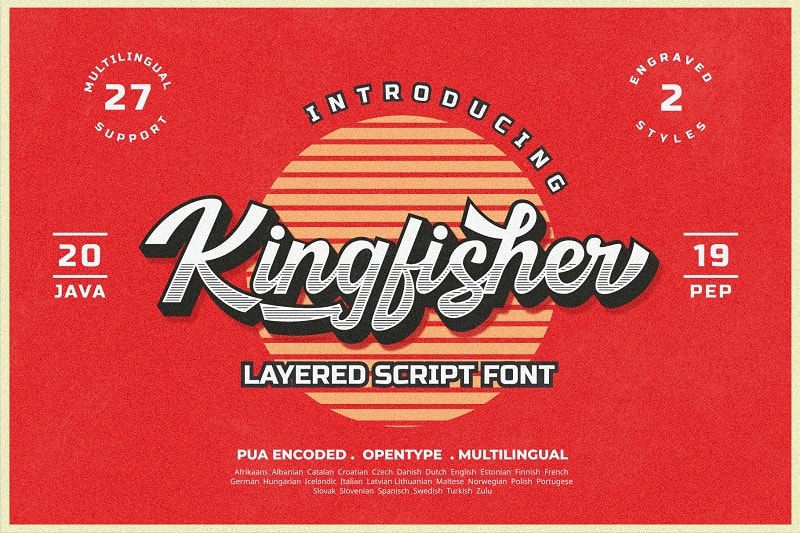 Save yourself the time and effort when it comes to recreating those lovely vintage projects. This layered typeface from Java pep is everything you need for that picture-perfect retro design.
Download Kingfisher Layered Font
17. Totally Tubular Font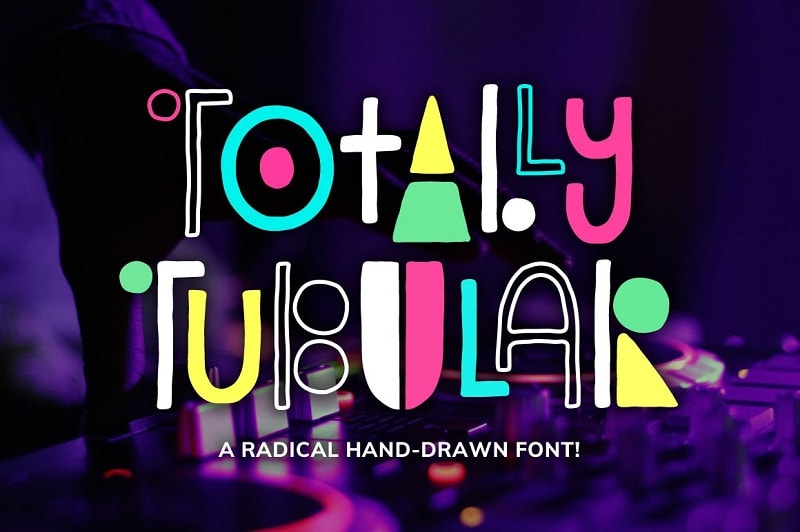 Looking for a fun surprise to add in your personal and commercial works? This hand-drawn font comes with an outline version for you to mix and match in your posters, branding, and even editorials.
18. Starlit Drive Signature Font
Sam Parrett brings to you this irresistibly charismatic typeface that's all about swift strokes and authentic dry textures in 2 styles. Don't be afraid to take it for a spin today.
Download Starlit Drive Signature Font
19. Retro Kiddo
Feel like a kid again thanks to Elena Choo and this vector alphabet you can easily customize to fit any concept you have in mind. Plus with 2 decorative geometric backgrounds, the game is never over – even when the 90s has ended.
20. Electric Dreams Font Duo
Nicky Laatz proudly offers this font duo consisting of a natural signature style typeface, plus a solid sans serif. Great together or when used by themselves, it will look stunning on branding, editorials, and web projects.
Download Electric Dreams Font Duo
21. Childish Reverie Font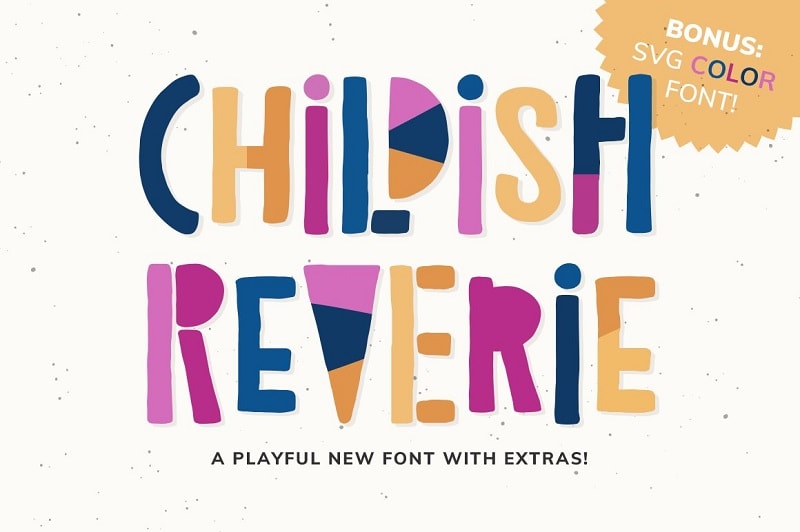 Keep it fun when you use this playful font that's bursting with personality! Featuring doodles to add in your designs, download it today to help you kickstart something awesome.
Download Childish Reverie Font
22. The Ultimate 90s Font Pack
In search of the ultimate 90s collection? Then get your hands on this set that has everything – from bubbly fonts to colorful typefaces. Buy it today and receive an exclusive font thrown in just for kicks. What more could you ask for?
Download The Ultimate 90s Font Pack
23. Argent CF
Created by Connary Fagen, this expressive serif includes a pronounced x‑height and evocative, flowing letterforms that's both familiar yet exciting.
24. Modern English Crooked Typeface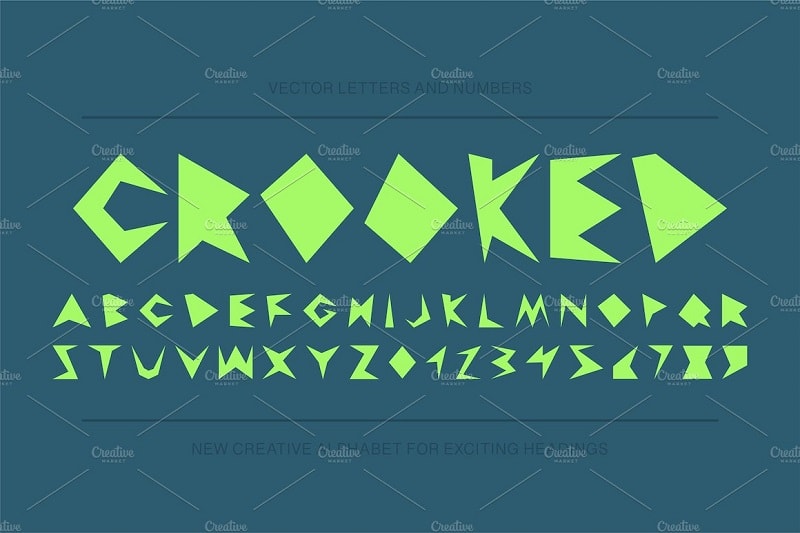 This stylized and distorted typeface is a quirky addition to your designer's toolbox. Best when enlarged, use it for headlines, logos, labels, and more!
Download Modern English Crooked Typeface
25. Noyh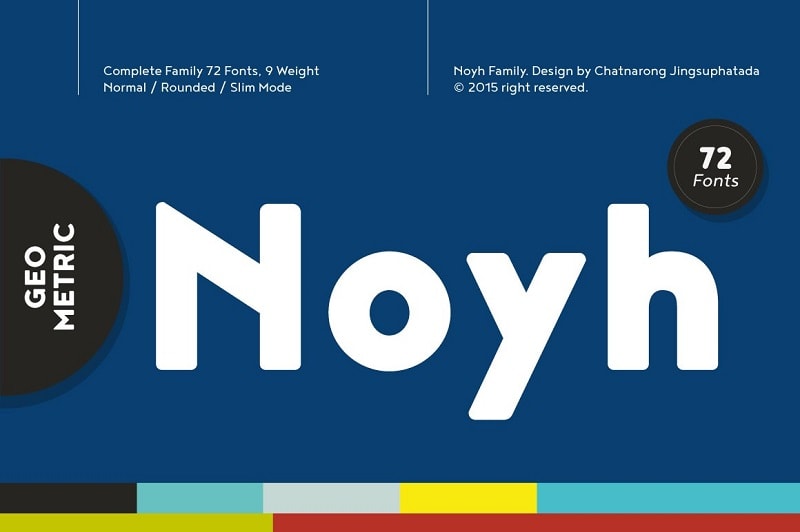 This font family by Typesketchbook Foundry includes 72 fonts in 9 weights, ranging from slim and clean, to thick and rounded – each boasting of over 350 glyphs and with their respective italics.
26. Bright Colorful Children Alphabet
ExpressShop brings to you this vibrant, multi-colored typeface that's sure to bring a smile to anyone's face. Featuring 26 JPG, PNG, and EPS files, it's a nice addition to kid-inspired works and designs.
Download Bright Colorful Children Alphabet
27. Grestal
This smooth, casual typeface from Konstantine Studio is a fun retro tribute to everything 80s and 90s. Use it on social media, branding, or packaging designs for its versatile and beautiful lettering.
28. Steamed Hams Font
No it's not food – but it looks tasty enough to eat thanks to this font's two unique styles that can be used on their own or layered to create yummy looks. Made by Denise Chandler, the set also includes cute doodles!
29. Clonoid
Paying homage to the arcade game logos in 80s and 90s, Dharma Type created this masterpiece of 12 styles in 6 weights to help you craft the ideal futuristic vibe in minutes.
30. Truant Font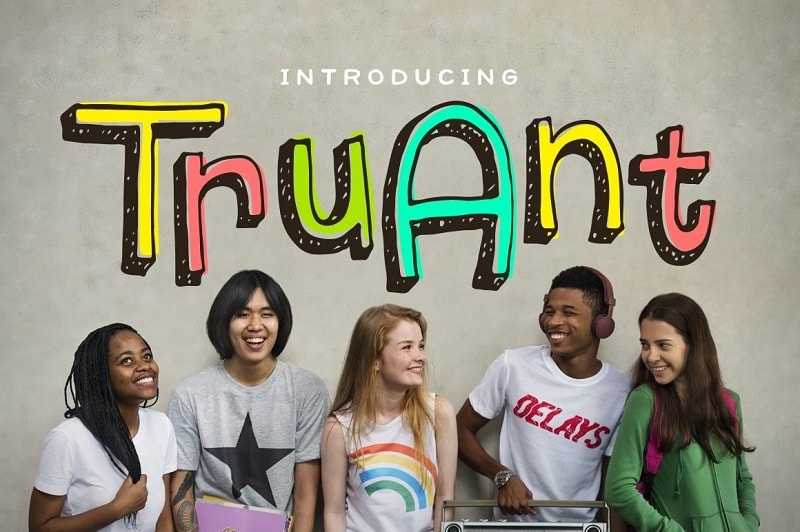 This font will be your new best friend with its playful characters and alternate letters. Relive good old school days in your personal or commercial projects using this gem.
31. Nineties Headliner Nostalgic Sans
Say hello to Nineties Headliner — a bold, nostalgic sans inspired by text-focused magazine ads of the 80s and 90s.  The classic, text-focused design of the 80s & 90s is making a comeback, and this font looks to provide just that. With both upper and lowercase letters, Nineties Headliner works beautifully for logos or as primary header text, especially at a large scale.
Download Nineties Headliner right Here!
32. Perfectly Nineties Nostalgic Serif
Perfectly Nineties is a beautifully nostalgic upper and lowercase typeface that looks incredible in both large and small settings as a display and body text. An awesome nostalgic serif, you can use this font on a range of different projects and not be disappointed.
Download Perfectly Nineties right here!
33. Strippy Bold Futuristic Fonts
Inspired from the bold and loud visual statements from the 90s poster and graphic design trend, Strippy is an awesome font design that is perfect for a range of concepts. It is a real statement font and is easy to install and use on OpenType programs.
Download the Strippy Bold Font here!
34. Nevermine Nineties Type
Introducing NEVERMINE – Nineties Type, created by ikiikowrk. Is a solid & raw condensed typeface with the unique shape of the 90s era. This typeface is perfect for an event poster, magazine cover, hipster fashion brands, t-shirts, tote bags, quotes, or the addition of stylish text overlay to any background image.
35. Wasted Youth
Wasted Youth is a font in three styles including a clean-edged original, plus two additional versions drawn with inky brush and marker pen. It takes inspiration from 90s grunge bands, with a hand-made punk aesthetic that's equally at home in music videos, album covers, horror movies and skate culture. It aims to combine the best of these popular looks into one versatile font.
Along with its unique uppercase and lowercase characters, Wasted Youth also comes with a host of custom ligatures, underlines and alternatives, along with numerals, punctuation and language support. It's a truly flexible font that can be shaped into titles and headlines that look authentically hand-made. Try it on t-shirts, posters, stickers, movie titles, YouTube videos and more!
36. The Lied
The Lied is a fantastic new font that can be used for kids' designs or even made edgier for a bold, strong look. The extra glyphs that combine the smaller and larger letters add a unique touch to this font and can be useful in mixing up the look of similar words. Enjoy playing around with the combos!
37. Tickerbit Retro Pixel Font
Ticikerbit pixel font is a modern pixel font that comes in 4 styles. This font is great for retro or contemporary displays. It works for headlines or body copy. Multilingual support. great for logos, editorial, clothing, and package design all with a vintage feel. This playful font works in large and small sizes. and includes monospaced, italic, and mono italic styles.
38. Leutner Font
Totally unique and out-of-this-world, this hypnotic geometric gem from RetroSupply Co. was inspired by late 20th century design but without the cheesy tribute. Use it on your sci-fi, modern, or vintage projects for that magnetic vibe.
39. Walter
A modern typeface expressly made for fashion and sci-fi, Walter is a cinematic sci-fi 1990s font with a special charm that makes it perfect for headlines, branding, logotypes, and display usage.
40. Hanover
A modern, minimalist typeface specifically made for luxury, fashion, and stylish statement with its unique flair. Hanover is an all-caps 1990s font that is also perfect for creating outstanding logos, promotional content, and marketing graphics that can really grab attention from your visitors.