Last Updated on June 12, 2022
For a lot of people, college is one of the best years of their life. From clubs, friends, to parties, and classes: as they say, time flies by when you're having fun. Whether it's community college or at a university, there's nothing quite like the feeling of being part of something big. Back then, you didn't know what or who you'd end up as.
It was a time of finding yourself, what you like to do, and who your real friends are. In fact, many of us probably still visit our old schools. And of course, some of our most treasured possessions are our college memorabilia. From jerseys to thesis papers, these are now fondly thought of and kept.
Want to revisit university life? Then check out these excellent college fonts and let them transport you back to your prime years.
College Fonts
1. College
College is a family of college font styles that like to hang out together! Combine them how you like and color them as you will. Give your designs some good old college cheer and have fun with fills and outlines.
2. Pittsbrook Sans
Pittsbrook Sans is a classic college font that is reminiscent of old advertisements and branding. With a rigid, blocky feel, it's got lots of potential for your vintage projects.
3. College Block 2
College Block has been revamped with many changes both to the college font and glyphs themselves as well as language support. This blocky display font features only angled lines with stubby serifs and now features a 3D version.
4. Leophard Font Family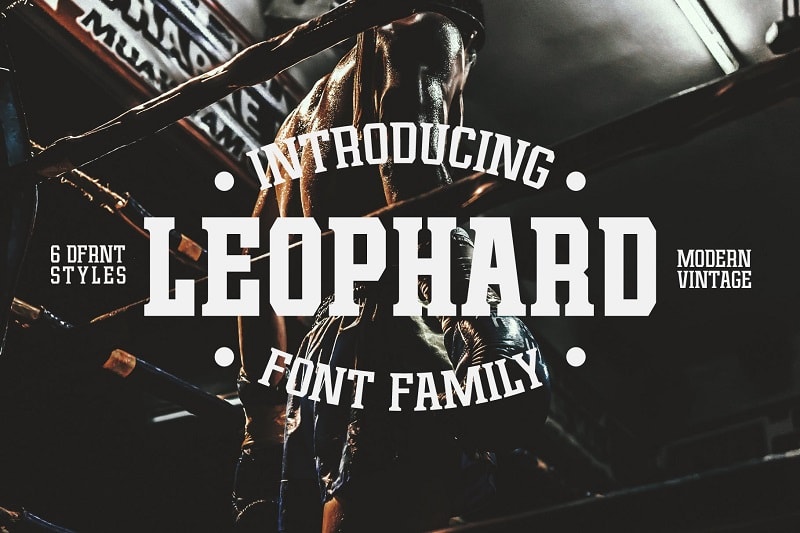 Arterfak Project presents this 6-font gem inspired from sporty, vintage style that evokes old-school spirit while playing with modern minimalism.
5. Flanders Script
This modern script from Letterhend Studio includes a complementary Shadow font so you can effortlessly make retro designs in a snap.
6. Houston Font Family
Craft Supply Co. offers this modular gem inspired by American sports graphics. This sans serif family would be perfect for logos, headers, banners, or even print projects.
7. Scout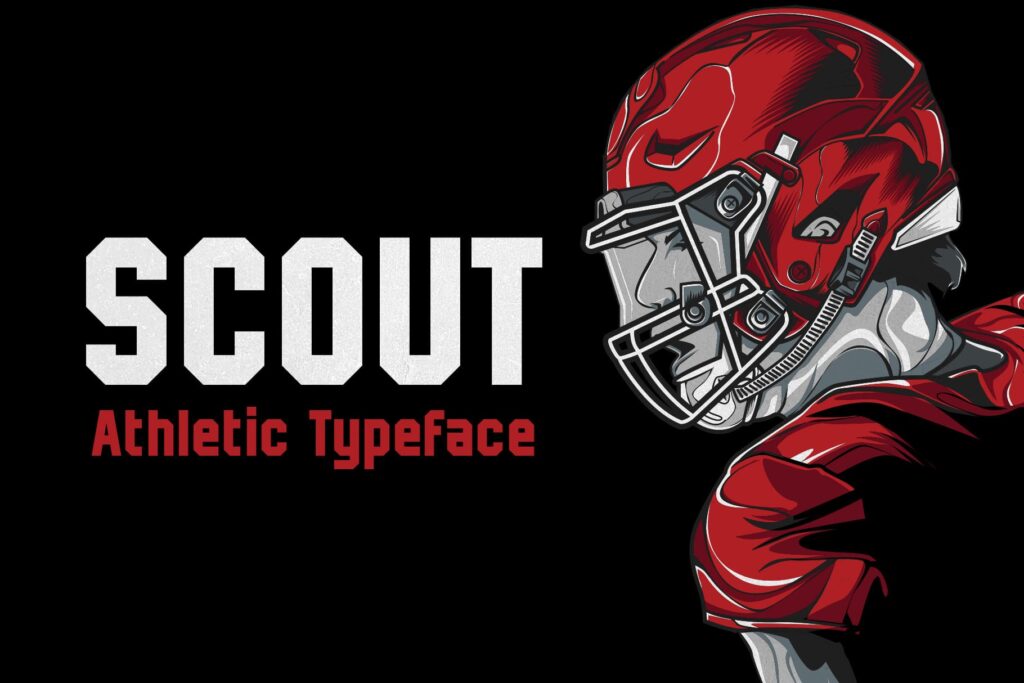 Scout is a sharp, clean, and bold athletic font. It is a very versatile display typeface perfect for sports branding, emblems, jerseys, posters, apparel design, magazine headlines, labels and so much more. Scout is fully-kerned and ready to be used right out the box.
Test this font by typing here
8. Heisman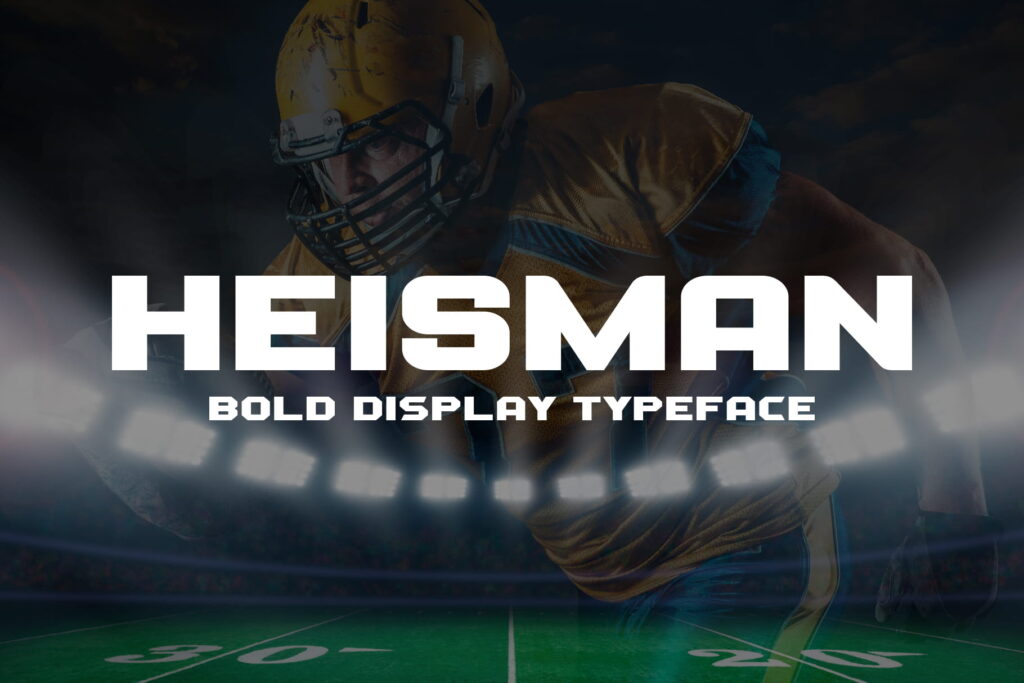 Heisman is an all caps font with unique small and large cap characters. The font is ready to be used for your sports related projects. Built to be perfect for headlines, jerseys, logos, branding, posters, packaging, advertising, and much more.
The font is geometrically perfect, which means it's aesthetically pleasing to the eye. Heisman is fully-kerned and is effortless to use. You can always play around with the spacing, however the typeface looks great when the letters are close to each other.
Test this font by typing here
9. Strikeout – Bold Script Typeface
Strikeout is a beautiful script typeface inspired by 1940s and 1950s baseball era. Strikeout allows you to create hand lettering in an instant. This super handy typeface is ideal for logos, product packaging, headers, posters, merchandise, handwritten quotes, social media, greeting cards, and much more. If you love baseball and retro typography, then this font is for you!
Test this font by typing here
10. Enforcer Typeface
Make a big impact right away thanks to this semi-rounded, bold sans serif from ANDR35. Have confidence presenting your works to the world in four styles that are sporty and edgy.
11. Tide Sans
Just because it is block doesn't mean it can't be fun or fresh. Introducing this 18-font pack from Very Cool Studio that can go from beach to frat party in seconds.
12. Fantera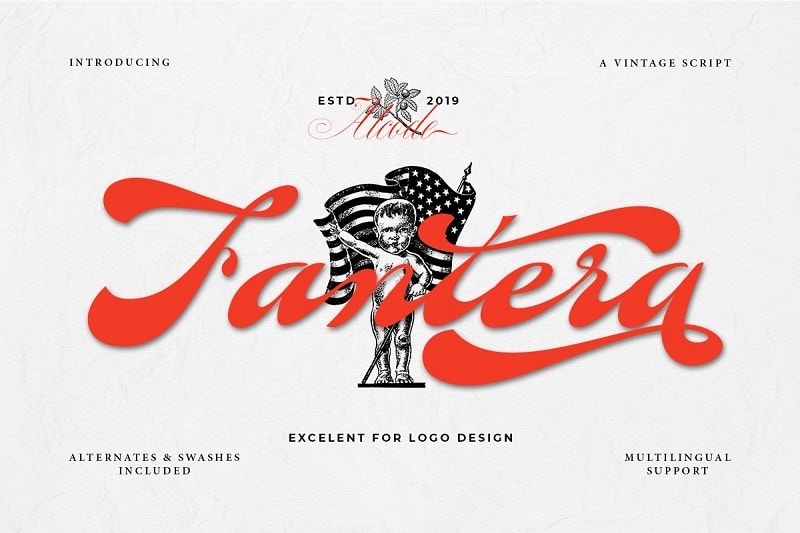 This vintage script typeface by Alcode will look amazing by itself, or paired with a sturdy sans.
13. Porterhaus Typeface Family
Whether it's for branding or personal use, you will love this display typeface family that includes six styles (Sans, Serif, Stencil, College, Outline, and Shadow) plus 20 pre-built catchwords for your convenience.
Download Porterhaus Typeface Family
14. Kensmark
Who would've thought that simply changing the width or weight of a font can create versatile possibilities? This powerful pack contains 45 fonts that would make your posters, logos, headlines, and labels stand out.
15. Tribe
Instantly make a winning combination using this all-caps display type that comes in six flexible fonts.
16. Diesel
Nothing says 'dynamic' more than a well-built slab serif. Find that and more when you download this font that comes in Light, Light Italic, Regular, Regular Italic, Bold, and Bold Italic.
17. TT Polls
Letters never looked so good thanks to TypeType and this collection of 15 fonts that includes thin, bold, and even a script style. Use it for sports, fashion, corporate, as well as branding and gaming themes.
18. College Champions Font Family
Show them who the real champ is in this extra wide type from Alphabet Agency.
Download College Champions Font Family
19. VTF League Family
Inspired by local distilleries around Eastern Tennessee, this 14-font athletic block display family by Varsity Type Foundry is all you need to create sturdy, competitive pieces that will showcase your own unique personality.
20. Chosla
This sans serif font family from RARY is ready to give your projects a powerful first impression. A pack that consists of a total of 11 styles, it's a modern block doesn't know when to give up.
21. Scoreline Sports Font Family
Inspired by Nike's NCAA/NFL type systems, this slab and sans serif family was created specifically by sports lovers for sports-minded individuals.
Download Scoreline Sports Font Family
22. Jawbreak
Whether it's sports, urban, or collegiate themes, this modern font includes editable logo templates that should kickstart your sports dreams.
23. Empera
Go from vintage to distressed in seconds using this versatile font family. Confident enough to appear in logos, posters, labels, branding, and apparel, you will love that it also has multilingual support.
24. Treadstone
Greg Nicholls introduces this 8-font family that consists of versions with rounded and rough edges, as well as grunge effects. This means you can easily shift from adventure to vintage effortlessly.
25. Centrifuge Family
Midwest Type proudly presents an all-caps type that comes in three styles (Bold, Regular, Light) for you to use in anything – from elegant to athletic.
26. Madison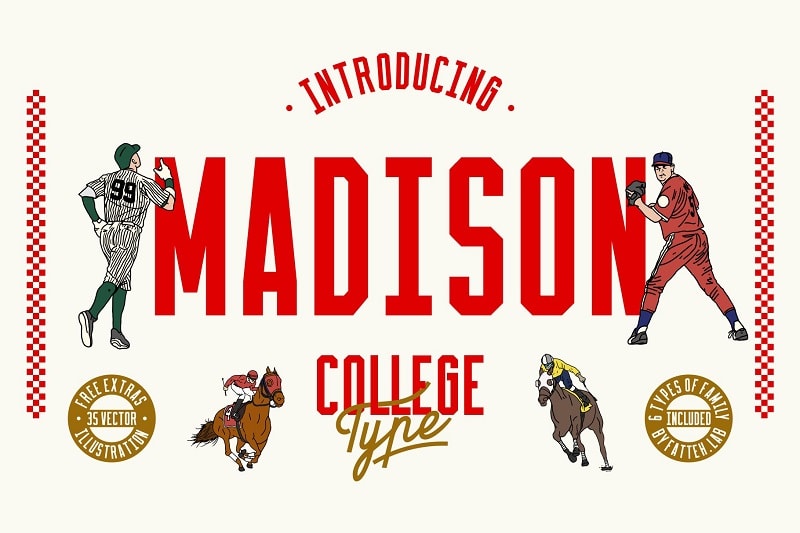 Nothing like a Saturday spent watching baseball or horse racing. Stir up similar emotions and memories when you download this sporty sans from Fateh.Lab that includes a charming script, as well as 35 beautiful vector illustrations.
27. Athletico Clean & Sharp
Inspired by college and university sportswear lettering, Leitmotif presents to you this athletic font that would make a great addition to any designer's toolkit.
Download Athletico Clean & Sharp
28. Maritime Champion Stencil
An all-caps champion that comes in four stencil weights, use it to stretch your designs either on land or at sea.
Download Maritime Champion Stencil
29. Hudson NY Family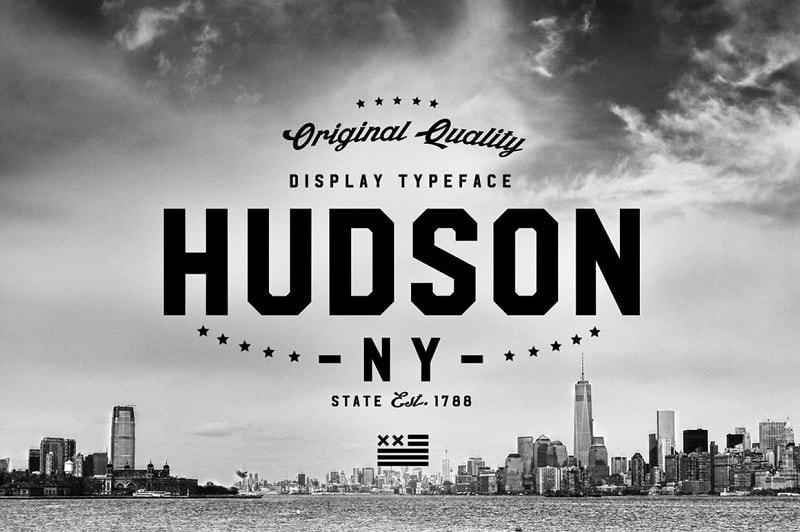 With Regular and Press styles, this font family from Arkitype is the perfect reflection of American sports and college styling – classic, strong, and flexible.
30. College Dropout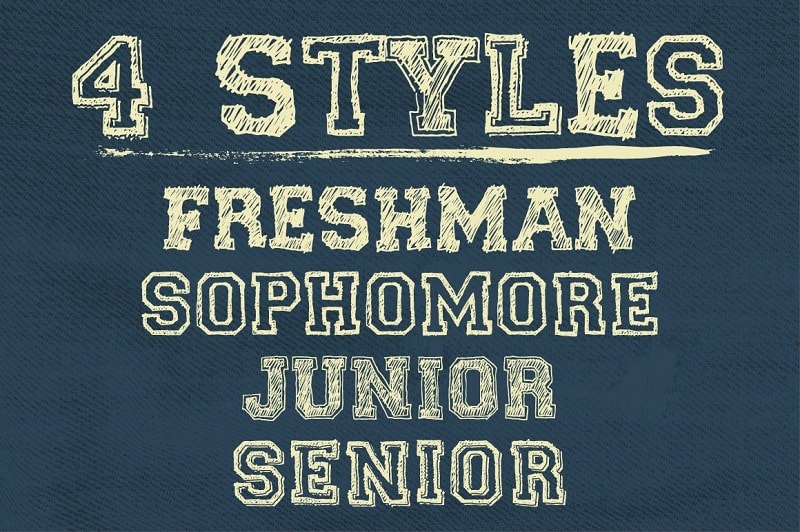 Hand-sketched and reminiscent of our less-than-stellar moments at university, Rocket Type brings to life this display font that's ready to go back to school.
31. KVC Bucktooth
A throwback to classic collegiate block lettering, Kyle Van Cleave offers this block font that's anything but basic. Try it on logos, shirts, headers, jerseys, or anything that needs to catch attention.
32. Varsity Greek Lettering
Looking for the perfect fraternity or sorority shirt? Then you will love this solid style Greek lettering from nsmworldwide.
Download Varsity Greek Lettering
33. Mavericks
This condensed small caps serif from BoxTube Labs comes in two styles (Regular and Vintage). True to its name, it's independent enough to be on its own, yet different enough to stand out from the crowd.
34. Threader
Simple yet impactful, this varsity style lettering by Noah Kinard would be perfect for branding and clothing projects.
35. KVC Brute
With two options to choose from (Regular and Speed), this heavy, bold, and block display font has the no-frills aggressiveness you need to kickstart any design.
36. Lightning
Pull out this condensed font by Studio One Four whenever you need to inspire some school spirit. With a total of 7 styles, it can make any team name look good.