Canva remains an excellent designing tool for beginners and experts alike. Brimming with free templates, images, and videos, you can technically create anything – from your new novel's cover to a friend's wedding invitations.
Canva's free version is pretty amazing. The user-friendly features also make it one of the most popular graphic design tools available today, especially among those who do not have the time to master the complicated nature of more complex software (i.e., Photoshop). 
Speaking of editing software, Canva and Photoshop cater to different needs, making them more or less equal but different. If you want professional results or to create highly customized art, then Photoshop is the better choice. If you only want to create quick, beautiful projects without a fuss, then go to Canva.
Small businesses often need to save every penny they can. Branding is important – but expensive. Using Canva's free or reasonably-priced premium membership can give you stunning branding and stationery for your small business without breaking the bank.
But Canva is not the only platform of its kind and if you want to explore the best alternatives, get ready to try out the only master list of Canva's cousins that you will ever need!
Best Canva Alternatives
Previously known as Adobe Spark, this web application offers anyone the chance to craft fetching designs. There's almost no limit to what you can use Express for; design your restaurant's new menu or blend together the announcement card of your engagement. Either way, Adobe gives you all the tools you need to love what you've created. 
Adobe Express is user-friendly. This is a great feature if you're very busy but need to produce many or complicated designs in as little time as possible. You can look forward to using Adobe Express on your mobile as well. The payment plans include free and premium memberships. The free version is amazing, so you don't have to pay to create great things!
Vectornator is a brilliant alternative to Canva for several reasons. One of the biggest perks is that the software is completely free and there are no sneaky hidden fees. Some might worry that a completely free option might be a lower-grade choice but not Vectornator. Companies like Apple and Microsoft use their software, so you know you're getting a great thing here!
Vectornator also offers countless tools and lettering to make your designs stand out, even when you have never created anything before. The interface is intuitive and engaging, and you can also look forward to perks like editing PDF documents, working on your mobile, and creating realistic illustrations – great if you want to design posters, illustrations for children's books, or your own comic book.
Visme is an all-in-one platform that serves up to 15 million users. Used by both private individuals and businesses, its drag-and-drop feature allows you to create stunning designs with a quick turnaround time.
Although Visme can create your kid's birthday invitations and other personal items, it's particularly good for your small business. You can whip up professional invoices, presentations, letterheads, proposals, and more!
Need to talk to and share documents with others? Visme also allows collaboration between you and any other individuals working on the same team. So, if you want to test this platform to see if you want to make Visme a business partner, you can try their free plan. They also offer premium features and a plan for businesses. 
Design Wizard is a good choice if you want a user-friendly platform that allows you to upload your own fonts, logos, and photos. You can also use custom color palettes to add your business colors to invitations, labels, and letterheads.
It's also very popular among creators who rely on the platform's amazing library of stock photos, illustrations, and videos to create stunning visual content. This library is also licensed for commercial use, so you don't have to worry about copyright problems!
Beginners can choose templates for almost anything. Based on these templates, you can tweak them to suit your own creative goals. But whatever you create, you can share it instantly to your social media outlets, making Design Wizard a great option when you need to post to instantly on a regular basis. Try their free plan or go big with their premium features!
Easil is perfect for designers who want a casual or fun platform to bring their ideas to life. It's not a good fit for professional business designs, but it works well for trendy designs. The drag-and-drop tool makes it easy for anyone to make ads, social media content, blog posts, and more. Easil also offers you a library of stock images – nearly one million of them! 
Other perks that Easil has to offer include resizing your designs, editable graphic templates, intuitive color palettes, brand kits, document restrictions, and tools for teams. You can test the free version of Easil before opting into their premium plan.
Are you looking for a platform that will take your blog to the next level? Well, then Snappa should be on your "Let's Try This" list! Geared towards beginners, experienced bloggers, and social media professionals alike, Snappa lets you create ads, social media posts, and blogs with ease.
There are thousands of trendy templates to help you get started. They are geared towards creating the perfect size, look, and message for specific social media platforms or your blog.
Snappa also gives you access to one of the best image libraries you're bound to encounter with graphic design platforms. You can riffle through over five million images free of copyright claims, and the pictures are actually beautiful, high-resolution photos one can use on blogs and social media without cringing. 
You can choose between a free plan and a premium plan, and then there are also special offers for businesses to consider.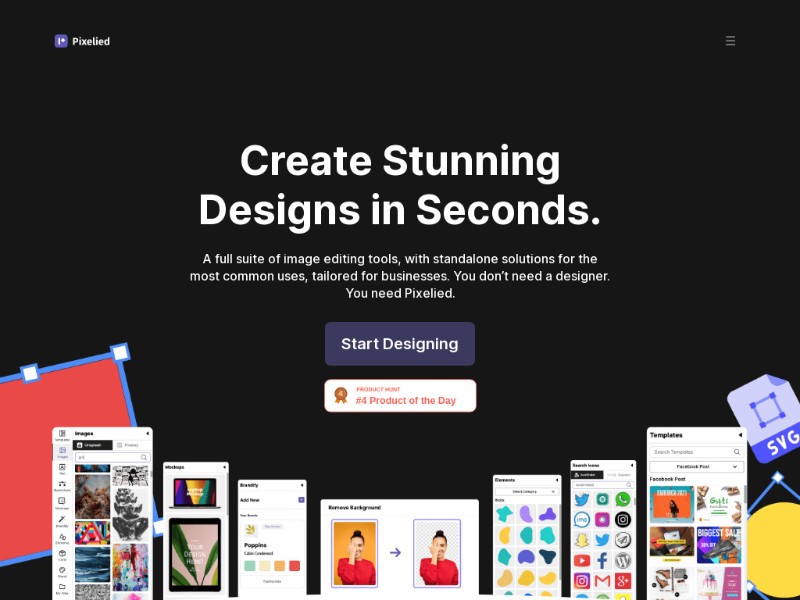 Do you need something with more oomph? Pixelied have you covered. They claim to be a full suite of tools that can handle all your creative goals. The site also offers you in-depth editing, which is a feature that is sorely lacking in most similar software. For example, you can remove backgrounds with Pixelied. 
You can also explore their templates and stock photos for quick designs. Both will enhance your brand, blog, or social media presence. It doesn't matter what you create, Pixelied is so user-friendly that you can whip up in seconds what it might take a designer hours to create. This definitely saves you time and money. 
Other perks include a workspace for teams, free and paid memberships, product mockups, and quirky character illustrations that will add a vibrant vibe to your creations!
This platform's features are similar to Photoshop but users have noted that they are easier to use. So, if you tried Photoshop and hated the unnecessarily complicated tools, then Pixlr might be a better choice.
You can also expect a lot of freedom when it comes to where you can work. Pixlr allows users to create designs in their browser, on mobile phones, and on desktops. So, whether you're at work or on the go, you can design your next project with ease. 
You can start a project with an empty canvas or choose a template. An amazing variety of tools allows you to add images, fonts, and lots of other details in no time. There are also advanced editing options to create the perfect poster, YouTube thumbnail, and product images.
Start with their free plan and if you're happy with that, opt-in for their monthly payment plan to gain access to even more features.
If you are used to Canva, then Fotor will be an easy switch. Both platforms have a similar layout and interface. But if you're new to Canva, no worries. Fotor has video tutorials that are engaging and they teach you everything you need to use the site and create stunning designs. 
One of their main features is the photo editor tool. So, if you're mainly looking for a suite that can tweak pictures to perfection, Fotor is a must. You can remove backgrounds, resize images, enhance features and colors, remove blemishes and wrinkles from portraits, and you can also add amazing photo effects. 
Fotor membership includes a free basic plan, a premium membership, and a plan that is specifically geared towards companies or teams.
Picmaker is a solid choice if you just want to create simple yet snazzy images as quickly as possible. With over 70 categories to help you get started, you can create designs for your YouTube channel, blog, Twitter ads, Instagram posts, and more.
Variety is their game and you can look forward to countless templates, over 100 million stock images, and more features that allow you to create a custom look or brand. 
Picmaker is not just for simple projects! It offers a ton of features to help you make anything from posters, invitations, proposals, and book covers – the options are limitless. One noteworthy option is the online sticker maker. Simply upload your favorite photos and turn them into stickers! 
Picmaker is truly a wonderland for anyone who wants to push their creative boundaries. Get started with their free membership and upgrade to premium if you are happy with this amazing software.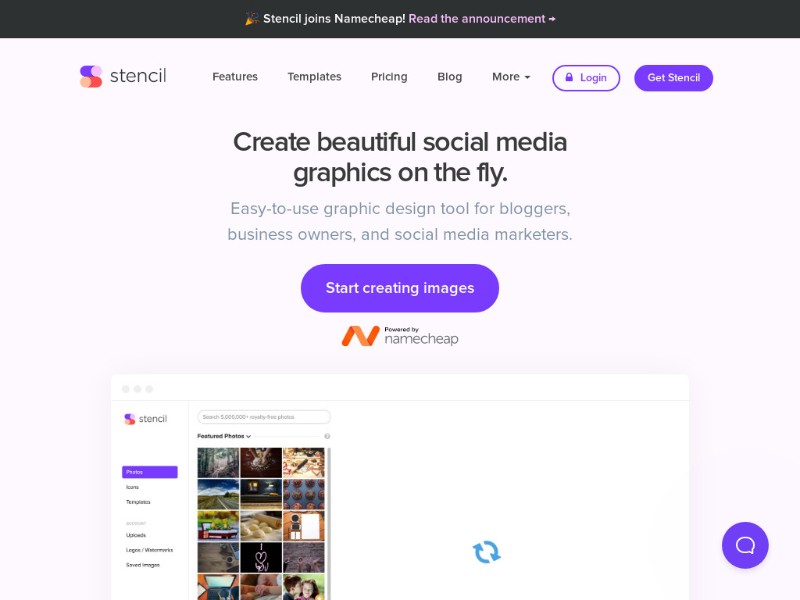 Stencil is a pretty good choice if you do a lot of work on WordPress. A special plug-in lets you edit photos without the need to log out of the blogging platform. But what other features make Stencil worth a try? With over 1,000 templates, 5000 fonts, 3 million graphics, and 5 million stock images, you can design limitless blog images, logos, stationery, and more. 
Once your creation is ready, you can also directly publish it to popular social media outlets. New users can choose a free membership, a premium monthly fee, and there's also an unlimited option for serious members!
Vengage offers you most of the functions and creation opportunities as Canva but it's a better choice if you also need to spend a sizeable amount of time collaborating with other team members.
The real-time collaboration feature allows an entire team to work together remotely, share projects, feedback, and ideas. Vengage also gives you a great toolkit to create fun and trendy infographics to impress clients and readers alike. 
The only drawback is that their free trial period is limited to five designs. After that, you must choose a paying membership. You can get Premium, Business, or Enterprise, and each comes with exclusive features to give you the best results for all projects. 
Conclusion
Canva is FREE for the most part. If you want to try their paying membership, Canva Pro, you can try it free for 30 days before making the first payment. A free month is a fair amount of time to decide whether the paid Canva option is right for you.
When it comes to creating professional and engaging presentations, both Canva and PowerPoint are more than capable of delivering the goods. However, Canva's user-friendly features make it a better choice for inexperienced users or those who need to quickly whip up a presentation.