Last Updated on January 21, 2022
From poodle skirts, Elvis Presley, to jukeboxes, and drive-in movies – these are just a few of the icons from the 'Roaring 50s'.
It was during this time, between 1946 and 1960 that it seemed like there would be a happier, better tomorrow. Soldiers were coming back from the war, the economy was booming, and families were moving to the suburbs.
Sure, there was still some tension around the world (the Cold War, civil rights movements, etc.). But in general, people looked forward to the jitterbug and Davy Crockett. They were, without a doubt, simpler, happier times.
Diggin' some retro vibes lately? Then look into these fun 1950s fonts!
Beautiful 1950s Fonts
1. Bandakala Script
Influenced by 50s apparel, this retro script from Tanziladd also has a modern feeling to it, thanks to its ligatures and swashes. For use in programs like Adobe Indesign, Adobe Illustrator, and Photoshop.
2. Oilvare Font Family
Go back to the 'good ol' days' in this bold offering from Adam Ladd. Featuring 18 fonts you can layer and color to create all kinds of styles, this is one type family you won't want to be without.
3. Cartograph CF
A 1950s font type with character and warmth, Cartograph is a handsome font family featuring lush, code-friendly ligatures and a proportional set accessible via OpenType. A tribute to the practical beauty of terminals and typewriters features eight weights, true italics, and nearly 850 glyphs.
4. Hucklebuck
Hucklebuck is a retro, upright script with a happy–go–lucky feel. Done in the style of hand-painted sign lettering, the 1950s font contains basic OpenType features and support for Latin-based and most Eastern European languages.
5. Let's Jazz
Let's Jazz is a playful typeface inspired by iconic mid-century American advertising and lettering. This 1950s font offers two versions; each contains more than 450 glyphs and includes some neat ligatures and alternates plus the old style bouncy numerals.
6. Santoro Script
Santoro Script is a fun, happy text created with a triumphant attitude and adds a spontaneous, friendly feel to any design. This 1950s font contains at least three versions of every letter and Stylistic Alternates and ligatures.
7. Badmood
Create fantastic vintage cards, labels, posters, logos, and more using this hand-lettered script from Artimasa. Mix upper and lowercase characters to give your designs that playful, hip vibe.
8. Jassin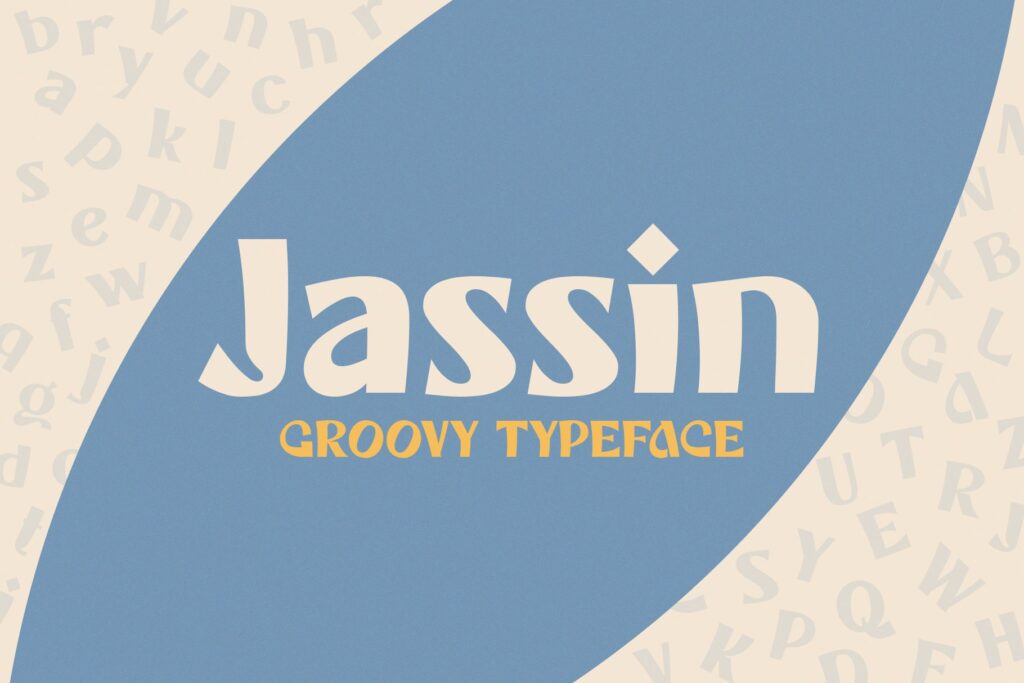 Jassin is a fun and groovy typeface with a bold personality. Perfect for branding, headlines, social media, advertising, packaging, posters, t-shirts, editorials and much more. Its vintage feel evokes the carefree and whimsical vibe of the psychedelic era, allowing you to craft impressive looking designs.
Test this font by typing here
9. Nelson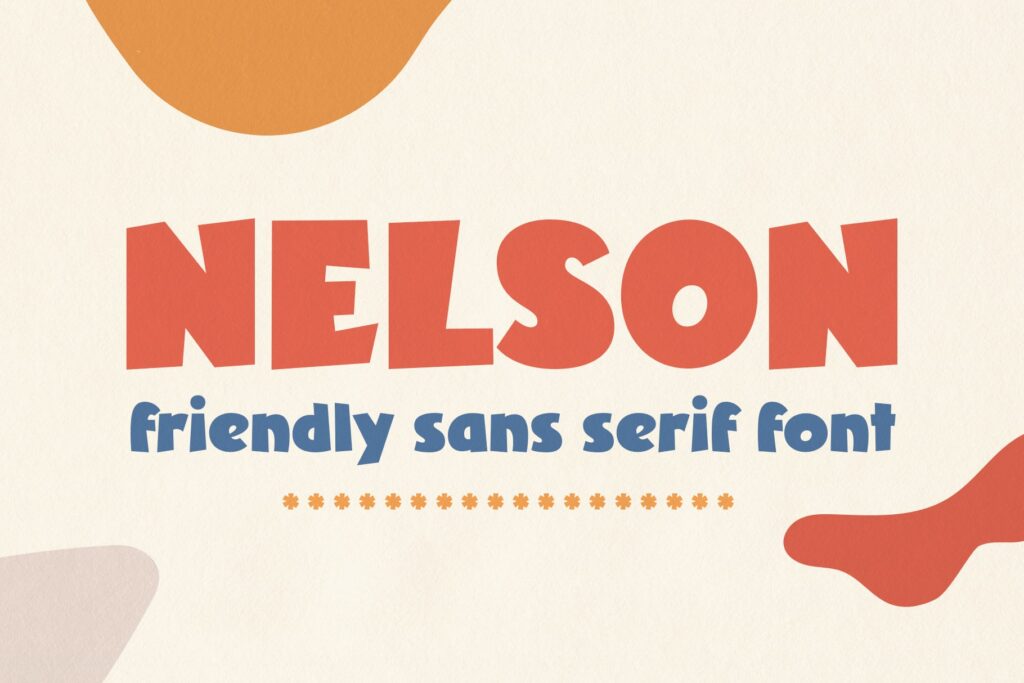 A bold typeface that is fun, playful, and laidback. Nelson will bring a smile to your face every time you use it. Nelson is perfect for children books, greeting cards, signage, user interfaces, package design, branding, and much more. Its chubby clean letters looks simple, modern, and expressive. A must have for your digital asset toolkit.
Test this font by typing here
10. Citro
Citro is a bold typeface based on retro hand-painted paper signs primarily seen in grocery stores from the 1920s through the 1970s. It features inconsistent baseline and cap heights so as you type the characters seem to dance.
Citro is fun and not too serious. It's perfect for both vintage-inspired and contemporary branding, marketing, packaging, and much more. If you're looking to create a bold impact with a retro flare, then Citro is for you!
Test this font by typing here
11. Retro Diner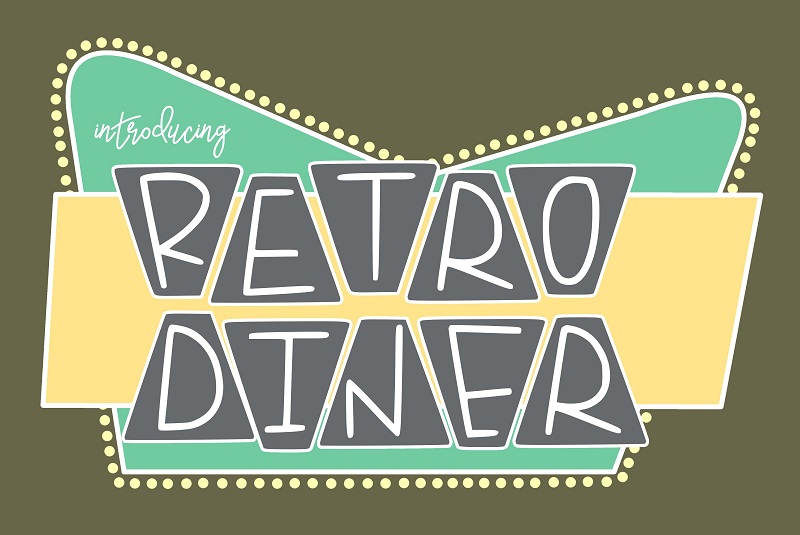 Looking for the ultimate tribute to the roaring decade? Then this cut-out typeface by Kitaleigh is for you. It's perfect for logos, labels, signage, and even web pages.
12. Airfare
This gem from Jordan Wilson can either be vintage or modern – depending on how you use it. Featuring 3 styles (Regular, Italic, Inked) to choose from, it's a must-have in every smart designer's toolkit.
13. Reckless
Spencer & Sons Co. proudly brings to you this classic that looks like a cross between a geometric type and a script. Vintage and wild, it's recommended for works with automotive or industrial themes.
14. Nacho Script Pro
Whether it's travel, food, business, or lifestyle, you want a font that can keep up. Good thing this typeface by Vastago Studio is not only beautiful, it's also super versatile.
15. Galindo Pro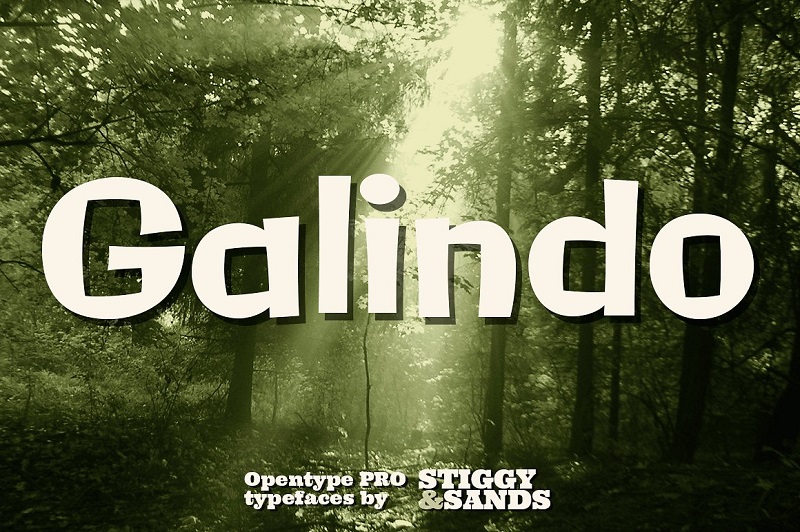 Geometric and eccentric, this heavyweight typeface is for fun-loving folks who need a break from the usual.
16. Irish Grover Pro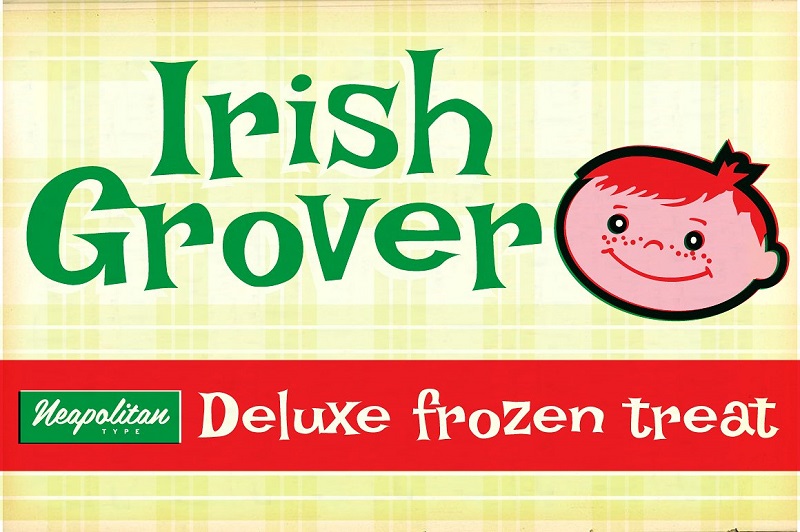 Be ready to play in this wacky, kid-inspired font designed by Neapolitan Type. With contextual characters, built-in ligatures, and alternates, crafting the perfect fun project is now just clicks away!
17. Sacramento Pro Family
Inspired by the monoline, hand-lettered brochures of the 50s, this sophisticated yet exuberant script is available in Regular, Slim, and Stout to help you create beautiful, old-style invitations, posters, logos, ads, and more.
Download Sacramento Pro Family
18. CA Recape Regular
Instantly make the right statement using this calligraphy-style font from Cape Arcona Type Foundry. It includes seamless swashes, stylistic alternates, and helpful ligatures.
19. Metroscript™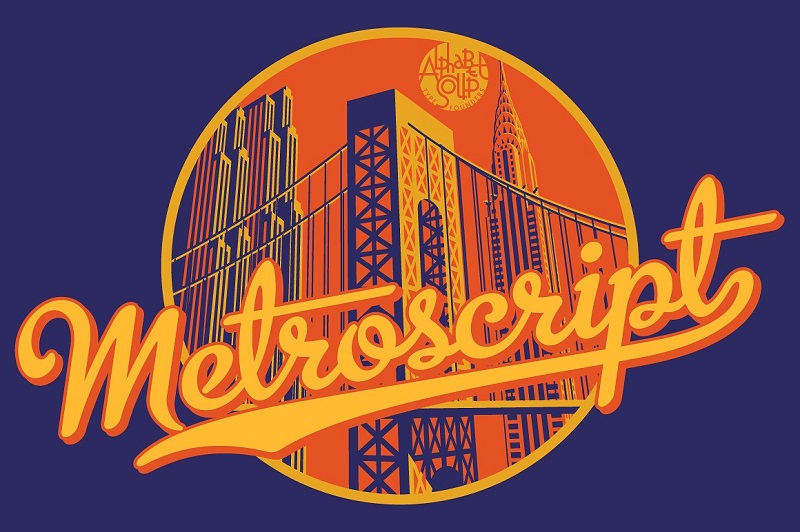 Nothing evokes the feel of the city more than the right script. And this one from Michael Doret is all about seamless sophistication. Versatile, flawless, and ever functional, feel free to use it as well on sports or metro themes.
20. Boy Detective
Working on a mystery novel or a kiddie illustration? Then this quirky hand-drawn serif by Turncoat Studio is right for you. Slim but very dynamic, it's the best partner for any project that needs something offbeat.
21. Jumbuck Sans
Feel like you've purchased 2 fonts in one when you get this sans/script typeface from Missy Meyer. Use uppercase letters for tall skinny looks, and the lowercase for a fun, script-like design. Or why not jumble them together for a truly unique result!
22. Boller
This retro display typeface by Fusion Labs feature 302 glyphs, as well as stylish ornamental uppercase lettering that help give it a bit of that Art Nouveau feel.
23. Andre's Diner
Go back to a time when diners and jukeboxes reign supreme. This smooth display font by Vintage Type Co. can help you achieve that sleek look in just a few clicks.
24. CA Spy Royal
Inspired by Japan Airlines ads around 1954, this font comes in 6 styles, including Shadow and Shadow Line, to add pizzazz to any vintage project.
25. Horseshoes & Lemonade
Lauren Ashpole proudly presents this lettering that is available in two nifty styles – one with cut-out designs, and one without. It will look great on banners, ads, signage, labels, or even apparel!
Download Horseshoes & Lemonade
26. Carosello
For those who can't get enough of everything retro, try this gem from Unio. Featuring imperfect edges to give your designs that authentic handwritten feel, the pack also includes cool 50s-inspired illustrations.
27. Swung Note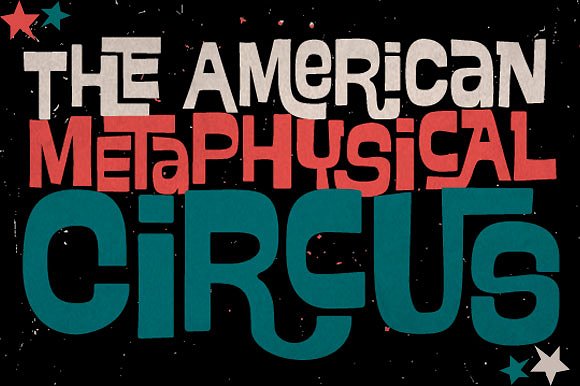 Swing your way to better custom-made projects using this lively typeface by PintassilgoPrints. With changing letters based on what ligatures you use, it will be a sweet surprise every time.
28. Jaywalker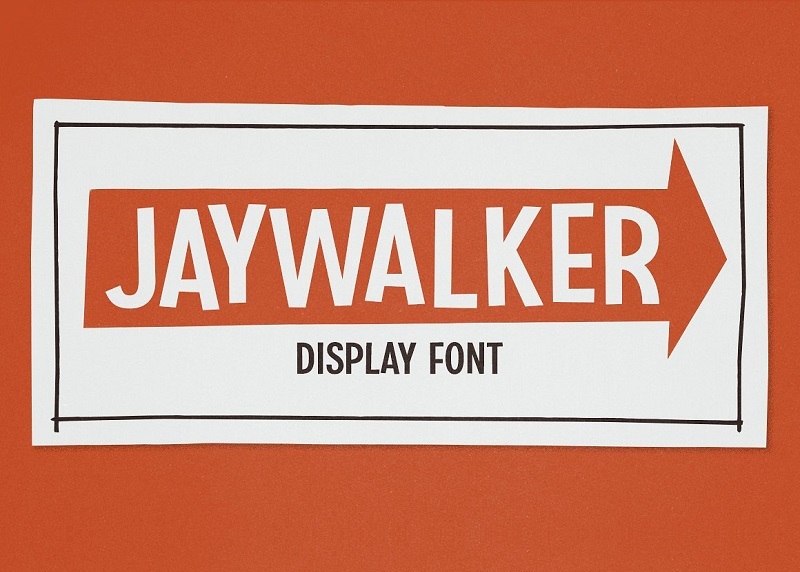 A sans serif inspired by mid-century themes, this web-ready display font is just the right mix of wacky and contemporary to make sure you'll get a good use for it for a long, long time.
29. Whirly Birdie
This new-and-improved uppercase retro sans by Skyhaven Fonts is the playful answer to titles, headlines, posters, and banners. Enjoy it today by alternating between small and uppercase letters in your text.
30. Turismo CF
Take your cue from this modern font by Connary Fagen and its 7 highly adaptable weights. Best when used in technology, sci-fi, business, or motor sports themes.
31. Les Paul Font Family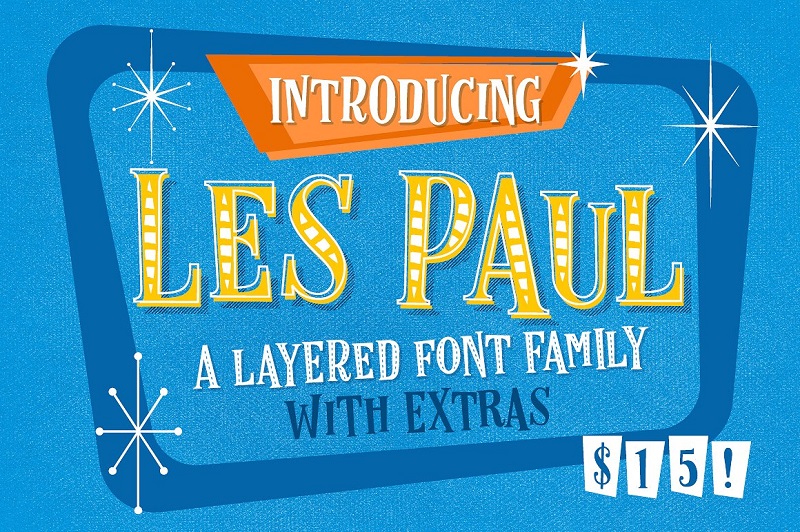 Say hello to a new addition in your toolkit. This font family by Vintage Voyage D.S. with cool retro extras and 7 layer styles is everything you need to effortlessly make 50s style posters, cards, labels, signs, and more.
32. Palm Canyon Drive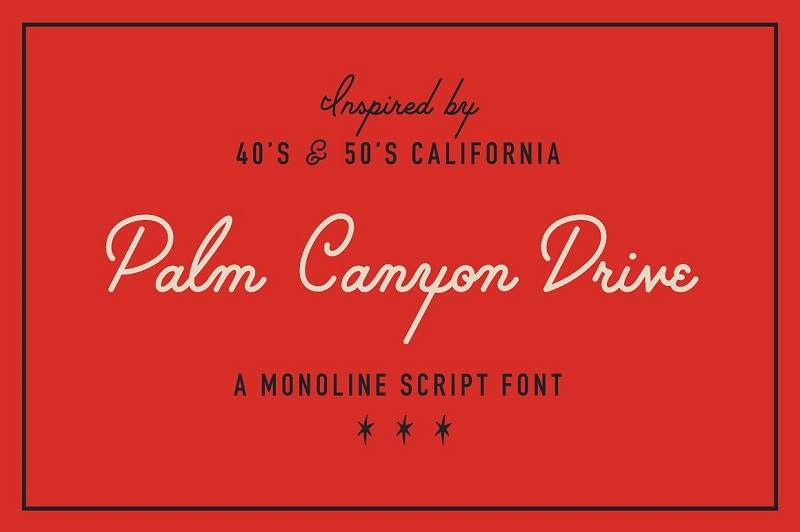 Go back to a time of Hollywood glamor and romantic sunset drives in this nostalgic monoline script, inspired by California during the 50s. With catchwords, numerals, and symbols, this classy typeface will never go out of style.
33. Purple Purse Pro
Drawing inspiration from a 50s Ivory soap ad, Stiggy and Sands brings to you this casual typeface that's always ready to perk up your designs. It includes ordinals, plus a full set of inferiors and superiors to create limitless fractions!
34. Luckiest Guy Pro
Inspired by a Lucky Strike ad from the 50s, this plump font will stand out wherever you decide to use it. Hardworking but still light-hearted, it will go great on banners, editorials, magazines, ads, and posters.
35. Syrup
This type family from Fenotype includes a friendly sans as well as a lovely script. With Regular and Bold styles each, feel free to experiment until you get your desired result. Use in branding, labels, social media images, and more!
36. Cornhusker Regular
Remember the vast yellow cornfields in the heat of summer? This strapping condensed font from Section Type is reminiscent of that. Use this on modern labels or on vintage logos to evoke those charming summer fields of someone's childhood.
37. Signface
Let this bold all-caps font by Ayca Atalay remind you not to take life too seriously. With 2 clever styles (Regular and Distressed), this is one typeface you can always count on.