Last Updated on June 27, 2022
When life gets too busy or chaotic, there's nothing like being back into the wilderness. Starry skies, fresh air, thick trees, and cold waters – it awakens in all of us a sense of calm. Whether it's a hike through the mountains or just rowing on a lake during a cold autumn morning, being outdoors is a good way to bring peace back into your hectic days.
Longing for a great adventure? Typography can help evoke feelings and images of being in nature. These amazing outdoor fonts for instance, can spice up post cards, brand labels, or social media materials. Let them whisk your audiences away into a journey of beauty.
Captivating Outdoor Fonts
1. Brayden Script
Brayden Family is an earthy, outdoor font that includes three scripts and one sans serif to create beautiful combinations. Includes contextual alternates and swashes, ligatures, and stylistic alternates.
2. Tagliner
TAGLINER is a hand-written all-caps outdoor font. It includes 2 sets of capitals, uppercase and under case, so you can create more possibilities.
3. The Great Outdoors
The Great Outdoors is an outdoor font with 2 styles (clean and rough). It's a perfect smashup of cursive and sans serif typefaces with a modern look and feel.
4. The Risk
The Risk is a handmade typeface that looks great small and large. It's a perfect outdoor font with an earthy beach vibe.
5. Wilder Family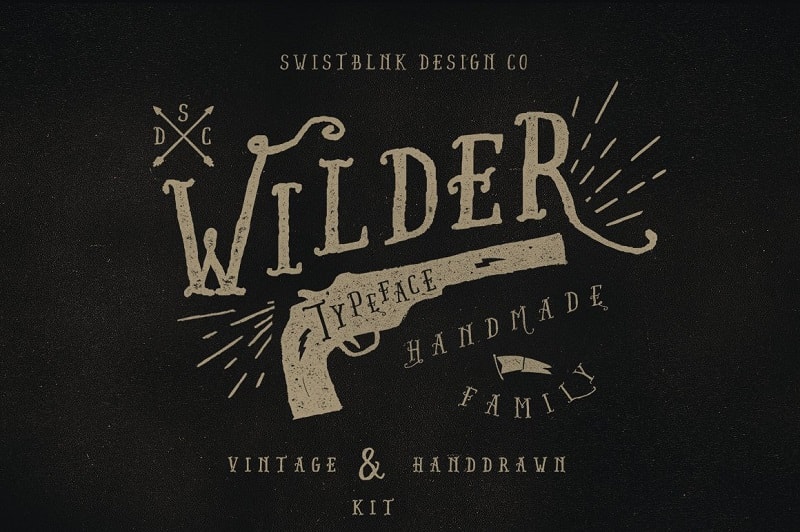 Working on vintage projects? Give them a truly authentic vibe using this font family from Swistblnk Std.. It comes with hand-crafted typefaces in Regular, Bold, and Vintage, as well as a BONUS hand-drawn kit containing 27+ vector illustrations.
6. Wanderlust
This soft vintage typeface calls you to go boldly where you've never been before. It's versatile, smooth, and downright beautiful. Pick it up anytime you're making postcards, invitations, ads, branding, or logos.
7. The Wild Things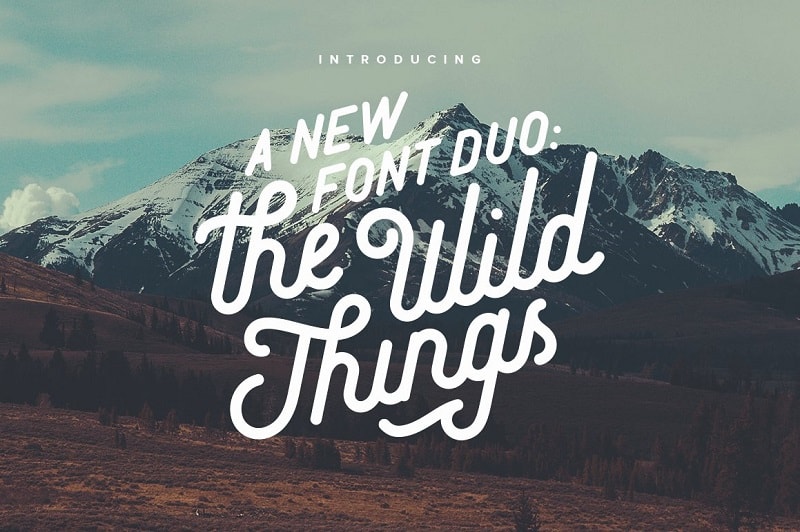 This handcrafted font duo by Victor Barac comes with a rounded sans-serif in normal and italic, as well as a beautiful cursive script that's perfect for travel and outdoors themes.
8. Woodburn Font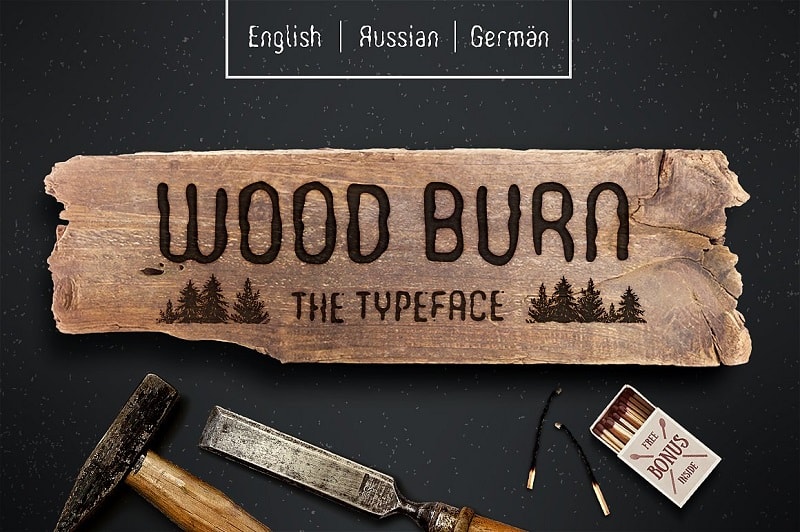 Give your projects that authentic wood-burn effect with help from this typeface from Cosmic Store. The pack includes handy hand-drawn illustrations, as well as the font in Regular and Bold. It's ideal for use in labels, signage, logos, posters, branding, and print materials.
9. Grootten Beast
This decorative font family from LetterStock has a cartoonish feel to it, making it the right choice for children's book covers, fun posters, or even retro post cards.
10. Juniper Font
Looking for a nature-inspired font for your business cards, labels, or prints? Then check out this handcrafted offering from Rachel Lovett Design. Aside from the beautiful font, you will also get hand-drawn branch and leaf illustrations to complete your designs.
11. Freestone Handmade Font
Trailhead Design Co. brings to you this clean and simple typeface that comes in a serif and sans serif version, with three weights each. Enjoy using them on your posters, shirts, stamps, logos, badges, and more.
Download Freestone Handmade Font
12. Halken Typeface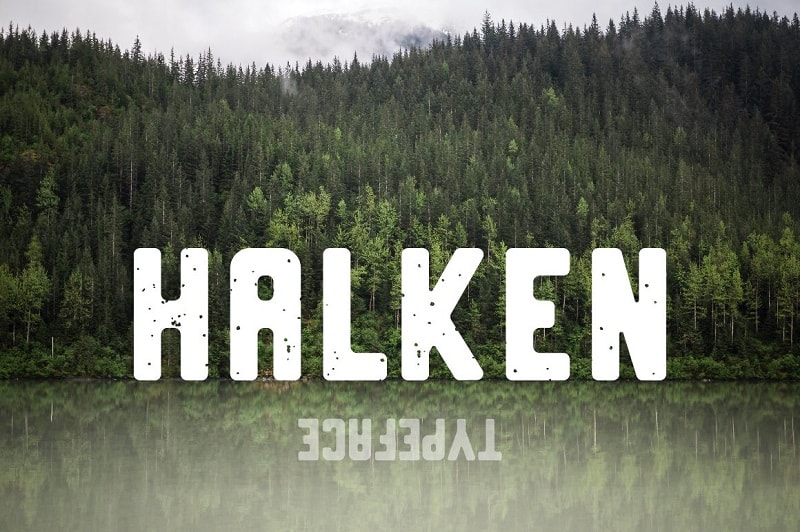 Keep things readable, no matter what you're working on, thanks to this gem from Mike Hill. His printed typeface comes in Regular, Outline, and Grunge for use in all types of adventure or outdoors concepts.
13. Trailhead
Get lost and then find your way back again with this display font from Rowlison Creative. Featuring a nature vibe with organic shapes, it's a great addition to the toolkit of every wandering spirit.
14. Valley Mist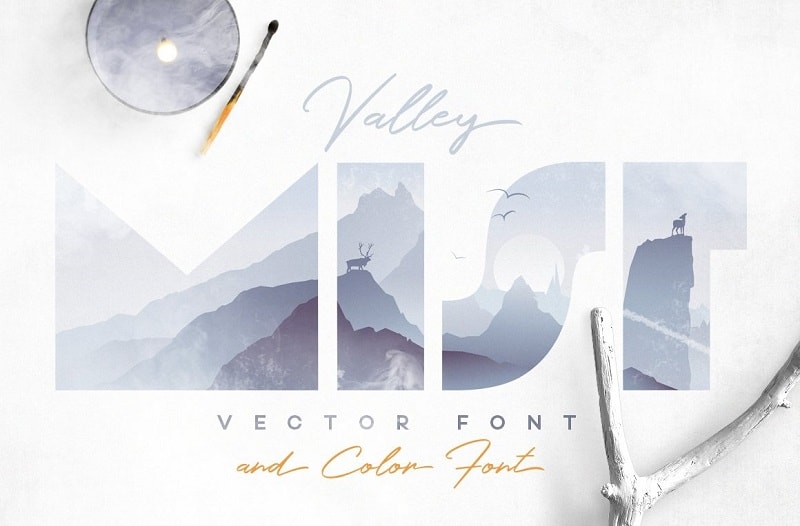 This vector and color font from Polar Vectors works best with Illustrator CC and Photoshop CC, and in standards programs for Mac users. The gorgeous double exposure effect on each letter is great on its own, or paired with similar photography that will look stunning on print or digital projects.
15. Ansen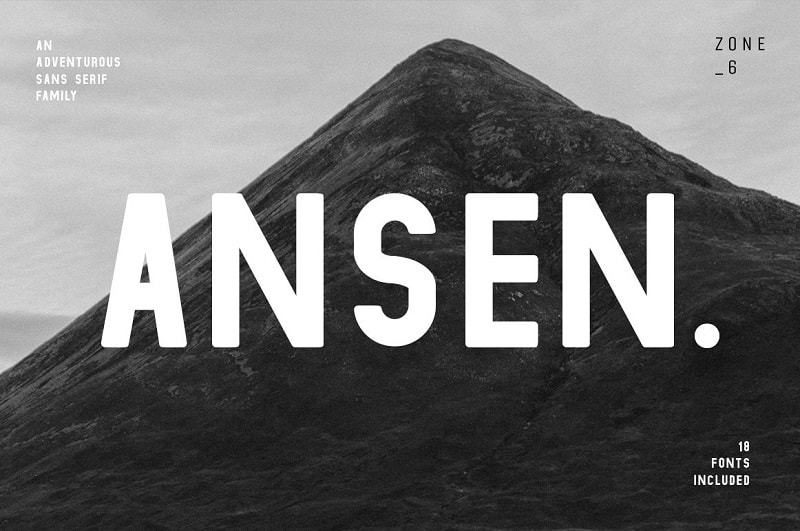 A font family featuring fearless sans serif characters by Zone 6, you will get a total of 18 striking fonts, as well as web fonts, italics, numbers, punctuation, and multilingual support.
16. Sabatons Vintage Font Duo
Letterhend Studio brings to you this cool font duo that comes in Regular and Script, each with a lovely Stamp version to give them an awesome grunge effect. It is perfect not only for outdoors themes, but also in retail, food, fashion, and retro concepts.
Download Sabatons Vintage Font Duo
17. Wild Wood Font
This headline font from IconsByKassy will bring all the mystical wonders of the woods into your designs. Whether it's a minimalist or a travel theme, you can count on this decorative typeface to give your works the right aesthetic.
18. Wilder and Handdrawn Font Pack
Walk on the wild side in this super cool pack featuring five (5) carefully handcrafted fonts, bonus vector shapes and ornaments, as well as a vintage hand-drawn kit. Great stuff for less, indeed.
Download Wilder and Handdrawn Font Pack
19. North Western Font
Inspired by the north-western region of America, this set contains two gorgeous fonts (one in bold sans serif style, the other in hand-drawn style), plus 50 vector graphics, 6 vintage badges, 6 custom brushes for Adobe Illustrator, and 4 JPG textures.
20. Heubeul Vintage Typeface
This highly detailed font by Pratama Yudha brings to you a Rough Family and a Vintage Italic you can use on their own, or together in a single design. This pack includes bonus vintage badge templates so you can start experimenting with your ideas immediately.
Download Heubeul Vintage Typeface
21. Beatster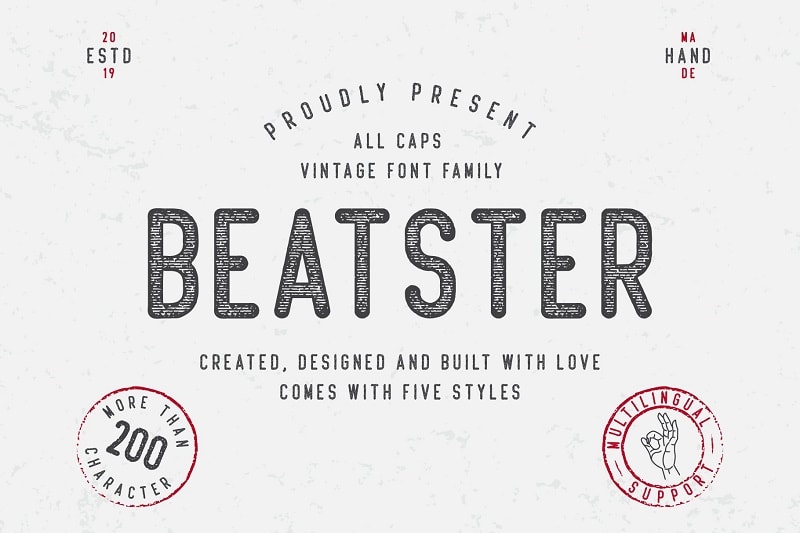 Bring out your wild side with help from this offering by MuSan. This modern vintage textured display typeface pack also comes with editable badge templates you can use on outdoors, adventure, retro, or branding concepts.
22. Adventure Typeface
Oleg Voznyy proudly offers you this old-school label font that comes in Regular and Bold. The pack includes 6 t-shirt designs as well as individual illustrations to bring your adventurous ideas to life.
23. Floresto
A modern vintage sans serif with roughed edges and a touch of beautiful alternate characters, this gem from NEWFLIX.Bro puts an elegant twist to the any and all projects – be it for the outdoors or for retail.
24. Las Valles Textured Typeface
This tall ultra condensed sans serif comes in 4 styles that will fit just about anything you decide to use it on. Old-school but still contemporary, add it on posters, business cards, logos, labels, magazine covers, headlines, websites, and more.
Download Las Valles Textured Typeface
25. Northern Passage
A handmade all-caps display font from Build Interactive, it was inspired by the weathered appearance like what you might see on old cabin signs, making it ideal for anything requiring a rustic, woodsy feel.
26. Marshfield Typeface
Featuring 6 styles as well as editable logo templates, this pack from AF Studio (in collaboration with Revolfe) is a strong monoline font that will go well with camping, travel, outdoors, or adventure themes.
27. Forests Layered Font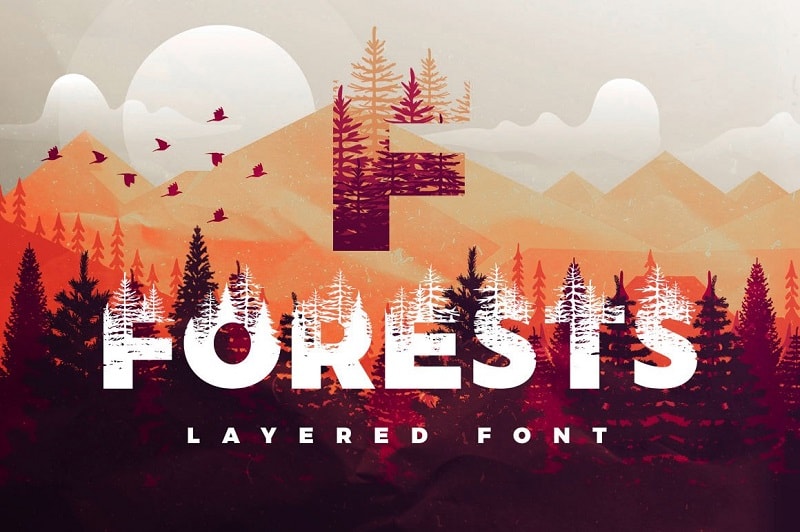 A lovely double exposure all-caps font from Zeppelin Graphics that consists of 3 layers, it's easy to use and looks stunning on print materials.
28. Pine Forest
DikasStudio brings to you this display sans serif inspired by outdoor activity. This package contains the font in two styles: Rough and Press, as well as useful catchwords and extra vectors.
29. Outdoors Inks Typeface
Write your travel or adventure story using this beautiful script font in 4 vintage styles. With its smooth edges replicating authentic handwriting, it's a wonderful addition in every designer's toolkit.
Download Outdoors Inks Typeface
30. Modern Outdoor Font
Make sure to always give the right impression with the help of this impactful display font from Evening Office.
31. Birch Is Right Here Outline
Looking for a nature-inspired typeface for your outdoor projects? Look no further than this beautifully detailed outline font from BIRH_ Creative. Inspired by tree branches, each character is able to stand on its own, making it ideal for cards, posters, homepages, magazines, and other designs.
Download Birch Is Right Here Outline
32. Adventure Font and Camping Pack
Entice your little ones to answer the call of the wild using this pack from Nadezda Gudeleva. Filled not only with a cute all-caps font, it also includes lettering icons, seamless patterns, cards, as well as delightful icons to decorate your camping gear with!
Download Adventure Font and Camping Pack
33. Pines Black & Pines Black Italic
This font pair from Piñata is a modern sans-serif with a charming cut-out feel to them. Featuring more than 415 glyphs for each typeface, plus support for more than 70 languages, it's an eco-friendly answer if you want to add just the right natural, warm accent to a project.
Download Pines Black & Pines Black Italic
34. Outpost No.5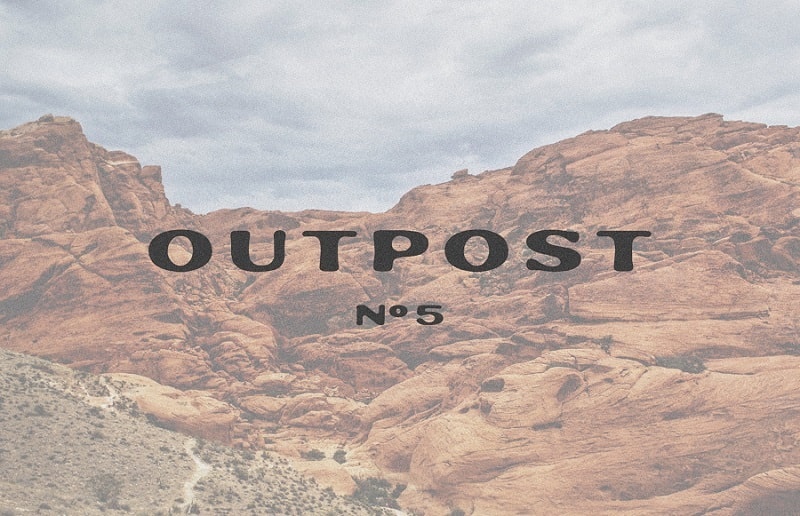 Inspired by earthy aesthetics and old westerns, James Coffman brings to you this practical font that will look awesome on hand-painted signs and prints.
35. Hickory Slab
Jackrabbit Creative proudly presents this handcrafted serif with forest service influences. Add texture to it for a truly vintage look you can use on labels, post cards, posters, logos, and more.
36. Doland Serif (FREE)
Contemporary, friendly, and bold, this vintage serif from Typra Studio will give your branding, logos, apparel, and posters a strong impact. Free for personal and commercial use.
37. Maung Display Font (FREE)
Create eye-catching headlines with this modern and standout sans by Nico Muslib. Ideal for book covers, magazines, music albums, fashion editorials, travelogues, and more.
38. Kust (FREE)
Consisting of 80 characters, with each letter having a unique, distorted design, this handwritten brush font will look amazing against paintings, photos, or illustrations. Brought to you by Ieva Mezule.
39. Something Wild (FREE)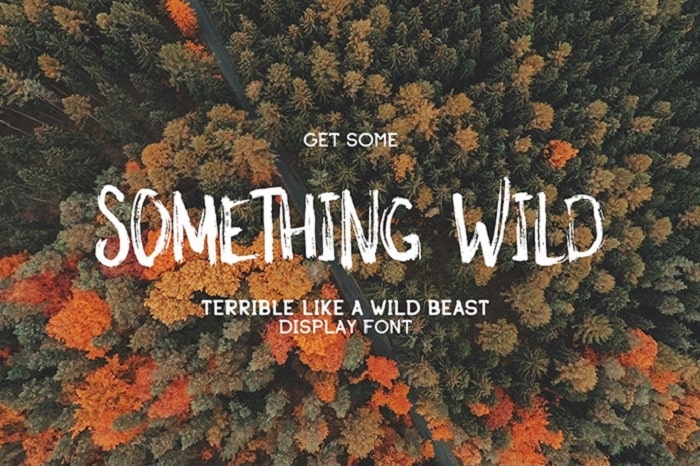 MediaLab presents this gorgeous typeface filled with genuine wild spirit. Let its careless, raw letters bring you back to the outdoors.
40. Alaska (FREE)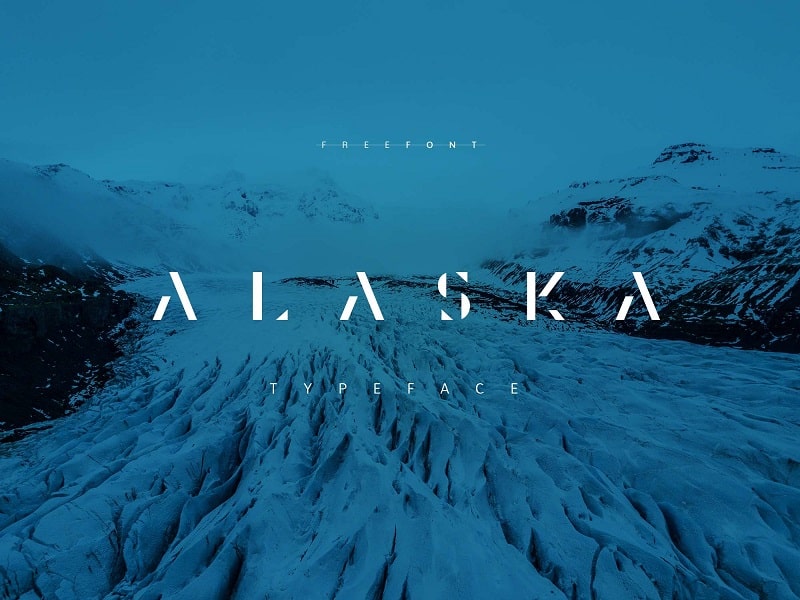 Give your organic projects a touch of modernism using this stylized abstract typeface. Pair it with other fonts such as Arial and Helvetica for striking effects.