Last Updated on October 9, 2023
The Stone Age, which happened some 2.6 million years ago, was a time when humans were using stone tools. It was when the earth's temperatures are a lot colder and the wild were unforgiving. Humans shared this period with Neanderthals, a species of early human beings, plus a whole host of prehistoric flora and fauna, which includes giant ground sloths, saber-toothed cats, and mastodons.
Stone Age humans didn't just use stone for their tools and weapons. They also crafted things out of ivory and bones. The earliest discoveries of art and writings during the Stone Age were found in Asia, Africa, and Europe. One of them is an ivory sculpture of a woman with exaggerated features. Petroglyphs, or stone/rock carvings, that are about 40,000 years old were also found in every continent around the world.
Want to evoke a Stone Age vibe? Or perhaps you're just looking for something sturdy? You can re-create a similar feeling when you add these stone fonts to your works.
Sturdy Stone Fonts
1. Megalith – Solid Typeface
Megalith is a bold, strong, and sharp display typeface. This font was inspired by giant rocks of the various Arizona deserts. With this font you can easily imitate the look and feel of rocks, stones, concrete, coal, and more. Thanks to its legibility Megalith looks beautiful large and small. You can use this font for branding, illustrations, headlines, Youtube, billboards, advertising campaigns, nature magazines, social media, packaging, etc.
2. Cheddar
Cheddar is, unlike its namesake might indicate, a rough and tall, masculine typeface. If you need to communicate something with power and precision, Cheddar is a really great pick.
3. Dirty Rock Typeface
This dirt and rock-themed display font from PutraCetol Studio is unique and works great with logos, apparel, quotes, posters, headers, and a wide range of design projects.
4. Batoon

Batoon is a handmade, sharp sans-serif typeface that captures the rugged beauty of the Rocky Mountains. Its jagged edges and bold lines evoke the craggy peaks and rocky trails of the mountain range, making it the perfect choice for any outdoor, hiking, or camping project. With Batoon, you can create designs that are as adventurous and unforgettable as the great outdoors.
Each letter is created with care, giving your designs a sense of handcrafted authenticity and natural roughness. It's as if each letter is a marker on a trail, guiding you through the breathtaking vistas and untamed wilderness. Inspire your audience and embrace your inner explorer with Batoon!
5. Stoneage
This Jadugar Design Studio product is inspired by stone-age writing style, giving your projects a natural, hand-drawn feel.
6. Stone Age Font
YandiDesigns' bold and playful handwritten font is suitable for a wide range of projects that need either a children-centered audience, or something related to camping and survival.
7. Monkey Stone
This brand new all-caps gem from Dasagani comes with an old age stones effect, available in Regular and Outline forms.
8. Buckaroo
Buckaroo is a handmade font inspired by American Southwest & Mexico. It draws influence from old western-typefaces that still feel functional in a contemporary world. This versatile display font includes a full set of uppercase letters, lowercase letters, numbers, and special characters.
Buckaroo is perfect for headlines, logos, badges, signage, packaging, posters, t-shirts, and much more. If you're looking for a font that will give your projects a friendly/inviting desert vibe, then Buckaroo is for you.
9. Stone Angry Look Label Typeface
Labels designs will never look any angrier and rougher if not using this design typeface from Anton Antipov that comes in Regular, Light, Aged, and Shadow.
Download Stone Angry Look Label Typeface
10. Rocky Ryder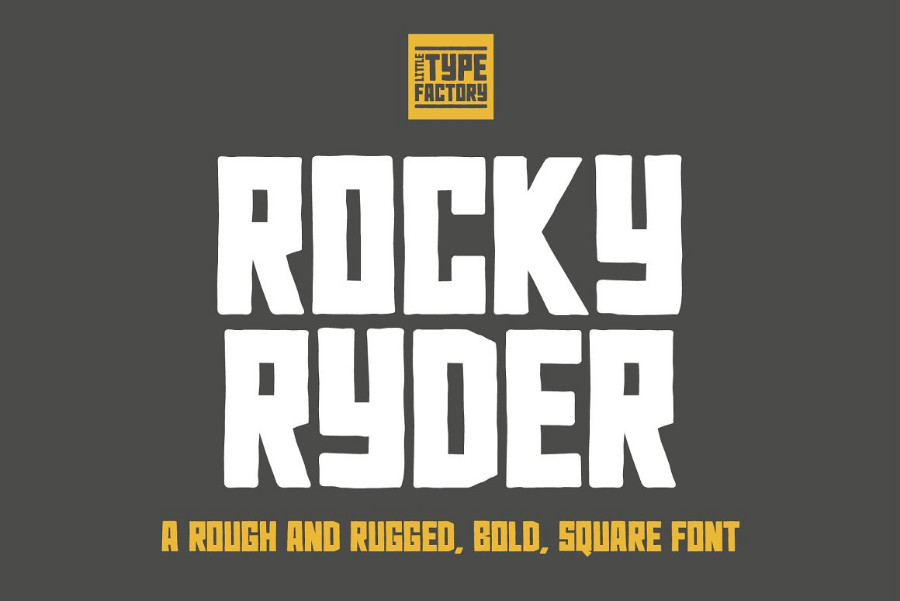 Little Type Factory's rough and ready workhorse font can be used on T-shirts, mugs, posters, coasters, prints, and other physical or digital craft projects.
11. Tosca
TOMO Fonts presents a massive all-caps font with an appeal that is hard as rock – perfect for messages, brands, and headers that need it strong.
12. Stonehill
Red Ink's typeface comes in two styles: the first sports a hand-painted stone texture, while the second font is the non-textured variant with the same look and height as the first.
13. Northern Runes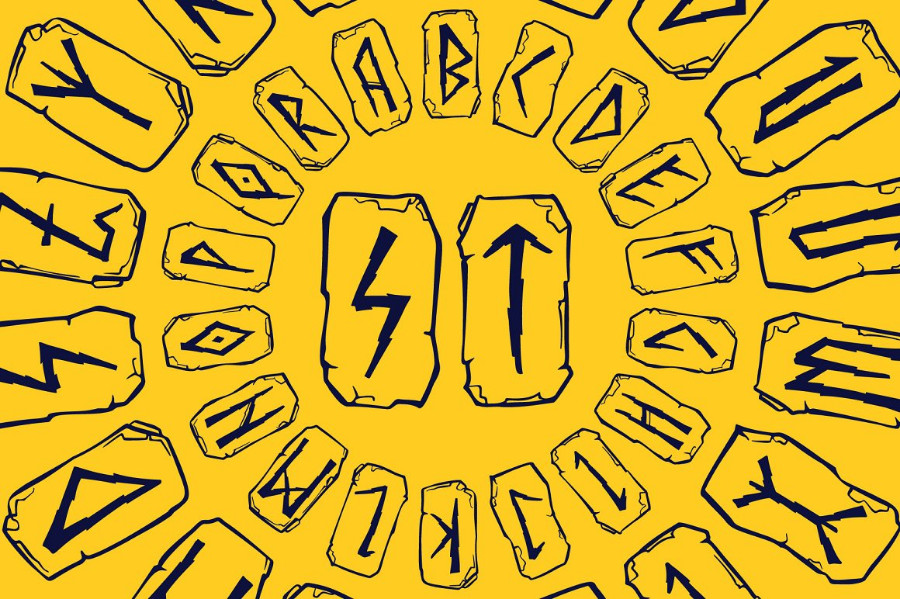 This northern-styled typeface comes in two fonts: the first consists of runes on a dotted background, and the second are letters in stone frames.
14. Epicave
Ollysweatshirt's lettering comes in a uniquely cracked look, making an assortment of crafts and visuals sport a one-of-a-kind appearance.
15. Roaring Jungle
Ergibistudio's attractive curved-style typeface has box edges taken from stone-style writing, perfect for a variety of projects that require a vintage or aged appeal.
16. Stone Crusher
Stone Crusher provides a very strong and dominant visual expression through rugged and determined edges here and there, all giving the font almost the look of a sans-serif font. Great for stonework typography.
17. Desert Rock Display Font Family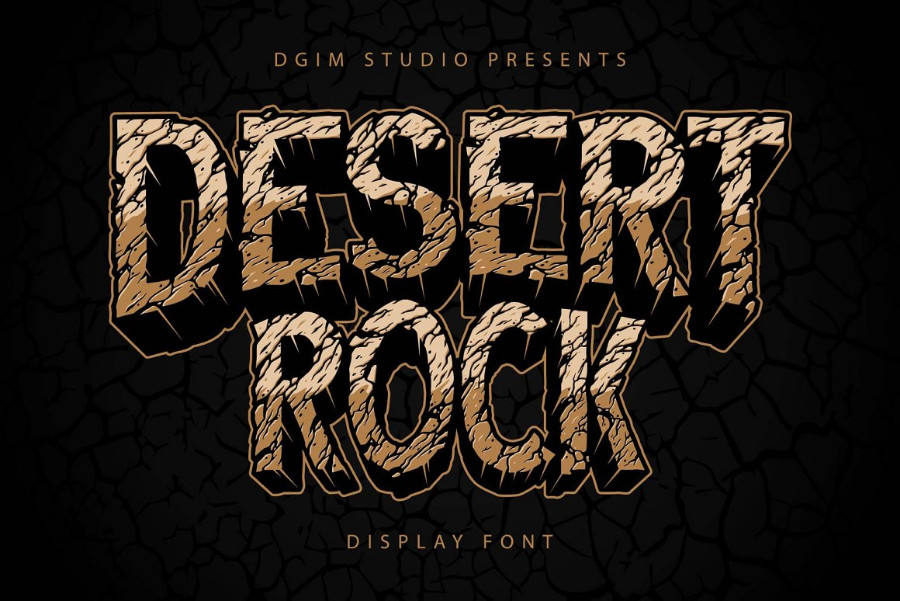 This typeface from DGIM Studio is made to imitate the texture of damaged rock, and its 15 styles will allow you a great deal of flexibility for a wide number of backgrounds.
Download Desert Rock Display Font Family
18. Rocher
Harbor Type's attempt to make a typeface made to resemble stone takes form in this product, with 9 fonts to mix and match that will make your design projects unique and inherently stony.
19. Smash Wall
This typeface from PutraCetol Studio is inspired by a wall being cracked after getting hit, giving this letterface a strong and bold character.
20. Stoa Caps
Lettering Garage's minimalist display typeface is inspired by stone wall engravings, and a modern approach to historic typeface designs.
21. Stone Age
The prehistoric display font is fun mass of blocks with style that suits package designs, apparel, posters, book covers, kid-centered projects, and anything that needs having fun!
22. Cracked Stone
This uppercase font from Dumadistyle is great with titles, animations, horror and mystery themes, and a range of projects looking for a slice of the unusual.