Did you know that candy wasn't always associated with desserts? Believe it or not, what we know as bonbons today had their beginnings as medicines.
In fact, the first candy machine was invented by the pharmacist Oliver Chase, in 1947. The saying 'a spoonful of sugar' was once taken literally. As most medicines back then had a nasty flavor, apothecaries would usually suspend them in sugar, to make them easier to swallow.
Today, candy has both positive and negative reputations. On one hand, some of the medication we take is in candy-form, such as lozenges and vitamin gummies. On the other hand, you can't have too much of a good thing! Otherwise, you might get stomachache, cavities, and become hyperactive.
Craving for something saccharine? Satisfy that sweet tooth with these candy fonts instead!
Sweet Candy Fonts
1. Candy Color
Sweet candy fonts like Candy Color are perfect for that handmade feel! Features 4 styles including 2 open type SVG color fonts, PSD letter files, and much more!
2. Choco Candy
Choco Candy is a sweet candy fonts set that brings that drippy, melty goodness to a classy monoline script. It features glyphs with standard ligatures, stylistic alts, and much more!
3. Guava Candy
Guava Candy is a sweet candy fonts set with a slick, happy feel. This one's amazing in games, movie titles, and much more!
4. Lick a Candy
Retro sweet candy fonts like Lick A Candy bring you back to the roller rink with a lollipop in your mouth! This font duo features 3 styles, alts, and more.
5. Lolly Popz Typeface
Inspired by lollipops and yummy gummies, you can't go wrong in this curve-tastic typeface from R4DS. Don't be shy – go on and add it onto your product labels, signs, invitations, and posters.
6. Funzi
Funzi is a handwritten bold typeface. This playful font was inspired by the idea of spilled ink that spreads and fills the shape of letters. Its smooth rounded corners are comforting to the eye and give a welcoming feeling to the viewer. Funzi is perfect for greeting cards, children books, quotes, posters, invitations, business cards, presentations and more.
[fontsampler id=62]
7. Salty Candy
Turn the ordinary into something extraordinary when you use this cheerful typeface from Dumadistyle. Add color and get ready to conquer the creative world!
8. Glupsk
A tribute to Piggy from Lord of the Flies, this big boned sans serif by Hökis Bokstavsfabrik is anything but bland. Add it to birthday cards, company logos, or candy packaging and may his memory live on forever.
9. Choowee Typeface
Whether it's a children's book cover or a restaurant logo, you can't go wrong with this funky typeface from TypeMate. Curvy and eye-catching, it's a guaranteed instant hit!
10. Superfruit
Sweet can be healthy, too – as this offering from NimaType can attest. With 5 backgrounds included, this is one tasty treat you won't be able to resist.
11. Crocante
Pintassilgo Prints introduces this energetic and good-humored display font. As an all-caps, it's always ready to bring spontaneity and vitality to your designs.
12. Malvie
Keep things casual yet fun in this groovy product from Eko Bimantara. Featuring 270 glyphs, stylistic alternates, standard ligatures, as well as extra swashes, it's the perfect font for the swinging 60s or 70s.
13. Easy Rider
This layered vintage script comes in 5 styles to mix and match for all kinds of projects. Get that authentic retro, maybe even grungy, look in minutes.
14. Flossed Sugar
Throw in a little bit of sweetness in whatever you're currently working on with this simple but quirky font from On The Spot Studio. With alternate lowercase letters, all that's missing is a bit of color.
15. Christmas Gingerbread Alphabet
Serve up the perfect Holiday treat when you use this Christmas gingerbread package from Natasha-Tpr-Art. Use these individually illustrated letters on greeting cards, sweaters, shirts, social media headers, and more!
Download Christmas Gingerbread Alphabet
16. JellyBelly Font
Jiggly, wiggly, and oozing with personality, this completely editable typeface from Salt & Pepper Designs will surely bring a giggle or two. Perfectly imperfect and crafted with love, it'll be a cute addition to your toolkit.
17. Candyhouse
Wondering how to make your designs 'pop'? Sam Parrett has the answer in this loopy and playful font that's always ready to get the party started!
18. PEPPERMINTY
This hand-lettered typographic font from Dixie Type Co. just needs a hot cup of cocoa. Add it to your holiday projects for the right amount of sweet, minty, and cheer.
19. Hello! Nila & Bila Typeface
With three fonts to choose from (Regular Vol. 1 and 2, Script), this cute font by Graptail will surely capture your heart at first glance. Pair them with kid-friendly illustrations and backgrounds for a truly entertaining effect.
Download Hello! Nila & Bila Typeface
20. Candy Cake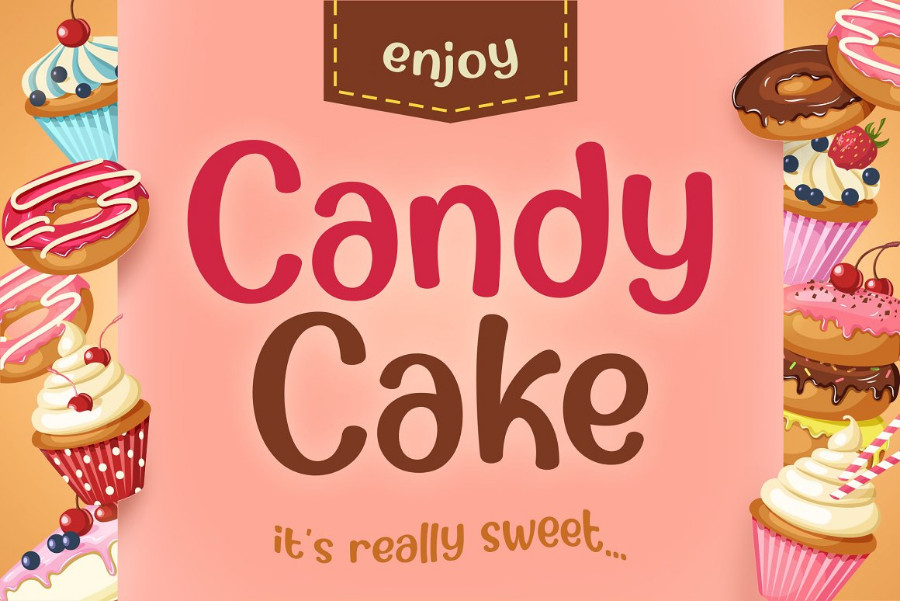 Make those children's books and food logos come to life! This lovely and cute display font that comes in OTF and TTF formats will be a welcome addition to any designer's collection.
21. Becky
Featuring a total of 10 fonts, this versatile display type by W Type Foundry will fit all your branding and publishing needs. Modern yet edgy, you can use it for corporate logos or fun product labels.
22. Rain or Shine Font
This all caps font from Denise Chandler is everything you can want in a pack for creating adorable invitations, posters, apparel, logos, and more. With 80 fun doodles in AI, EPS, PSD, and PNG formats plus web fonts, it's definitely a steal!
23. The Pretender Collection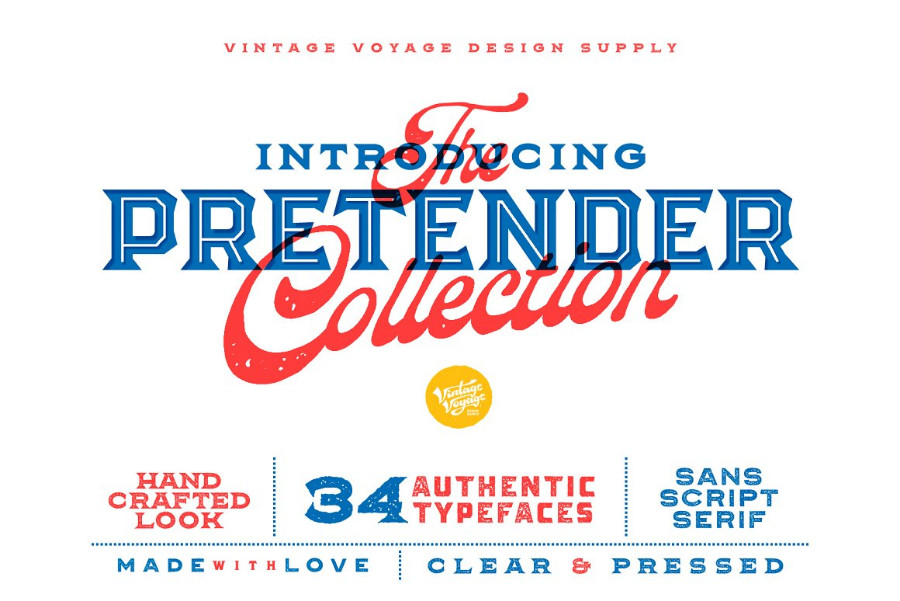 Inspired by American sign painting typography and retro package design, Vintage Voyage D.S. brings to you this 34-font pack with a hand-drawn feel. From Light Sans, Medium Inline, to Script, this product also comes with multilingual support.
Download The Pretender Collection
24. Omiwa V2.0
This semi-all caps font from Orenari offers you 4 variants that are a lot of fun to look at and to use. Toggle upper and lowercase letters to bring out unique, playful vibes!