Last Updated on September 28, 2023
Enchantment, charm, and a whimsical air of mystery. These are the top ingredients to create the perfect magical touch in any work of art. If there's one thing Harry Potter and Alice in Wonderland have taught us, it's that magic can transform the most mundane things into something extraordinary.
Most people fantasize about living in a world where almost anything is possible. They dream of a world free of concern, where their imaginations are free to run wild. And so, they seek solace in magical fantasies to escape their seemingly boring and monotonous everyday lives.
This idea is not so different from the creative world of design. Incorporating magical fonts into your project could be the missing link between fun and captivating. Magic fonts, unlike regular letters, are typefaces with a twist.
The distinctiveness and variety of appearances make it all the more enthralling. It can be minimal, relaxed, chunky, crooked, edgy, patterned with stylistic swirls, or even take on geometric shapes. Here are a couple of spellbinding fonts to help you create a unique atmosphere and incorporate magic into your project.
Spellbinding Magic Fonts
1. Modern Classic Serif Font
Arkyn is a contemporary serif typeface inspired by mythology. Each letter appears painstakingly carved out like an archeological monument to give off an ancient look. Its character set includes uppercase, lowercase, ligatures, and alternates, all of which serve different functions in your design. This font will look great on T-shirt designs, Magazines, Children's books, packaging, logos, and posters.
Download Modern Classic Serif Font
2. Soulful Sans Serif Font
Minimalism and simplicity are the hallmarks of the Loura Soulful Font. This attribute makes it perfect for creating a modern-day magical look. It is a geometric sans serif font with a pattern of lines, free-form curves, and shapes. Its features include standard characters, alternates, numeral and punctuation, and language support. This font is ideal for creating modern logos, magazine covers, and other appealing designs.
Download Soulful Sans Serif Font
3. Trenton
Trenton is a stencil serif typeface. This display font is beautiful and legible in small or large sizes. You can use it for logos, editorials, fashion, sports, blogs, advertising, invitations, posters, quotes, book covers, stationery, and more. If your goal is to create a unique and versatile stencil based design, then Trenton is for you.
4. Brutalism Font
At first glance, you can tell the Wickery Brutalism typeface has a whimsical aura of enchantment and mystery about it. It is a unique sans serif typeface with letters that appear to be melting at the corners. It consists of basic and alternate alphabets, symbols, ligatures, and multilingual support. It is ideal for posters, social media, advertisements, quotes, and labels.
5. Peachy Fantasy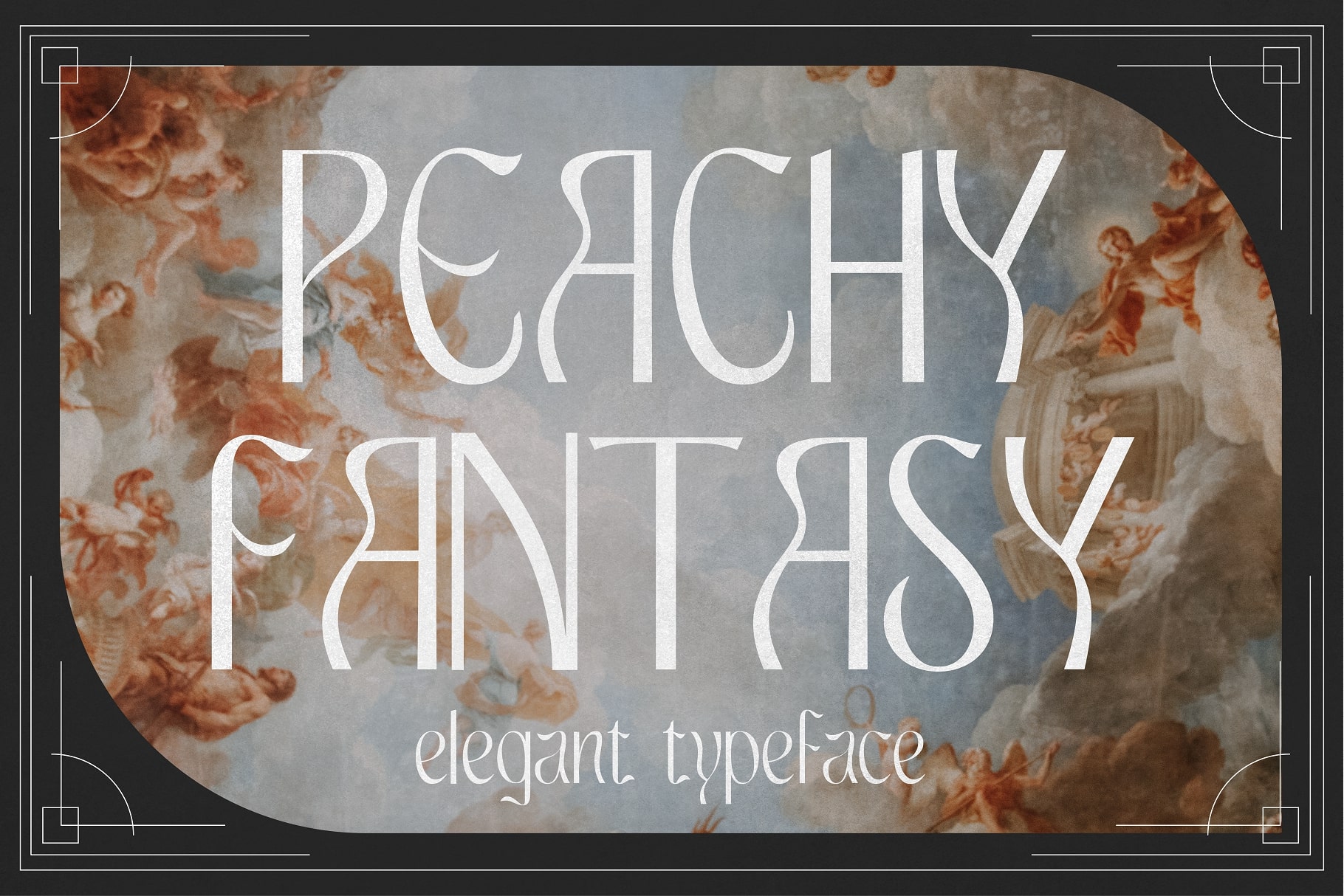 Peachy Fantasy is an Art Nouveau inspired typeface that evokes nostalgia. This typeface is ideal for a wide range of projects such as magazines, posters, branding, apparel, editorials, social media, packaging, advertisements, and much more. Each letter stands out on its own, giving your designs a touch of elegance and originality. If you're in the market for a modern typeface with vintage influences, then Peachy Fantasy is for you.
6. Grunge Decade
This font offers your design a simple, unique, and fun touch. The trinity of anything creative, if you must know. Designed by AlitDesign, it has supported character sets, ligatures, symbols, and two OpenType features. It is appropriate for T-shirt branding, posters, social media posts, and basically anything fun and unique.
7. Freebooter 
Freebooter is a pirate inspired typeface from the 1500s. The imperfections of Freebooter will give your designs and authentic human touch. It comes with upper and lowercase letters along with all the special characters you would expect. Suitable for branding, apparel, social media, advertising, editorials, marketing. etc.
8. Enchant
Enchant is a Celtic inspired typeface from the 1600s. This calligraphy font is legible, beautiful, and distinctive. You can use Enchant to create mesmerizing books covers, social media posts, magazines, packaging, logos, t-shirts, emblems, posters, and pretty much anything else you can think of. If you want to replicate that medieval/Celtic look, then Enchant is for you.
9. Niran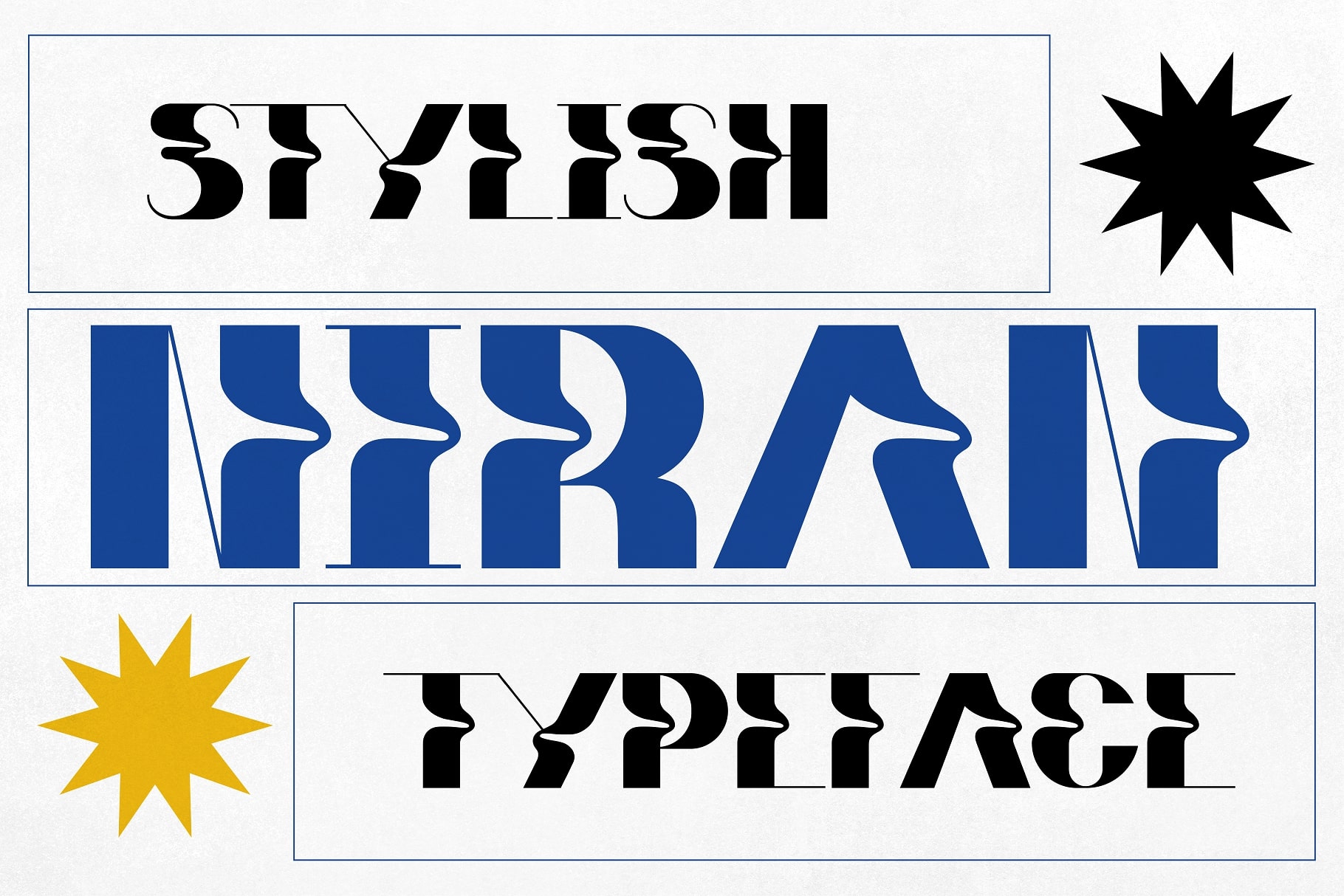 Niran is an experimental typeface with radical curves. Unique rippled lettering makes this font perfect for groovy posters, abstract logos, creative quotes, rad packaging, attention grabbing headlines, and much more. Niran mixes futurist letters with nostalgic curves, thus creating typography which stands out from the norm. If you're searching for an experimental font that breaks the rules, then look no further than Niran.
10. Langlock – Magical Type

The Langlock – Magical Type is a serif font that blends elements from the classic fairy tales and the wizard era. It is dynamic with swashes that extend from some of its characters. It further includes and supports uppercase, lowercase, numbers, punctuation, and multilingual texts. This font suits any magical design, vintage book layout, flyer design, magazine design, and even inspirational quotes.
11. Magic House – Haunted Halloween Typeface
Magic House is a haunted Halloween typeface with crooked and thorny characters. 
It has uppercase, numeric, and punctuation character sets. With this typeface, you can create your most extraordinary Halloween design yet.
12. Magic Spell – Magical Grunge Display Font
Andrew Pixel's Magic Spell is a magical grunge display font with a stylishly rough texture and sharp ends. This font is captivating and enough to make your audience spellbound. It is suitable to create a variety of designs such as art prints, logos, online images, quotations, and anything mysterious or Halloween-related.
13. Magical Font
Magical Font by Salt & Pepper is a sparkling new font with a mystical flair. It comprises crystal-like letters that stand tall and look fabulous in whatever way it is used. This font lacks excessive swashes and crookedness, making it a clear and distinct choice for your project. It is perfect for a variety of design purposes with an alphabet range of A-Z, as well as numerals and punctuation.
14. Magic Land
Midnight Grim's Magic Land Ultra-Cool Typeface is a stylish all-caps handwritten font. Notwithstanding, it can be used in both large and small forms. It is perfect for all sorts of web text and print since it emits a lively exuberance and simplicity in your design.
15. Black Magic
Black Magic is bold, vibrant, and stunning. It is a heavy-weight script font with thick letters that overlap. The uppercase letters twirl, whereas the lowercase letters appear nearly cursive-like.
16. Real Magic
Real Magic is a modern and stylish handwritten script font designed by Nathatype. 
It has stylistic alternates and ligatures, making it an ideal tool for creating beautiful graphics. It also features multilingual support, with up to 84 languages, to reach a global audience.
17. Log Wizard – kids font
Pinisiart comes through with the perfect display font for all things children in its creation, Log Wizard. With its somewhat chunky letters and cute displays, this font could very well be the missing piece in your kid-themed design. Its features include Uppercase and lowercase letters, as well as numerics and punctuations.
18. The Witch – Spooky Font
Taking the spook out of magic is hardly possible because they're just so much better together. If you're looking to create a magic-themed design laced with a bit of spook, The Witch-Spooky Font will make a great addition to your designer toolkit. Featuring crooked twirls that extend from the serif, this font would look fantastic on holiday-themed crafts, quotes, posters, and anything else that needs a fanciful touch.
Download The Witch – Spooky Font
19. Legendary Runes – Fantasy Font
On a scale of one to Harry Potter, we'd say this fantasy font has a high chance of creating the perfect mystical atmosphere in your work. It has thunderbolt-like letters consisting of uppercase, lowercase, alternates, ligatures, symbols, and punctuations. It is ideal for movie and book title covers and fantasy-themed quotes.
Download Legendary Runes – Fantasy Font
20. Silent Creek Vintage Serif
If you believe spooky is the new fun, this typeface could be a keeper. Silent Creek is an old-fashioned colonial serif font with rustic sharp, and pointy edges. This typeface conjures up images of magic, sorcery, and potions, like something out of a spooky Halloween film. It features old-style numbers, alternates, ligatures, and distressed font styles. Consequently, this font is suitable for big vintage-looking headers, retro logo designs, posters, and quotes.
Download Silent Creek Vintage Serif
21. Alchemy – A Magical Typeface
Alchemy by Andrew Pixel is a vintage typeface with a mystical vibe. Just like a calligraphic handwritten text, it has stylistic twirls and loops. This typeface brings about the feeling of warmth, sophistication, and an aura of classic magic. It includes lowercase and uppercase letters as well as multilingual support. As such, Alchemy is perfect for any event that calls for a touch of magic.