Last Updated on July 4, 2022
The cyberpunk concept is a subgenre of science fiction that focuses on the use of high-tech advancements (i.e. AI, robots, etc.) in contrast with a dystopian or radical setting. This is a popular theme used in games and books. In design, creatives can have fun experimenting with the cyberpunk concept not just with sci-fi and fantasy ideas, but also in modern or minimalist works.
Cyberpunk is in fact, rather versatile. You can also use it for thriller, modern, as well as nostalgic themes. It all depends on how you present it. Together with the right images and color, you can go punk one minute, and totally contemporary the next.
Don't be intimidated by their bold and edgy appearance. Get a load of these cool cyberpunk fonts and see where they take you.
Futuristic Cyberpunk Fonts
1. Avalon
Avalon is a glitch font featuring multilingual letters, numbers, and punctuation with letters in uppercase form. Perfect for movies, titles, and anything scifi or tech related.
2. Boge
Boge is a bold, italic typeface – the perfect cyberpunk font with sharp angles and ligatures. Excellent for branding, posters, logos, covers, and apparel.
3. Raskhal
Raskhal is a condensed font inspired by the 1980s and neon lights. It offers beautiful typographic harmony for a diversity of design projects.
4. Mokoto Glitch Typeface
Effortlessly re-create that digital glitching effect with a little help from this layered multiply typeface by Drizy.
Download Mokoto Glitch Typeface
5. Thunderstorm
Nothing more bodacious than a font pack that comes with extras. Introducing this hand-made brush typeface by Aiyari that includes a bonus pack filled with retro illustrations. Totally tubular!
6. Outrunner Retro Script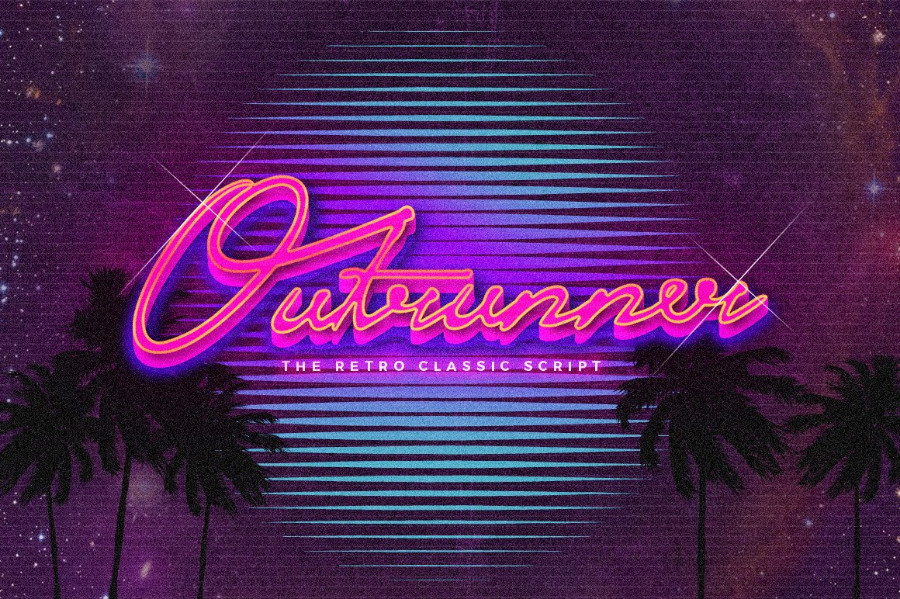 TSV Creative wants you to re-live the amazing 80s with this iconic retro classic script; a homage to an era of vibrant clothes, upbeat dance music, and bright neon lights.
Download Outrunner Retro Script
7. MEGATON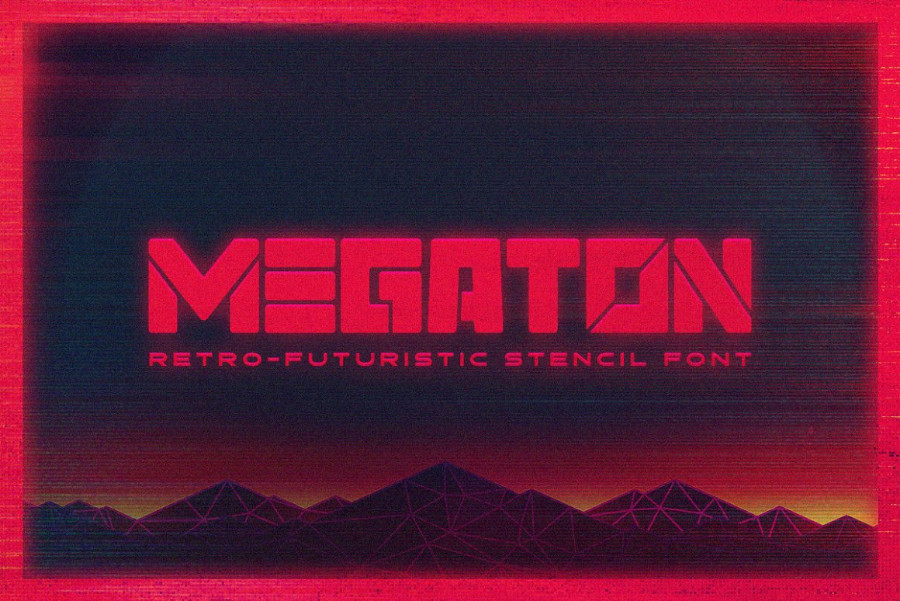 Tugcu Design Co. proudly presents this big and bold stencil font, with uppercase multilingual letters, numbers, and punctuation.
8. Scarlex
Scarlex is a unique display typeface that looks retro, modern, and futuristic all at the same time. It was inspired by science fiction movies and books from the 1960s. The font is perfect for science research posters, movies, posters, branding labels, automotive type design, t-shirts, branding, book covers, and more. If you're looking to infuse your design project with some personality, then Scarlex should definitely be on your radar.
9. Hermes Font
LogoLabs lets you go big with this powerful and futuristic typeface that's full of movement. Tip: combine the upper and lowercase characters to produce stunning effects!
10. Alpharush Retro Game Font
Evoke that 80s vibe when you use Inspirationfeed's retro bitmap typeface. It's perfect for pixel art and 8-bit games, as well as headers or body text.
11. Revive 80
Introducing 8 styles, this collection from Tom Chalky will help give your projects that popular vintage feel in minutes.
12. Horsemen
Sharp and classic, this dark-themed font by The Branded Quotes works well for headlines, banners, posters, shirts, book covers, and more.
13. Hot Rush Font Duo
Sam Parrett created this masterpiece of a font duo that truly works great together, whether in merchandise design or in branding projects.
14. Neototem Font
Inspired by futuristic cyberpunk settings, this all-caps font from Aswin Menon is all about minimalism but with big impact. Ideal for short texts, headlines, logos, and posters.
15. Vaporfuturism OTF Retrowave Font
Step inside an 80s game in Ckybe's Corner creation. Featuring 4 additional vaporwave backgrounds plus 2 sample flyers, it's a great deal you won't want to miss out on.
Download Vaporfuturism OTF Retrowave Font
16. Wraith Typeface
This wide font with ultra tight spacing from Tugcu Design Co. will pair well with scripts and other san serifs, to build an otherworldly effect for your posters, headers, presentations, and more.
17. The SONNYFIVE
This brush font by thesonnyfive will work great not just for thriller or horror posters, but also for anything requiring a dynamic, gothic, or dark theme.
18. MBF Kromium
Kromium is a wide modern futuristic sci-fi sans serif display font. This typeface is heavy on the cyberpunk mecha theme with a minimalist approach. Best use as logo, poster, display, headline, t-shirt design and much more.
19. Cygun Font
Cygun is an awesome font that can help you to create a hi-tech cyberpunk design for any poster or branding/advertisement. Perfect for futuristic design, the font template is stylish and super cool.
20. Cynatar Font Duo
Cynatar Font is a sci-fi cyber font inspired by futuristic styles. Great for movies posters, games, and all other design types
Also, the combination and usage of different letters and ligatures gives you the opportunity to have fun and at the same time create your own unique style.
Ideal for loud messages. Made with flat marker adding realistic moves in it. Very interesting to use for logos, name tags, handwritten quotes, product packaging, merchandise, social media & greeting cards. Also, ideal to make t-shirt designs and other clothing products.
Download this awesome font design right here!
21. Dirtchunk Futuristic Font
A new breakthrough in the futuristic world. Now comes a font with strong character for all your design projects for today and even into the future. Perfect for album cover designs, movie titles, games, apps, landing pages, UI / UX, music shows and whatever it is just do it! See some of the previews above for reference.
22. Bioweapon (FREE)
Taking inspiration from bioweapons, radiation, and nuclear warfare, this solid font from Lucas Felipe is sure to attract attention.
23. Exan-3 (FREE)
Be confident enough to create sci-fi or fantasy worlds using this mono-spaced typeface from Jon Carlos. Free for personal or commercial use.
24. Elianto (FREE)
This sans serif from Emanuele Papale would be perfect for headlines, book covers, posters, business cards, and more.
25. Melete Font Family (FREE)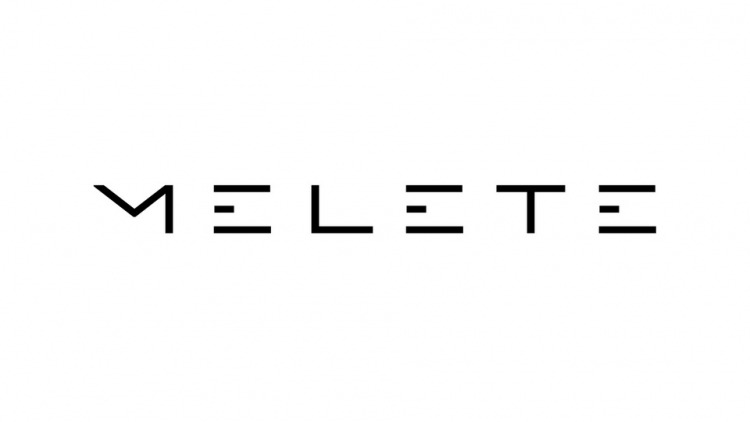 Designed by Sora Sagano, this sharp and wide sans is all about creating the right sci-fi atmosphere with its letters, numbers, and symbols.
26. 01 Digitall (FREE)
Want to pull-off science or computer-inspired themes? Then be sure to include this futuristic font from David Chung in your design arsenal.
27. Blanka (FREE)
Don't let the minimalist shapes fool you – this display font from Emmeran Richard is a hard worker when it comes to logos, signage, titles, monograms, and other big projects.