Last Updated on May 29, 2023
Anything nowadays can be turned into a work of art. Whether it's a photo or a social media bio, we have all kinds of tools to express ourselves and our distinct tastes.
What makes a font aesthetic?
It's pretty difficult to establish what makes something 'aesthetic', especially in terms of fonts. But in general, aesthetic fonts are stylish, unique, and fit for its intended purpose. Many of them are modern, custom typefaces. Though you'll be surprised how traditional fonts can fulfill a similar role, too.
A good example would be Helvetica Bold. Simple and unassuming, this well-known font can also be applied when creating social media quotes or Tumblr posts because it remains legible, regardless of size. To make it more aesthetic, opt for all-caps with a plain white color. Set it against any colorful backdrop for an interesting effect.
Other samples of aesthetic fonts include: VHS fonts for vintage or retro concepts; yellow subtitle fonts for quoting movies; 80s cursive fonts for postcards, posters, or music album covers; bubbly fonts for fun, VSCO-type looks; and clean, minimalist fonts for magazine-style pieces.
Aesthetic Fonts for Tumblr, YouTube, and Instagram
Turn your feelings and ideas into stunning digital works of art with these aesthetic fonts. Use them on for Tumblr posts, on Instagram photos, or to share your latest short poem. Have fun!
1. Sojourn
Layered, type-driven design inspired by 1980s advertising is on the rise. Sojourn will help your creative projects come alive and create eye-catching designs. Just like the famous 1980s advertisements by Apple, which pioneered the look with its launch campaign for the 1984 Macintosh.
2. Spring Melody
Spring Melody is an elegant humanist typeface. Spring Melody has elegant curves, beautiful kerning, and sharp edges. The font is perfectly suitable for creating elegant, clean, retro design such as branding, packaging, social media, wedding invitation, advertising, editorials, and much more. If you're looking to create a sense of luxury in your designs, then Spring Melody is exactly what you've been looking for.
3. Summer of 76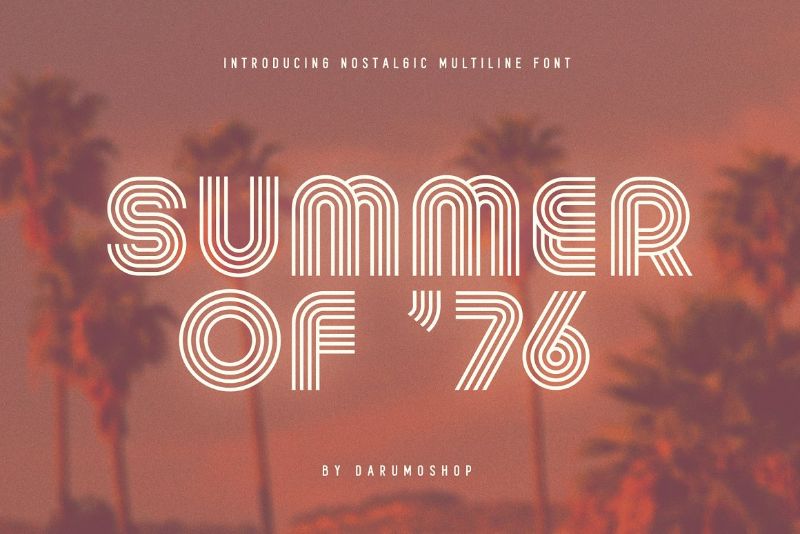 Make nostalgic 70s headers, postcards, posters, t-shirt designs, and text blocks with this multi-line font from Darumo Shop. Available in Solid and Regular versions.
4. Turesco Display
Letterhend Studio presents this modern yet playful letterform that looks great on digital or print projects. It pairs well with its Regular version or any sans serifs.
5. Dream to Berich Modern Bold Serif
Multilingual, bold, and vintage, this strong serif from Zeenesia is perfect in large sizes for editorials, ads, logos, posters, shirt designs, and product packaging.
Download Dream to Berich Modern Bold Serif
6. Religan
This contemporary serif by Dora Typefoundry looks amazing in large sizes and paired with any sans. Use it on magazines, social media ads, editorials, etc.
7. Antigua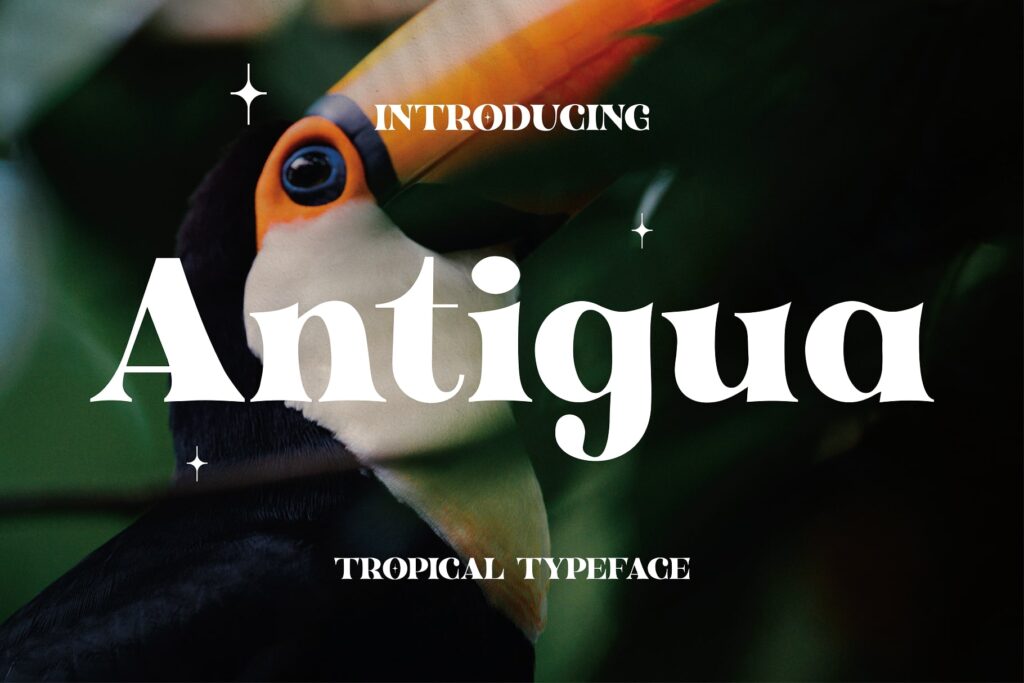 Check out Antigua, it's a pretty cool font family with two awesome styles: Regular and Outline. It's simple, elegant, and totally unforgettable. Plus, it even has some bonus ligatures that can really make your designs pop.
You can use Antigua for all kinds of stuff like branding, packaging, posters, social media, and magazines. Trust us, it's a fun font to work with and read. You might even find yourself using it more than you thought you would!
8. Marthy
Marthy was inspired by Art Nouveau and 1970's psychedelic posters. This expressive typeface is designed to be used for branding, music posters, album graphics, book titles, etc. Evoke that nostalgic 60s/70s look today with Marthy!
9. Peachy Fantasy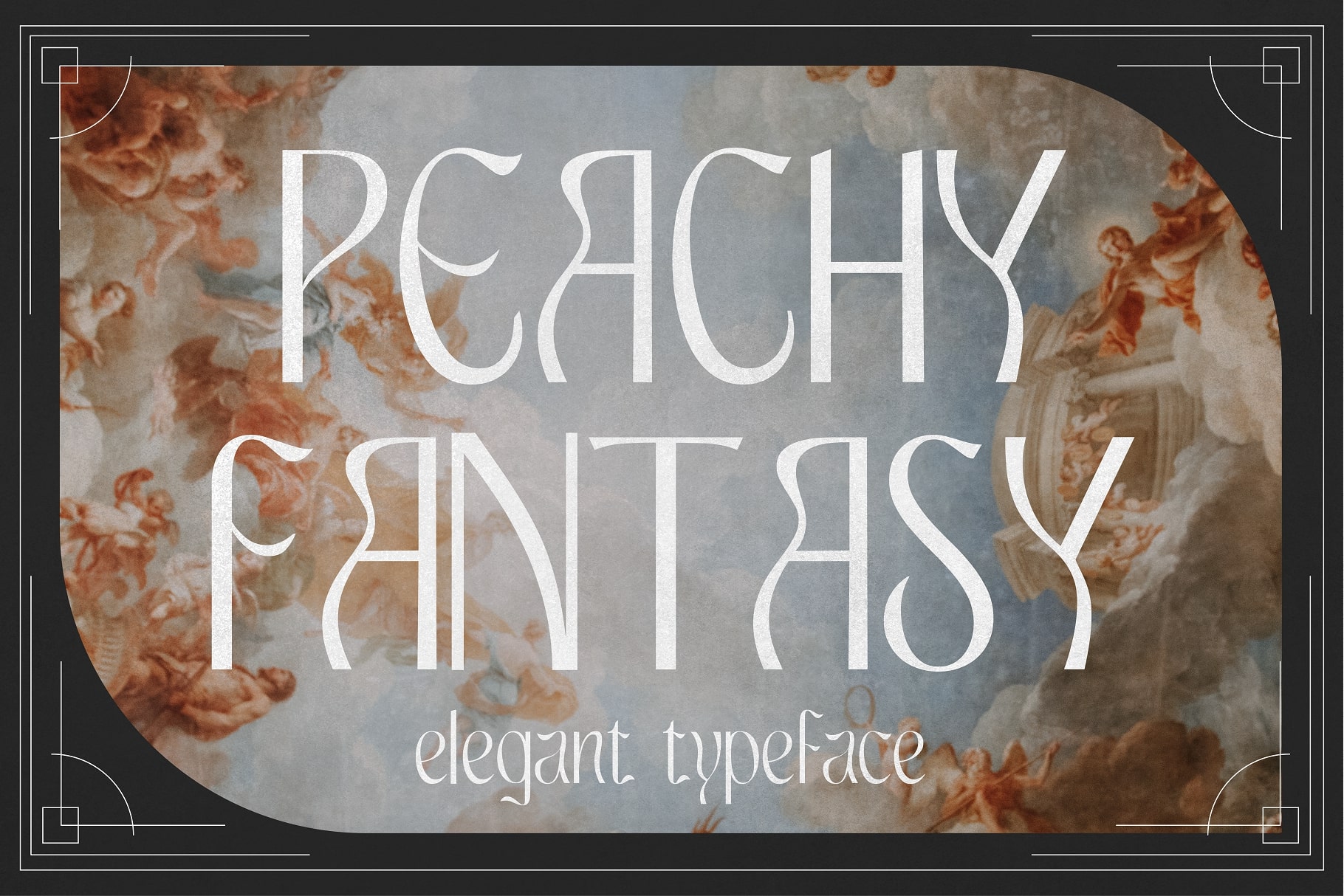 Peachy Fantasy is an Art Nouveau inspired typeface that evokes nostalgia. This typeface is ideal for a wide range of projects such as magazines, posters, branding, apparel, editorials, social media, packaging, advertisements, and much more. Each letter stands out on its own, giving your designs a touch of elegance and originality. If you're in the market for a modern typeface with vintage influences, then Peachy Fantasy is for you.
10. Aurora
Designed for bold, artistic, and grand projects, this serif typeface is gorgeous either as all-caps or with lower cases. Put it on logos, quotes, titles, headers, or posters.
11. Caroline
This elegant serif is delicate enough for wedding invitations, dainty logos, minimalist headers, and chic posters or banner ads. Pair it with signature or script typefaces for an impressive effect.
12. Trenton
Trenton is a stencil serif typeface. This display font is beautiful and legible in small or large sizes. You can use it for logos, editorials, fashion, sports, blogs, advertising, invitations, posters, quotes, book covers, stationery, and more. If your goal is to create a unique and versatile stencil based design, then Trenton is for you.
13. Fright Night
Best used on Halloween content and scary movie posters. Also great for mystery, thrillers, or occult-based concepts.
14. Alpharush
Feeling nostalgic about 8-bit everything? Then try this retro font that remains legible even in smaller sizes.
15. Wanderlust
Tickle someone's travel bug when they look at your flyer, travel website, or trip itinerary when you use this versatile vintage lettering.
16. Surreal
Make groovy posters, album covers, logos, banners, headlines, and more with this psychedelic typeface.
17. Niran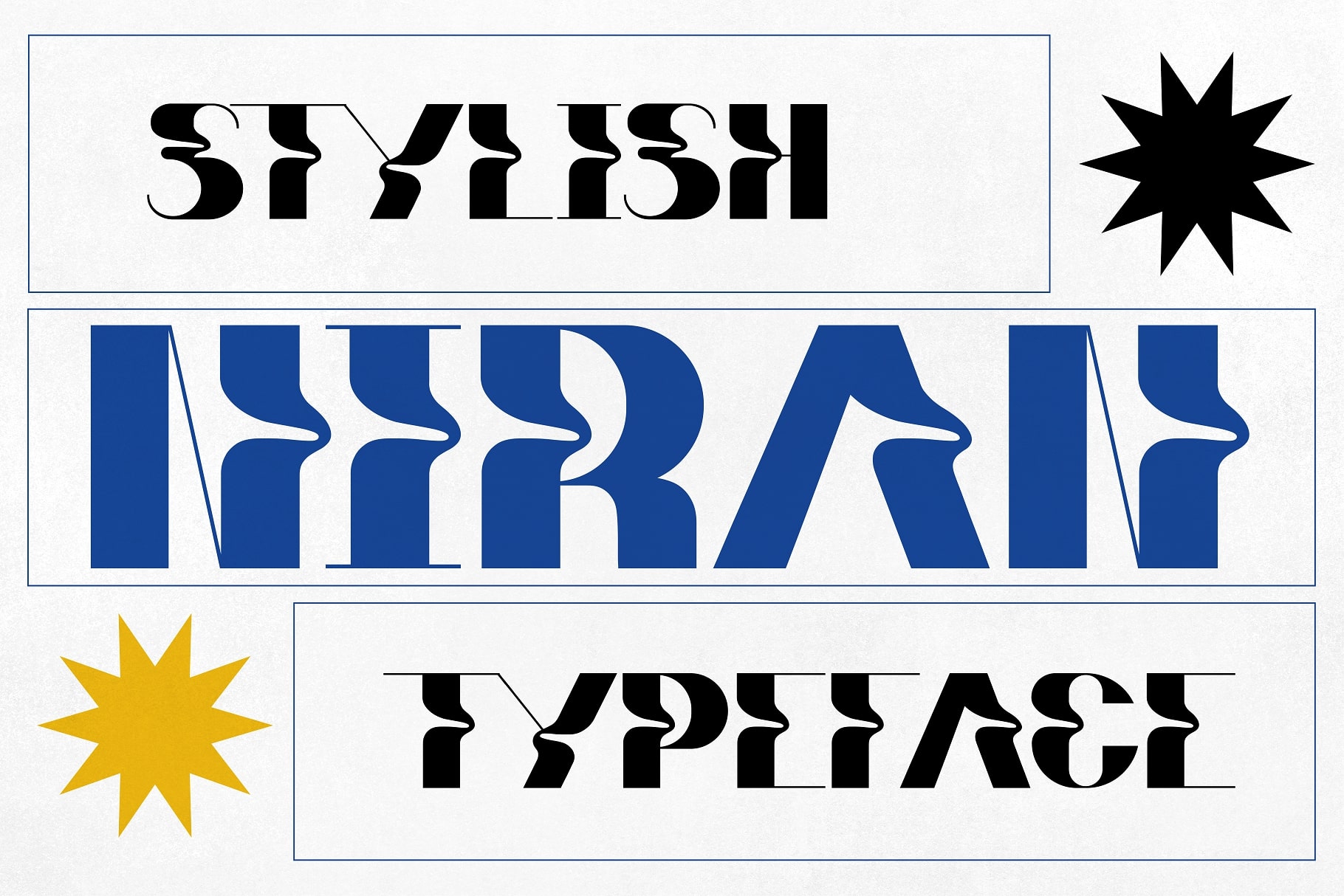 Niran is an experimental typeface with radical curves. Unique rippled lettering makes this font perfect for groovy posters, abstract logos, creative quotes, rad packaging, attention grabbing headlines, and much more. Niran mixes futurist letters with nostalgic curves, thus creating typography which stands out from the norm. If you're searching for an experimental font that breaks the rules, then look no further than Niran.
18. Vermost
The unique ligatures in this retro sans serif from PutraCetol Studio will make your projects stand out with its neat and soft shapes. Available in Regular and Rough versions.
19. Dear Ivy
Inspired by Didot aesthetics, this modern serif by Harmonais Visual was especially designed for haute couture and fashion-themed concepts. Includes free social media templates.
20. Magic Funk
Let this vintage font by Hansco.Studio be your time machine to the past. Best used with Adobe Illustrator or Photoshop apps.
21. Meadow Notes
If you like dainty and pretty things, then you will love this handwritten typeface from Simpleblues.
22. Calling Code
Create beautiful code and tabular layouts with this mono-spaced font that comes in 4 styles (Regular, Italic, Bold, and Bold Italic).
23. Bitcraft
Inspirationfeed brings you this fun display font from the 80s! Now you can finally make those 8-bit style icons, logos, illustrations, posters, and shirt designs with ease.
24. Monro
Quirky, disruptive, and eye-catching, these letters were inspired by 80s and 90s aesthetics.
25. Blaster
Want to re-create 80s movie posters reminiscent of Silk, Purple Rain, Top Gun, and Tron? Then this retro brush font by Indieground Design Inc. is perfect for you.
26. Artisa
Whether it's a quote image, a travelogue, or a fashion spread, this elegant typeface by Elvinova gives off a luxurious vibe even at first glance.
27. Riverwest Vintage Industrial Font
The industrial look and feel of this sans serif by Parker Creative was inspired by font styles from 19th century maps and posters.
Download Riverwest Vintage Industrial Font
28. Gunydrops
Give your Instagram photos or Tumblr posts a nostalgic feel with this bold, retro typeface by Dharmas Studio.
29. Naguboty Display
Trendy and twisty, this decorative font from Damelev will spice up your t-shirts, posters, logos, packaging, ads, headlines, invitations, business cards, badges, and more.
30. Stora
Vintage or not, you will love the unique shapes of this display type from Refolve Design. Includes extras and a pre-made logo.
31. Mindflyers Font
Featuring 6 different styles, this semi-formal sans by The Branded Quotes will lend your illustrations, comics, and vector images a distinct pop-art look.
32. Marseille
Made using a technical pen, this beautiful script by LogoLabs goes perfectly well on postcards, travel photos, tour magazines, or adventure catalogues.
33. Ziclets
Season your projects with only the freshest and juiciest font by PintassilgoPrints.
34. Ponte Font
Emma Make brings you this modern sans with a grotesk feel. Available in 3 weights, use them in print or digital designs.
35. Surfwave
Create whimsical, fun posters, cards, logos, and quote images with this bold typeface by JuliaVolkova. Product also contains 14 clipart elements to help you complete your works.
36. Geom Graphic
Inspired by 80s Japanese robot animations like Gundam and Ideon, this square geometric sans from Dharma Type will make your comics, web novels, or illustrations come to life.
37. Eleanor Rigby
You will get 10 fonts in various styles. Ryn Pojas gives you this 80s-inspired set that's made for summer parties and retro vibin'.
38. Lower Coast
This versatile serif from Muntab Art will look amazing on both modern projects and classic concepts.
39. Vacelyn
Bring out the natural beauty in anything you make using this fashionable small-caps serif from Typia Nesia. Ideal for branding, architecture, gastronomy, fashion, historical, advertising, etc.
40. Retro 86
Inspired by the low-resolution computer graphics and games from the 70s to 90s, Parker Creative gives you this blocky design that's beautifully old-school.
41. Milk and Wild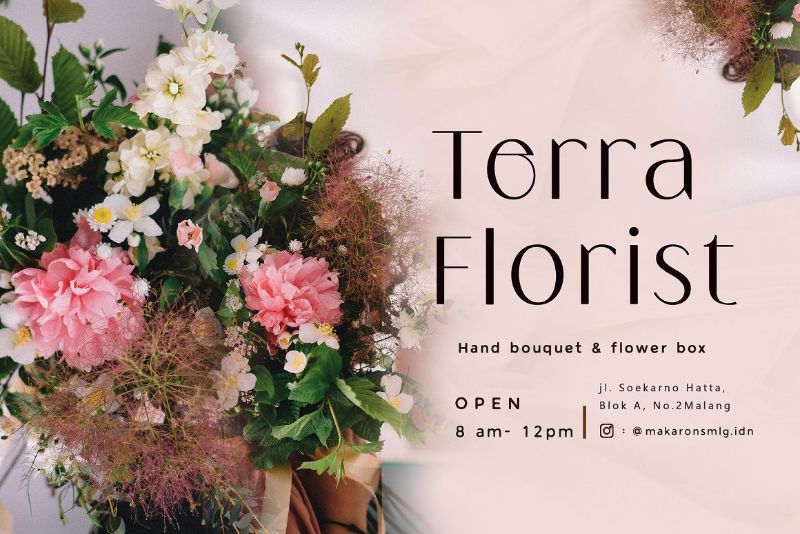 Elegant, glamorous, and classy, this will be your go-to font for branding and editorial ventures.
42. Vignettic Font
Classic but also modern, Allmostudio proudly gives you this retro font that comes in 3 styles. Layer them for interesting effects, or just use the Regular version for fun results.
43. Cydekick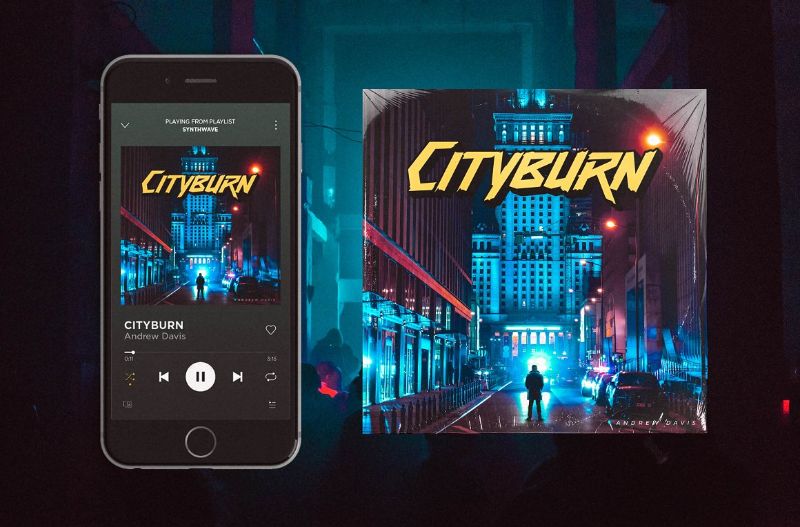 Invade the cyberspace using this futuristic typeface by Konstantine Studio. Bold, fast, and rebellious, put it on your mobile apps, website, social media posts, esports logos, and more.
44. Wandery
With 10 styles to select from, Wandery Supply gives you this clean, semi-rounded sans family to play with. So go explore.
45. Tangerine Skies Font Duo
Save time and effort when you go for this font duo from Jen Wagner Co. And with more than 70 ligatures plus alternates, it will look like you did everything by hand.
Download Tangerine Skies Font Duo
46. CITYPOP
Vaporwave, Future Funk, or Synthwave – live in a brightly-colored world where the future and past collide. Get that vivid 70s to 90s Japan vibe with this 5-font bundle.
47. Geska Rolling
Kulokale proudly presents this retro font that comes in 2 breezy styles. Use with Adobe Illustrator, Adobe Photoshop CC, Adobe InDesign, or CorelDraw to view glyph variations.
48. Fine Art Font Duo
This aesthetic font duo is perfect together or used individually. Pack includes 22 line vector illustrations to complement your vision.
49. Detective
Classic, structured, and 100 percent made by hand, this mechanical typewriter font is old-fashioned yet modern enough to be used on social media quotes, thriller book covers, and more.
50. Aesthetic Font
Easily add some charm to your works with this handmade brush font by Indotitas. Pair with a signature or script font to make cheerful, romantic logos, invitations, book covers, Instagram posts, and more.
51. Carley & Co.
Skinny, condensed, and multi-purpose, this sans-serif all-caps family by Angèle Kamp has 3 variants (Light, Regular, and Bold) for your print and digital projects.
52. Meritorious Script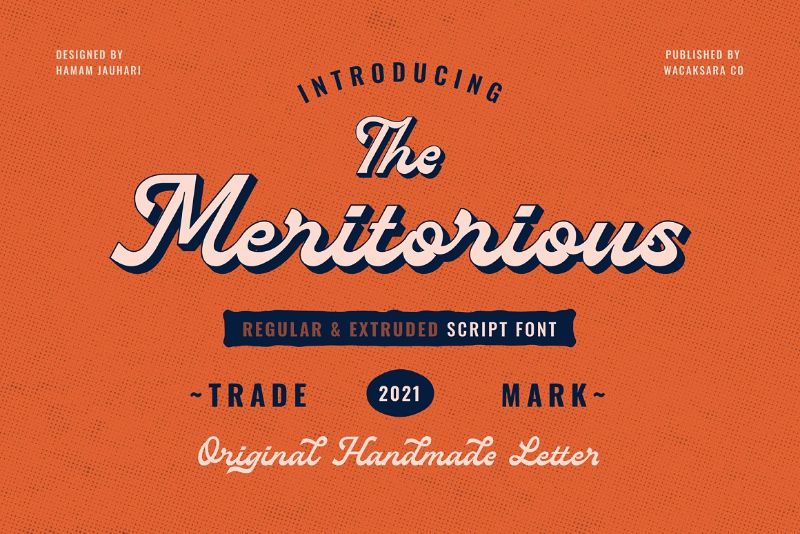 With 2 variants (Regular and Extruded) to choose from, Wacaksara Co. brings you a manual lettering style that's bold and vintage.
53. Gumzilla Font Plus Graphic Pack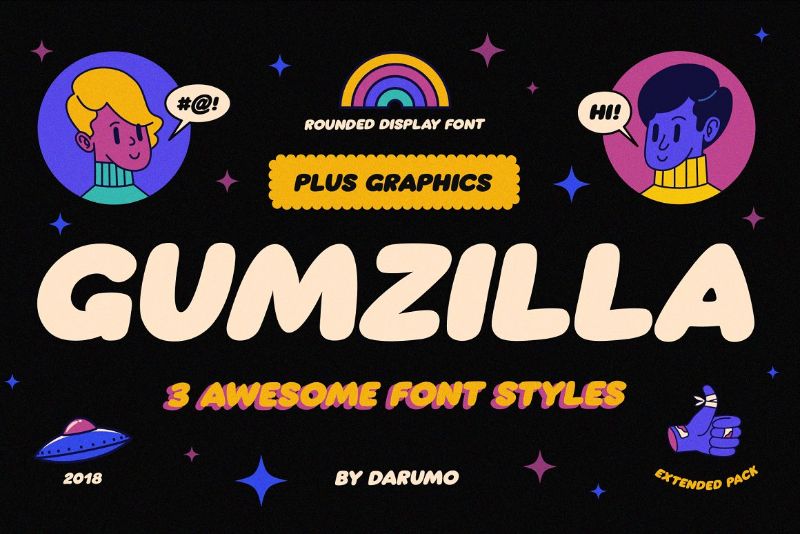 Re-create the 90s candy, pop culture scene using these funky fresh rounded fonts from Darumo Shop. Plus, you'll get doodles and seamless patterns for the complete retro package!
Download Gumzilla Font Plus Graphic Pack
54. Qureka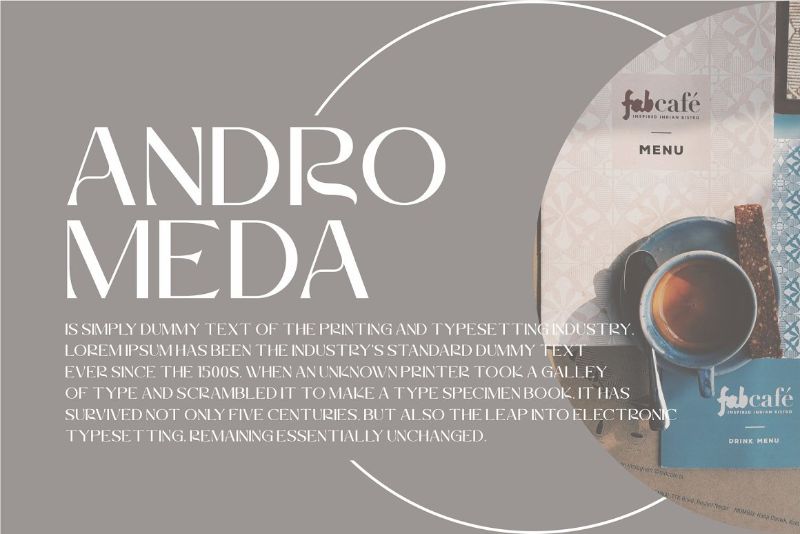 Use it as a header for your resume or as a headline for a magazine spread. Either way, it looks good.
55. The Stockholm Font
Re-create those cute, minimalist quote images using this handwritten sans. Brought to you by Kruth Design.