From royalty to religion, monograms have adorned not only coins, but also precious possessions and artefacts throughout history. These decorative symbols, typically initials of people or names of companies, seem to have grown in popularity once again. From start-ups to weddings, you can now see beautiful monograms everywhere.
But just because they're made from just a few letters and symbols doesn't mean they require little work. Like other design elements, they too, need planning. Whether it's the color or the motif, you need a keen eye to ensure the end result is awe-inspiring.
To give you a bit of inspiration, check out this gorgeous monogram font collection.
Gorgeous Monogram Fonts
1. Advio
If you're looking for a friendly, creative monogram font that stands out above the rest, Advio Friendly is the font for you. Perfect for logos and branding, posters and banners, and anywhere a high-tech look is needed.
2. Garde
GARDE is a stylish, creative, monogram font useful for creating titles, monograms, and logos for beauty, luxury, and corporate projects.
3. Radon
Radon is a stylish creative monogram font family useful for creating titles, monograms, and logos. It consists of three types: Regular, Bold, Deco.
4. Skywave
SKYWAVE is a unique monogram font inspired by sci-fi design themes, perfectly suited for logotypes, branding, headlines, big text, marketing graphics & display usage.
5. HOM Monogram
Clean, simple, and seamless, this trendy 2-font monogram set by Bangun Studio will fit any contemporary project. Be it weddings, business presentations, or custom art, you can count on it to save the day in style.
6. Monogram Rounded
Looking for a unique, mind-boggling typeface? Then make way for this gem by Studio Dot. Don't let it overwhelm you though – it may seem complex, but it's all part of its mysterious grandeur.
7. MFC Mercer Collection
With 10 amazing styles to choose from, this collection from Monogram Fonts Co. will not only help you make the perfect 18th century style monograms, you can also use these fonts for whimsical book covers, labels, website banners, and more!
Download MFC Mercer Collection
8. Intellecta Monograms Collection
This is by far one of the most extensive sets making monograms. Featuring 41 intricate fonts plus 2,300 ready-to-use monograms, Intellecta Design brings to you not only sheer quantity, but also amazing detail in every letter.
Download Intellecta Monograms Collection
9. Enigton
Bring back the golden age of the printing industry every time you use this elegant typeface by Unember. With 3 different fonts as well as extras (oval shapes and hi-res illustrations), creating your own 1920s-inspired monogram has never been easier.
10. Two-Letter Monogram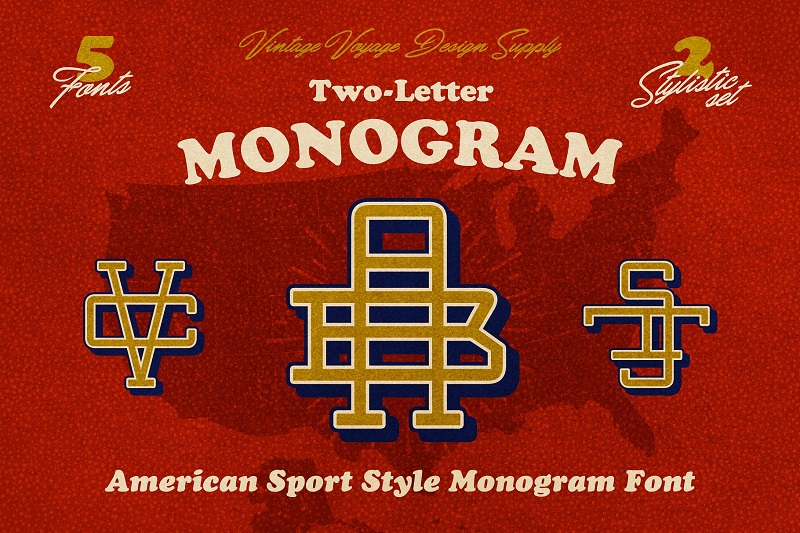 Make impressive sports or athletics style monograms with help from this collection by Vintage Voyage D.S.. Aside from 5 font styles, you'll also receive 51 individual images of U.S. States and 1 U.S. map to add to your projects.
11. Diamond Monogram Font
Start creating trendy and elegant 3-letter monograms thanks to this kit from Leslie Ray. With 3 fonts and a bonus of more than 25 diamond and square frames, you'll be a monogram pro in minutes.
Download Diamond Monogram Font
12. MFC Baelon Monogram
Easily intertwine initials using this alphabet set by Monogram Fonts Co.. You will get a total of 5 unique font styles, featuring Stencil and Solid, to craft the ideal 18th century design that will look amazing on websites, book covers, posters, cards, invitations, or apparel.
13. Monogram World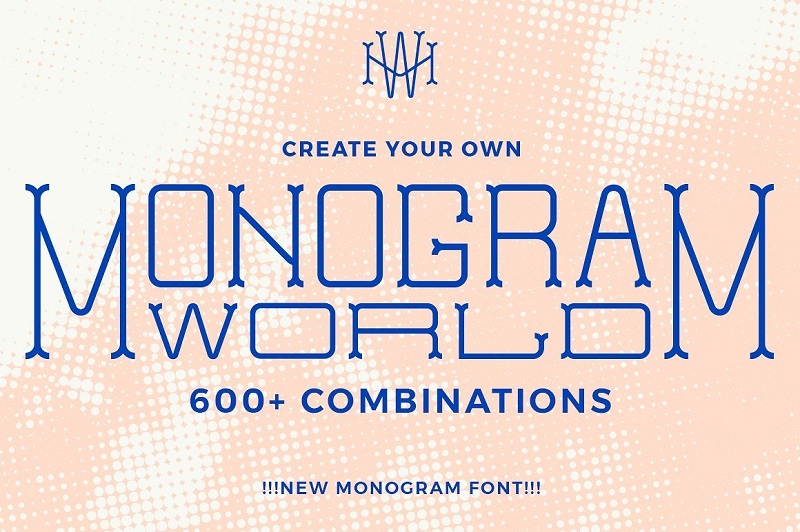 Save time and money when you use this set by Headfonts. With 3 weights, 20 pre-made badges, as well as 10 hi-resolution textures, it allows you to craft more than 600 combinations of original monograms to suit every need or occasion.
14. Circle Monogram Font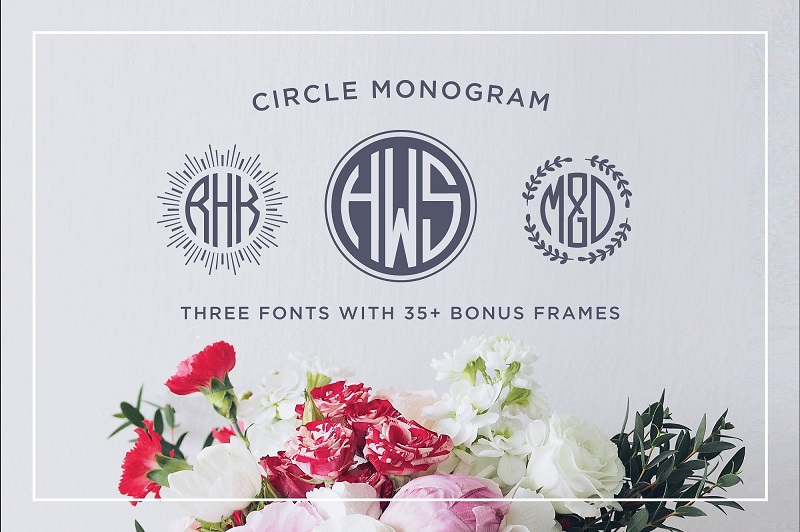 Get ready to put together the most stunning circle monograms with this collection that includes 3 fonts and 35+ round frames. It's suitable for weddings, invitations, website headers, custom art, and branding projects.