Last Updated on July 11, 2023
Ever wondered what exactly is a cyber style?
This type of design aesthetic takes inspiration from futuristic and digital elements. It draws influence from concepts like cyberpunk, science fiction, and the digital world. It incorporates sleek and metallic surfaces, vibrant neon colors, futuristic typography, glitch effects, circuit-like patterns, and imagery associated with advanced technology and virtual reality.
The goal of cyber style is to create a visually captivating and futuristic atmosphere that reflects a world driven by technology. It is commonly found in various forms of media, such as art, graphic design, fashion, and digital interfaces.
There are lots of ways to go about creating a cyber-driven aesthetic. In graphics for example, try incorporating futuristic imagery such as circuit patterns, glitch effects, futuristic cityscapes, virtual reality elements, and digital interfaces. Add neon lighting effects, light trails, or vibrant gradients that give a sense of energy and dynamism.
For typography, choose modern or edgy fonts that reflect a digital feel. Look for something geometric or sci-fi-inspired. Don't be afraid to experiment with bold, sleek, and angular letterforms. Our selection of high-quality cyber fonts should put you on the right track.
Powerful Cyber Fonts
1. Cyberpunk Style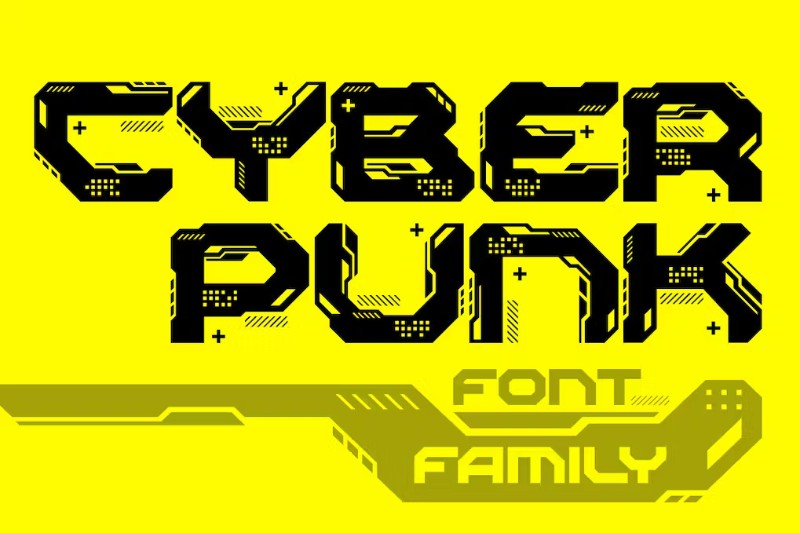 Behold the symbol of the hi-tech cyberpunk realm and the enigmatic future! Crafted with meticulous care, it's steeped in the essence of technology and futurism.
It's recommended for headers (to fully appreciate all the details that went into each character). Try it on virtual reality, outer space, military, gaming, and cyberpunk themes, as well as on futuristic landscapes and startup products.
The font family has two versions: Regular and Light. Use one or combine both for a captivating typographic experience. Harness the power of Cyberpunk Style and embark on a journey where digital dreams and tangible reality collide.
2. Zephyrus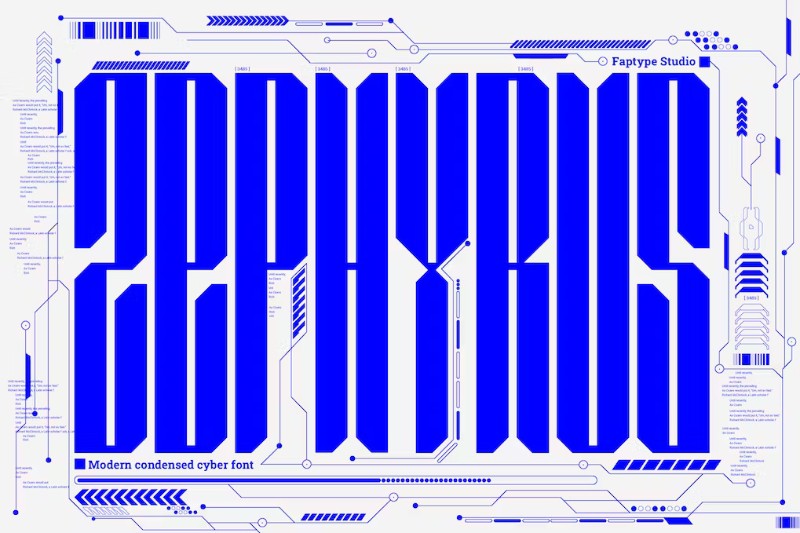 This modern condensed cyber font was designed to take your projects to the next level! With its tall, compressed look, it's perfect for that cutting-edge touch. Included in the pack is a rounded version with softened edges and a rounded version.
This means you can use Zephyrus on more than just tech-based apps and video game designs. Enhance your digital presentations, ad campaigns, and product packaging with this functional typeface.
3. Sandborg
Looking for something with a cyborg appeal but without too much detail? Then Sandborg has got you covered. With simple lines and rounded corners, it's edgy without going overboard. It retains its readability despite smaller sizes, making it suitable as a headline or as body text.
4. Alpharush
Bring the 80s back in style with this retro bitmap typeface! Reminiscent of 8-bit games, each pixel aligns impeccably to form a flawless execution.
Transport your audience to an era filled with neon-lit streets, synthesizer melodies, and the unforgettable charm of retro gaming. Alpharush will be your faithful companion as you create nostalgic posters, logos, banners, websites, and more!
5. Why2K
Step into the exuberant realm of this retro typeface! Capturing the essence of the early 2000s, it calls to mind vibrant, bold, loud, and experimental visuals.
Ideal for a wide range of creative projects including branding, prints, posters, magazines, headlines, social media, music, and YouTube thumbnails, Why2k emerges as the ultimate choice. This multilingual font offers three flavors—Regular, Outline, and Slanted.
6. Stardock
Sleek, clean, and minimalist, this futuristic typeface opens a gateway to boundless possibilities. Give it a go when creating sci-fi, space, tech, or artificial intelligence aesthetics.
It's best used as headlines, titles, or anything that requires larger sizes (though it's still beautiful as body text). Make sure your compositions radiate with an irresistible aura of the future – download Stardock to your design toolkit today!
7. Synthetika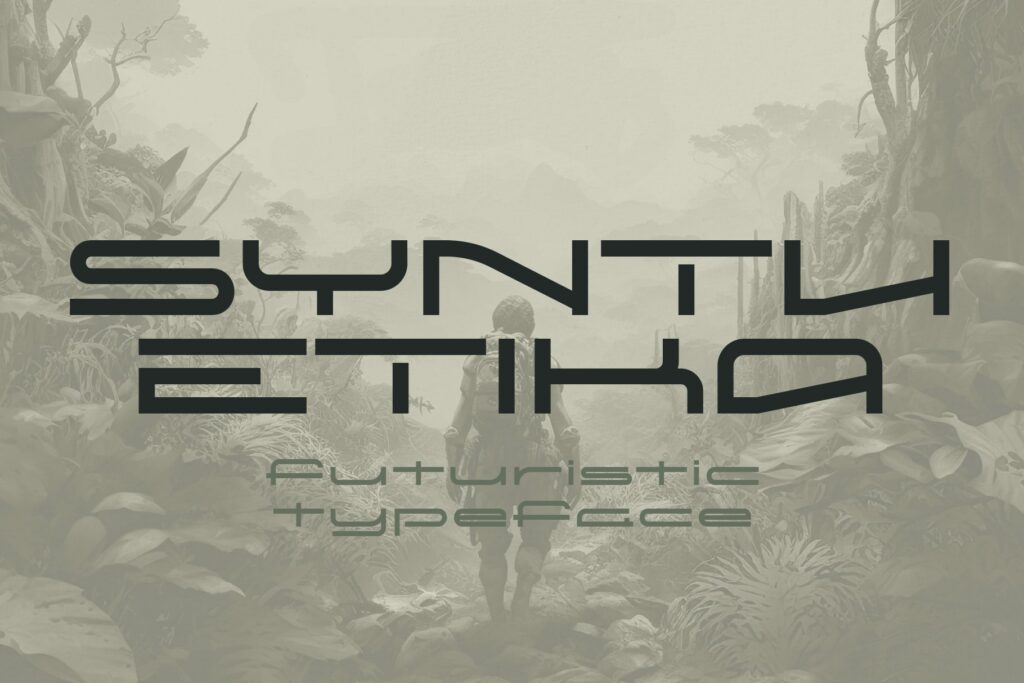 This hardworking futuristic font features strong curves and sharp edges to quickly grab attention. Its unique combination of geometric shapes and razor-sharp angles give it a bold, commanding presence.
You will love it on science fiction projects such as graphic novels, dystopian comics, tech-related apps and websites, posters, and games. Design the hi-tech world of your dreams using Synthetika.
8. Bride Typeface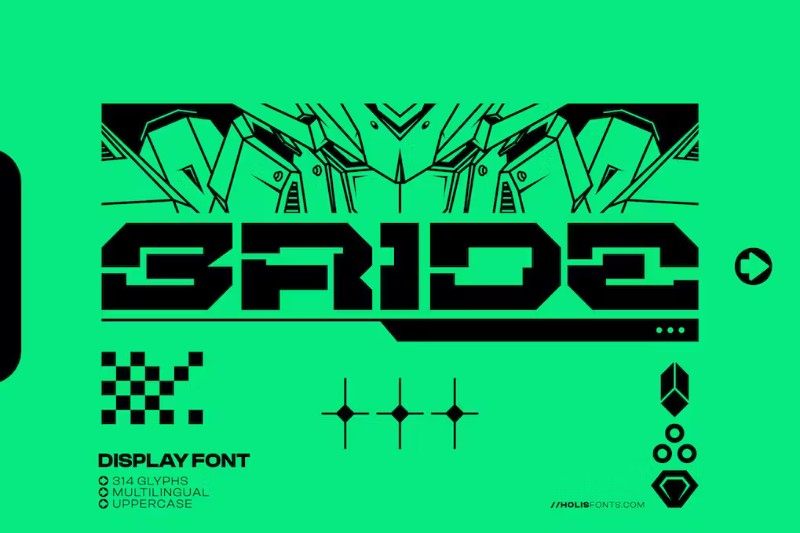 Inspired by the mecha/robot genre, this bold font was born ready for the future. With big, wide letters and an angular disposition, it's recommended for logos, apparel, game titles, and posters. It features all uppercase letters, alternates, 314 glyphs, numerals, punctuation and symbols, plus multilingual support.
You don't need to be building giant robots to use this amazing font. It will look just as awesome on automotive, science, or any tech-related composition. Don't be afraid to experiment!
9. Redhawk
This modern typeface is proof you don't need to be over-the-top to be suitable for sci-fi aesthetics. Simple, clean, yet still highly versatile, Redhawk will ensure your message gets across loud and clear.
Because of its simplicity, you can easily pair this font with eye-catching imagery, like robots, outer space, and mechanical photos. It also pairs well with other sans serifs.
10. Obsidian
Experience the mesmerizing allure of Obsidian, a breathtaking sci-fi sans meticulously crafted for multiple design purposes. Its versatility knows no bounds as it dazzles in headlines, editorials, branding initiatives, apparel designs, posters, web layouts, social media graphics, packaging, labels, movies, and more.
Minimalist and geometric, it also looks great on architecture, industrial, automotive, military, and rave motifs.
11. Monomials
In algebra, a monomial is part of larger polynomials. Monomials are considered building blocks because despite being a single term, they're essential to making equations. This typeface is no different.
With a fresh approach to monospaced fonts, it keeps itself relevant by working hard on your product labels, business logos, event posters, titles, tabular layouts, and coding formulas. Clean, highly readable, and with multilanguage support, it's one font you can't do without.
12. RNS Nuxai
Monospaced fonts aren't just for tabular data or coding – they can also be beautiful type applied to editorials, blogs, and product labels. RNS Nuxai is a great example. If you look closely, each character has slight imperfections, giving it a distinctive appeal while remaining legible despite smaller sizes.
You will get 489 glyphs and over 100 supported languages including: Finnish, Italian, Slovenian, Portuguese, Malay, Catalan, Somali, Vietnamese, Polish, Swahili, and Zulu.
13. TechTechno Capsule
This all-caps typeface was inspired by the enigmatic appeal of androids. Featuring ultra bold letters, it's best used on shorter text such as headlines, t-shirt designs, video game titles, sports racing visuals, and social media graphics.
Techno Capsule exudes a punk style while remaining free-spirited. This makes it ideal for children's projects as well as casual compositions. Available in both OTF and TTF versions, Techno Capsule is your key to making a resounding impact.
14. Hacker
Enter the world of Hacker, a fascinating rounded display font that evokes the 1980s, the era of the computer revolution. As a tech-inspired typeface, you will love using it on themes surrounding cybersecurity, internet culture, communication, coding, data analysis, electronics, mathematics, networking, and e-commerce.
More than your average analogue-inspired fonts, Hacker boasts of interesting lines and a flexible vibe.
15. Zaiden
Bold, wide, and modern, Zaiden draws influences from sci-fi movies and video games for its captivating style. This all-caps typeface holds a delightful surprise too: each lowercase letter has its own unique design, allowing you to seamlessly mix and match letters.
This unlocks a vast array of possibilities for you to create one-of-a-kind results. Add it on movie posters, labels, sci-fi book covers, product packaging, or cyberpunk projects. Try it today and see where your imagination takes you!
16. Besoris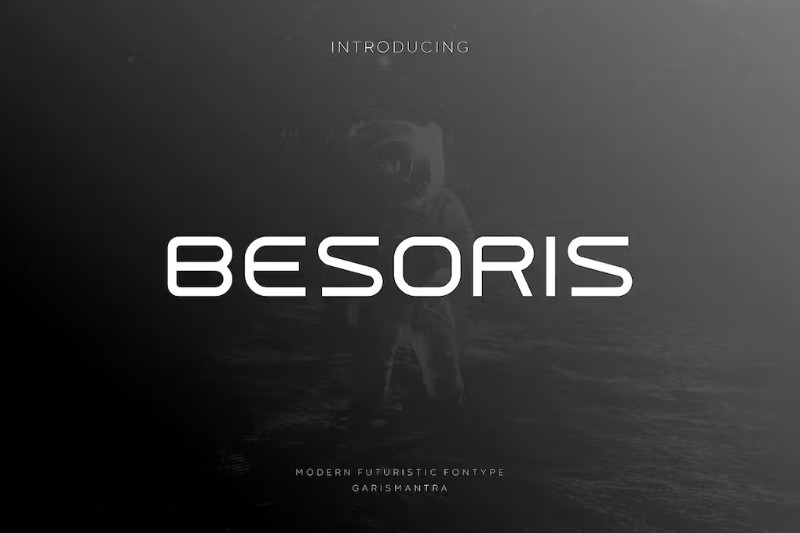 You don't need heavy imagery and loud colors to create a space-age design. Sometimes, less is best. A dark or grayscale background, with a minimalist typeface will convey a quiet, eerie ambiance, much like the uncertainly of intergalactic exploration.
To help you achieve this, take all-caps Besoris out for a spin. Featuring gentle curves, it looks open but also rather intimidating.
17. Aero Flux
Step into the dynamic world of Aero Flux: a cyber mecha font with a strong visual presence. Its bold, industrial appearance is a testament to the mecha genre, with its sharp angles and innovative vibe. Meanwhile, its square bearing brings with it a strong, sturdy look.
It's highly recommended for works requiring a commanding and assertive presence. What's more, the pack includes 8 styles (Regular, Italic, Extruded, Extruded Italic, Rounded, Rounded Italic, Rounded Extruded, Rounded Extruded Italic) for you to mix and match.
Allow Aero Flux to unleash its power, and watch as your creations transport viewers into a realm of technological marvels.
18. Cyber
Imagine yourself on a journey in space, inside an advanced ship. You stare at the screen as the computer displays data, highlighting numbers about your trip so far.
On your screen is Cyber – a futuristic font that's made to resemble multiple pixels per character. Aside from digital displays, you can put it on posters, ads, book covers, banners, social media quotes, and more.
19. Cyber Soulja
Missing the retro vibes of the 80s and 90s? Let Cyber Soulja be your fix. This pixelated sans-serif is all about that classic arcade games aesthetics. Bold, blocky, and detailed, it's the perfect choice for game design, webpage titles, product packaging, event posters, or even YouTube thumbnails.
Each letter is a pixelated warrior, helping you explore the nostalgia of the past while imbuing it with contemporary charms. Tap into the past and unleash the power of Cyber Soulja!
20. Cyber City
Lose yourself in the intriguing world of Cyber City. This modern all-caps sans-serif offers unique upper and lowercase characters to give your designs an exclusive, innovative aesthetic. Uppercase letters are set in bold, with random lines running through them. The lowercase letters on the other hand, feature half outline 'gaps'.
Combine these with one another for exciting effects. Cyber City also contains ligatures and alternates to give more personality to your projects. So don't be afraid to delve deeper into the typographic realm. With Cyber City, who knows what boundaries you'll break today?