Last Updated on August 5, 2023
If you were born during the 70s, 80s, or 90s, one rite of passage is spending the afternoon at the arcade with your friends. Almost everyone born during these decades will have fond memories of their favorite game: from Pac-Man, Paperboy, Donkey Kong, to Double Dragon, and Crazy Taxi.
But what made these old-school games such a hit?
What Made Arcade Games Special
In essence, an arcade game is so-named because of the platform where it's played. These game machines were normally found in malls, amusement parks, and restaurants. There were also dedicated arcade shops, which were popular during the 70s and early 80s.
These were common hang-out spots for kids, especially after school or during the weekends. It was one of the few places without a lot of adults; so there's definitely a sense of excitement and freedom with just you and your playmates. The air was filled with shouts, taunts, and laughter. Regardless of entering the scene alone, you'd surely come out with a friend or two.
Arcades were also a great place to go head-to-head with strangers and test your mettle. Curious if you're truly the best at Mortal Kombat? There's no better way to find out. And hey, even though it doesn't go according to plan, you can all still have sweets later. New to gaming? Browse through your nearest arcade shop for games you'd like to try.
While arcade games are no longer in trend, lots of people still find fun in these old titles. Maybe because, unlike current games like God of War, Minecraft, and League of Legends, arcade video games are simple but still amusing. While there's not a lot of customization options, it's a quick fix when you just want to have fun at the end of a long, tiring day.
Fun Arcade Fonts
Arcade gaming may be on the decline nowadays, but it's not dead. In fact, there are tournaments that are held by dedicated communities all over the world. Of course, it's not going to match the number of attendance in modern eSports scenes. Still, nothing can match the adrenaline felt during a swift match at Street Fighter or Space Invaders.
Making your own old-school game or a similar project? Then check out these fun arcade fonts.
1. Quickwar
Want multipurpose lettering that would fit in nicely with almost any theme, from sports, racing, music, to gaming, advertising, and vintage? Then you'd be happy with this sans serif by Typia Nesia Std.
2. MORTON
Explore the vast, wide world of type design with this cute techno-style font from Tokopress. Compatible with both PC and Mac.
3. Cyber Soulja
Cyber Soulja is a pixelated sans-serif font that channels the golden days of the 80s and 90s in a totally chill way. The bold, blocky letters give off serious futuristic, sci-fi feels that are out of this world. Each letter is crafted with expert precision and attention to detail, fully capturing the retro vibes of classic arcade games.
You will love using it in your titles, game design, posters, packaging, and logos. Imagine every letter as a badass pixelated warrior, battling through a digital landscape full of unknown adventures and limitless excitement! Bring on the nostalgia and make amazing rad designs with Cyber Soulja.
4. Blocker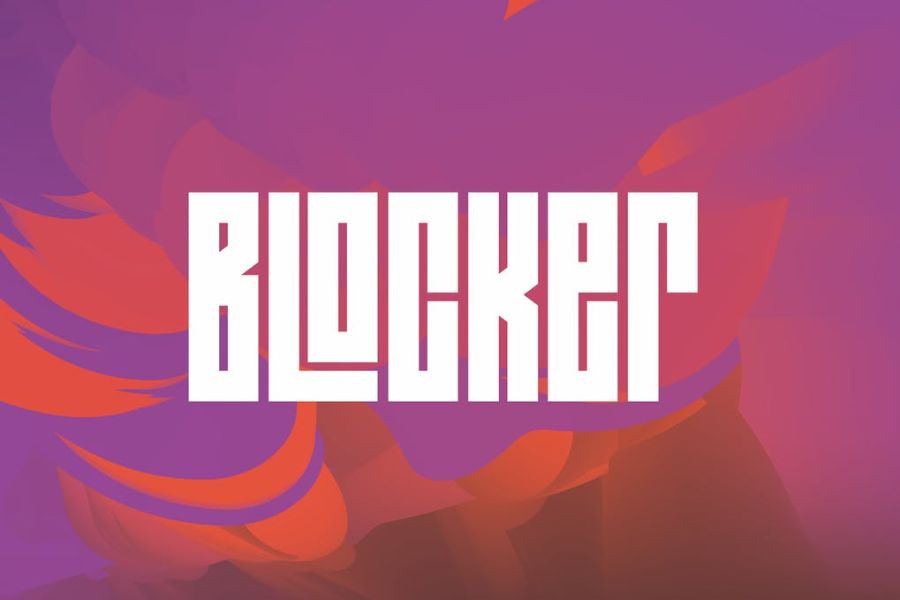 This extremely blocky font by Andreasleonidou is available in 4 practical versions: Regular, Italic, Inline, and Inline Italic.
5. Nostromo Outline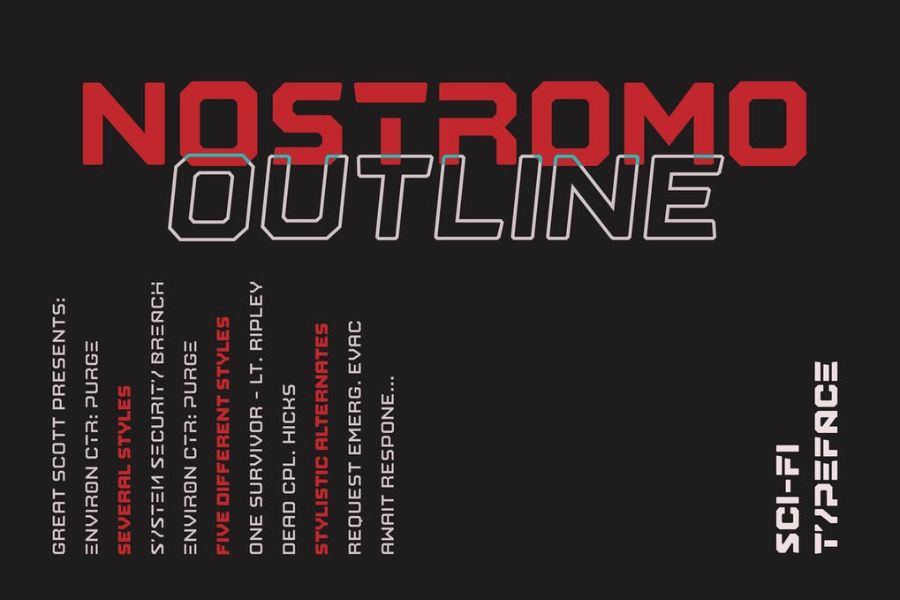 Set the right pace and tone when creating your futuristic game, poster, magazine, or website using this science fiction font from Dafeld. It comes in 5 weights, with stylistic alternatives on several letters.
6. District
District is a futuristic font stencil sans serif typeface. This minimalistic font is ideal for sci-fi movies, e-ports logos, video games, technology gadgets, branding, posters, presentations, packaging, and more. Thanks to its dynamic nature, District is very legible. If you want to create some killer designs that look like they're from the year 3000, then this typeface is perfect for you.
7. Little Monster
Formatika gives you this kid-friendly display typeface that's full of personality! Ideal for ads, shirt designs, branding works, labels, stationeries, etc..
8. Arcadia
Be at the forefront of action in this simple yet edgy sans that will make your blogs, posters, logos, editorials, invitations, and websites have an effortless avant-garde look.
9. The Bomb Sound
Emphasize every word on your screen using this blocky but quirky font by Tokokoo! It's great for YouTube thumbnails, social media page covers, game posters, and more.
10. Arcade Machine
Want to relive the Greatest Decade but missing a time machine? You can still go back to the days of Miami Vice and arcade gaming machines using this retro font by TSVcreative. Now go play!
11. Run! Font + Arcade Text Tutorial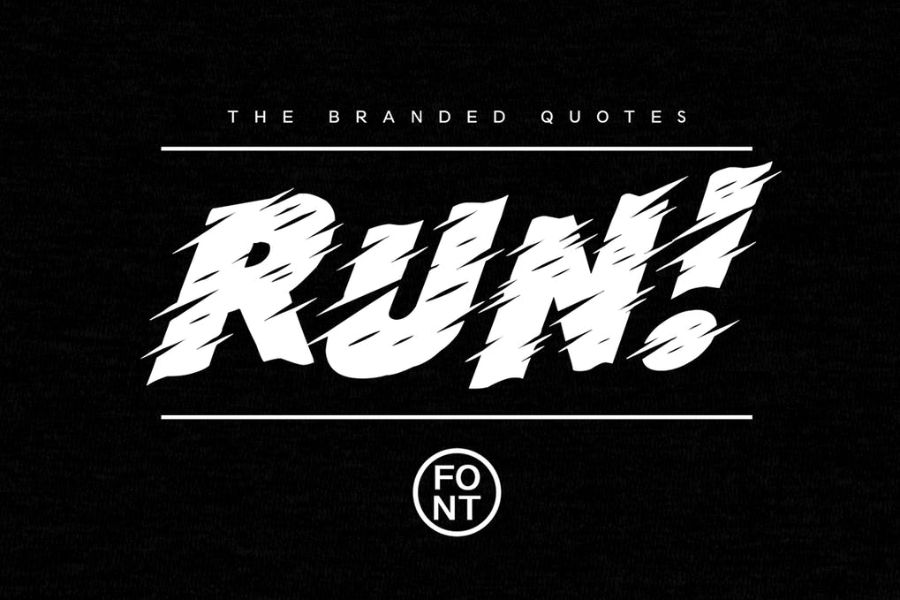 Level-up your presentations using this one-of-a-kind slanted sans from TheBrandedQuotes. Product includes tutorial images to achieve the 'Fight!' arcade style design.
Download Run! Font + Arcade Text Tutorial
12. Avalon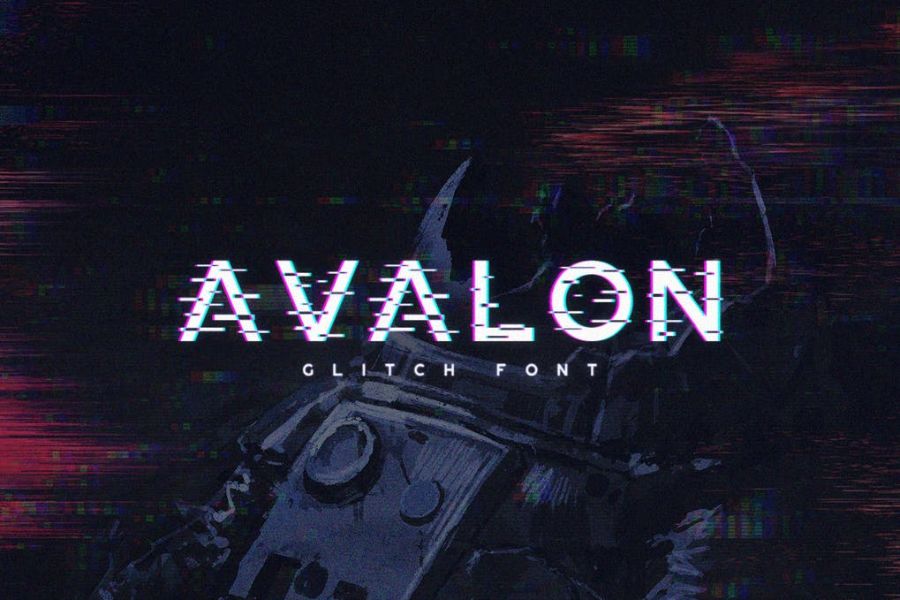 Making a game? Or perhaps you're in charge of marketing for apps? Then this glitch-themed font from MehmetRehaTugcu is the perfect choice.
13. Stargaze Typeface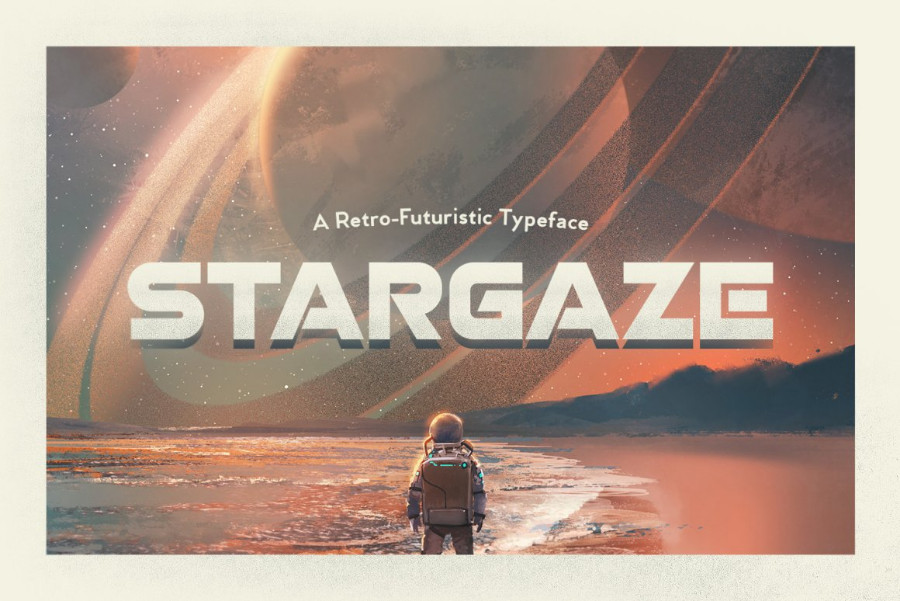 Tugcu Design Co. brings us a futuristic font that's ideal for making old sci-fi movie titles or posters. It comes in 2 variants: Regular and Stencil – both bold and big, with sharp, round corners.
14. Blockchain
Inspirationfeed's geometric typeface with tall characters and smooth curves makes easy-to-read texts, perfect for either headlines or body copy.
15. Minibyte
Inspired by pixels and lettering in many of today's video games, this font from Francisco Beltrán would look great on game titles, blog headers, birthday cards, or retro posters.
16. Coin Operated Font
Looking for something futuristic yet has an old-school feel? This blocky creation from IFBDesign should do the trick.
17. Pixeldust
8-bit, playful, and adventurous, this digital typeface will lend an unmistakable handmade, clumsy vibe to your projects; similar to how it would be if you were drawing pixels using a mouse.
18. Discopia
Be prepared when the future comes beaming down. Konstantine Studio introduces this futuristic product that would look amazing on tech, game, or sci-fi concepts.
19. Drake
Solid shapes and thin lines make this Type Cargo font ideal for short texts such as titles, headlines, logos, and other works that need a unique, ultramodern touch without losing elegance.
20. Game Over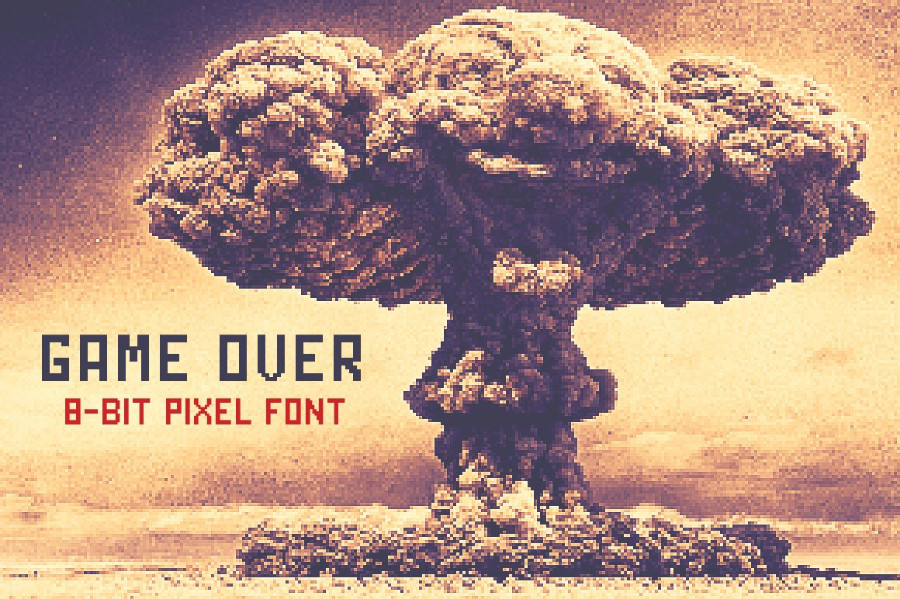 With low-resolution bitmap lettering seen on early-generation computers, this 8-bit pixel font is a great choice for digitized 80s or 90s projects, such as logos, icons, posters, t-shirt designs, and more.
21. Alpharush
Harken back to days of Gameboys, SEGA, and IBM PCs in this old-school typeface that retains its legibility regardless of letter size.
22. Chubby Choo
Cute with a slightly pixelated look, this retro bitmap typeface from Chuckchee is chockfull of imagination and child-like vibes. Available in regular or semibold styles.
23. Adrasta
Create attention-catching book covers, dystopian posters, or space-inspired social media posts with this sans serif family consisting of 6 fonts in various styles.