In essence, fonts have no gender. One style of typeface can also be used for several projects. For example: a clean, bold font can be put on wedding invitations, as well as posters, apparel, and book covers. The thing to remember though, is adjusting for concept.
Say you're working on an office presentation and you need a font that would convey seriousness, boldness, and strength. Then you can use something like manly or masculine lettering. This style usually involves slab serifs, stencils, and distressed fonts. They are often characterized by added weight, or have a grungy or edgy effect.
Looking for masculine fonts to show that you mean business? Here are some manly fonts that would do the job nicely.
The Best Manly Fonts
1. Fokus
Fokus was inspired by mid-century print design. The height of this condensed typeface automatically draws attention and can be utilized to create beautiful logos, quotes, posters, social media, headlines, magazine titles, apparel, and more.
You can easily pair it with scripts and bold sans serif fonts. Fokus comes in two versions, regular and thin, which makes it super versatile and fun to experiment with.
2. Amoretta
Are you in pursuit of a truly stunning typeface? Look no further than Amoretta, the embodiment of elegance and sophistication. Its adaptability is unmatched, making it an ideal choice for both headings and body text, while its legibility ensures clear communication.
Featuring delicate serifs and graceful curves, this font exudes a timeless charm and style. Whether utilized for branding, editorial design, or invitations, Amoretta adds subtle luxury to any project. Try it today and see for yourself!
3. Mammoth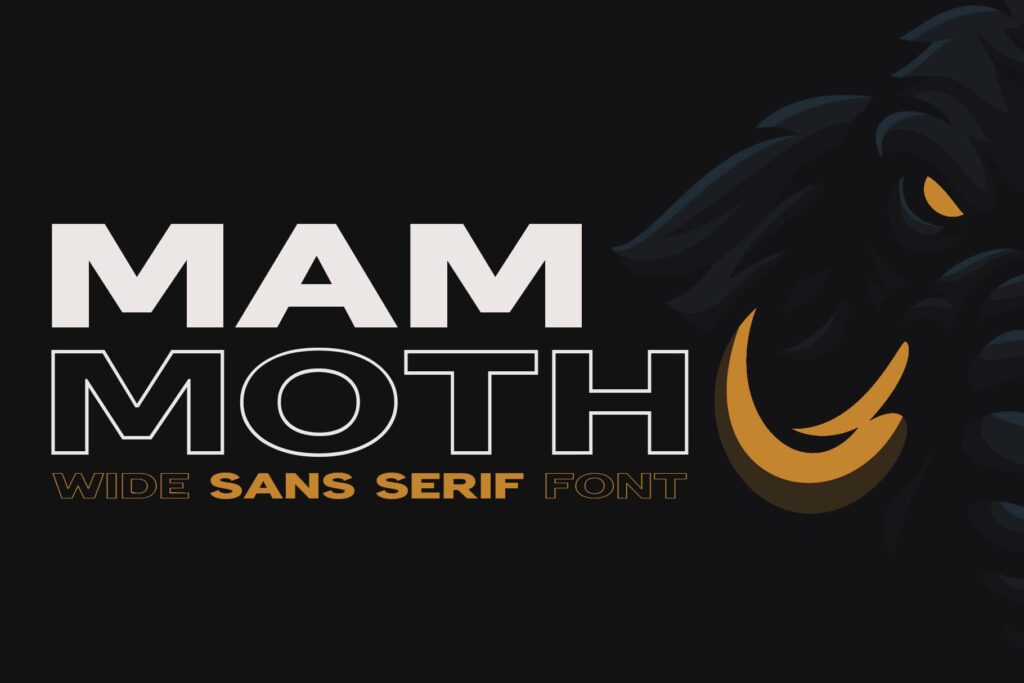 Mammoth is a wide sans serif typeface ready to push the boundaries in your designs. Thanks to its modern look you can use it for any project that requires a bold, clear statement.
You can use it for numerous projects like fashion, magazines, logo, branding, photography, invitations, wedding invitation, quotes, blog header, poster, advertisements, postcard, book, websites, etc. This download includes regular and outline versions as well as lowercase letters for each. You can mix and match the outline and regular version to come up with unique designs.
4. Twinton
Twinton is a special font for modern designs. Its clean and minimal character is ideal for branding, headlines, fashion, thumbnails, social media, posters, covers, and pretty much anything you can think of. Twinton is designed for optimal legibility. Make a statement today with Twinton.
5. Nero
Nero is an ultra wide typeface that's sleek and modern. The font is fairly legible in all sizes, but works best when the letters are large. Nero is ideal for packaging, posters, sports, advertising, editorials, social media, Youtube thumbnails, and more. If you're looking for a stylish new font for your design toolbox, then Nero will make a perfect addition.
6. Nightwish
Nightwish is a sharp script typeface. The font is a bit slanted as if it's handwritten. Its gothic/Old English aesthetic is ideal for apparel, greeting cards, product packaging, book covers, album covers, logos, social media, posters, and more. If your design requires an aggressive vibe, then Nightwish should definitely be on your radar.
7. Board + Batton
Board & Batton is a carefully hand-crafted, manly font in two styles inspired by the rough and rugged. A substantial font, reminiscent of heavy-duty tools, with a lumberjack feel.
8. Dozer
Rugged and powerful, Dozer is made for anyone who wants to make a bold statement. Its blocky letters and strong lines give it a strong, masculine feel that just commands attention and exudes confidence. Whether you're working on a poster, logo, or branding materials, Dozer is the perfect choice for projects that require a bold and assertive style.
9. Mazion
Mazion is a cool experimental typeface that's all about being bold and heavy. Its geometric shape makes it super eye-catching, which is perfect for things like headlines, logos, and ads. And the thick lines give it this unique, confident vibe that just demands attention and leaves a real impression.
10. Bonega
Bonega is a manly font inspired by classic typography on ancient stone inscriptions. It consists of 4 weights (light, regular, bold, black) with matching italics.
11. Brickton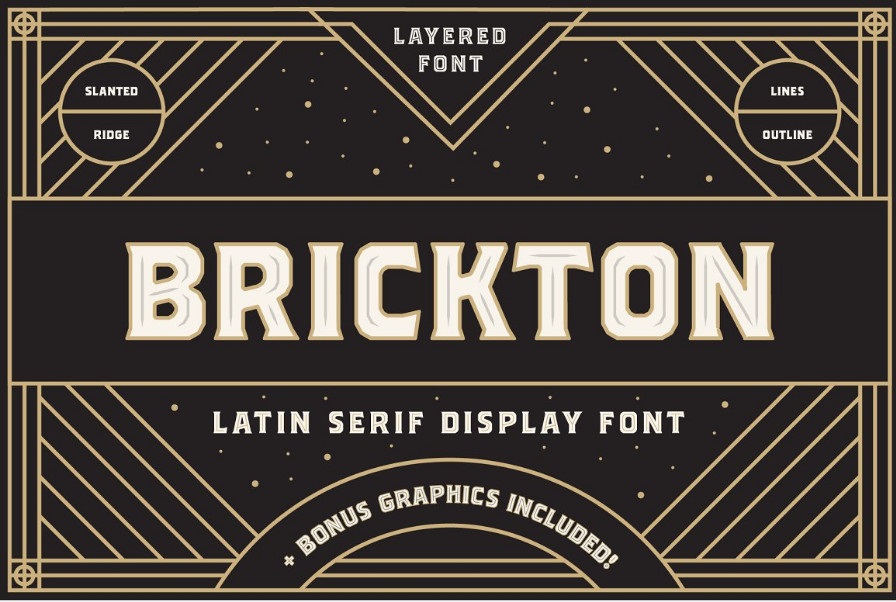 From Great Scott, this layered font uses not a single curve in its letters, giving your designs a pointy and dominating persona.
12. Conservation Sans Family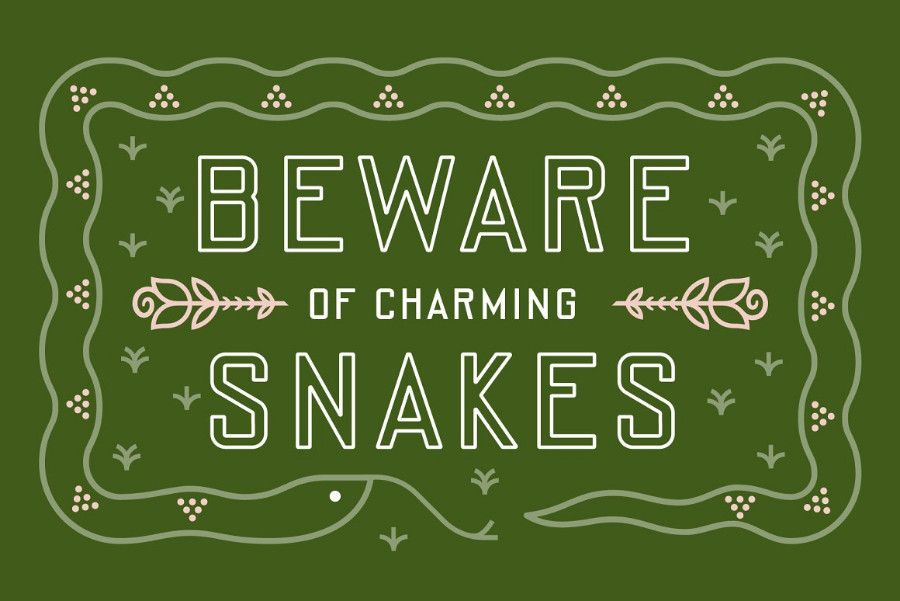 This font is inspired by a hand-painted warning sign used by the Pennsylvania Game Commission and is set to give your projects a stern air of authority.
Download Conservation Sans Family
13. Orbit
This vintage and adventurous typeface from Drizy will certainly make an impression for print, headlines, and social media – not to mention the bonus animal and badge vectors you get from this package.
14. Genera
From Wahyu & Sani Co., this font is another interpretation of the grostesque typefaces tradition and comes with an alternate influenced by the Futura typeface.
15. Pulse
Pulse is a racing font that displays boldness, showmanship, and speed. Pulse typeface is versatile and perfect for any design including logos, flyers, posters, headlines, sports, video editing and much more. Possibilities are endless.
16. Heisman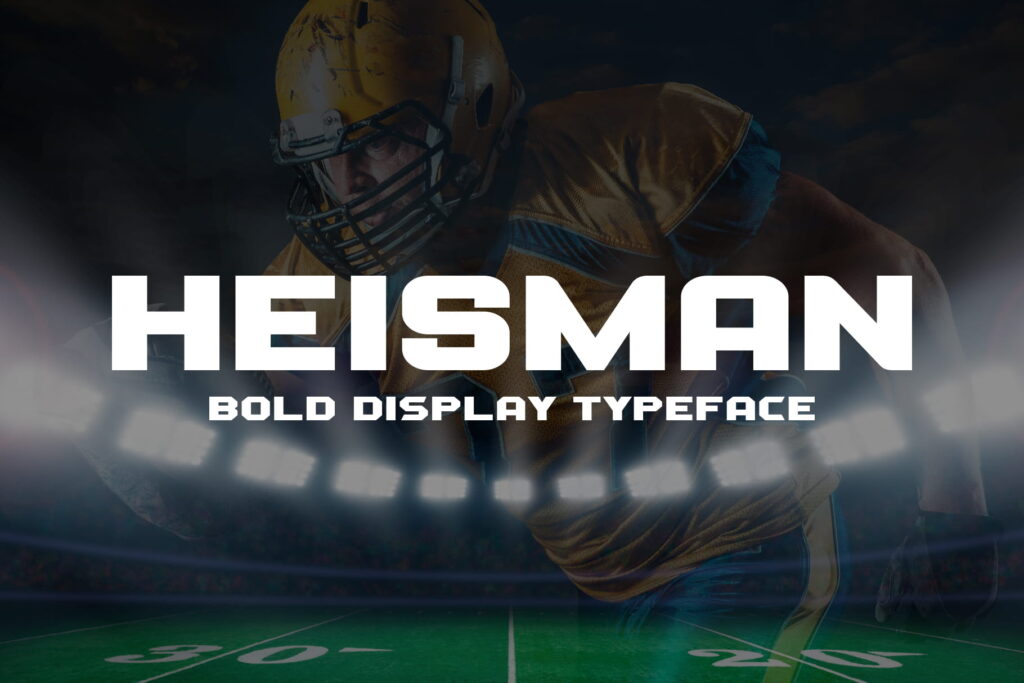 Heisman is an all caps font with unique small and large cap characters. The font is ready to be used for your sports related projects. Built to be perfect for headlines, jerseys, logos, branding, posters, packaging, advertising, and much more.
The font is geometrically perfect, which means it's aesthetically pleasing to the eye. Heisman is fully-kerned and is effortless to use. You can always play around with the spacing, however the typeface looks great when the letters are close to each other.
17. Thunder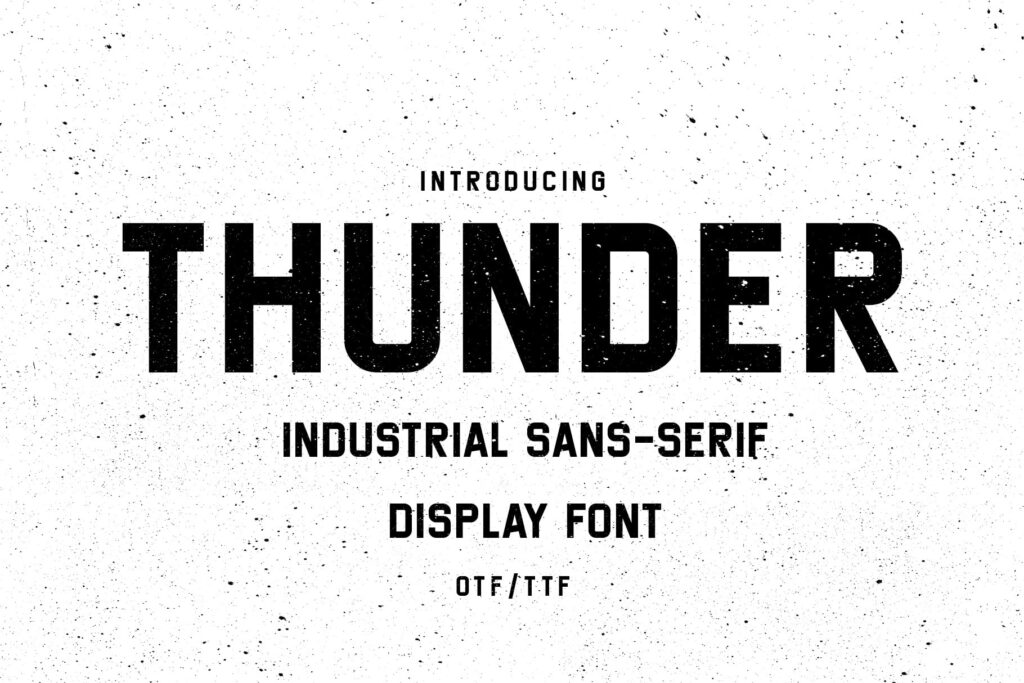 Thunder is a hard working condensed display typeface that you can use over and over throughout your creative career. It is powerful, sophisticated, and confident; conveying a vintage industrial vibe without losing versatility. Thunder is perfect for headlines, signs, logos, posters, packaging, branding, magazines, films and more.
18. Fright Night
If you're looking for a typeface that will grab the readers attention and build suspense, this font is for you. Fright Night is an emotional serif typeface with horror vibes. The font is clean, sharp, and unique. Fright Night is suitable for posters, movie titles, billboards, branding, business card, and much more.
19. Norfolk
Subtle contrasts and clean lines make this Jen Wagner Co. product reminiscent of mid-century design – which makes it great for logos!
20. Revans Font Family
Arterfak Project's strong serif with medium contrast motifs give it a strong presence and is great for short body text work such as headlines, logos, branding, and more.
21. Veneer Clean Font Family
Yellow Design Studio presents this non-distressed version of the Veneer letterpress type family, with 8 fonts including Regular, Soft, and Round versions.
Download Veneer Clean Font Family
22. Asterone Modern Font Family
This all-caps font from Letterhend Studio comes with alternates that can be mixed and matched to produce dramatic effects for many kinds of visual presentations.
Download Asterone Modern Font Family
23. Gore Typeface
Add a touch of sci-fi and grit to your projects using this no-curve typeface from Tugcu Design Co.
24. Palmer
Feel the 70s vibe in your designs thanks to this font that sports clean lines, modern serifs, and a geometric look.
25. Wildcat
Wildcat is an athletic typeface perfect for basketball, football, softball, baseball, soccer, and hockey related projects. You can use it to create powerful logotypes, posters, apparel, magazines, stationary, headlines, labels, badges, and much more. Give your designs a bold look today with Wildcat!
26. Batoon
Batoon is a unique, handcrafted, sharp sans-serif typeface that embodies the rugged beauty of the Rocky Mountains. Its jagged edges and bold lines are like the craggy peaks and rocky trails of the range itself, making it a prime choice for any outdoor, hiking, or camping project.
With this font, your designs will be as daring and unforgettable as the great outdoors. Each letter is crafted with love, giving your designs a real sense of handcrafted authenticity. It's like each letter is a marker on a trail, leading you through breathtaking vistas and untamed wilderness. Unleash your inner explorer and inspire your audiences with Batoon!
27. Barber
The Routine Creative presents a vintage font based on signage used by barbershops, which works splendidly on designs needing a classic and masculine touch.
28. American Mortar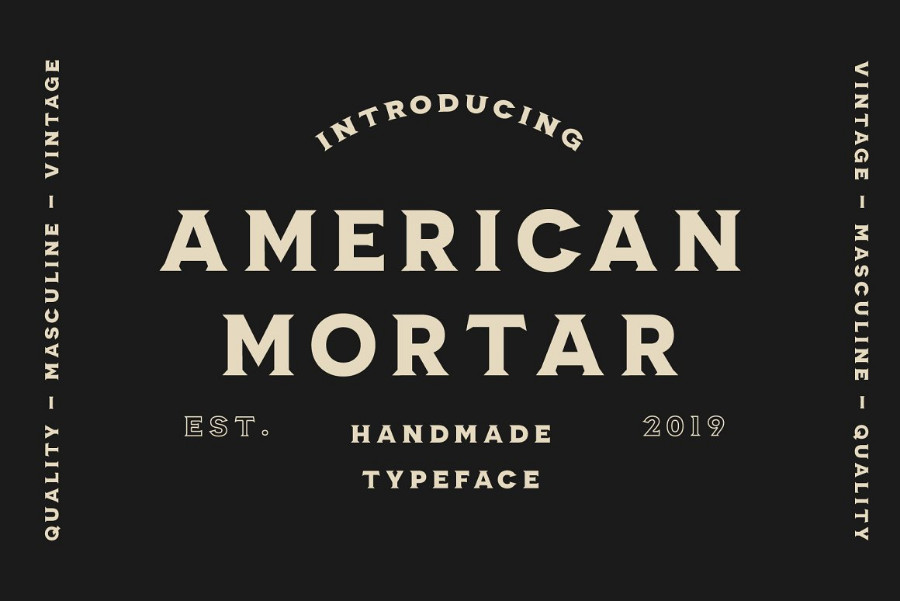 This font merges modern serifs with classic lines, making it a versatile choice for presentations no matter what timeline you can come up with.
29. Grind Typeface
This Tugcu Design Co. product is an all-caps typeface that features timber, simple, halftone, and demolished styles that promote degrees of customization depending on what your project needs.
30. Geneva
Dene Studios merges smooth sans and a clean serif that will give your presentation a unique sense of elegance.
31. Alvaro Condensed Duo
This package from DonMarciano comes with the simple and modern Alvaro font and Castillo – a blackletter typeface for wide design possibilities.
32. Blessed Bandit Font
MightySHORT's all-caps font bring out the badass side of your visuals in big, clear and crisp lettering for statements that say them out loud.
33. Autoparts
From Lund Design Co., this condensed display font is strong, direct, and will definitely get your visual the attention it needs.
34. Lustra Text Family
Grype has created this product with inspiration from the Hyundai automotive company logo and took the font to the next level with 8 display weights for a powerful and uncompromising display.
35. Brent
Check out this modern all-caps serif from the 4th February Type Foundry that makes an impact when presented in big texts using few words.
36. Schwager Sans
Latinotype has refined the original Schwager font and kept the same modern structure, geometry, and aesthetics for a bit of technological flair in a masculine package.
37. Friday Killer Font
Unleash the inner bad boy out of your presentation using this typeface from fopifopi that is inspired by dark metal and street wear.
38. Gamba Font
Get Juraj Chrastina's futuristic typeface in a practical and highly readable form for strong layouts that ensure usage in many of your visual projects.
39. Gunplay Font Family (FREE)
Inspired by the poster of the 1972 film, The Getaway, this tenacious stencil typeface from Raymond Larabie is multilingual and super functional.
40. Deserta (FREE)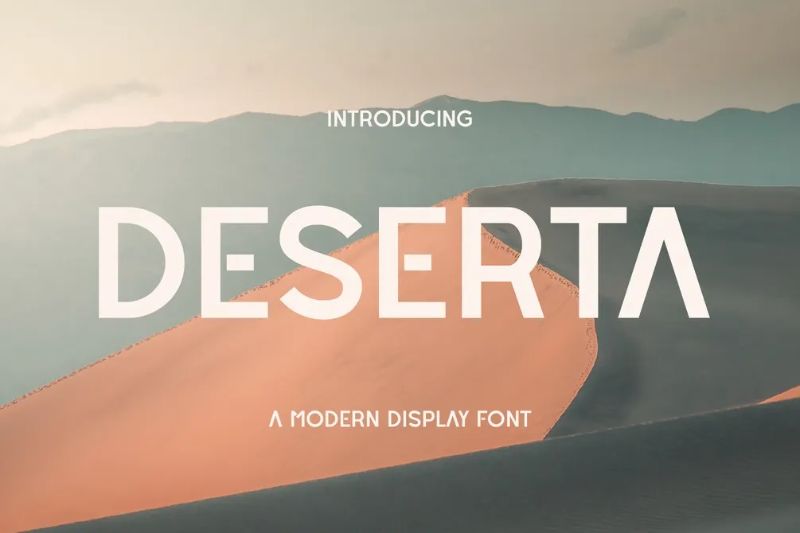 A modern all-caps that's stands free and tall, this typeface by Fathul Irfaan will look amazing on editorial headlines, movie titles, posters, logos, and apparel.
41. Mafia (FREE)
Be your own boss using this cool, bold font by Vladimir Nikolic. It comes in Regular and Hollow versions with italics.
42. Hackney Hand-Painted SVG Font (FREE)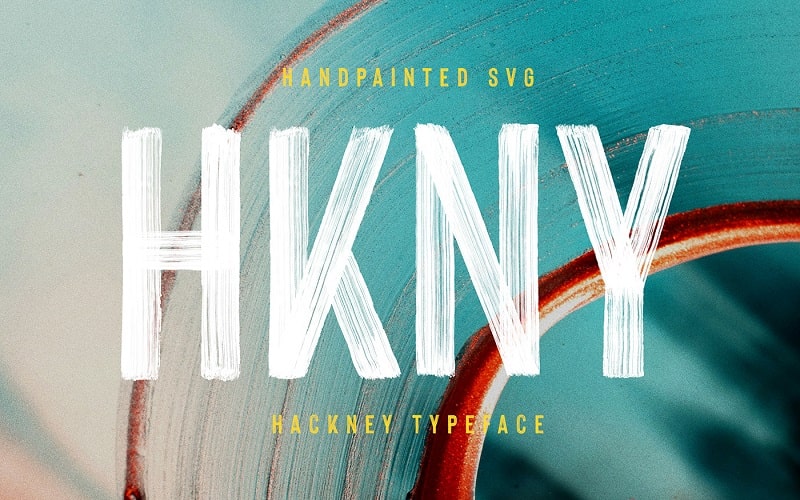 This hand-painted sans serif by Tom Anders Watkins and Ellen Luff features slight imperfect brush strokes to give your works a true, earthy vibe.
Download Hackney Hand-Painted SVG Font
43. RUDE (FREE)
You will love the uniqueness of this logo typeface from Masha Chuprova. Use it on branding, signs, posters, labels, or social media posts.
44. Aventura (FREE)
Get your projects ready for the great outdoors using this nature-inspired font from Jimmy Kalman. Try it on apparel, brochures, business cards, invitations, or blog titles.
45. Streetwear (FREE)
Artimasa Studio brings you this bold and retro script that's perfect for 60s and 70s fashion or sports themes. Fun, free, and vintage, access its alternate characters with Adobe Illustrator or InDesign.
46. Nomad
This modern, all-caps typeface from Designova works great for dedicated brand, logo, and headline displays.
47. Avaboca
Avaboca is a sporty, manly font with a black condensed, sans serif design. Perfect for bold projects like signs, posters, book covers, and typography art.
48. Klutch
Klutch is a beautiful racing themed typeface. It's ideal for sports headlines, editorials, racing posters, esports, branding, website design, advertising and much more. If you're looking for a beautiful typeface that creates the effect of power and speed, then Klutch is for you.