Last Updated on June 14, 2022
Gothic influences usually refer to architecture, art, and sculptures that were popular during the Middle Ages in Europe. Nowadays, the term 'gothic' typically refers to anything that's dark, mysterious, or edgy.
The word itself though, was coined by Italian writer, Giorgio Vasari. He said that buildings from the Middle Ages are 'gothic', meaning 'uncivilized' like the ancient Goths. This is due to the rather rough makings of the architecture, so unlike that of the ones built during the Renaissance period.
Just because something is Gothic doesn't mean it has to be dark or depressing. Today, modern designers have re-created the style to make it look fun, fresh, and even professional. Just check out these Gothic fonts as an example and see for yourself.
Edgy Gothic Fonts
1. Hikma – Arabic Style Typeface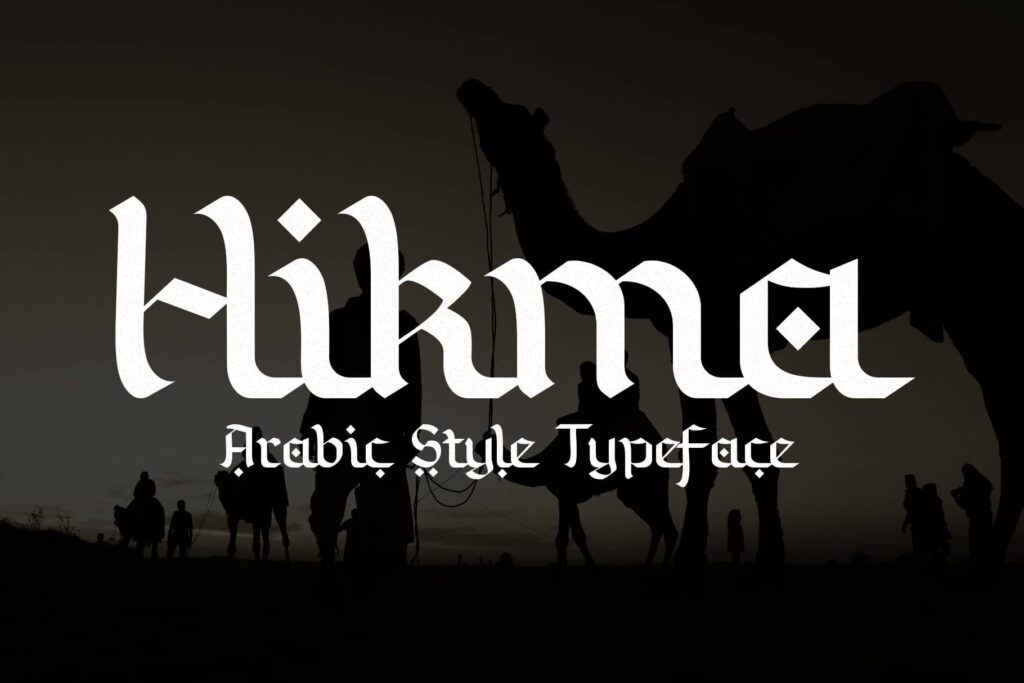 Hikma is a unique Arabic style typeface with 35 beautiful ligatures. Inspired by gorgeous Arabian calligraphy, this font is suitable for any Islamic or Middle East content. Hikma is perfect for branding, photography, product designs, stationery, wedding designs, invitations, watermarks, advertisements, labels, product packaging, special events and much more.
2. Spearhead Typeface
Inspired by sports brands, this dynamic and expressive font by Mihis_Design presents rigid sans serif letterforms with bold angled terminals. With 252 glyphs, plus an italic version, it's a welcome addition for anyone who's in it to win it.
3. Janchuk
This classic blackletter typeface by Visuel Colonie is great for quickly making logotypes, labels, and signage for tattoo parlors, metal bands, or apparel brands.
4. Black Baron Typeface
With Gothic and Old English influences, this decorative display font has thick to thin strokes, slightly decorated caps, and a dense black appearance for a truly dramatic or medieval appeal to your works.
5. Agise Rujdi
StringLabs gives you this amazing blackletter typeface with an authentic feel. Use it on apparel, beer or whiskey labels, album covers, business logos, and more.
6. The Black Sugare
This 'minimalist' blackletter font from Ramzehhh combines geometric shapes with gothic styles. Elegant, classy, and modern, you can apply this not only on headlines and titles but also in body copy.
7. Angel Wish
Incredibly authentic and daring, this product contains ligatures and alternates, as well as multilingual support to help your creative dreams become a reality.
8. Acude
A contemporary typeface with Victorian aesthetics, this gem by Vunira will look absolutely beautiful on invitations, greeting cards, branding materials, business cards, social media quotes, posters, and more.
9. Rozex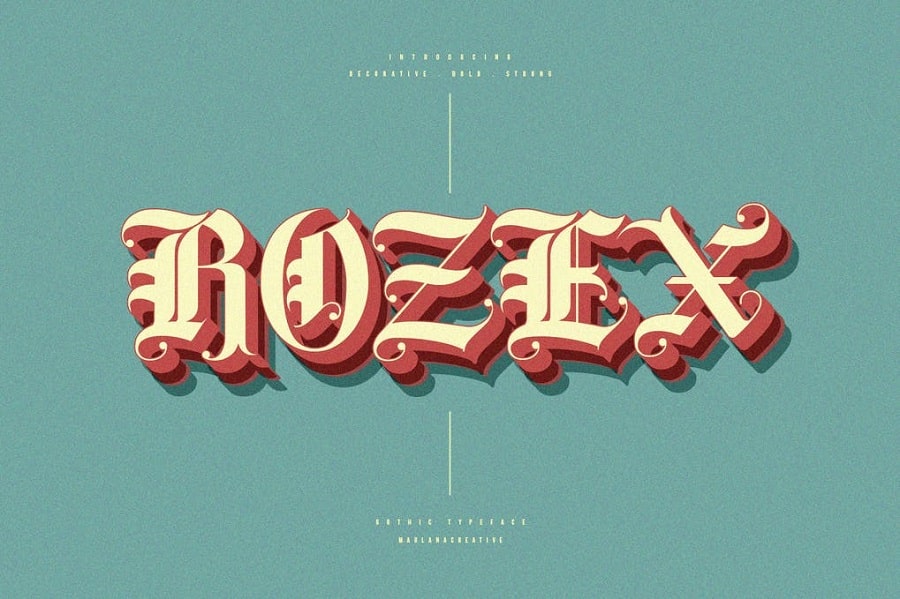 Featuring alternate characters and ligatures, this decorative font by Maulana Creative is the sweet new addition in your designer's toolkit. Bold, hand-lettered, and stunning, it looks amazing by itself, or paired with illustrations, solid backgrounds, or sans serifs.
10. Cambridge
Cambridge is a wonderfully complex and almost stencil-like gothic font that heralds back to the likes of Didot, but does it with a salutation to the gothic artform in a wonderfully successful way.
11. Cattedrale
Clothing labels, tattoos, brands, logos, and many other designs will possess an eye-catching Gothic touch using this Creative Media Lab typeface. This product contains Regular, Rough, Sliced, and Outline fonts, plus extra ornaments for further customization options.
12. Othelie
A bold and beautiful Gothic font from Creative Media Lab. This typeface is perfect for clothing, brands, logos, headers, titles, and many other display projects.
13. Haext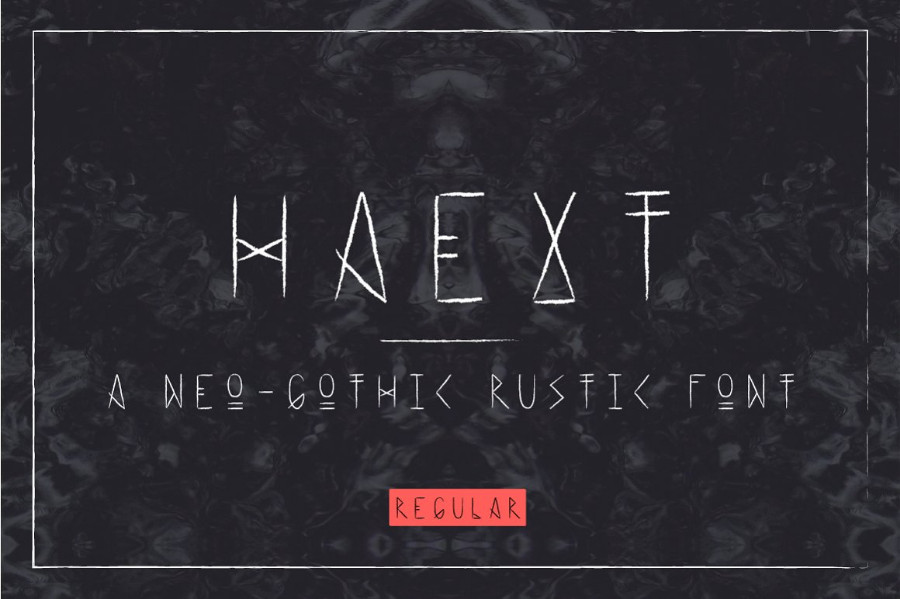 Hello Mart introduces a neo-Goth typeface fused with Art Nouveau features for a classic or vintage look with a tinge of excitement. Pairing this with black or white backgrounds helps you achieve different effects.
14. Osgard Pro
Take the fluid curves of Romanesque typography and the Gothic style of Blackletter. This Anthony James creation brings a sense of history and fantasy to your design projects.
15. Darklands
Darklands has the playful ticks on the serifs to really sell that gothic vibe. If you were planning a novel that neededd a bit of a scary vibe to it, Darklands never fails, especially if you run it as a headline with some captivating imagery as well.
16. The Bjorke
The Bjorke successfully features some gorgeous contrasts and vast differentials in size. From the imagery alone we'll understand that the descenders on this type is quite low-hanging which makes for a wonderfully classic expression.
17. Pollyester
Pollyester is a gothic and almost knightly typeface that looks like it would serve any medieval setting quite well, to be frank. Utilize its hard serifs for when you want to communicate something that heralds back to a gothic era.
18. Carlos Barker
Carlos Barker is a typeface that carries all of the gothic elements you want in it. It packs not only the hard-edge serifs and ostentatious curves. It also functions incredibly well when presented as an all uppercase font.
19. Fright Night
If you're looking for a typeface that will grab the readers attention and build suspense, this font is for you. Fright Night is an emotional serif typeface with horror vibes. The font is clean, sharp, and unique. Fright Night is suitable for posters, movie titles, billboards, branding, business card, and much more.
Test this font by typing here
20. ED Celandine Typeface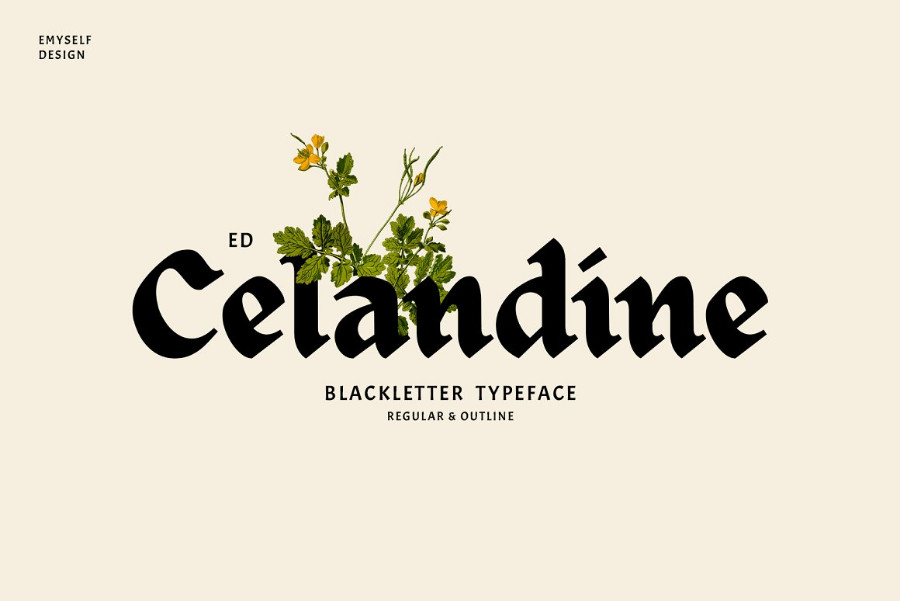 What happens when you take a blackletter font and add minimalist and modern lettering features? You get this product, which is great for projects whether it be for books, or for social media feeds.
Download ED Celandine Typeface
21. Fullerton Next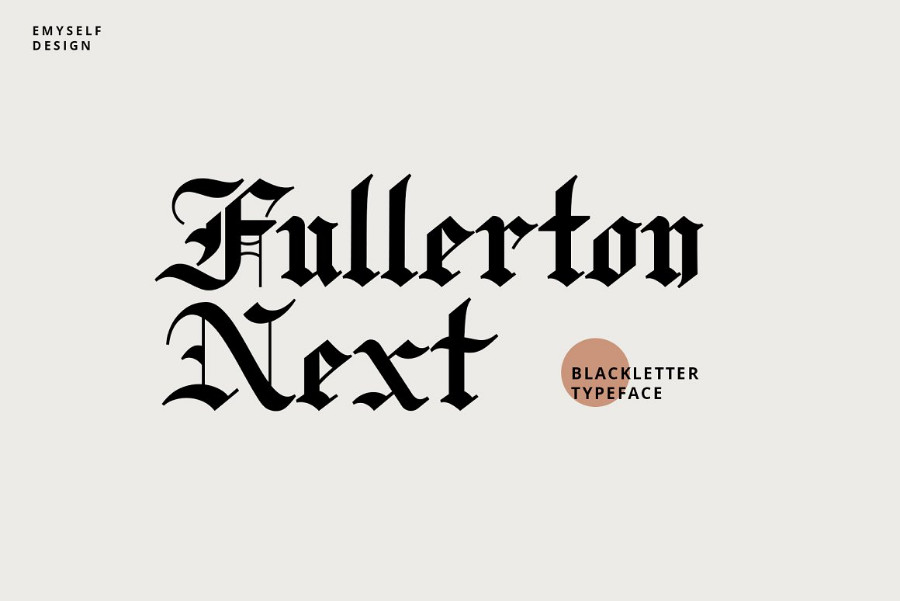 This is a remake of the Fullerton typeface. Now, you can get your projects a classic look while not feeling out-of-place with more modern typography.
22. Pueblo Blackletter
Millieangelo brings us a modern take on classic Gothic lettering. This typeface comes in four styles: Regular, Rough, Outlined, and Rough Outlined.
23. Venice Gothic
Millieangelo's monoline font in Gothic style. Choose between a Regular version and a soft-edged and roughened Print version to make your projects look badass.
24. Luxus Gothic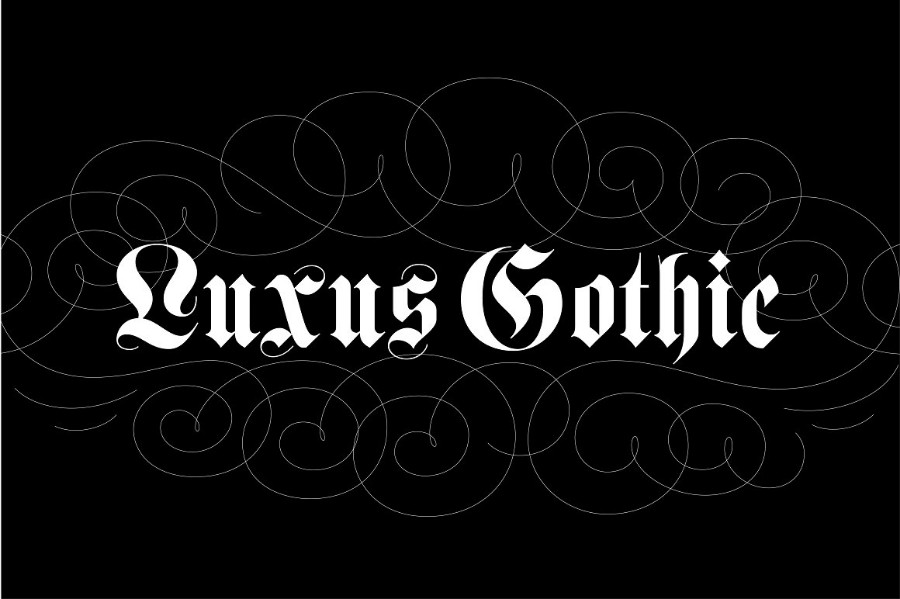 Perfume labels, wine labels, and other forms of branding will be shown in style thanks to this Drew Melton typeface. Also, add a special touch to your concepts using the 50 flourish glyphs included in this package.
25. Carol Gothic
This traditional blackletter typeface is close to Linotype's Old English. ParaType's product is great for designs that need a unique 19th Century touch.
26. Vandals
Richie Mx's designer font is available in both uppercase and lowercase sets. This is perfect for a variety of projects that would like a vintage style that never falls short on uniqueness.
27. Beloid
A fraktur-styled typeface with a 35-degree angled nib. Works that need a theme taken from medieval lettering will get the full benefit from this we are colt design.
28. Culture
Long serifs and off axis curves make this typeface from New Tropical Design a choice for stylish results. It comes in Regular and Bold, which can be used for almost any project applicable.
29. EDGAR
Evoke an Old World or classical feel by using this Dene Studios font on your projects. This is one product that heavy metal or fantasy themes can get the most out of.
30. KARSON Blackletter
Whether it's a vintage-themed concept or a design work along the lines of street culture, this Karat Design typeface is a great choice. This comes in 4 fonts: Clean, Lines, Textured, and Line Textured.
31. Pentacle Font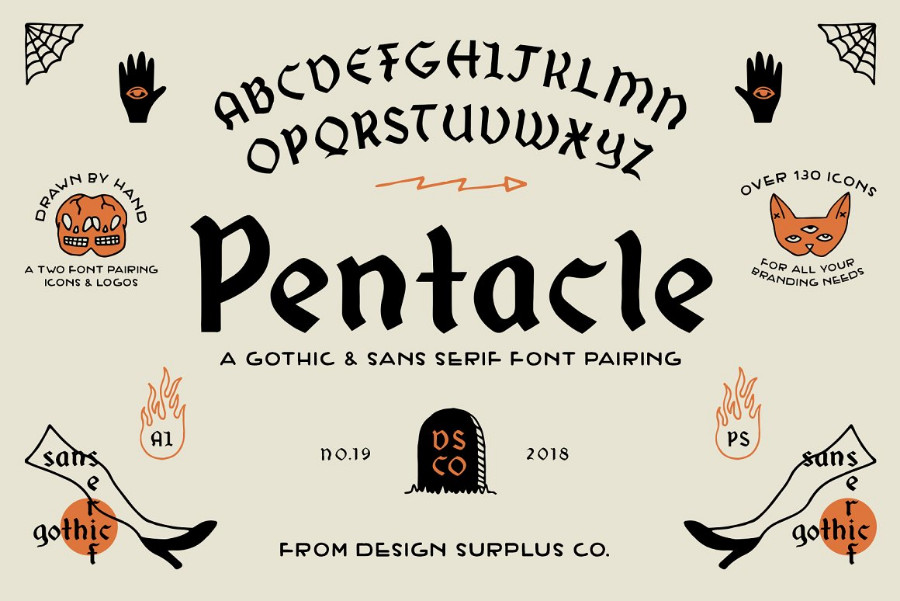 This Design Surplus typeface comes in Gothic and Sans Serif that go well together when used. Unleash the eerie and horror side of your design concept using the 130+ icons that come with this package.
32. Bielefeld
For those looking for a textured and aged look, look no further than this product of Emyself Design. Achieve a degree of flexibility in presenting projects with this package's Regular, Outline, and Textured variants.
33. Yerington Typeface
This modern and elegant blackletter font comes in Plain and Outline styles, making it perfect for a variety of projects. Multi-language character support enables you to work on a wider range of design concepts.
34. Mordova
Modern meets classic through this gem from 24Design Studios. Whether used for vintage or contemporary themes, this typeface certainly won't go out of style.