Last Updated on October 9, 2023
There is no better feeling in the world than getting to go away on holiday. Getting the chance to be somewhere else tends to evoke a sense of happiness, joy, or prosperity. Below, are beautiful font styles that we feel contain those three things (in some way), so be sure to download some of the fonts that resonate the most with you and your upcoming project.
Beautiful Travel Fonts
1. Royal Crest
Modern, elegant, and decorative – that is the Royal Crest serif typeface. The beautifully designed characters are ornate, making it perfect for high-end projects that require embellishments without going over-the-top. There's an extensive set of alternative characters too. This offers the flexibility and creativity to create awesome, unique designs.
From logos, wedding invites, to websites, and print ads, Royal Crest will surely leave a lasting impression. Ready to make a statement? Then say it with Royal Crest: the must-have typeface for today's digital designers.
2. Amoretta
Looking for a typeface of remarkable beauty? Then search no further than Amoretta, the font of elegance and sophistication. Its refined serifs and graceful curves inspire a sense of enduring charm and style. This typeface's flexibility makes it ideal for both headings and body text, while its legibility guarantees effective communication.
Use it for branding, editorial design, or invitations – Amoretta is sure to bestow an air of opulence on any project. It is truly a work of art in its own right.
3. Wanderlust
This beautifully soft and vintage style typeface is a great option for anyone looking to add a unique flair to their posters, flyers, magazine covers, or media posts. Use it on travel brochures or advertisements today!
4. Firecracker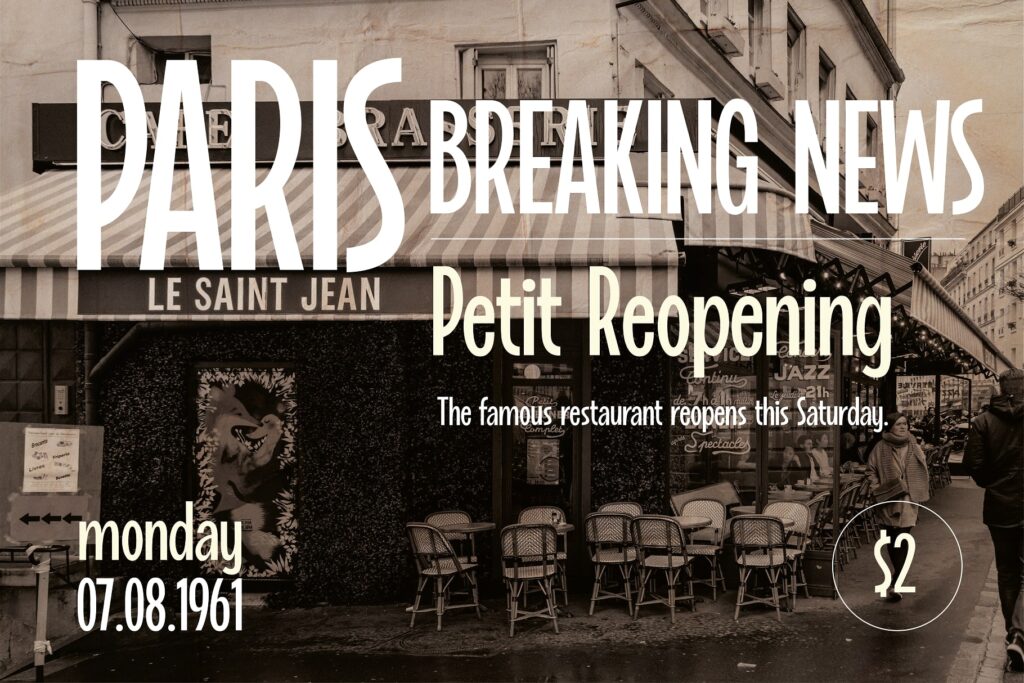 Hey there daddy-o! Firecracker is the bee's knees, taking you back to the groovy and happening era of the 50s and 60s. Perfect for all you cool cats out there looking to make a splash in magazines, newspapers, signage, branding, packaging, and more.
With two styles to choose from – Regular and Oblique – you can evoke the energy and enthusiasm of a bygone era. It's the real deal to quickly add a real retro vibe to any project. So don't be a wet blanket! Firecracker is the cat's meow, and it's sure to be a hit with anyone who's looking to add some old-fashioned flair to their designs.
5. Travelnesia 
This fun cartoony font has a stunning baseline and is well-rounded. It can be used for all occasions and is perfect for travel posters, website headers, labels, flyers, and social media design. With regular and shadow designs included, you would be crazy not to give it a try. 
6. Zilla
Hey, check out Zilla – it's a cool and chunky font that's perfect for making your headlines, social media posts, and book covers stand out. It's got a fun and quirky vibe, and comes in two cool styles – Regular and Rounded – so you can choose what works best for your project. Whether you're going for a contemporary or retro look, Zilla's got you covered. Give it a try and see for yourself!
7. Avalar
Avalar is an attention-grabbing serif display typeface. Unlike other fonts that try to stay quiet, Avalar is extroverted, lively, and bold. Create beautiful wedding invitations, magazines, books, packaging designs, websites, mobile apps, and logos. This refreshing typeface comes in Bold and Regular styles.
Pair it with cursive or sans serifs for interesting results. Play with sizes. Avalar is timeless – you can trust that it will look just as splendid today as it will be tomorrow.
8. Kulfi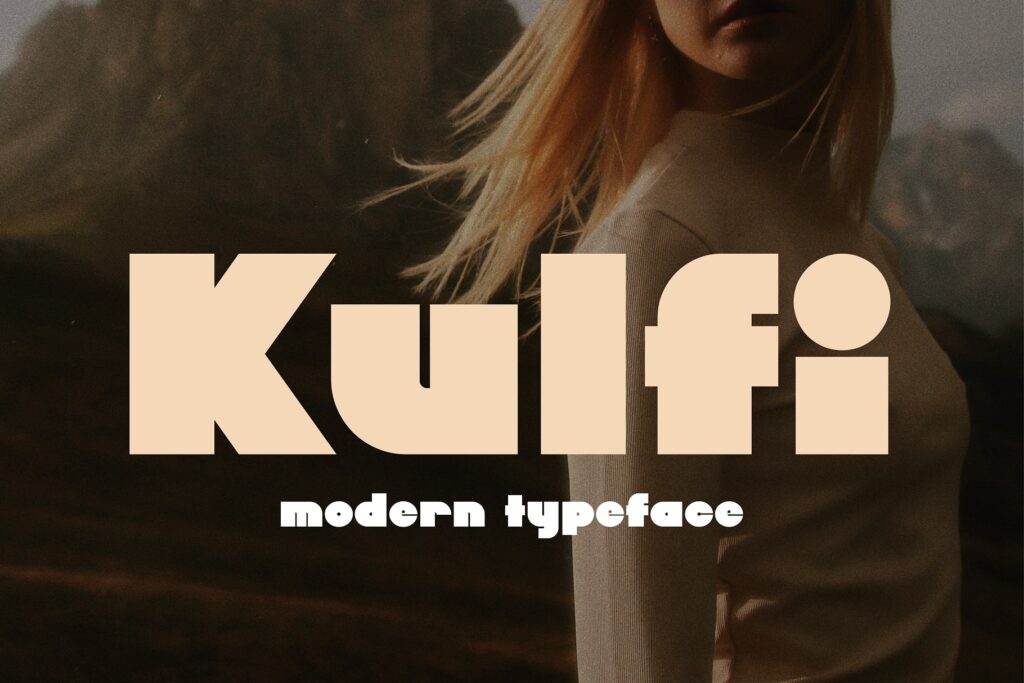 Looking for a juicy display font? There's no better option than Kulfi. This one-of-a-kind typeface features large, rounded geometric shapes and soft lines that are simply full of joy.
Kulfi is ideal for playful projects like storybooks, packaging, branding, kiddy products, headlines, social media posts, and websites. Modern, animated, and fun – it's a must-have for every designer's toolbox!
9. Qene – G
Qene G is designed to combine a range of typefaces in a stylish and classy manner. With 5 font families included in the package ( Regular, Italic, Outline, Outline Italic, Script Signature). 
10. Enchant
Enchant is a Celtic inspired typeface from the 1600s. This calligraphy font is legible, beautiful, and distinctive. You can use Enchant to create mesmerizing books covers, social media posts, magazines, packaging, logos, t-shirts, emblems, posters, and pretty much anything else you can think of. If you want to replicate that medieval/Celtic look, then Enchant is for you.
11. Trenton
Trenton is a stencil serif typeface. This display font is beautiful and legible in small or large sizes. You can use it for logos, editorials, fashion, sports, blogs, advertising, invitations, posters, quotes, book covers, stationery, and more. If your goal is to create a unique and versatile stencil based design, then Trenton is for you.
12. Romelio Font Duo 
Beautify your design with Romelio Font Duo, a classic combination of minimalist sans serif and attractive handwritten. Inspired by modern fashion and travelling culture, Romelio offers an elegant font pair that ease you to maximize your design, and also get clean and luxurious looks.
In the package itself, you receive two separate styles, handwritten, and Sans. The minimal sans style is great for short body text and comes with an array of classy ligatures and alternates. Perfect for a laid-back and minimal design. 
The handwritten style is just as classy as the sans, however, it is a little more cursive and elegant in its appearance. There are even added swashes included so that you can make your designs appear even more unique. 
13. Shizuko
Shizuko is a modern display typeface inspired by Japanese kanji fonts. This eye catching font comes in English style (there are no Japanese letters). You can use Shizuko to create rad posters, emblems, stickers, magazines, websites, social media posts, logos, apparel, packaging, and anything else your heart desires. The font is fully kerned and is ready to be used right away.
14. Yumlocks
This classically inspired serif design comes with a host of alternates and ligatures that you can use today. Perfect for combining with any font or design to create a stunning visual for a poster, a brochure, a leaflet, or a media advertisement. A great all-rounder. 
15. Black Almonds 
This unique font has a brush-stroke design and is handwritten. The package comes with upper and lower case variations and supports a range of multiple languages. Available to use in OTF, TTF, and WOFF files. 
16. Monarchy Signature 
Monarchy is a stunning font that gives off handwritten vibes. Perfect for an informal typed postcard, letter or message whilst on holiday the font is so stylish that it covers a host of other areas too, from branding to logos, to website header design and clean print design. Use it today to make any travel design or non-related travel design look professional and personal. 
17. Onamura
Inspired by the Middle Ages, this experimental sans serif font is stunning and contains a gorgeous rounded–serif design. The dynamic lines and curves give it a unique look and will make it look great on any design at all. 
18. La Patio Script 
A truly beautiful monoline script typeface that was made to spread good vibes. Several stylistic alternatives are included in this package, and the design itself was created to cater for restaurant and cafe signs, but you can easily use it for any travel-related promotion because it is such a versatile script. 
19. The Cleopatras Typeface 
The Cleopatras is a clean serif font with unique characters, providing a variety of alternative style sets to choose from. Ideal for anything beauty or travel-related, the font package includes: 
Uppercase & Lowercase
Number & Punctuation
Ligatures & Swashses
Alternates Set
Multilingual Support
Format File : TTF & OTF
20. Novante
This glamourous and majestic font style is so elegant in its design. The contrast between the thin and the thick lettering is very attractive and only adds to its class. Inspired by art deco and modern minimalist designs, the font is made to be used and used in a range of different ways. 
21. Salty Bash 
The one thing that you can get from the above template image is summer vibes, and we absolutely love it. Perfect for fashion shows, beach clubs, brochures, surfing companies, or social media design, this font is cheerful and playful. A great choice. 
22. Astrovans
This fun and unique font is just perfect for a whole range of designs. The mix of lines and curves really breaks up the design of the font and gives it a stunning look. 
23. The Absolute Font Duo 
This font has a beautiful and natural handwritten style to it that we find really attractive. Ideal for logos and for branding of all kinds, utilize the brush and the regular type designs to your advantage. 
Download The Absolute Font Duo
24. Holiday in Monday 
Holiday In Monday is a handcrafted font with an italic style, it is very stylish and has a really fun character. It's great for your holiday or travel theme designs, but can honestly be applied to a range of projects. 
25. Holiday Travel Font Duo
There is an innocent and playful nature to this font duo that we love.  There are also alternates available within the font too, and all characters included in the package are PUA encoded for added versatility. 
Download Holiday Travel Font Duo
26. Burford Base 
Burford Pro package comes with all 18 layering fonts including 5 base layers, 3 top layers, 5 bottom layers and 2 sets of graphic elements. They are strategically made to build on top of each other, creating a cohesive and easy-to-use layer-based family.
Each font also comes with a set of Stylistic Alternatives for letters A C E F G H P Q R. Burford Basic package is created for users who don't have access to premiere design programs (such as Illustrator, InDesign, Photoshop, etc) and are unable to use the layering effect. 
Not only this, but each of the 13 fonts can be used separately as well as together, and the extras set uses all of the characters on the keyboard, allowing for over 100 elements. 
27. Fonseca Rounded 
This beautiful vintage rounded sans serif font is great for a range of occasions. The font was itself inspired by a vintage travel poster, and as a result, the font is ideal for all styles of travel advertisement or promotion. 
28. Amsterdam Traveling
This unique font has a brush-stroke design and is handwritten. The package comes with upper and lower case variations and supports a range of multiple languages. Available to use in OTF, TTF, and WOFF files. 
29. Wanderlust Travel Font 
This typeface was designed to stand out and look unique in comparison to all of the other fonts on the list, and in many ways, it succeeds in doing so. Included in the package are also a host of different alternates, as well as numbers and punctuation compatibility. What more could you want? 
Download Wanderlust Travel Font
30. Flight 
Flight is a dot matrix typeface ideally suited for editorial and publishing, logo, branding and creative industries, poster and billboards, software and gaming as well as web and screen design. Its letterforms are made up of tiny grid-based dots. It is a lovely font that pays tribute to the many dot matrix printers that are still in use across the globe.
31. Fonseca Grande 
This typeface has a fun retro vibe to it and we absolutely love it. The lettering is legible and is great for postcards. Not only that, but the package is comprehensive with so many different styles, here is the collection: 
Fonseca Grande Regular (otf & ttf)
Fonseca Grande Stroke (otf & ttf)
Fonseca Grande Outline (otf & ttf)
Fonseca Grande Extrude (otf & ttf)
Fonseca Script (otf & ttf)
Fonseca Script Slant (otf & ttf)
Bonus file PSD Actions (.atn)
Bonus file AI Actions (.aia)
Userguide to use the actions (pdf)

32. Kitahara
This beautiful casual script highlights elegance and beauty. With more than 100 stylistic alternates and ligatures included in the font package, everything that you need to create beautiful work is right here.