Last Updated on September 1, 2023
Ever looked at a sci-fi movie poster or trailer and wondered how they were able to achieve that glitch effect?
It's cool, out-of-this-world, and definitely a must for tech fans. These effects are also quite versatile. If you won't be designing trailers or movie posters, you can also use them on book covers, t-shirt designs, and event invitations.
Ready to add some amazing sci-fi special effects to your works? Then get ready to check out these cool glitch fonts.
Rad Glitch Fonts
1. Felix Glitch Duo Font
Easily go from street to glitch in this versatile font duo created by khurasan. Available in Regular and Clean, you can use one or combine both to achieve interesting results.
Download Felix Glitch Duo Font
2. Mokoto Glitch Typeface
Customize the glitch effect you're looking for in this layered multiply typeface by Drizy. With 4 styles – Regular, Glitch Mark I, Glitch Mark II, and Glitch Outline Regular – feel free to re-color, modify, or blend until you get the exact texture and outcome you need.
Download Mokoto Glitch Typeface
3. Avalon
Avalon is a cyberpunk font featuring numbers and punctuation as well as multilingual, uppercase letters. Perfect for movies, titles, and anything sci-fi, futuristic, or tech-related.
4. Glitchy
Glitchy is digital glitch font with a slight cyberpunk feel that is perfect for all kinds of futuristic designs.
5. Lucy Glitch Typeface
When things go wrong, turn it into a beautiful opportunity instead. That's what me55enjah wants you to remember whenever you use this display typeface.
6. System Glitch
Step into the future in this all caps glitch style font from MiksKS. Perfect for large sizes as in headlines or titles, you can zoom in to see all the careful detail on the glyphs for a truly outstanding result.
7. Run!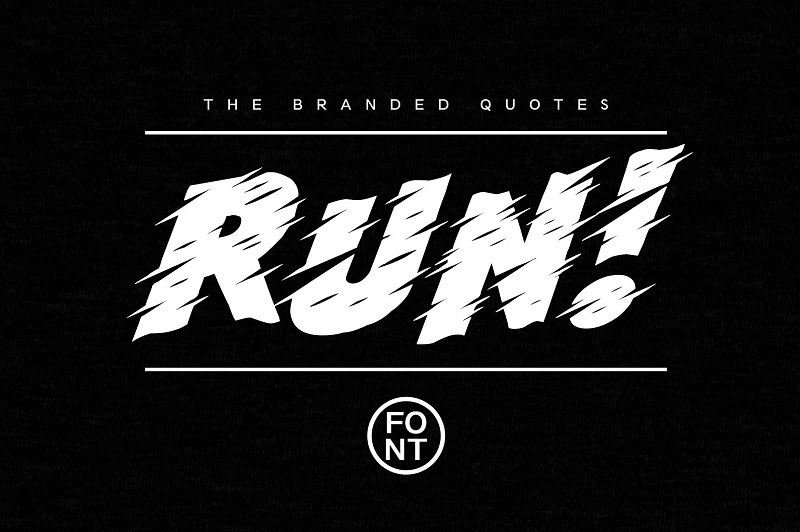 Add movement and energy to your projects with a touch of a button using this bold font from The Branded Quotes. Perfect for labels, posters, logos, comic books, game apps, and anything requiring an in-your-face approach, it also includes a tutorial to achieve the Arcade Style look.
8. Young Sprime
Get 3 remarkable fonts in one thanks to khurasan. This sans serif is available in Sans, Outline, and Slant that will fit almost any theme – from futuristic to minimalist.
9. Hot For Dom
Inspired by a Flemish insult 'godverdomme', this typeface by davidiscreative features an out-of-this-world effect that's truly ground-breaking. Use it to give emphasis on your headlines, editorials, homepages, posters, or t-shirt prints.
10. Glitzy Typeface
ScaryClown presents this smart glitch typeface that you can use to complete game-related or sci-fi concepts in a snap. Seamless and easy to use, all you need is the right backdrop.
11. Glitch Typeface
Add beautiful static to your works instantly using this gem from ScaryClown. The pixelated effect on the letters is ideal for game apps, TV, or digital themes.
12. Fault
Inspired by science fiction movies and games, Medialoot brings to you this sans serif with detailed high resolution effects. Use it to level up gaming, music, and movie posters.
13. Saberz
Fearlessly create far-out projects with a little help from this radical bold sans serif with technical glitch effects. Try it on punk, urban, sci-fi, music, or nightlife themes.
14. Block Glitch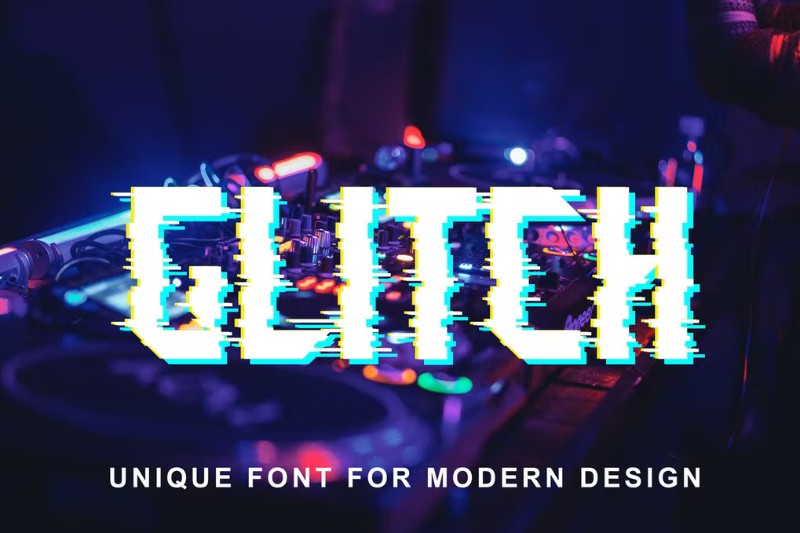 Stand out and be loud with this futuristic font that's perfect for large designs such as ads, magazine editorials, social media posts, etc. Made by Typecoconut.
15. No Signal Font
With striking details painstakingly drawn onto each character, you will love using this display font on big headers or even on short copy.
16. Uncracked
Looking for a cool typeface to add to your game, YouTube channel, podcast cover, or music video? Then check out this detailed sans from Type Factory Co. Comes in OTF, TTF, WOFF, and WOFF2 files.
17. Debug
Eccentric, flawed, but every bit artistic, this modern typeface can be employed on all kinds of design works, whether in art, music, or branding.
18. Avaluna
Make your audiences think twice when they see this super cool glitch effect. Set includes ligatures, symbols, and alternates.
19. Singiko
With a slight glitch in the middle of the characters, this display font keeps things readable while delivering your message in style.