Last Updated on September 28, 2023
If you are wondering what a Y2K font is and are curious to see what one might look like on earth, you have come to the right place. This article is short and sweet and will give you all of the details that you need to find and download a fantastic and fun Y2K font of your own.
These fonts are typically modern, sharp, unique, and downright quirky; however, some will cost you because they are so unique, but hey, you can't always get the best stuff for free!
So without further adieu, let's take a look at a selection of the best premium Y2K fonts on the market:
Aesthetic Y2K Fonts
1. Techno Capsule 
Techno Capsule is an all caps typeface inspired by androids. This font is great for creating eye-catching logos, headlines, posters, video games, sports racing, social media graphics, web designs, print designs, motion graphics, t-shirts and much more. Techno capsule plays perfectly into the futuristic cyberpunk aesthetic movement.
2. Hydra – Experimental Font (Free)
Hydra is an experimental typeface that's quirky and hip at the same time. Its intricate letterforms will make your designs standout and grab attention right away. Hydra is ideas for fashion, branding, posters, apparel, packaging, web design, social media, and more. Take your designs to the next level today with Hydra.
3. Techno Cowboy
Introducing Techno Cowboy, a modern techno display font with multilingual support. Techno Cowboy is great for creating eye-catching logos, headlines, ads, posters, web design, print, motion graphics, apparel and much more. If you're looking for a futuristic font that packs a punch, then Techno Cowboy is for you.
4. Why2K – Nostalgic 2000s Font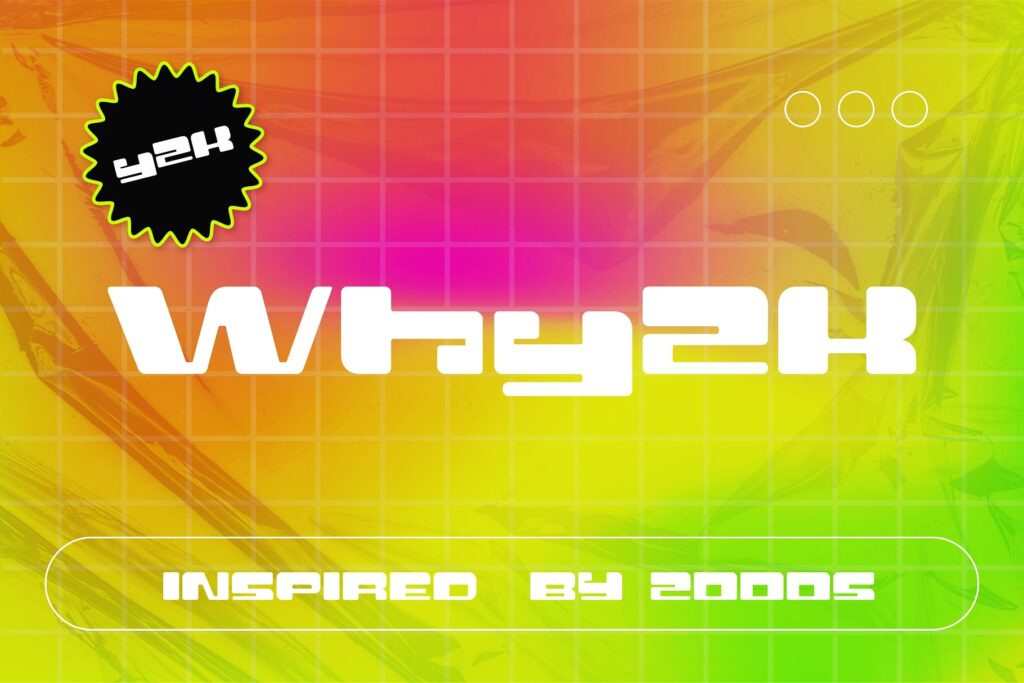 Why2k is a retro typeface from the early 2000s, when we celebrated the colorful, bold, loud, and experimental visuals. This font is ideal for branding, prints, posters, magazines, headlines, social media, music, Youtube, and much more. Why2k is a multilingual font. It comes in 3 flavors; regular, outline, and slanted. 
5. Curly Wurly 2000s Retro Kidcore
Curly Wurly – a 90s & 2000 inspired editorial graffiti kid font family with 8 styles. Yummy Gummy in vector quality. This is a cool and unique set of fonts that will make any design look incredible. 
6. Yerk Y2K Font in 3 Styles
Yerk is a modern Y2K inspired font. This retro typeface comes in 3 styles regular, italic, and slanted. Its bold weight, squared-off letters with slightly rounded corners make it perfect for adding big impact and a bit of personality to your design. 
7. Pricedown
The beauty of this font is its versatility! It has been used on video game franchises such as Grand Theft Auto, and the font itself is available in a host of languages. This level of comprehensive support makes it popular in a range of countries! It has nearly 900 glyphs, and all nine Pricedown font styles can be bought in a convenient $12 bundle.
8. Battlemaze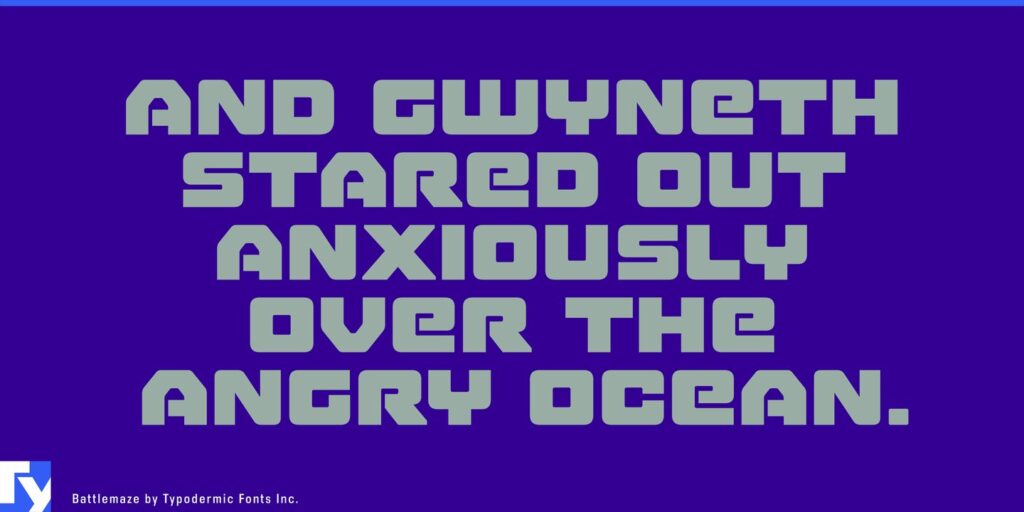 Not only is this one of the coolest font names on the entire market, but it is also one of the most stylish as well. With nearly 550 glyphs, the font is very bold and in your face and has a series of ligatures available with it too.
There is support for a range of languages too, which makes it just as versatile as others on the list, and its bold and big nature makes it a little easier to read than some others on the list too, so it is a win-win if you decide to download it for $9.
9. Nasalization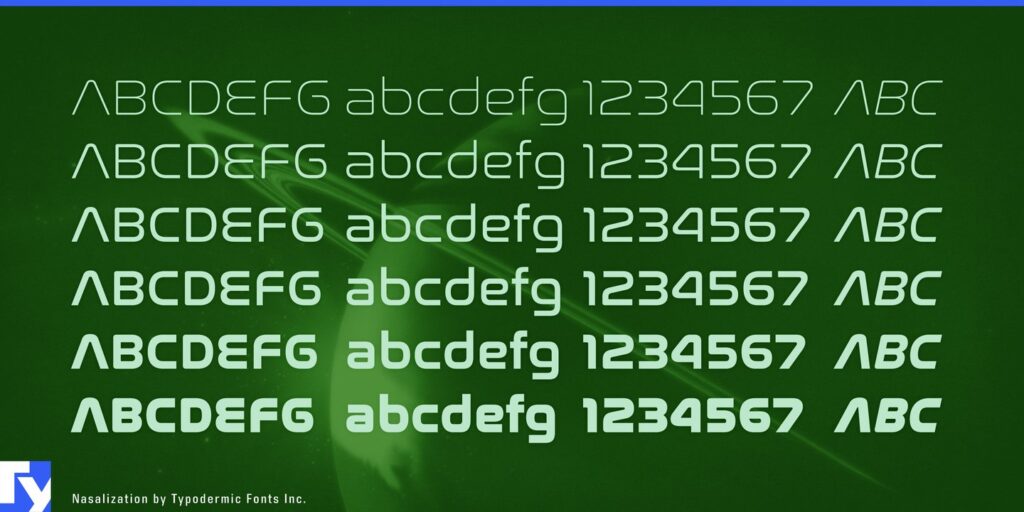 Inspired by the American space superpower, this 'Nasalization' font is perfect for any sci-fi lovers who want a more extra-terrestrial edge to your typefaces.
There are six separate weights available with the font, and italics are also available to use. You can get individual styles of the font for free, but a total family package with all 12 different font types will set you back around $20.
10. Snasm
Yet another oddly named font, Snasm, has a sharp and modern design that looks great with capital lettering, small lettering, or italics. The light and extra light variants are free, but any of the other ten or so designs will cost $10 each; you can, however, buy all 12 font designs for $25 in a bundle. With 400 different glyphs and availability in a range of other languages, it is an excellent choice if you are looking for a font with a bit of edge to it.
11. Algol
The penultimate font on the list is Algol. This is a digital font that reminds us of arcade machines and pac-man. The designer says this about the font "Scientists discovered what they believe is a new display typeface. First sighted in constellation Perseus, it has been named Algol.
The family consists of Algol Regular, Algol VII and Algol IX. Algol Regular and Algol VII can be layered for a striking effect. Algol IX is transparent with more relaxed spacing which enables the observer to see right through it. Alternate letters with closed counters provide a world of design possibilities."
They seem pretty confident, so they should be because this font has endless design possibilities. Not only that, but it is available for the low cost of $12. We'll take it!
12. XYZAI
Inexpensive, stylish, futuristic, and calm, this font is an excellent option for anyone or any company looking to change the typefaces and fonts they use. It is said to be a 'hardcore/techno typeface', and it is hard to argue with that because it is very digital and modern in its approach.
It is quite a new font, less than a year old, and available at a fairly reasonable price, with the desktop variant setting you back around $12-15. So if you want something modern, fresh and unique, then this might be the go-to!
13. Waytokey
Waytokey is a font inspired by the boom of the Y2K era in the past. A specific moment when we celebrated the colorful, bold, loud, and experimental edge of visuals back in the day. The font features 3 styles. Italic Left, Regular, and Italic Right. To cover the specific needs to be versatile in different occasions.
Great for logo, branding, music project, music video, album artwork, cover, fashion, game, esport branding, streaming overlay, poster, graphic design, and much more. Get creative! 
14. Digibop Y2K Font 
DigiBop Y2K is a real head turner. It is a modern take on a retro (is Y2K retro yet) digital era font. This font is perfect for branding, Instagram, print, posters, logos, magazines, headlines and more. It comes in regular and italic. DigiBop hits on 90's and early 2000's nostalgia in a big way adding a playful bold fun take on the Y2K trend.
15. Noughties Disproportionate Font 
Introducing Noughties – Disproportionate Condensed Font. Are you looking for something that is both scandalous and fresh? Something that can confuse? Something that looks retro but is brand new? Then this new font is just perfect for you. Noughties fits well into an urban mid-90s – Y2K brutalism theme and gives you huge opportunities to create stunning new designs. 
16. Neo Retro Font + Extras 
Bring some loud, bright, and nostalgic fun to your designs with the Neo Retro font pack! It's packed full of high-energy design goodies including fonts, icons, text styles & patterns. Create bold, vibrant, 90s-inspired designs in just a few clicks—giving you more time to hang out at the mall, go to a drive-in, kick ass at the arcade or go make the perfect mix-tape (you get the idea).
17. Areion Y2K Font 
Cool, modern, and well-rounded, this font is perfect for any design that you are looking to create. 
18. Fluta Y2K Font 
With a host of different styles included within the package, Fluta is a perfect Y2K font for all of your brand needs. With styles from thin to bold and back included, you can mix and match different styles to suit your projects. 
19. Cenatyc Y2K Font 
A beautifully curved design that is slick and easy to edit, Cenatyc is perfect for any project that you have coming up. Why blend in with all of the other styles of font when you can stand out with Cenatyc? 
20. Digistick Y2K Font 
A slick, modern, versatile display font pack, Digistick is the font that you need if you desire something creative, eye-catching, and of a high standard.
21. Cytone Y2K Font 
A versatile and fun typeface package, we think that this display font, with its variety of styles and ligatures, will make your designs stand out.
There is support for a range of languages too, which makes it just as versatile as others on the list, and its bold and big nature makes it a little easier to read than some others on this list, so it is a win-win if you decide to download it today. 
22. Neo-Syber 2k Font 
Perfectly suited to a large range of projects and styles, Neo-Syber is a great font that we think represents the Y2K era to a tee. Ideal for a poster or a website, this digital creation is just what your brand needs. 
23. Maxerons Y2k Font

Heavily inspired by Y2K culture and styles, Maxerons is easy to use, easy to read, and perfect for any type of project large or small. We highly recommend it. 
24. Seristic Y2K Display Font 
This font style is ideal for logos, headlines, and posters alike. The digital-like design comes in OTF and TTF styles and will make any project of yours look incredible. 
25. Bascade Y2K Font 
Influenced by Y2K designs and pop culture from the early 2000s, Bascade is a stunning retro style design that will look great on a large range of projects. To use it, just save the ZIP file to your device, and when the download has been completed, proceed to extract the files using an uncompressing program such as WinRAR or WinZip that you can easily download from the web for free!
26. Bubble Toy Retro Graffiti Font 
Bubble Toy is a 90s & 2000 inspired graffiti font with 6 unique styles. Handmade fun bubble styles in vector quality. There is a Japanese-like style to this design that we think is fu and quirky, and the colors in the template look super attractive. A great modern font that will be sure to attract attention to any poster or online design. 
Download Bubble Toy right here!
FAQs
What does Y2K stand for?
The term Y2K refers to the year 2000, with particular reference to the millennium bug that swept the globe, where people believed that havoc would ensue due to a compute programming shortcut.
Are Free Y2K fonts available online?
Yes, there is a range of free Y2K fonts available on the internet. Sone of the fonts above are entirely free, and if you are looking for more free fonts, there are a range of online sites that can provide easy to download variations.
What was the Y2K problem?
The Y2K bug, also known as the Y2K problem or Year 2000 Problem, was a major perceived threat of the late 1990s. The T2K bug was perceived as a serious threat at the turn of the millennium.
How many Y2K fonts are available for download?
There are hundreds, if not thousands, of Y2K fonts available for download online. Type in 'Y2K Font' into Google, and you will be left with a range of suitable options to fit all of your needs.
What could I use a Y2K template for?
Well, if you are looking to create a flyer, a poster, or a post on social media that looks cool and modern, then Y2K fonts are exactly what you need. Use them for advertising events or promoting a particular service! They will give your advertisement a cool and modern edge!