Last Updated on May 29, 2023
What usually sticks out in your memory: a color, a shape, or a message? Most of what we like tends to feel familiar. We like straight lines because they look clean, and earth tones because they remind us of earth and nature.
When something deviates from the intimate, it makes us wonder. It makes us do a double-take. Then we ogle, ask questions, and ponder on it for quite a while until it somehow turns into a bit of an obsession. Weirdness is its own beauty – because it is unforgettable.
If you're looking for something that will tease or fascinate your audiences, then these weird fonts may just have what it takes.
Original, Weird Fonts
1. Kreativ – Display Typeface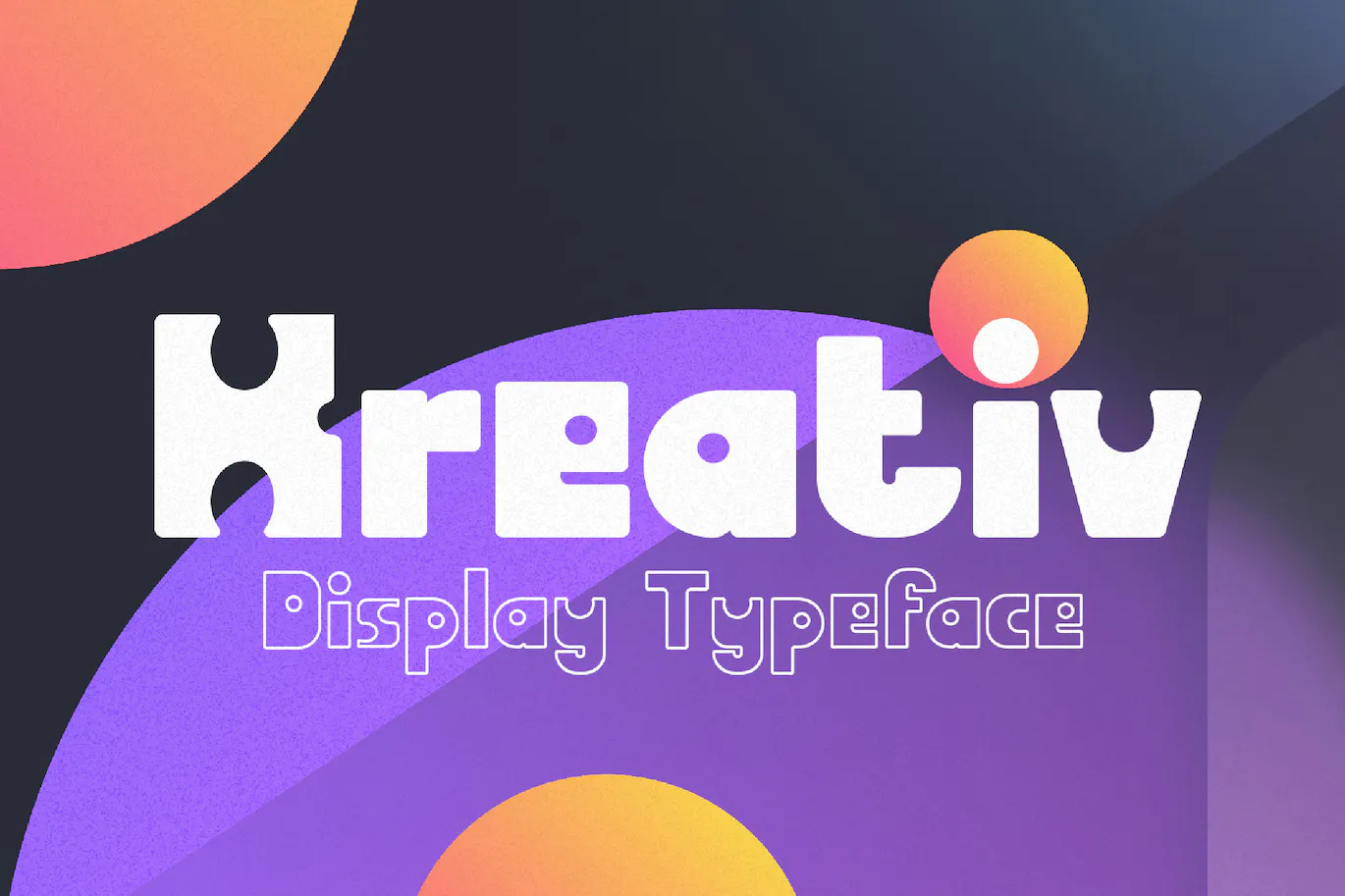 Kreativ is fun and quirky typeface that's perfect for posters, events, headlines, illustrations, printables, t-shirts, you name it. It's very versatile and fun to use thanks to its beautiful ligatures. Elevate your designs today with Kreativ!
2. Techno Cowboy
Introducing Techno Cowboy, a modern techno display font with multilingual support. Techno Cowboy is great for creating eye-catching logos, headlines, ads, posters, web design, print, motion graphics, apparel and much more. If you're looking for a futuristic font that packs a punch, then Techno Cowboy is for you.
3. Freakshow
Come one! Come all! Enter at your own risk! Freakshow is a whimsical kaleidoscope of lettering whose likeness is sure to SHOCK the entire family. This weird font will have you thinking old newspapers were shredded by a lawnmower and used for a ransom note.
4. Niran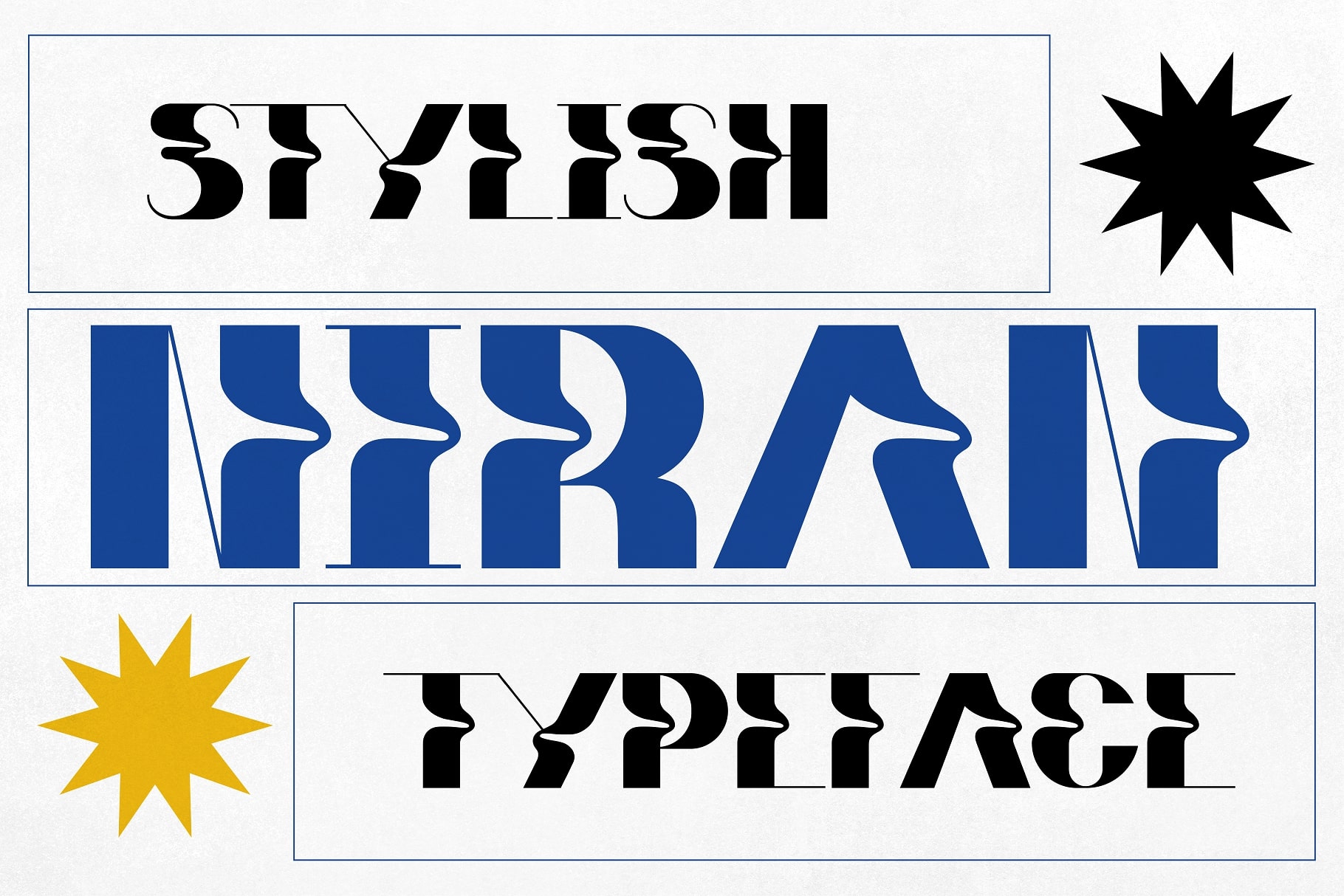 Niran is an experimental typeface with radical curves. Unique rippled lettering makes this font perfect for groovy posters, abstract logos, creative quotes, rad packaging, attention grabbing headlines, and much more. Niran mixes futurist letters with nostalgic curves, thus creating typography which stands out from the norm. If you're searching for an experimental font that breaks the rules, then look no further than Niran.
5. Nightwish
Nightwish is a sharp script typeface. The font is a bit slanted as if it's handwritten. Its gothic/Old English aesthetic is ideal for apparel, greeting cards, product packaging, book covers, album covers, logos, social media, posters, and more. If your design requires an aggressive vibe, then Nightwish should definitely be on your radar.
6. Hydra
Hydra is an experimental typeface that's quirky and hip at the same time. Its intricate letterforms will make your designs standout and grab attention right away. Hydra is ideas for fashion, branding, posters, apparel, packaging, web design, social media, and more. Take your designs to the next level today with Hydra.
7. Helix
Helix is a single line display typeface. Its eye catching design is bound to grab attention and turn heads. You can use Helix for editorials, posters, headlines, social media, packaging, and more. The font is fully kerned and is ready to be used out the box. If you're looking for an uncommon geometric typeface then Helix is for you!
8. Funzi
Funzi is a handwritten bold typeface. This playful font was inspired by the idea of spilled ink that spreads and fills the shape of letters. Its smooth rounded corners are comforting to the eye and give a welcoming feeling to the viewer. Funzi is perfect for greeting cards, children books, quotes, posters, invitations, business cards, presentations and more.
[fontsampler id=62]
9. Wavelength Typeface
Wavelength was inspired by the "Rick and Morty" logo. This abstract display typeface grabs the reader's attention and keeps them there. It has an upper, lowercase display, numeral, and special characters. It is most suited as a decorative display font for editorials, album covers, posters, logos, web or packaging design. If you're looking for a typeface that's weird, trippy, and unique then Wavelength is for you!
[fontsampler id=60]
10. Dazed – Dizzy Typeface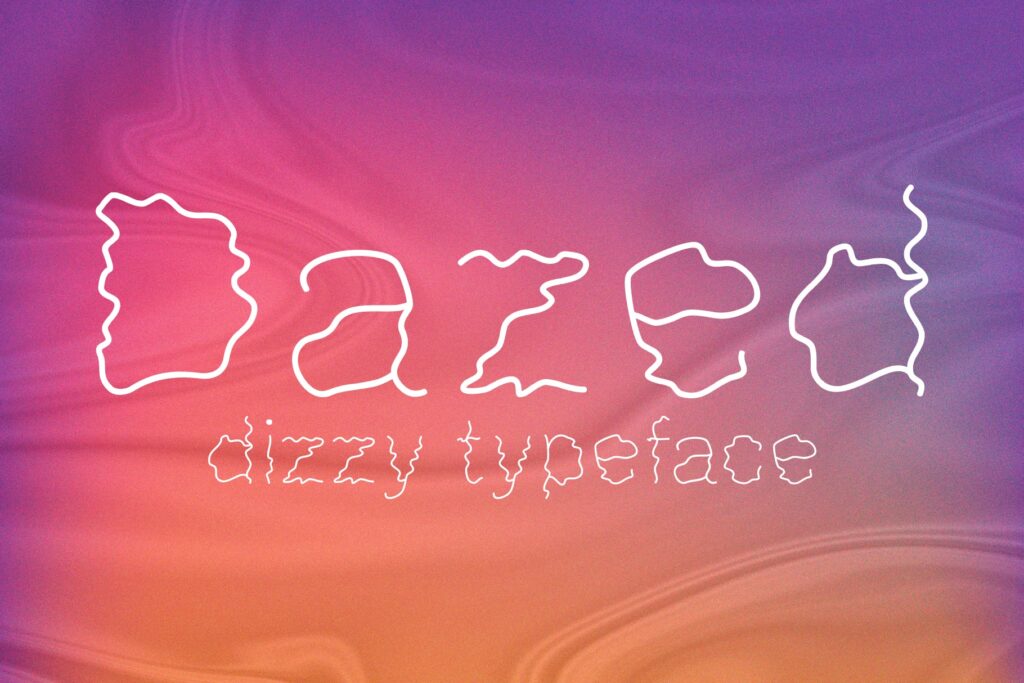 Dazed is a handmade typeface which was created during an overnight train ride. The wavy swooshes and curves are the end result of the train shaking/moving. What started out as a fun experiment , turned into a unique typeface.
The organic feel of Dazed evokes a psychedelic vibe which you can use to take your designs to a new level. The font is great for posters, flyers, apparel, quotes, greeting cards, product packaging, album covers, movies, and more.
[fontsampler id=35]
11. Howli
Explore playful and fun themes using AF Studio's 7-styled font that can be mixed and matched to create a wide variety of lettering effects for your projects.
12. Skandinavia Display Font
For projects such as mood boards, logos, titles, headers, and other designs that want a classical look but still in touch with modern times, this Tegh Co. typeface will suit those needs.
Download Skandinavia Display Font
13. GRVTY
Davide Bassu combines calligraphy, typography, and graffiti through this display font that will make your designs art forms with self-expression.
14. Tokyo Typeface
This Inspirationfeed product is inspired by traditional Japanese Inkan-seals, which adds an authoritative appeal to your designs – and an Eastern touch to boot!
15. Azerty – Experimental Typeface
Azerty is an experimental typeface meant to brake all the rules. This font will encourage you to change your perspective and see reality in a new light. It will inspire you to create and push the boundaries of experimental and futuristic designs. Enjoy!
16. Totally Tubular Font
Make full use of Regular and Outline versions to achieve great effects for your design projects through this hand-drawn retro typeface made by Denise Chandler.
17. Liverpool
Minimalist abstract paintings get representation through this Jen Wagner Co. typeface, which makes the best impact on logos and branding.
18. Rustic Raster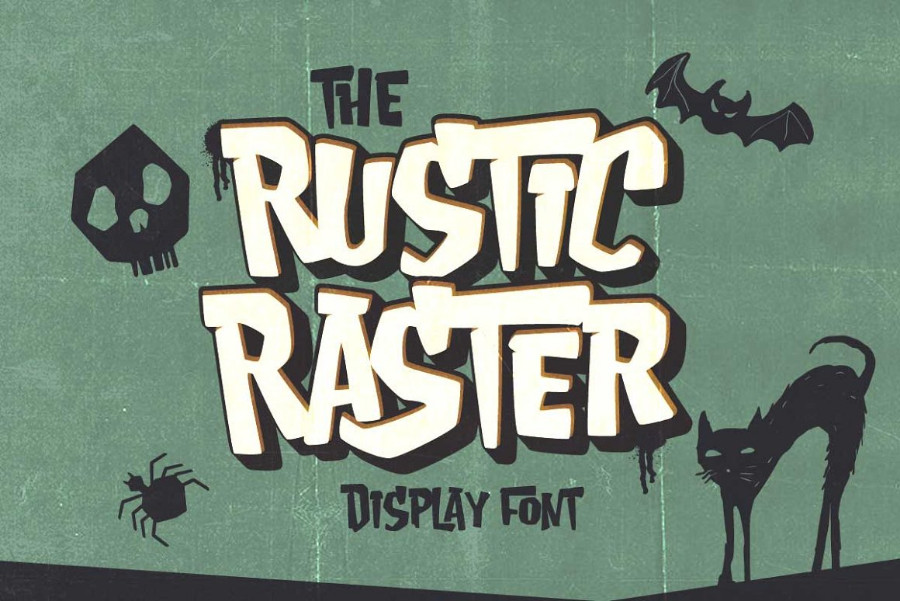 Children or Halloween themes will greatly benefit from the design and extras found on this typeface from Dirtyline Studio.
19. Lustik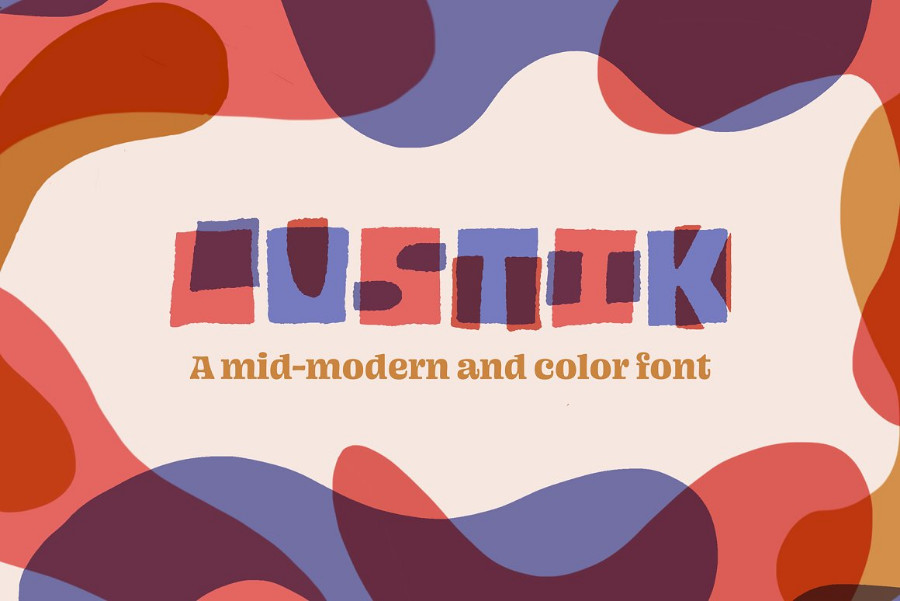 Layered shapes create the letters in this unique Francis Chouquet creation, which renders itself usable for many classical or vintage projects, as well as children-themed designs.
20. Rugrats Font Duo
Presenting a duo of Serif and Sans fonts, plus bonus badges to further beautify your craft.
21. Taurian
Make your designs strong and bold, just like the bull, through this display font made by MoonBandit.
22. Grub
Your design concepts will be loud and free when using this random, colorful display font that will surely grab attention and make your messages read from afar.
23. Sceageus Typeface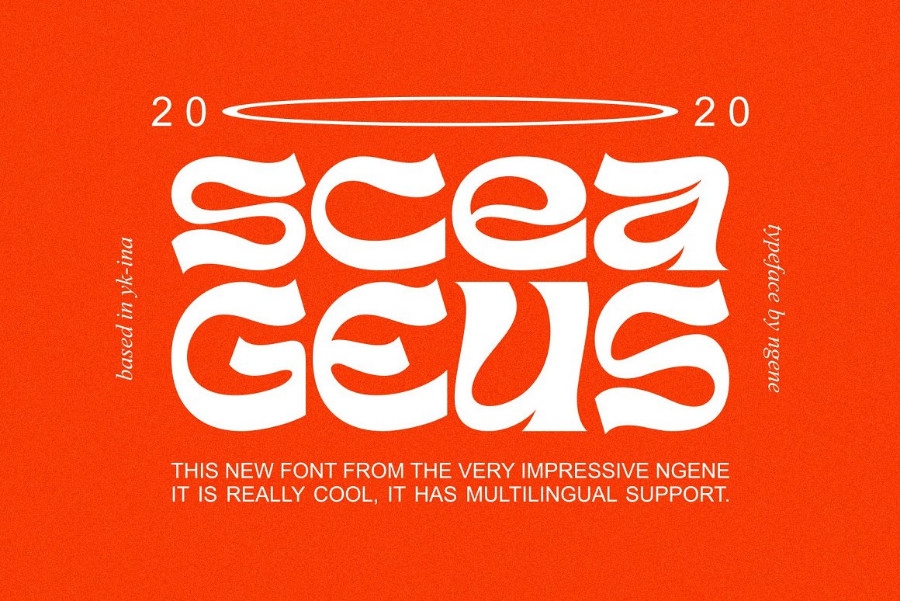 Logos, magazine headers, book titles, posters, invitations, and a wide array of design projects will get a uniquely modern feel using this typeface from Ngene.
24. Bornice
The fusion of modern and vintage curves makes this gem from Damelev great for projects that demand a luxurious and glamorous approach.
25. Goombah
Cool Fonts takes us back to the cheesiness of 60s cartoons through this 3-styled typeface that can be mixed and matched to generate unique and special effects.
26. Olcino
Make your design projects a piece of art with every letter using this colored font by Igor Petrovic, which is no doubt catchy for logo usage and other works that need big lettering.
27. Glassure
Glass sculptures require patience, finesse, and a lot of pulls and curls to pull off an amazing variety of designs – just like this Halfmoon Type creation.
28. Flatface Heft
Flatface's bottom-heavy font exudes a retro and psychedelic charm – great for projects that are either music-themed or just need to be playful and attractive.
29. Bronze Font
Kaer Shop's display font is exudes classic styling with a premium twist – perfect for logos and brands that need a touch of glamour and luxury.
30. Diamond
Sensatype's creation makes use of unique curves that bring out an old-styled theme to a wide range of design projects while making them perfectly readable no matter where they are looked at.
31. Loki
This Norse god has been known to take any form he desired, apart from playing tricks on mortals and gods alike – just like this color font from Olga Otryvanova.
32. Nerves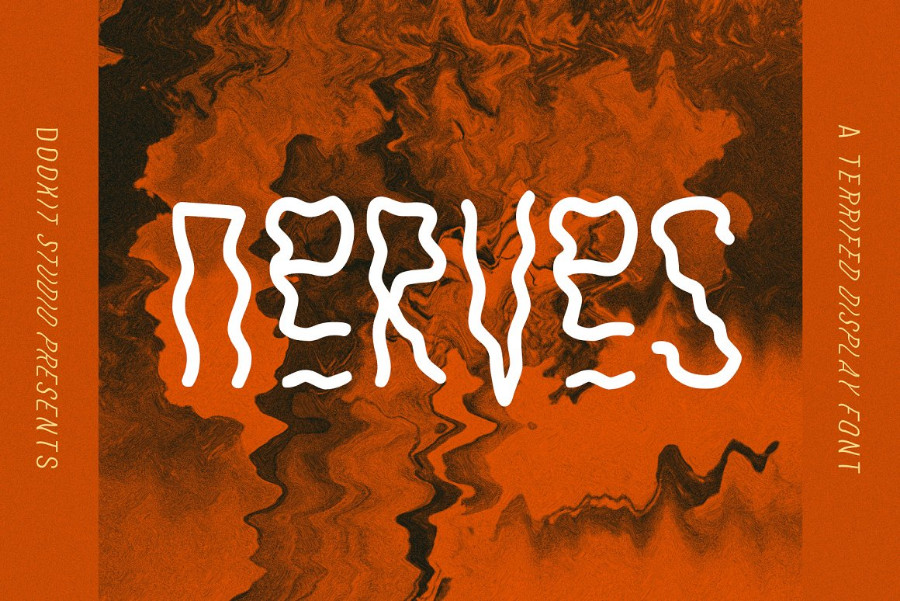 For projects that need to appeal to mind-playing tricks and thoughts, this Dookit Studio font is more than a great candidate for that task.
33. Boring Sans
From Zetafonts, this typeface juggles weight and weirdness to explore and apply a wide variety of effects that will surely catch attention.
34. Skateparx
The appeal of old magazines and classic videos is brought to a modern setting using this The Branded Quotes typeface made with uneven weights but with a uniform baseline.
35. Fidget Display
Thisiscounter presents a geometric lowercase sans-serif font whose alternate glyphs offer endless iterations of words, phrases, and sentences.
36. Coal Soul
This Sharpie marker-drawn font from LomoHiber comes in Filler, Outlined, and Scratched styles – plus a bundle of extras to bring out the crazy side to your projects.
37. Firstly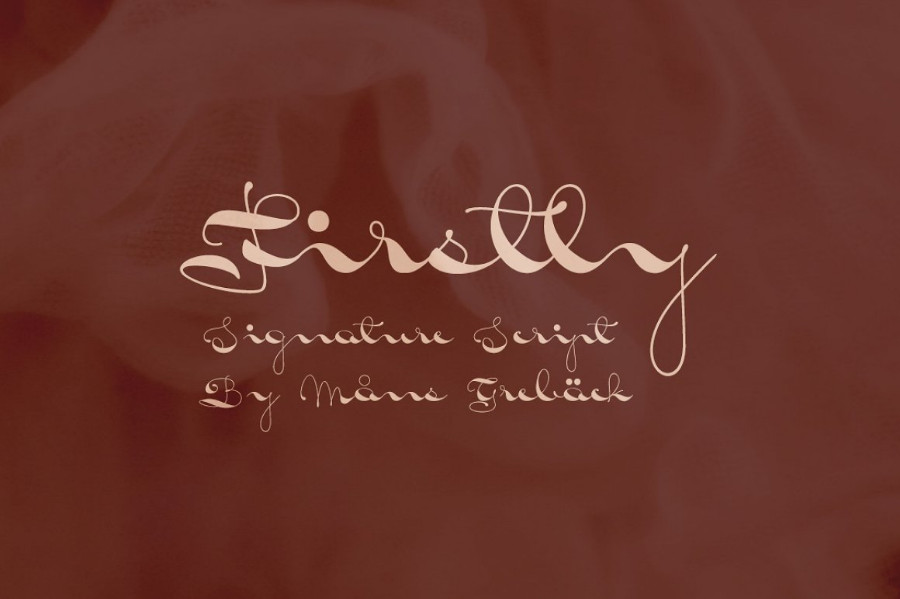 Add a unique personality to your projects using the wavy shapes and soft flow of this Måns Grebäck creation.
38. Lion Card
Abstract designs will surely benefit from the soft shapes of this all-uppercase geometric font from Graphicfresh.
39. Fracaso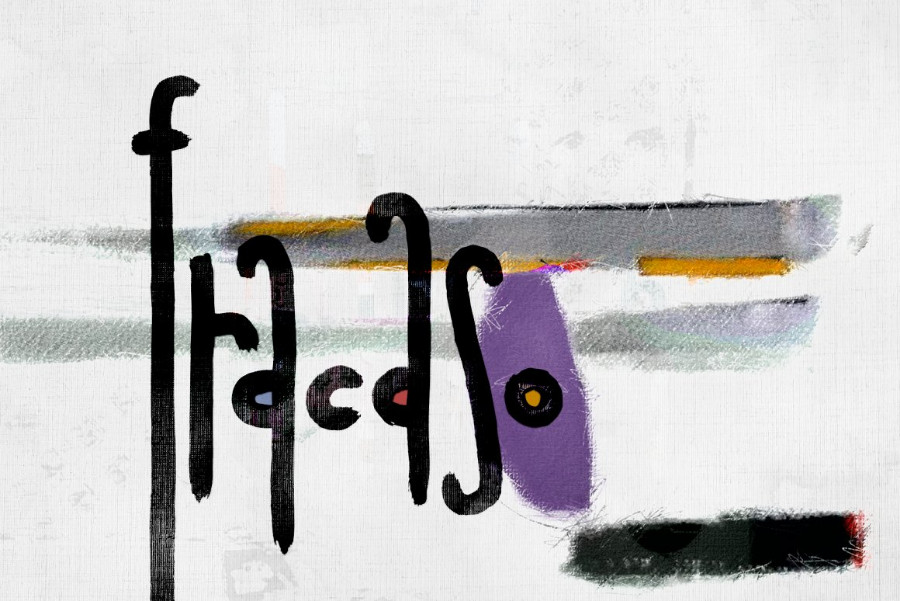 This single-stroke typeface is inspired by abstract/cubism artworks, giving design projects a unique and catchy appeal suitable for musical and artistic themes.
40. Break Thru
Available in Regular, Thin and Bold styles, this geometric typeface from Jordan Dale Young sets your projects up for a wide variety of customization in both font and vector formats.
41. Jazz Malino
With random lines and curves to go with bouncy looks, this AaType creation is great for a unique twist to titles, displays, invitations, headers, and more.
42. Zumba Tribal Font Family
Few other typefaces can match the African vibe brought by this Katrinelly product – even better is that you get Regular and Bold fonts, along with symbols for extra touches.
Download Zumba Tribal Font Family
43. CEJO
OUJIOTO®LAB's creation is a typeface based on Tokyo graffiti lettering that will make your designs sport a unique street vibe while keeping readability.
44. Bumble
Introducing "Bumble",  a psychedelic groovy display typeface. Inspired by unique retro themes, Bumble is a really fun typeface and can be used for any vintage theme concept, Illustration posters, stickers, fun graphics and more.
This font has many stylistic alternates & OpenType features. The font really brings a good statement to your logo design and the set of 8 different font types offers a lot of variety.
45. Blishead Display Font
BLISHEAD is a brand new display font with strong decorative elements and rounded shapes. The peculiar font has a creative approach to the design of letters, with its condensed style and rounded letterforms. Blishead has an urban, modern feel being perfect for big headlines or as a stand-alone graphic element.
This eye-catching font has a standard Latin script support with numerals, uppercase and, lowercase alphabet. With its strong visual impact, Blishead is perfect for titles, poster design, or any design project that needs an out-of-the-box, artsy font.
46. Granty Decorative Font
Granty is a decorative font that includes uppercase letters, lowercase letters, numerals, ligatures & punctuation. This font can also be combined with other fonts like serif, script and handwritten types to improve its overall effect. The font is suitable for various graphic design needs such as magazines, posters, branding, apparel, movie headlines etc.
Download the awesome Granty font here!
47. Morgy Font
Introducing Morgy a font that displays a cheerful and dynamic impression with 50+ ligatures and alternates suitable for all modern design concepts from posters to branding. The font type is modern and is perfect for any contemporary design or advertisement.
Download the Morgy template here!
48. Pandora Typeface
Inspired by album covers and American horror films, this Tugcu Design Co. typeface comes in three fonts from simple to the most ornately-designed style.
49. Tarantula (FREE)
Arachnophobes rejoice! This cool horror font from Heloyud was inspired by spiders and cobwebs to give your invitations, cards, posters, banners, apparel, and headlines a spooky feel. This works well for Halloween or monster themes. You can also use it on illustrations, graphic novels, or children's books. The pack comes with Halloween extras, too!
50. Excelorate (FREE)
Who doesn't love a good show? Whether it's a game show like Family Feud, a singing contest like American Idol, or a variety show like Running Man, they're fun to watch and wholesome for everyone. While they're still popular today, game shows had their heyday during the 50s and early 2000s. Evoke those game show feels with this Y2K font by Jorge Villarreal. Big, bold, and playful, it's ideal for headers, game app titles, and comic book covers.
Download Excelorate Free Y2K Font
51. Goblin (FREE)
Don't worry – this is just a weird, creepy font from Burak Mescioğlu. Reminiscent of those mischievous mythical creatures from Germanic and British folklore, this typeface is ready to cause a bit of mischief in your t-shirt designs, invitations, postcards, book covers, and badges.
52. XPLOR (FREE)
Jimmy Kalman presents this wiggly and funny font that's sure to bring lots of joy to viewers! Use it on illustrations, cartoons, children's books, graphic novels, and social media ads for a crazy twist to your usual style.
53. Nosie Warning (FREE)
Ready to disrupt the typography world? Then get a load of this free variable font from Amari Design. The geometrical shapes give it a solid, serious feel that's perfect for ads, labels, branding, editorials, and music album covers. It's the best mix of edgy and futuristic. It contains basic Latin characters, as well as Hiragana and Katakana (for a total of 1574 characters). You'll also receive variable versions to add depth to your works.
54. Lollapalooza
Lollapalooza is here! But it's not a festival in Chicago, it's a wonderful weird font! In fact, it's a font trio and you can combine the small, medium and large versions together to create a unique and quirky new style.
55. Meisterz Typeface
Renaissance Era art meets retro horror comics through this Gumico Studio typeface, which adds a unique spin to many applicable design projects.
56. Lemoo
Lemoo is a weird font family made with irregular shapes to make it more dynamic and unusual. This font will give the impression of solidity, strength and prominence. Suitable for headlines and posters.
57. Kooka Font
A retro-styled font that can jive in with modern type styles is a must-have for a variety of projects – and 31 varieties will make this Creative Media Lab product even more welcome.
58. Funny Frank
Funny Frank is a weird font that doesn't take itself seriously. It's perfect for all kinds of T-shirt and product designs. Frank also gets along with all the other typefaces and does not mind being next to a serif of Sans-serif so you can use it to create awesome typographic compositions.