Mankind has used wood in art, construction, transportation, as well as music since before recorded history.
Despite the dominance of other materials, timber remains a favorite. Humans continue to utilize wood from trees for survival, even today. We turn wood into paper; we build our homes with them; they help keep us warm; and they serve as raw matter for our furniture.
Indeed, mankind owes its very existence and prosperity to nature.
Wood as a material in art
It requires a special kind of training to master creating art from wood.
Unlike other mediums, artists and crafters must know the different types they need to work with, and their unique limitations. Wood rots. It's susceptible to insect and water damage, humidity, and temperature changes. Knowing how to counteract these challenges will help you keep your woodwork for generations to come.
There are various techniques you can employ in woodworking. There's parquetry, which involves geometric mosaic pieces from wood, and is usually used on floorings. Then there's whittling, which is a traditional method for carving on raw wood. Many people do this for a hobby because it's not only a wonderful pastime, it also allows you to practice great creativity.
How to use wood and wood textures
You may have heard the terms hardwood and softwood. Dig deeper however, and you'll find specific details that will help you figure out how to take advantage of each wood type.
In general, hardwood is of course, hard. But it has other characteristics, such as: good resistance to fire, dense grain, comes from slow-growing trees, darker in color, and low sap content. Softwood on the other hand: comes from fast-growing, evergreen trees, typically lighter in color, loose grain, is lightweight, and has poor resistance to fire.
Say you're interested in making your own furniture. You can use hardwood types like oak, walnut, ash, and mahogany. Ash for example, is strong, durable, and comes in a nice variety of colors such as greyish light brown to something almost reddish. You can often find furniture made of ash hardwood in many restaurants.
As wood has a natural, organic feel to it, it makes sense to combine it with more modern materials or themes. The Scandinavian interior design movement for instance, employs wood, leather, and hemp into its concept to achieve that effortless minimalist style.
Putting wood textures on digital entities like logos, web pages, and social media banners, is another huge trend nowadays because it looks clean, coordinated, and fresh. Many modern brands in beauty, wellness, and food sectors do this, too. They use wood textures to give off an easy, friendly, and sustainable vibe to their branding.
Strong Wood Textures and Backgrounds
Historic, natural, and extremely functional, wood is one of those materials with tons of uses. Can you imagine what the world would be like if we couldn't it? For those who love its organic and earthy feel, these wood textures and backgrounds should suit your needs.
1. 44 Wood Grain Textures
Add something exciting to your design resources with this big texture pack from Layerform. With 22 unedited textures and 22 color corrected ones, you get high detail wood grain at 5184×3456 pixels and 300 dpi.
Download 44 Wood Grain Textures
2. Forest Land Vector Kit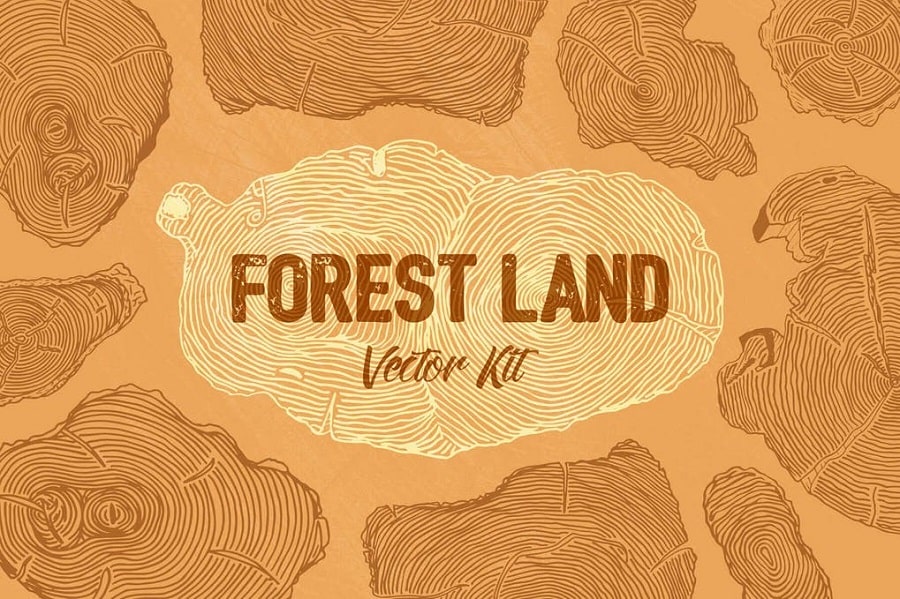 Make your blogs, book covers, or posters stand out using these intricate stump illustrations by Veila. Drawn by hand and comes in multipurpose vector formats, these beautiful timber textures are a sight for sore eyes!
Download Forest Land Vector Kit
3. 18 Weathered Wood Textures/Backgrounds
Go hard or go home. Give your projects a solid edge with these high resolution textures and backgrounds by Vasaki.
Download 18 Weathered Wood Textures/Backgrounds
4. Wood Grit Textures
Ghostly Pixels presents 10 individual full-page textures that mimic wood grain. Detailed, dramatic, and crisp, there are definitely plenty of options to choose from.
5. Cabin at the Lake Wood Textures
No need to build a cozy log cabin from scratch – just design something similar using these amazing wood textures from Design Panoply. You'll also get 'The Olde Saw Mill' logo mockup and logo design for free.
Download Cabin at the Lake Wood Textures
6. 20 Wood Textures/Backgrounds
Shabby, rough, and with 3 lighting effects, this pack contains a total of 20 wooden backgrounds for your websites, banners, posters, flyers, and more.
Download 20 Wood Textures/Backgrounds
7. Grunge Wood Textures x10 Vol 2
Instantly improve the look and feel of your designs when you use this premium collection by Smart Designs EU.
Download Grunge Wood Textures x10 Vol 2
8. Old Wood Textures x10 Vol 2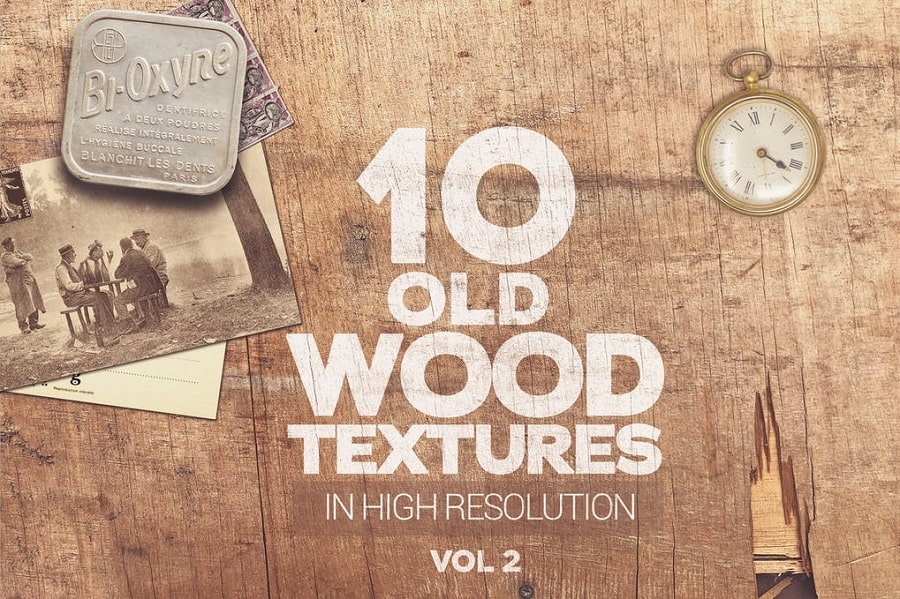 These photographs of high-res old wood textures look great on their own, or combined with graphic elements for an authentic rustic vibe.
Download Old Wood Textures x10 Vol 2
9. Hand Illustrated Wood Texture Patterns
Drawn with a pen, this set of 3 timber patterns will provide your projects with a sought-after vintage look that fits most modern tastes.
Download Hand Illustrated Wood Texture Patterns
10. 45 Wood Textures Vol 2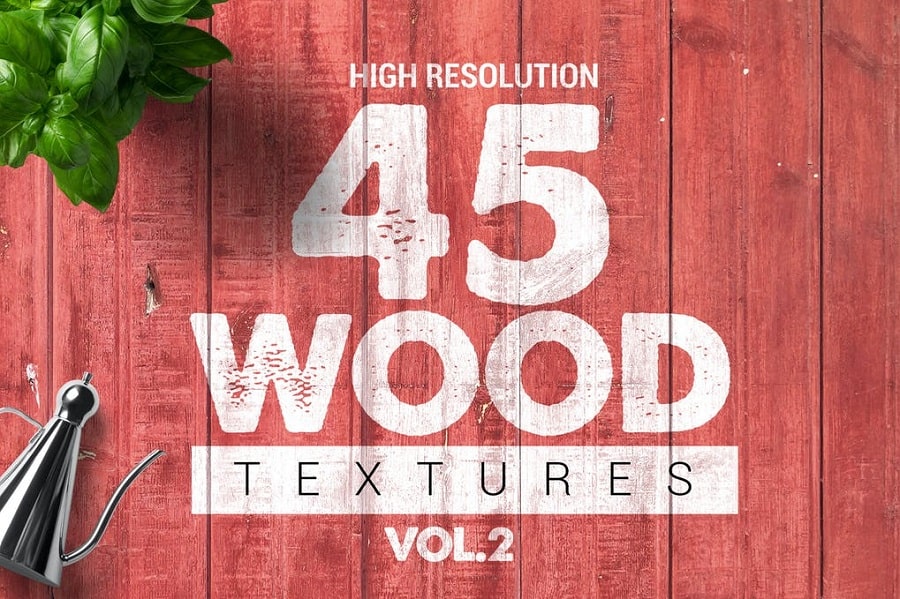 A massive collection of 45 professional photos in varying colors and designs, it's like having your very own wooden texture library.
Download 45 Wood Textures Vol 2
11. Wood Grain Textures
Derived from high-resolution photos of wood grain, wood planks, wood flooring, and wood paneling, this pack comes in EPS and PNG formats for your convenience.
12. Wood Halftone Textures
Here's a refreshing twist to regular wood textures. Combine with retro graphics, fonts, or illustrations, and you'll get the perfect look for menus, graphic novels, flyers, posters, album covers, and landing pages.
Download Wood Halftone Textures
13. 22 High Resolution Wood Texture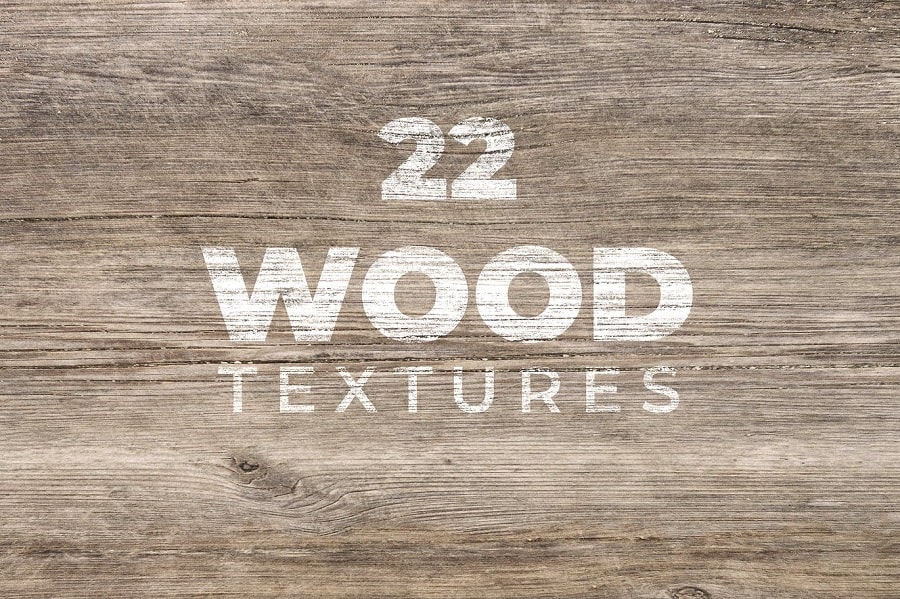 Eightonesix Studios brings you 22 beautiful and high-quality wood textures available in 4000×3000 pixels and TIFF format.
Download 22 High Resolution Wood Texture
14. Wood Grain Texture Pack
A collection containing 20 files of detailed close-up textures of timber grain, Hugh Adams gives you something you'll be happy to have in your toolkit. Ideal for digital or print materials.
Download Wood Grain Texture Pack
15. Wood Texture Pack Background
Whether you need something unique for business cards or for your scrapbook, this product of 10 vector wood textures by Mihis Design will work wonders.
Download Wood Texture Pack Background
16. Wood Texture Vector
Fully editable and easy to recolor, these 20 hand-drawn textures by Yandi Designs were made using fine and brush pens on paper for that natural, organic feel.
17. 15 Wood Textures
Take your mock-ups, presentations, logotypes, and websites to the next level when you choose this set by Creative Tacos. You'll receive 15 backgrounds in JPEG and PNG formats.
18. Wood Tree Stumps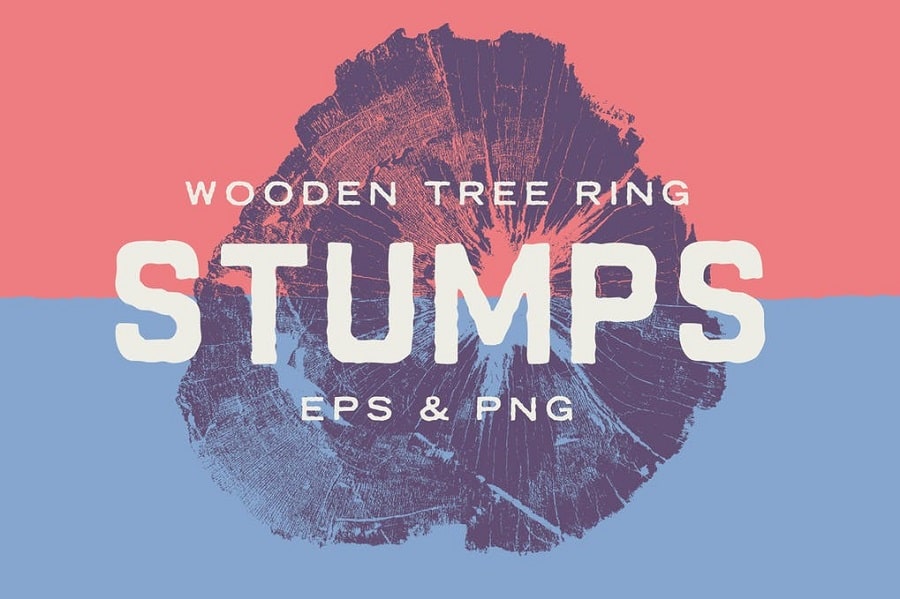 Featuring crisp details of tree rings in convenient PNG or Vector EPS formats, this is one solid collection you'd be crazy to pass up.
19. 45 Wood Textures
Can't decide between a dark, dense mahogany look or a light, worn wood effect? You don't have to if you purchase this premium pack of 45 wood backgrounds.
20. Wood Abstractions
Turn traditional wood into modern abstraction in this pack by Hello Mart Co. Inspired by ink drawings, woodcut, and pop art, you'll get 12 designs plus seamless tiling textures that are not only gorgeous, but also versatile.